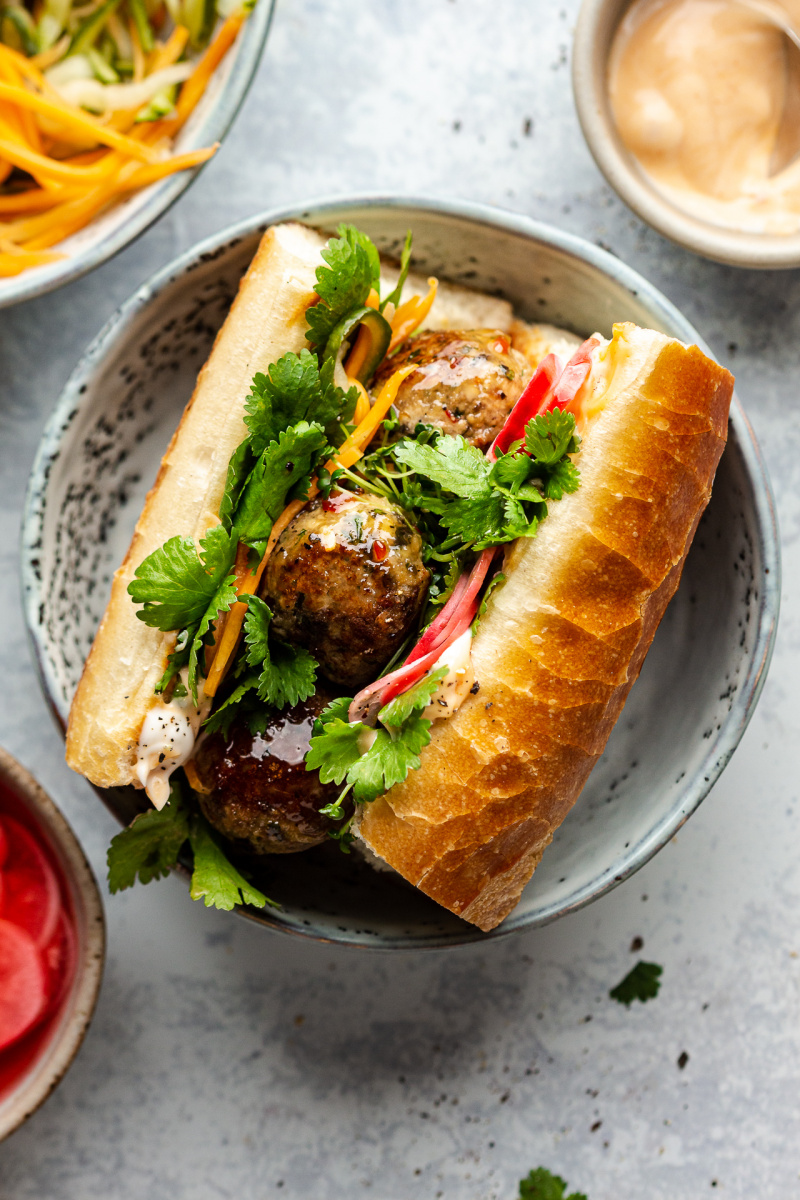 After a pretty rough week, I'm back with some renewed inspiration and a promise to myself to look after my mental health a little bit better by staying off social media more (it makes me feel anxious and inadequate) and do more self care when I feel myself spiralling out of control.
Yeah, the past week has not been the greatest. I was feeling awful, the weather was (continues to be) miserable and our beloved cat (who can do no wrong, says Duncan) gifted the household with a prolific amount of fleas!! Yup, there are fleas in the house and they are driving us crazy. It got a bit better since we started our daily hoovering routine but they have not yet been defeated completely. A special anti-flea powder arrived in the post yesterday and we plan to spend our evening combing our living room rug for eggs and larvae – yuk! – dusting them and hoovering them up eventually. Luckily we only have one rug downstairs, fingers crossed this works!
Recipe-wise, I felt like something fresh and summery even if England appears to have missed the 'hello, it's summer' memo this year. I have made delicious lemongrass-flavoured aubergine and tofu meatballs and have served them, Vietnamese style, inside a crusty white baguette, adorned with quick pickles and Sriracha mayo. It's a delicious combo, fresh, spicy, zingy yet filling at the same time. The meatballs can be either fried or baked. If you decide to bake yours don't add too much more flour as baking tends to dry things out more. If you are not keen on the sandwich format, you can always have them as part of a lunch bowl like in this old recipe. I hope you'll enjoy them!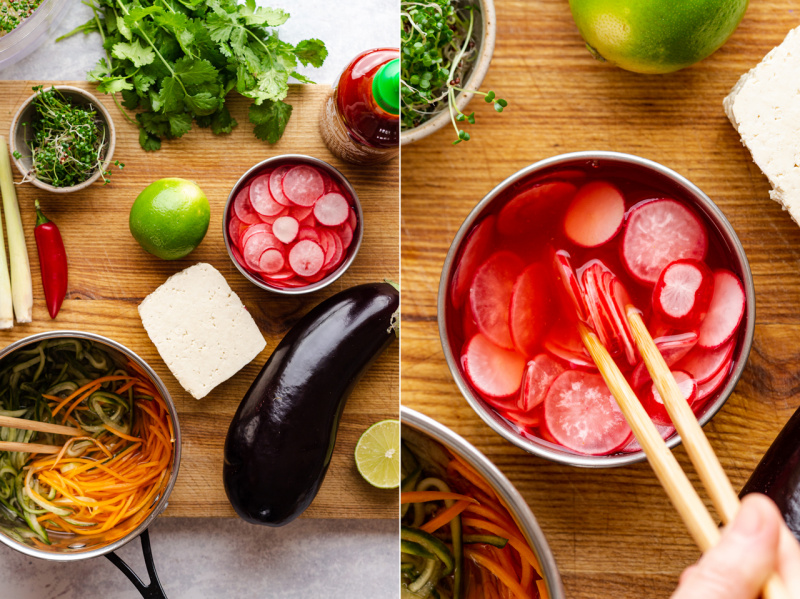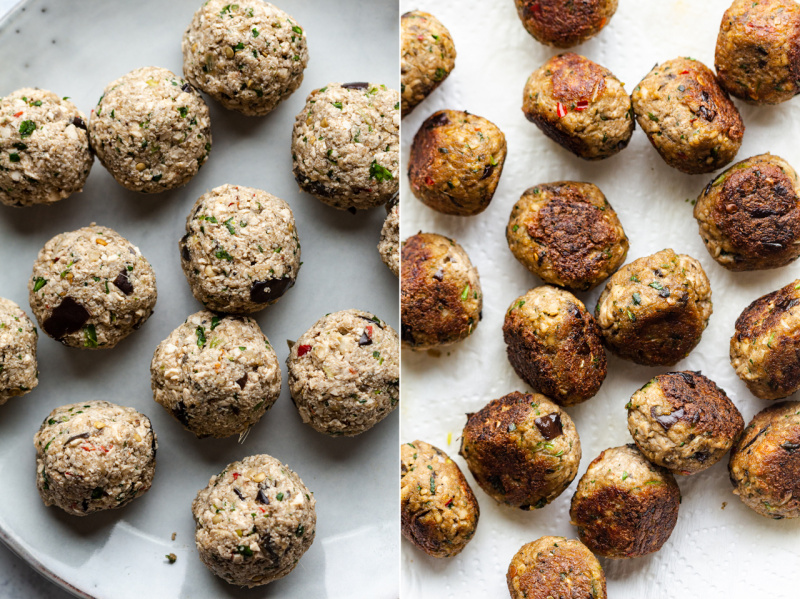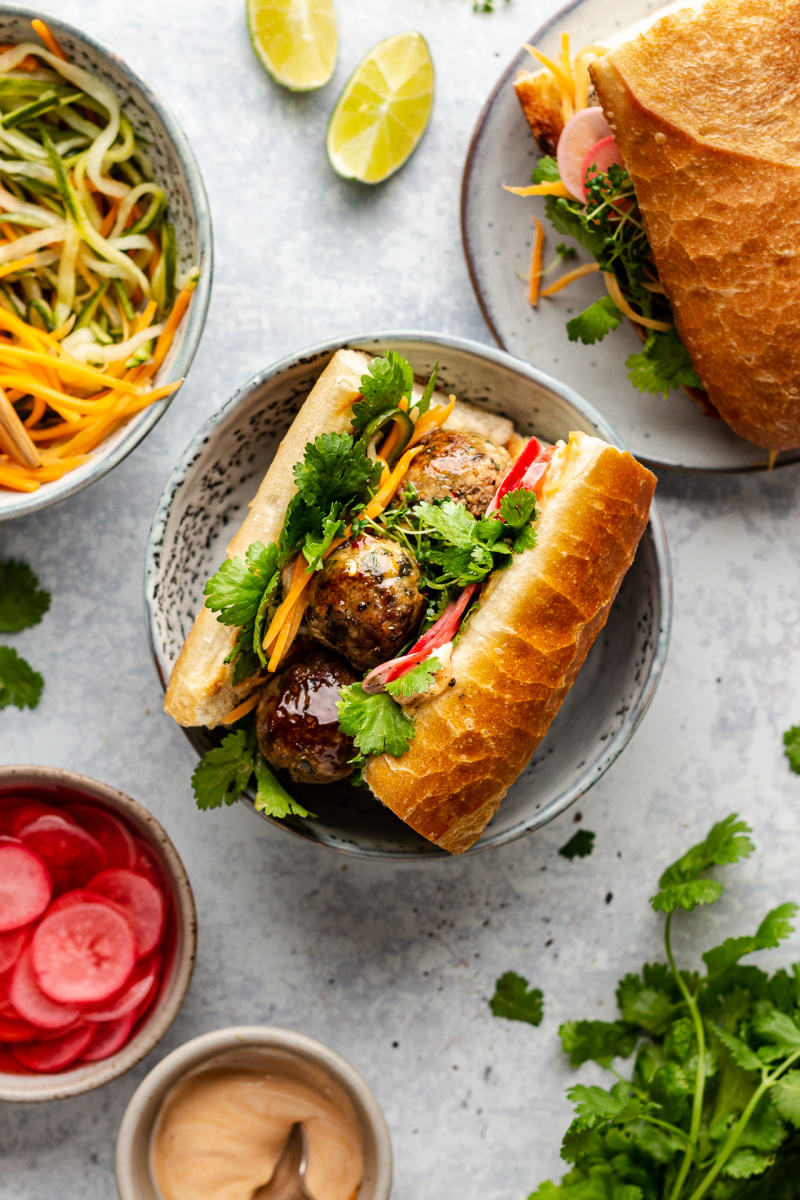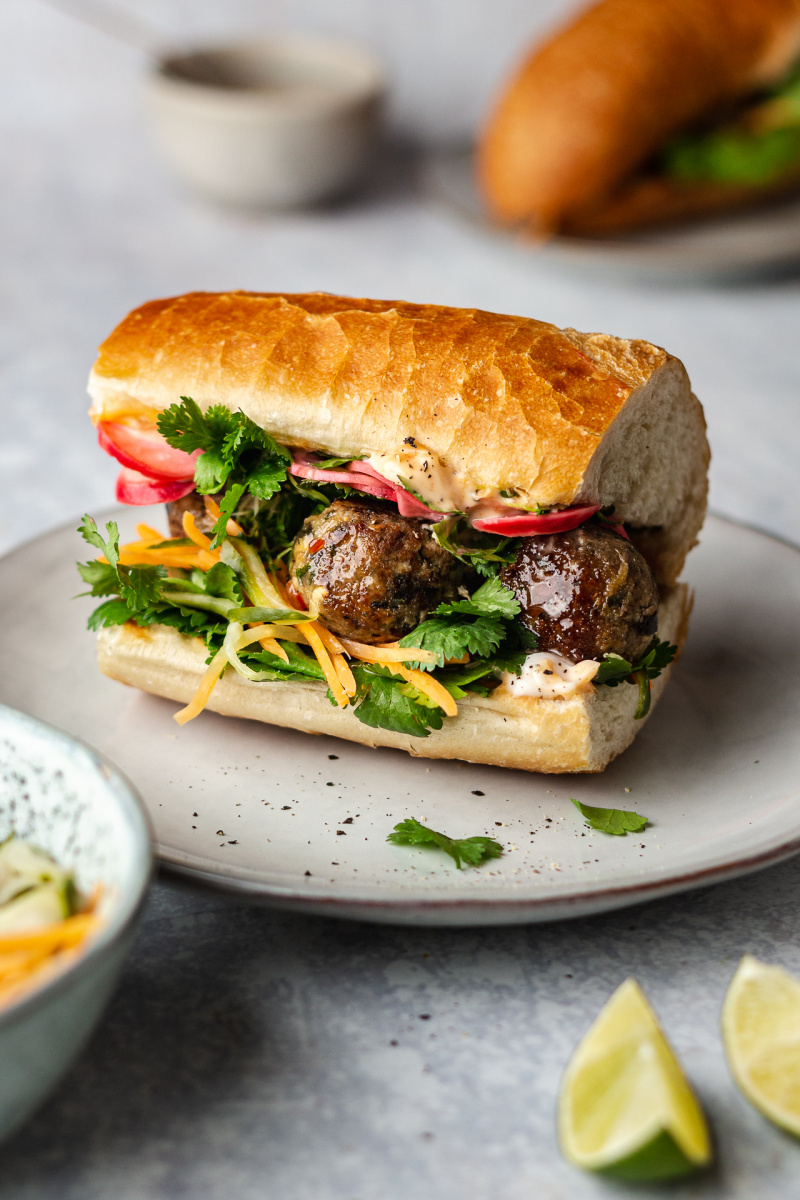 PICKLES
12 cm / 5″ English cucumber
1 medium carrot or 5 radishes
120 ml / ½ cup (unseasoned) rice vinegar
4 tbsp / ¼ cup sugar or maple syrup, adjust to taste
1 tsp salt
LEMONGRASS MEATBALLS
250 g / 8¾ oz (1 large) aubergine / eggplant
3 lemongrass stalks*
2 small garlic cloves, peeled
1½ tsp sambal oelek (or Sriracha), adjust to taste
2 small spring onions
15 g / ½ oz fresh coriander
½ tsp toasted sesame oil
2 tsp finely grated ginger
1 tsp sugar
½ tsp black or white pepper
¾-1 tsp fine salt, adjust to taste
250 g / 8¾ oz firm tofu, pressed*
3 tsp psyllium husks (optional)
approx. 30 g / ¼ cup rice flour or other flour
30 ml / 2 tbsp high smoke point oil (I used rice bran oil), for frying
REMANING INGREDIENTS
1 crusty baguette, cut into 12 cm / 5″ sections
6 tbsp vegan mayo
15 ml / 1 tbsp Sriracha, adjust to taste
METHOD
PICKLES
Julienne cucumber (discard the watery core) and carrot or, if using radishes, slice them thinly.
In a pot combine rice vinegar with the same volume of water, most of the sugar and salt. Bring the mixture to a very gentle simmer stirring so that the sugar dissolves, taste and adjust the amount of sugar and salt to your liking.
Take the pickling liquid off the heat and plunge raw vegetables in it. Leave them to pickle while you get on with the meatballs.
LEMONGRASS MEATBALLS
Heat up your oven to 200º C / 390º F and line a baking tray with a piece of baking paper.
Cut your aubergine / eggplant into thick slices (about 1.5 cm / 0.6″) and arrange them on the prepared baking tray (no need to grease). Bake until soft (about 25 minutes), flipping the slices to the other side at the half way point. Allow them to cool down completely.
Bash lemongrass stalks with a rolling pin until bruised. Remove tough outer layers and chop up soft aromatic cores well before adding to the food processor. Add cooked aubergine and all the ingredients up until but apart from the tofu. Process until well minced, then transfer to a mixing bowl.
Next, tear the tofu roughly and then blitz it until you get a coarse, uniform mixture – be careful not to overprocess as the meatballs will be mushy. Add the tofu to the aubergine mixture.
Mix in psyllium husks (if using) and flour, start off with ¼ cup and add more later if the mixture is too wet after chilling. Refrigerate the mixture for at least 1 hour prior to frying the meatballs.
Once chilled, squeeze portions of the mixture in your palm to make it stick to itself and then roll into balls (mine were 20 g / ¾ oz each) in your hands. If the mixture is too wet, add a touch more flour, but don't go crazy, especially if you intend to bake your meatballs, as baking will dry them out a bit more than frying.
Fry meatballs in hot oil until browned on all sides. Alternatively you could also bake them on a lightly oiled tray, in a 180° C / 355° F oven for 25-30 minutes, flipping them halfway through.
ASSEMBLY
Cut your baguettes in half, toast the insides on a hot griddle pan or under a grill / broiler.
Combine mayo with Sriracha, adjust to your taste.
Spread Sriracha mayo inside the baguettes, fill them with pickles, warm meatballs and lots of fresh coriander.
NOTES
*LEMONGRASS: I have tried using lemongrass paste, which is more convenient but it does not deliver nearly as much flavour in my opinion. If you have found one you like, you can use that instead.
*TOFU: You could sub with approximately 250 g / 1½ cups of cooked chickpeas.