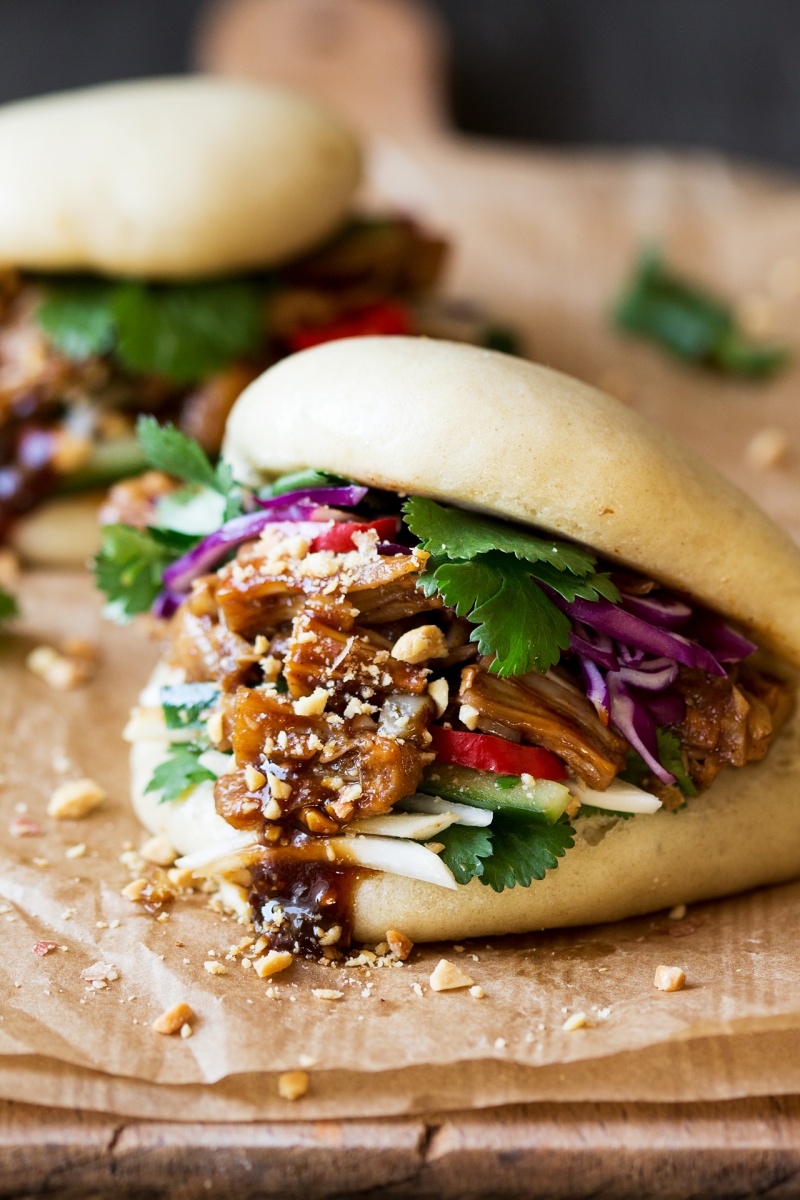 My mission to veganise the foods of the world continues with Chinese vegan boa buns with pulled jackfruit 'pork'! Have you ever tried bao buns? They are h-e-a-v-e-n-l-y! A fluffy bun hugging a succulent, meaty filling marinated in a fragrant salty-sweet marinade, adorned with crispy vegetables, crushed roasted peanuts, spring onions and fresh herbs. For me, it was love at first bite (and sight), which is funny as these were simply meant to be a means to an end.
When we lived in London and went out for dim sum, Duncan always used to order sweet pork buns known as Cha Siu Bao. Now that we are vegan and have no dim sum restaurants on our doorstep, he misses them a lot so I promised to veganise them. As I was a little intimidated by their intricate pleating, I decided to tackle easier looking fold over buns to begin with. After a few tries and some tweaking, I've got the feel for the dough and I look forward to making more variations. If you are an avid bread or dumpling maker, you will have no problem making these! Give them a try, they are really satisfying to make and even more so to eat. If you are short on time or not inclined to get your hands floury, make a trip to an Asian supermarket or your city's Chinatown and purchase them ready made instead.
What inspired me to try my hand at Chinese cooking was a BBC show on the culinary delights of China we've been watching lately. I knew from the outset that watching the show as a vegan wasn't going to be the easiest thing to do but I really wanted to find out more about the cuisine of this fascinating country. I was holding up fine until they cut to a scene of live frogs, fish and turtles being sold at a food market with show presenters marvelling about how locals are passionate about the freshness of their 'ingredients'. That bit sent me a little over the edge, I'll admit. It just seemed so unnecessarily cruel…Those poor animals treated as inanimate objects!
This dish contains no animal products of course. Its 'pulled pork' filling is made from young jackfruit. I'm sure you've heard about this clever vegan substitute as it made a massive splash in the plant-based cooking world a year or so ago. I couldn't get it here for ages, but one of my local shops ordered it for me recently and as soon as it arrived, I already had my heart set on veganising these succulent fold over buns. It's crazy how pork-like this thing is, it's amazing really. Funny how changing your lifestyle forces you to get out of your comfort zone and search for alternatives. Suddenly you realise that there is a whole world of cruelty-free options you would have never known about if you never ditched meat.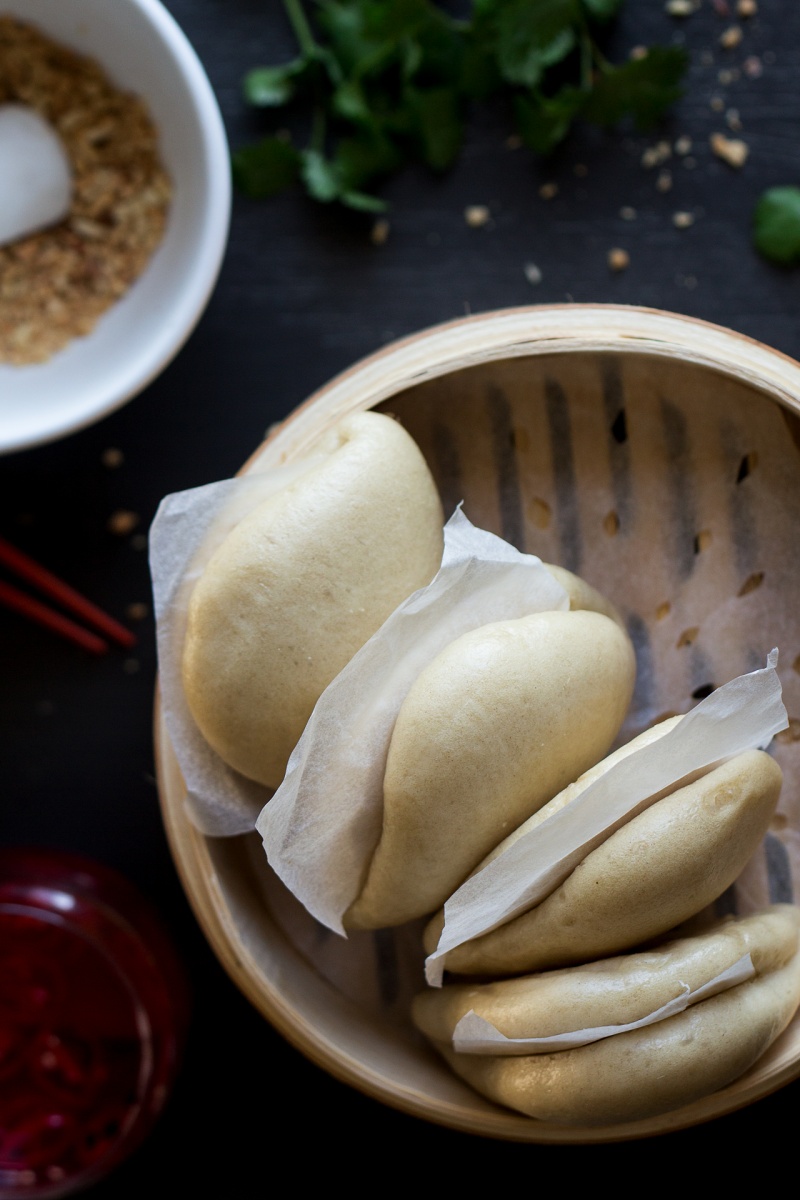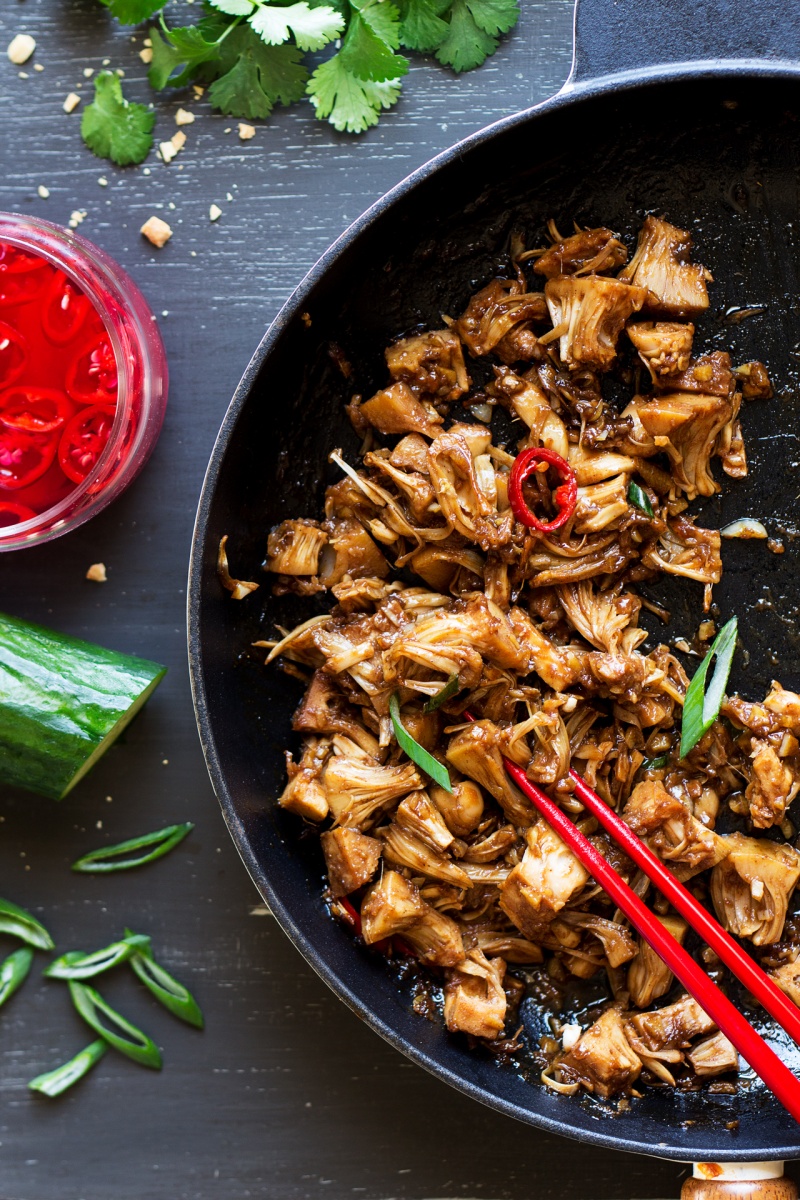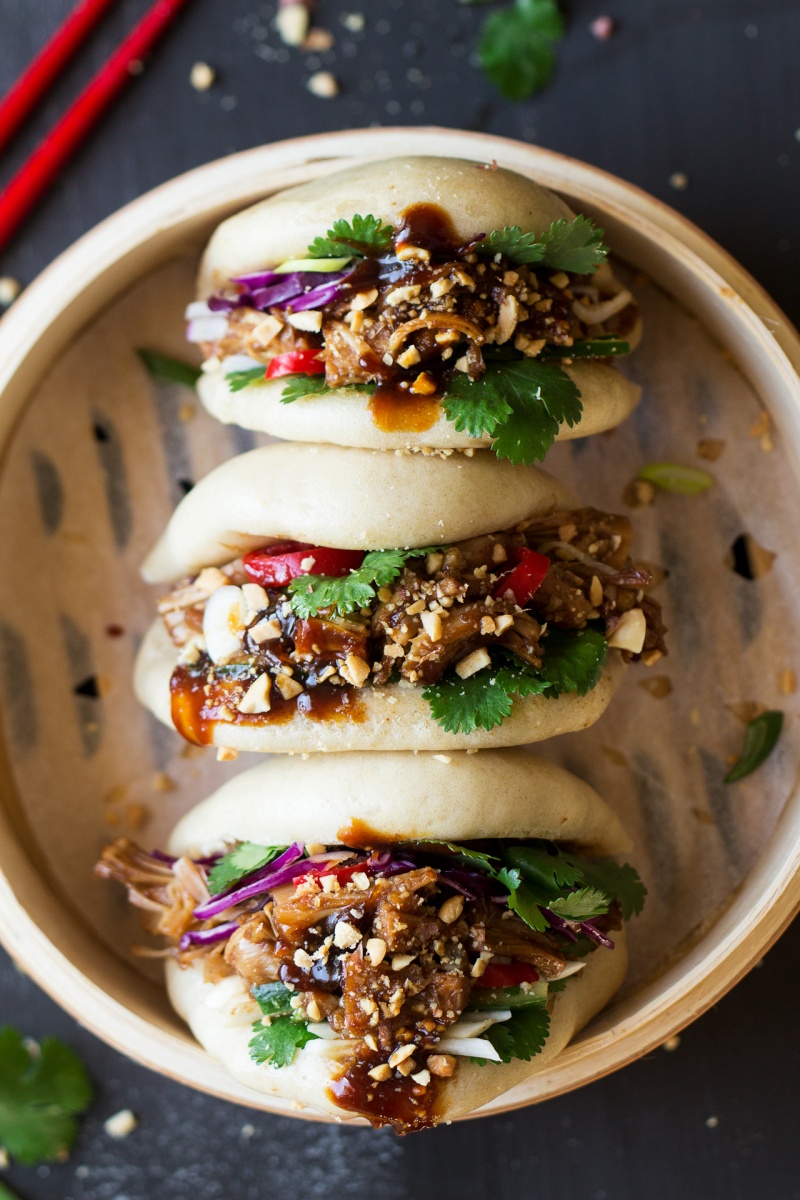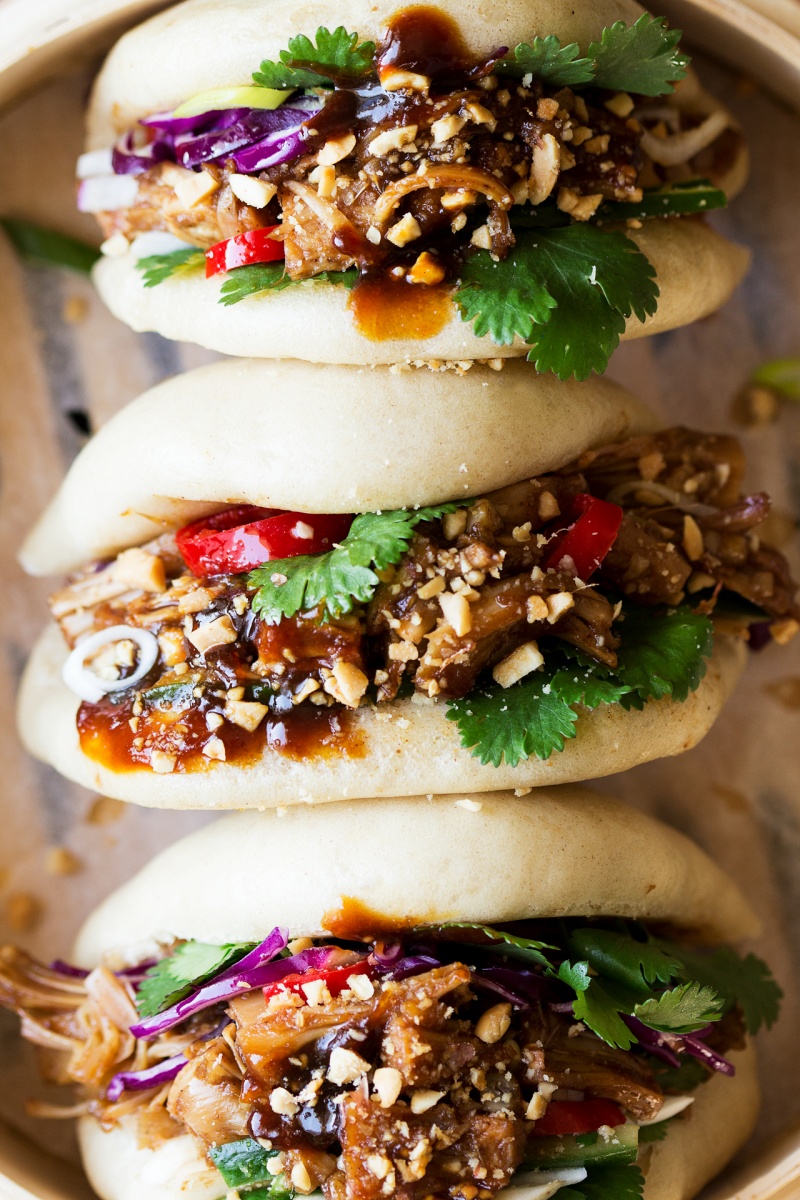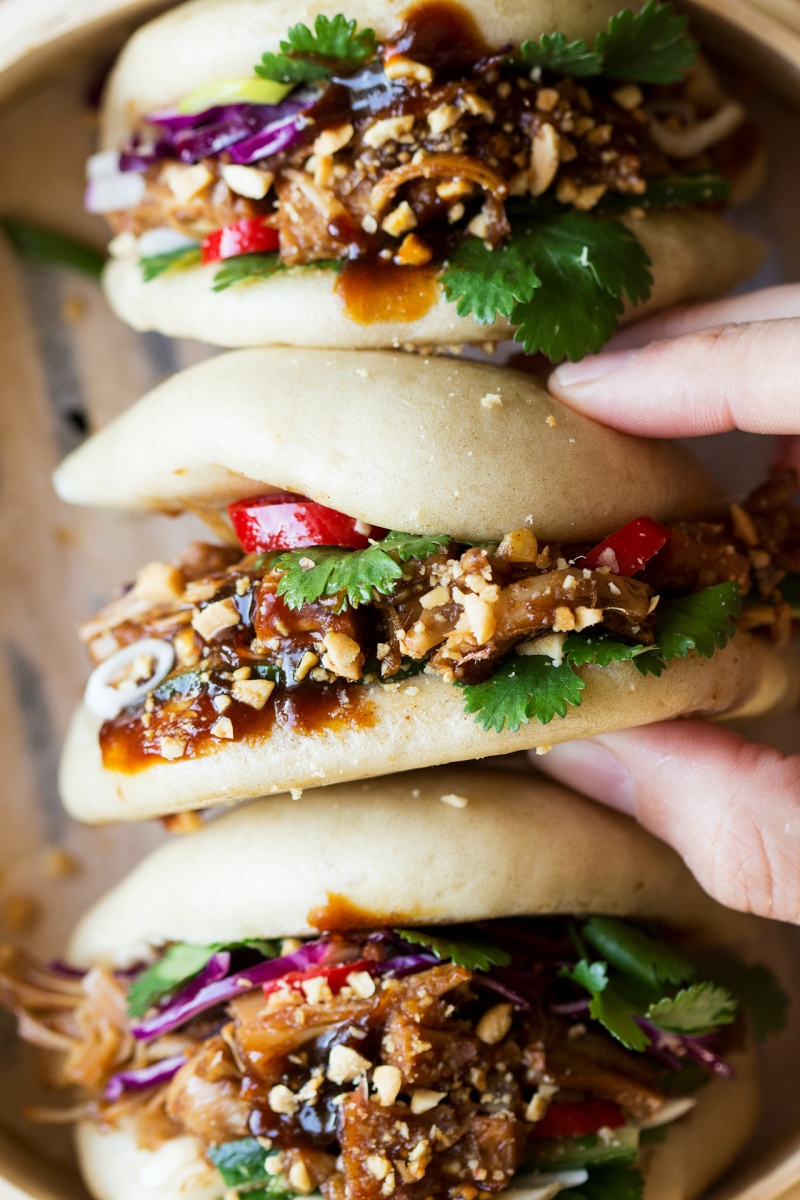 BUNS (can be made 1 day ahead)
300 g / 2½ cups bao flour OR all purpose flour
2 tsp instant active yeast
1½ tbsp / 20 ml vegetable oil
1 tsp fine sea salt
2 tsp sugar (optional)
FILLING
560 g / 20 oz tin of green / young jackfruit (this is the brand I used)
2 small spring onions, sliced
4 tsp grated ginger
3 garlic cloves, finely chopped
3-4 tsp tamari / soy sauce, adjust to taste
1 tbsp rice vinegar
2 tbsp hoisin sauce (plus extra to serve)
2 tsp brown sugar or maple syrup
2 tbsp vegetable oil, for frying (I used peanut oil)
1 heaped tsp Chinese five spice
OTHER CONDIMENTS
sliced fresh chilli or chilli sauce
½ English cucumber, cut into matchsticks
½ daikon or 1 turnip, cut into matchsticks
red cabbage, shredded finely
roasted (unsalted) peanuts, crushed or chopped
spring onion, sliced finely
fresh coriander
METHOD
BUNS
In a mixing bowl, combine flour, instant yeast, sugar and salt. Add about 120 ml / ½ cup of warm (that's important) water and 1½ tbsp of oil. Once combined roughly with a wooden spoon, start combining the dough with your hands. It will need a bit more water but it is very important to add the water in gradually, tablespoon by tablespoon. In my experience it takes another 2-3 tablespoons of water to achieve a dough that is not too dry or not too sticky. Knead it for 10 minutes with your hands until elastic and smooth. Form the dough into a ball and rub a small amount of oil on the dough's surface to prevent drying. Place in a clean bowl covered with a kitchen towel and place it somewhere warm (but not too warm, sticking it too close to a fireplace is a bad idea, for example) for 1-2 hrs or until it doubles in size.
Cut two circles (if you have a two tier bamboo steamer) of baking paper to line the steamer with. Make a lot of small holes in the circles so that the steam can get through. You can use a paper puncher for this or fold each circle in half 3 times and cut small circles out along the folded edges with a pair of scissors. Prepare also eight 5 cm / 2″ squares of baking paper and insert into the buns to prevent the two halves from sticking to each other (you could also use oil instead).
After the dough has doubled in size, tip it out onto a lightly floured surface and press the air our with your fingertips. Divide the dough into 8 equal pieces and form small balls. Place the balls on a lightly floured surface, cover with a kitchen towel and leave for another 30 min.
Using a rolling pin, roll the balls out into ½ cm / ¼" thick oval shapes. Fold each shape in half and insert a square of baking paper between the two halves. Alternatively you could also oil the buns before folding in half.
Line your bamboo steamer with paper circles you've made earlier and place folded up buns inside for another 30 min of proving. If your steamer is too small (like mine), place four buns inside (two on each tier) and rest the remaining four on a baking paper lined and lightly dusted tray until you are ready to steam.
Half fill a pot (which the steamer can comfortably sit on, of course) with water and place the steamer with the buns on top. Whack the heat to medium-high (I used setting 4 out of 6) and let the water come to a simmer – don't be tempted to peak inside or you will ruin the buns. Once you can hear the water simmering vigorously, put the timer on to 10 mins. After the time is up, take the pot and steamer off the heat and rest the buns for another 5 minutes. This will spare the buns temperature shock and will prevent them from shrinking. After 5 minutes, lift the lid off and remove the buns gently. Cook the remaining four like you did the first four.
FILLING
Open the can of jackfruit and drain it. Cut the firm, pointy ends off each triangular piece of jackfruit (you can still use them if you wish) and squash each piece of jackfruit gently so that it separates into individual strands and soaks up more of the cooking sauce. Set aside.
Heat up 2 tbsp of oil in a medium size pan. Fry spring onions until softened. Add chopped garlic and ginger and fry gently until soft and fragrant.
Mix in Chinese five spice and fry gently for one minute.
Now add the remaining sauce ingredients: tamari / soy sauce, hoisin sauce, rice vinegar and sugar. Mix them around well, allow sugar to melt. Finally add in jackfruit and mix well to allow it to warm up and soak up the maximum amount of sauce.
Fill each bun with pulled jackfruit, fresh veggies, herbs, chilli, crushed peanuts and some extra hoisin sauce.
NOTES
This
is the bamboo steamer I used.
Bao bun making / cooking method adapted (based on my attempts) from this recipe and that recipe.