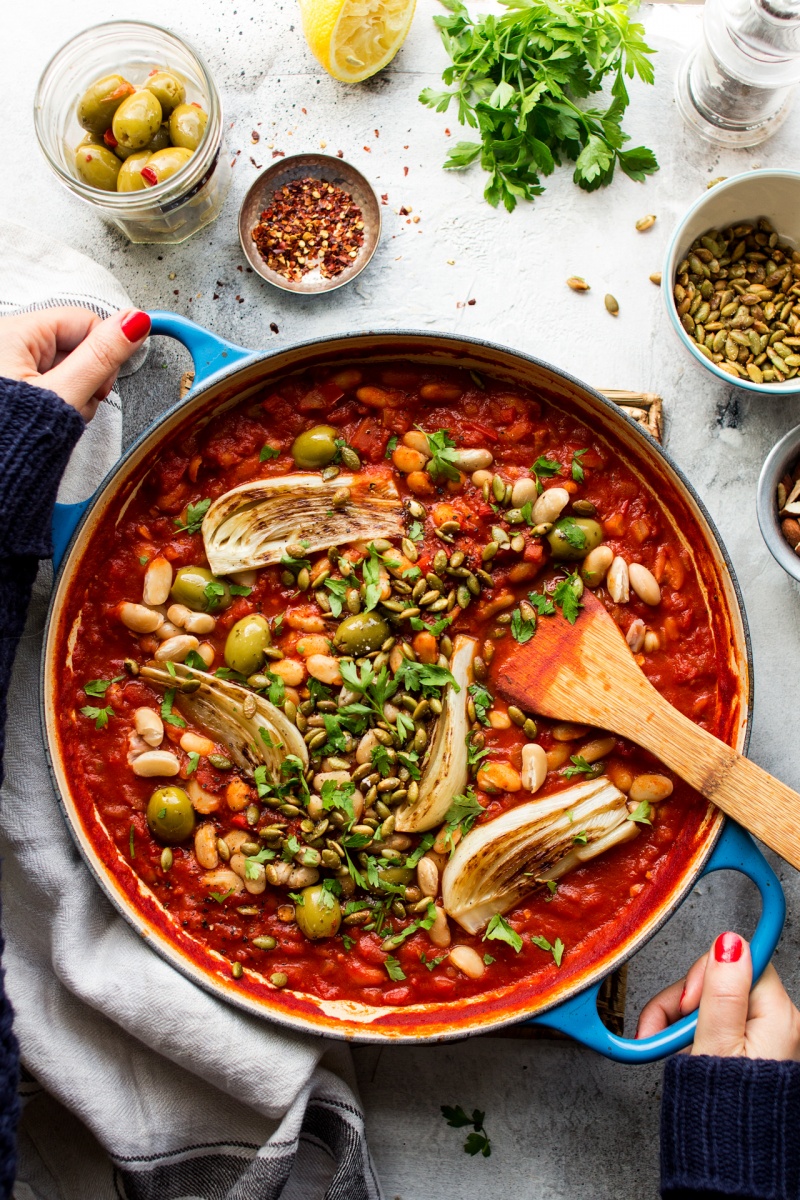 Greetings from beautifully sunny Poland. I'm at my parents' house tonight, but heading back to Krakow tomorrow to catch up with friends and hang out with my brother and his girlfriend. Then back here again to spend a few more days with my mum and dad before I fly back next Friday to be reunited with my husband (still feels weird to refer to him as that), Duncan and our kitty, Tina.
When I shot this recipe two weeks ago, the weather was foul and we were crying out for some comfort food. Putting a large pot of stew on and basking in its warmth made total sense. Now that I am in sunny 25° C (77° F) Poland, it feels a touch ill-timed, but I know that as soon as I touch down in the UK, a bowl of steaming hot veggie stew will be an ideal dinner, so I hope this recipe will come in handy for those of you who aren't lucky enough to experience an extended summer right now.
This simple vegan bean stew inspired by Spanish flavours is easy to make, filling, delicious and healthy. I love to make a big pot of it on Friday so that when we return from our weekend run or a long walk, cold and hungry, we can have a steaming hot bowl of comforting food ready in no time.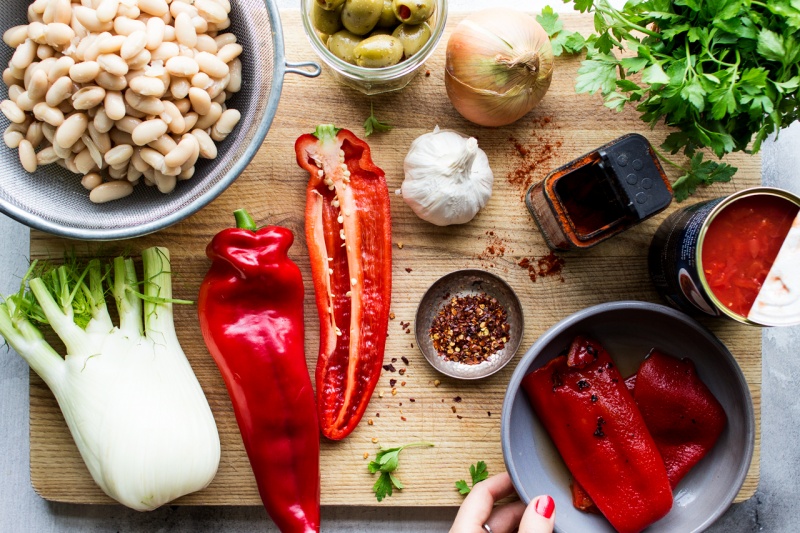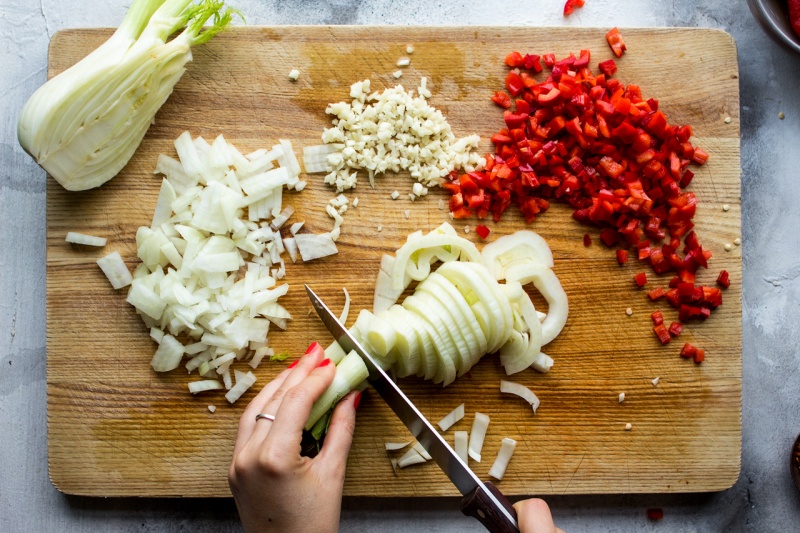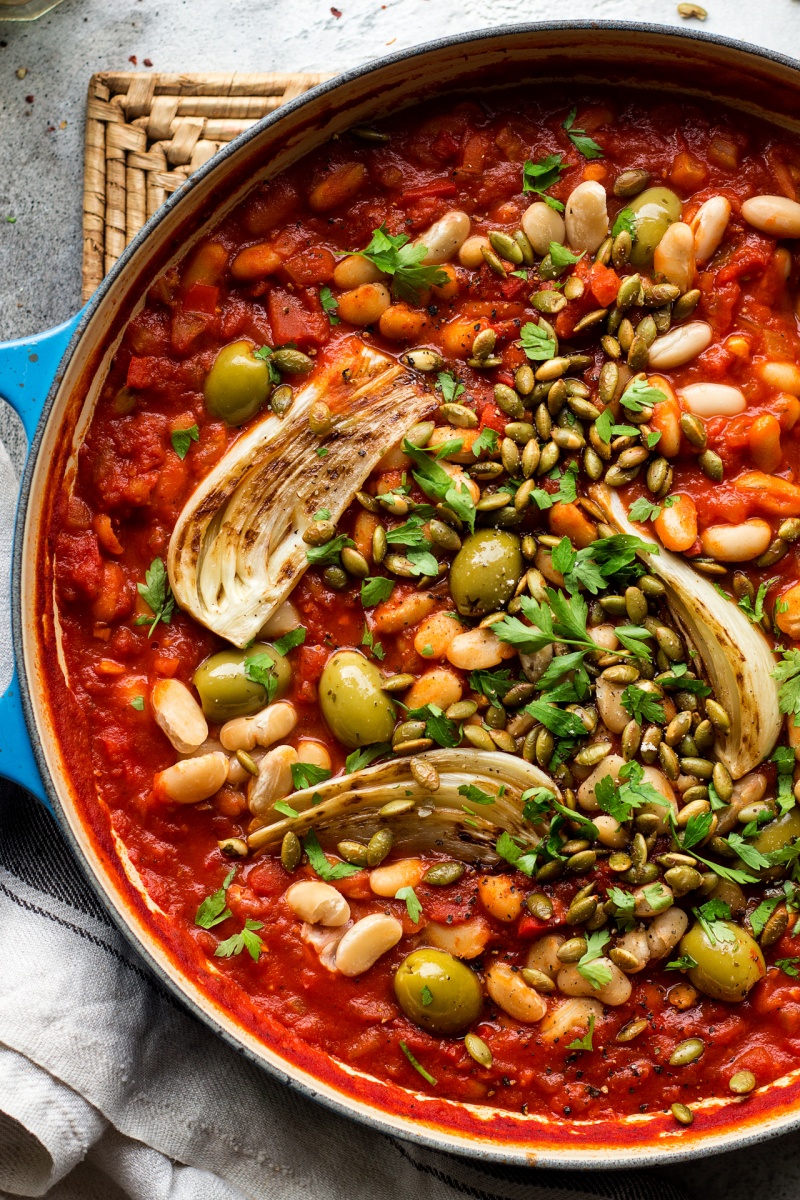 2 tbsp / 30 ml olive oil, plus more for grilling and roasting
1 small onion, diced finely
4 garlic cloves, diced finely
1 Romano or Ramiro pepper, diced finely
½ fennel bulb (about 150 g / 0.5 oz), plus 1½ more for grilling (optional)
1½ tsp ground cumin
3 tsp smoked paprika
½ tsp ground fennel seeds
¼ tsp hot chilli flakes, adjust to taste
two pinches ground saffron threads (optional)
2 x 400 g / 14 oz tin chopped tomatoes
2 fire roasted peppers (about 150 g / 0.5 oz), diced finely or blended*
1 tsp dried thyme
½ tsp salt, adjust to taste
black pepper, to taste
2 x 400 g / 14 oz tin cannellini beans (or chickpeas)
12 green olives, (optional)
fresh parsley or thyme (optional)
¼ cup pepitas / pumpkin kernels
METHOD
Heat up the oil in a heavy-bottomed pot.
Add the diced onion and fry it gently (on a low heat) until almost translucent (for about 7 minutes), stirring from time to time.
Add the chopped garlic. Keep on frying gently until the onion is translucent and the garlic softens completely and releases its beautiful aroma (approx. 5 minutes).
Add a finely chopped Romano pepper and half a chopped fennel. Saute for a few minutes until softened.
Stir all the spices into the vegetables. Fry them off gently for a minute or two (stirring the whole time) as they tend to burn easily.
Add tomatoes and two cans worth of liquid (water or veggie stock and if you have an opened bottle of dry white wine handy, replace some of the water with wine).
Add finely diced (or blended with some of the sauce) fire-roasted peppers and dried thyme.
Add salt and simmer, covered, so that the tomatoes have a chance to break down.
Once the tomatoes are sufficiently broken down (depends on how chunky you like your sauce), take the lid off and simmer for a further 20-30 minutes for the stew to thicken and for the excess moisture to evaporate. Remember to give the stew a good stir from time to time.
While the sauce is simmering, grill the extra fennel (if using). To do that, cut the fennel into same size wedges. Heat up a griddle pan and brush it with a little oil. Place the fennel wedges on a hot pan, cut side down, and grill them until you get nice char marks on both sides. Set aside to add to the stew at the end.
Heat up 1 tsp of olive oil in a very small pan. Once hot, add pepitas, toss them in the oil and allow them to roast (stirring the whole time). Take them off the heat once lightly browned, fragrant and crackling. Toss some salt through them – I like to use garlic salt.
Once the sauce thickens, taste it and season with a generous amount of black pepper and more salt if needed. Romano / Ramiro peppers add sweetness to the sauce so you are unlikely to need sugar, but if you feel that the sauce is still too tangy, add a teaspoon of sugar or date syrup. If you find the sauce too sweet, on the other hand, add a squeeze of lemon juice.
Finally, stir in the drained cannellini beans and let them warm through. Add the olives and grilled fennel just before serving.
Decorate with fresh parsley (or thyme) and salt-roasted pepitas. Serve with rice, quinoa or couscous.
NOTES
*If you don't have any on hand, replace with another Romano or Ramiro pepper.