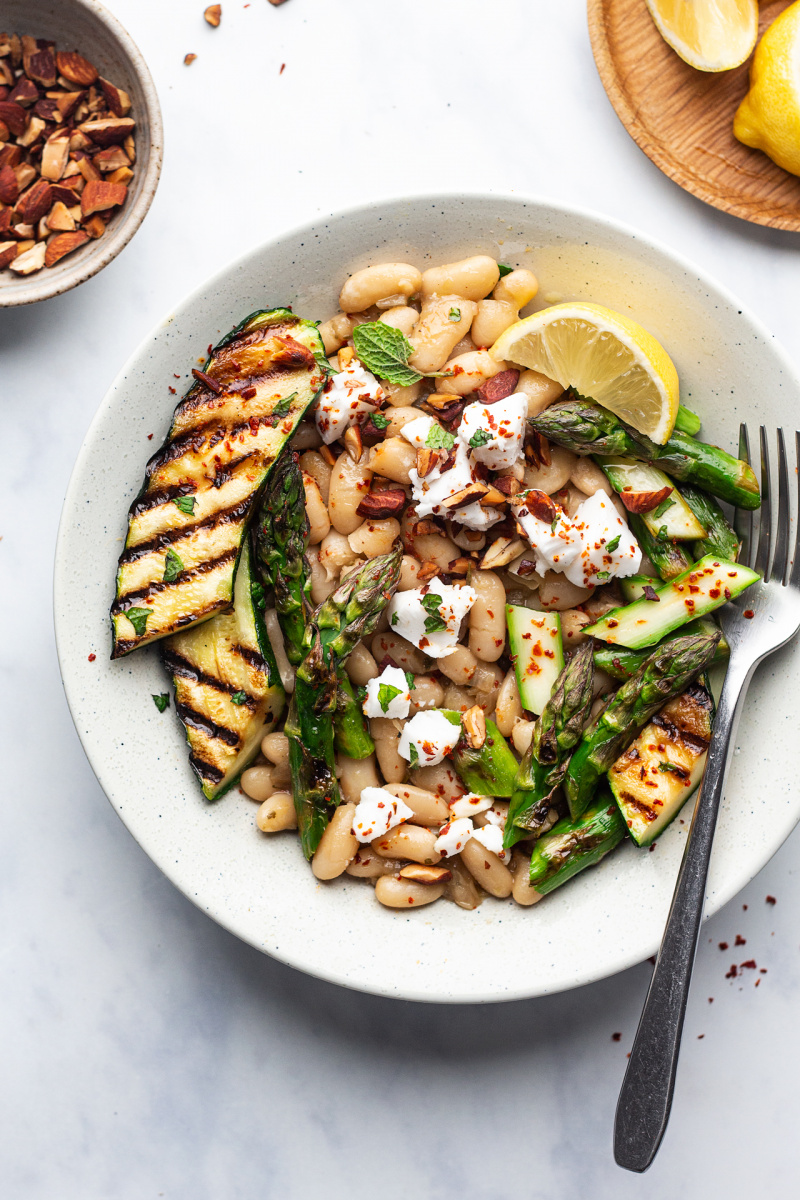 While I am scheming another sweet recipe (thanks to Anthony for putting himself on the line to help me test!! 😉 ), today I made a simple and heart healthy (as little as ½ cup of cooked beans a day is known to lower your cholesterol) lunch that anyone can make and everyone should get behind. It's full of protein rich beans cooked to perfection in a heady concoction of herbs, garlic and wine, served with grilled spring veggies, a smattering of vegan feta and a sprinkling of crunchy and toasty almonds.
I made mine using dry beans as I am not too keen on tinned, but you can use tinned if you would rather. What sparked this simple meal idea was a realisation that we've been having too much pasta lately. We are both pasta fiends and pasta is quick and easy so that's something I tend to gravitate towards when I cannot be bothered to plan, especially that I happen to have a lot of wild garlic pesto in my fridge right now. It's just too easy. As it is good to vary your meals, I've decided to come up with an easy bean stew that I can top with some charred veggies and other goodies to make it more interesting and nourishing. Enjoy!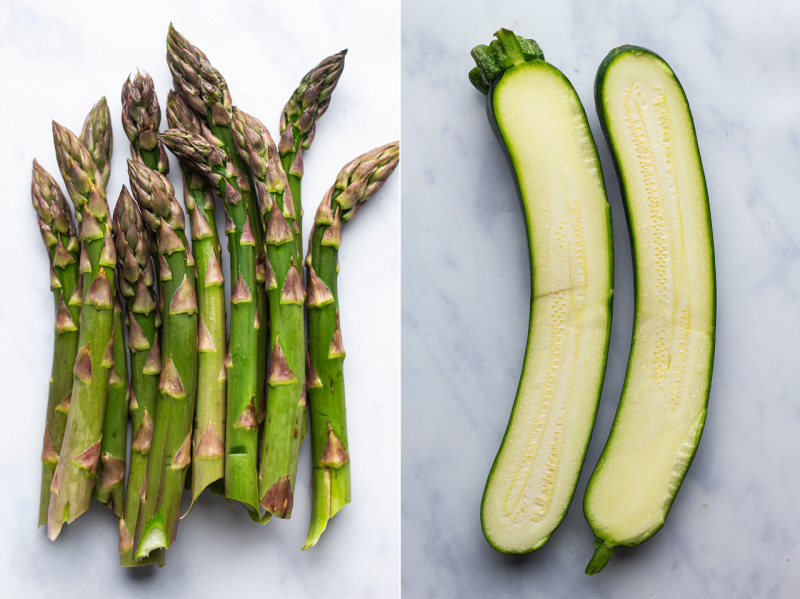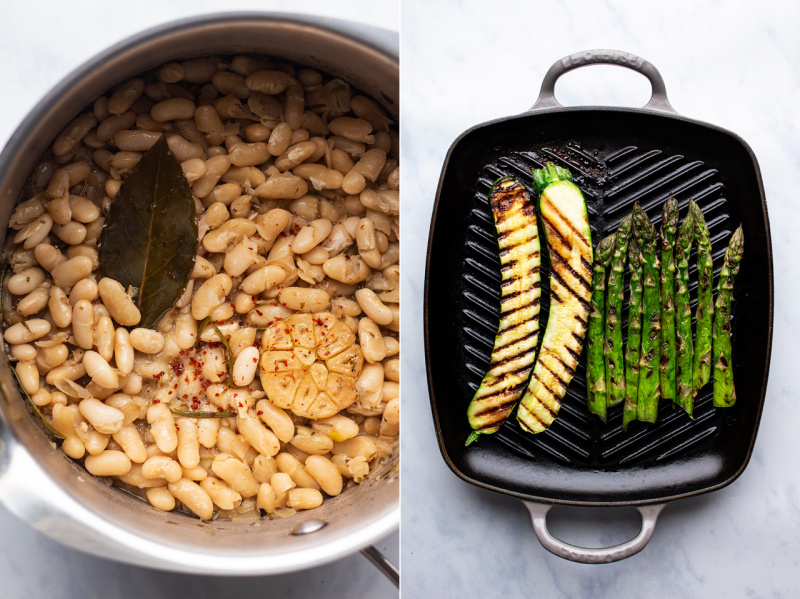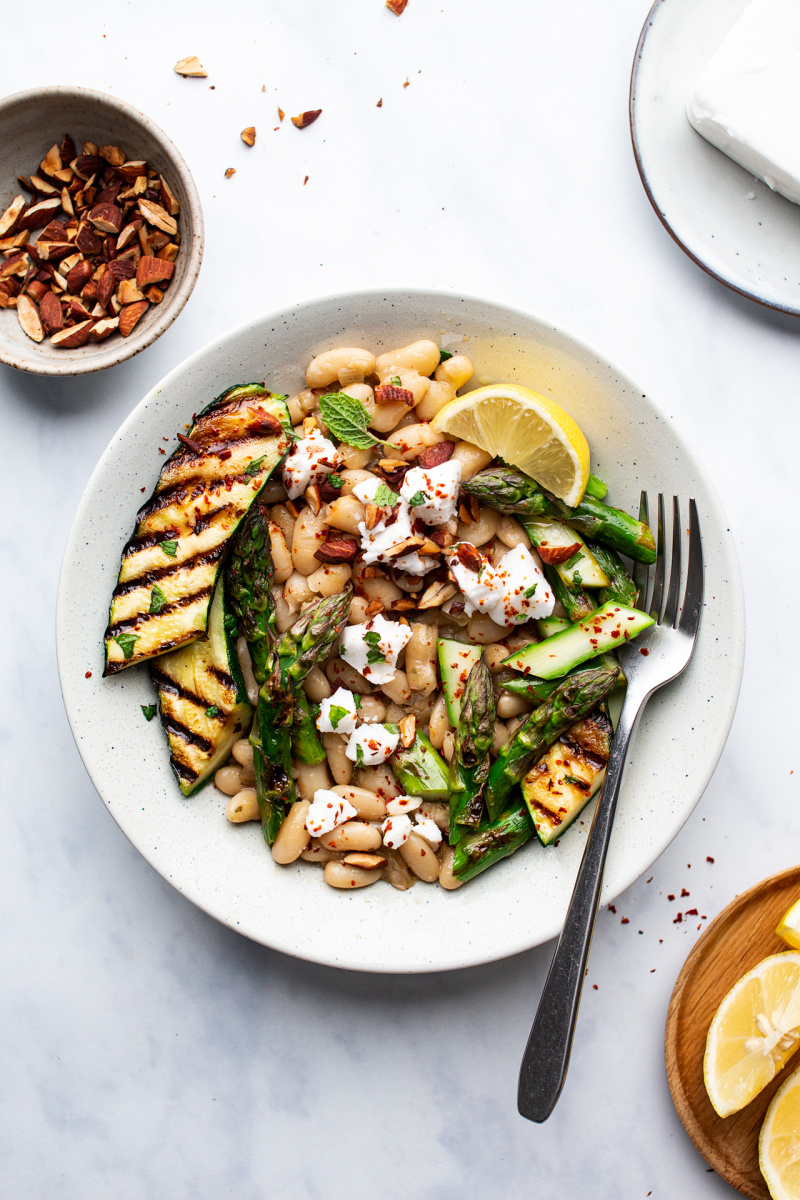 BEANS
2 tbsp extra virgin olive oil, plus more to serve
3 banana shallots, finely diced
small head of garlic, cut in half
300 g / 1½ cups dry cannellini beans*, soaked for 8-12 hrs
2 bay leaves
a few sprigs of thyme or ½ tsp dried
a sprig of rosemary or ½ tsp dried
240 ml / 1 cup white wine (sub with stock if desired)
720 ml / 3 cups stock (or water + vegan stock cube)
salt and pepper
zest 1 unwaxed lemon + juice of ½ lemon, adjust to taste
1-2 tbsp tahini, thinned with a little water first (optional)
TOPPINGS
bunch of asparagus
2 zucchinis, cut in half lengthwise
vegan feta, homemade or shop-bought
chopped and toasted almonds
fresh mint leaves, torn
chilli flakes (optional)
METHOD
BEANS
Heat up olive oil in a heavy bottomed pan. Sauté diced shallots until translucent. Add garlic halves, cut side down and allow them to brown lightly.
Add rinsed (soaked) beans, bay leaves, herbs, wine and 500 ml / 2 cups of the stock. Bring to a gentle boil and simmer for about 1 hour until the beans are soft but not falling apart. Skim the foam of the top at the beginning of the cooking process and top up with more stock when the beans are getting too dry. Cook covered and when the beans are almost done, take the lid off and allow the juices to reduce.
Season with salt, pepper, lemon zest and lemon juice to your taste. You may want to stir in a touch of tahini thinned with a little water to make the beans creamier at this point.
TOPPINGS
Heat up a griddle pan on a low heat.
Snap off and discard the wooden ends of your asparagus spears, place the spears on a large, flat plate and drizzle with a teaspoon of oil. Roll asparagus in the oil to coat.
Place it on a pan and allow it to char on one side before rolling over to a fresh side. Allow it to char on the other side, take off the pan, chop into bite-size pieces, season with salt and set aside.
Brush the cut side of the zucchini with a little olive oil and place on the hot griddle pan, cut side down. Weigh it down with something heavy and allow it to grill slowly for about 5-7 minutes – until nice char marks develop. Flip onto the other side and grill for another 7-10 minutes, until charred and roughly cooked through. Cut into bite size pieces, season and set aside.
ASSEMBLY
Divide cooked beans between 4 bowls. Drizzle with extra olive oil if you wish.
Top with charred asparagus and zucchini pieces, vegan feta, toasted almonds, mint leaves and chilli flakes.
NOTES
*You can used tinned beans instead. To do that, reduce the amount of liquid used to approximately 500 ml / 2 cups (stock, wine or a mixture of the two) and only cook the beans for about 25-30 minutes or else they will be very mushy.