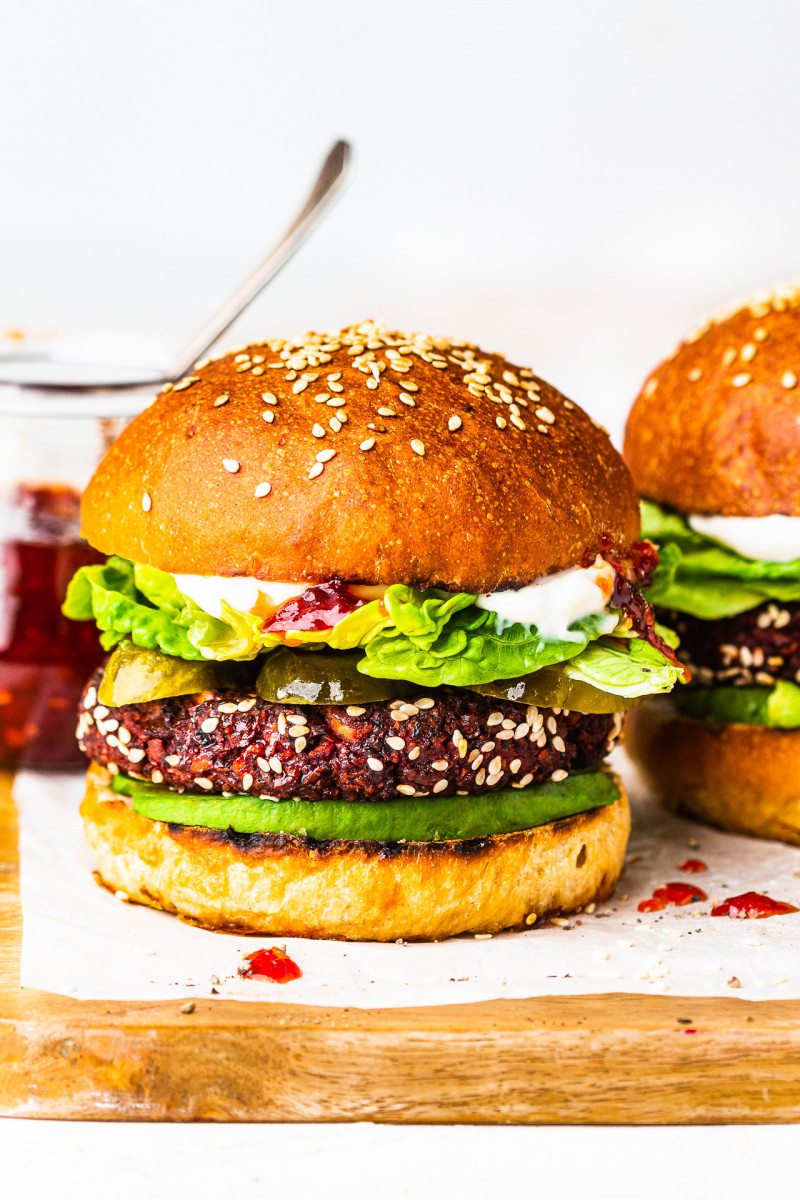 Vegan burgers, where do you stand on those? At some point I concluded that the plethora of plant-based burgers in shops is so staggering that there is little point in me coming up with a recipe as no one will bother to make them. Since then my opinion has changed…I developed a taste for a vegan burger recipe that only features wholefood ingredients and is easy to make and these vegan beet burger recipe ticks both of these boxes…
While I am a firm believer in wholefood plant based diet approach 90% of the time, I don't have anything against shop-bought plant-based burgers, sausages, meats now and then, I use them to add variety and excitement to my meals. Through a bit of a trial and error, I found a few products I enjoy and so we have them on a regular basis, once or twice a week I would say. I sometimes add soy-based vegan chicken to my lunches or plant-based chorizo to some of my meals, but I have not had as much luck in finding a vegan burger I truly enjoy.
I did try BeyondMeat burger and while the taste blew my mind and I kept on checking with the waiter (I had it at a restaurant) that it definitely isn't beef, I disliked its funny aftertaste and it didn't feel so great on my stomach afterwards. It's something I could maybe have once a year, tops! This beet burger isn't an attempt to reinvent BeyondMeat patties with wholesome ingredients and without any of their clever food chemistry – as I don't think that's possible, but to offer and easy and healthy plant-based burger alterantive. For me personally, the burger eating experience is so much more than the patty itself, it's greater than a sum of its parts. It's almost as much about the quality of the bread, the selection of condiments, the freshness and intentionality of the remaining ingredients: crispy lettuce providing freshness, pickles adding a pleasant crunch and tang, etc.
I hope you'll be tempted to give these burgers a go! They are easy and cheap (that's another thing about plant based meat substitues – since, unlike meat, they are not subsidised by governments, they tend to be quite expensive) to make. I use minimal oil (about 1-2 tsp per burger) as I bake them in the oven and they contain only plant based wholefoods. I personally prefer making these with uncooked, soaked chickpeas – they make for a moistier patty, but I also tested them with tinned chickpeas and they are still quite good if dry chickpeas is not something you have at home. I hope you'll enjoy these healthy vegan beet burger buns as much as we have.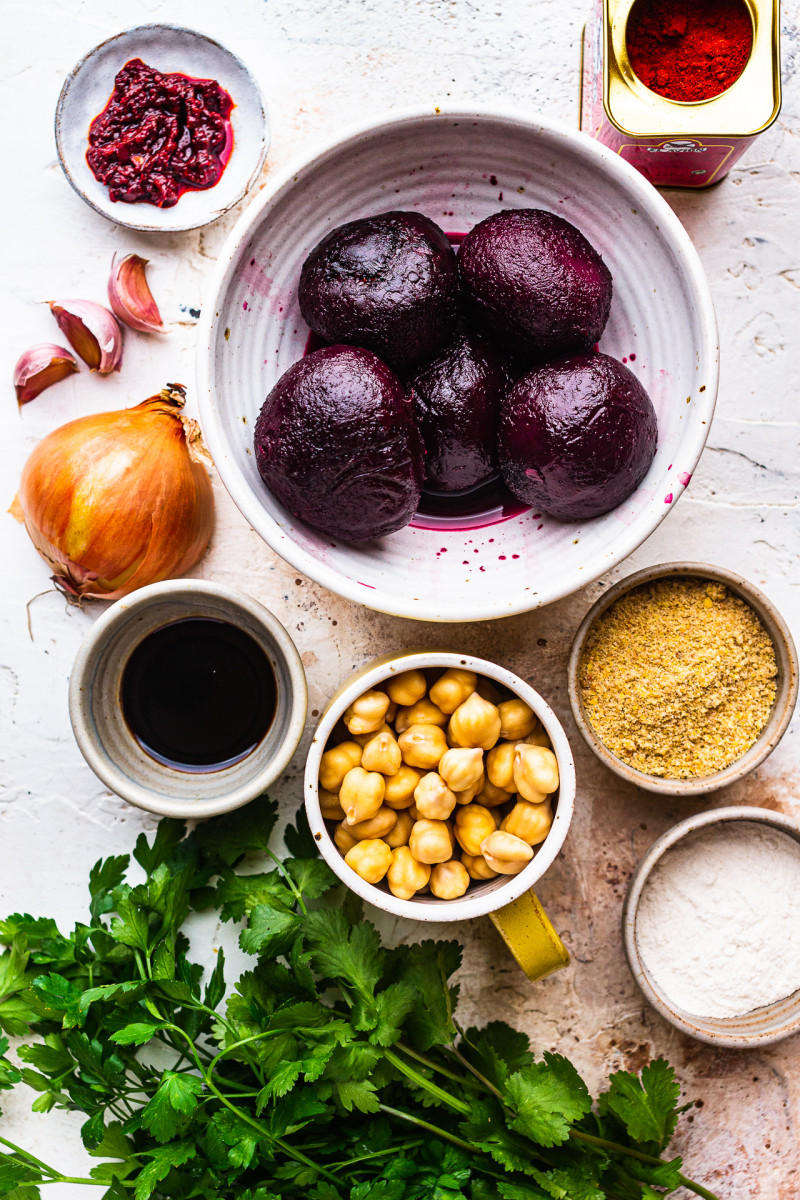 MORE ABOUT THE INGREDIENTS
CHICKPEAS: Chickpeas are one of the main builiding blocks of this simple vegan beet burger. I used dry, soaked overnight, chickpeas to give it the desired texture, but I also tested a version made with cooked (tinned) chickpeas and it works well enough too. I personally prefer the former and the interior is moist while the outside has a firm skin that is ever so slightly crispy.
BEETROOT: The other building block of this simple burger is, of course, beetroot. I used shop-bought vacuum packed beetroot, which is a staple of UK supermakets' shelves – pretty much every large supermarket has its own brand of this product. Be sure to purchase one preserved in natural juices as opposed to the one in vinegar. While I haven't tested these with raw beetroot, this recipe is based on my previous recipe for beetroot falafels and I used raw beets there with great success. Use the same amount of raw beetroot per weight (250 g / 8.8 oz).
ONION, GARLIC: These two aromatics add flavour to the burger. You can either pan-fry them in little oil to mellow their flavour before adding to the burger mixture or you can simply add raw onion and garlic and a tablespoon of oil directly to the burger mixture instead. The latter is less time consuming, but it does contribute a harsher onion & garlic taste so I recommend using only one clove of garlic and maybe one eigth of an onion. Oil helps to keep the burger moist inside.
PSYLLIUM HUSKS / GROUND FLAX: Psyllium husks or ground flax are used to keep the burgers whole. Psyllium is more potent and therefore works better, but ground flax works well enough too. I tested pysllium husks as I ran out of powder, so if you were to use psyllium husk powder, use only about half a tablespoon as it's even more potent than whole husks.
HARISSA PASTE: Harissa paste is used for flavour and it adds a bit of a kick too. If you don't have it, use some chilli sauce (like Sriracha) and a bit of ground cumin and coriander istead.
BAKING POWDER: A small amount of baking power is added to the mixture to stop these burgers from getting dense and to help raw chickpeas cook in the oven.
HERBS: I added a handful of fresh herbs for flavour. I opted for a mixture of parsley and coriander, but either of them on their own will work well too.
BALSAMIC: A dash of balsamic gives a bit of acidity and some umami. You can also use lemon juice instead.
RICE FLOUR: A small amount of rice flour is used to make these burgers hold together and to help with shaping. Don't be tempted to add any more flour – the mixture is designed to be as wet as possible so that it doesn't dry out too much in the oven. I haven't tested any other flours but I am pretty sure they will work just as well.
SESAME SEEDS: Sesame seeds are optional. I used them to coat the patties to make them look pretty.
OLIVE OIL: I small amount of olive oil is used to keep these patties from drying out too much and to enable them to crisp up a little in the oven. I haven't tried making these oil-free and I worry that it will render them really dry and unpleasant to eat.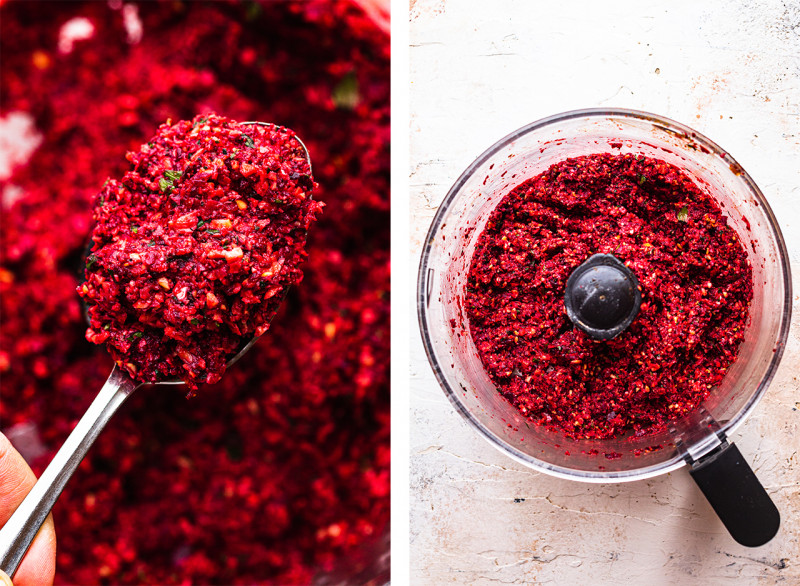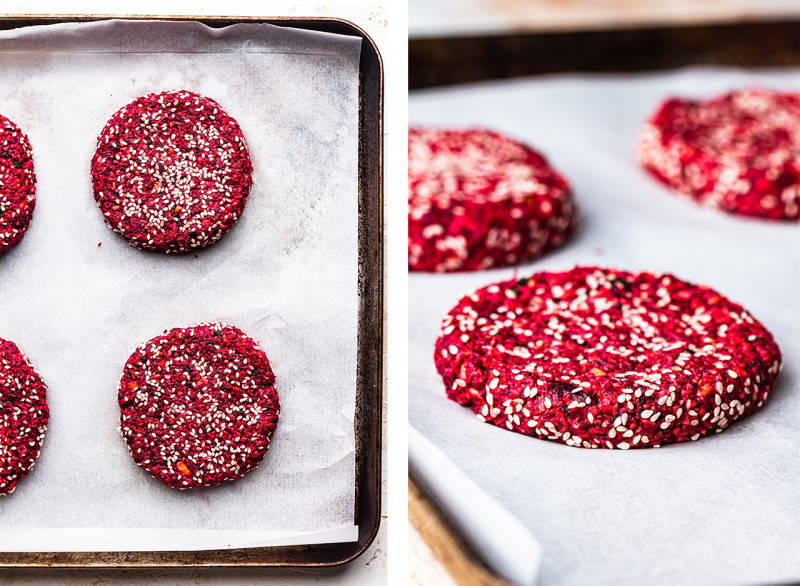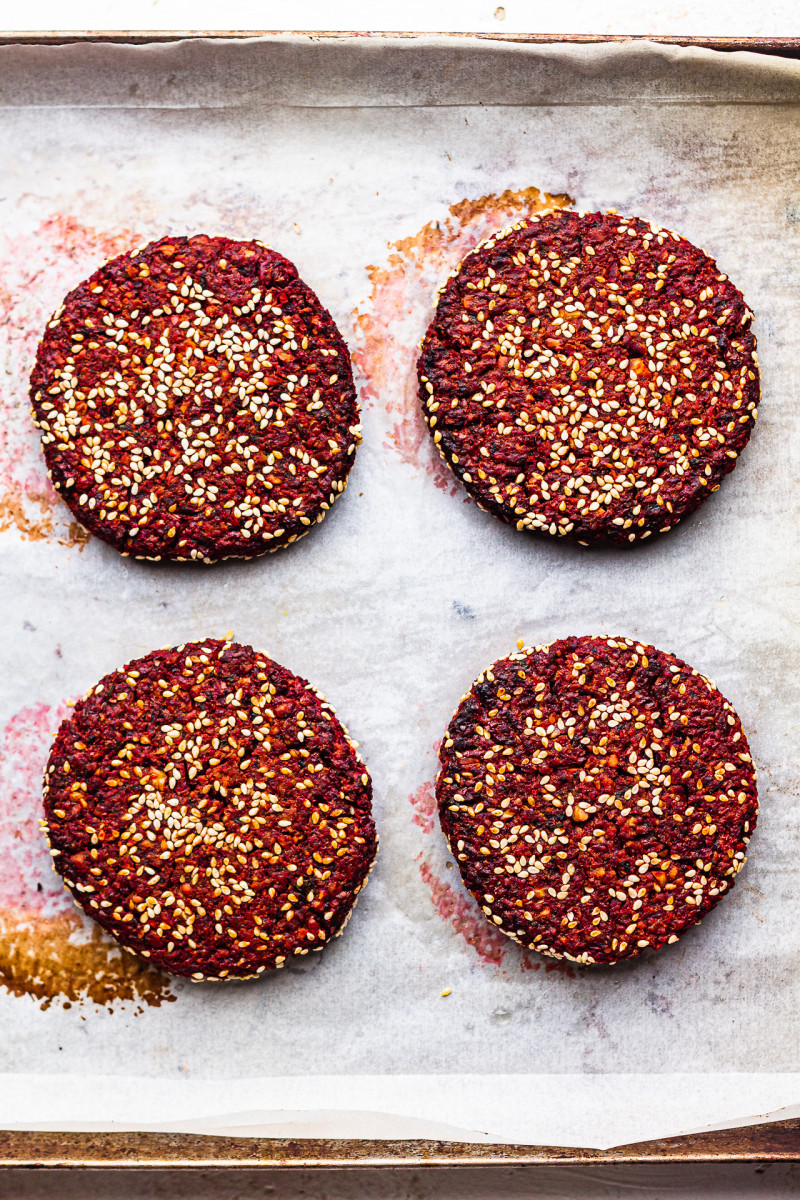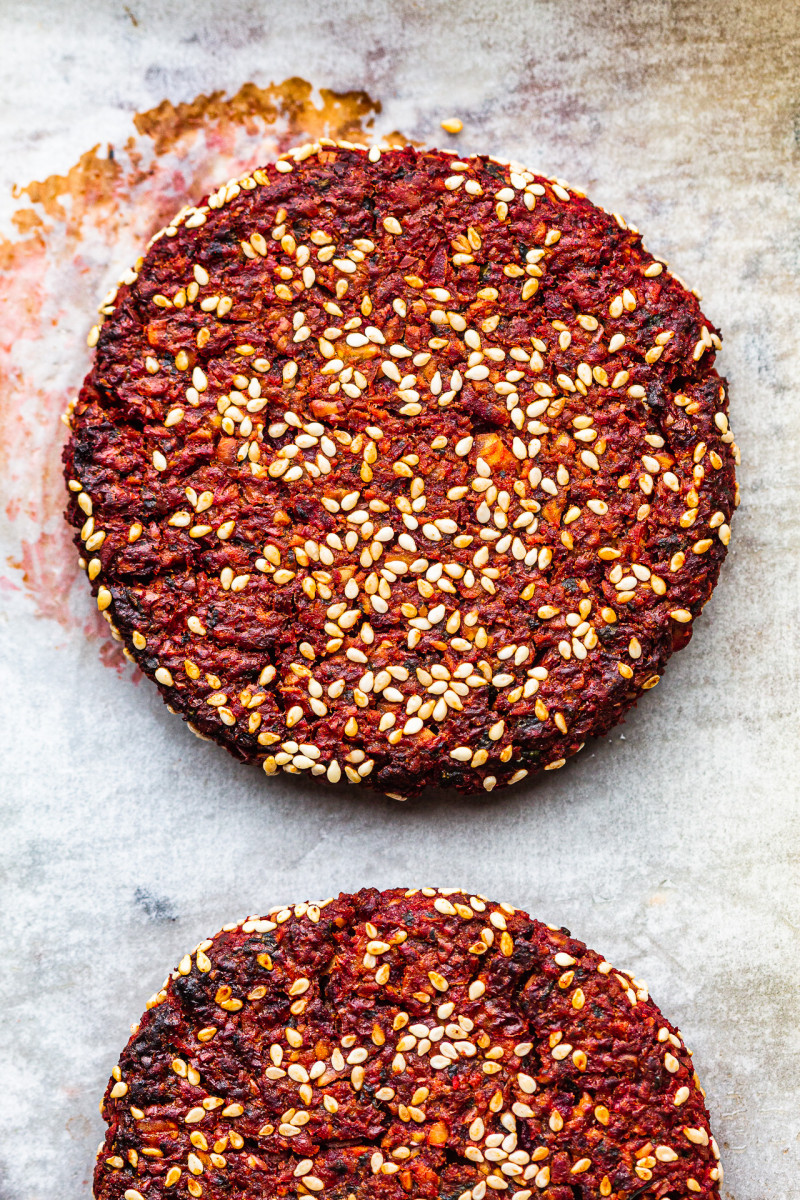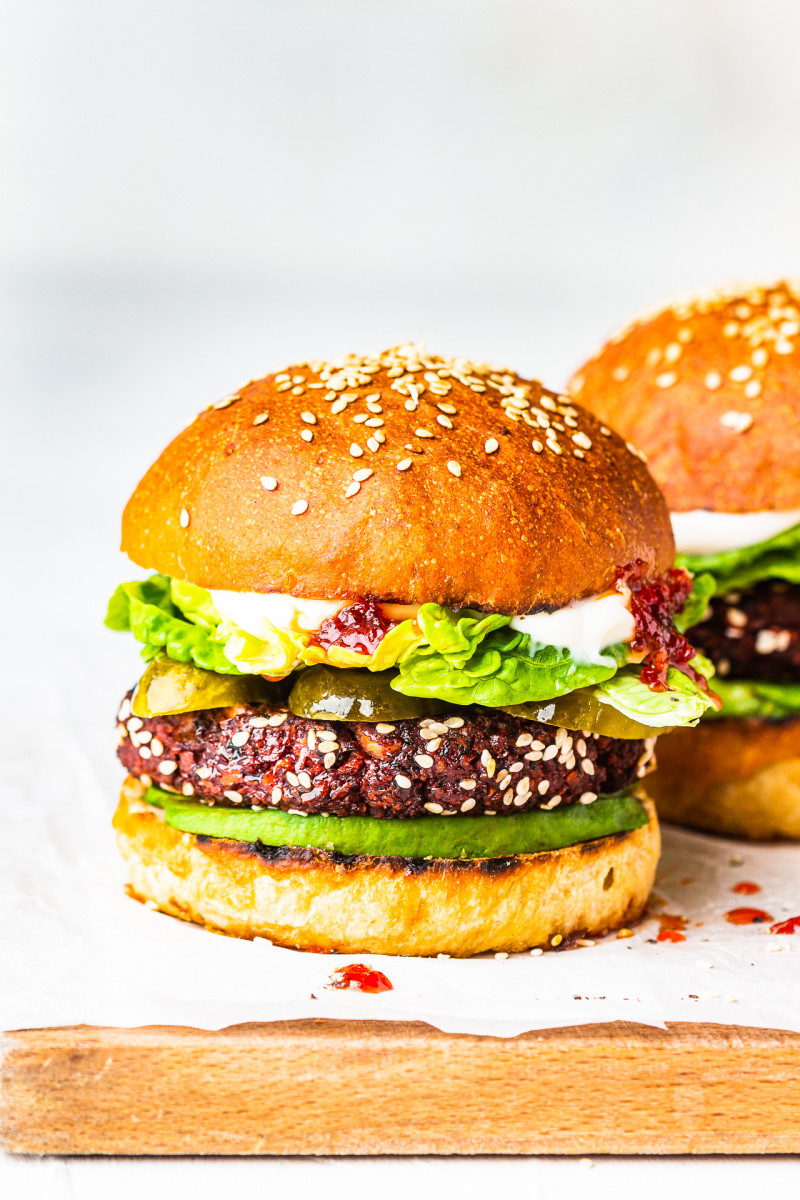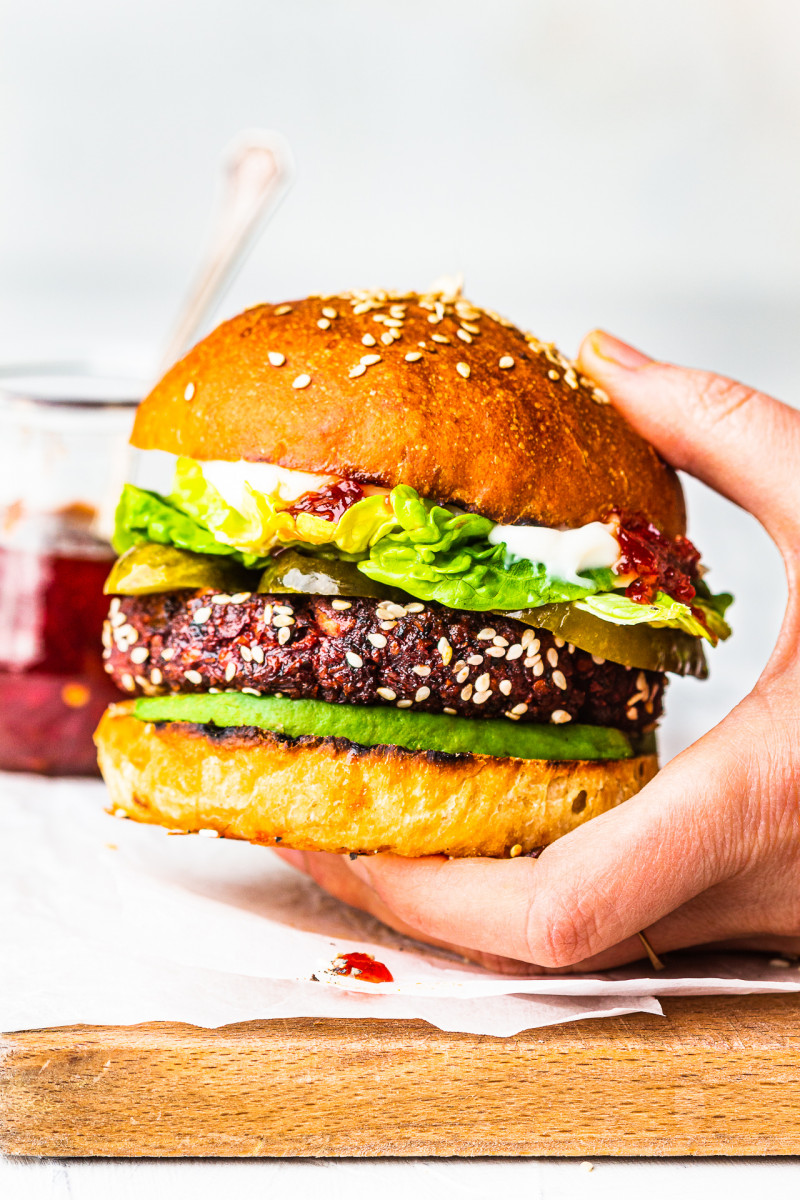 BURGER PATTIES
130 g / ¾ cup dry chickpeas*, soaked overnight (OR 360 g / 2 heaped cups cooked chickpeas)
45 ml / 3 tbsp olive oil, divided
½ onion, finely diced
3 garlic cloves, sliced
250 g / 8.8 oz cooked beetroot*
¾ tsp tsp salt
¼ tsp black pepper
1 tsp smoked paprika
½ tsp baking powder
2 tsp harissa paste*
15 ml / 1 tbsp quality balsamic (or lemon juice)
15 g / 0.5 oz fresh herbs (I used parsely and cilantro)
1 tbsp psyllium husks OR 2 tbsp ground flaxseeds
35 g / ¼ cup rice flour (or other flour)
sesame seeds, to coat (optional)
SUGGESTED BURGER COMPONENTS
burger buns, shop-bought or homemade*
ripe avocado, sliced
little gem lettuce
favourite pickles, I used dill pickled cucumbers
favourite condiments: vegan mayo, chilli jam / chilli sauce
METHOD
BURGER PATTIES
If making uncooked chickpea version, soak dry chickpeas in plenty of water overnight or longer (up to 24 hours).
Heat up 1 tbsp of oil in a small frying pan, once hot add onion and pan fry on low heat until almonst soft. Next add in garlic and pan fry until soft and fragrant. See NOTES for an easier alternative.
Place drained beetroot and chickpeas (if using cooked, add only half) in a food processor. Add pan-fried aromatics and all other ingredients except for 2 tbsp of oil. Pulse until finely ground up (chickpeas should be the size of bulgur wheat – see photo in the post).
Transfer the mixture to a mixing bowl. If using cooked chickpeas, process the other half of them in a food processor until only coarsely ground, then stir through the mixture.
Chill in the fridge for a couple of hours to firm up. You could also freeze the mixture at this point.
Heat up the oven to 200° C / 390° F and line a baking tray with a piece of baking paper. Prepare a plate of sesame seeds (optional), a brush and approx. 2 tbsp of olive oil.
Using your hands, shape chilled mixture into patties – the mixture will be wet, that's intentional! I made five patties measuring 9 cm / 3.5 inches across and about 15 mm / 0.6 inch tall. You could also freeze them at this point.
Stick some sesame seeds to the patties using your hands, then gently place them on the prepared baking tray and bake for 20 minutes, flipping them very gently at half way point.
Take the tray out of the oven and increase the temperature to 220° C / 430° F. Gently remove the baking paper so that the patties sit directly on a metal tray and grease both sides of each patty with oil (about ½-1 tsp per patty). Bake for 10 minutes.
After 10 minutes, flip again, brush with oil and bake for another 5-10 minutes (35-40 minutes total) – until the patties firm up. Allow them to cool down a little after removing from the oven as they are still fragile when hot.
Assemble the burgers as per your preference. I like to toast my burger buns, then have a few slices of avocado at the bottom, followed by the burger pattie, sliced pickles, lettuce and mayo and chilli jam on the top half of the bun. Consume straight away, these are best straight after baking.
NOTES
*ONION & GARLIC: I recommend pan-frying them before adding to the burgers to mellow their flavour. Alternatively, add only 1/8 of an onion (or 1-2 small spring onions/scallions), 1 clove of garlic and 1 tbsp of oil (it helps to keep the burgers moist) directly to the food processor. You could also add a couple of roasted garlic cloves instead, if you have any handy.
*BEETROOT: I used vacuum packed, cooked beetroots that are a mainstay of UK supermarkets. Please be sure to pick plain cooked beetroots, not those preserved in vinegar. And yes, you can use the same amount (by weight) of raw beetroots too.
*CHICKPEAS: You could make these burgers with soaked dry chickpeas or cooked chickpeas. I recommend the former as I prefer their texture but the tinned chickpea option is also possible.
*HARISSA PASTE: You can use 1 tsp of any chilli sauce, 1 heaped tsp of cumin and coriander instead.
*BUNS: I made my burger buns by simplifying my vegan brioche buns recipe. I used 1 tbsp of sugar (you can skip it completely) and only 1 tbsp of olive oil instead of vegan butter. I kneaded them briefly in the evening and let them proof in the fridge overnight. Next morning, I shaped the buns, let them raise again and baked in a 190° C / 375° F oven for 23 minutes.
NUTRITIONAL INFO
*per per 1 our of 5 patties