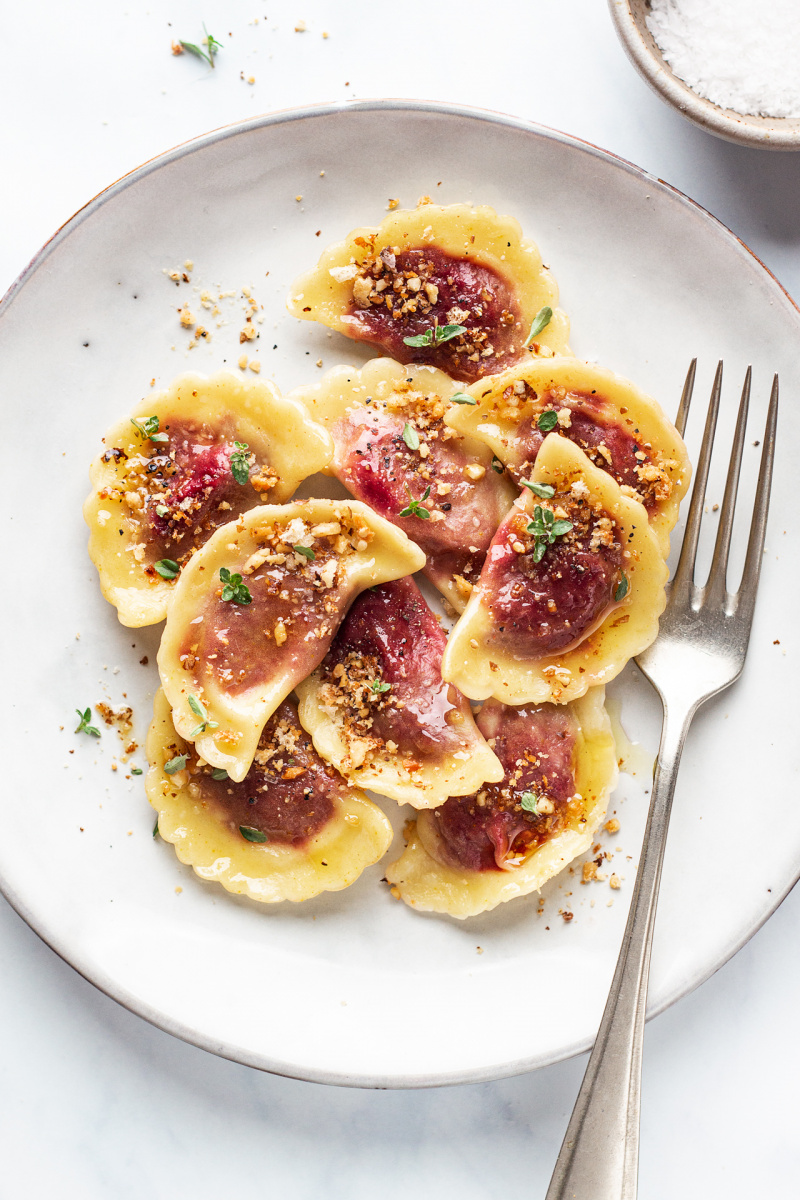 Happy weekend, guys! I'm suffering from a little post-holiday blues – apparently that's a thing. We came back from our mini break in Wales yesterday and I have found it hard to find the motivation to do things. I unpacked, put a wash on and then sank into my couch unable to get back up. Finally, after hours of procrastination, I forced myself to do some exercise and felt better. Of course I did. I knew I would but the gap between knowing and doing appears to be insurmountable sometimes, doesn't it?
We stayed in a charming little cottage in the middle of nowhere for 3 nights. We were worried about the weather as the forecast was really miserable for the entire time but we lucked out and only got drenched on our first hike, which we downgraded to a long (4 hour long) walk along the canal due to rain. Luckily the next day things improved hugely and we even got some sunshine. We climbed out of the valley our rented cottage sits in onto beautiful moors and then back down through mossy forest. It was a stunning walk, lots of varied landscapes, herds of sheep staring at us intently at many turns and we even managed to get a few glimpses of wild ponies when up on the moor. We had our lunch and coffee from a thermos in the sun, surrounded by swathes of heather! We had a great time and we are already planning our next trip, thinking of the Lake District next.
We self-catered almost entirely apart from one dinner, which was very disappointing and ridiculously expensive too. We've learned our lesson and plan to self-cater completely next time unless we find a good pizzeria nearby, as getting a no cheese pizza is the surest way not to be disappointed – as long as the dough is well made, you'll end up enjoying your meal. Relying on a popular gastro pub that claims to have a vegan menu was naive – the chef clearly didn't think that us vegans deserve even some salt and pepper. Insert weeping emoji here.
Today's recipe is perfectly timed as we are bang in the middle of beetroot season. My last year's beetroot dish of beetroot risotto was inspired by Italy and it's a very popular recipe of mine, so this year I also went for an Italian classic, beetroot ravioli or casunziei to be exact. Casunziei comes from a gorgeously picturesque area of Cortina d'Ampezzo in the Dolomites.
They have a range of fillings, but the beetroot one is rather popular. Cooked beetroot is traditionally married up with ricotta, but I went a slightly different route and paired it up with roasted walnuts for an ultimate autumn treat. They are really quite easy to shape as you simply cut out circles of dough, fill them and fold them in half. A pasta machine is useful if you have one, but I don't (thinking of getting one actually) so went with a classic rolling pin. Whichever you use remember that dough that you can see your hand through is something to aim for and don't worry if you are not there yet – practice truly makes perfect, especially when it comes to making dumplings 🙂 Enjoy.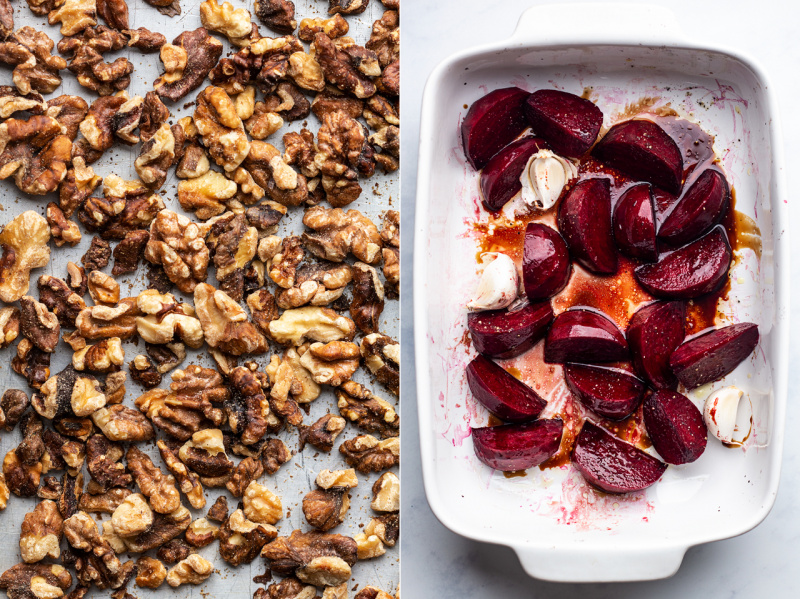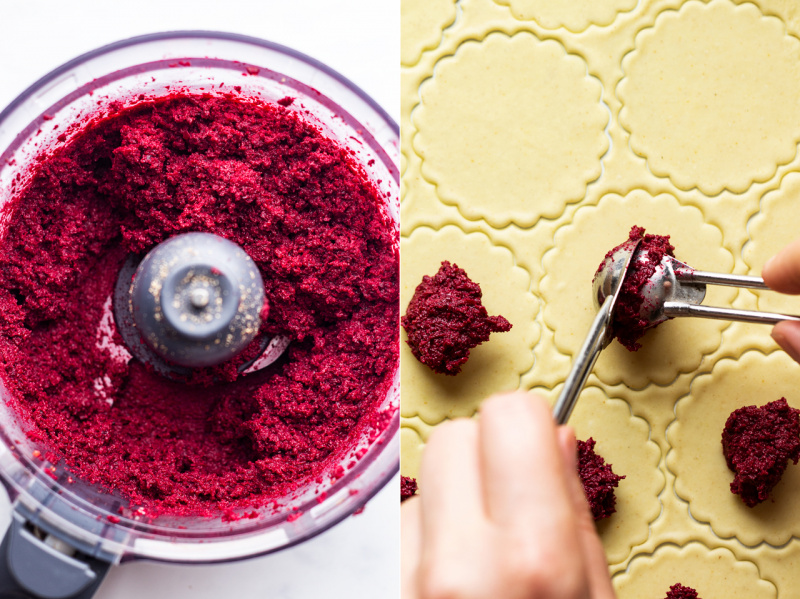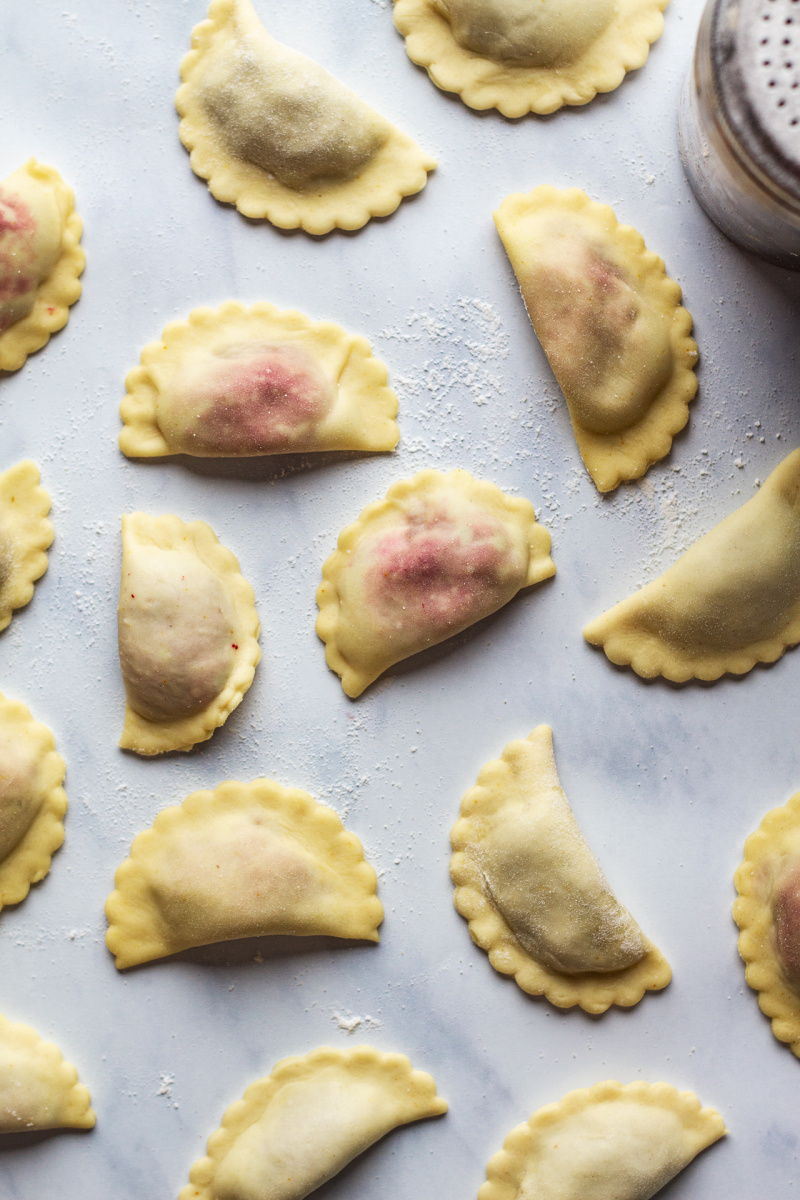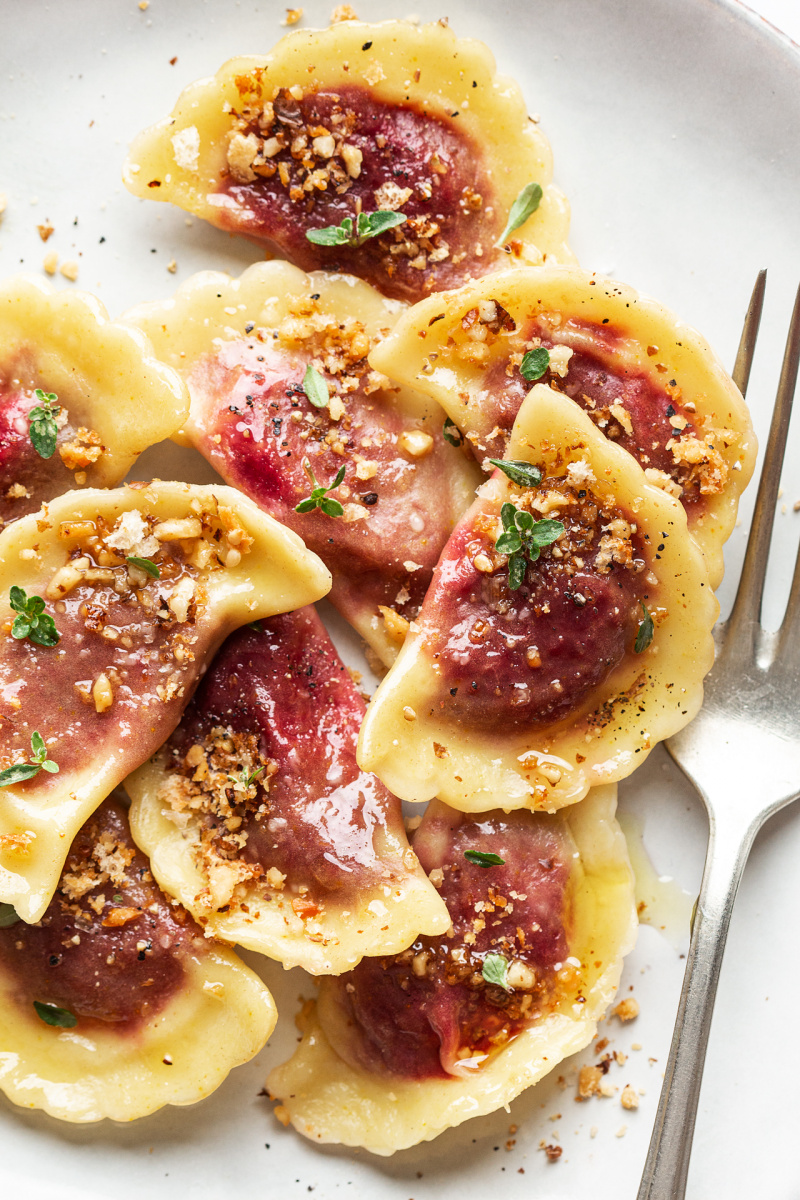 PASTA DOUGH (
GF PASTA DOUGH
)
250 g / 2 cups all purpose wheat flour, (type 00 if you can find it) or all purpose GF flour
1 tsp salt
1/8 tsp turmeric (optional)
1 tbsp xantham gum (only for GF pasta)
15 ml / 1 tbsp extra virgin olive oil
120 ml / ½ cup aquafaba*
FILLING
150 g / 1½ cups walnut pieces
450 g / 1 lb / 16 oz fresh beetroots, peeled
10 ml / 2 tsp extra virgin olive oil
30 ml / 2 tbsp quality balsamic vinegar**
3 garlic cloves
2 tbsp nutritional yeast
salt and pepper
ground nutmeg (I used about 1/8 tsp), adjust to taste
1-2 tbsp fine breadcrumbs (optional)
FOR SERVING
quality olive oil flavoured with garlic or fresh sage
METHOD
FILLING
Preheat the oven to 180° C / 355° F and place walnuts on a large baking tray. Allow them to toast in the oven for about 8-10 minutes, until golden and fragrant. Set aside to cool.
While the walnuts are roasting, cut the beetroots into quarters. Mix olive oil and 1 tbsp of balsamic in a small bowl and coat the beetroot.
Increase the oven temperature to 200° C / 390° F.
Place the beetroot and 3 pierced (or else they will explode) garlic cloves on a small tray. Bake for about 25 minutes, giving them a stir halfway through and removing garlic from the tray (it should be soft by that point). Allow the beetroots to cool down.
Place cooled walnuts in a food processor and grind finely but be careful not to overdo it as they will eventually start turning into walnut paste (walnut butter). Remove the walnuts from the food processor and set about ¼ cup aside for the garnish.
Place beetroot, squeezed out garlic cloves and nutritional yeast in the food processor. Process until smooth. Add most of the ground walnuts to thicken, then season with salt, pepper, nutmeg and an extra tablespoon of balsamic vinegar if desired. The walnuts should thicken the mixture enough that it is no longer wet and runny. You may want to add a tablespoon or two of fine breadcrumbs to thicken it even further.
PASTA DOUGH (or GF PASTA DOUGH here)
In a mixing bowl, combine flour, salt, xantham gum (if using GF flour mix) and turmeric. Make a well in the centre and add olive oil and aquafaba (or water). Mix it all with a spoon until it roughly sticks together. You may need to add a touch more aquafaba (or water) if the dough is too dry, if too wet, add a bit more flour.
Knead the dough for 10 minutes and then set aside for 30-60 minutes under a damp kitchen towel so that the dough doesn't dry up.
Once the dough has had a chance to rest, take one quarter of the dough and roll it out with a rolling pin on a lightly floured surface. Roll it out as thin as you can (2-3 mm), the thinner the dough the tastier the ravioli. You can obviously use a pasta machine to roll out your dough if you have one (I don't).
Place one pasta sheet on a lightly floured surface, use a glass or a cookie cutter (I used 7 cm / 2.75″ diameter one) to cut out circles. Make small blobs (½ tsp as it's important not to overfill) of filling in the middle of each circle. Fold each circle in half around the filling ensuring there are no air pockets in the dumpling or else it will burst during cooking.
Put the finished ravioli on a lightly floured surface and cover them with a kitchen towel while making the rest so that they don't dry out. Continue in the same way until you have used up all the dough and / or all the filling.
Bring a medium pot of water to boil. Once the water boils, place a few ravioli (do not overcrowd the pot) in the boiling water and cook, on a rolling boil, for about 5 minutes. After the time is up, fish cooked ravioli out with a slotted spoon, shaking excess water off gently, and place them on a plate. Cook all the remaining ravioli in this way.
To serve, baste them in garlicky olive oil and finish off with walnut crumb and fresh thyme leaves.
NOTES
*You can use water instead. I find that
aquafaba
works better though, the pasta has a nicer mouthfeel. It's not necessary for your aquafaba to be reduced, I used mine as was (cooled off though) after cooking my chickpeas.
**I highly recommend high quality (65% of grape must) balsamic vinegar here as it's much more flavoursome (and also thicker, more syrupy in texture). It is considerably more expensive than the cheap stuff but its flavour is so concentrated that a little goes a long way.
If you want to make these without gluten, you can either use a good gluten-free flour mix that conatins starches and some xanthan gum as a binder or use this gluten-free pasta dough recipe.