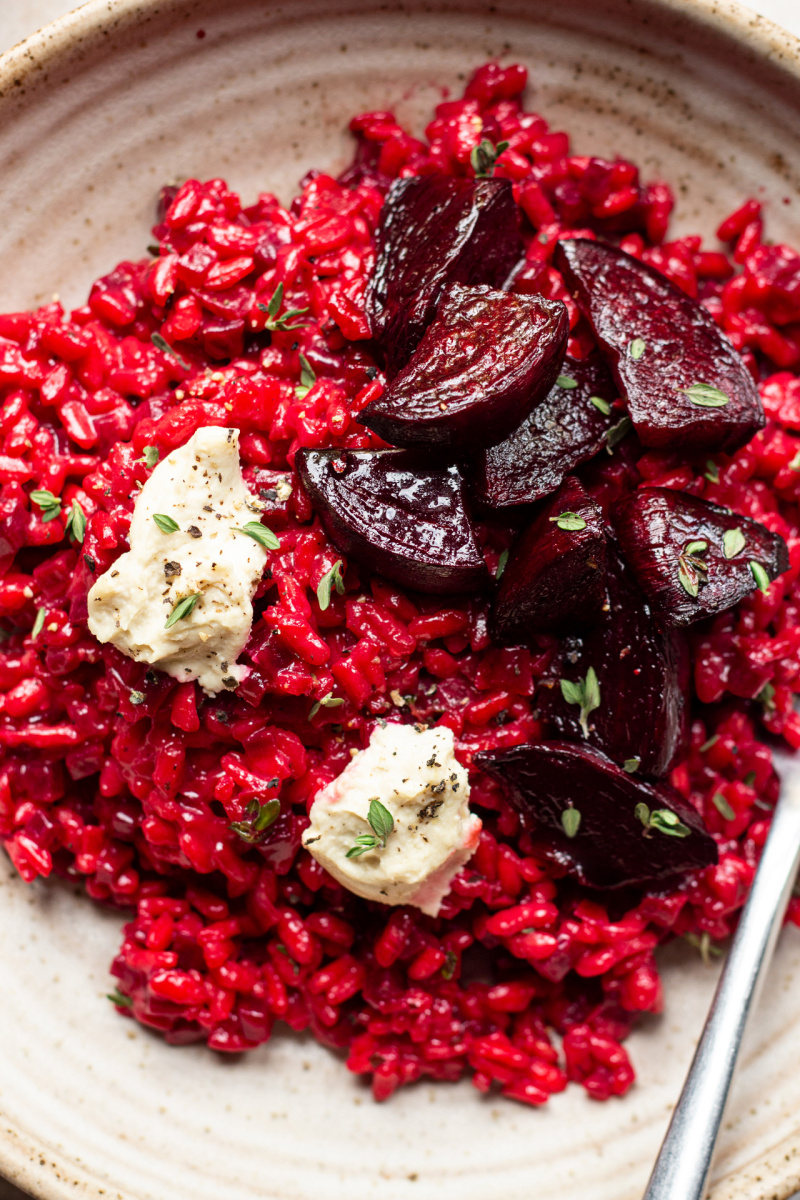 Happy weekend, folks! I'm really looking forward to this one in particular as not only is it a 3 day weekend for us (it's a Bank Holiday in the UK), but in an unexpected twist it's also going to be a warm and sunny once again. Yay! This hardly ever happens. I am stoked. Tomorrow Duncan and I are going to a walk followed by a picnic with a local vegan and vegetarian meet-up group and on Sunday we plan to cycle to Bath alongside the leafy Bristol-Bath bicycle path that we count ourselves lucky to live near. Happy days!
This past week has been fairly good with the exception of one 'hairy' day, on Monday. Despite constant clouds, I managed to shoot three recipes this week, which means I am one step closer to being prepped for our Greek holiday. I've resumed doing meditation and yoga daily again and I run every second (or sometimes third) day, the cocktail of activities that has a visible impact on my mental health and stops me from turning into a pumpkin 😛 . I've also started looking into some activities to take up in an effort to meet some like-minded people.
Duncan is talking me into trying wall climbing and we decided to sign up for a course of Lindy Hop dancing in October. I am excited about both as I have never attempted either. It will be both exciting and humbling to learn something completely new.
It's time for another seasonal recipe today! Today's star ingredient is beautiful ruby red beetroot that is at its peak in August and so it would be rude not to incorporate its earthy loveliness into a dinner. I made a simple yet delicious beetroot risotto with tiny little cubes of beetroot cooked in the rice and sweet and sour, balsamic glazed chunks on top. The whole thing is brought together with dollops of creamy vegan ricotta cheese which, although optional, are highly recommended.
It really takes this dish to another level and it is super easy to make also – here is the recipe for it if you fancy giving it a go. I hope you'll enjoy both and have a lovely weekend. x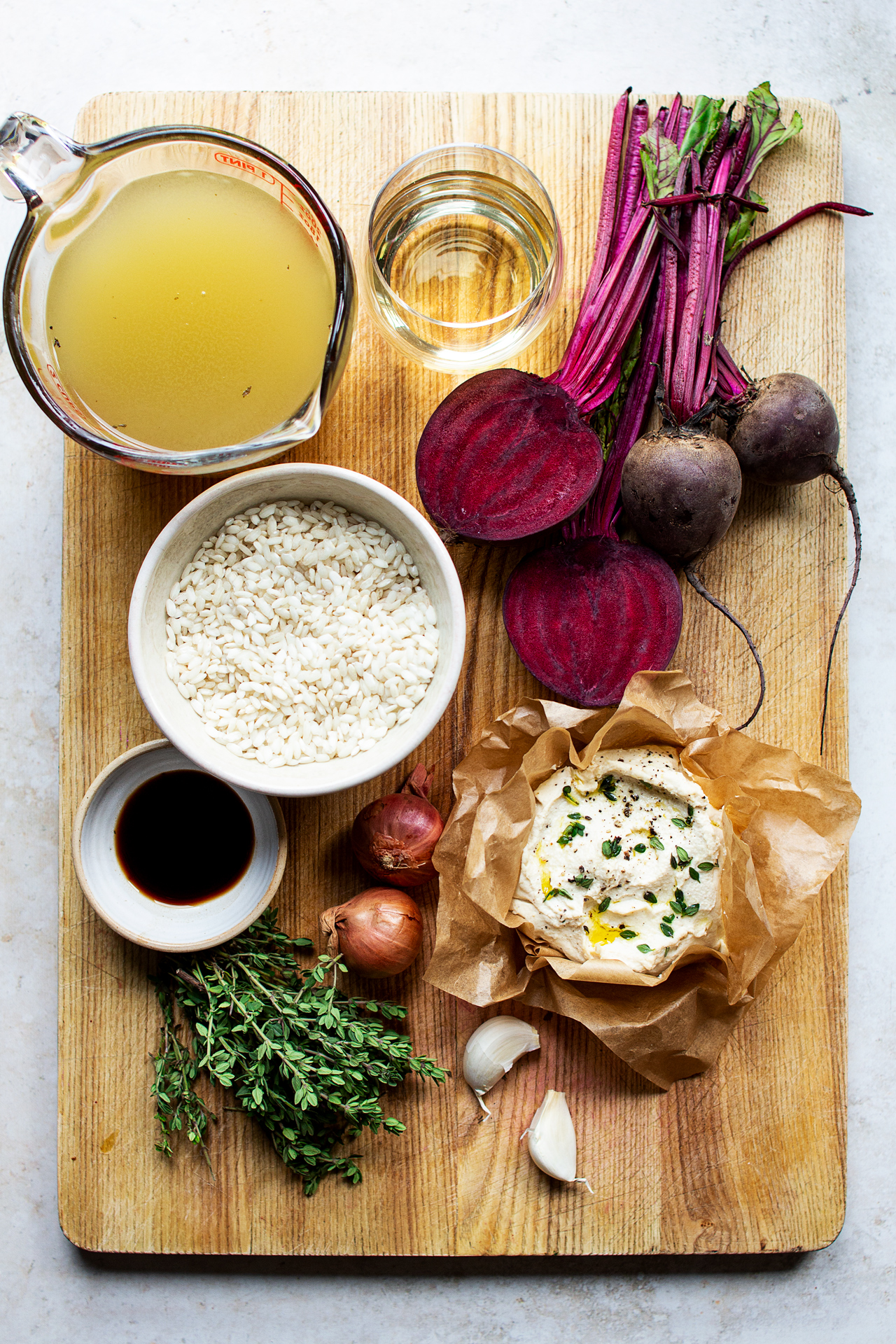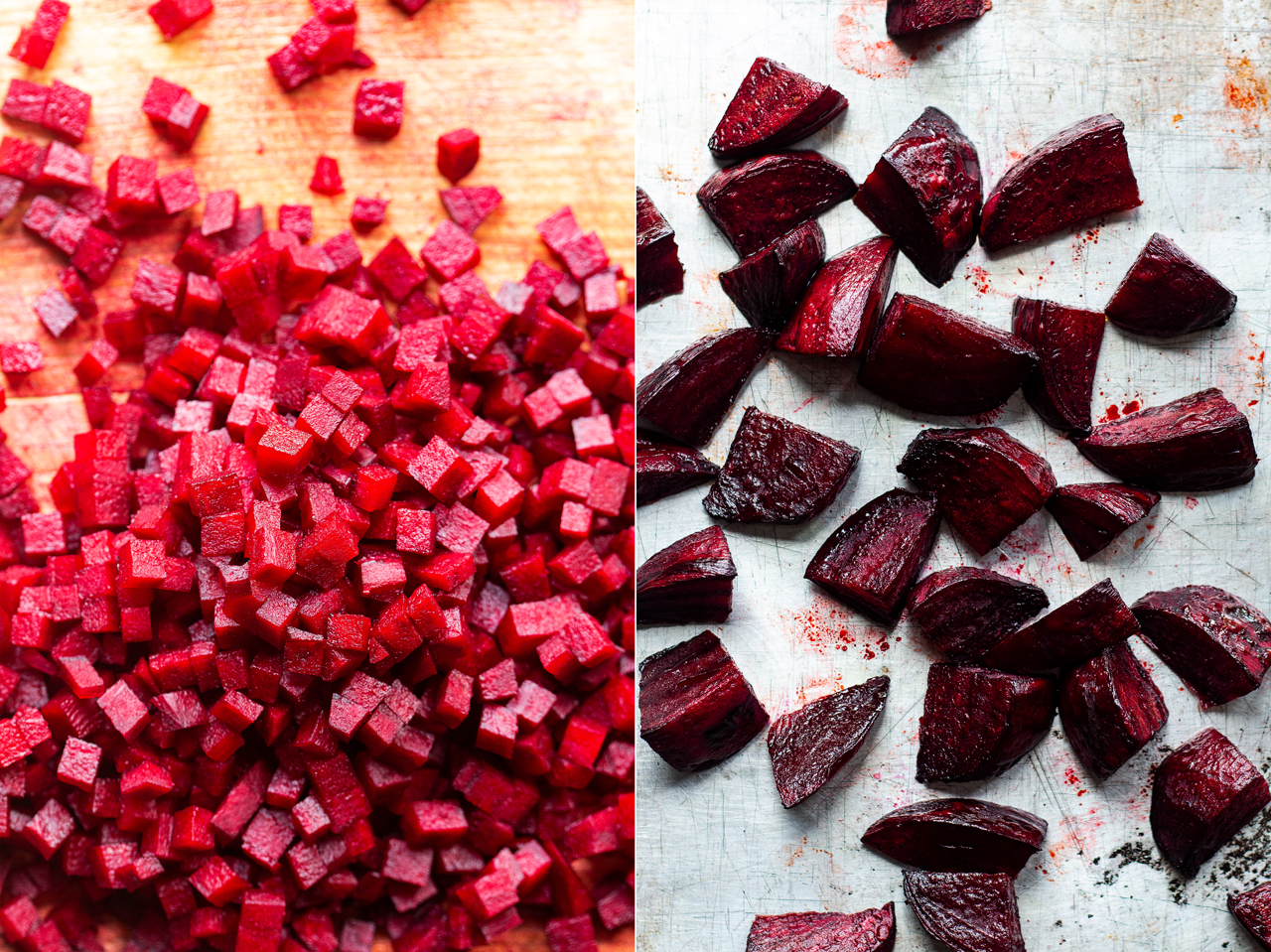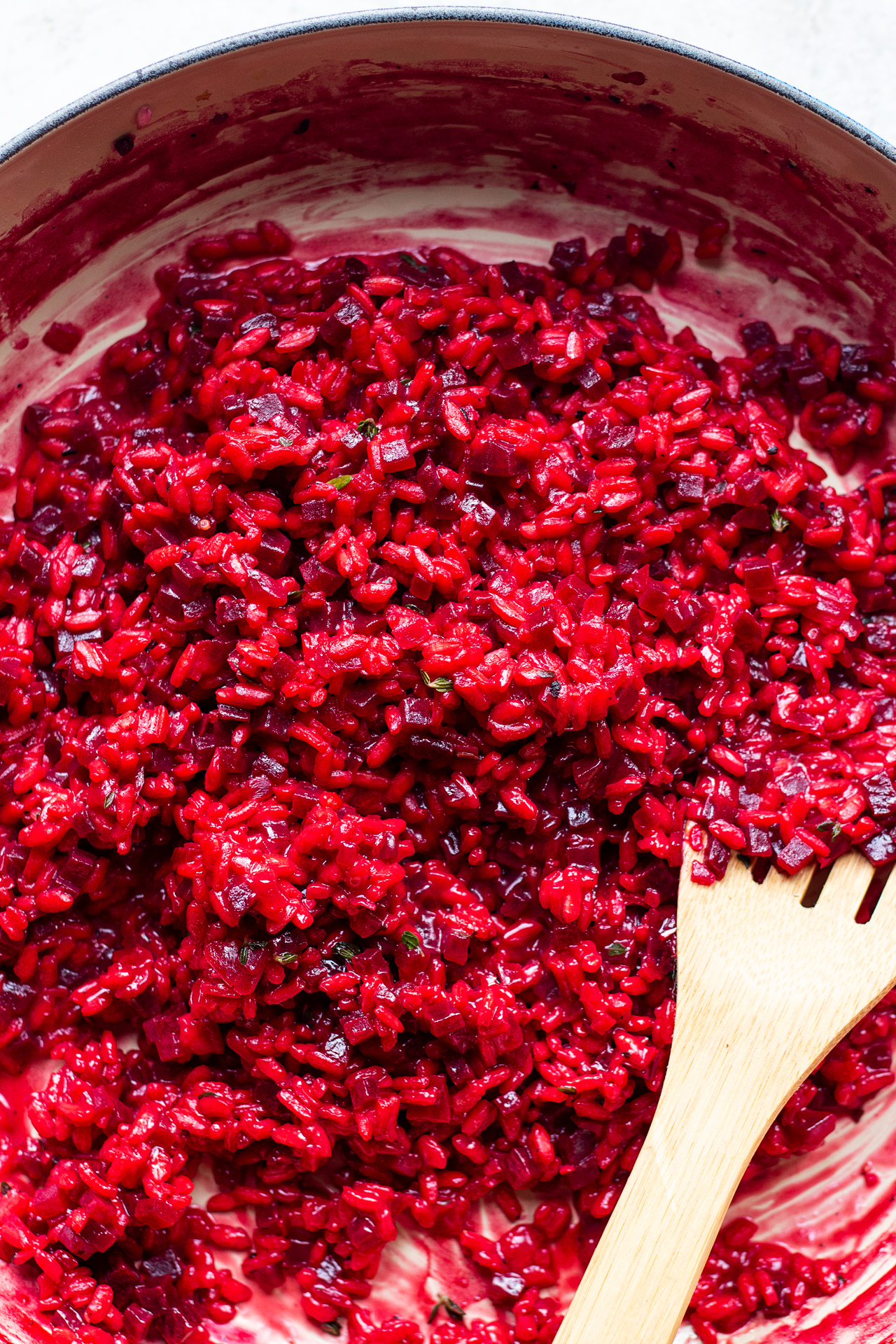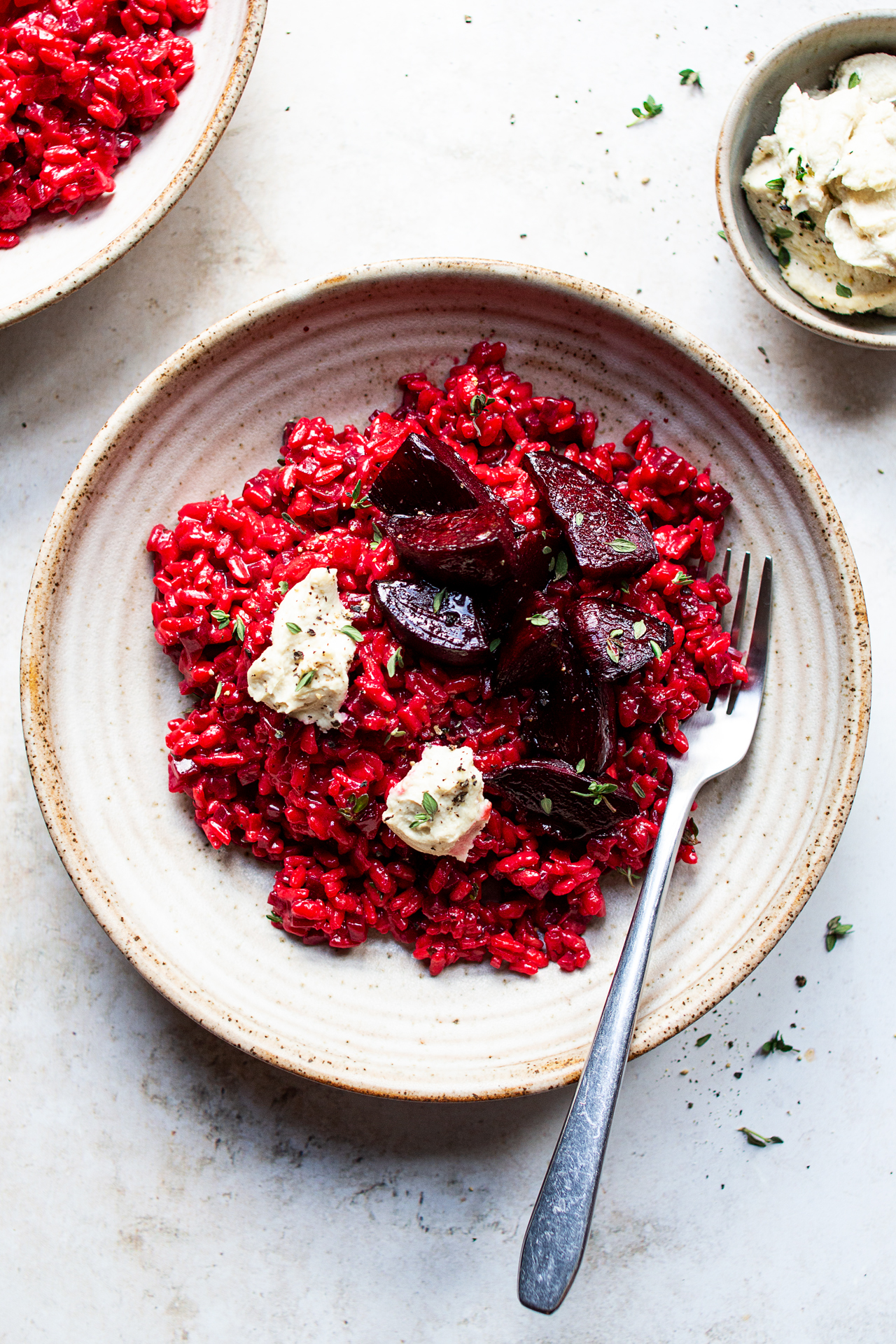 3 medium sized beetroots
40 ml / 2½ tbsp extra virgin olive oil, plus more for grilling
¾ tsp salt, more to taste
freshly ground black pepper, to taste
3 small shallots or ½ large onion, finely diced
2 garlic cloves, finely diced
150 g / ¾ cup arborio rice
120 ml / ½ cup vegan white wine
2 tbsp nutritional yeast (optional)
a few sprigs of fresh thyme, leaves picked
1 vegan stock cube dissolved in 3 cups / 750 ml water or homemade vegan stock
4 tbsp balsamic vinegar
2 tbsp maple syrup or sugar
vegan ricotta, to garnish (optional)
METHOD
Heat up the oven to 200° C / 390° F.
Peel all of the beetroots. Cube one of them into tiny cubes (or grate it coarsely) and chop the other two into 8 wedges each.
Coat beetroot wedges in 2 tsp of olive oil, season with salt and pepper and place on a roasting tray. Bake for approximately 25 minutes, until tender. Set aside.
Heat up 2 tbsp of olive oil in a heavy bottomed pan or pot, one that you have a fitted lid for.
Add in chopped shallots (or onion) and fry on a low heat until translucent (about 5 minutes), stirring from time to time.
While the shallots are sauteing, heat up your stock in a small pot. Keep it hot until you are done adding it to the risotto.
Add garlic to the shallots and fry, stirring frequently, until fragrant and softened (about 2 minutes).
Mix in rice and fry it off for a few seconds, stirring frequently.
Next add in cubes of beetroot, wine, nutritional yeast, salt, a generous grind of black pepper and fresh thyme. Allow the wine to cook off completely before adding the first small portion (60 ml / ¼ cup or so) of hot stock.
Keep on adding the stock, in small amounts, until fully absorbed by the rice before adding the next portion. Make sure to stir the rice often to activate the starch, which makes for a creamy risotto.
Keep on adding the stock to the rice until the rice is almost al dente – i.e. has a small amount of bite to it when tasted. It will take about 15-20 minutes from the moment you first started adding liquid to the pan.
Taste a grain of rice to make sure it is almost ready. If it is, switch the heat off, cover the pan / pot and allow the risotto to rest for 5 minutes.
Meanwhile, place balsamic vinegar and maple syrup in a small pot and reduce it on low-medium heat until balsamic gets reduced into a thick glaze consistency (balsamic reduction).
Divide the risotto between 2-3 bowls, top with roasted beets glazed with balsamic reduction and optionally dollop with vegan ricotta.
NOTES