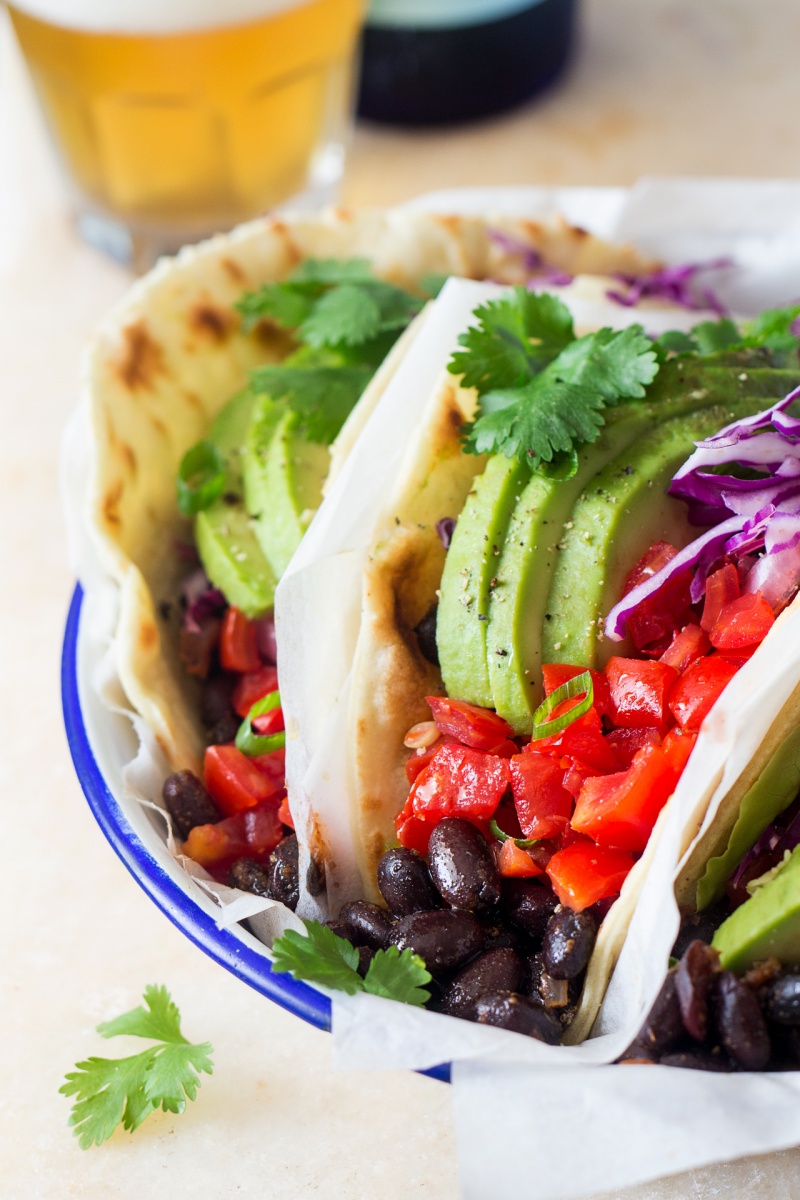 Ladies and gentlemen, it's taaaaaco time! 'Why?' you ask… 'Cos it's Tuesday and Taco Tuesday is apparently a thing, although not in the part of the world I'm from.
But I love tacos and have nothing against Tuesdays either so I'm rolling with it and stuffing my face with tacos today! Tacos are such an amazing invention and I am taking my (not Mexican) hat off to the guys in Mexico who have invented these colourful, bursting with flavour and texture beauties! I could eat tacos every day and I doubt I would ever get bored…when it comes to the filling, possibilities are endless.
Today's vegan black bean tacos are an uncomplicated yet tasty affair. They're generously stuffed with refried black beans, spicy tomato salsa, heaps of crunchy vegetables, creamy avocado, pickled onions and fresh coriander. They are tasty, filling, full of fibre and make a great, if slightly messy to eat, meal for some impromptu socialising.
Just crack a few cold beers open, remember to keep the tacos warm to keep them pliable and let your guests tailor the filling to their taste.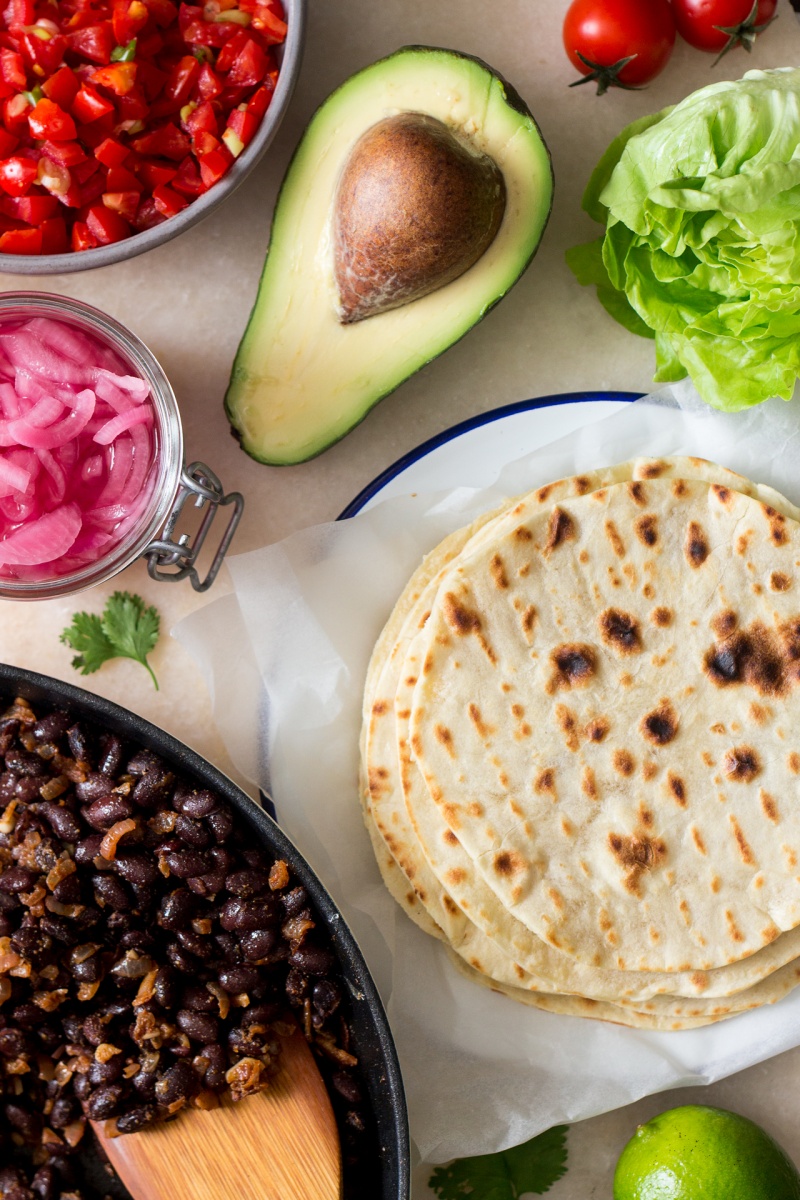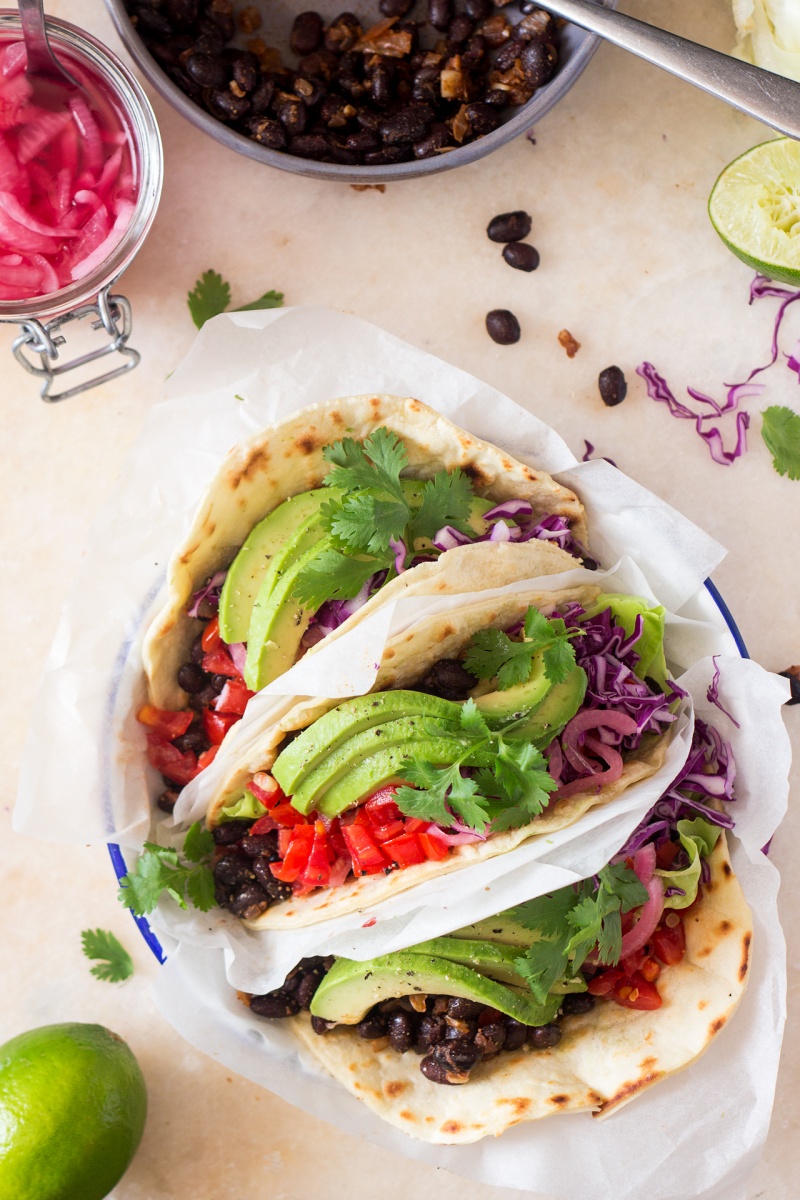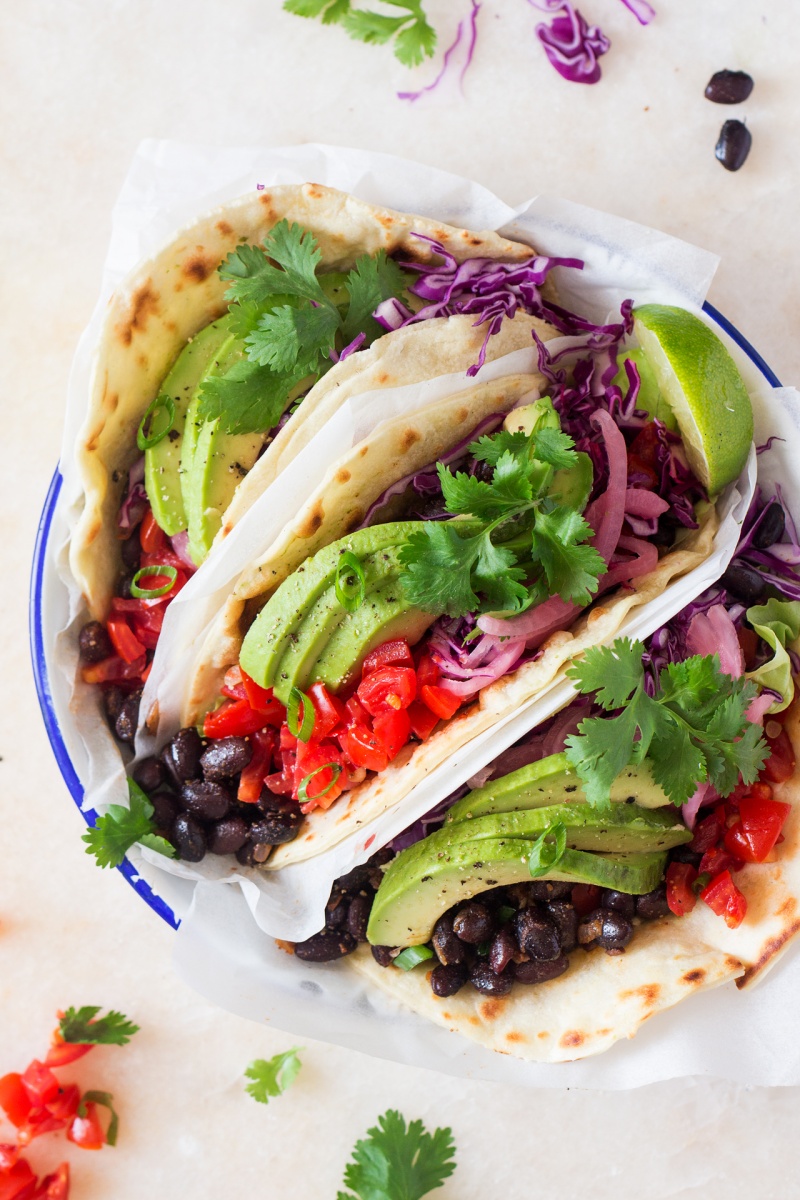 SOFT TACOS (makes about 12 x 14 cm / 5.5″ diameter)
375 g / 3 cups all purpose white flour
1 tsp baking powder
1½ level tsp salt
60 ml / ¼ cup vegetable oil (I used olive oil)
SALSA
25 plum tomatoes (they tend to be sweeter) / 3 large tomatoes
1 spring onion, sliced thinly
handful of coriander, chopped
hot chilli flakes or chilli paste, to taste
squeeze of lime
salt & pepper, to taste
pinch of sugar (if your tomatoes lack sweetness)
RE-FRIED BEANS
2 cups of black beans
2 tbsp olive oil
1 small onion, finely diced
2 large cloves garlic, finely diced
2 tsp ground cumin
1½ tsp smoked paprika
½ tsp ground chilli
3 tbsp lime juice
salt & pepper, to taste
REMAINING INGREDIENTS
crispy lettuce leaves
a wedge of red cabbage, shredded thinly
1 ripe avocado, sliced
small bunch of coriander, chopped
quick-pickled onions (optional)
METHOD
Put a kettle on. To make tacos mix flour, baking powder and salt in a big bowl. Add olive oil to the flour mixture and incorporate it well with your hands. Once the water comes to the boil, add about 180 ml / ¾ cup of hot water in. Initially mix it all together with a spoon as the mixture will be too hot, then start kneading the dough with your hands – you may need to add another splash of water if the dough still too dry. Knead for about 5 minutes until the dough is smooth and elastic. Rest the dough for about 30 mins covered with a damp kitchen towel. The resting step is very important so do not skip it. You can also make the dough a day in advance and keep it in the fridge overnight. Bring it to room temperature before rolling tacos.
If you're using regular tomatoes, de-seed them before chopping. Chop tomatoes into a fine dice. Add in chilli flakes, lime juice and sliced spring onion. Season with salt, pepper and sugar (if using). Set aside for the flavours to mingle.
To make re-fried black beans, mash black beans using a potato masher. I like mine with some whole beans left in, but the consistency is up to you. Heat up the olive oil in a pan. Fry the onion until translucent, add in garlic and fry for another minute. Add in spices and fry for another minute. Add in crushed and whole beans, salt, lime juice and 1 cup of water. Simmer gently until most of the moisture has cooked out and the mixture has thickened – you can have it looser (add more water) or thicker – again, consistency is up to you.
Once the dough has rested, divide it into 12 equal pieces. Roll each piece of dough into a ball. Set a medium, heavy-bottomed or griddle pan on a medium heat (it's important not to get the pan too hot, I used setting 4 out of 6). Start rolling out tortillas on a lightly floured surface. Refrain from adding too much flour as it will produce dry tacos. Once you are happy with the shape (they should be round*) and thickness (make them as thin as possible), put your taco on a hot pan. Little bubbles will start to appear after about 30 seconds, if any large air pockets appear pierce them with the top of a knife. After about 1-2 minutes from when the taco hits the pan, flip the taco and cook for only about 30 seconds on the other side. Do not let them sit in the hot pan for too long as it will produce dry and cracking tacos. Keep cooked tacos in a stack, in a warm place (low oven is a good bet) covered with a damp towel to prevent them from drying out.
Finally, assemble your tacos by putting lettuce, re-fried beans, spicy salsa, avocado slices, pickled onions (if using) and coriander in the middle of each taco. Serve 2-3 per person.
NOTES
* Don't get discouraged if your tacos aren't perfect circles. If you are finding it hard to roll out them into circles, use an upside down bowl to help you cut out perfect circles from your dough.