As Greece appears to be in the stone fruit season here, today my beloved cherries (I don't think I've ever met a fruit I didn't like…actually, I still need a bit of convincing from Durian 😉 ) take the centre stage in this pretty handsome vegan black forest cake.
This cake was loooong in the making! Why? As it's tricky! Not the cake itself but making a stable vegan cream that doesn't turn into liquid was a challenge, I'll admit!
After a number of experiments, I decided on an airy mixture of aquafaba and coconut cream. By marrying the two together, the cream isn't overly coconutty and it's way lighter (and contains less fat) than a 100% coconut cream does. I also found that all my attempts at whipping chilled coconut cream (despite using an additive-free brand) have proved really underwhelming – the result is never fluffy enough for my taste.
This puppy, took me a few goes to get right (if you follow me on Instagram you might have seen an Instagram story of its collapse at some point), but once I arrived at the right ratios and reinforced it with a touch of xantham gum, it really did the job. It lasted 4 days in the fridge and it would have maybe even lasted longer if not for the fact that the cake disappeared into the abyss of our and our neighbours' mouths 🙂 .
An important thing here is to make the cream a day in advance (the cake itself can be made a day early too) and store it in the fridge overnight. Chilling the 'cream' stiffens it considerably, which ensures that once you stack two layers, one on top of the other, it won't collapse under the weight of the top layer.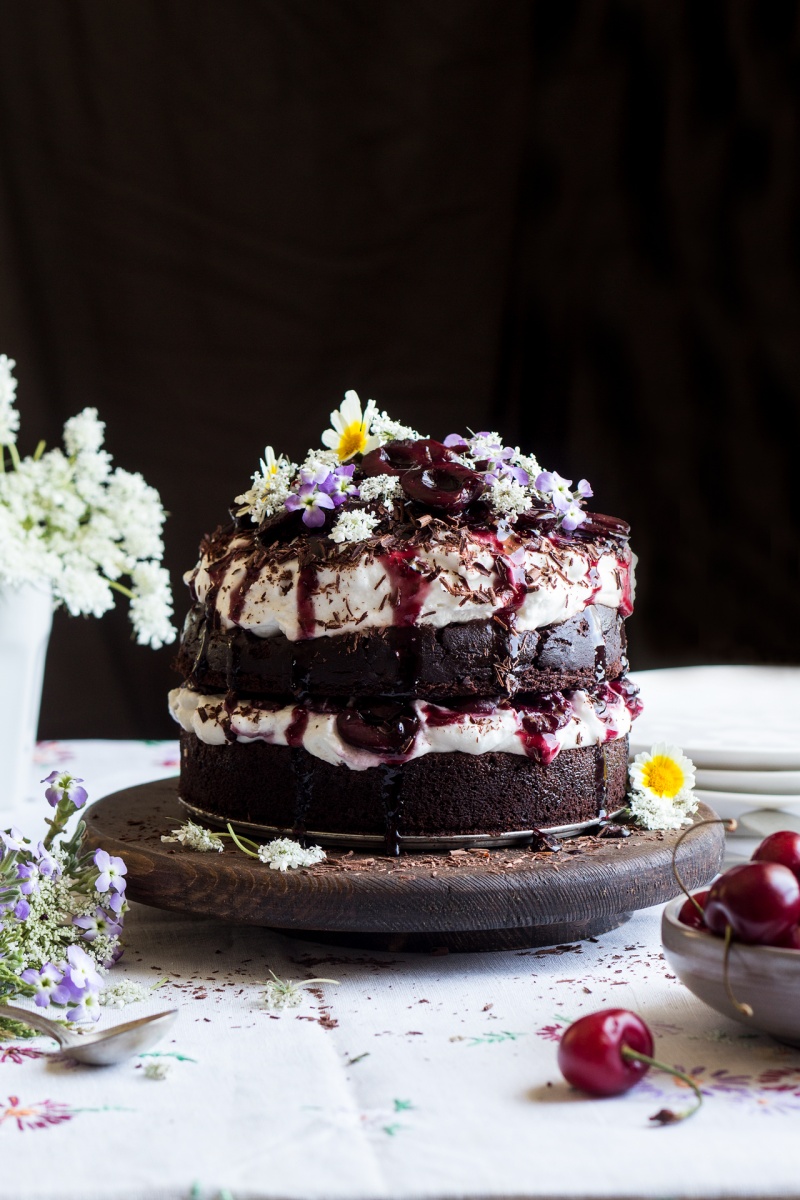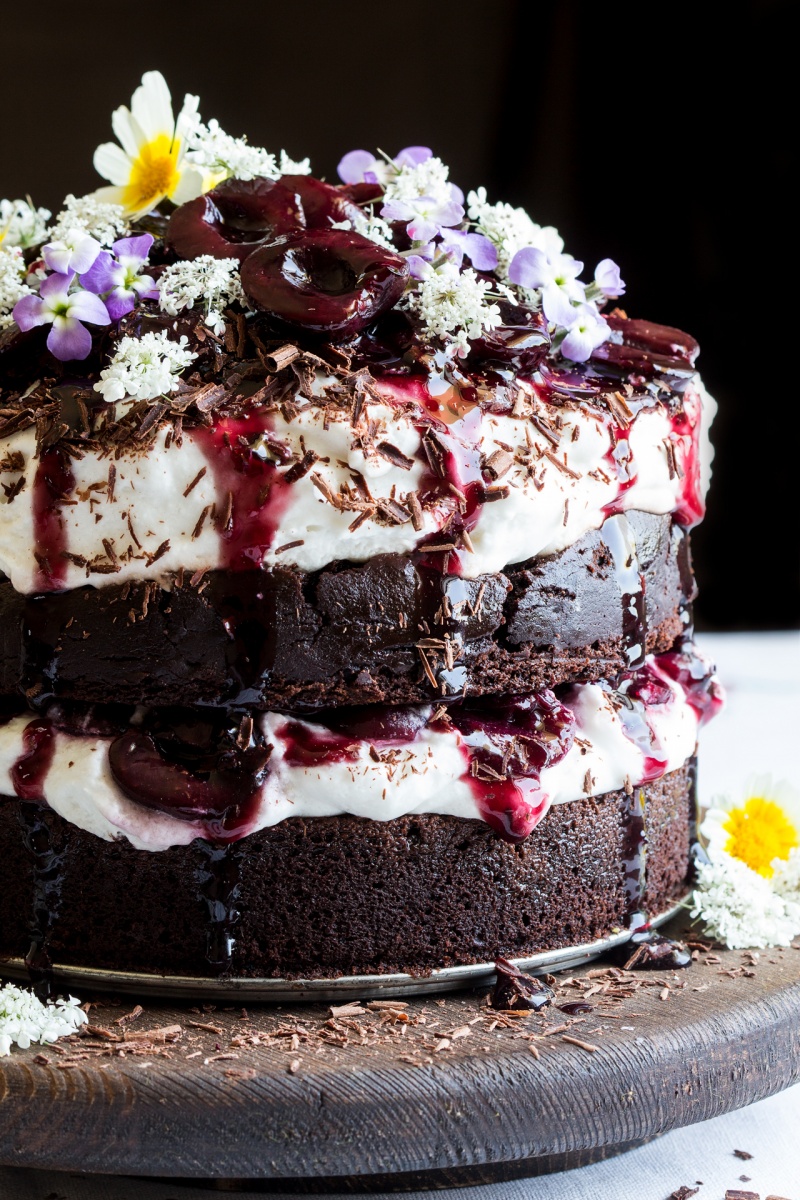 CREAM
135 ml / ½ cup + 1 tbsp aquafaba (chickpea brine)
50-75 g / 4-6 tbsp sugar
1½ cup coconut cream from a tin of full fat coconut milk
¼ tsp xanthan gum
DRY INGREDIENTS
WET INGREDIENTS
90 ml / ¼ cup + 2 tbsp olive oil (or melted coconut oil)
180 g / 1 scant cup sugar (I used demerara sugar)
180 ml / ¾ cup beetroot puree (approx. 300 g / 0.65 lb beetroot)**
240 ml / 1 cup almond milk (or other thin plant milk)
60 ml / ¼ cup espresso / strong coffee***
CHERRIES
450 g / 1 lb sweet cherries (or sour cherries), pitted
3 tbsp Kirsch, cherry liqueur (OR 2 tbsp maple syrup and 1 tbsp lemon juice)
1 heaped tsp cornflour / cornstarch
METHOD
CREAM (make the day before)
NOTE: It's essential to make this cream the day before and refrigerate overnight in order for it to stiffen.
Place chilled coconut cream in a bowl and give it a brisk whisk with a wire whisk so that it's smooth and lump free.
Whip aquafaba (I suggest not using one that has been sitting around in the fridge for a couple of days so that the cream has a longer shelf life) until you get stiff peaks – to check, invert the bowl and watch if the whipped aquafaba starts sliding down, if it does continue whipping until it no longer does. With my handheld whisk, it takes approximately 10 minutes.
Once at stiff peaks, start adding sugar very gradually while whipping. If using sweet cherries, I recommend 4 tbsp of sugar. If using sour cherries, I recommend 6 tbsp instead.
Whisk in xanthan gum.
Very, very slowly and gently whisk the coconut cream into the aquafaba with a wire whisk. The mixture will deflate a bit but don't worry, it's normal – once chilled the fat in the coconut cream will provide structure and a nice mouth feel. Refrigerate for a few hours for the 'cream' to get stiffer. I refrigerated it for about 4 hours and then decorated the (cooled down) cake, but refrigerated two cake layers separately and only stacked them together on the following day to ensure the 'cream' has stiffened enough to be able to take the weight of the top layer.
CAKE
Heat up the oven to 175° C / 350° F and grease a 15 cm / 6″ round baking tin with a small amount of oil.
Mix and sift all your dry ingredients.
In a large mixing bowl, cream olive oil and sugar with an electric whisk.
Add beetroot puree, plant milk and espresso. Mix well.
Add dry ingredients to the wet in three batches. Fold them in GENTLY until there are no flour pockets but be careful not to overmix!
Spoon the batter into a greased baking tin, gently tap against the work bench to ensure there are no large air pockets trapped in the batter and bake for about 65-75 min, until a toothpick comes out fairly (it's a moist cake) clean.
Allow to cool completely before cutting in half.
CHERRIES
Place pitted cherries in a small pot with Kirsch and 3 tbsp of water.
Bring to a simmer and simmer gently for 10-15 minutes, just until the cherries soften a little and release some beautiful juices but not long enough to let them turn brown.
Transfer cherries out of the pot and set aside to cool.
Take 2 tbsp of the liquid that is left in the pot and place in a small bowl. Mix in cornflour to create a cornflour slurry.
Pour cornflour / cornstarch slurry back into the pot and allow it to simmer gently for the sauce to thicken. Set aside to cool.
ASSEMBLY
Cut cooled-down cake in half horizontally with a serrated knife.
Ice the bottom and top layer with stiffened cream. If you make the cake on the same day as your cream, I recommend refrigerating the two iced layers separately (i.e. not stacked on top of each other) overnight.
Top bottom layer with cooled down cherries (reserve thickened juices for the top tier).
Place top layer on top. Decorate with cherries, thickened cherry juice, edible flowers and chocolate shavings.
Store in the fridge and do not expose to direct heat / sunshine. I found that the cake keeps for about 3-4 days.
NOTES
*Instead of all purpose white flour, you could make this cake gluten-free by using 120 g / 1 cup
buckwheat flour
, 30 g / 3 level tbsp rice flour and 30 g / ¼ cup
cornflour / cornstarch
.
**To make beetroot puree, you can bake, steam or even boil beetroots.
– TO BAKE, wrap washed beetroots in a large piece of aluminium foil creating a foil parcel that is scrunched up on top. Trickle a little bit of water to the bottom of the foil parcel and bake in a 200° C / 390° F oven for about an hour or until you can pierce the beetroot with a knife easily.
– TO BOIL, place washed beetroots in a pot of water, ensuring they are completely covered in water. Place a lid on and simmer for about 1 hour – depending on size – until you are able to easily pierce them with a knife.
– TO STEAM, place washed beetroots in a steamer (I used a bamboo one) and over a pot of boiling water. Steam for about 1 hour – depending on size – until you are able to easily pierce them with a knife.
Once cooked, let the beetroots cool down, peel the skins with your fingers and blitz to a puree in a blender, food processor or with a hand blender. You may need to add a tablespoon of water to help the food processor. I like to prepare a lot of beetroot puree at once, portion it into small jars and freeze until I am ready to make another cake / muffins. Don't add more than 1 tablespoon of water to the puree as it will throw the cake's ratios out. If you do that by accident, be sure to reduce the amount of liquid that goes into the batter accordingly.
***If you cannot / don't want to have coffee, you can substitute with more plant milk. Coffee flavour does not come through here, it simply accentuates the chocolate flavour.