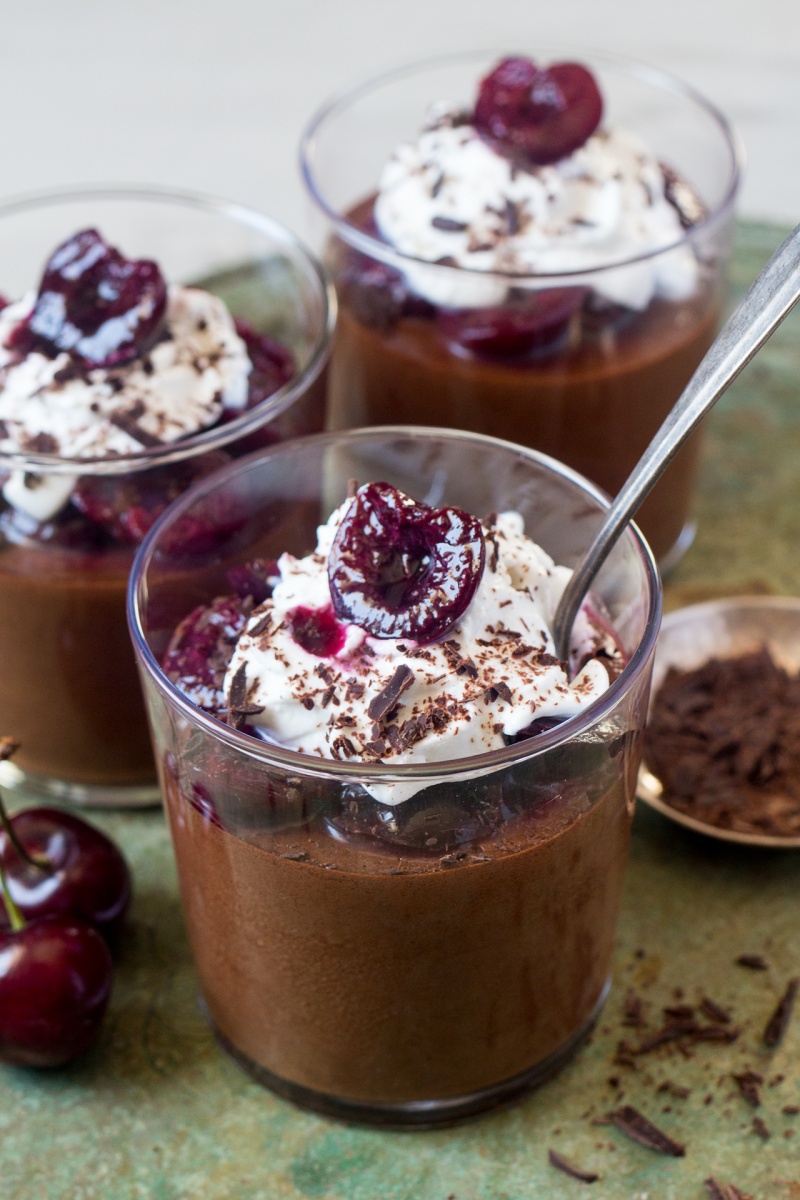 I know, I know…I've been saying that it is way too hot for chocolate desserts these days, but it turns out that 6th of July was world chocolate day so this is a timely (almost) and a fitting tribute, don't you think?
With the aid of aquafaba magic, I created an airy black forest-inspired chocolate mousse that's 100% vegan. This intensely chocolatey and creamy mousse goes super well with some drunken cherries and a small dollop of whipped coconut cream.
It's a pretty rich and decadent dessert so if you don't have a massive sweet tooth, divide the mousse between 6 glasses and squirrel surplus portions away for the days to come – they'll be a perfect little treat when your sweet tooth starts demanding something sweet again – trust me, I'm speaking from experience here 😉 .
To balance the sweetness and richness of this dessert, I recommend using sour cherries if you can find them as they will a provide a much needed contrast.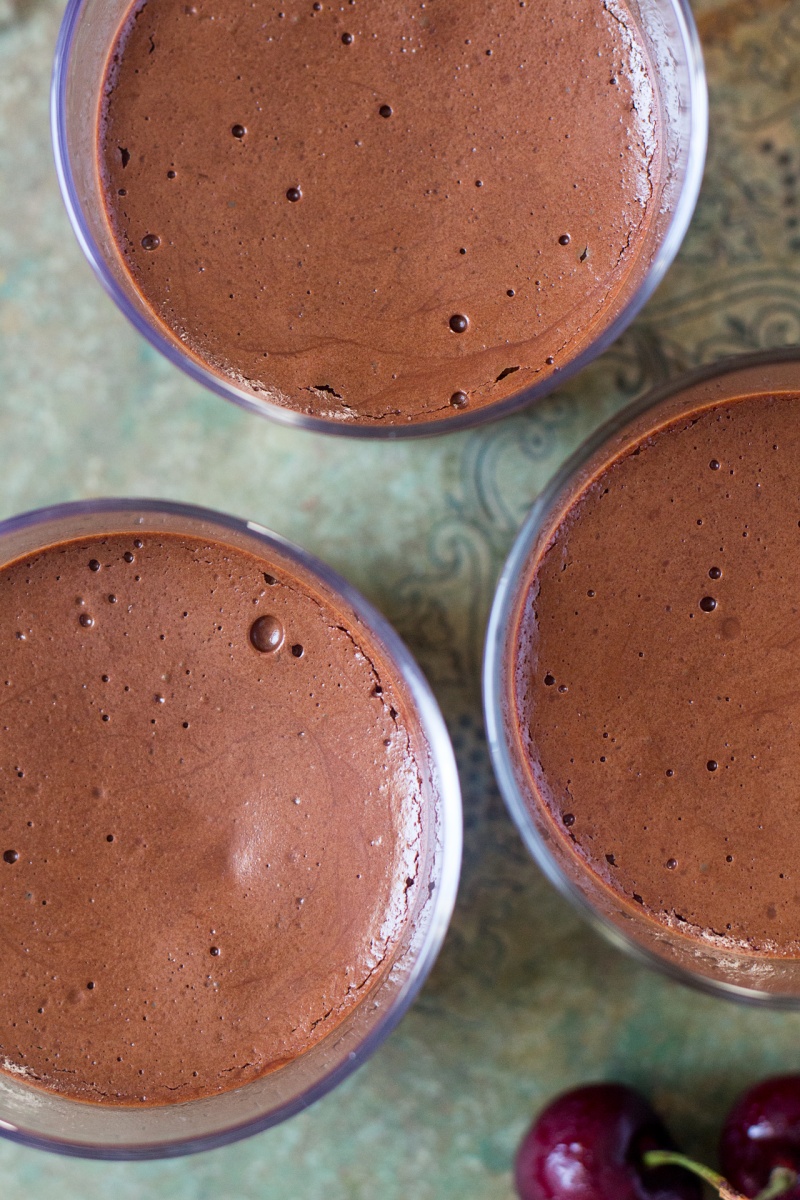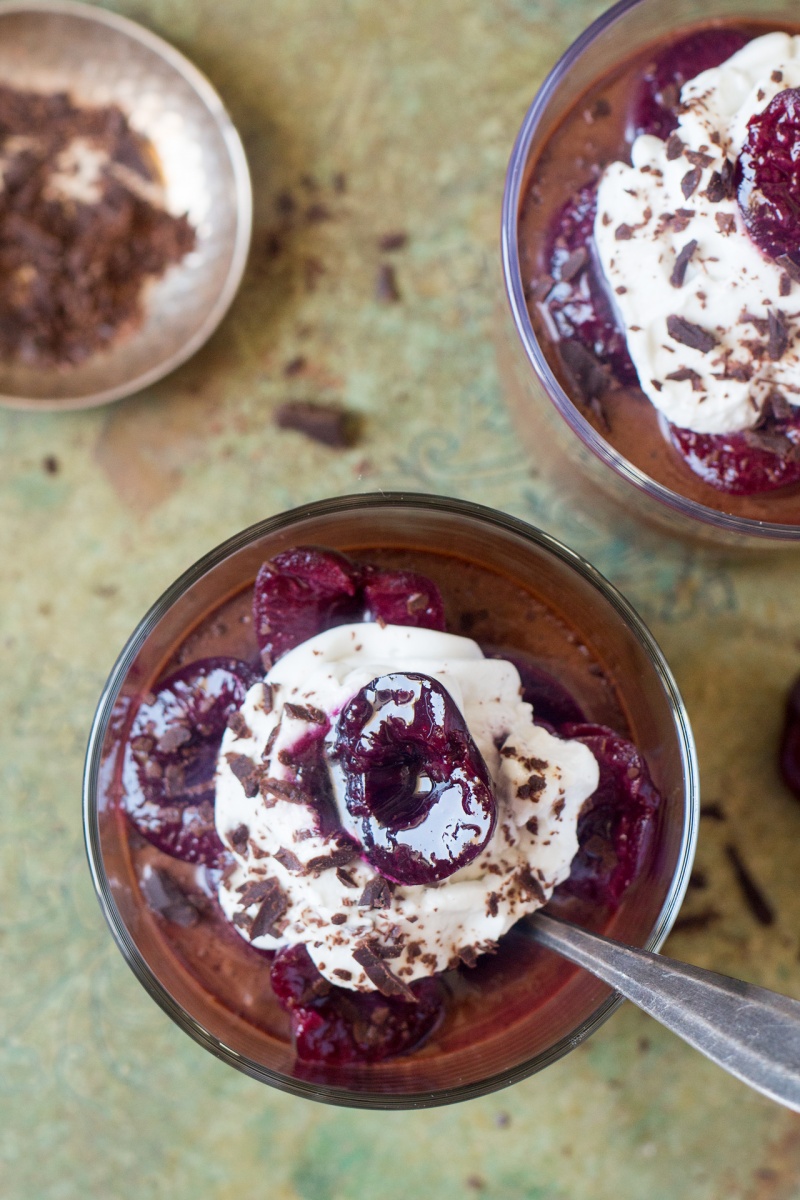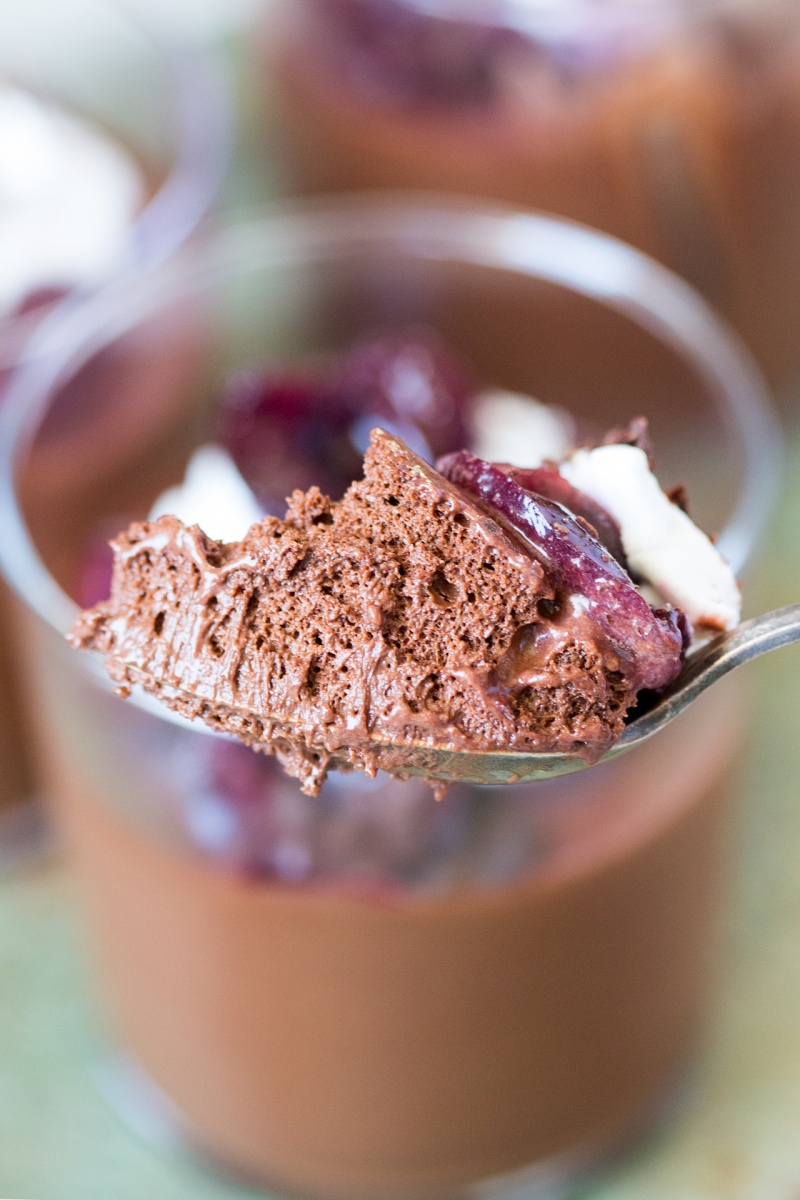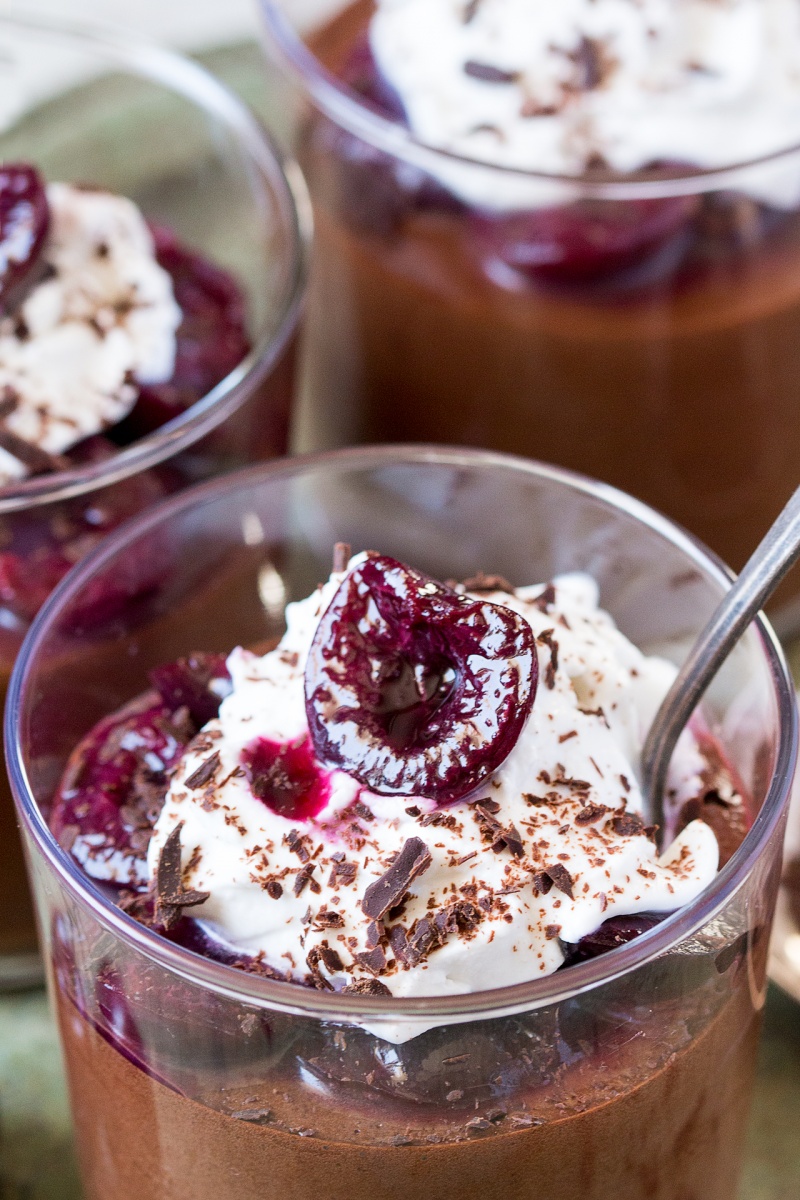 MOUSSE
170 g / 6 oz dark (70 % cacao) chocolate
135 ml / ½ cup + 1 tbsp aquafaba, homemade or from a tin
135 ml / ½ cup + 1 tbsp coconut cream
2 tbsp caster sugar (optional)*
CHERRIES
400 g / 14 oz sour or sweet cherries*, halved and pitted
4 tbsp Kirsch (subtly sweet cherry brandy)
COCONUT WHIPPED CREAM
240 ml / 1 cup coconut cream**, chilled in the fridge for min 48 hrs
1-2 tbsp icing sugar, to taste
chocolate shavings, to decorate (optional)
METHOD
MOUSSE
Chop your chocolate very finely and place into a glass bowl.
Heat up coconut cream and once it reaches boiling point pour it over chopped chocolate pieces. Set aside for 5 minutes – do not stir. After 5 minutes stir the mixture well to achieve a smooth ganache. If the chocolate seizes (which it is notorious for) bring it back by adding a few drops of warm water and stirring it in.
Place cool aquafaba in a clean (that's very important as any grease residue will prevent aquafaba from foaming) glass or metal bowl. Whip it until you achieve stiff peaks – you should be able to invert the bowl and whipped aquafaba should not budge an inch, if it does it means that it hasn't been whipped enough. After you achieve stiff peaks incorporate sugar (if using) very gradually, whisking well after each addition.
Fold whipped aquafaba into chocolate ganache gradually – 2 tablespoons of aquafaba at a time. Divide the mixture between 4 glasses and place in the fridge for several hours (or overnight) for the mousse to set.
CHERRIES
Place pitted cherries in a small saucepan over very low heat. Pour alcohol into them and let them soften on a low heat, stirring from time to time. Once the cherries soften a little (don't let them fall apart), take them off the heat, let them cool down and infuse with alcohol.
COCONUT WHIPPED CREAM
Before you are ready to assemble the dessert, whip coconut cream. Place cool coconut cream in a glass bowl and whisk it until fluffy. Add sugar if desired.
ASSEMBLY
Take set mousse out of the fridge, place a layer of cool stewed cherries on top and a dollop of whipped coconut cream. Decorate with chocolate shavings. Consume immediately.
NOTES
* You can use sour or sweet cherries for this dessert. I used the latter as these were the only cherries available here so I did not add any sugar to the chocolate mousse as I didn't want the dessert to be too sweet. If you can find them, I recommend using sour cherries for a better balance of flavours.
** Coconut cream that has any additives or stabilisers will not whip so check the ingredients on the tin before purchasing to make sure it's only coconut and water. Chilling the cream is important so make sure you do that for at least 48 hours before whipping. If you cannot find coconut cream, you can separate it from a can of full fat coconut milk. To do that simply place the coconut milk in the fridge for at least 48 hours (the longer the better). Carefully take it out of the fridge, open the tin and scoop out coconut cream that has gathered on top. Use the remaining coconut water in your smoothies or curries.
Mousse recipe is based on my earlier chocolate mousse recipe.