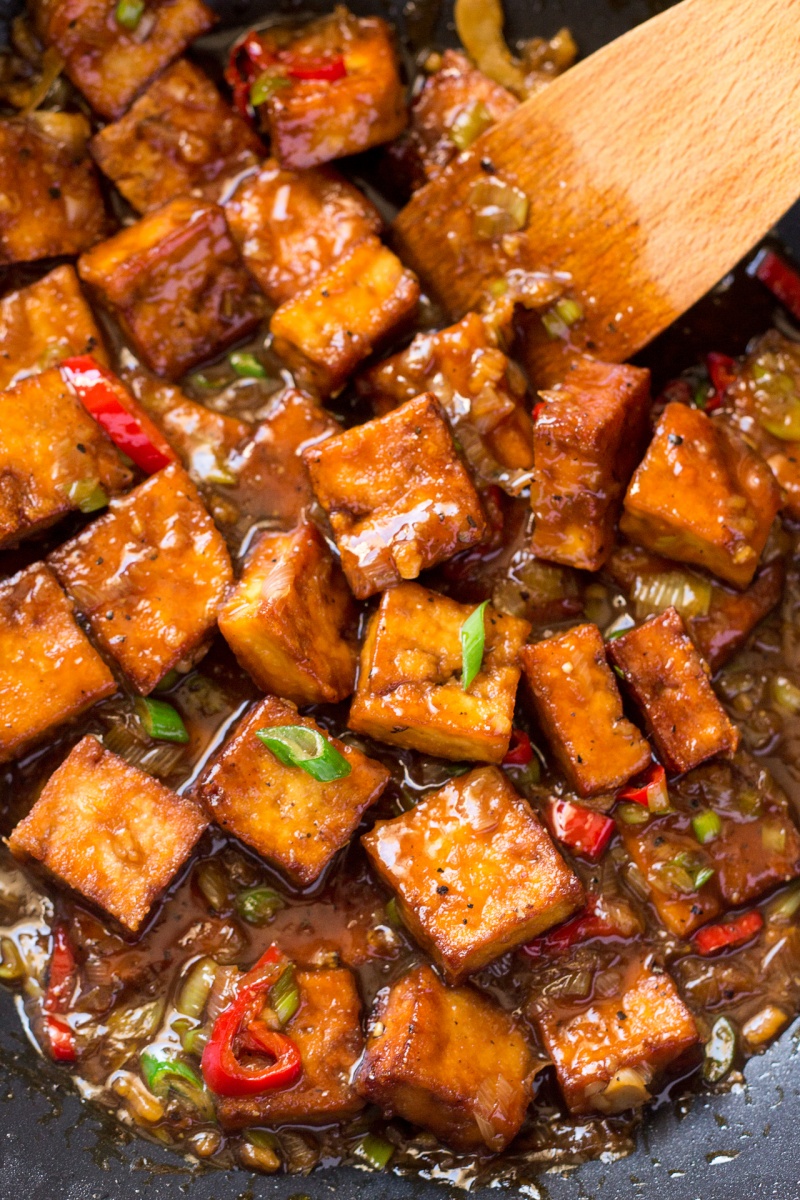 Tofu is one of those ingredients that has the ability to truly divide the crowd. I must admit that long before I went vegan, I tried several tofu dishes that left me seriously underwhelmed. Now, I've changed camps completely and I am a huge tofu fan. The trick lies in the correct cooking method…
For me the tastiest way is marinating well pressed tofu in a little soy sauce, sprinkling it with cornflour (or cornstarch in the US) and frying it in a little oil until golden and beautifully crispy on the outside (yet nicely chewy on the inside). Seriously, whenever I make tofu that way, I must keep one eye on my wok and the other on Duncan, who suddenly appears by my side with his greedy little mitts ready to delve into my freshly fried tofu stack. This recipe treats lovely chewy tofu pieces (you can bake them too for this recipe, see below) to a bath of deliciously aromatic black pepper sauce. Add as much pepper as you can handle, bearing in mind that chilli will also add another kick dimension. I went for just over a teaspoon and found it perfectly balanced.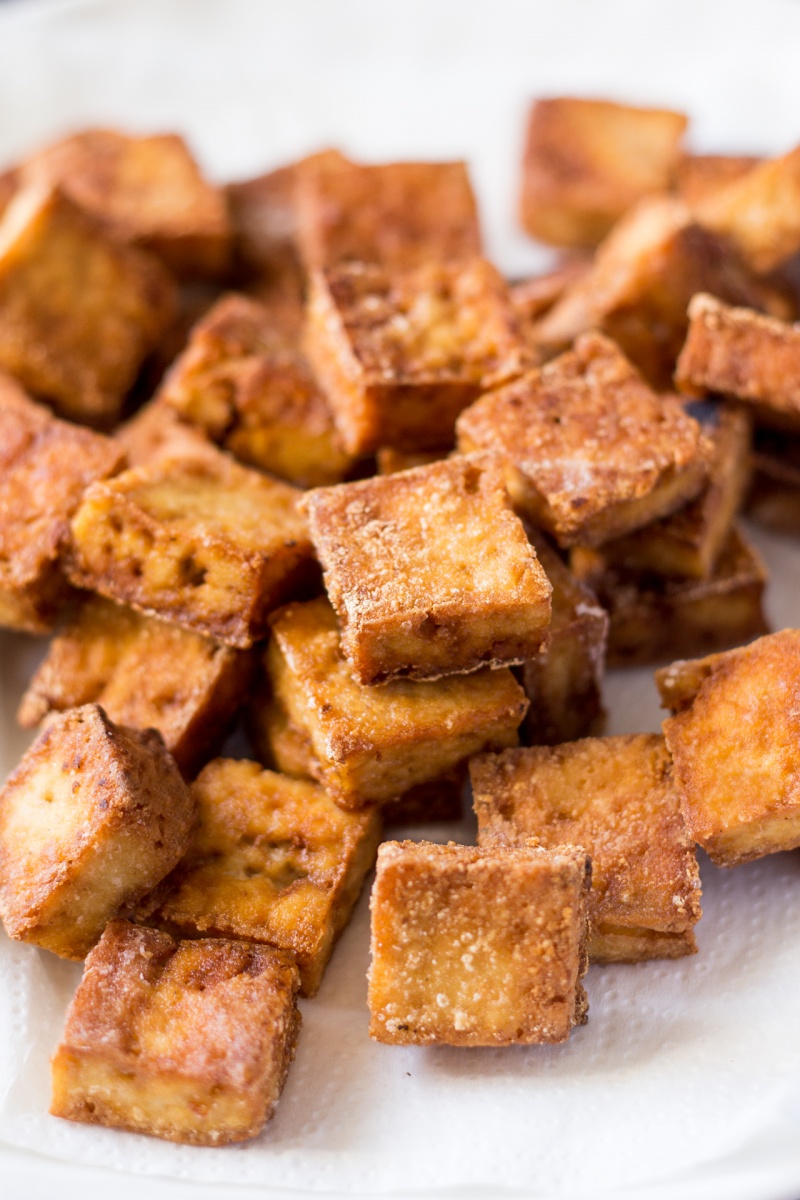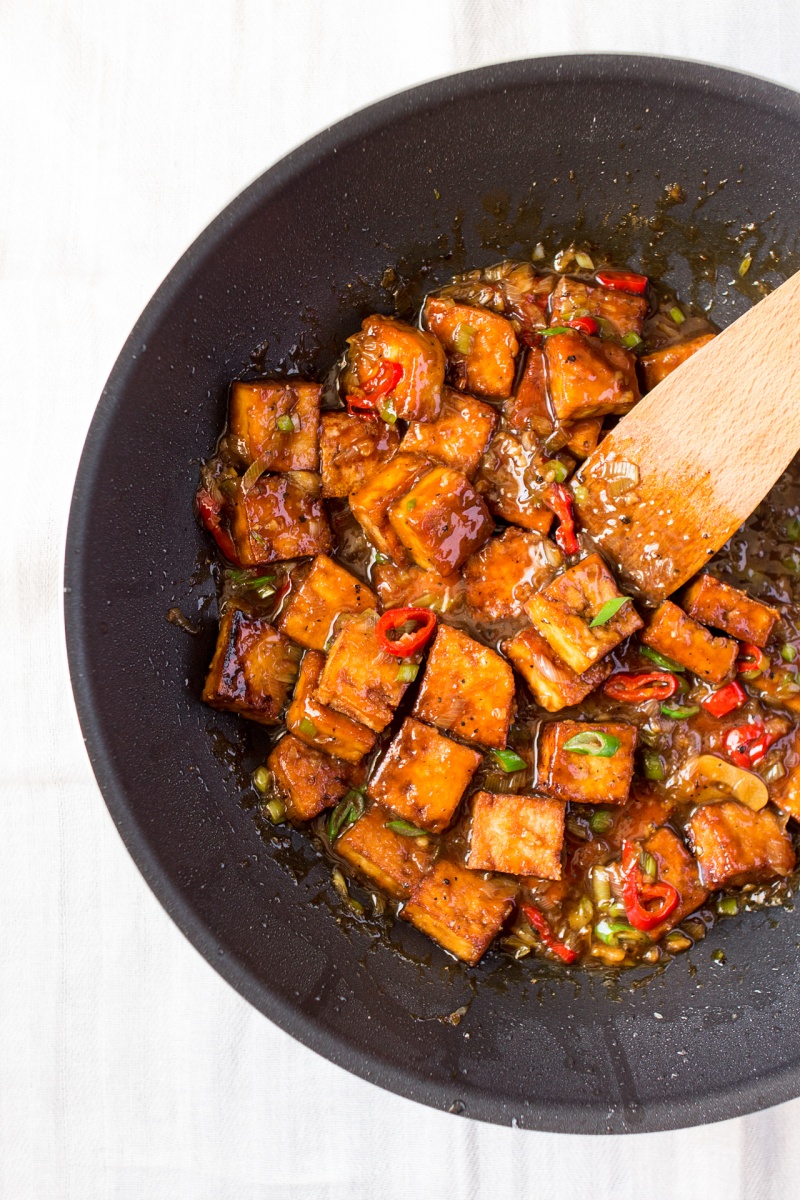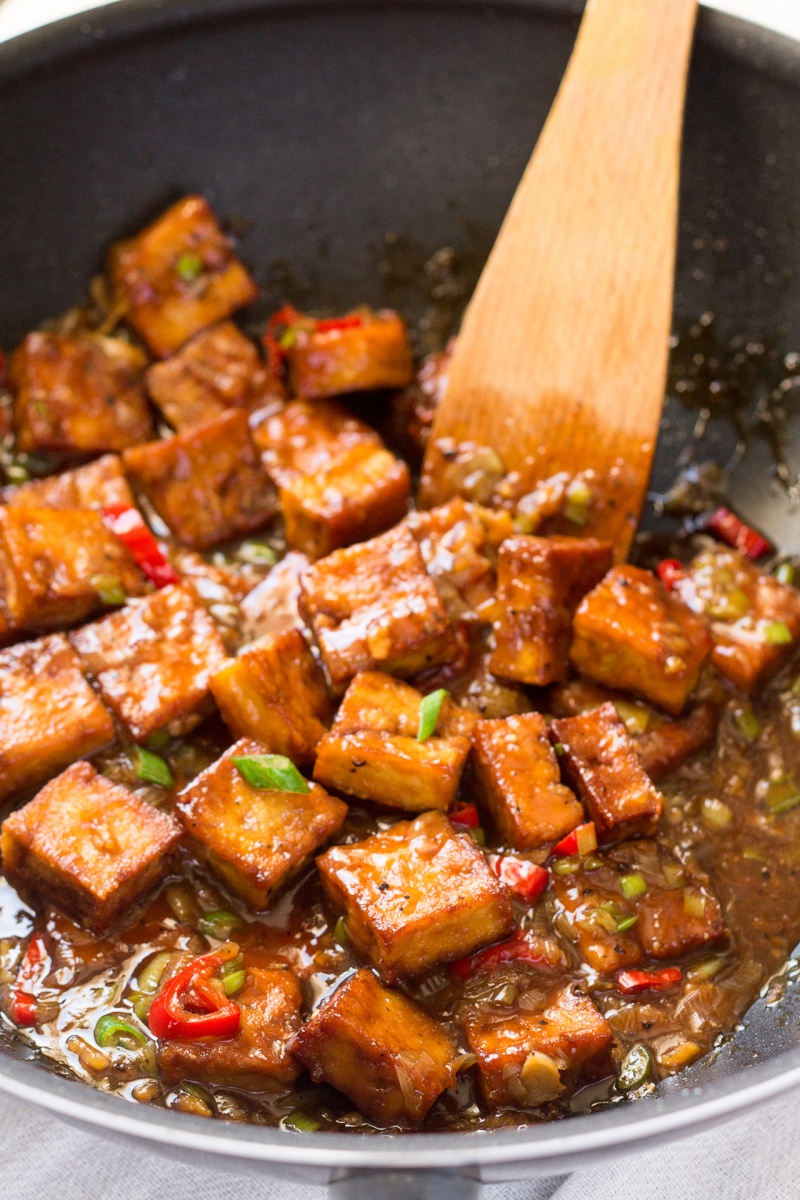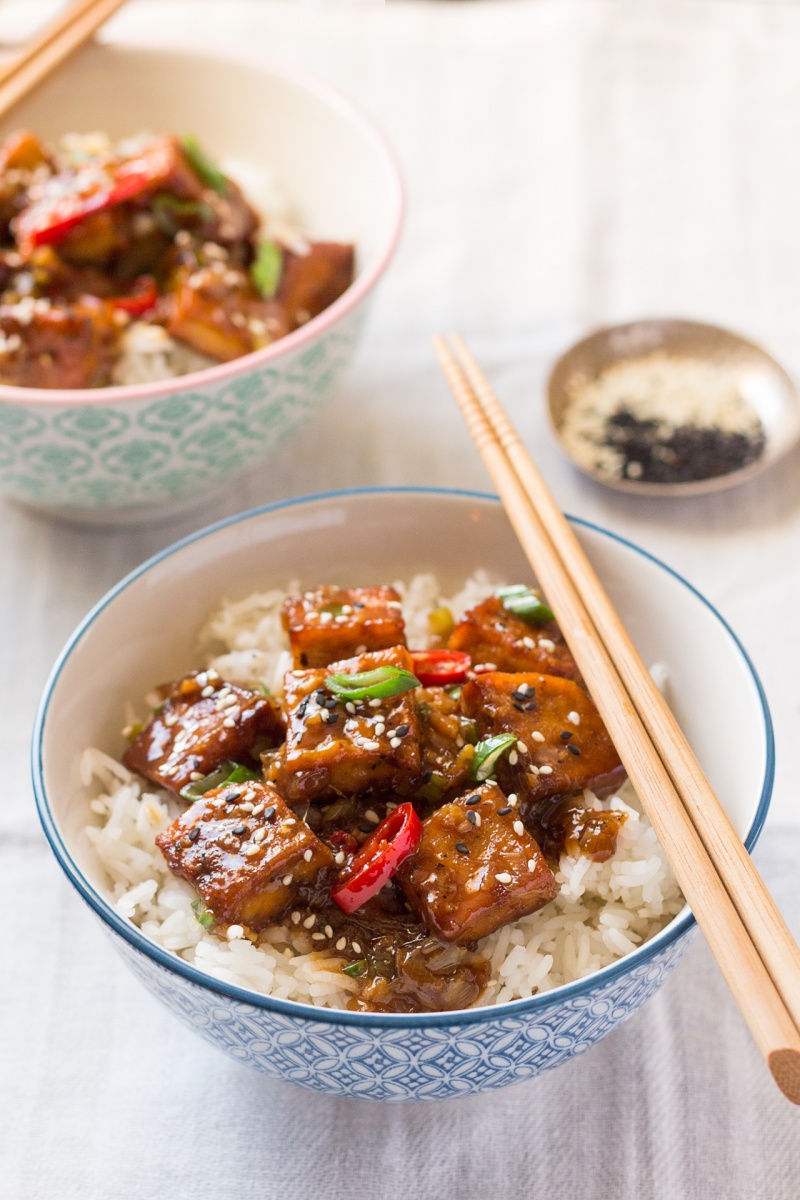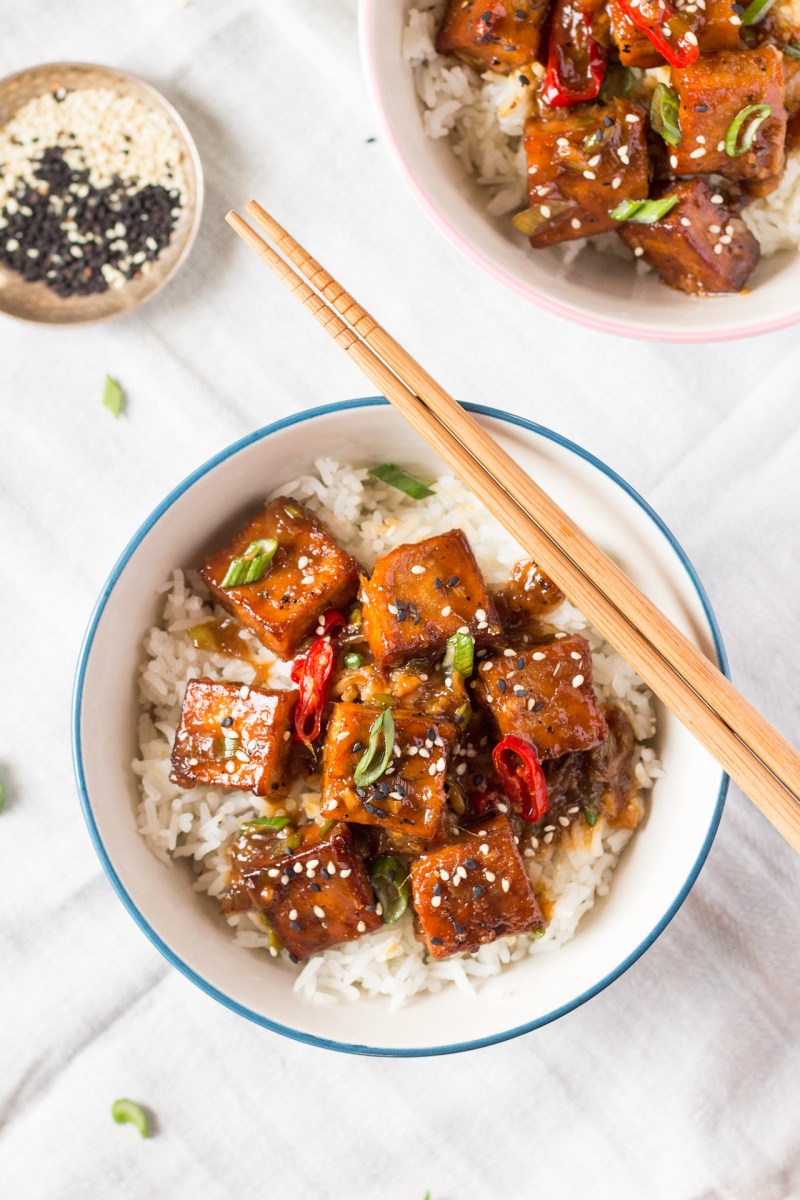 Ingredients
400 g firm tofu, pressed*
2 tbsp tamari or soy sauce
cornflour / cornstarch
3-4 tbsp high smoke oil (I used peanut oil)
BLACK PEPPER SAUCE
4 tbsp / 60 ml tamari (for gluten-free version) or soy sauce
½ tbsp rice wine vinegar
2 tbsp / 30 ml maple syrup or dark brown sugar
2 level tsp cornflour / cornstarch
3 large garlic cloves, pressed
5 tsp grated ginger
1 hot chilli pepper, sliced thinly or chilli flakes, to taste
3 small spring onions, sliced thinly
1½ tsp freshly ground black pepper
sesame seeds, to garnish (optional)
Method
Cut pressed tofu into equal size squares. Pour 2 tbsp of tamari or soy sauce over the tofu and stir a few times so that it's marinated evenly. Only quick marination is needed as tofu will be later coated in sauce.
Dust tofu in thin layer of cornflour, shaking any excess flour off. Skip this step if you prefer to bake your tofu – see next step.
Heat up 3 tbsp of oil in a wok or pan. Once the oil gets hot start frying tofu in 4 batches. Watch over it and turn frequently so that it does not burn. Once first batch is golden brown, remove it from the pan and place it an a piece of kitchen towel to drain the excess oil off. Continue with the remaining 3 batches. If you want to bake your tofu instead, heat up the oven to 180º C / 360º F and spread tofu pieces on a baking tray. Bake for about 20-25 minutes, flipping tofu once half way through baking.
In a bowl, mix 4 tbsp of tamari (or soy sauce), 4 tbsp of water, rice wine vinegar and maple syrup. In a separate small bowl prepare cornflour slurry (mix 2 tsp of cornflour with 2 tbsp of water), which helps to thicken the sauce slightly.
Once you finish frying the tofu, wipe the wok with a piece of kitchen towel (be careful as it will be hot) to get rid of any cornflour residue. Pour another tablespoon of oil and add sliced white parts of spring onions (save green bits as garnish) and sliced chilli. Fry gently on medium heat until they both soften, for about 10 minutes. After 10 minutes add pressed garlic cloves and grated ginger and fry for a bit stirring constantly so that they don't burn.
Push the contents of the wok to the side (or set aside on a small plate) and pour in the sauce you prepared earlier and cornflour slurry (mix well before adding as cornflour will drop to the bottom). Mix the two together and let the sauce come to the boil gently. Let the sauce bubble gently for a minute or two so that it thickens a bit. Now incorporate softened spring onions, chilli, ginger and garlic mixture back into the sauce and add ground pepper to taste – I used just over a teaspoon.
Stir fried tofu into the sauce to warm it up gently. Serve over a bowl of steaming hot rice.
Notes
*To press the tofu, you either need a special tofu press or you can do it with a bunch of kitchen towels and a heavy weight. Wrap your tofu in a paper towel, place it on a plate and weigh it down with something heavy (like a can of coconut milk, for example). Once the paper towel becomes wet, change it for a new one. Repeat a few times until the paper towel stays almost dry. Pressed tofu is tastier as it absorbs flavours better.