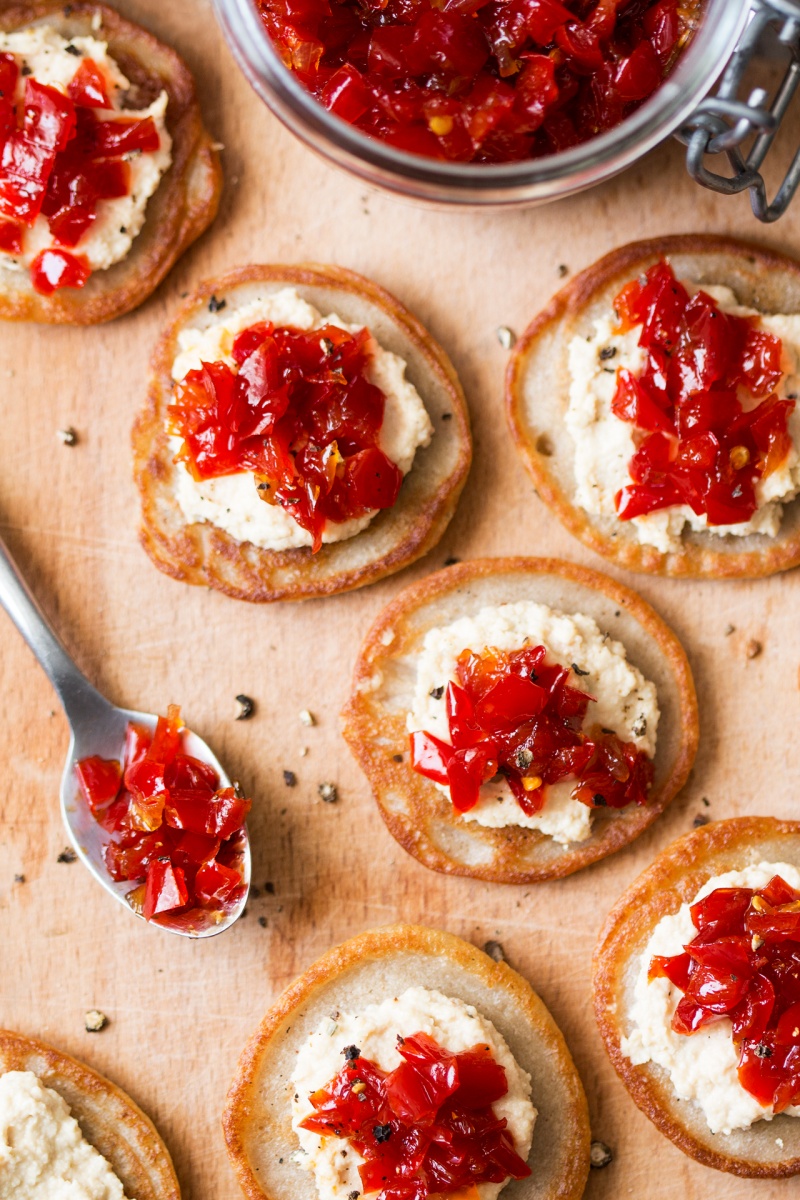 So much expectation and build-up and BAM! Christmas is over. Do you also feel like it's the anticipation of it that's sometimes more exciting than the event itself? Maybe it's just me…
So those of you who are celebrating New Years's are probably manically shopping for a dazzling outfit, getting their hair done or / and cooking up a storm if it's you who is hosting this year.
Today's recipe is a vegan canapé idea, which may come in handy if you're planning something dressed up and somewhat classy. Not sure what it is about blinis (as essentially they are simply mini pancakes) but they seem classy, right?
I challenge anyone (omnivores included) not to like these festive 'babies'. They are soft and fluffy (blinis), tangy (vegan cheese), sweet and spicy (relish) and really quite addictive. As soon as I was done with my photos for this recipe, a whole plate of them disappeared into the abyss of our mouths and that was literally hours after we both vowed to limit out constant taste testing – it doesn't bode well for pending New Year's resolutions, right 😉 ?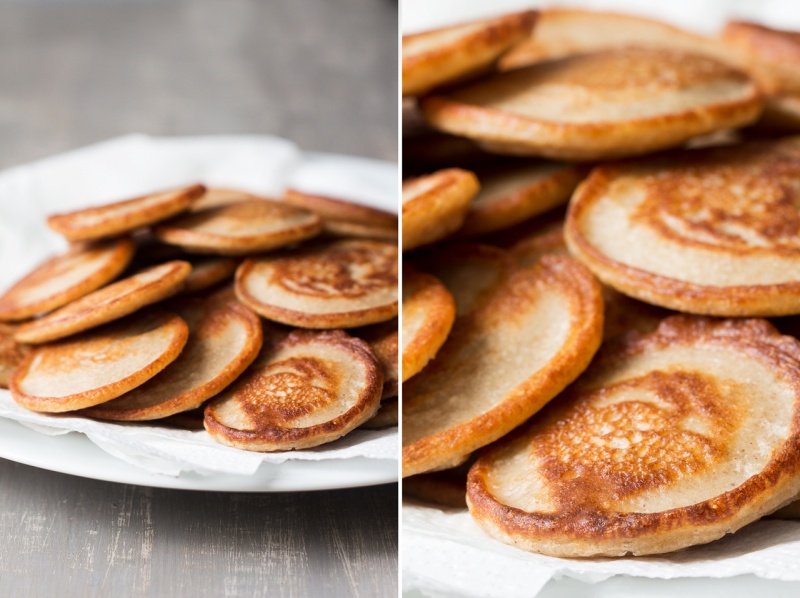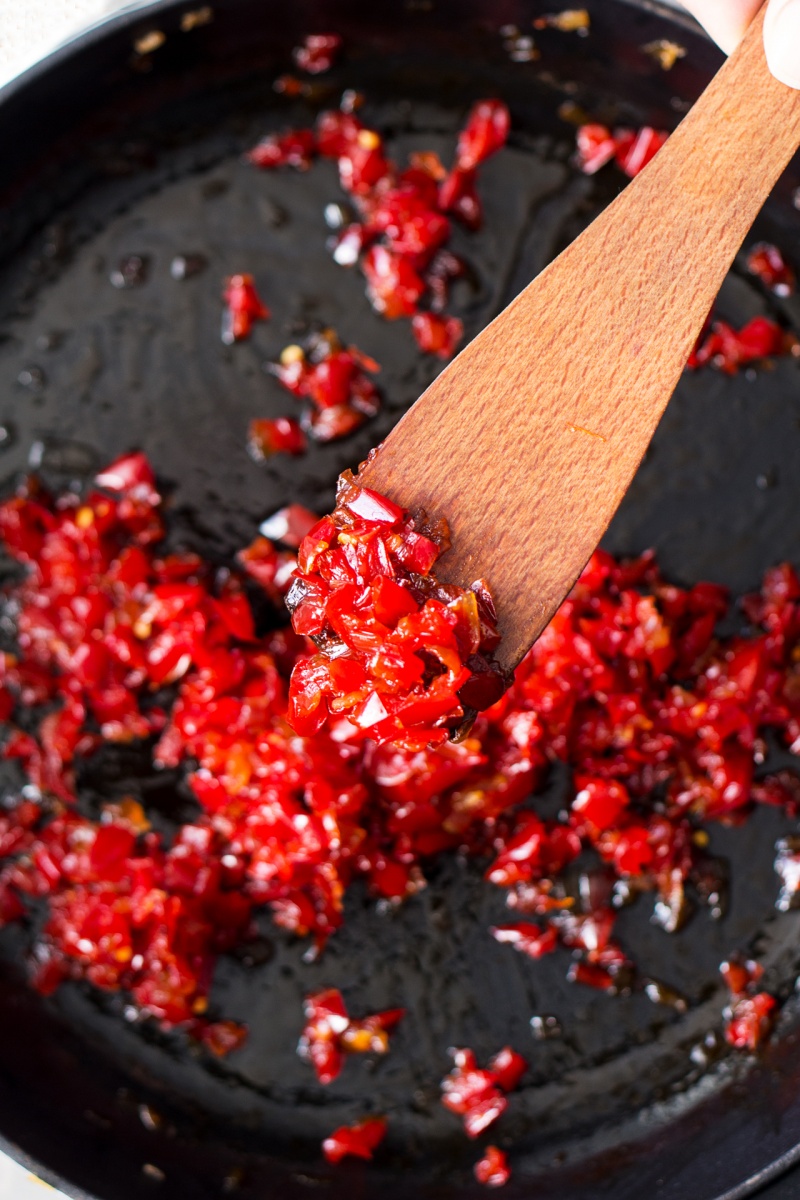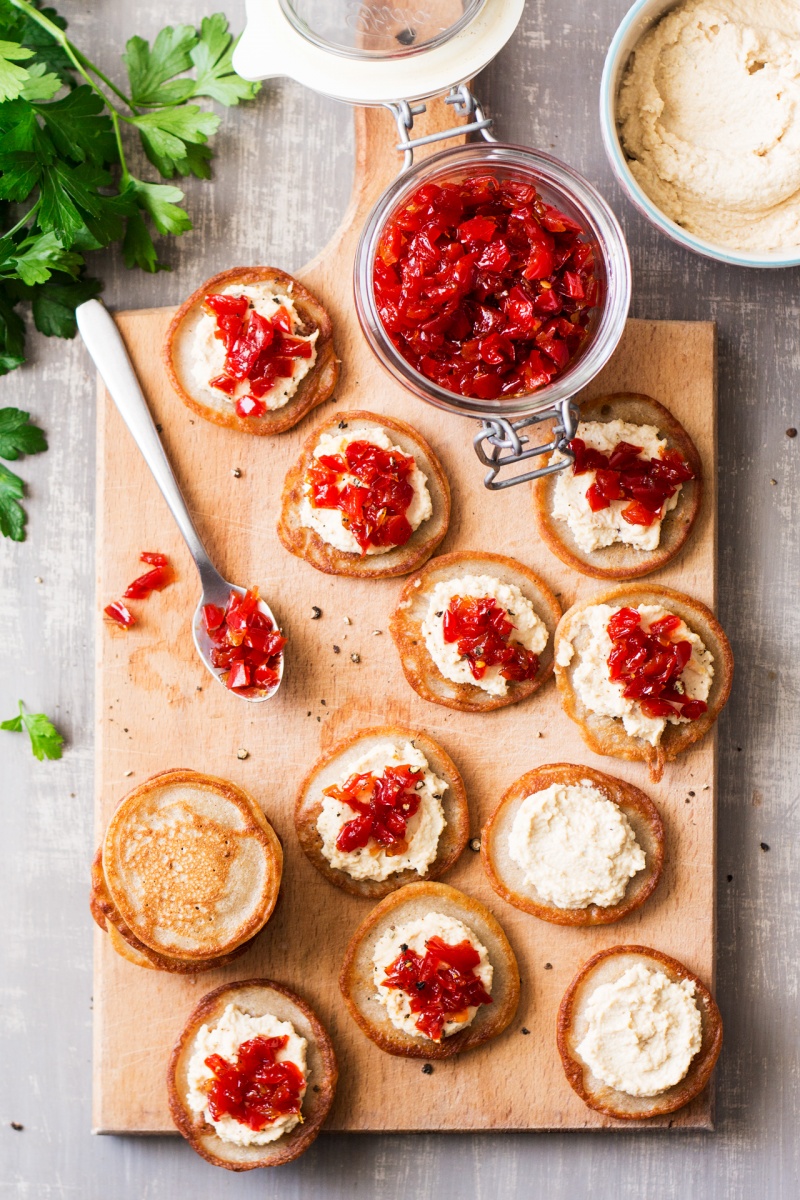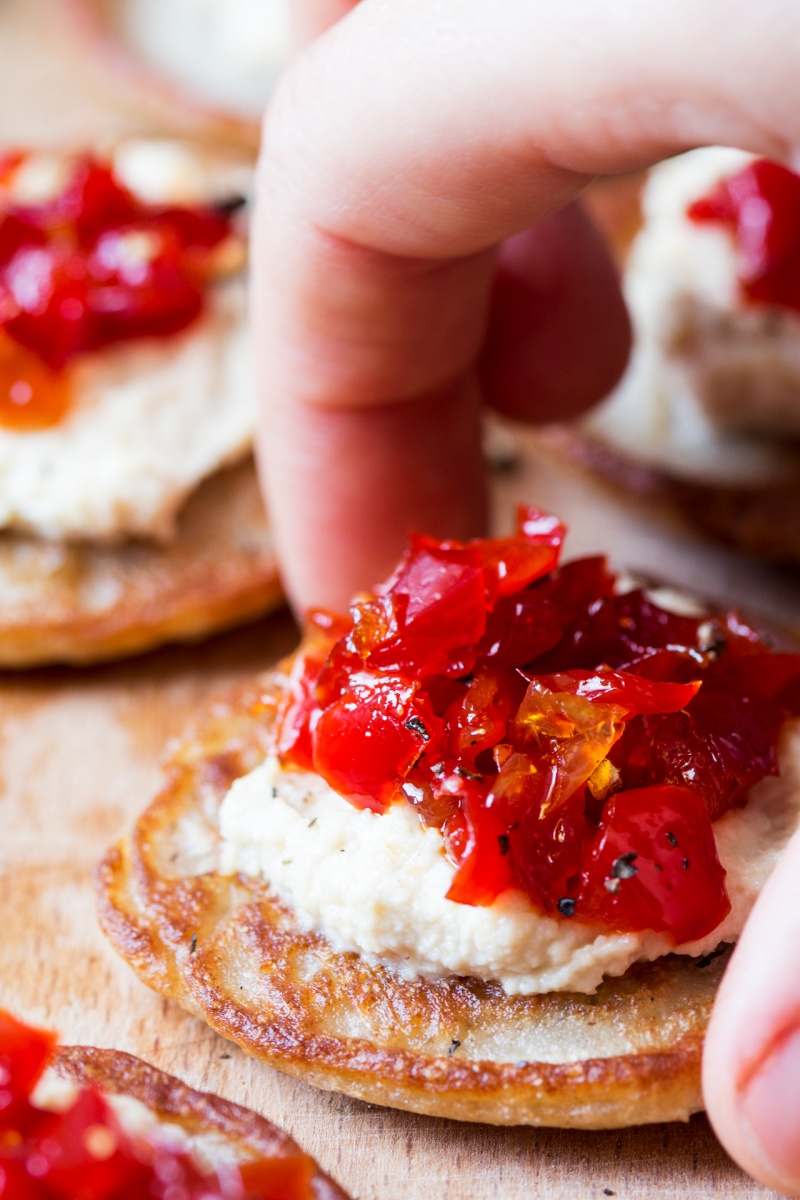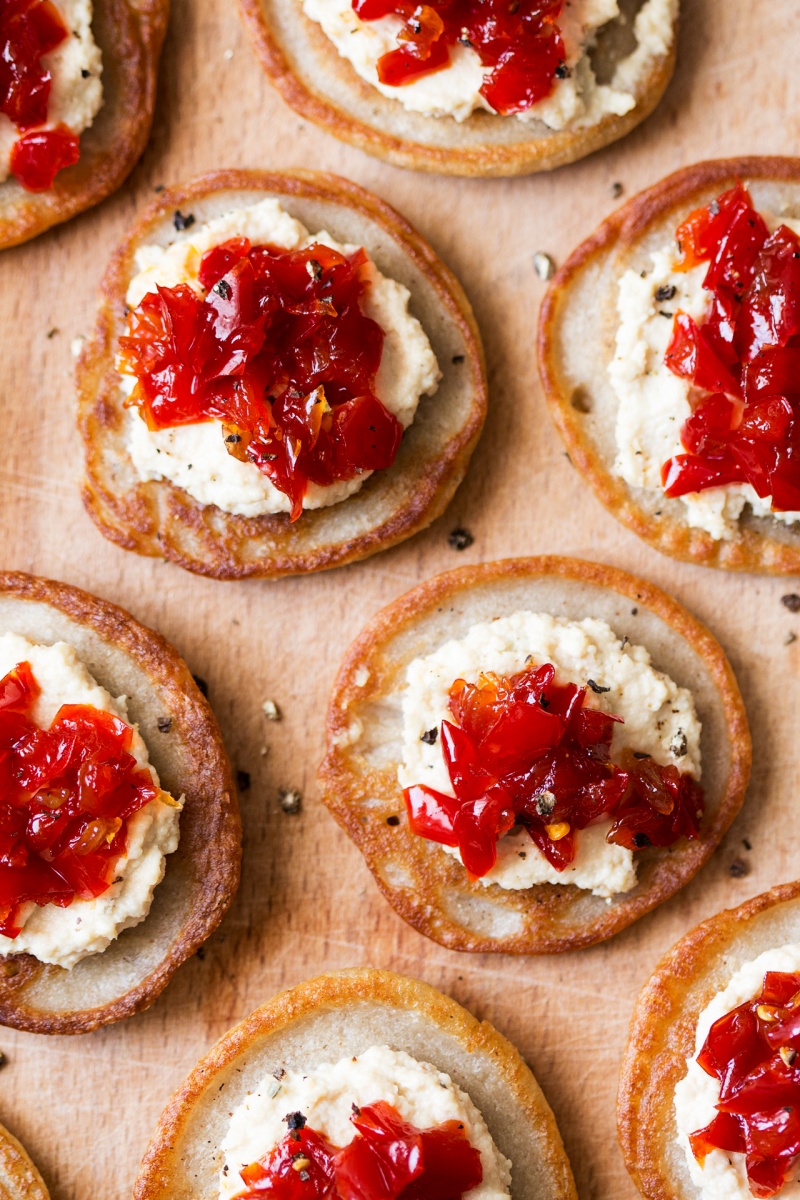 RED PEPPER RELISH
1 tbsp olive oil
1 small onion, finely diced
3 red bell peppers, finely diced
135 ml / ½ cup + 1 tbsp red wine vinegar
5 tbsp sugar
hot chilli flakes, to taste
salt, to taste
BLINIS
120 g / 1 cup buckwheat flour
85 g / 2/3 cup all purpose white flour or rice flour (for GF*)
1 heaped tsp active instant yeast
200 ml / ¾ cup + 1 tbsp soy milk (or other thin plant milk)
45 ml / 3 tbsp aquafaba at room temp.
¼ tsp salt
oil, for frying
VEGAN SOFT CHEESE
½ cup vegan soft cheese (buy or use my recently STREAMLINED recipe)
METHOD
RED PEPPER RELISH
Heat up 1 tbsp of oil in a heavy bottom pan. Add finely diced onion and fry gently, on a low heat, until lightly coloured. Give it a stir from time to time.
Add finely diced red pepper and mix it in with the onion. Let it soften a bit.
Add red wine vinegar, sugar (you may want to start off with 4 tbsp first and adjust to your own taste), a good pinch of salt and hot chilli flakes. Mix well. Let the mixture cook slowly, on a very low heat (I used setting 2 out of 6), stirring from time to time, until the red pepper becomes sticky and translucent.
Taste and adjust the salt, sugar and spice content to your liking. After the relish cools down, transfer it to a sterilised jar and keep in the fridge – it will keep for 1-2 weeks.
BLINIS
Heat up soy milk in a small pan until just warm, not hot. Place both flours, salt and yeast in a large bowl. In a separate bowl, whisk aquafaba (make sure it is room temperature as cold will kill the yeast) really well with a hand whisk until really frothy.
Very gradually, start adding warmed-up milk to the flour mixture, stirring with a hand whisk at the same time to prevent lumps from forming. Next, mix in whisked aquafaba. Cover the bowl with a kitchen towel and let it rest somewhere warm (but not too warm as it will kill the yeast) for 1 hour, so that yeast has a chance to activate.
Heat up a bit of oil in a frying pan – be careful not to make the oil too hot or else the blinis will burn on the outside and remain raw on the inside (I used setting 4 out of 6). Drop 2 teaspoons worth of batter onto the hot oil swirling the batter a little as it drops so that a circle forms. The batter should be thick enough that it doesn't spread out much once it hits the pan. If it's too thick, add a bit more lukewarm milk.
Fry blinis in small batches until the underside is nice and golden, then flip to the other side and fry for another minute or two. Place on a paper towel to get rid of excess grease. Consume warm. I topped mine with my ricotta (to which I added a touch more lemon juice to contrast it nicely with the relish) and red pepper relish.
NOTES
 *For a gluten-free version, use rice flour or more buckwheat flour instead of all purpose flour. They will be a bit heavier but still delicious.