I've made no secret of the fact that I am a bit of cake-o-holic. I can be cool, I can manage without sweets for a week or so provided there is nothing tantalising in my eyeline, but my resolve takes a hit whenever I test bake a new recipe. To perfect the recipe, I usually bake it several times in a row, in a short period of time, so as a result my kitchen is overflowing with test bakes that are calling out to me whenever I pass.
I obviously have to taste them to test and once that sweet, sugary hit intoxicates my taste buds I tend to spiral out of control and want to have another slice with my afternoon coffee and then another after dinner… I then feel really wretched and down on myself. It's not a good feeling and I don't like the grip it has on me.
Going cold turkey would be an obvious thing to do if not for the fact that I blog about food for a living and that creating vegan dessert recipes is probably my favourite part of the job. I also think that it's okay to have a piece of cake now and again and so I don't want the blog to turn into one of those where the only dessert option is some date balls.
My current idea for combating my lack of self-control around cakes is to bring myself to throw the damn thing into the compost, especially if it's an early test and the cake could do with some improvements. Or I could give it away to a friend or two (although the sheer volume of it, people's preferences and allergies make it sometimes tricky) and my third, yet to be tested idea, is to install a small 'bird feeder' kind of thing in front of my house and put the cake pieces in there in the morning and let passers by help themselves. Because of Covid, I have not had the guts to try this out yet but this could really work. I just need to come up with a sustainable way to present the offering without having to buy packaging.
So this week's vegan baking challenge I've set myself was to make indulgent vegan blondies. Even though my existing recipe was the starting point, it still took quite a few goes to get right but I am really pleased with the result (we just drove the excess to Duncan's friend's house and he loved them!).
They have a beautiful white chocolate taste, crispy edges and a gooey interior and are generously studded with raspberries, which provide a much needed flavour contrast. If you don't have or like (who are you?? 😉 ) raspberries, blackberries, chunks of rhubarb or leftover Xmas cranberries would also work well. In terms of the process, these are really quite simple and do not require much skill, a little bit of whipping and some gentle stirring and you are done. We loved testing these and I hope that if you treat yourself and your family or friends to a tray of these too, there won't be any complaints.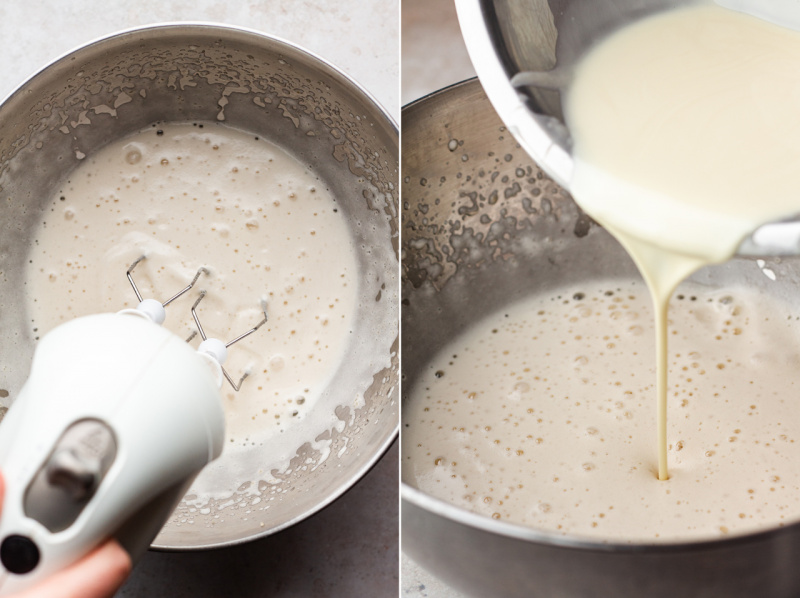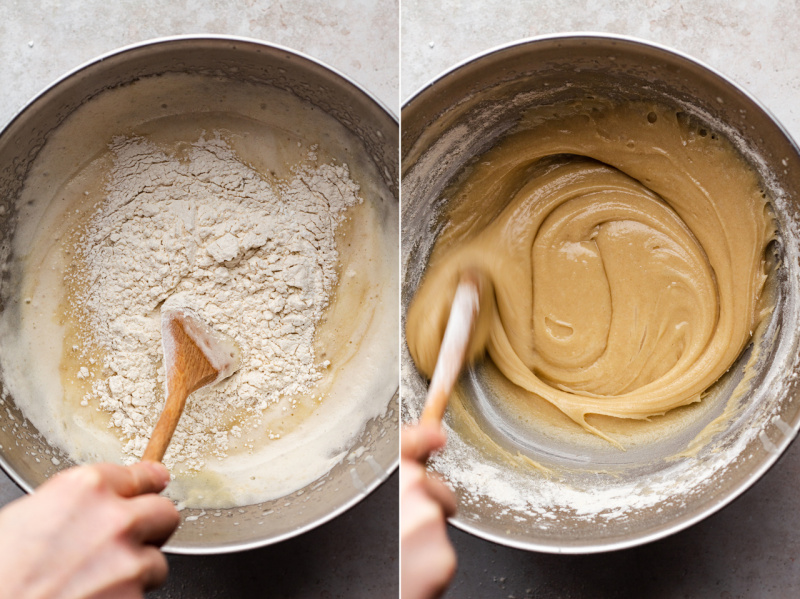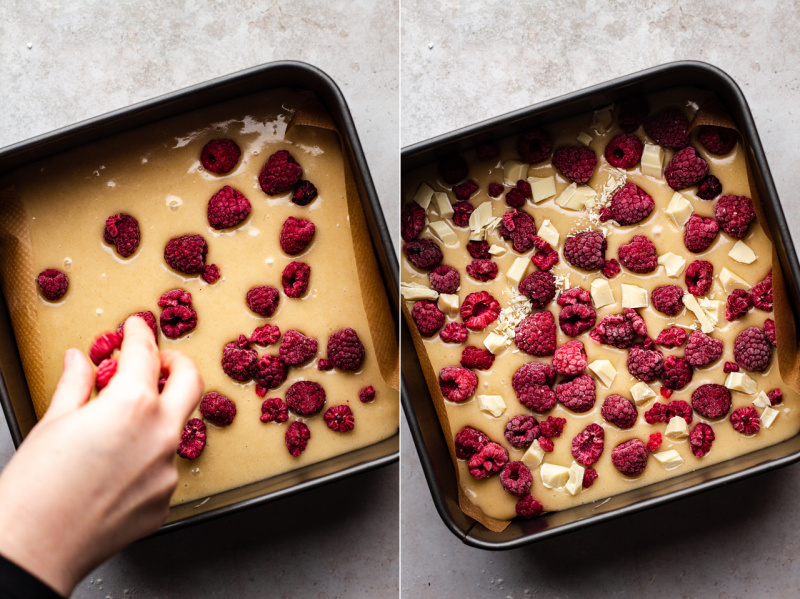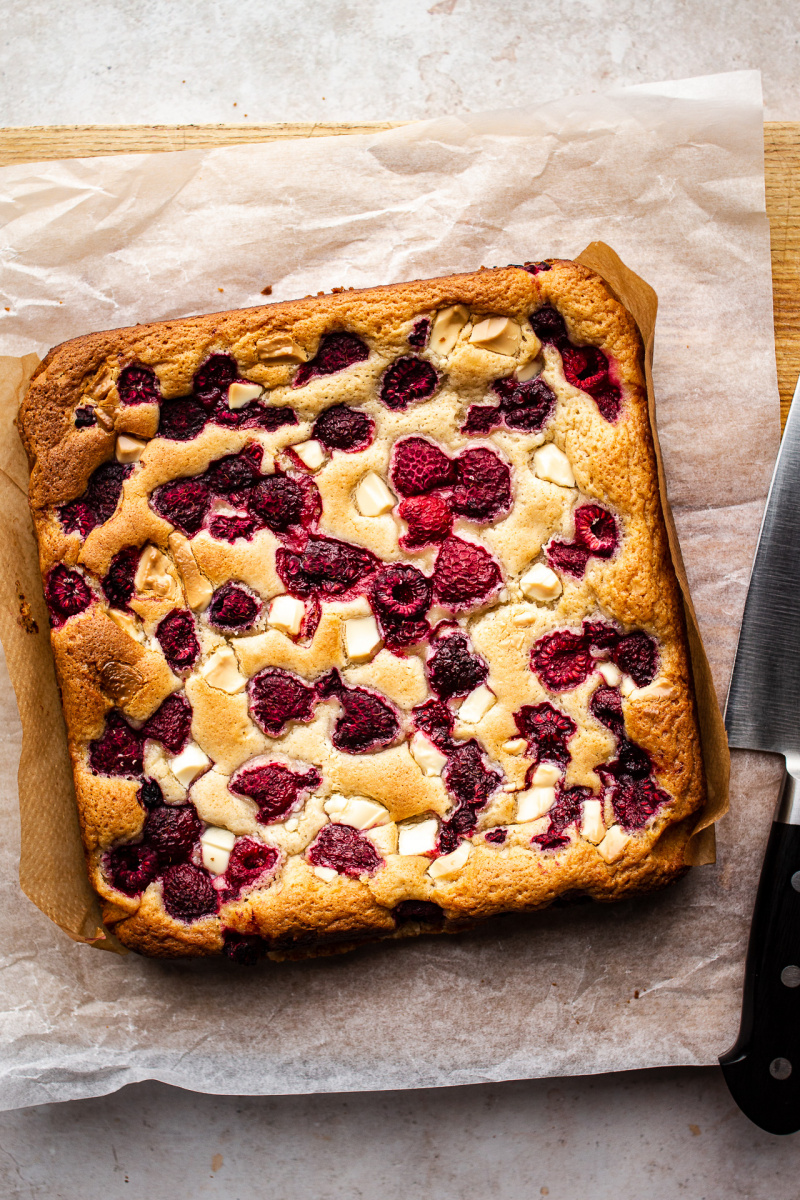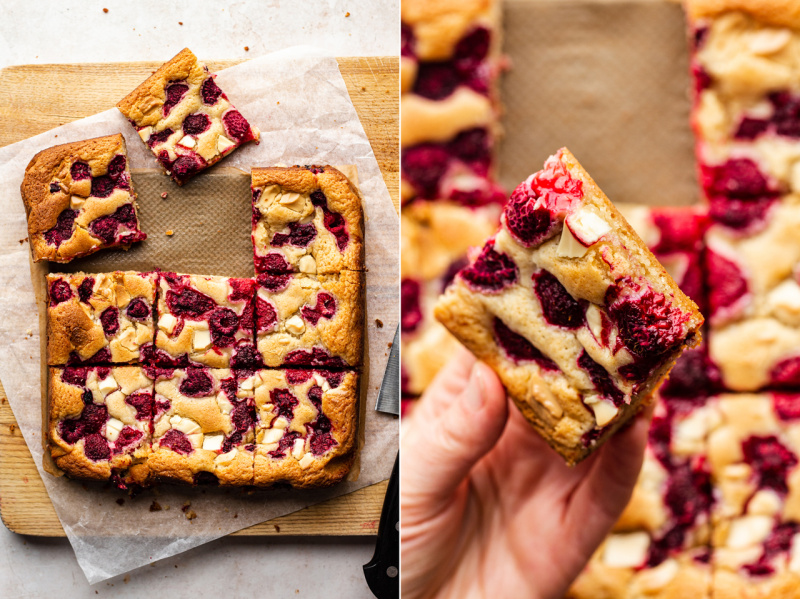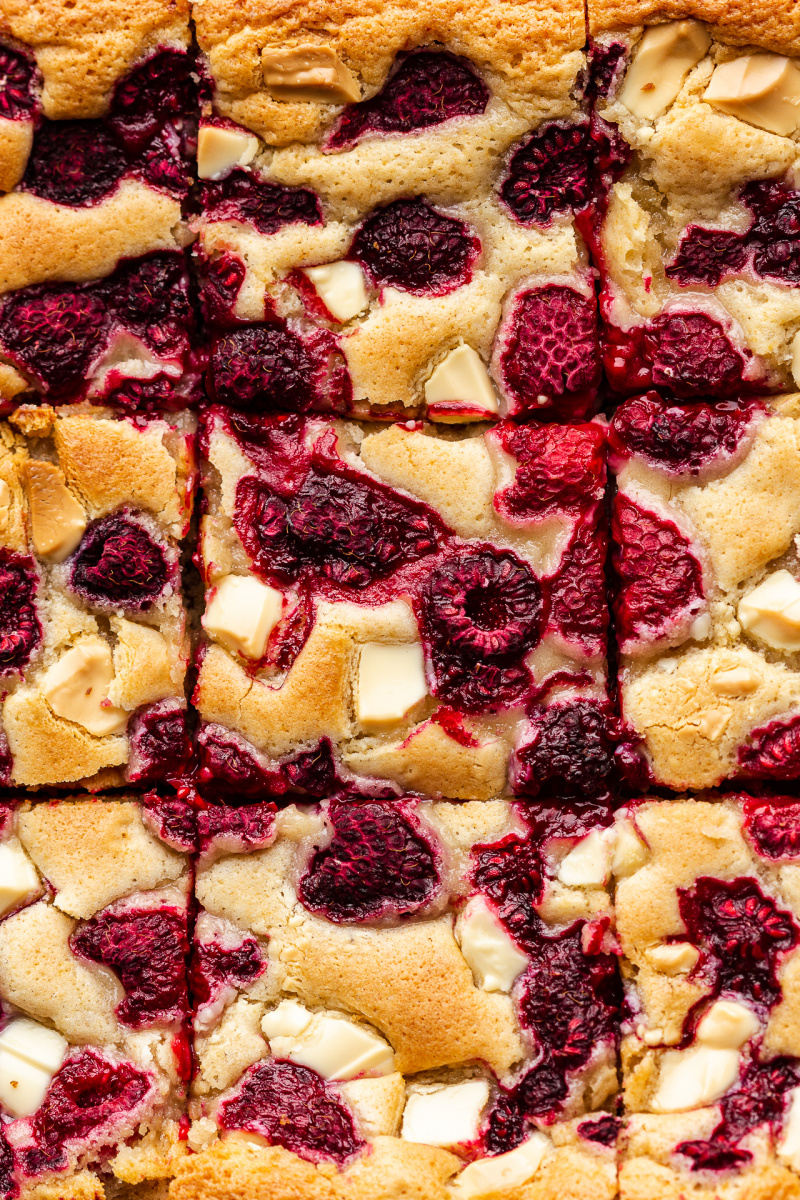 150 g / 5¼ oz vegan white chocolate, plus more to decorate
50 g / ¼ cup odourless coconut oil or vegan butter
120 ml / ½ cup aquafaba (chickpea brine), from a tin or from home cooked chickpeas
100 g / ½ cup sugar (I used a mixture of caster and demerara)
160 g / 1¼ cups plain flour or GF flour mix
20 g / 2 heaped tbsp cornstarch / cornflour
½ tsp salt
¼ tsp baking soda (GF certified if needed)
½ tsp baking powder
200 g / 1½ cup frozen raspberries
METHOD
Place white chocolate and coconut oil in a metal or glass bowl suspended over a bain-marie / water bath. Melt very slowly (on a low heat) and make sure the bowl with the chocolate does not touch the water underneath as chocolate does not tolerate intense heat.
Preheat the oven to 180° C / 355° F. Line a 20 cm x 20 cm / 8 inch x 8 inch baking tin with baking parchment. Make the baking parchment stick out of the tin so that you're able to remove the brownies from the tin a little easier.
Whip aquafaba with an electric whisk until you have a stable foam (there is no need to achieve stiff peaks for this recipe).
Gradually add sugar to the aquafaba, whisking well after each addition. By the time you are done the mixture should be thick with sugar and with lots of tiny bubbles.
Using a spatula, fold melted, lukewarm but not hot, chocolate and coconut oil mixture into the aquafaba mixture.
Place a sieve over the bowl and sift through all of the dry ingredients in batches, folding in gently until no flour pockets remain.
Transfer the batter into the prepared baking tin. Scatter the top with frozen raspberries and chocolate chunks if you like.
Bake on the middle shelf for about 29-30 minutes. Similarly to brownies, it is better to underbake these a touch than overbake them.
Allow the blondies to cool down completely (!) before cutting with a sharp knife. Store in an air tight container as these will wick moisture out of the air.
NOTES