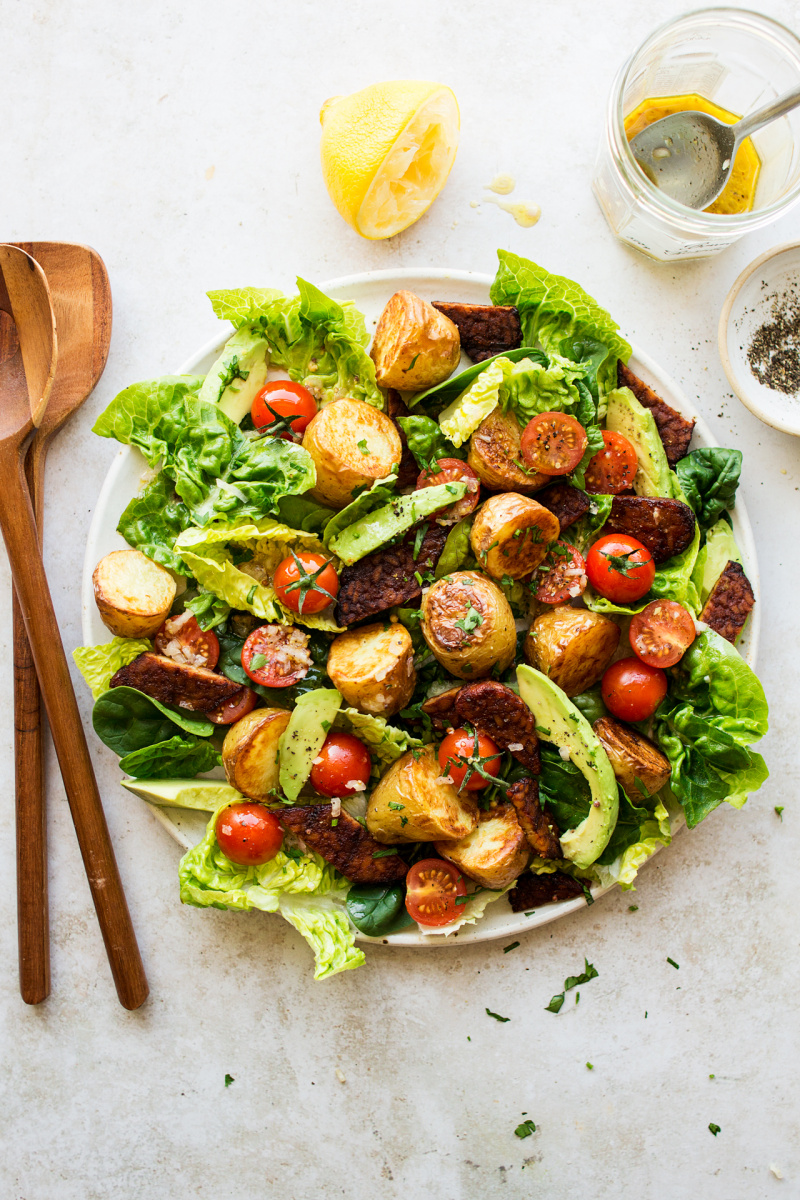 I knew this would happen. I've disappeared into a house renovating hole and I am finding it hard to focus on anything else at the moment. As you might know, Duncan and I got the keys to our very first house together last Friday. After the initial excitement, panic has set in as when we walked around the empty house slowly without anyone breathing down our necks, we realised how much work lies ahead of us.
We started off with tackling the study, which we thought was simply painted lilac, but no, no such luck. It has been wallpapered and then painted over, many many times!! Oh joy. We bought two steamers and only just managed to take about 1/8 of the wallpaper off last Sunday. It's hard work and fairly toxic too – I ended up with the mother of all headaches on Sunday night that no painkiller was able to touch and I blame that nasty stuff that we have been taking off the walls for hours.
We could pay a professional to do it, but there are so many house-related expenses in our future that we've decided to do what we can ourselves. As we need to move in the next week and half, we've decided to leave the study alone for a while and paint one of the bedrooms this coming weekend. It appears to have been painted with gloss paint so no wall paper stripping is required luckily. As we want to use a matt paint, it will take a while to prep the walls, but I hope we can get it all done in two days, as we will need a habitable room to sleep in soon.
Meanwhile, at this end, I am packing all our possessions into boxes, planning the cleaning of our rental house, cooking recipes and totally failing as a pet parent. Tina is getting a bit less attention and she is not shy about letting me know that the number of belly rubs she has been getting is well below par (you might have seen my Instastory yesterday…) Moving house and redecorating the new house at the same time is madness, but to her, it's business as usual. "What are you stressed about, hooman? Have a nap, silly…and pat your cat. That's what life is all about!!"
I am looking forward to us being moved and having everything in one house, no matter how dishevelled it is going to look for a bit. On the food front, I have made a simple salad for you today. It's been quite sunny around here lately, but the evenings are still quite cold so I figured that this warmish salad with roasted new potatoes and tempeh bacon might be a nice lunchtime treat. It's easy to make, filling and fairly hands off, which I currently very much like. I hope you'll enjoy it!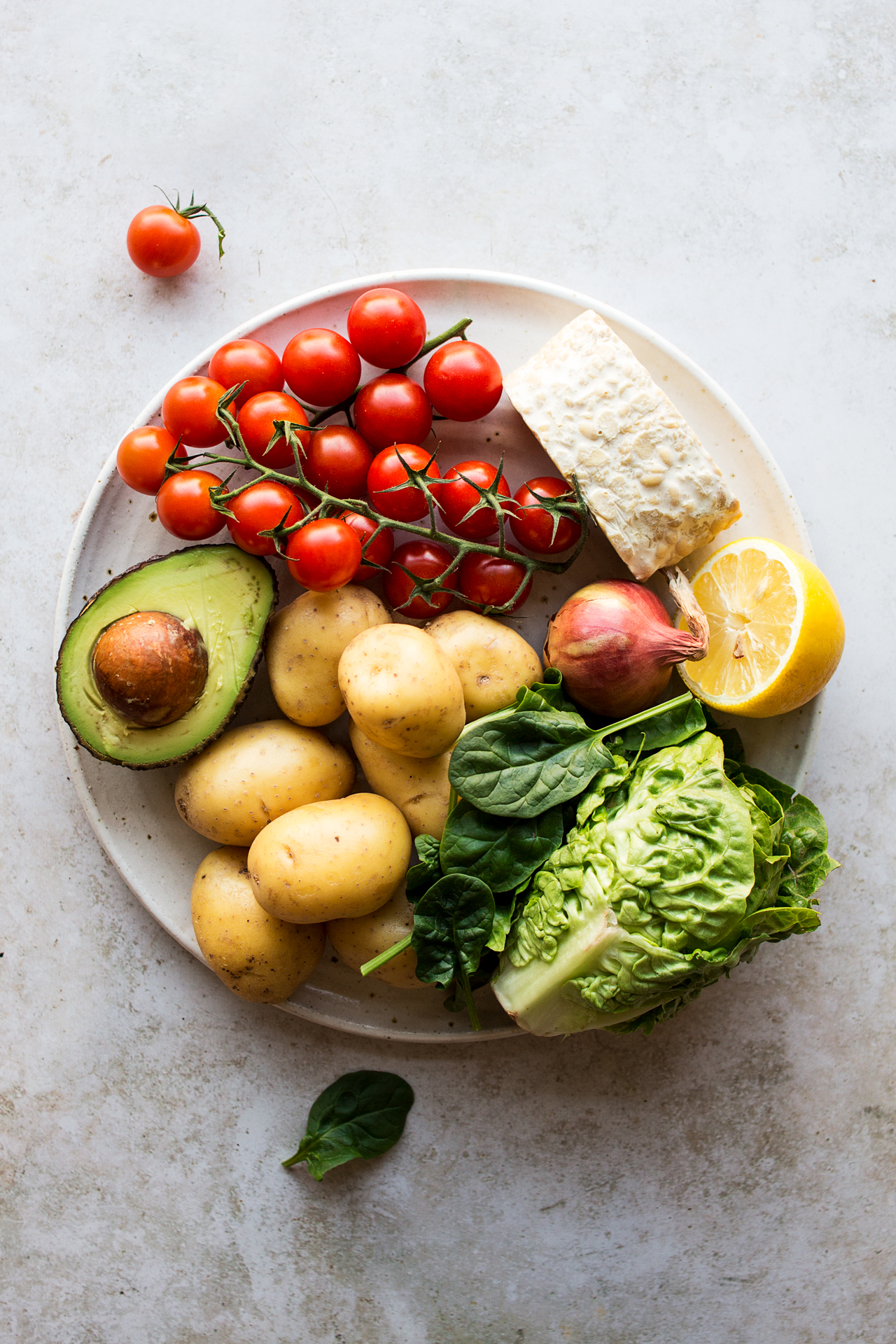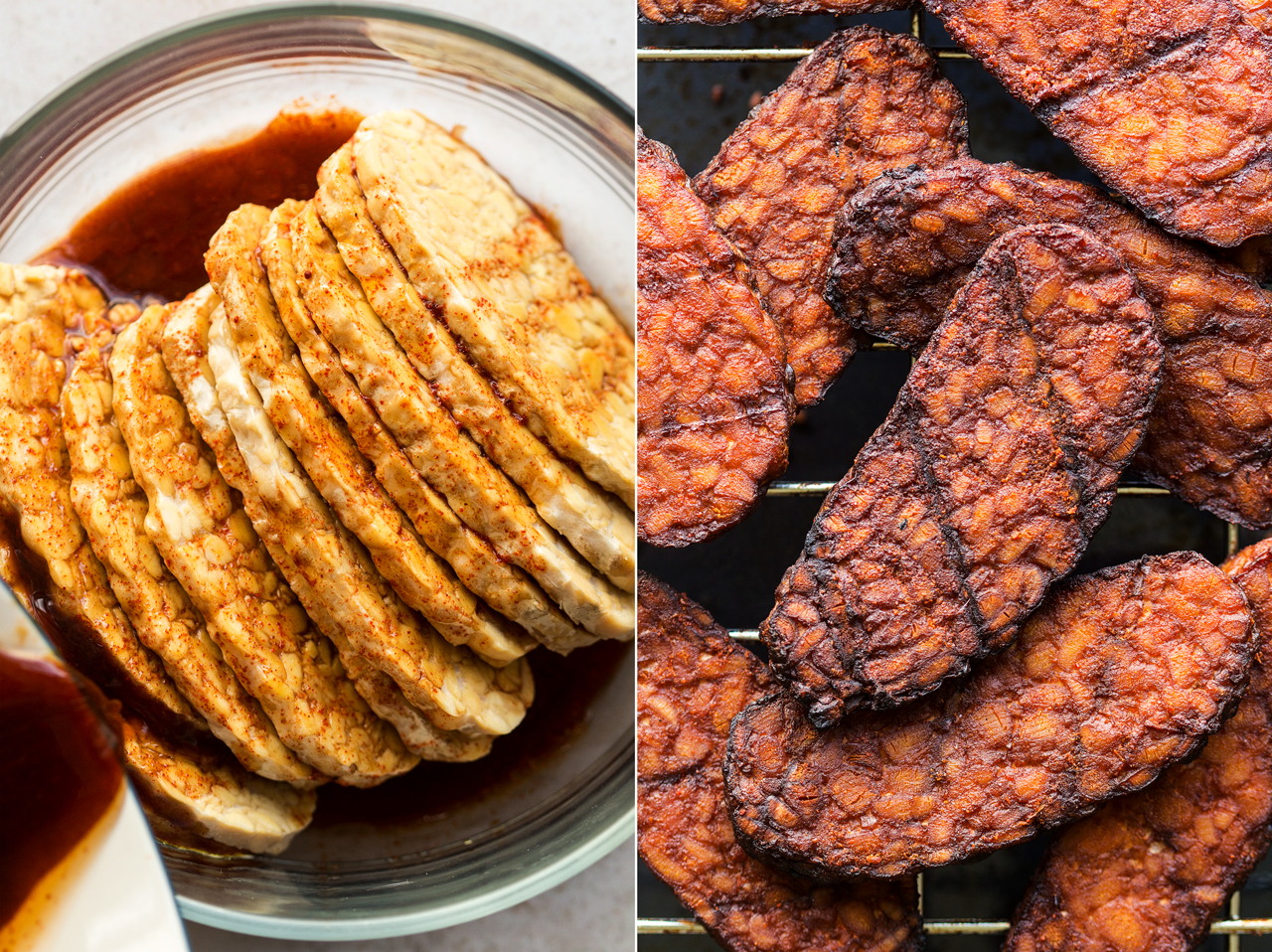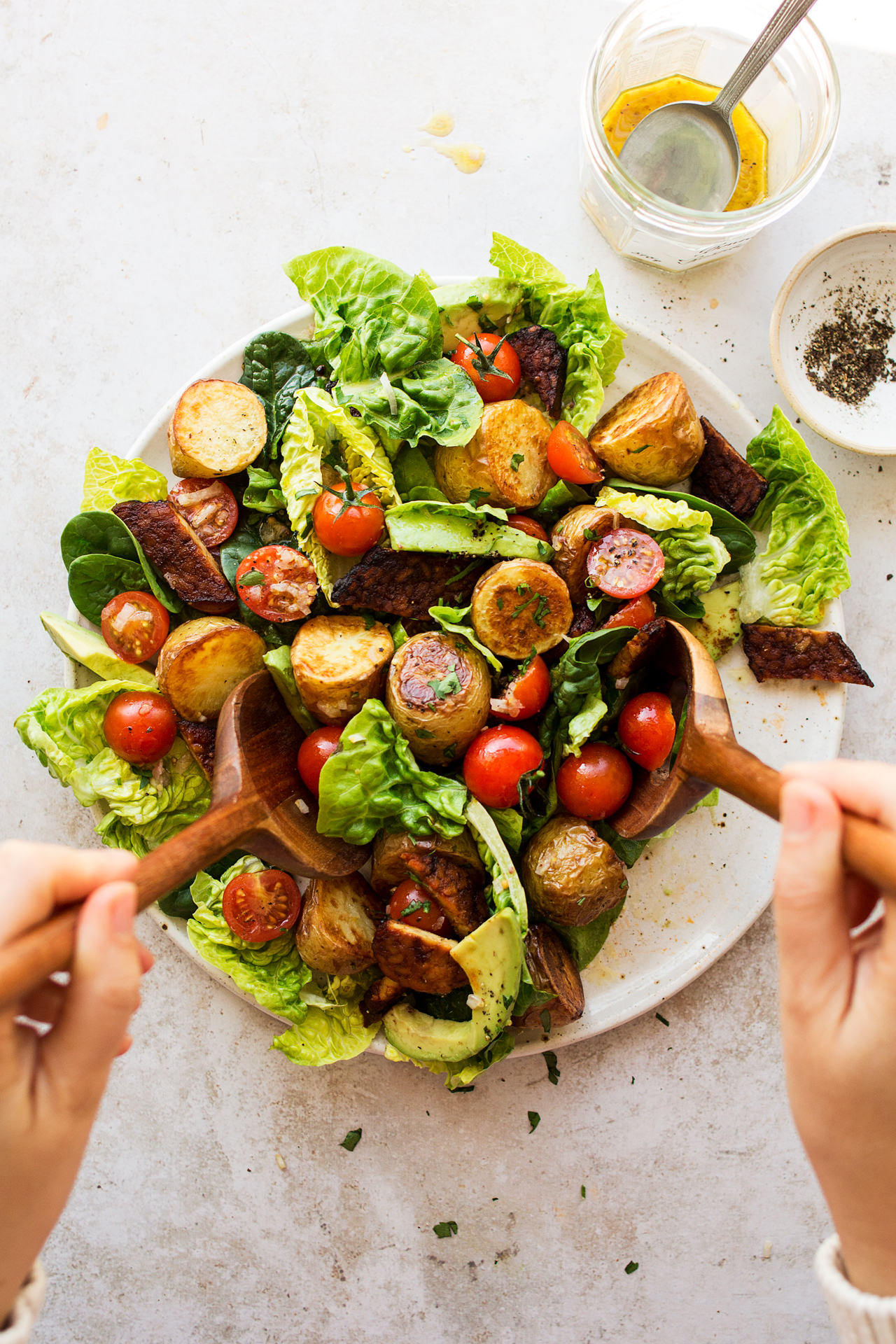 DRESSING
3 tbsp extra virgin olive oil
3 tbsp lemon juice
2 tsp wholegrain mustard
1½ tsp maple syrup or sugar
1 shallot, super finely diced
1 tbsp capers, super finely diced
salt and pepper to taste
TEMPEH BACON
2 tbsp tamari (if GF) or soy sauce
2 tbsp apple cider vinegar
1 tbsp maple syrup
¾ tsp smoky sweet (not hot) paprika or a few drops of liquid smoke
200 g / 7 oz tempeh (or firm cotton tofu, pressed)
REMAINING INGREDIENTS
500 g / 17.5 oz new potatoes (I used Charlotte variety)
olive oil
2 heads of gem lettuce. leaves shredded roughly
50 g / 1.75 oz baby spinach
250 g / 8.5 oz sweet cherry tomatoes, halved
1 ripe avocado, sliced or chopped
METHOD
DRESSING
Mix all the liquid ingredients in a medium mixing bowl.
Add finely chopped shallot and capers. Season to taste. Set aside.
TEMPEH AND ROAST POTATOES
Create the marinade by mixing tamari (or soy sauce), apple cider vinegar, maple syrup and paprika together in a medium mixing bowl.
Cut the tempeh into 3 mm / 0.1″ slices and place it in a bowl. Spoon the marinade over. Allow the slices to marinate for as long as you can (but 30 minutes at least), spooning the marinade over the unsubmerged surfaces now and again.
Heat up the oven to 180° C / 350° F fan (200° C / 390° F no fan) and place marinated tempeh on a baking tray with a grill. Brush it with a little olive oil and bake for 8 minutes. Turn the pieces over, brush with a little olive oil and bake for another 8 minutes. Keep the oven going.
Once ready, cut the slices into bite-size pieces.
Toss the potatoes (cut the bigger ones in half) in 2 tsp of olive oil and season with a bit of salt.
Spread them on a small baking tray, making sure each potato has some space around it. Bake for about 20-30 minutes (depending on size), giving them a good stir half way through.
ASSEMBLY
Assemble the salad by placing lettuce, baby spinach leaves, cherry tomatoes and avocado in a large salad bowl. Add the slightly cooled potatoes and tempeh bacon and spoon the dressing over.
NOTES