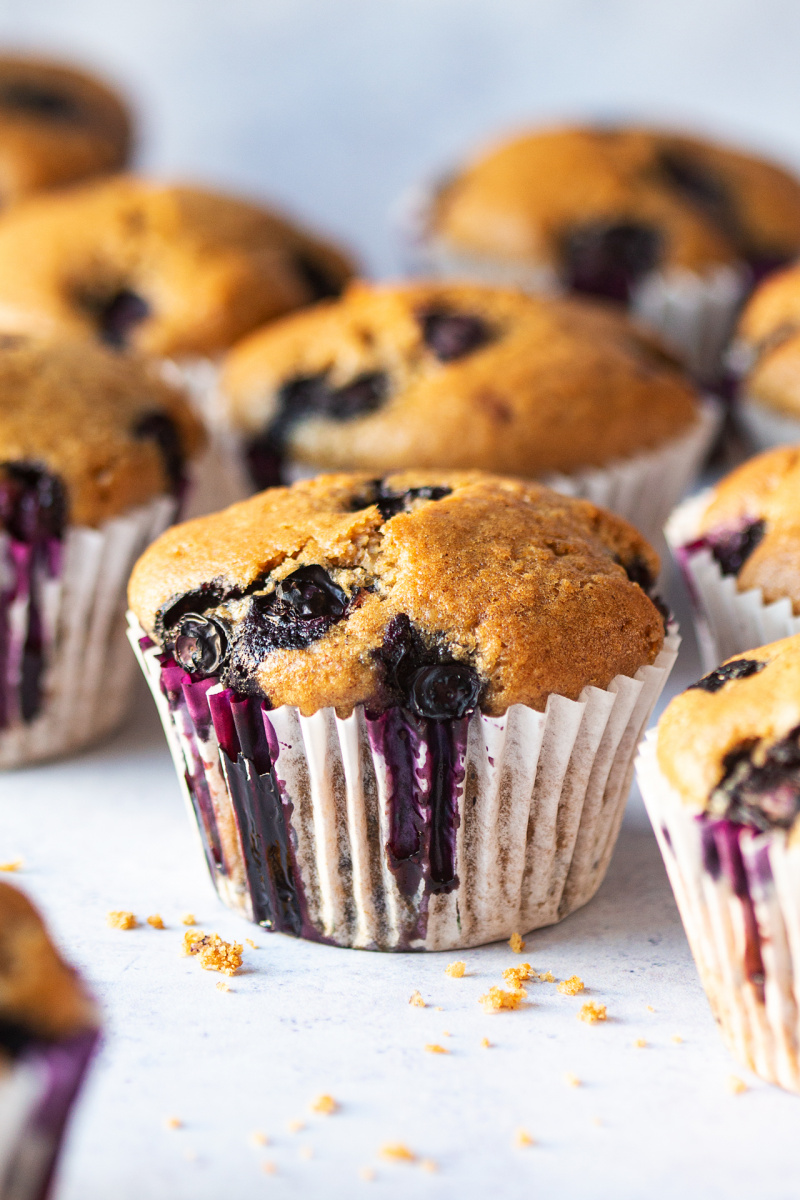 Hope your week has been peachy, productive yet not too energy depleting? I've managed to shoot my final three recipes before my holiday, which is a relief as that's always the most stressful aspect of going away. While I will be spending the beginning of next week editing a staggering amount of photos, it's all going to be worth it as come Thursday, Duncan and I will be lying on a Greek beach, sipping espresso freddos and relaxing. We cannot wait.
While Crete is set to welcome us with the temperature in the high twenties (mid 80° F), Bristol feels very autumnal at the moment, so I've embraced baking again, which is great news for Duncan's workmates (they tend to get all of the leftovers) and not so great for my waistline (as my self-control is a work in progress 😉 ).
These blueberry studded muffins are dedicated to a lovely reader of mine, Priti, who emailed me a few weeks ago asking why she cannot find any vegan blueberry muffin recipes on my blog. She couldn't find them because I never published a recipe for them, so I promised to correct this oversight as quickly as I can.
These muffins are super easy to make – they only require one bowl – and hardly any process. They are oil free and can be gluten-free and refined sugar-free too if you like too. They come together really quickly so if you feel like a sweet treat with your afternoon coffee (or tea), I encourage you to give them a go this weekend! And if you happen to have a glut of foraged blackberries (they grow wild everywhere here in the UK), use them instead. They will work just as well. Enjoy! x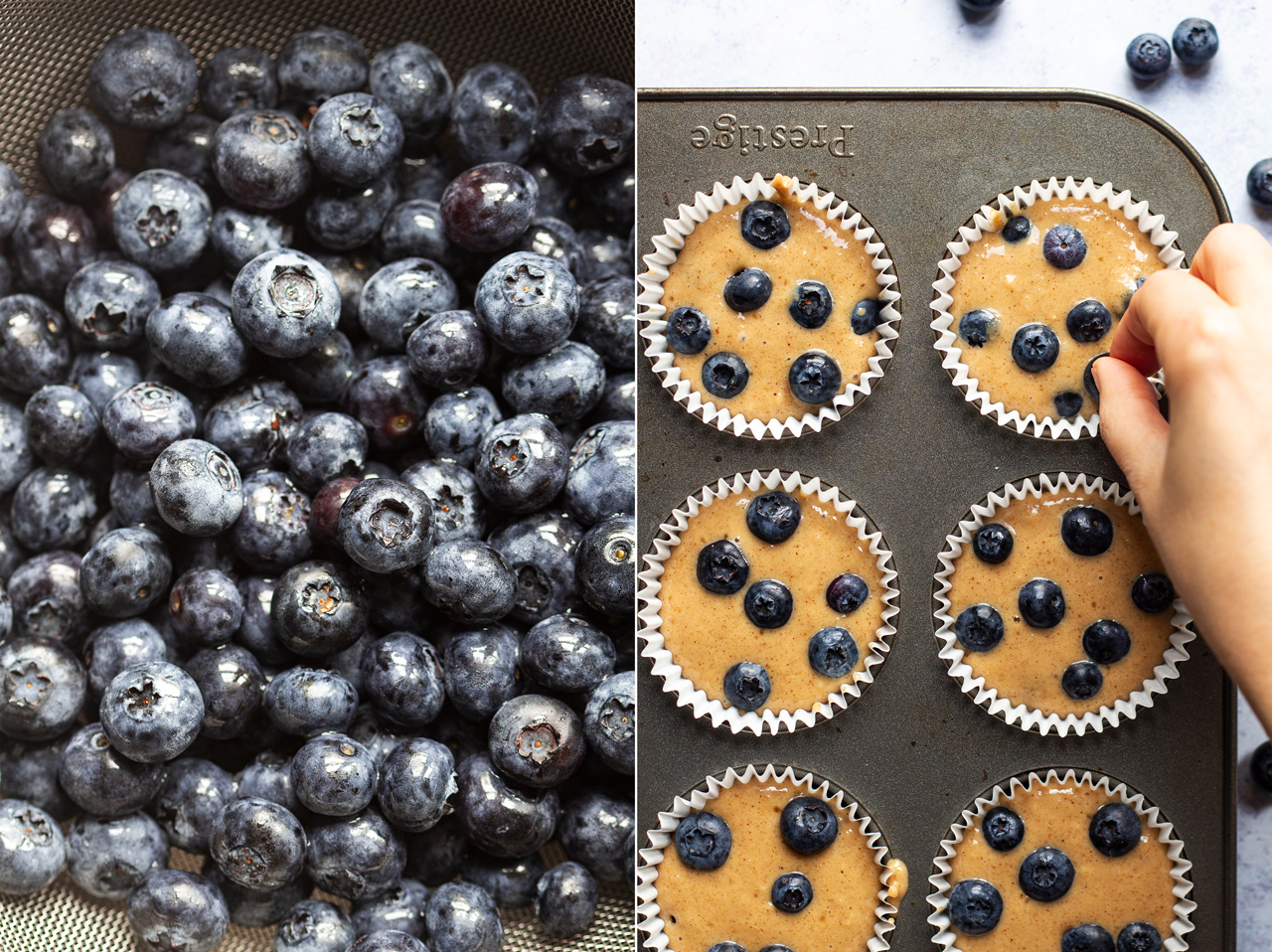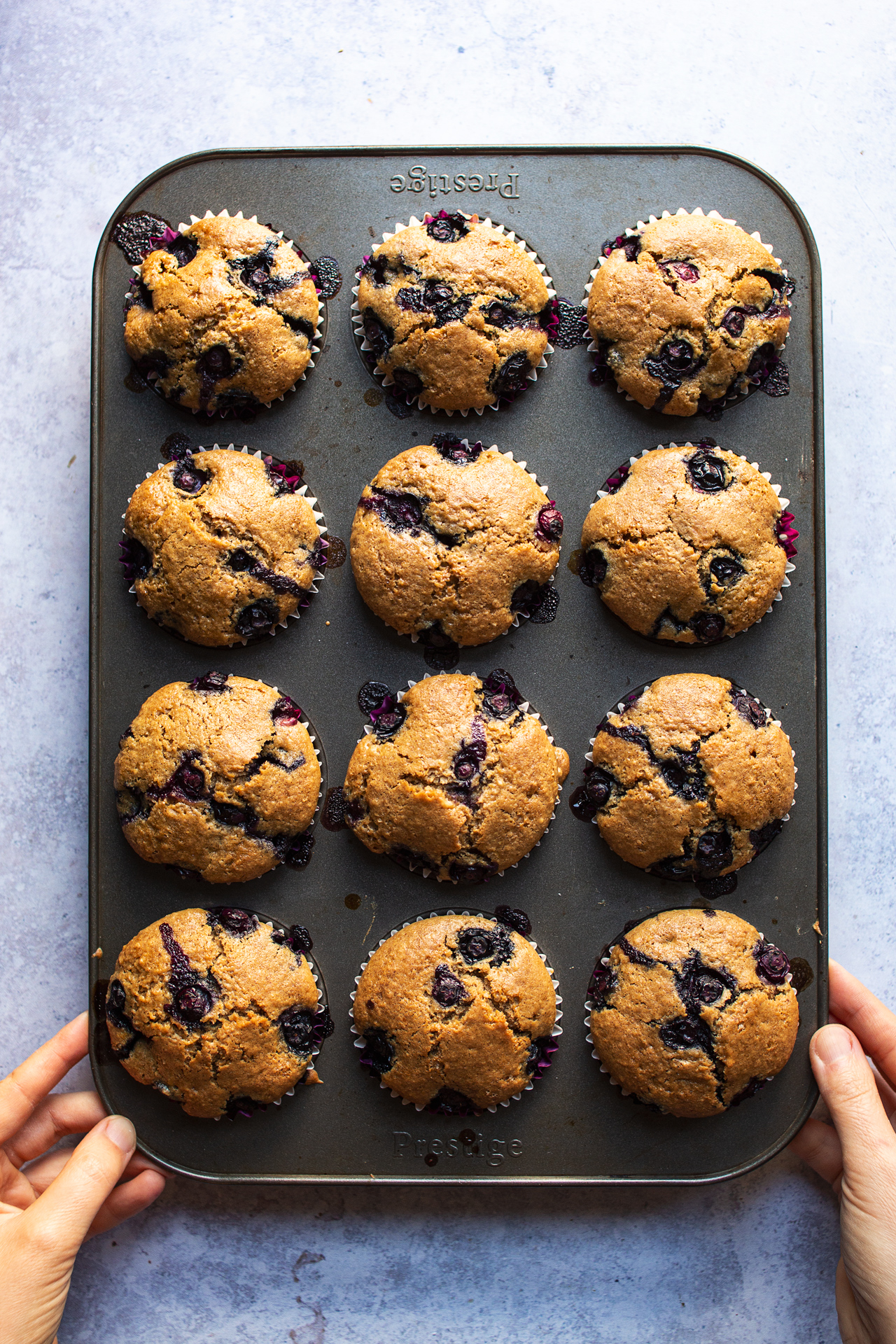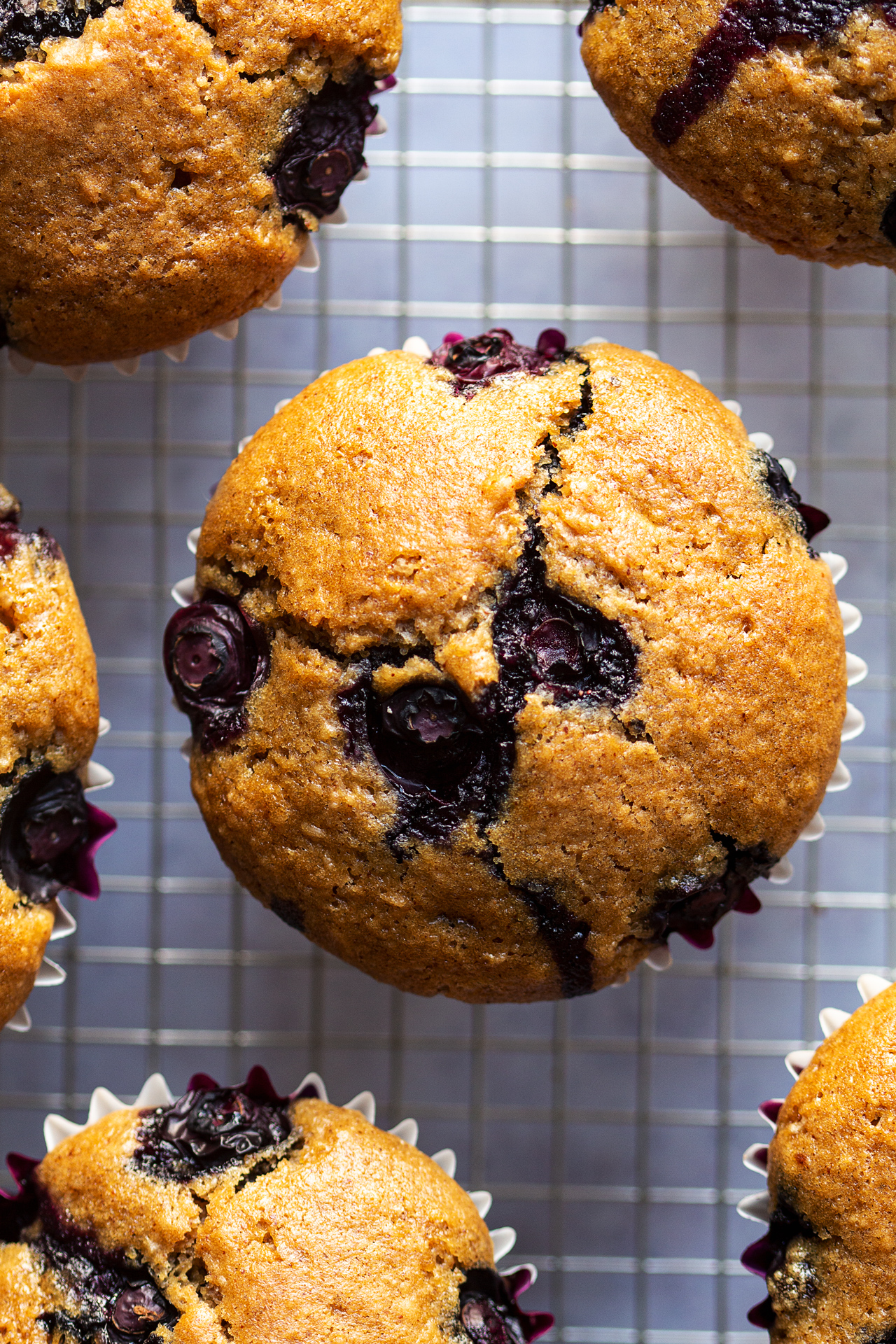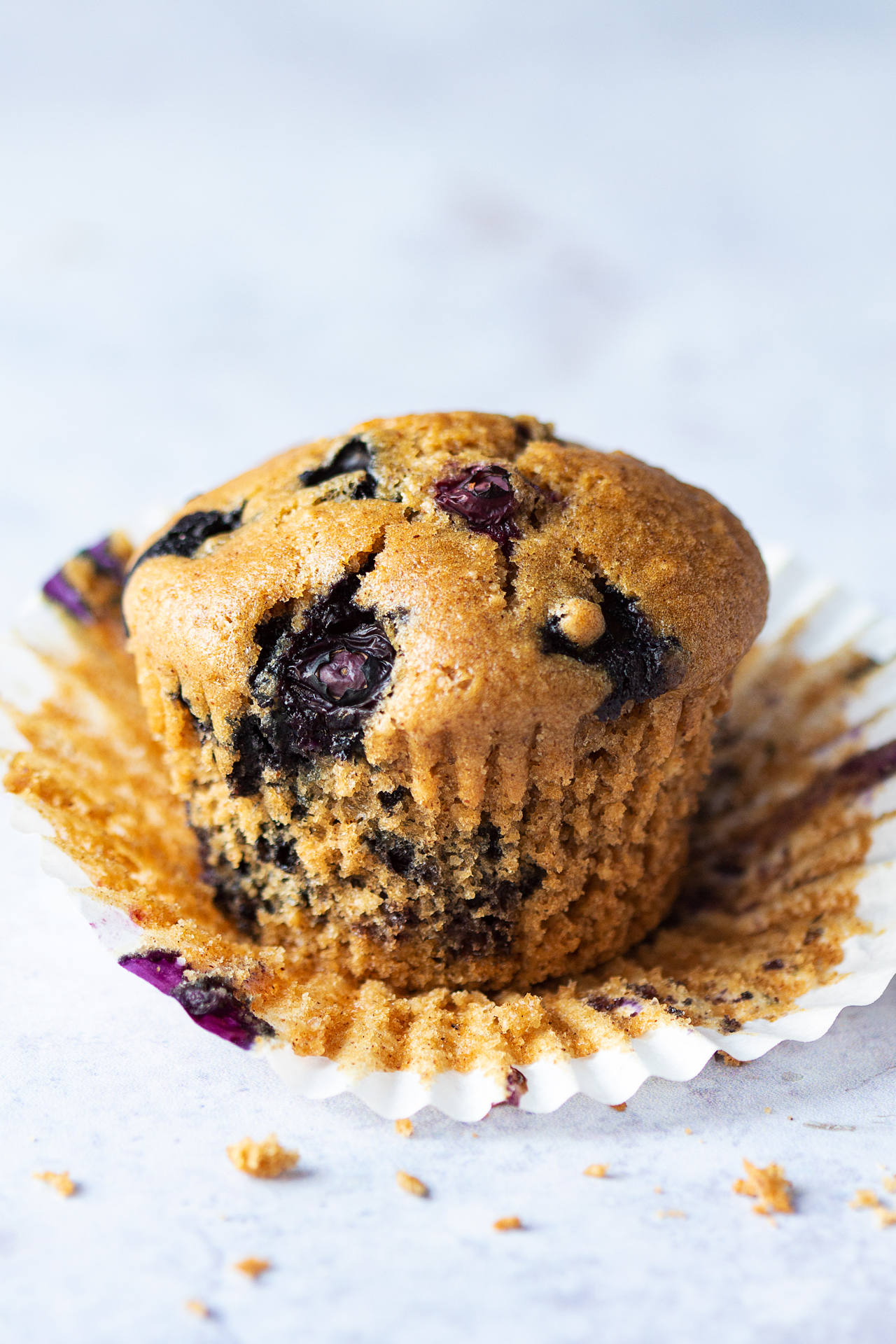 WET INGREDIENTS
85 g / 1/3 cup 100% natural almond butter* (I use this one)
150 g / ¾ cup brown sugar or coconut sugar
300 ml / 1¼ cup almond milk or other thin plant milk
2 tsp lemon or lime juice (or apple cider vinegar)
2 tsp vanilla extract
½ tsp almond extract
200 g / 7 oz blueberries (or blackberries**)
DRY INGREDIENTS
240 g / 2 cups all purpose wheat flour or a reliable GF flour mix (I tested this one)
80 g / ¾ cup finely ground almonds / almond flour
¾ tsp baking soda (GF certified if needed)
1 tsp baking powder (GF certified if needed)
a pinch of salt
METHOD
Set the oven to 180° C / 355° C. Line a standard 12-hole muffin tin with paper liners or grease with oil.
In a bowl, mix together almond butter, sugar and a small amount of almond milk until smooth.
Next, add in the rest of the almond milk, lemon juice, vanilla and almond extracts. Mix really well.
Place a sieve over the bowl and sift in all the dry ingredients. Gently fold them into the wet ingredients until no flour pockets remain, be careful not to overmix if using a gluten flour.
Fold most of the blueberries into the cake batter, keeping a few aside for decoration.
Divide the mixture between 12 muffins and decorate with more blueberries.
Bake for 25-30 min, until a toothpick comes out clean. Let them cool down completely before removing them from the tin and eating.
NOTES
*You can use softened coconut oil instead if you prefer.
This
is the one I typically use as it's odourless and flavourless, which makes it very versatile.
**If you want to use blackberries, lightly coat them in cornflour / cornstarch first as they are juicier and more fragile than blueberries.