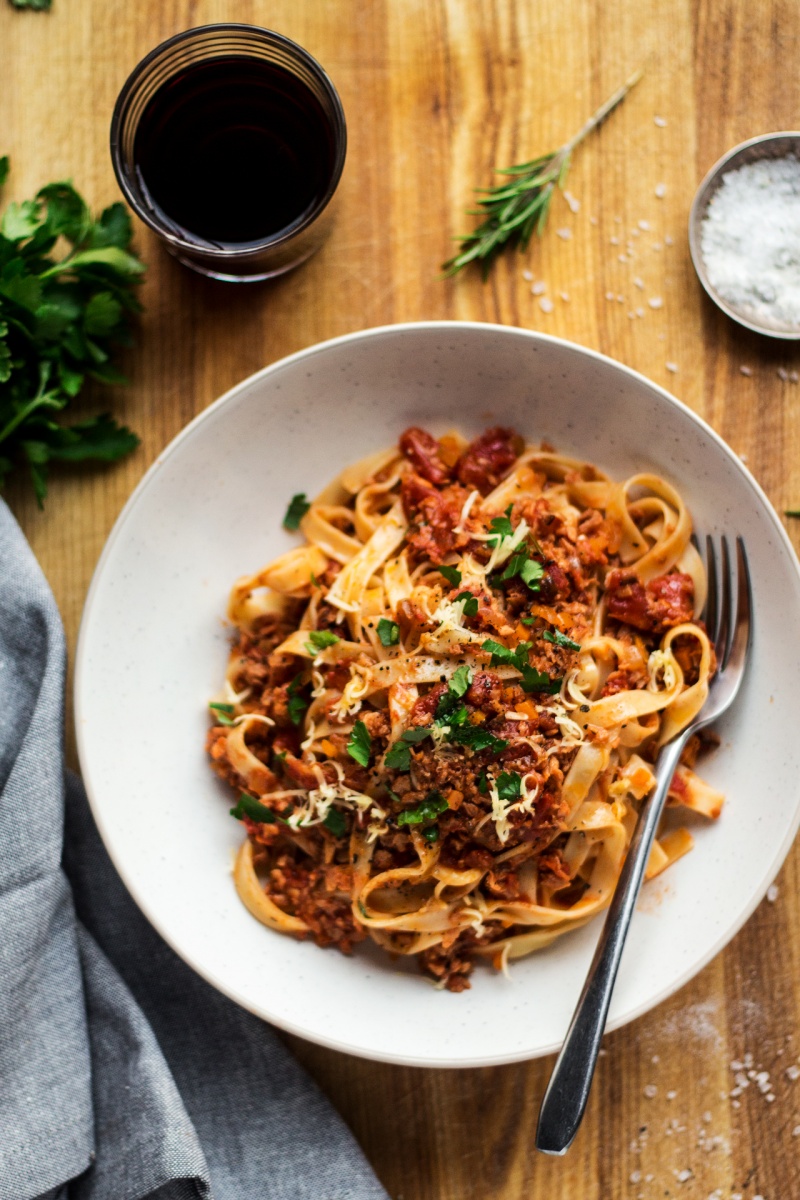 Our last few months have been all about changes and the journey is still far from complete… We moved all the way across Europe, from a quaint Greek island to a buzzing mid-size town, we are about to move to a new house this week and Duncan is going back to work soon.
We are both excited about Duncan's new job. Don't get me wrong, we are still on talking terms 😉 , but despite the fact that we generally get on well and have a similar vision for the blog, working together as a couple is still quite challenging.
On one hand, we both know that we are super lucky to have found a partner with whom we have shared ethics in common and it's definitely been very bonding to have come up with the idea for the blog and to slowly grow it from nothing to a fairly large website.
We understand (for the most part) each other's job challenges, pressure points and little niggles like no one else does. Like me having a mini meltdown over not being able to find the exact ingredient I need for my photoshoot or Duncan losing his temper (big style, involving a fair amount of swearing and sometimes even kicking) at an inanimate object – his computer – for insubordination were just some of the things we have had to OCCASIONALLY witness each other do 😛 .
But working so closely and intensely together also means that you tend to take on each other's stress way too easily. Plus, you spend way too much time together as co-workers and talking about work tends to bleed into your leisure time together if you aren't too careful.
Duncan also misses proper programming and being able to talk shop with his colleagues and, as much as I try, I am not really fit for this purpose. On a flip side, he is also not that keen on discussing which napkin will be better suited for the photoshoot I'm preparing for and when he is around, I find it hard not to involve him, especially that I am a very lousy decision maker.
When we started the blog we never appreciated how having separate careers (as well as a separate work and living environment) is actually quite good for the soul and for you, as a couple. Plus, it's not like we had a choice anyway.
I still need to devise some strategies to keep my life and work more separate as I will continue working from home for the foreseeable future, but Duncan going to work every day will definitely help us restore some much needed balance!
Plus, he is bound to have some funny stories from work to share with me over dinner and I will be able to tell him about my and Tina's antics too (PS: pssst, but we are planning on having some quality girly time now that Duncan is off working involving long naps, watching daytime TV in our PJs and watching the birds through the kitchen window 😉 ).
Today's dish is another riff on a classic – vegan bolognese served with tagliatelle pasta. It's easy to make, freezes well, it's super filling and comforting too! I don't know about you, but in this cold and blustery weather when even Tina cannot be tempted to go outside, all I crave is vegan comfort food, cups of spicy ginger tea and cat cuddles 😛 .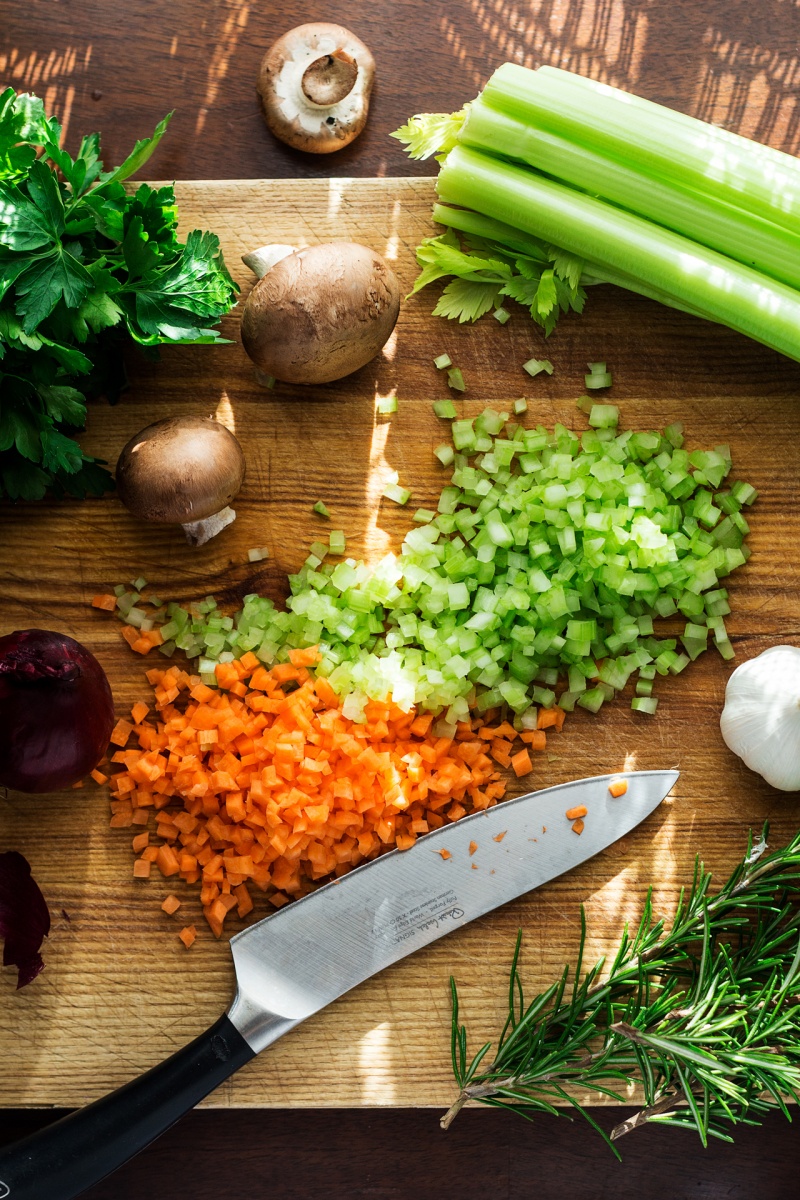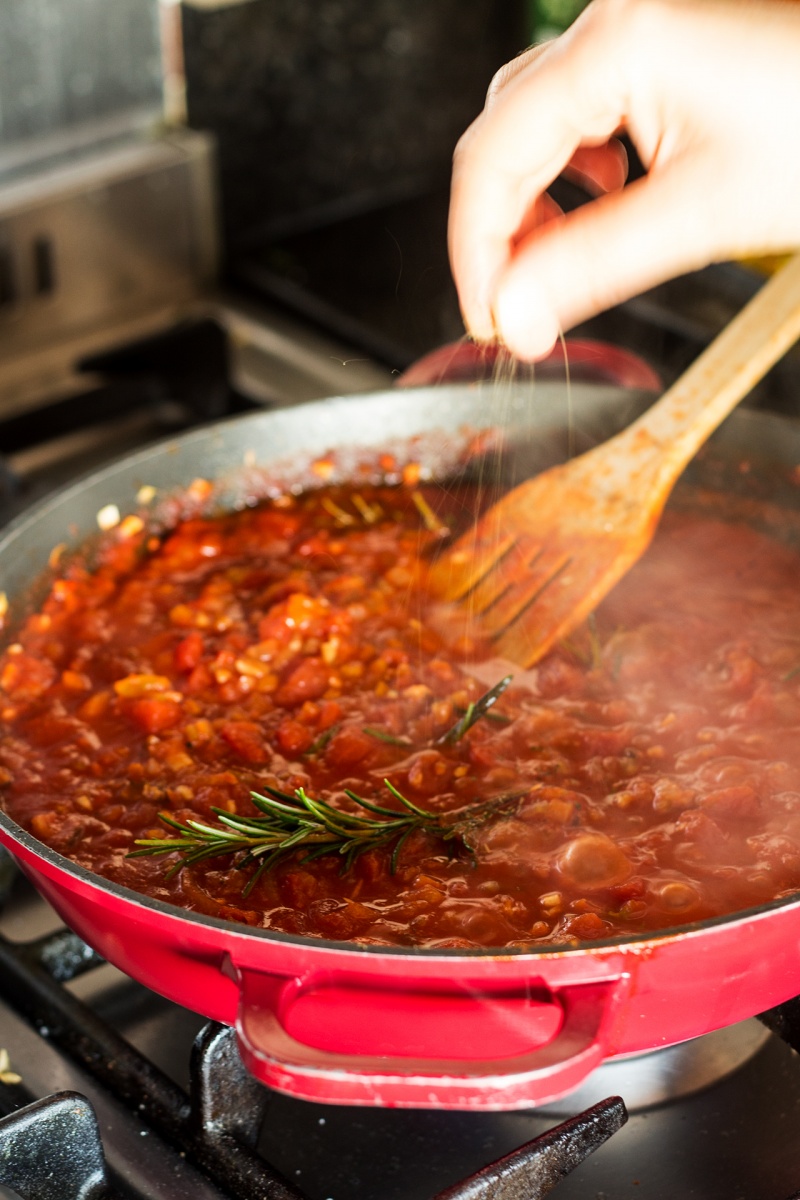 VEGAN BOLOGNESE SAUCE
25 g / 1 oz dried porcini mushrooms
1½ cups natural dry soy mince (TVP)*
2 tbsp / 30 ml olive oil
1 medium onion, finely diced
4 large garlic cloves, finely diced
1 long celery stalk, very finely diced
2 small carrots, very finely diced
1 sprig rosemary, leaves chopped finely
1/3 tsp grated nutmeg
1 tsp smoked paprika
approx. 1 tsp salt, adjust to taste
1 cup / 240 ml vegan red wine
1 heaped tbsp tomato paste
½ tsp chilli flakes, adjust to taste
1 tsp Italian mixed herbs
2 x 400 g tins quality chopped tomatoes
1 tbsp sugar (optional, adjust to taste)
black pepper, to taste
REMAINING INGREDIENTS
fresh parsley, to garnish
vegan hard cheese, to garnish
400 g dry tagliatelle (GF if required), cooked
METHOD
Put a kettle on. Place rinsed porcini mushrooms in a small bowl and soy mince in another, larger one.
Once the water has come to the boil, cover the porcini with hot water to create a porcini infusion and dilute a stock cube in 1½ cups (360 ml) of hot water and pour it over the soya mince. Set aside for later.
Heat up olive oil in a heavy-bottomed pan. Add diced onion and sauté on a low heat for a few minutes. Add chopped garlic and sauté for another 1-2 minutes and finally add diced celery and carrot. Sauté, stirring frequently, for another 5 minutes or so.
Remove rehydrated porcini from the water (do not throw the infusion away) and dice them very finely.
Add diced porcini to the pan, together with chopped rosemary, smoked paprika, nutmeg and 1 tsp of salt. Stir well for a minute or so.
Add wine and allow it to bubble gently for a few minutes so that the harsh taste of alcohol cooks out.
Add tomato paste, chilli flakes and Italian herbs to the pan together with both tomato cans, the porcini infusion and about 1 cup (240 ml) of water (I like to rinse my cans with it first).
Allow the sauce to bubble on a low-medium heat until the tomato chunks have broken down and the excess moisture has cooked out (about 30 minutes). If the excess moisture cooks out yet the tomatoes are still largely in chunks, add another cup of water and cook for a further 10-15 minutes. Remember to give the sauce a good stir from time to time to ensure that the middle of the pan (where the heat is the most intense) does not burn.
Add rehydrated soy mince, allow it to warm up in the sauce and season with more salt if needed, sugar (if needed) and black pepper.
NOTES
*I recommend making sure that your soy mince is non-GMO. My research revealed that a lot of frozen soy mince is GMO (or else they would explicitly state that on the packet) so I went for a dry soy mince by a company called Essential Wholefoods that I found at a local health store.