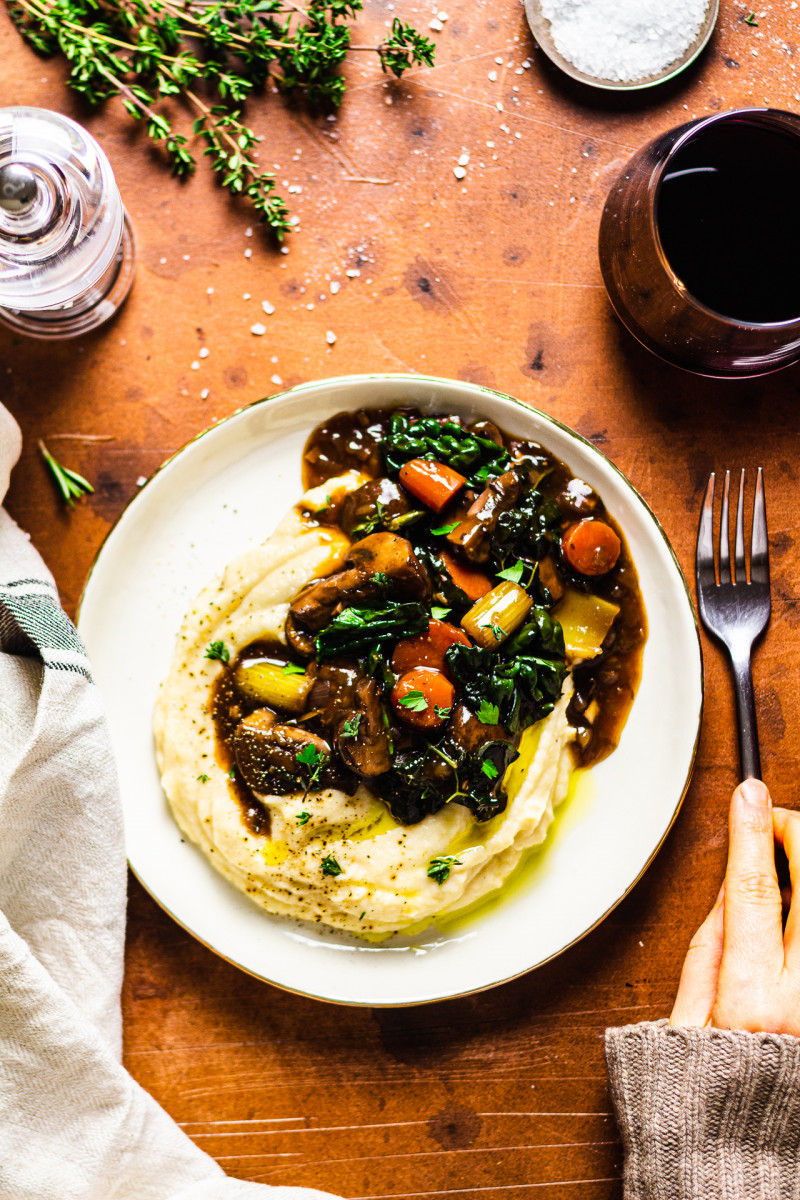 I'm really hoping that you are mushroom fans as today's dish is all about their meaty, fragrant presence. I have loved mushrooms ever since I was a child and I am always excited by mushroom recipes. I love them so much that I found some expired oyster mushrooms in my fridge the other day. They were 3 days past their expiry date but I am not the kind of person who pays much attention to those, I tend to use my senses to determine if something is still fit for consumption.
These mushrooms were starting to get a bit slimy. I asked Google whether they are safe to eat and the general consensus was that no, not so much. I pondered this for a bit, but I couldn't quite bring myself to bin them (they are quite expensive in the UK for some reason). I washed them well and then fried them on a super hot pan (to kill the bacteria or whatever was out to kill me) and made a deal with myself that I will only eat a few and then wait a few hours to see if I am still alive. Well, guess what, they were so good that I hoovered the whole lot within the next 20 minutes. I'm still alive, yay for me and yay for you as you get to have a new recipe 😉 . Daredevil, I know!
This stew features two types of mushrooms that are very easy to get in the UK, common white cup mushrooms and their more distinguished cousins, chestnut mushrooms, but feel free to swap these for any edible mushrooms you can get your hands on (well, maybe with the exception of those trippy ones 😉 ).
The fresh mushrooms get a helping hand from the backing singer – porcini stock, which makes this simple stew even more unashamedly 'mushroomy' (if that's even a word). The other key flavours are red wine, thyme and rosemary. All of them sing beautifully off each other and as much as I am not a classical cuisine kind of gal, this stew is right up my street. It's a perfect comfort food that hugs you like a warm blanket, on a cold winter day. It would not look out of place on every good pub's menu – it's easy to make, seasonal, inexpensive and has a potential of being a real crowd pleaser.
I served it on top of a garlicky celeriac mash, which I personally love, but mashed potatoes or root vegetable mash will work just as well. Duncan is a massive fan of this dish and the additional added bonus is that it's extremely easy to eat even if you have just had braces put on, something Duncan is going through at the moment.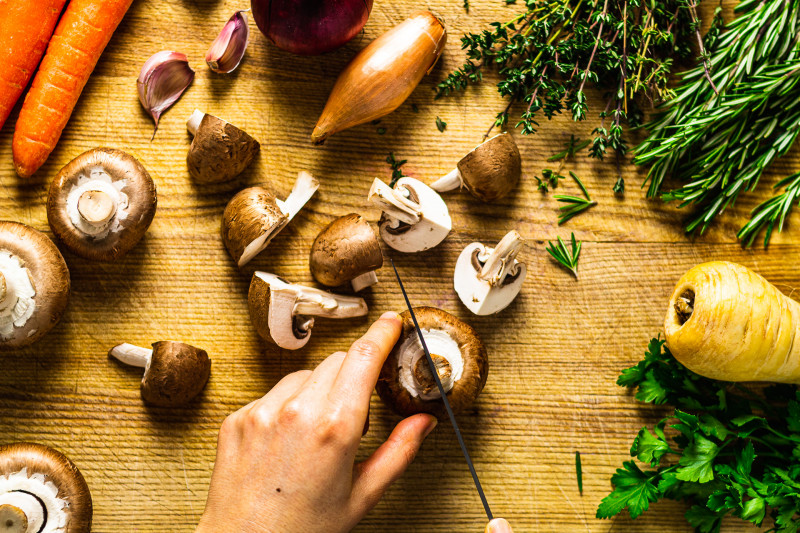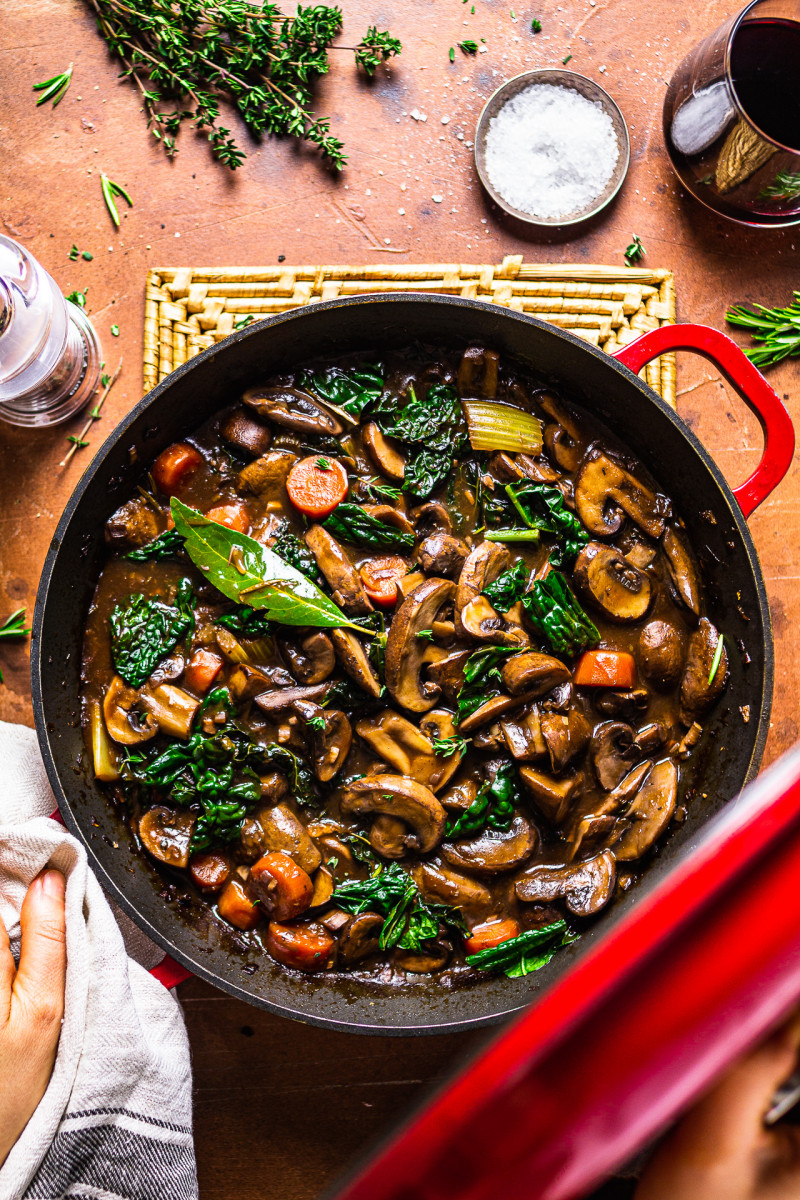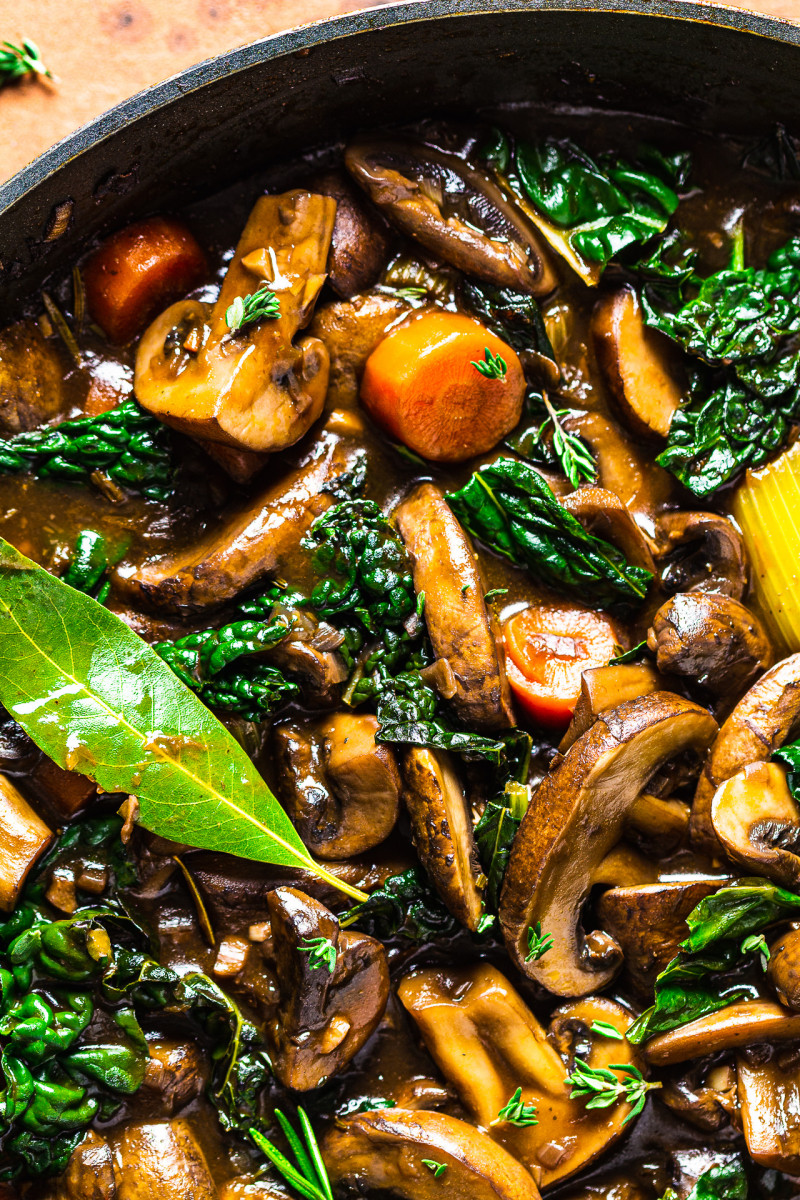 10 g / 0.5 oz dried porcini (or other dried) mushrooms
2 tbsp / 30 ml olive oil
1 onion, finely diced
4 large garlic cloves, finely diced
1 tbsp tomato paste
2 celery stalks, cut into chunks
2 carrots, cut into chunks
1 cup / 240 ml vegan red wine
1 rosemary spring
3 fresh thyme springs
2 fresh or dried bay leaves
2 tsp liquid smoke (optional)
approx. ½ tsp coarse salt, adjust to taste
750 g / 27 oz mushrooms (I used chestnut and plain)
4 tsp cornstarch / cornflour, to thicken
6 lacinato kale / cavolo nero leaves, chopped (optional)
black pepper, to taste
2 tsp balsamic vinegar, to taste
chopped parsley, to decorate (optional)
CELERIAC MASH
700 g / 24 oz celeriac, peeled and cubed
2 tbsp shiro / white miso paste
1 head of roasted garlic*
approx. 480 ml / 2 cups almond milk
2 tbsp olive oil / vegan butter (optional)
METHOD
Place rinsed porcini mushrooms (they often have grit in them) in a small bowl and cover with (about 300 ml / 1½ cups) of boiling water to create a potent porcini stock. Set aside to let it infuse.
Chop fresh mushrooms into thick slices or quarters. I did half and half.
Heat up olive oil in a heavy-bottomed pot. Add diced onion and sauté on a low heat until slightly caramelised. Add chopped garlic and sauté for another 1-2 minutes.
Add chopped mushrooms, carrots and celery sticks and sauté on a low heat until slightly caramelised. If the pan gets too dry, add a couple of tablespoons of porcini stock you prepared earlier.
Add tomato paste, a crumbled stock cube, wine, the rest of porcini stock (about 300 ml / 1½ cups in total), fresh herbs (thyme, rosemary and bay leaves), liquid smoke (if using) and salt. I save rehydrated porcini mushrooms for another use (like this bolognese), but you can also just chop them finely and add to the stew if you wish.
Cover the pot with a lid and allow the stew to cook on low heat for about 30 minutes or so until all the veggies are cooked through and the flavours have had a change to mingle.
In a small bowl, mix 4 tsp of cornstarch with 2 tbsp of water to create a slurry to thicken up the stew.
Add cornstarch slurry to the stew and allow the stew to bubble gently for 5 more minutes for the stew to thicken. If the stew is too thick add a splash more water.
Add chopped kale leaves in the final minutes of cooking, put the lid back on for a few more (2-3) minutes for the kale to cook in the stew's steam.
Adjust the seasoning to your taste. I added some freshly ground pepper and two teaspoons of balsamic vinegar.
CELERIAC MASH
Steam, boil or roast cubed celeriac until soft. Roasting requires 200° C / 390° F (or 180° C / 355° F fan forced) hot oven for about 30 minutes.
Place cooked celeriac in a blender (a hand blender works well too) with some almond milk. Blend until smooth adding more milk as / if needed.
Season with roasted garlic and miso paste. You may also want to add some olive oil or vegan butter if you wish, for extra creaminess.
NOTES
*To roast a head of garlic, heat up the oven to 200° C / 390° F (180° C / 355° F fan). Cut the top of the garlic head off with a knife and drizzle the top of the garlic cloves with a tiny bit of olive oil (it's optional but recommended) and wrap the garlic in a piece of kitchen foil so that the tops of the cloves are protected from getting burnt. Place in a preheated oven for about 40 minutes, until the cloves are soft and fragrant.