You know that phrase 'the best thing since sliced bread' (rather unsurprisingly coined by the first industrial manufacturer of pre-sliced supermarket bread) which pronounces something a great invention…?
It's weird as I am not at all convinced that pre-sliced supermarket bread qualifies as such. It's laden with chemicals, sticks to your teeth, has no texture and it doesn't even taste like bread at all. On almost all counts, convenience aside, it feels like the exact opposite – a massive regression.
Call me a snob, but I personally prefer to go without supermarket bread unless there is absolutely nothing else to eat and I'm starving. I am a massive fan of good, old-fashioned bakeries that still make bread properly, with only a handful of ingredients required to make an awesome loaf: flour, yeast and water and certainly without calcium propionate, amylase, chlorine dioxide and L-cysteine hydrochloride (that last one, by the way, is a flour softener, traditionally obtained from feathers, pig bristles and sometimes even human hair, YUM!!) , which supermarkets cram into every loaf.
Even though I know that lots of people use soft white loaves for bread and butter pudding, this bread bias of mine made me reach for a gorgeous sourdough from a proper bakery instead. Feel free to override me, of course, and you may never even want to talk to me ever again after I revealed myself to be a bit of a bread purist, but I think using real bread makes a massive difference to the end product. The tops of the slices poking over the custard get beautifully golden and crispy, which provides a nice textural contrast to the custard-infused layers beneath.
Apart from veganising this traditional English pudding, I've given it a bit of a twist in anticipation of Xmas. The 'custard' is flavoured with gingerbread spices (cinnamon, ginger, nutmeg and cloves), which I find most comforting at this time of the year, the layers of bread are interspersed with boozy raisins and candied orange peel and the tops of the slices are glazed with orange marmalade for yet another festive touch. Finally, to introduce a touch of colour and, as a nod to our time in Greece, I sprinkled the top with a handful of pomegranate seeds as I think it makes it look more festive. Hope you'll forgive me for hating on the supermarket white loaf and give this recipe a try.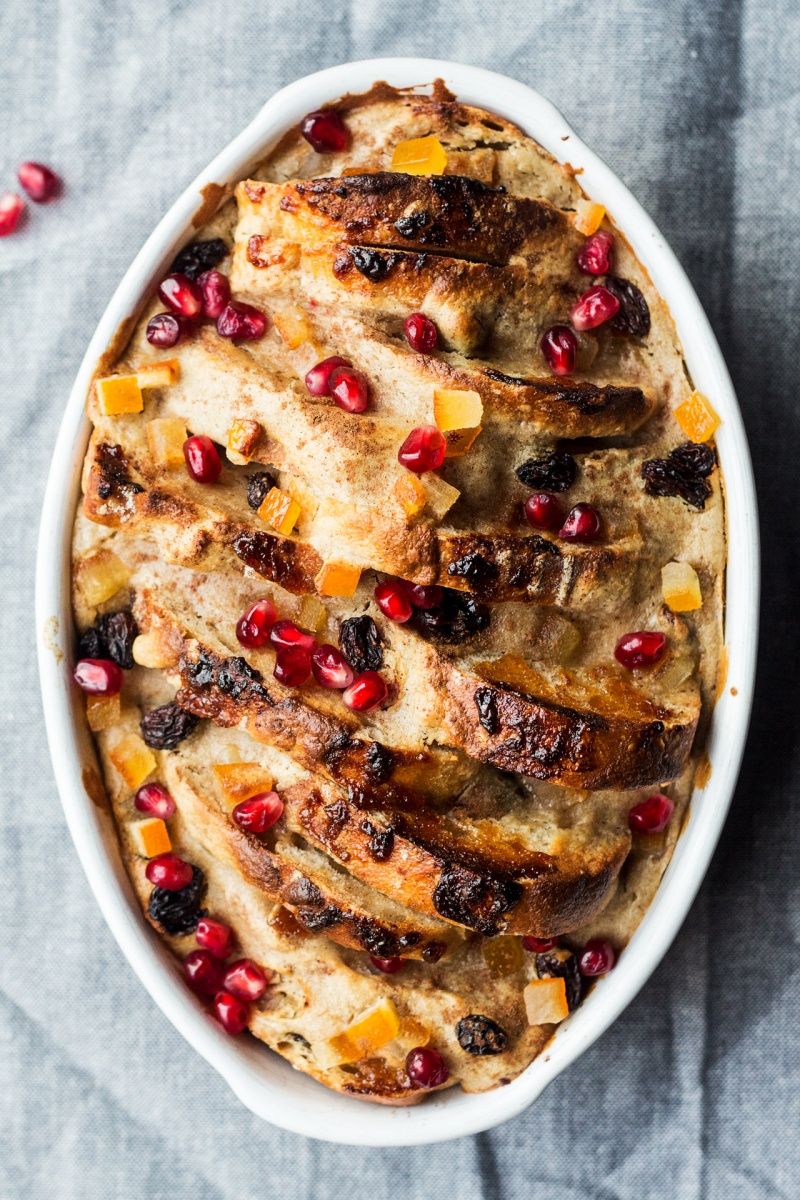 2 tbsp raisins (or dried cranberries)
2-3 tbsp brandy or marsala wine
185 g / 1¼ cup cashew nuts, soaked overnight*
300 ml / 1¼ cup soy milk (or other thin plant based milk)
1 tsp vanilla essence
60 ml / 4 tbsp maple syrup, adjust to taste
¾ tsp cinnamon, plus more for sprinkling
½ tsp ground ginger
¼ tsp ground nutmeg
1/8 tsp ground cloves
1 tbsp cornflour / corn starch
8 slices quality sourdough**
2 tbsp vegan butter or coconut oil
2 tbsp diced candied orange peel
1 tbsp pomegranate seeds
1 tbsp orange marmalade (optional) OR coconut / date sugar
METHOD
Soak the raisins in brandy and set aside.
Place the soaked and rinsed cashews (discard the soaking water) in a blender. Add half of the soy milk, put the lid on but leave the opening on the top. Start blending the cashews while trickling the remaining soy milk through. You should end up with a thick liquid resembling cream.
Add vanilla essence, maple syrup and all the spices for a gingerbread flavoured custard. Finally add cornflour (cornstarch) while the blender is running to prevent lumps from forming.
Grease a baking dish with vegan butter or coconut oil and preheat the oven to 180° C / 355° F (or 160° C / 320° F fan forced).
Cut the bread slices in half and 'butter' them on both sides with vegan butter or coconut oil.
Pour a bit of custard at the bottom of the dish, followed by a few raisins and some candied orange. Arrange the buttered bread slices snugly so that their cut sides stand half immersed in custard (fill the empty spaces with small pieces of bread). Sprinkle some more raisins and orange peel over the top. Top the bread slices with more custard, filling all the empty spaces. Set aside for 30 minutes to allow the bread to soak up the custard.
Dilute the marmalade with a teaspoon of hot water to create a glaze. Brush parts of the bread that stick out of the custard with this glaze, sprinkle with some extra cinnamon, leftover candied orange pieces and coconut (or date) sugar if you don't want to use a marmalade glaze.
Bake for 25-30 minutes until the custard thickens and the bread colours nicely. Decorate with leftover raisins, orange peel and pomegranate arils for a touch of festive colour.
NOTES
*If you forgot to soak your cashews in advance, you can simply soak them in boiling water for 20 minutes.
**This recipe works best with one (or two) day old bread. If you only have fresh bread, toast it lightly (just to dry it out, not to give it colour) prior to assembling this dessert.
The baking dish I used is an oval dish of the following dimensions 23 cm / 9″ x 16 cm / 6″ x 6 cm / 2.35″