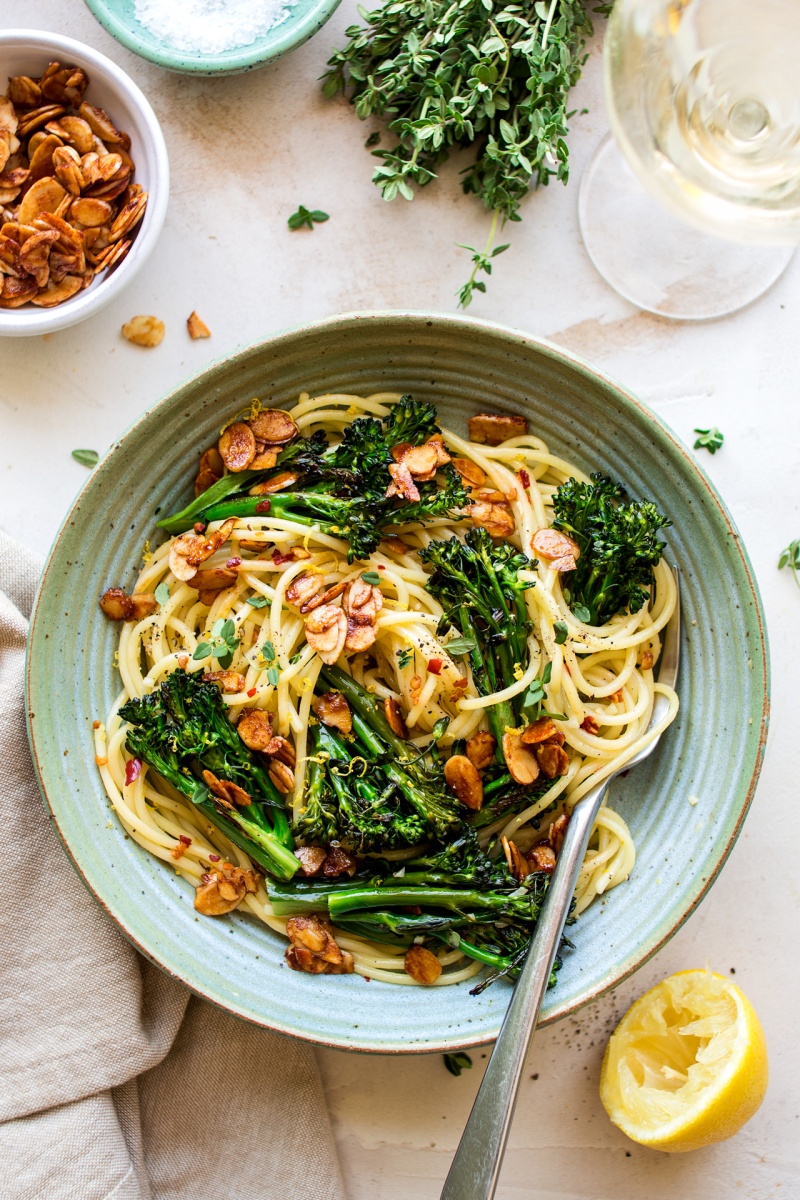 Mother Nature has finally let us have some properly summery weather, here in England. I've been loving sitting in my garden, with Tina slumped in the shade nearby, reading, sipping a cold brew coffee or a cheeky glass of white wine and eating heaps of delicious strawberries! I don't want this to end!
I keep on checking the forecast like a hawk, and although this week the sky isn't as cloudless as it was last week, things are still looking promising. On account of this ridiculously good weather, which let's face it is a bit of a rarity here, I've been putting all my major chores off as I'd rather be topping up my vitamin D instead.
I'm also not overly keen on spending my time in the kitchen this week, so today's recipe is reflective of that. It is a super simple midweek dinner idea for a lemony vegan broccoli spaghetti topped with sweet, salty and smokey almond bacon bits.
It's easy to make, delicious and uses my favourite tenderstem broccoli, which is very much in season right now. This dish is crunchy, tangy and a little smokey and quite low on effort, which mean less time in the kitchen and more time in your deckchair with a good book in hand.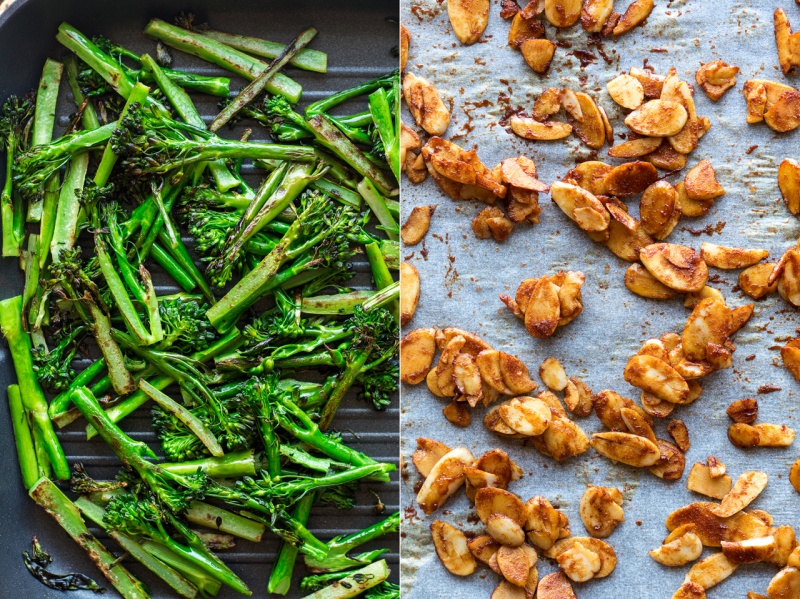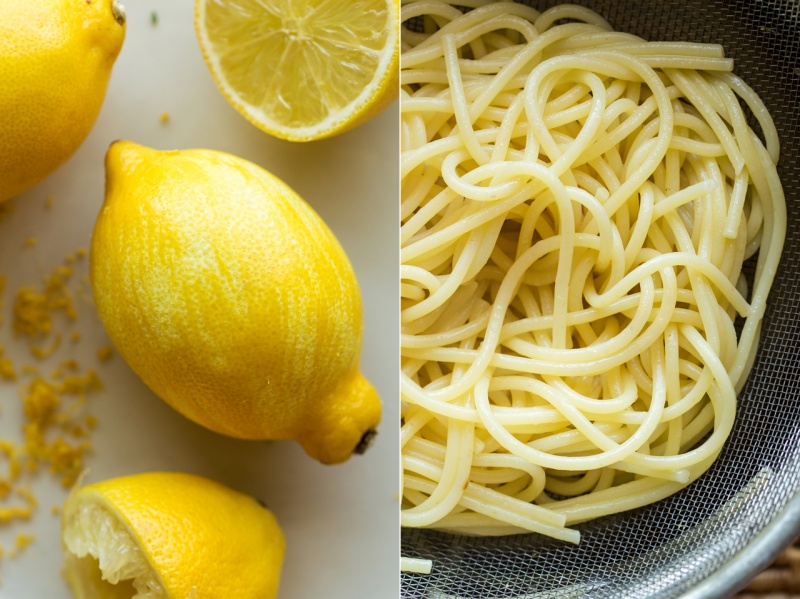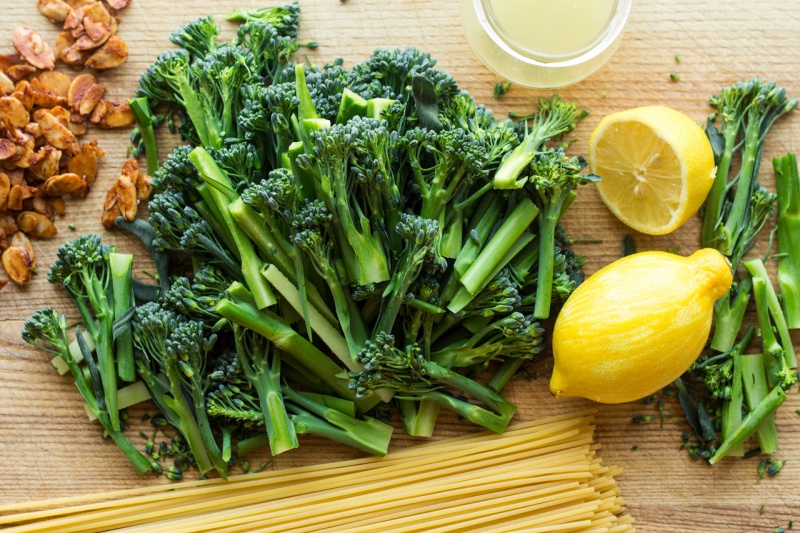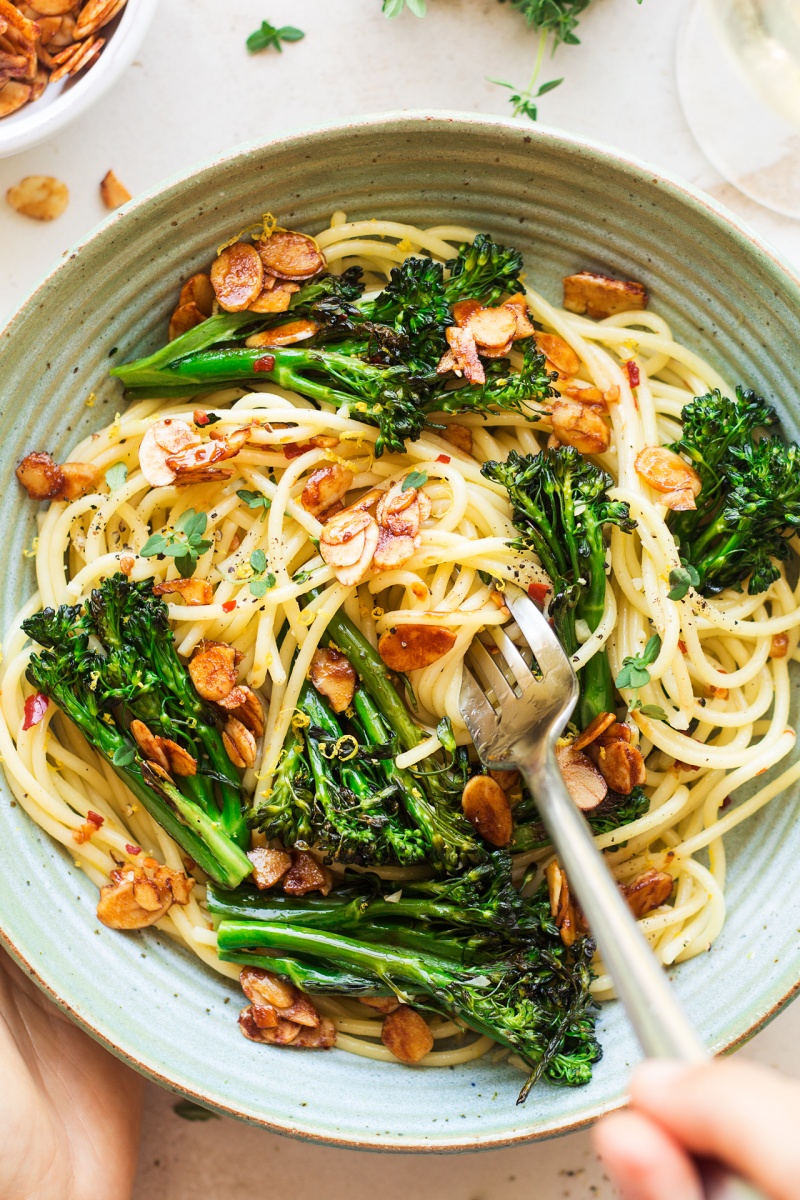 ALMOND BACON
½ tsp tomato concentrate
10 ml / 2 tsp olive oil
10 ml / 2 tsp maple syrup or sugar
20 ml / 4 tsp all purpose soy sauce or tamari (if GF)
¼ tsp liquid smoke (or ½ tsp smoked sweet paprika)
50 g / ½ cup almond flakes
PASTA
200 g / 7 oz tenderstem broccoli
160 g / 6 oz spaghetti (GF if needed)
3-4 tbsp / 45-60 ml extra virgin olive oil
2 large garlic cloves, diced very finely
½ hot chilli (optional), deseeded and diced very finely
juice and zest, 1-2 lemons (adjust to taste)
salt and pepper to taste
METHOD
ALMOND BACON
Preheat the oven to 120° C / 250° F (100° C / 210° F fan) and line a baking tray with a piece of baking paper.
Mix the almond bacon marinade ingredients together in a small bowl. Toss the almond flakes in the marinade and spread them on the prepared baking tray.
Place the tray in the oven for about 30-35 minutes, giving the almonds a good stir halfway through the baking time. They may appear to still be a little soft when warm but will crisp up once out of the oven and cooled.
PASTA
While the almond bacon is getting ready, chop your broccoli into same size pieces. You could either steam it (3 minutes), stir-fry it or roast it on a hot griddle pan. Once cooked, season with salt and set aside.
Cook the pasta al dente following the packet instructions.
Heat up 3 tbsp of olive oil in a large pan on a very low heat.
Throw in the diced garlic and chilli (if using). Fry them both on a very low heat, stirring frequently, until the garlic releases its aroma but do not allow it to brown as it will taste bitter.
Toss the cooked pasta in the garlic oil. Season with liberal amounts of lemon juice (I used about 3 tbsp), the zest of one lemon, salt and pepper.
Fold in the warm broccoli.
Divide between two bowls, top with almond bacon and some extra lemon juice if you wish.