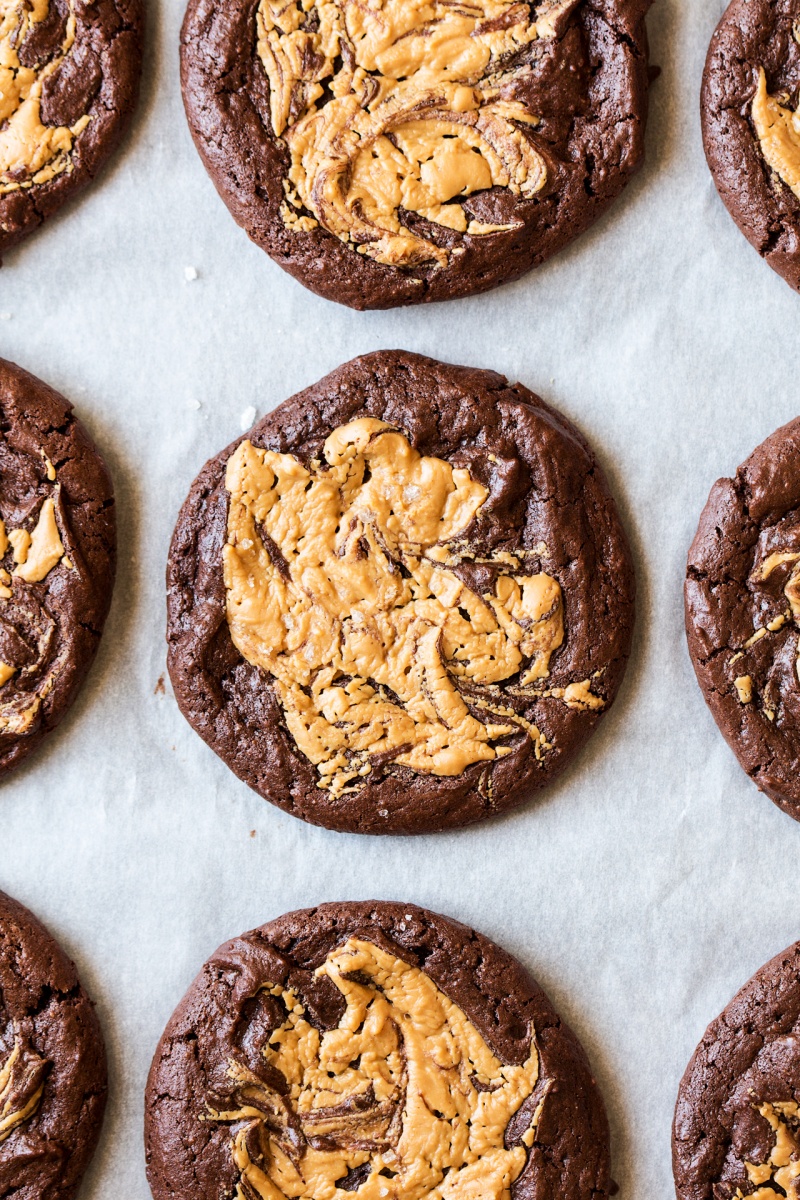 We are flat out looking for a new place to rent, which is proving challenging due to the fact that our little furry companion, Tina, isn't a valuable addition to a household in most landlords' eyes. I must say that we are very hurt and disappointed by this. I mean, isn't England the country of cat lovers, for God's sake?
The time is ticking and we are growing a bit more concerned by the day. Luckily, Duncan's family – who have been hosting us since our arrival last week, have once again saved the day. Duncan's cousin, Sydney, has agreed to keep Tina while we are renting as she loves cats and her house has a massive garden, which Tina loves. We hope it doesn't come to that, but equally we do need to find somewhere to live eventually, especially that all our stuff is going to turn up here rather soon…
While we are both stressing about making sure we have a roof over our three heads – Duncan is on the phone to recruiters, I am frantically looking for a suitable house to live in – Tina spends her nights prowling the garden and days curled up on a chair in the conservatory, sleeping like an angel and enjoying occasional sun rays on her back. We have only been here for just over a week, yet Tina has managed to grow an extra fluffy coat in response to colder temperatures – it's crazy how adaptable cats are!
While Duncan's family have been amazing and are encouraging us to use their kitchen as much as we want, I am really looking forward to moving into our own house and getting down to some proper recipe creation again. I have plenty of ideas mulling around in my head and I cannot wait to do some testing. Meanwhile, here are our peanut butter brookies, which we shot a while back. They are based on my previous brookies recipe, yet the peanut butter addition brings them to a new level of indulgence 😛 Enjoy!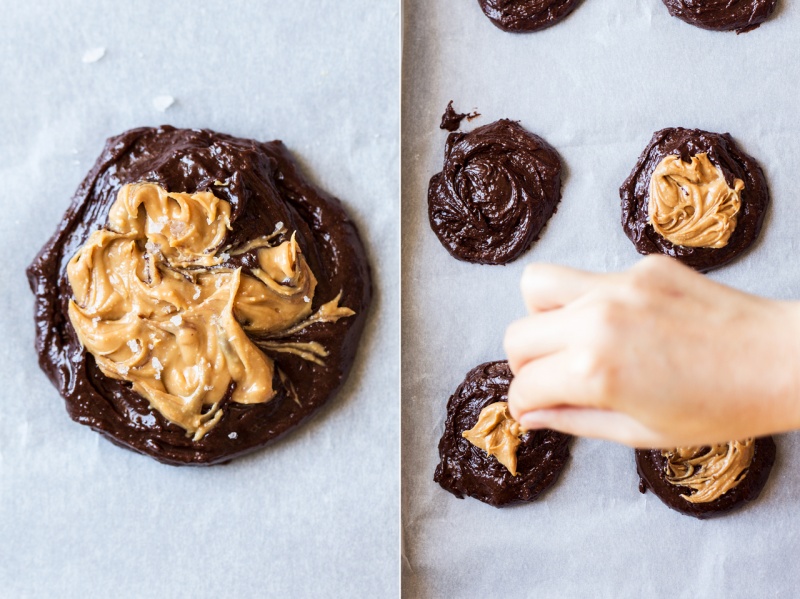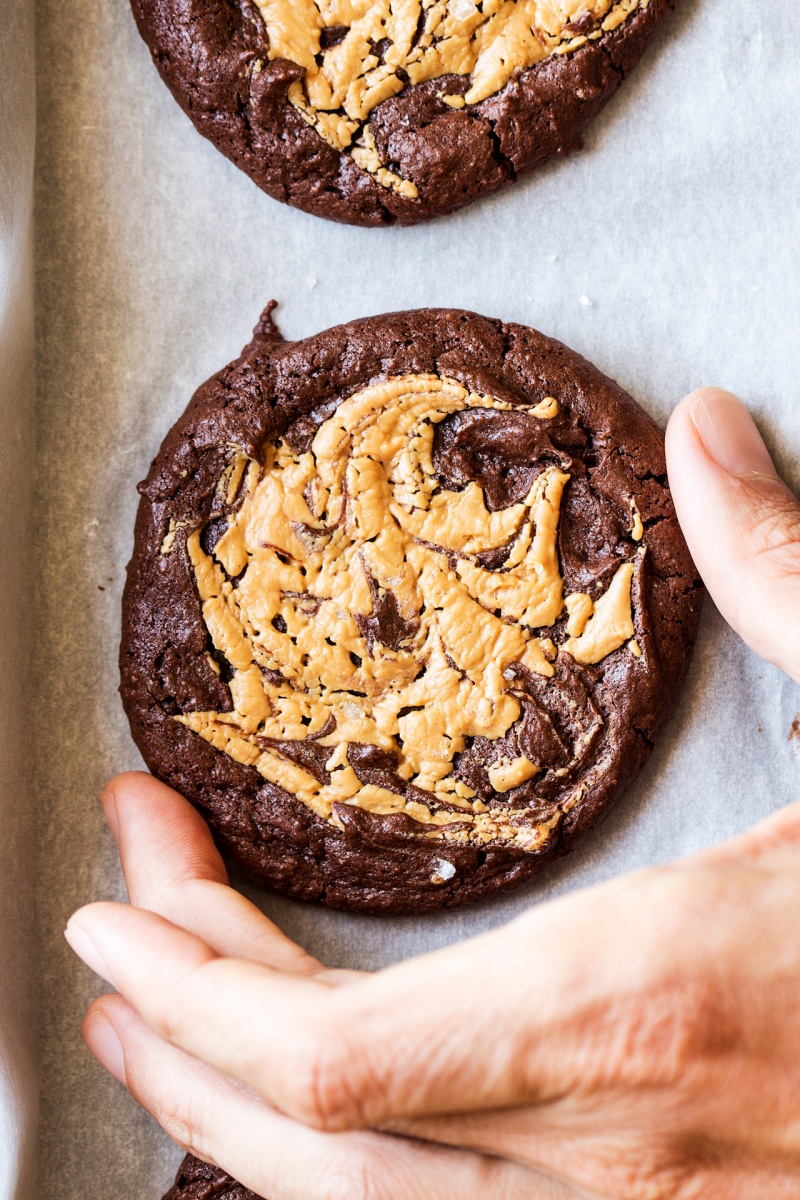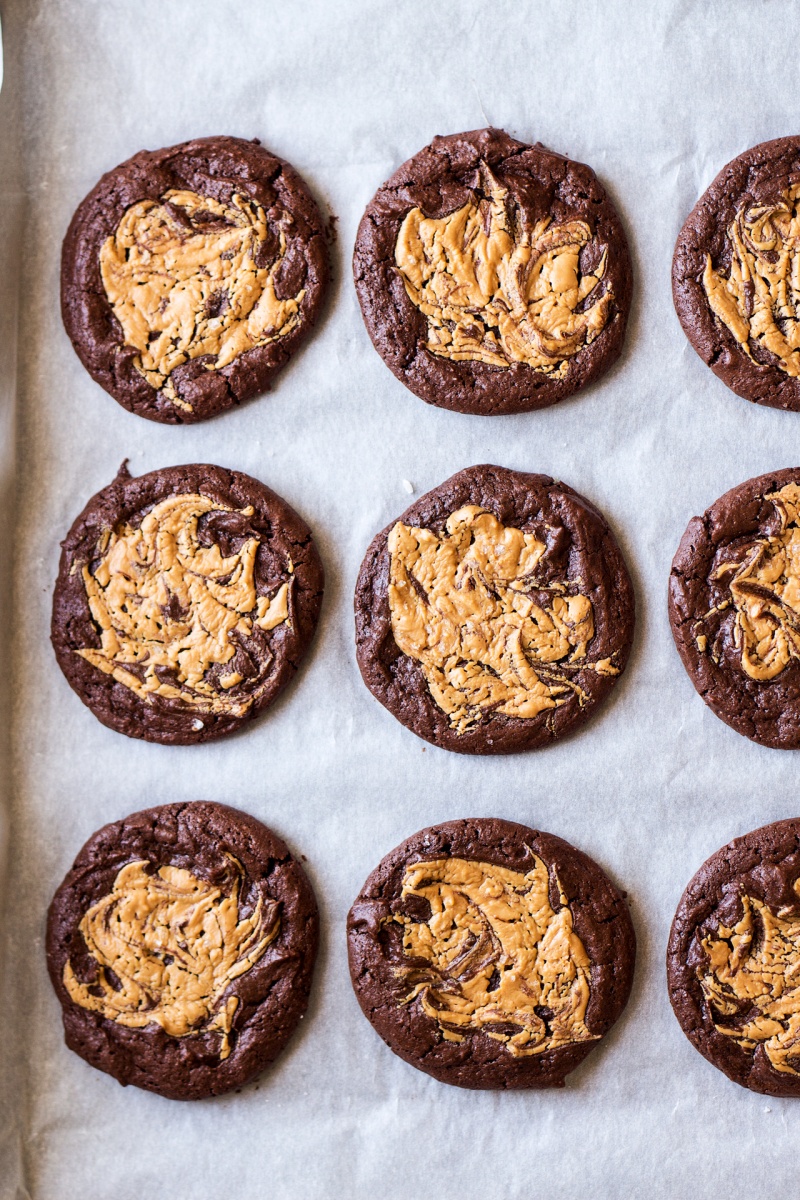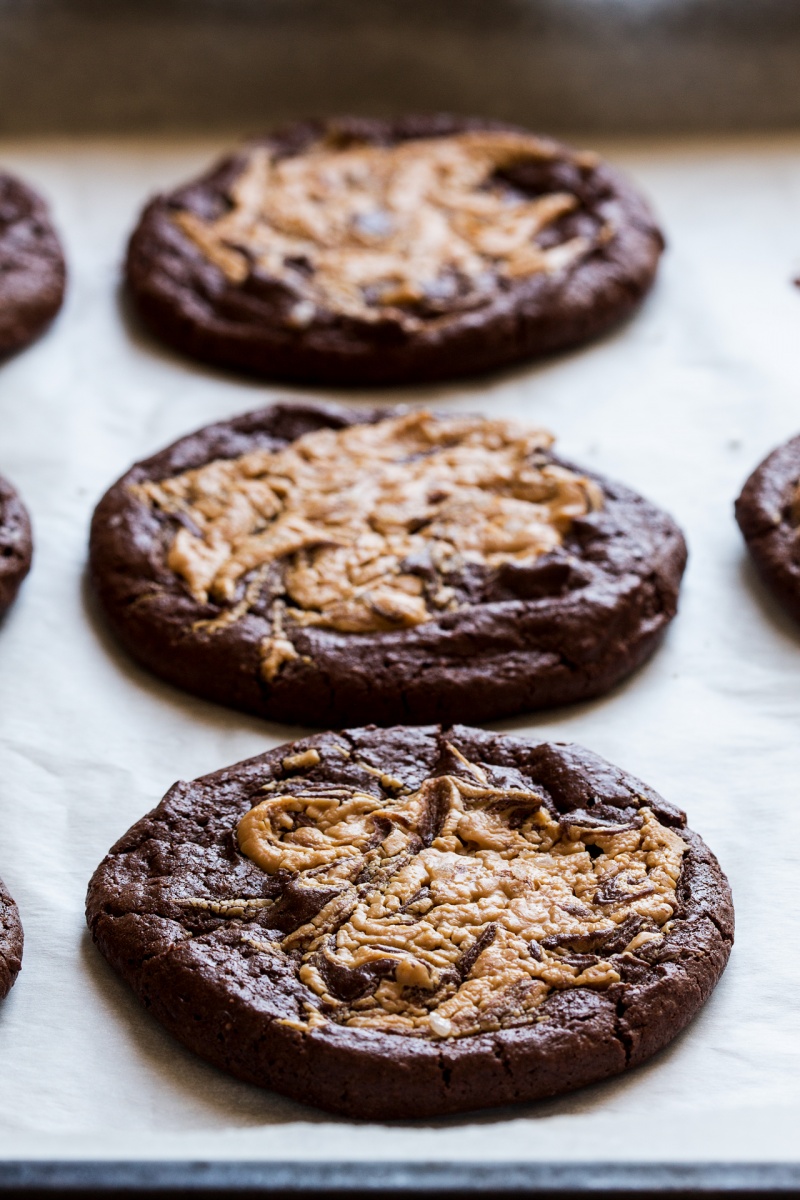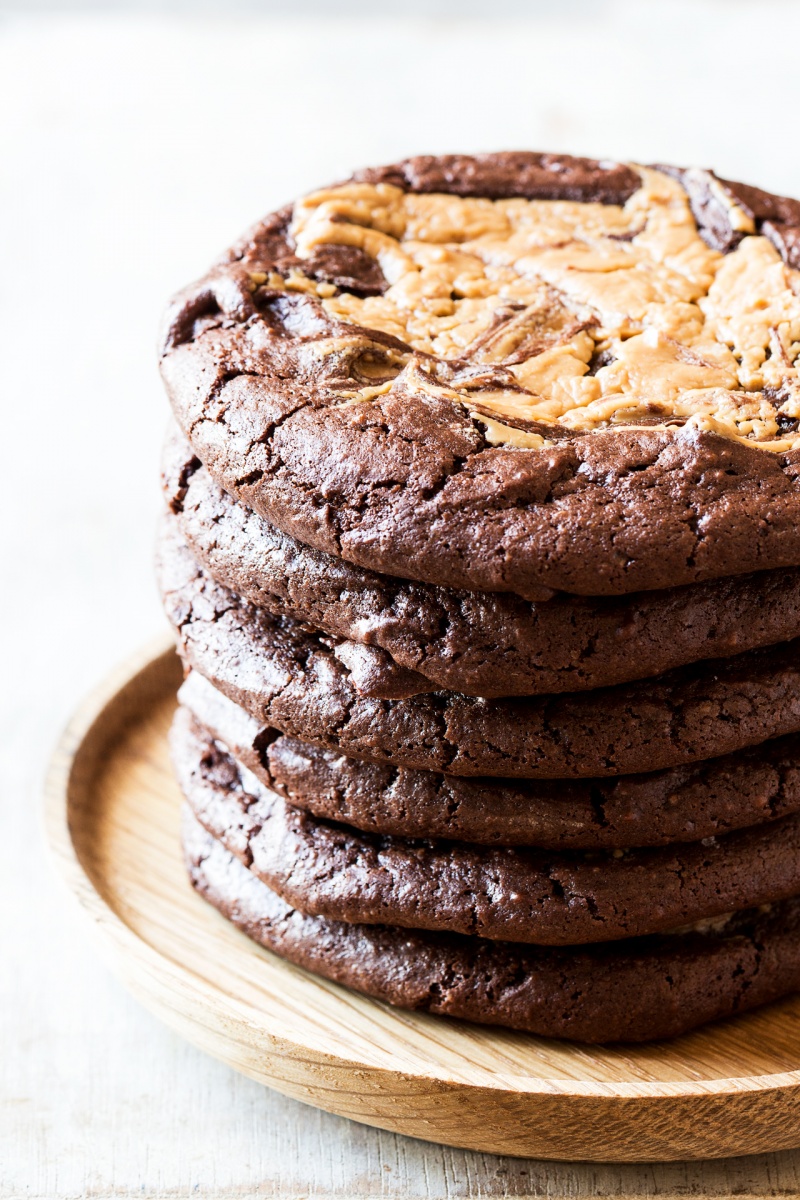 130 g / 4.5 oz vegan dark chocolate (I used semi-sweet 70% cacao)
1 tbsp melted coconut oil
45 g / ½ cup almond flour*
30 g / ¼ cup buckwheat flour
15 g / 2 tbsp cornflour / cornstarch
½ tsp baking powder
90 ml / ¼ cup + 2 tbsp aquafaba
½ tsp vinegar (apple cider vinegar or white vinegar)
90 g / 3/8 cup caster sugar
5 tsp smooth, unsweetened peanut butter (½ tsp per cookie)
coarse sea salt, to decorate
METHOD
Break up the chocolate with your hands – or hit an unopened packet against your workbench a few times for a sort of therapy. Place the chocolate and coconut oil in a glass bowl over a water bath (bain-marie). Make sure the bowl doesn't touch the water. Simmer on a very low heat until the chocolate has melted. Give the mixture a good stir and take the bowl off the heat to cool down.
Place the ground almonds, buckwheat flour, cornflour / cornstarch and baking powder in a small bowl. Mix very well.
Pre-heat the oven to 175° C / 345° F. Line a baking tray with a piece of baking paper.
In a clean metal or glass bowl whip aquafaba and vinegar until you get stiff peaks. It is very important that the bowl has no grease residue as this will prevent the aquafaba from reaching stiff peaks. Once the aquafaba is at the stiff peaks stage (turn the bowl upside down, if aquafaba does not slide down at all, it means that it has reached stiff peaks) start adding sugar very gradually, half a tablespoon at the time, whipping well after each addition.
Gradually (and gently so that you don't knock too much air out of the whipped aquafaba) fold flour and baking powder mixture into whipped aquafaba with a spatula or a spoon.
Next, incorporate melted chocolate slowly until you achieve an even looking batter.
Spoon the batter onto the prepared baking tray. I went for 9 large cookies, but you can make 12 smaller ones instead. Decorate each cookie with about half a teaspoon of smooth peanut butter swirled around with a toothpick and a light sprinkle of salt.
Bake for about 10 (smaller ones) to 11 minutes (larger ones). Remove the tray from the oven and allow the cookies to cool down completely before eating (they may be a little fragile until they are cool). Keep in a dry cupboard in an air-tight container as these cookies absorb humidity easily.
NOTES
 *You can use most ground nuts / nut flours here: almonds, pecans and walnuts will work. I have also tried swapping ground nuts for rice flour but the cookies didn't have a pleasant mouth feel so I don't recommend that.