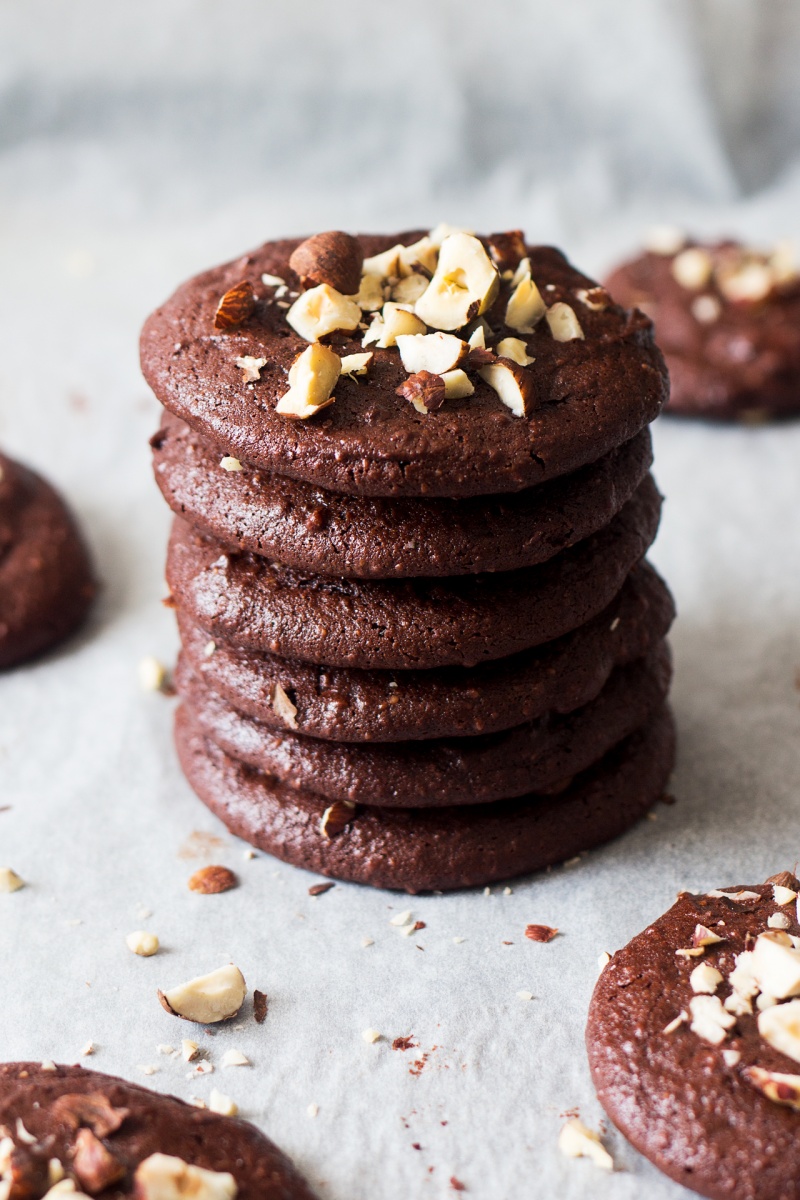 How do you guys feel about 'brookies'? I know, when I first heard about them I was a bit like 'what?!?!', but after a very mindful sampling 😉 , I'm totally in. If brownies and cookies were to fall in love and walk off into the sunset together, their passion would most likely result in a brood of brookies. Vegan brookies look like a cookie yet they taste like a brownie. Crispy on the outside, soft and moist on the inside and screaming 'chocolate'. Sounds great, right? They come in handy when you crave something intensely chocolatey but don't want to commit to making a whole tray of brownies. And no, just because they are slightly less evil, doesn't mean they are good for you. They are not healthy and are pretty much guaranteed to wreck whatever diet you are on, but who cares when they taste that good, right!? 😉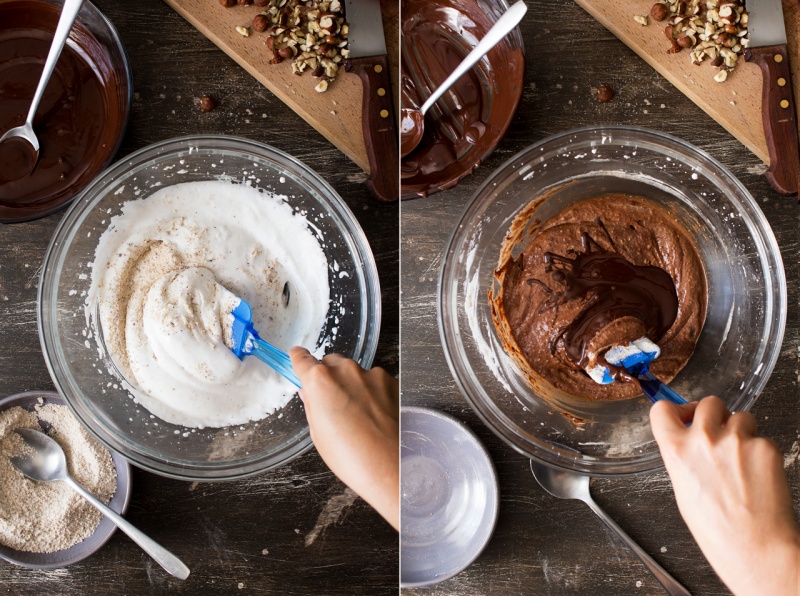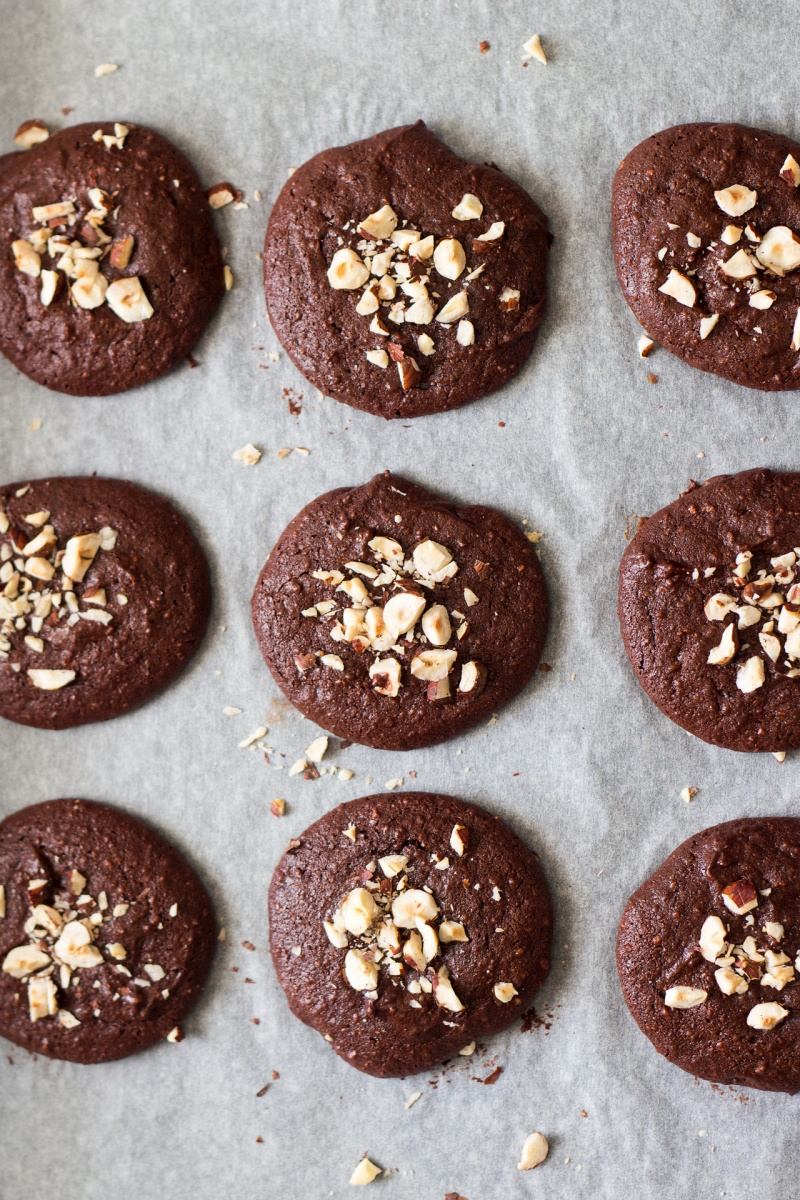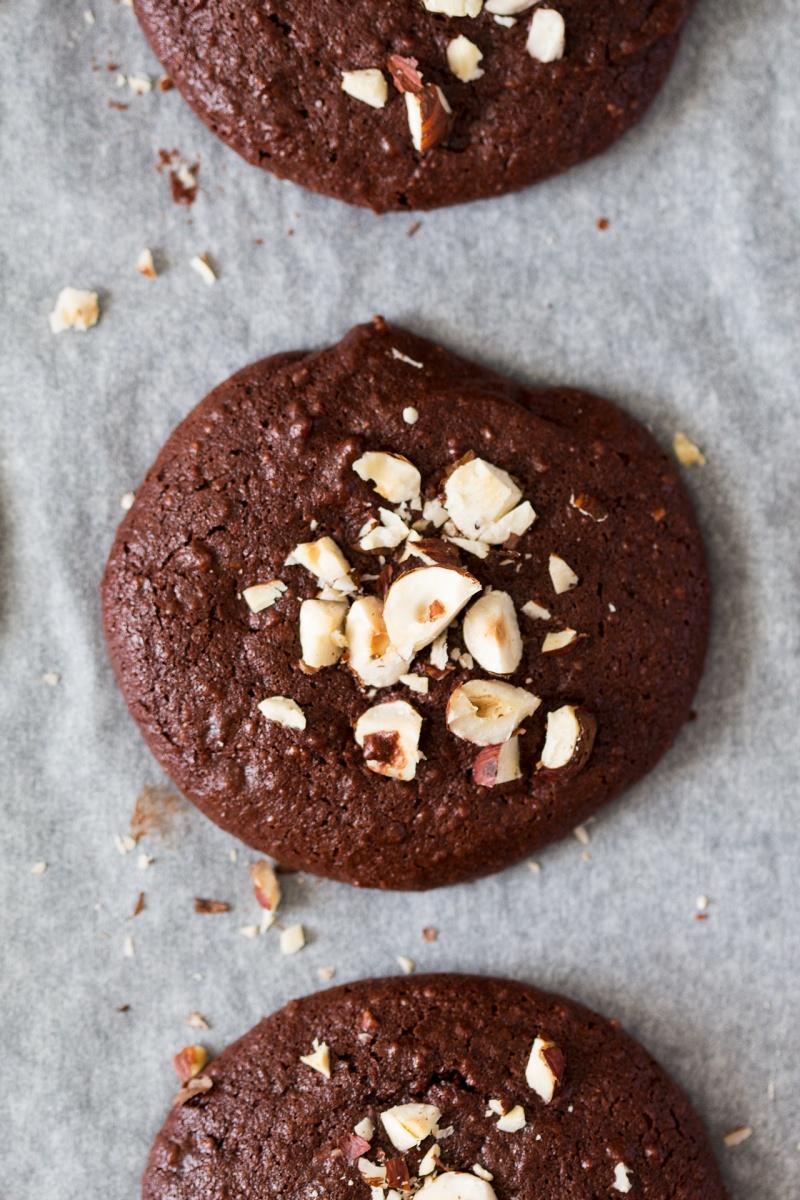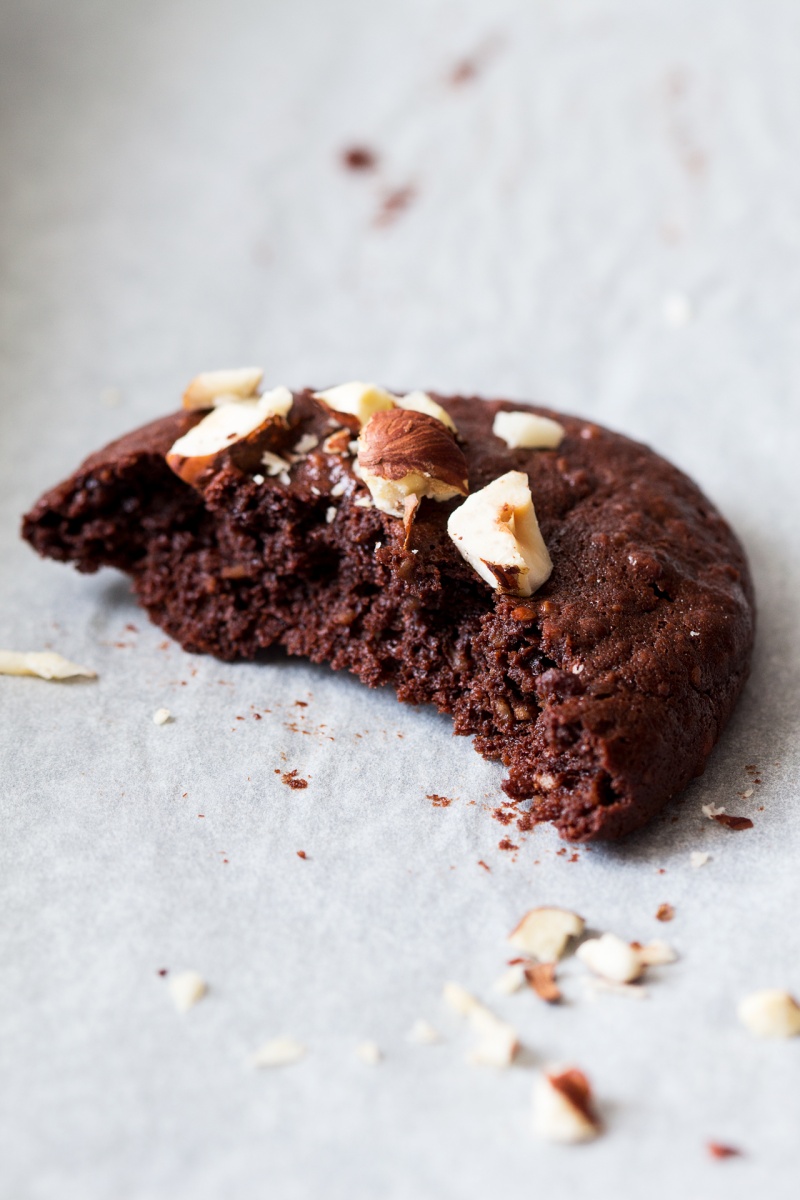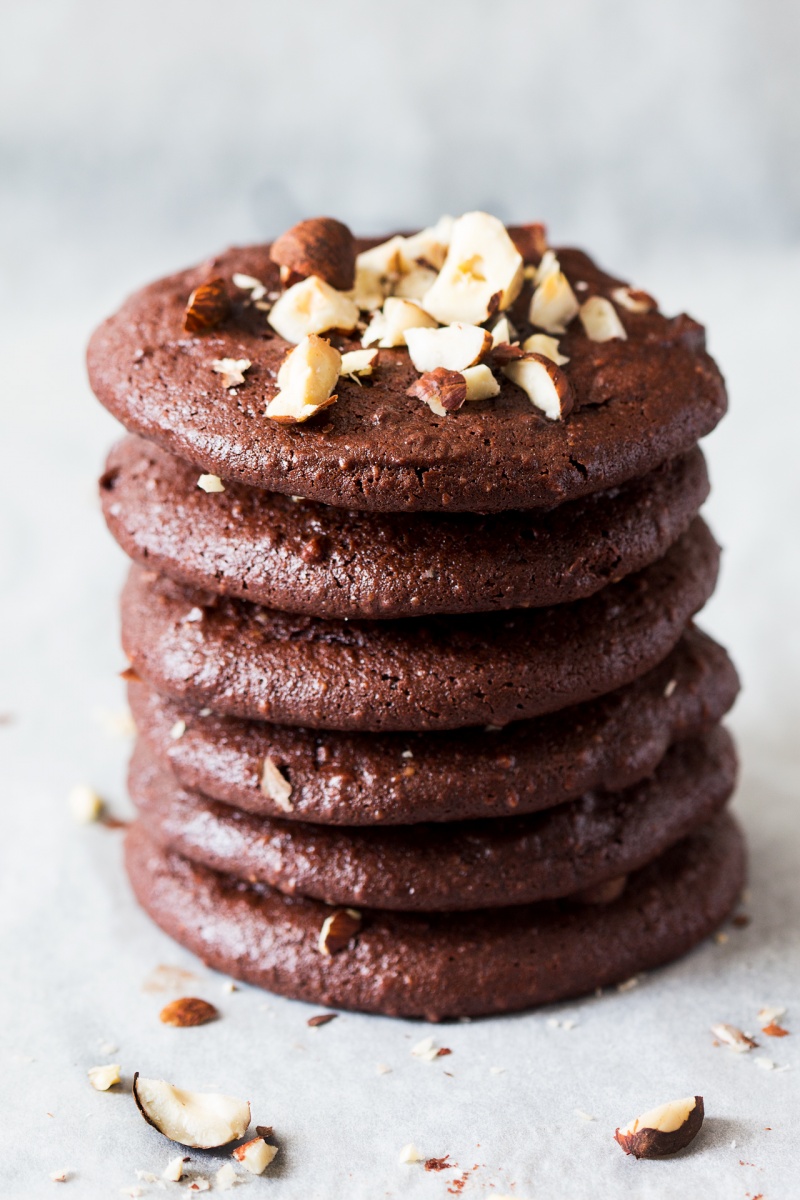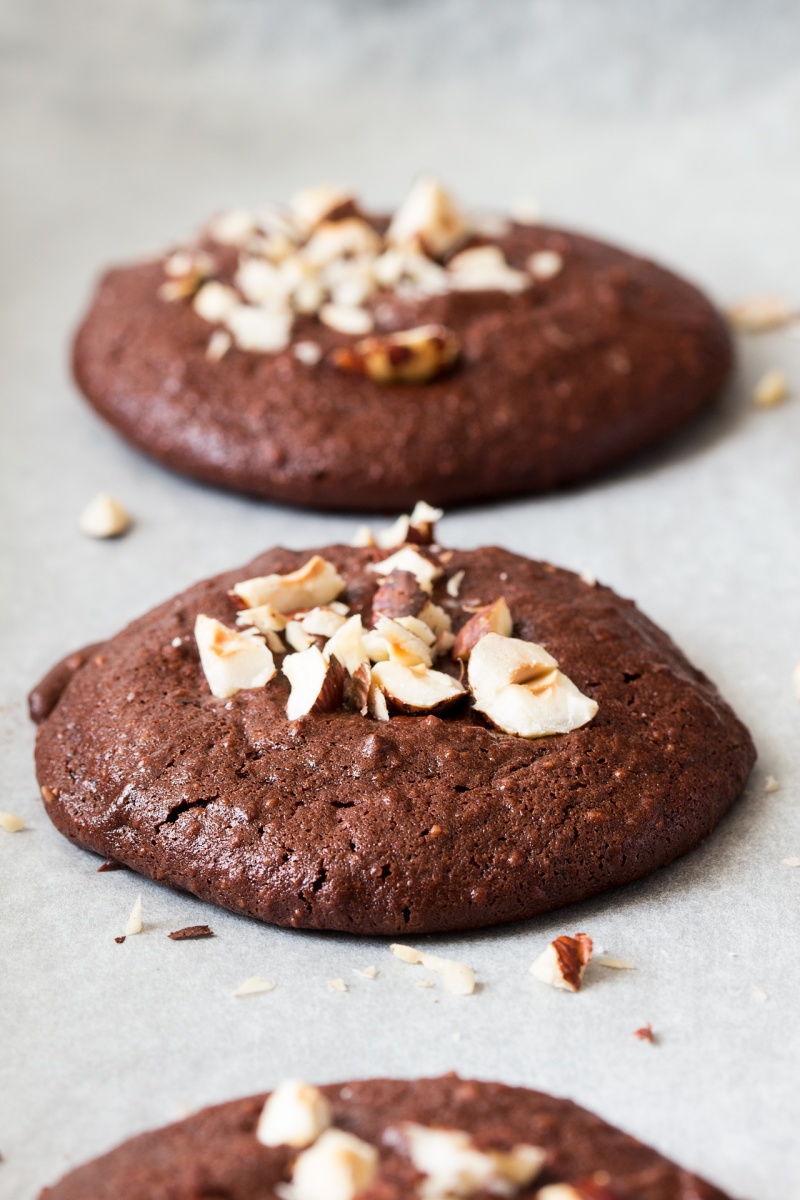 Ingredients
130 g / 4.5 oz dark chocolate (I used 70% cacao)
1 tbsp melted coconut oil
45 g / scant ½ cup hazelnuts*, ground finely (½ cup hazelnut flour)
30 g / ¼ cup buckwheat flour
15 g / 2 tbsp cornflour / cornstarch
½ tsp baking powder
¼ cup + 2 tbsp / 90 ml aquafaba
90 g / 3/8 cup caster sugar
chopped hazelnuts, for decoration (optional)
Method
Break up chocolate with your hands – or hit an unopened packet against your workbench a few times for a sort of therapy 😉 . Place chocolate and coconut oil in a glass bowl over a water bath (bain-marie). Make sure the bowl doesn't touch the water. Simmer on a very low heat until the chocolate has melted. Give the mixture a good stir and take the bowl off the heat to cool down.
Place ground hazelnuts, cornflour / cornstarch, buckwheat flour and baking powder in a small bowl. Mix very well.
Pre-heat the oven to 175° C / 345° F. Line a baking tray with a piece of baking paper.
In a clean metal or glass bowl whip aquafaba until you get stiff peaks. It is very important that the bowl has no grease residue as this will prevent the aquafaba from reaching stiff peaks. Once the aquafaba is at the stiff peaks stage (turn the bowl upside down, if aquafaba does not slide down at all, it means that it has reached stiff peaks) start adding sugar very gradually, half a tablespoon at the time, whipping well after each addition.
Gradually (and gently so that you don't knock too much air out of the whipped aquafaba) fold flour and baking powder mixture into whipped aquafaba with a spatula or a spoon.
Next, incorporate melted chocolate slowly until you achieve an even looking batter.
Spoon the batter onto the prepared baking tray. I went for 9 large cookies, but you can make 12 smaller ones instead. Decorate the tops with chopped hazelnuts (if using) or sprinkle with some salt.
Bake for about 10 (smaller ones) to 12 minutes (larger ones). Remove the tray from the oven and allow the cookies to cool down completely before eating (they may be a little fragile until they are cool). Your cookies will end up with lots of little cracks on the surface (like you get on top of a brownie). Mine didn't as I accidentally used too little sugar for the photographed batch.
Notes
 *You can use most ground nuts / nut flours here: almonds, pecans and walnuts will work. If you are swapping ground hazelnuts out for something else, you may want to use the same type of nuts for the topping.