Jingle bells, jingle bells…Is it me or has this whole festive period malarkey come a bit early this year? Although maybe it just seems like that to me as I lost an entire month to sanding and painting…Anyway, I am acutely aware that our American friends are all gearing up for Thanksgiving already (and it feels like they have something big to be thankful for this year, wink wink!) and Christmas is not far behind…Although I do wonder what it's going to be like this year. A bit quiet I think. We are not allowed to travel (and even if we were we feel like it's too risky given the current climate, so we are certainly staying home – would hate to gift someone the virus) so it's going to be just Duncan, Tina and I celebrating Xmas this year.
Anyway, quiet or not, I'm committed to putting a good vegan spread on the table. My house, appropriately, smells of cinnamon as I type this as I have been testing some Xmas cookies on repeat the last couple of days. That recipe is almost nailed and I'm really excited to share it with you, but before I do, I have a cracking vegan Brussels sprouts Caesar salad that I hope will shake up your festive salad repertoire a bit.
It's full of Brussels sprouts goodness but far from boring. It has creaminess and heaps of flavour from the tangy and cheesy sunflower seed dressing, satisfying crunch from garlicky, oven-baked croutons, sweet, salty and smoky pops of flavour from almond bacon and juicy freshness from pomegranate seeds. It also happens to be easy to make and it fits in with the festive colour palette too, what's not to like? We've enjoyed it a lot and I hope you will too.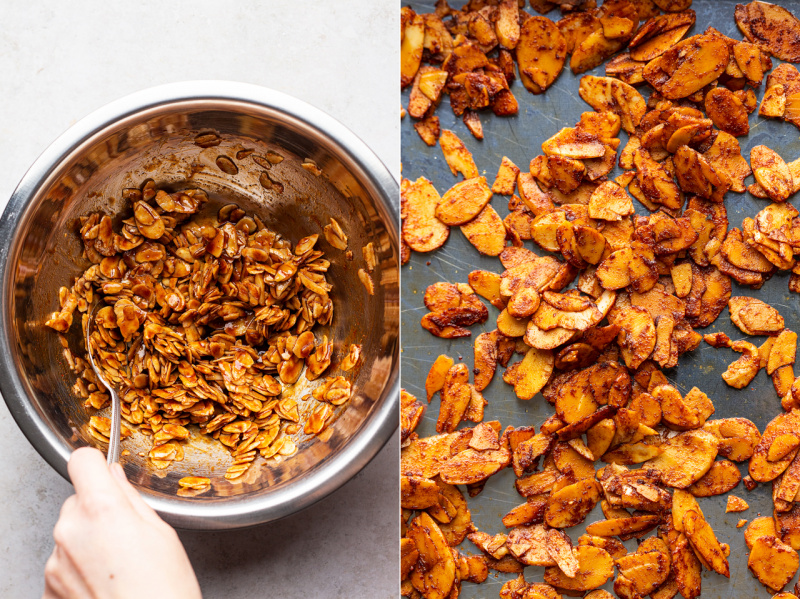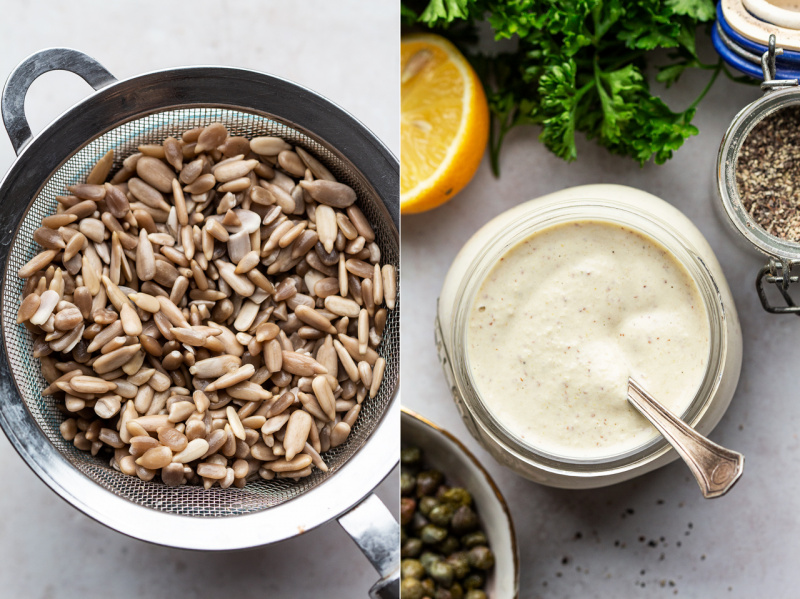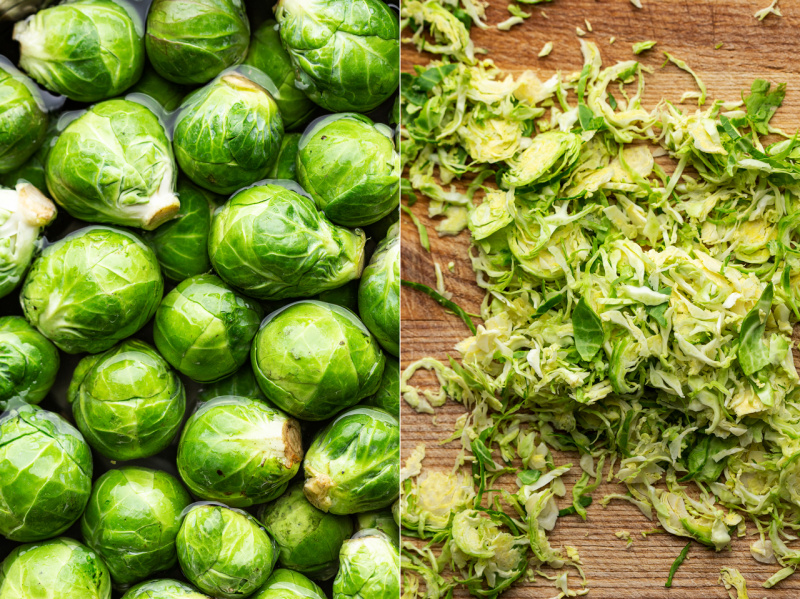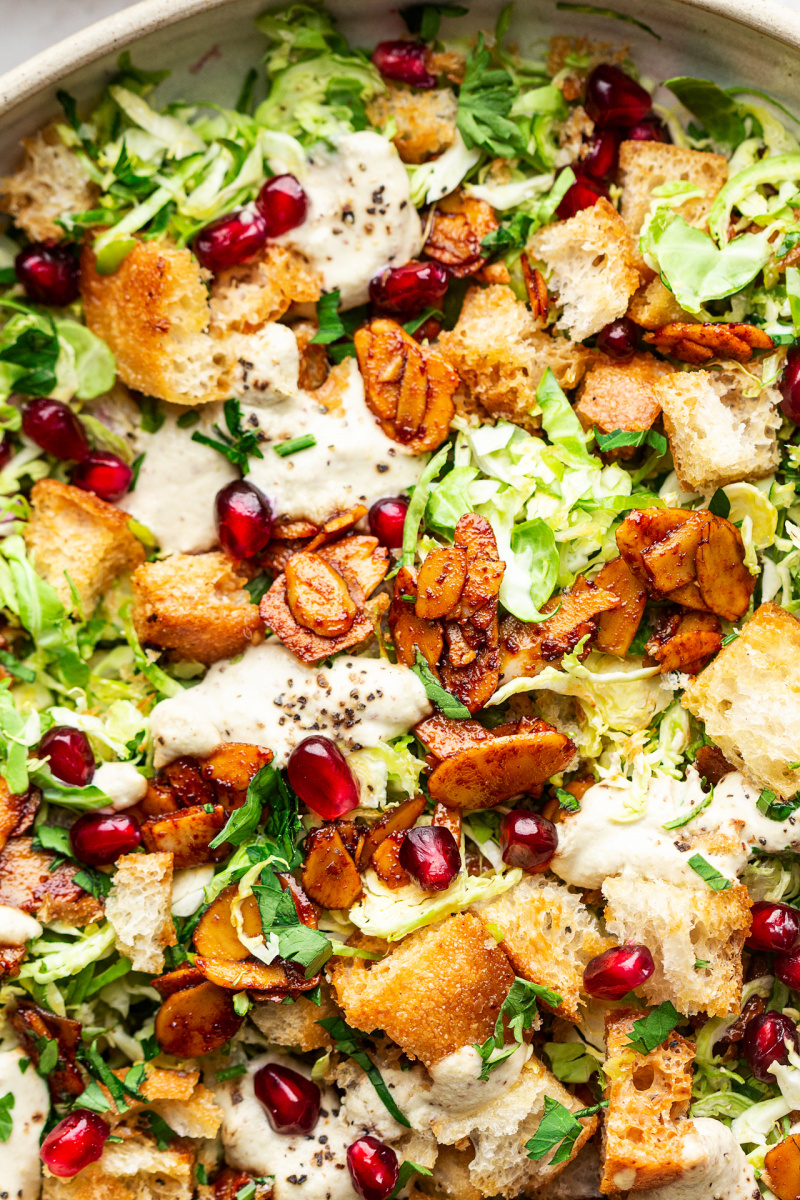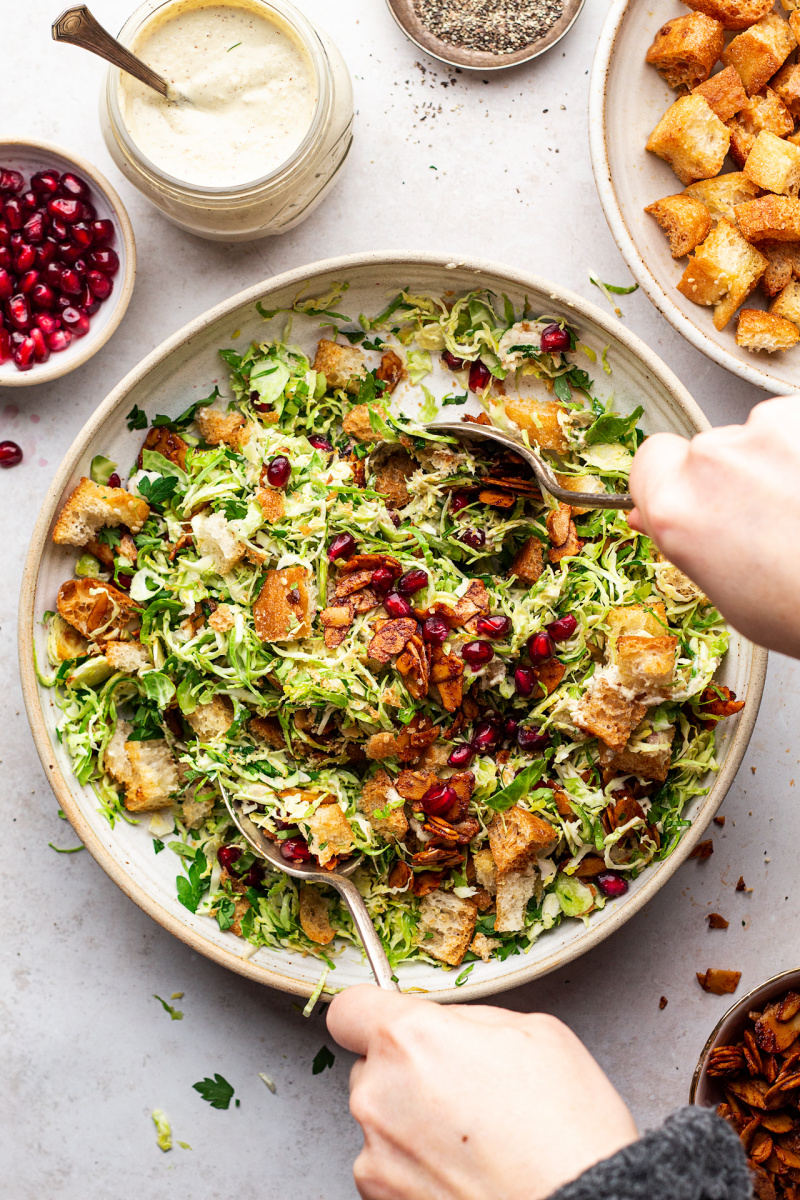 ALMOND BACON
20 ml / 4 tsp olive oil
20 ml / 4 tsp maple syrup or sugar
40 ml / 2½ tbsp all purpose soy sauce or tamari (if GF)
1 tsp tomato concentrate
1 tsp smoked sweet paprika
100 g / 1 cup almond flakes
DRESSING
½ cup raw sunflower seeds OR cashews, soaked in boiling water for 30 minutes
½ roasted head of garlic or 1-2 raw cloves, finely grated
2 tsp yellow / shiro miso (optional)
1½ tsp wholegrain mustard*
2 tbsp fresh lemon juice
2 tbsp capers in salty brine, drained
2 tbsp nutritional yeast
150 ml / ½ cup + 2 tbsp unsweetened plant milk (I like soy)
1 tsp maple syrup or sugar
sea salt, to taste
black pepper, to taste
CROUTONS (optional)
30 ml / 2 tbsp olive oil
1 garlic clove, minced finely (optional)
120 g / 4 cups cubed bread (GF if needed)
fine sea salt, to taste
REMAINING INGREDIENTS
500 g / 1 lb Brussels sprouts
a handful of parsley, finely chopped
3 tbsp pomegranate arils or dried cranberries rehydrated in warm orange juice
METHOD
ALMOND BACON
Heat up the oven to 120° C / 250° F (regular setting, no fan).
Mix up all of the almond bacon marinade ingredients (apart from flaked almonds) in a medium bowl until homogenous. Mix the almond flakes in and stir well to coat.
Spread marinated almonds on a large baking tray and bake for about 25-30 minutes, giving the almonds a good stir at the halfway point. The almonds will be a little soft when hot but they will crisp up once out of the oven.
DRESSING (makes approx. 240 ml / 1 cup)
While the almonds are baking, make the dressing by placing drained sunflower seeds (or cashews) and the remaining ingredients in a blender and blend until super smooth. Hold off with adding salt until the end as both miso and capers add saltiness. I recommend using a small batch blender, like this Ninja one I own, to make a dressing like this. If using a regular upright blender you may need to double the amount.
CROUTONS (optional)
Once the almonds are out of the oven, increase the temperature to 170° C / 340° F (regular setting, no fan).
Place olive oil and a minced garlic clove in a mixing bowl, whisk until well combined. Stir in your cubed bread and quickly mix well to make sure every cube is evenly coated. Spread the cubes on a large baking tray. Season with a bit of salt if you wish.
Bake for about 10-15 minutes, giving the croutons a stir halfway through. Be aware that if you are using stale bread, the croutons will be done much quicker. Once done and cooled off, you may want to smash some of the croutons in a pestle and mortar and leave some whole for varied texture.
ASSEMBLY
Clean and dry your Brussels sprouts, removing outer leaves if they are looking a bit battered.
Using a food processor with a shredding attachment, a mandolin with a finger guard or a sharp knife and your knife skills, shred the sprouts as thinly as possible.
Combine shredded sprouts and chopped parsley in a large mixing bowl. Stir some of the dressing through the salad, leave the rest aside.
Stir some of the croutons, almond bacon and pomegranate arils through the salad. Place everything in a serving bowl, dot with some more dressing and decorate with more croutons, almonds and pomegranate.
NOTES
*Double check the ingredients as some wholegrain mustard brands are not vegan.
This recipe is based on my two previous recipes, this one and this one.