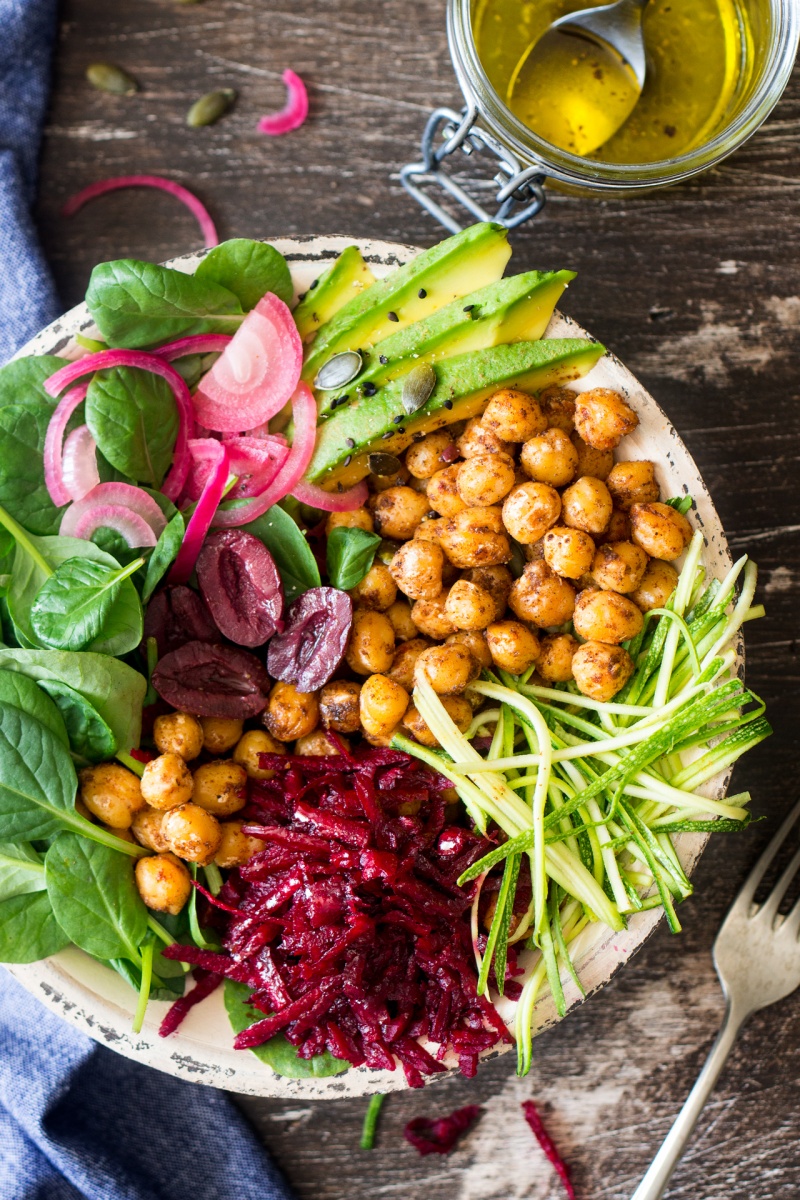 The ever present need to come up with new, exciting dishes as a food blogger means that I constantly evolve my cooking. I make the same dish like five times in a row in an effort to perfect it for a recipe and then not make it again for ages as I'm busy chasing the next best thing. In practice it means that my cooking constantly feels very improvised.
To compensate for all this chopping (literally, lots of chopping on a daily basis 😉 ) and changing, I've developed a bit of a lunch routine as that's one meal I cannot afford to spend too much time on – I'm usually half way through testing a new dinner or dessert or shooting the end result.
So today's recipe is pretty much what we have for lunch every single day with some degree of variation depending on what I currently have on hand, what is in season and what new dressing I'm experimenting with. Although some people scrunch up their nose at the 'buddha bowl' concept, I'm a massive fan of them.
I find them satisfying, filling, full of colour and texture and easy to throw together. Nourishing dishes like this vegan buddha bowl stave off hunger for ages and leave you feeling full, healthy and happy.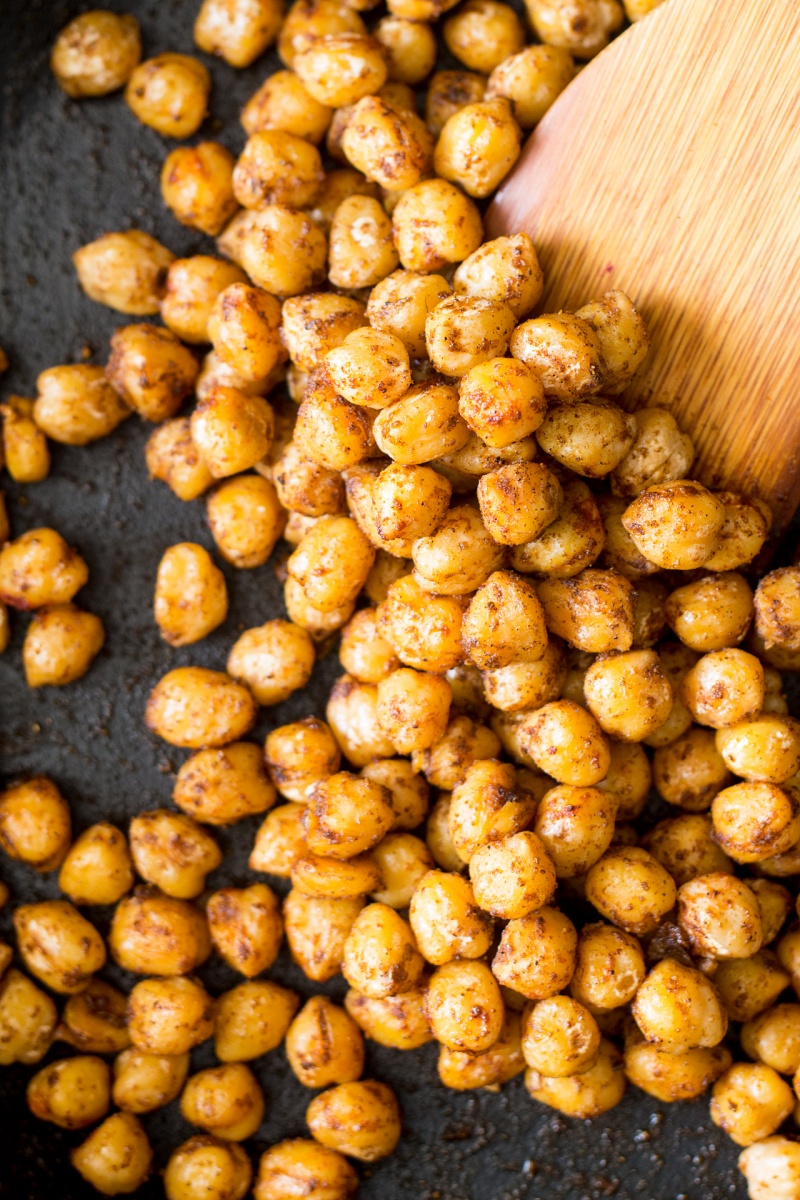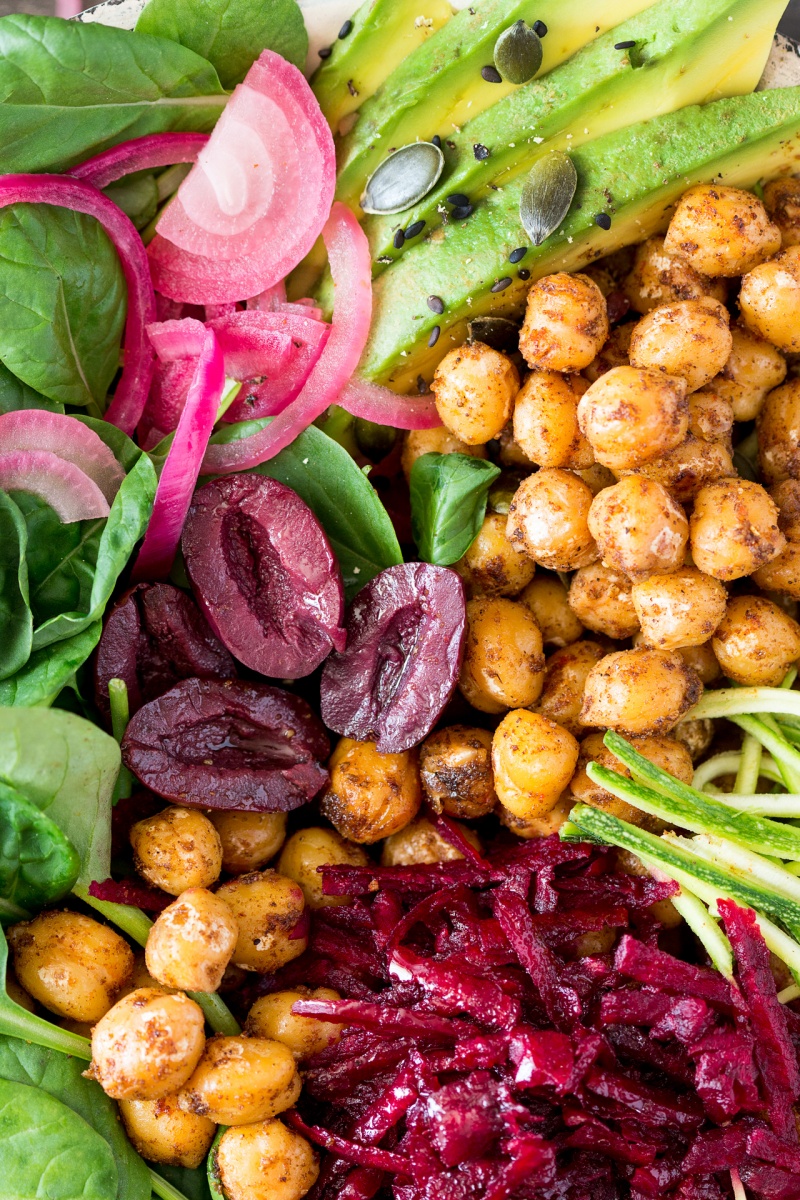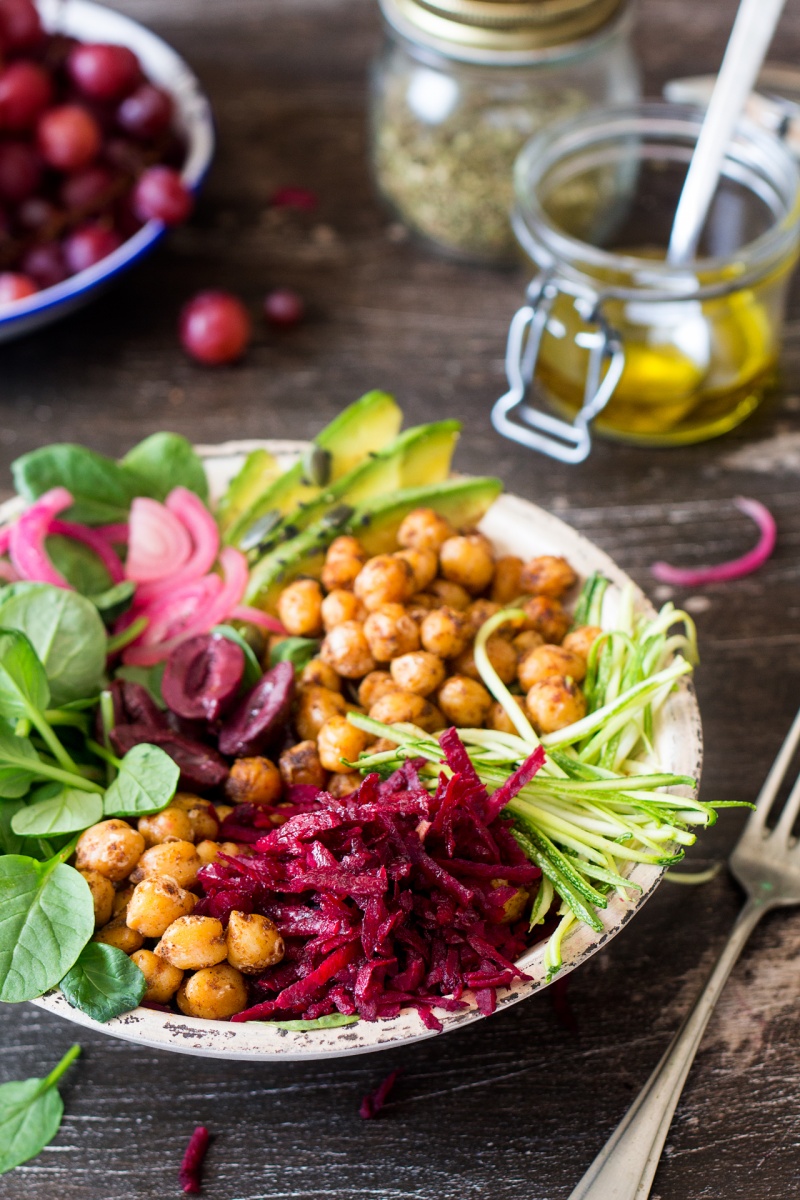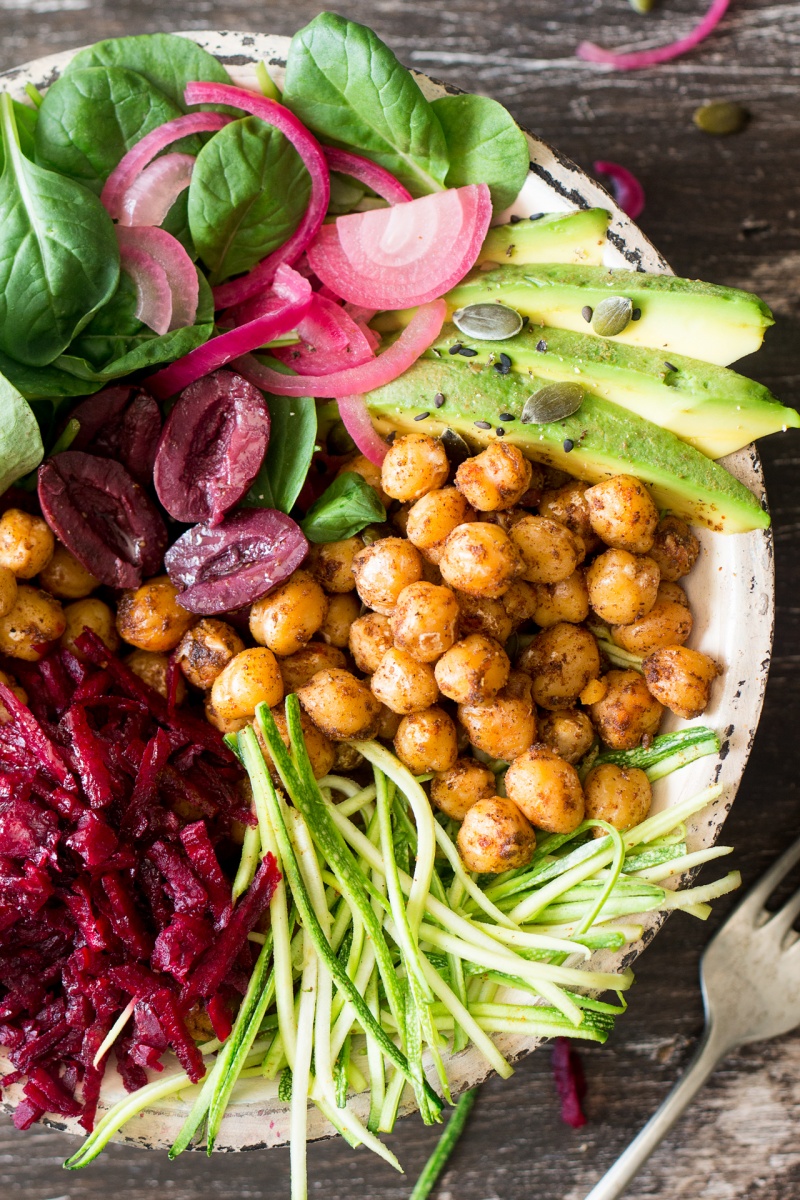 CUMIN-ROASTED CHICKPEAS
2 cups cooked chickpeas (about 1 cup dry)
2 tbsp olive oil
2 tsp ground cumin
1 tsp smoked paprika
½ tsp hot chilli powder
salt, to taste
BOWLS
50 g / 2 oz baby spinach
1 medium beetroot, coarsely grated
½ small quick-pickled red onion
½ avocado, peeled and sliced
6 Kalamata olives, pitted and halved
1 baby zucchini / courgette, shredded into zoodles
1 tbsp pumpkin seeds / pepitas
DRESSING
2 tbsp extra virgin olive oil
1½ tbsp lemon juice
1 garlic clove, unpeeled
1 tsp sambal oelek (Indonesian chilli paste)
salt, to taste
pepper, to taste
METHOD
Place chickpeas in a colander for a few minutes to drain them well. You may want to save the canning or cooking liquid (if you cooked them yourself) for another use like vegan meringues, for example. If you cooked the chickpeas yourself, let them cool down completely before pan roasting them. Mix all the spices together with a few pinches of salt in a small bowl.
Heat up a heavy bottomed pan on a medium-high heat. Pour 2 tablespoons of olive oil on the hot pan and wait a few seconds for the oil to heat up. Chuck drained chickpeas into the hot oil and place an unpeeled garlic clove in the pan. Stir the chickpeas from time to time so that they don't burn. Let the garlic brown on both sides, then take it off the pan and set aside. Sprinkle chickpeas with spices and salt and stir the spices in. Keep on roasting the chickpeas until they are evenly coated in spices and the spices become fragrant. Taste the chickpeas and adjust with salt if necessary. Stir frequently as ground spices burn really easily and become bitter. Take off the heat and set aside.
Prepare the dressing by mixing olive oil, lemon juice and sambal oelek. Peel the garlic clove you roasted earlier, grate it finely and add it to the dressing. Season the dressing by adding salt and pepper to taste.
Divide all the bowl ingredients and roasted chickpeas between two bowls. Drizzle with the dressing.