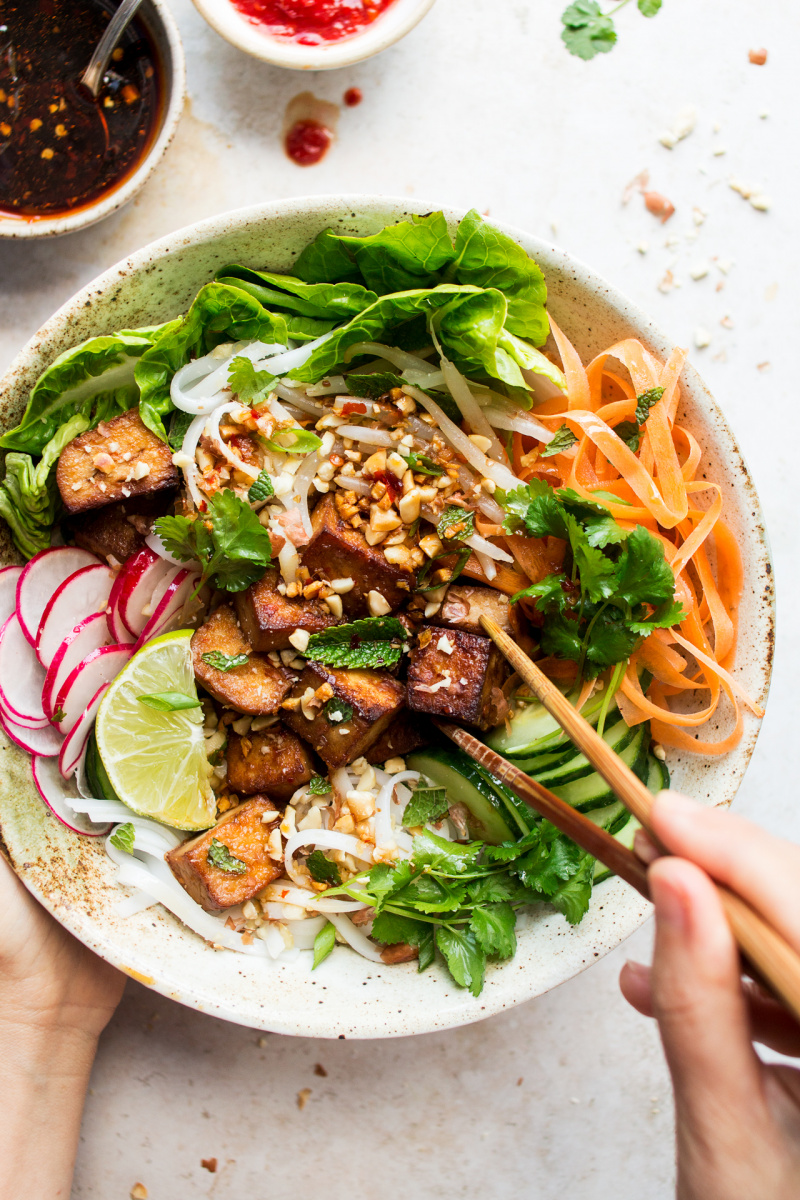 Summer is a quieter time for most blogs, as people go on holiday or simply spend less time on their digital devices and in the kitchen. If you are not ready for it, it can be a bit demoralising to see your traffic stall all of a sudden. As I've been blogging for over 4 years now, I am finally getting used to all the ebbs and flows of an online business and try to embrace them rather than to fret. Instead, I take as much time off as I can in between the recipes and try to do more things for myself.
I went to my first yoga class in ages this week. It was challenging as I definitely never push myself this much when I do my 15 minute morning practice at home, but I enjoyed how it made me feel afterwards. I am a touch tender today, but I am planning to incorporate it into my weekly schedule, especially that I am able to cycle there and back along a leafy bicycle path, which makes it all the more enjoyable.
I've also started doing some pottery workshops. I (or rather Duncan as the first workshop was my b'day present from him – ain't he lovely?) found a great teacher and I have been to two day long workshops so far and I am scheduled to do another one soon. I already have three bowls I made on a wheel during my first session and although they are far from perfect, I am amazed that I managed to produce something half decent. I am looking forward to getting better at this and who knows, maybe one day I will be able to shoot food on my own pottery? That's definitely the dream.
I think it's pretty common that your appetite for cooking and your appetite in general decreases in warm weather. I could live on salads, iced coffees, fruit and perhaps I could find some room for vegan ice cream. Who am I kidding, I totally could!! This Vietnamese inspired dish is a perfect heat buster. To begin with, it is eaten cold. It's loaded with heaps of raw veggies, sprouts, herbs and if you want a bit more substance, some pan-fried (or baked) tofu is a perfect low-effort addition. Both me and Duncan love this dish and we often order it in a Vietnamese fusion restaurant in town.
Traditionally, bun noodle bowl is served with nuoc cham, which is a simple dressing of lime juice, fish sauce, chilli and sugar. As vegan fish sauce can be tricky to get, I decided to shake things up a little and paired my bowl with a simple 2 in 1 dressing that is made from commonly available ingredients. It doubles up as a dressing and tofu marinade too, so that you can spend more time relaxing with your loved ones or reading a good book in the sun rather than slaving by the stove 😉 .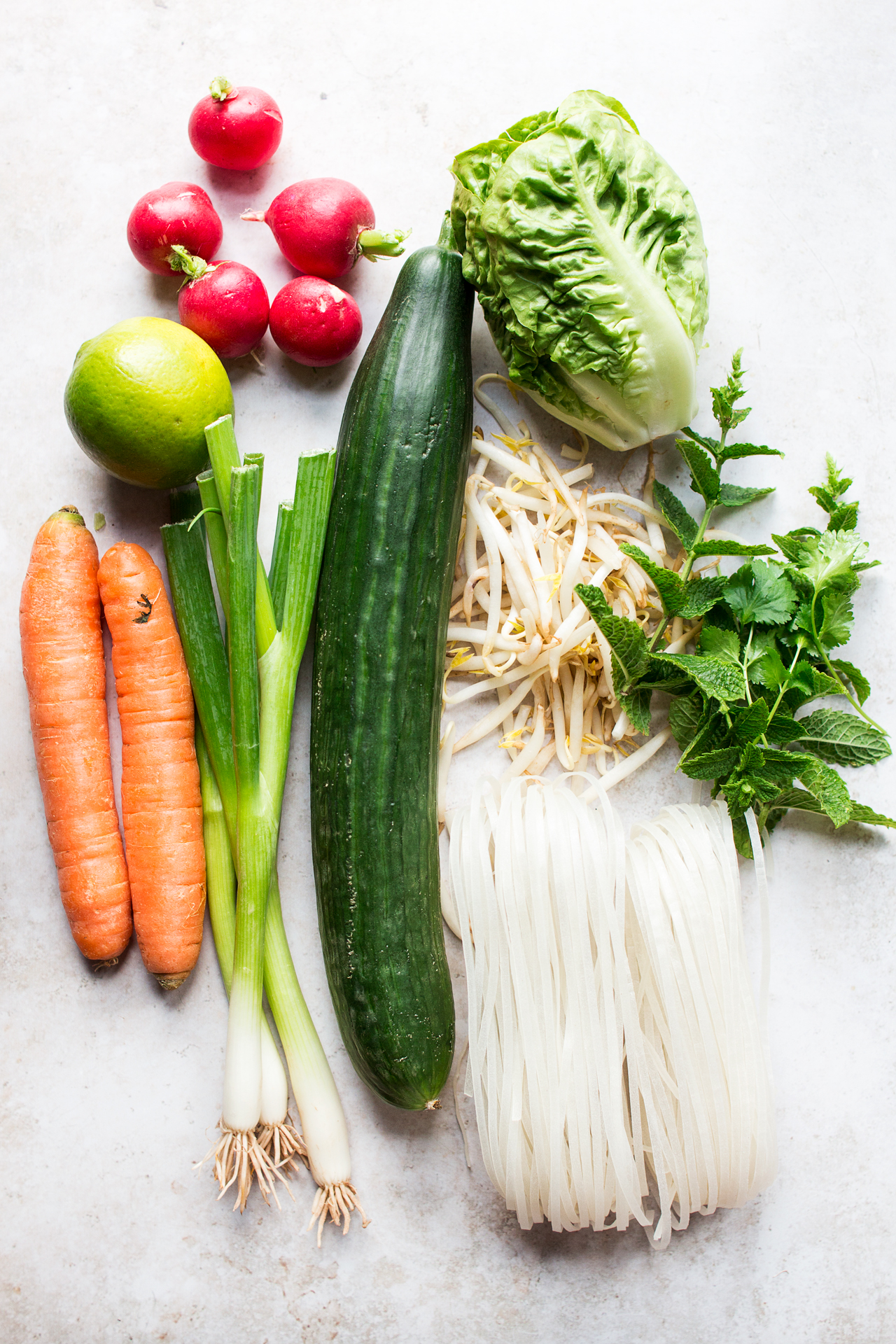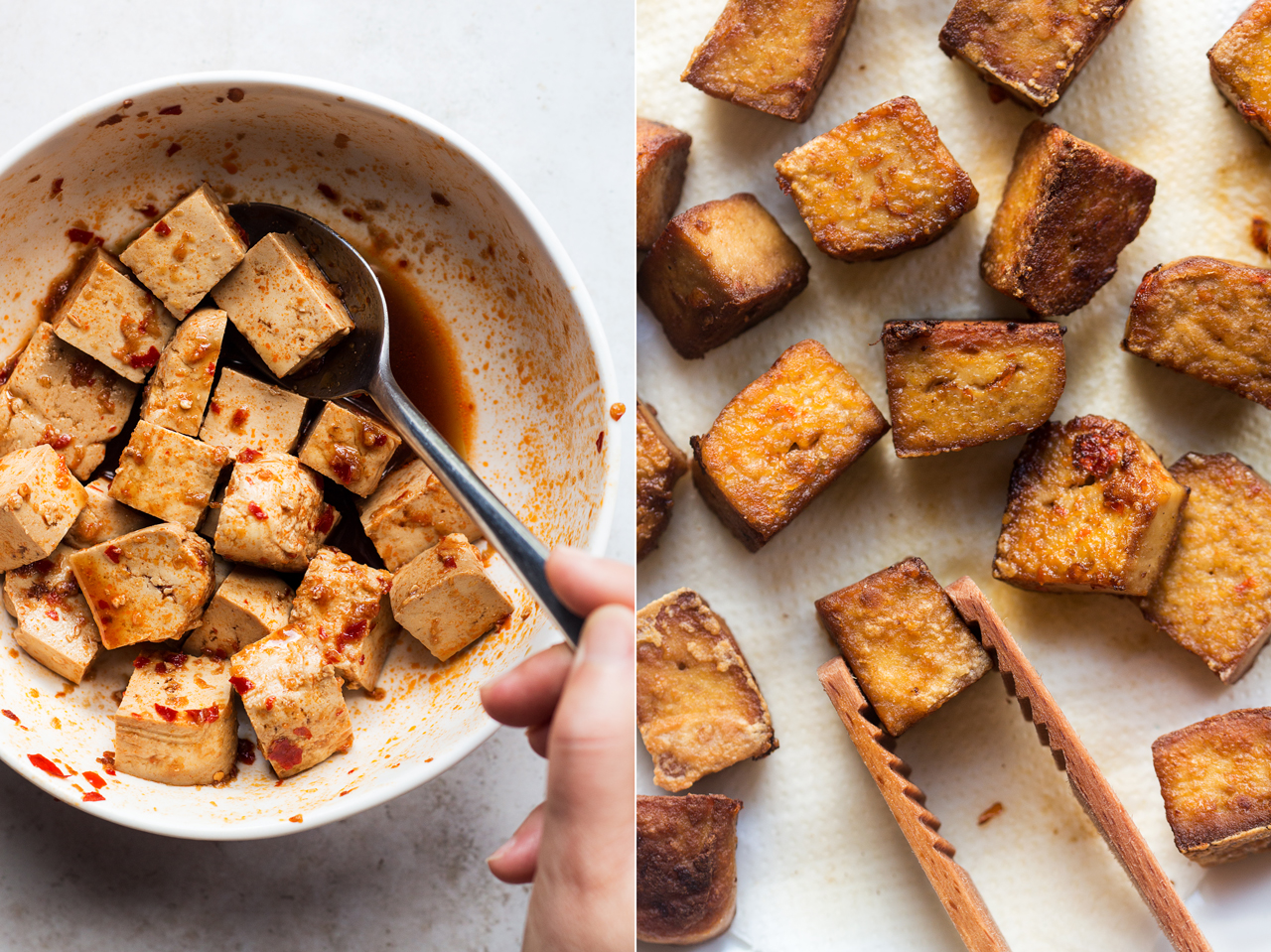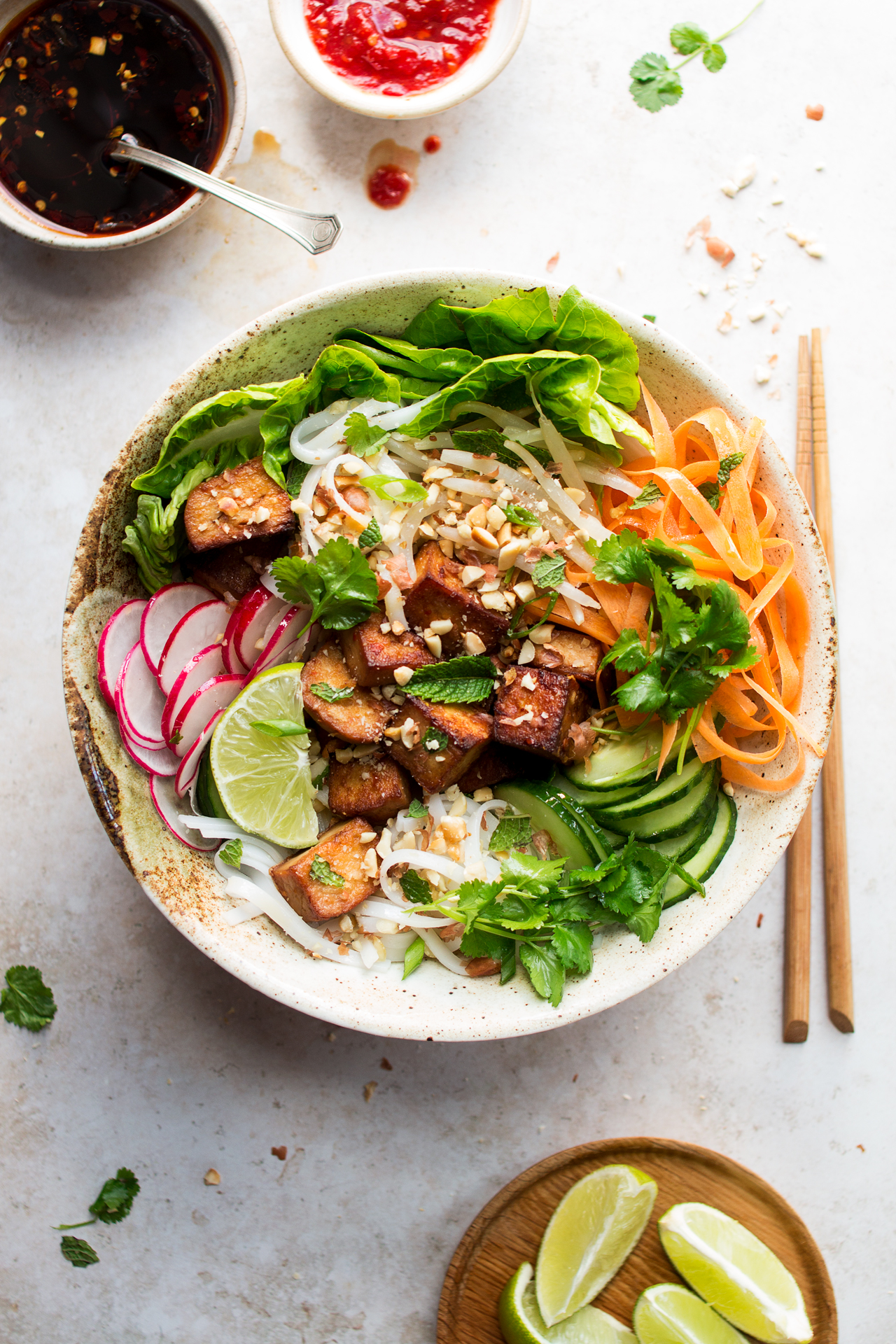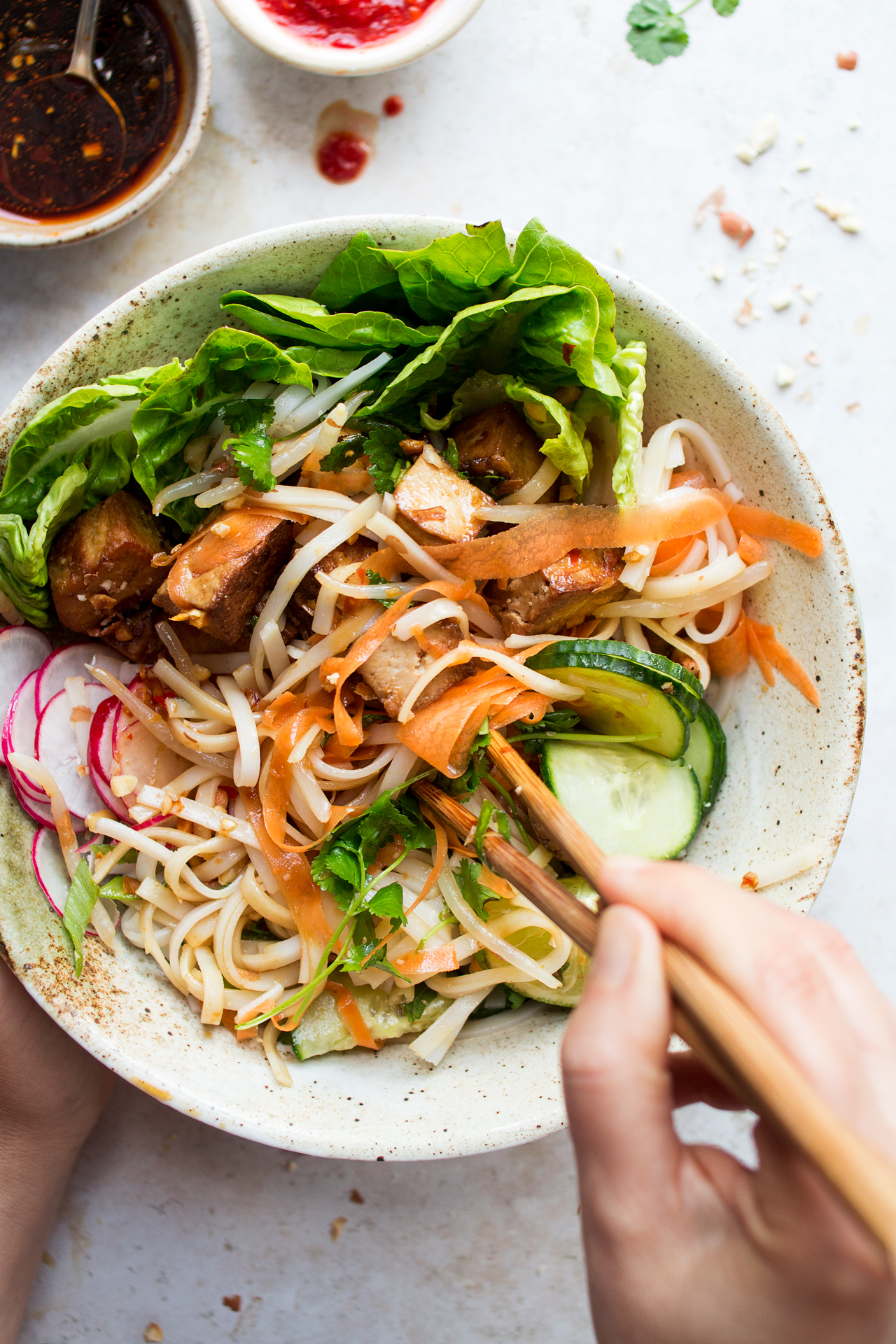 MARINADE AND DRESSING (2 in 1)
NOODLE BOWL
200 g / 7 oz firm (cotton not silken) tofu, pressed and cubed
peanut oil (or other high smoke oil), for frying (optional)
3 tsp cornflour / cornstarch (optional)
100 g / 3.5 oz bun rice noodles (or rice vermicelli)
2 large handfuls of sprouts
2 small carrots, ribboned
½ long cucumber, sliced thinly
6 radishes, sliced thinly
1 baby gem lettuce, leaves shredded roughly
a large handful of mint and coriander leaves
1 spring onion/scallion, finely sliced
¼ cup roasted (unsalted) peanuts, crushed
METHOD
Prepare the marinade by mixing all of the ingredients together.
Place cubed tofu in a single layer in a shallow container. Pour a quarter of the marinade over it. Allow it to absorb the flavours for as long as you can (overnight is ideal but 30 minutes will do), spooning the marinade over the exposed tofu cubes now and again to ensure all the tofu is evenly flavoured.
Set the rest of the marinade aside for the flavours to infuse, it will act as a dressing later.
Heat up 2 tbsp of peanut oil in a medium, non-stick pan (or wok). Remove the tofu from the marinade and just before you are ready to place it on the hot oil, sprinkle a thin layer of cornstarch over the top of it.
Place the tofu on the hot oil and fry until golden brown on one side, then flip and continue frying until golden brown on all sides. Alternatively, you could simply bake the tofu on a lightly greased baking tray in a 180° C / 355° F oven for about 20-25 minutes, turning the pieces over once halfway through the baking time.
Cook your noodles according to the instructions on the packet. Refresh under a cold tap and set aside.
Blanch the sprouts by pouring boiling water over them for a few seconds, draining them and immersing them in ice cold water immediately after.
Divide cold noodles, fresh veggies, blanched sprouts and tofu between two bowls. Top with lots of fresh herbs, spring onion and crushed peanuts.
NOTES
Typically, this dish gets topped with fried shallots, which you can buy in a good Asian grocer. I skipped this ingredient to make the dish healthier.