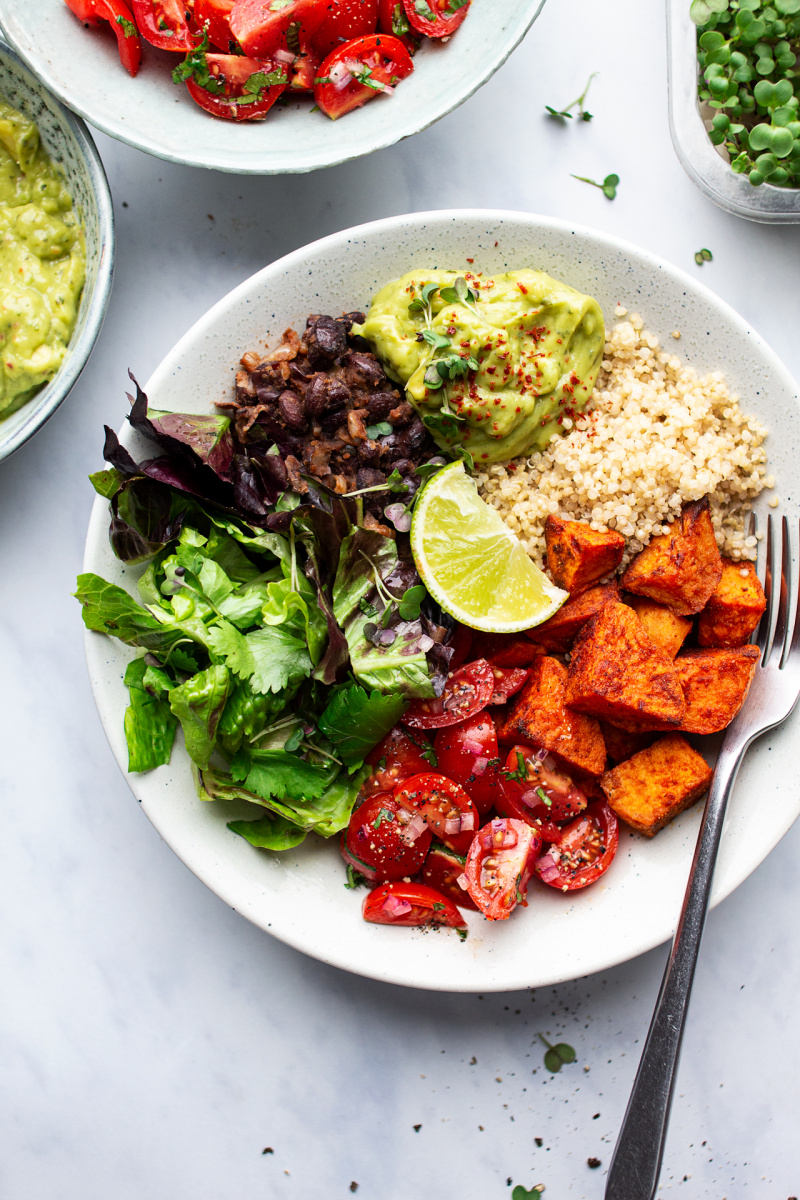 Hope you guys are doing well and not suffering from cabin fever too much yet? I must say that I'm struggling a little lately, not in a big way, but I am feeling a little uprooted. Days merge into each other and I'm finding it hard to settle into a sustainable morning routine. Being a natural owl, I come to life in the evenings and have way more energy than in the morning. Duncan and I have been going on long walks after he finishes working at 5:30 pm and we managed to get a gentle yoga practice going in the evenings, but it's moping around in the mornings that I struggle with.
I am always full of good intentions the night before. I plan to wake up early, do some morning yoga first thing, but when the time actually rolls around I bury my head under the pillow and carry on sleeping. Then, when I finally get up, I feel guilty for letting myself down yet again. I did manage to get up at 5:30 AM every morning when I lived in London in order to go to the gym before I started work at 9AM so I know it's possible, but with no external motivator I have not managed to establish a sticking habit just yet. I'm currently trialling various tips I heard on many of my healthy living podcasts, but my lifelong owl nature keeps on getting in the way…
Foodwise, I am focused on making us eat healthily, to make up for all the test bakes we are taste testing alone, as giving food away to strangers is frowned upon right now. This simple burrito bowl is what we often have for lunch so I thought I would share it as it's easy to make, great for batch prep – I make a big portion of black beans, quinoa and sweet potatoes in advance – and conducive to shortcuts. Store-bought guacamole is mine, for example. It's very nutritious and filling, full of carbs, plant protein, raw veggies and good fats. It's almost too easy to make, but sometimes that's exactly what I need. I hope you'll find it useful too.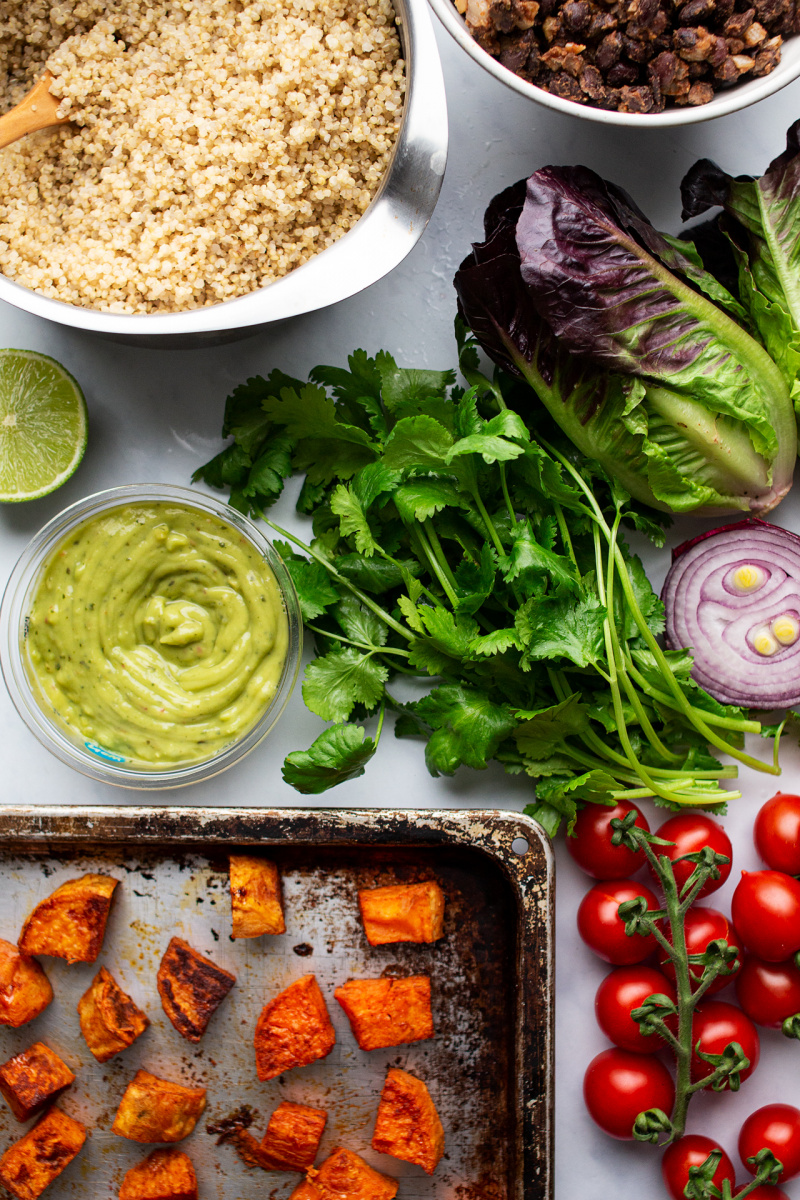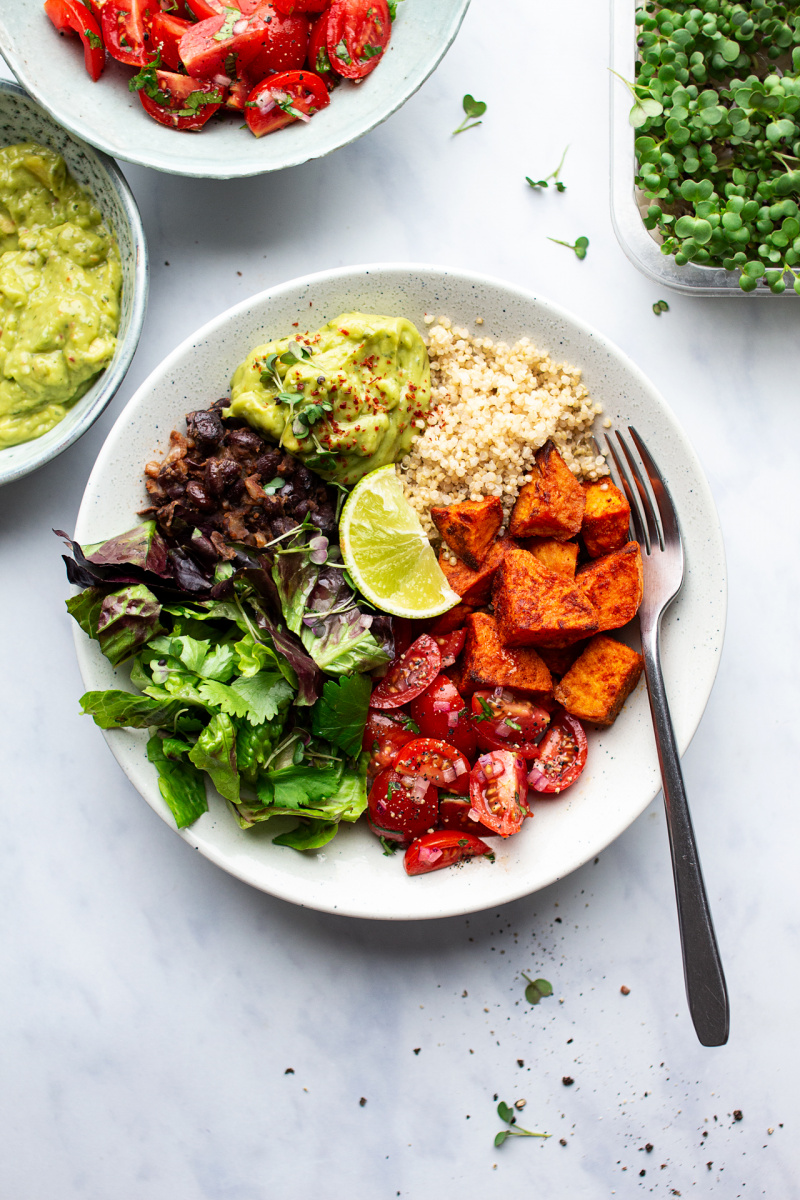 SWEET POTATOES
600 g / 21 oz (3 small) sweet potatoes
15 ml / 1 tbsp olive oil
½ tsp sea salt, adjust to taste
¾ tsp cumin
¾ tsp smoked paprika
REFRIED BLACK BEANS
30 ml / 2 tbsp olive oil
1 onion, finely diced
3 large garlic cloves, finely diced
1½ tsp cumin
1½ tsp smoked paprika
1 tsp dried oregano
¼ tsp cayenne pepper, optional
500 g / 3 cups cooked black beans + cooking water*
¾ tsp fine sea salt, adjust to taste
1 lime, juice
DRESSING
3 tbsp extra virgin olive oil
2-3 tbsp lime juice (I use 3 to contrast with sweet potatoes)
hot sauce, to taste (I use Cholula Chipotle or Smoky Tabasco)
1 garlic clove, very finely grated
salt, to taste
REMAINING INGREDIENTS
180 g / 1 cup quinoa (sub with brown rice)
30 cherry tomatoes, cut small (I quartered mine)
½ small red onion, very finely diced
small bunch coriander / cilantro
2 little Gem / Cos / Romaine lettuce, shredded
store-bought guacamole**
METHOD
SWEET POTATOES
Heat up the oven to 220° C / 425° F and grab a baking tray. If baking half of the amount of sweet potato, decrease the oven temperate to 200° C / 390° F – less moisture in the oven means that they will brown quicker.
Peel the potatoes and cut into a 2 cm / 0.8″ dice. Coat in olive oil, salt and spices.
Spread on a baking tray, making sure the pieces do not touch each other. Bake for 15 minutes, flip to the other side for another 10-15 minutes – again making sure the pieces are well spread for nice charring.
REFRIED BLACK BEANS
Heat olive oil in a large frying pan, on a low-medium heat. Sauté chopped onion until almost translucent, stirring frequently. Add finely chopped garlic and sauté until soft and fragrant.
Mix all of the dry spices into the onion and garlic mixture. Allow them to fry off for a few seconds before adding cooked black beans and their cooking juices (water or stock). Adjust the amount of liquid added to your preference – more liquid will create creamier beans. Squash some (or all depending on the preference) of the beans in a pan for a creamier texture – I like to leave some beans whole.
Season with salt and fresh lime juice, to taste.
QUINOA
Rinse quinoa well. Place it in a pot with about ½ tsp salt (I tend to season with the dressing later) and 240 ml / 1 cup of water (ratio 1:1).
Cover the pot with a see-through lid and set it on a very low heat.
Allow the water to come to a gentle boil and then simmer (without taking the lid off) until all the water has been absorbed – tip the pot slightly to check if there is any excess water left. Once the water has been fully absorbed. Switch the heat off, keep the lid on and rest for about 10 minutes – quinoa will finish cooking in its own steam.
ASSEMBLY
Combine dressing ingredients in a jar, put the lid on a give it a good shake. Adjust the amount of spice and seasoning to your taste.
Place tomatoes, onion and chopped coriander in a bowl. Mix well, dress it with half of the dressing – leave the rest to drizzle over the lettuce.
Divide black beans, sweet potatoes, quinoa, tomatoes and lettuce between bowls. Drizzle a bit of the dressing over the lettuce and serve with some guacamole (or smashed avocado) on top.
NOTES
*1 cup raw beans or 2 x 400 g / 14 oz cans of beans.
**If you have a ripe avocado, smash it with a fork, season with grated garlic, lime juice and salt.
I used a handful of homegrown mustard micro greens for decoration, in case you are curious.