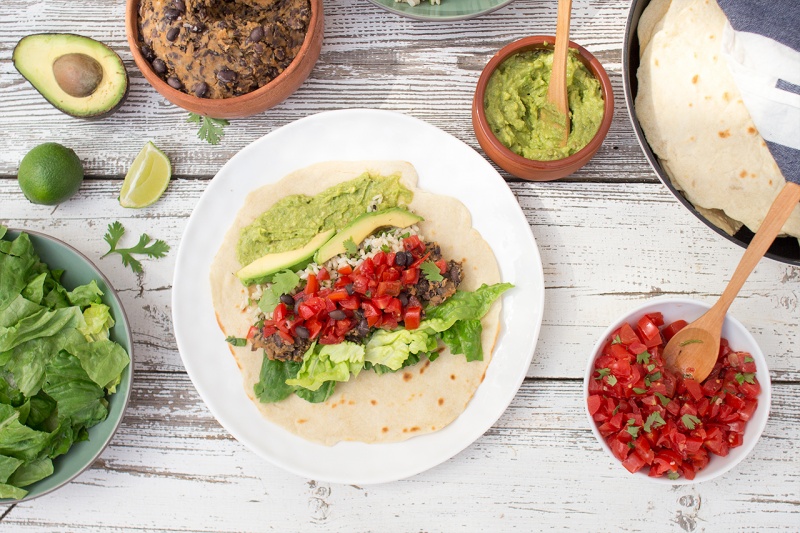 We've had some stunning weather these past few days. Evenings have finally warmed up and they invite you to sit outside for hours with a light supper and a glass of icy cold beer or white wine.
Today's dish is my idea of an ideal warm-weather supper. It is bursting with flavour, colourful, filling and yet still light. The Mexican theme has been inspired by all the amazing recipes I've seen all over the blogsphere for Cinco de Mayo – I know I am late to the table, but there is never a bad time to a have a good burrito with a proper vegan tortilla filling! Plus, I haven't had one for a very long time so I'm really looking forward to sinking my teeth into one of these juicy babies (well, not literally, but you know what I mean)…
Don't let this recipe scare you! It may seem very elaborate and time consuming, but it really isn't that bad. The only thing that's really time consuming is making your own tortillas, but you can always buy those if you're pressed for time.
As you can see, despite many many rounds of practice, I'm still yet to achieve perfectly round tortillas. It's all very well when they are small, but making a thin and large (mine are 24 cm diameter) and round tortilla takes a lot of skill and my hat off to all amazing round tortilla makers out there…I salute you!!
I even bought some tortillas in case all of mine resemble the shape of France (or Italy), but after some thought I concluded that while mine may look a bit wonky, they definitely taste way better than the shop-bought ones. They are thinner (as that's how I like them) and contain zero E numbers – the same cannot be said about the shop bought tortillas, unfortunately…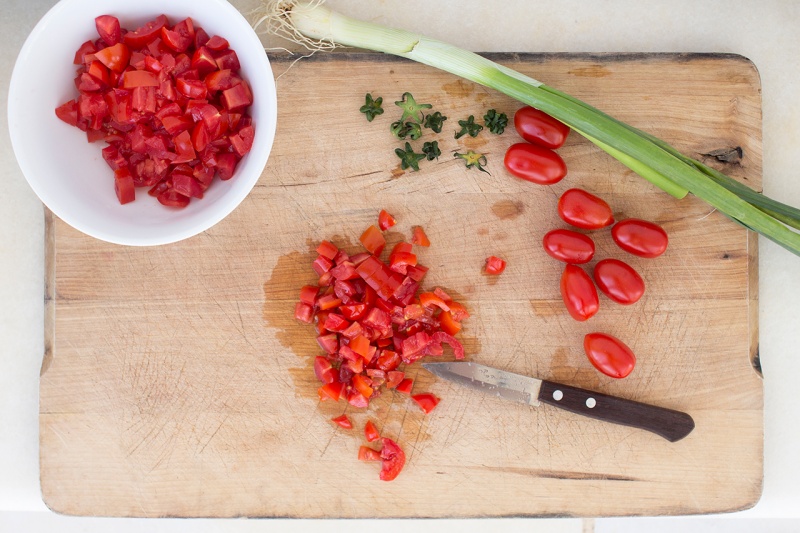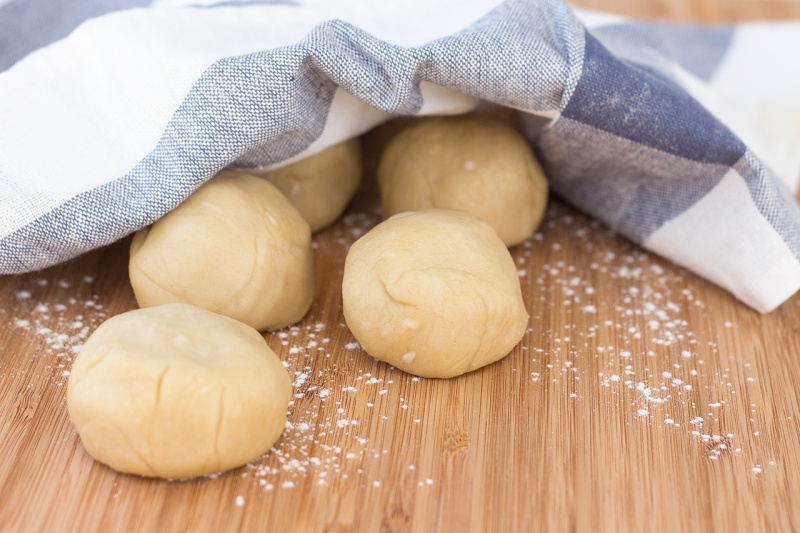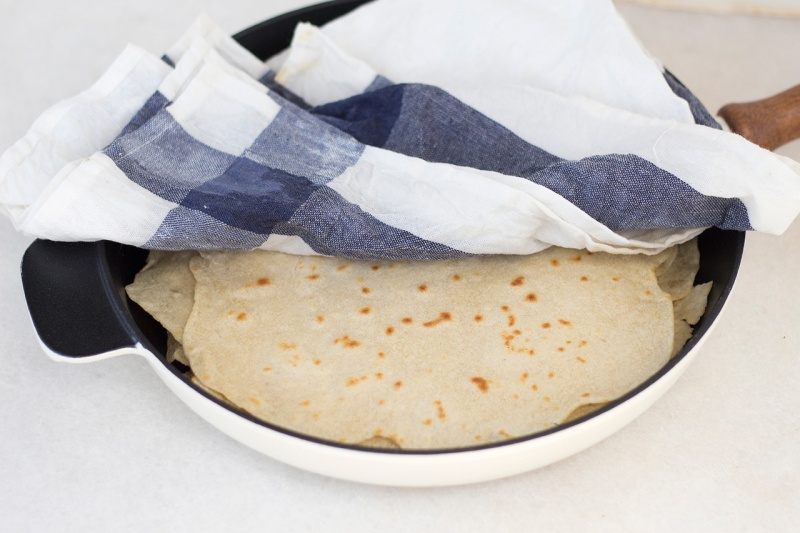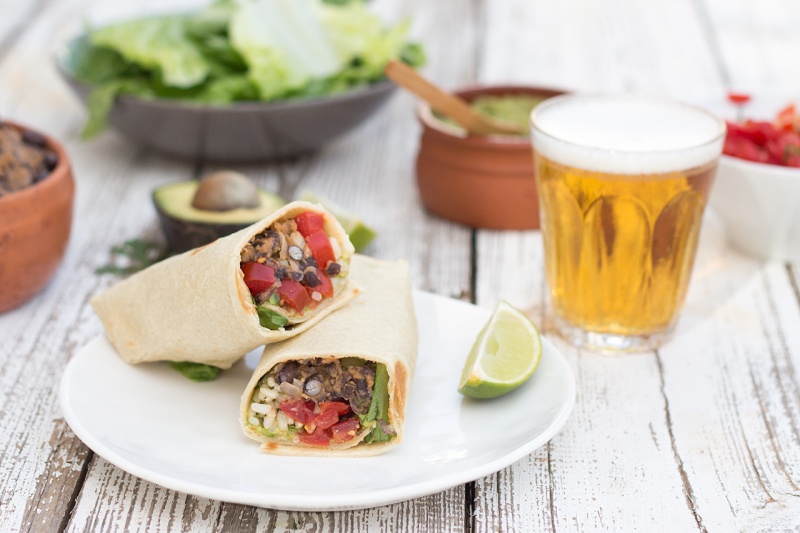 TORTILLAS (makes 8 x 24 cm / 9.5-inch diameter)
3 cups / 375 g white flour
1 tsp baking powder
1 level tsp salt
¼ cup / 60 ml olive oil
about ¾ cup / 180 ml hot water
SALSA
25 plum tomatoes (they tend to be sweeter) / 3 large tomatoes
10 cm spring onion (white part), sliced
handful of coriander, chopped
½ tsp hot chilli flakes
juice of ½ lime
salt & pepper, to taste
pinch of sugar (if your tomatoes aren't sweet)
RE-FRIED BEANS
1 and ½ cup of dry black beans, soaked overnight (550 g cooked)
2 tbsp olive oil
1 small onion, finely diced
2 cloves garlic, finely diced
2 level tsp ground cumin
1 level tsp smoked paprika
1 level tsp cayenne pepper
3 tbsp lime juice
1 level tsp salt
black pepper
GUACAMOLE
3 small ripe avocados
juice of ½-1 lime
salt
pepper
RICE
1 cup brown rice
2 handfuls of coriander, chopped
lime
salt
pepper
OTHER TOPPINGS
METHOD
Bring black beans to boil making sure you skim the water as nasty foam gathers on top. Cook until tender – for about 30 mins. Set aside.
Cook brown rice in plenty of water for about 35-40 mins. Drain and cool. Mix in two handfuls of chopped coriander and 2 tbsp of lime juice. Season with salt and pepper. Set aside.
If you're using regular tomatoes, deseed them before chopping. Chop tomatoes into fine dice. Add in chilli flakes, lime juice and sliced spring onion. Season with salt, pepper and sugar (if using). Set aside for the flavours to mingle.
Put a kettle on to get hot water for your tortillas. To make tortillas mix flour, baking powder and salt in a big bowl. Add olive oil to the flour mixture and incorporate it well with your hands. Once water is ready, add it in. Initially mix it all together with a spoon as the mixture will be too hot, then start kneading it (in the bowl) with your hand. Knead for about 5 minutes until the dough is smooth and elastic. Rest the dough for about 30-45 mins covered with a wet kitchen towel. The resting step is very important so do not skip it.
To make re-fried black beans, mash cooked beans using a potato masher (or a food processor). I like mine with some whole beans left in, but the consistency is up to you. Heat up olive oil in a pan. Fry onion until translucent, add in garlic and fry for another minute. Add in spices and fry for another minute. Add in crushed beans, salt, lime juice and 1 cup of water or stock. Simmer gently until most moisture has cooked out and the mixture has thickened – you can have it looser (add more water) or thicker – again consistency is up to you. I don't like mine too watery as it makes the burrito go soggy.
Once the dough has rested, divide it into 8 equal pieces. Roll each piece of dough into a ball and leave for another 10 minutes under a wet kitchen towel.
Mash avocados with a fork, season with lime juice, salt and pepper and set aside.
Now, it's time to finish the tortillas. Set a large pan on a medium heat (it's important not to get the pan too hot, if your tortilla is getting dark brown spots very quickly it means that the pan is too hot). Set another pan on the lowest heat and dampen a kitchen towel – this set-up is needed to keep tortillas warm and supple. Start rolling out tortillas on a lightly floured surface. Refrain from adding too much flour as it will produce dry tortillas. Once you are happy with the shape (they should be round*) and thickness (I roll mine quite thin), put your tortilla on a pan. Little bubbles should start to appear after about one minute. Do not wait until the bubbles go dark brown as that will make tortillas dry out too much and they'll crack later. After about 2 minutes (depends on how thick yours are) from when tortilla hit the pan, flip the tortilla and cook for only about 30 seconds on the other side. As soon as you are done, put the tortilla into the other pan and cover with damp kitchen towel. Continue the same way with all your tortillas.
Finally, assemble your tortillas by putting chopped up lettuce, re-fried beans, salsa, rice and guacamole in the middle of the tortilla and rolling it up.
NOTES
* Don't get discouraged if your tortillas aren't perfect circles. Mine weren't too – as you can probably tell by the photos, but it doesn't really matter.
Keep cooked tortillas in a warm place covered with a damp tea towel to prevent them from drying out and losing elasticity.