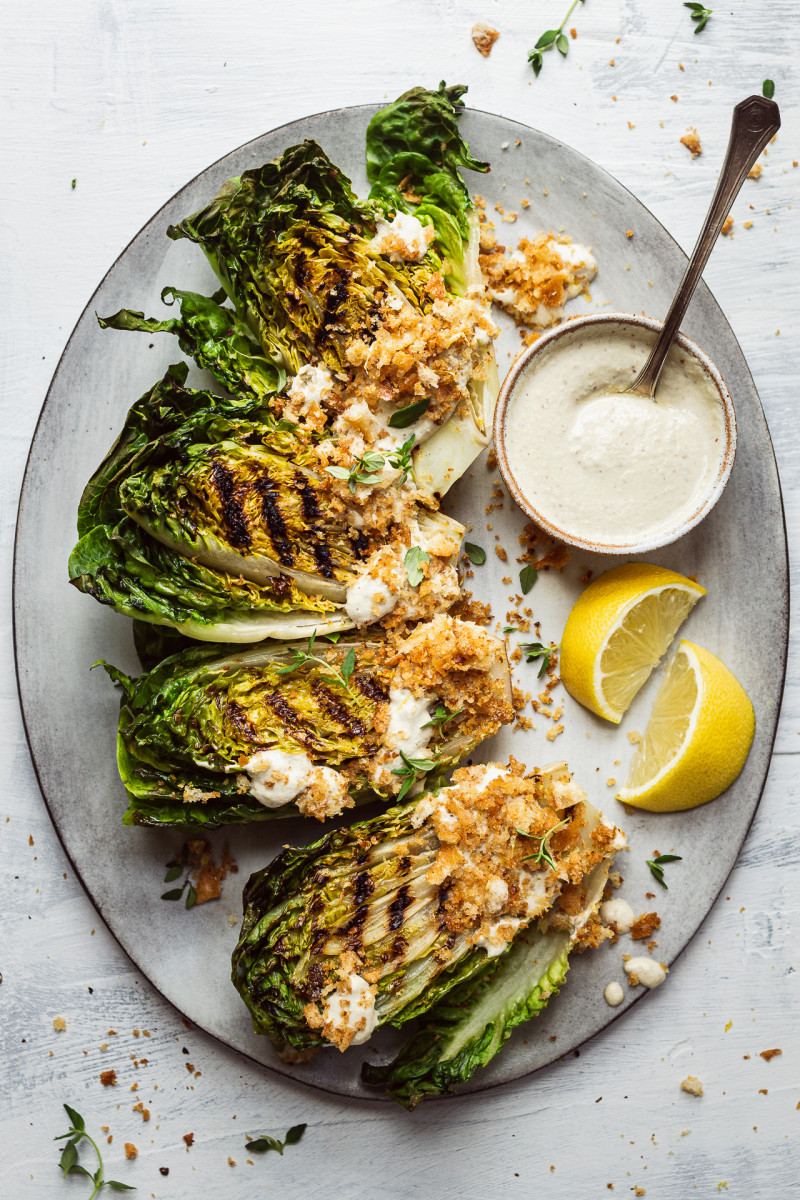 Although if you were to look outside of my window right now, you would not have guessed that it's the end of May, I hear that many other parts of the world are enjoying BBQ weather so I thought I would rush in with a simple BBQ-friendly salad idea.
This simple platter of charred lettuce – yes, you read that right and don't knock it till you tried it – adorned with a creamy vegan Caesar dressing and some delicious breadcrumbs is easy to make and it makes for a perfect BBQ side.
Due to a lot of heavy rain in these parts lately, I made this dish on my trusted griddle pan, but if you are firing off a BBQ this salad is perfect for it. Make the sauce and breadcrumbs in advance and you are all set.
MORE ABOUT THE INGREDIENTS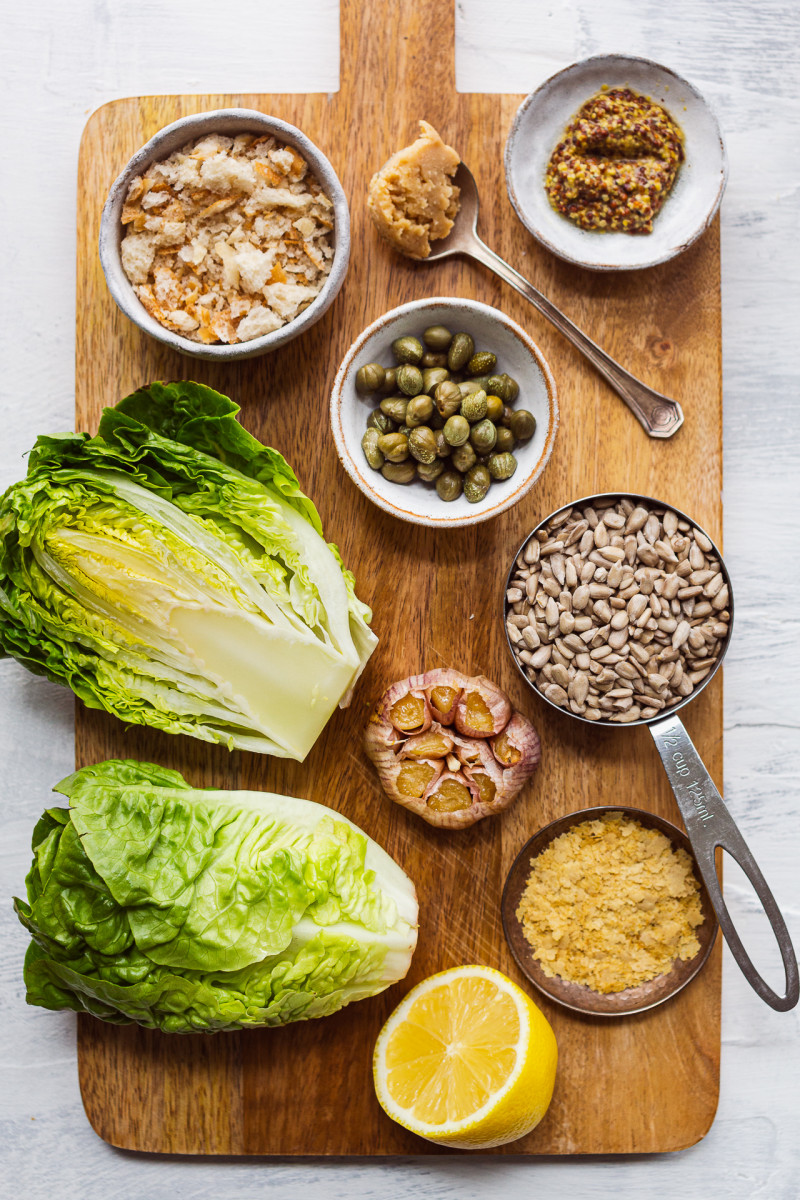 LETTUCE: there are a few types of lettuce you can use in this dish – Gem or Romaine (also known as Cos) are both suitable. Charring lettuce may seem like a strange thing to do but it really works, trust me.
SUNFLOWER SEEDS: sunflower seeds softened in water make a great nut-free base for the creamy dressing. Sunflower seeds are cheap and easily accessible and perfect if you cannot have nuts. If you prefer a nut base, raw cashews make for a creamy sauce too.
GARLIC: I added a few cloves of roasted garlic as I like its mellow flavour, but if you prefer something a little more pungent use a clove (or less) of raw garlic instead.
MISO: a dash of white (shiro miso) miso paste adds a nice depth of flavour and some saltiness. If you only have red miso paste, simply add a little less as it tends to be more potent.
CAPERS: I used drained, pickled in brine, capers to add another flavour dimension to this dressing.
NUTRITIONAL YEAST: A staple vegan seasoning that adds a hit of cheesiness and a nice depth of flavour to this dressing. If you don't have it, skip or compensate by using a little more miso.
COARSE BREADCRUMBS: I make my own breadcrumbs by allowing my bread (I use Turkish pide as that's what we eat a lot of) go stale (cube it first) and pounding it in my pestle and mortar. For this application, it is best to use coarse breadcrumbs as they add an extra layer of texture to this simple dish. If you want to make this dish gluten-free, toasted almond flakes would be a nice substitute.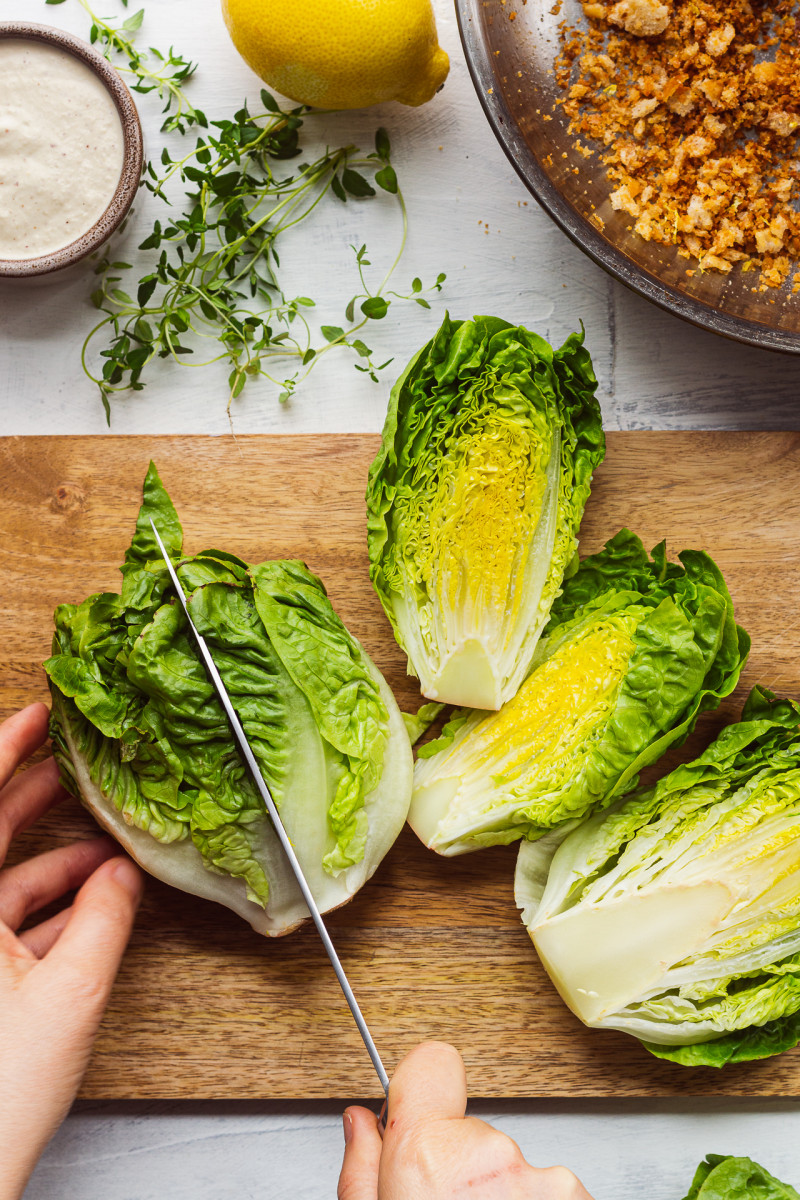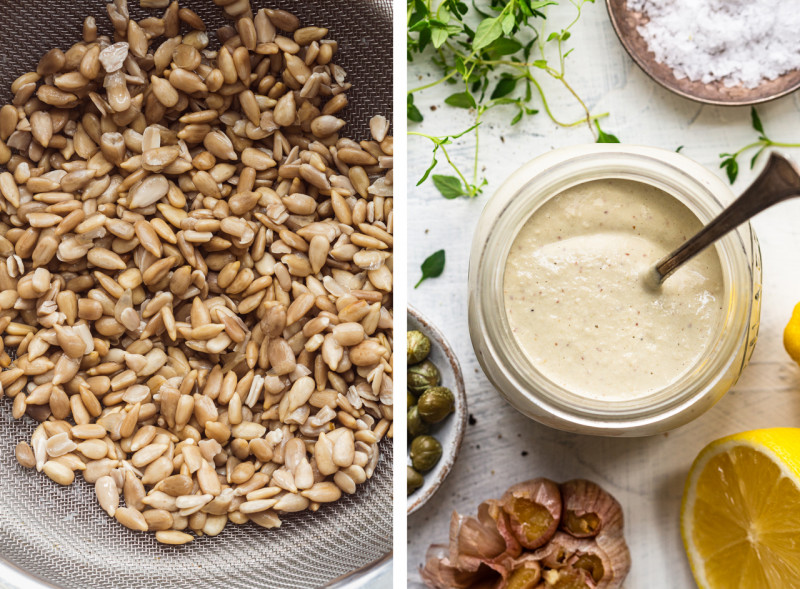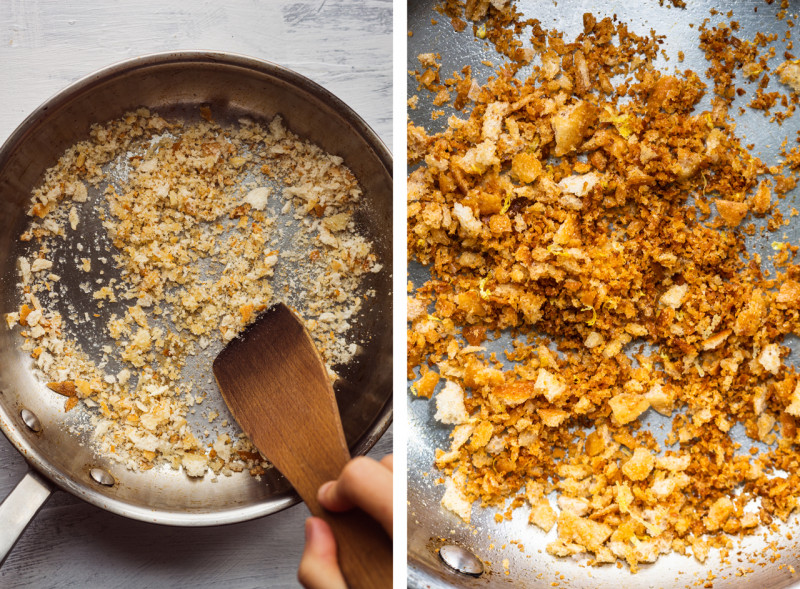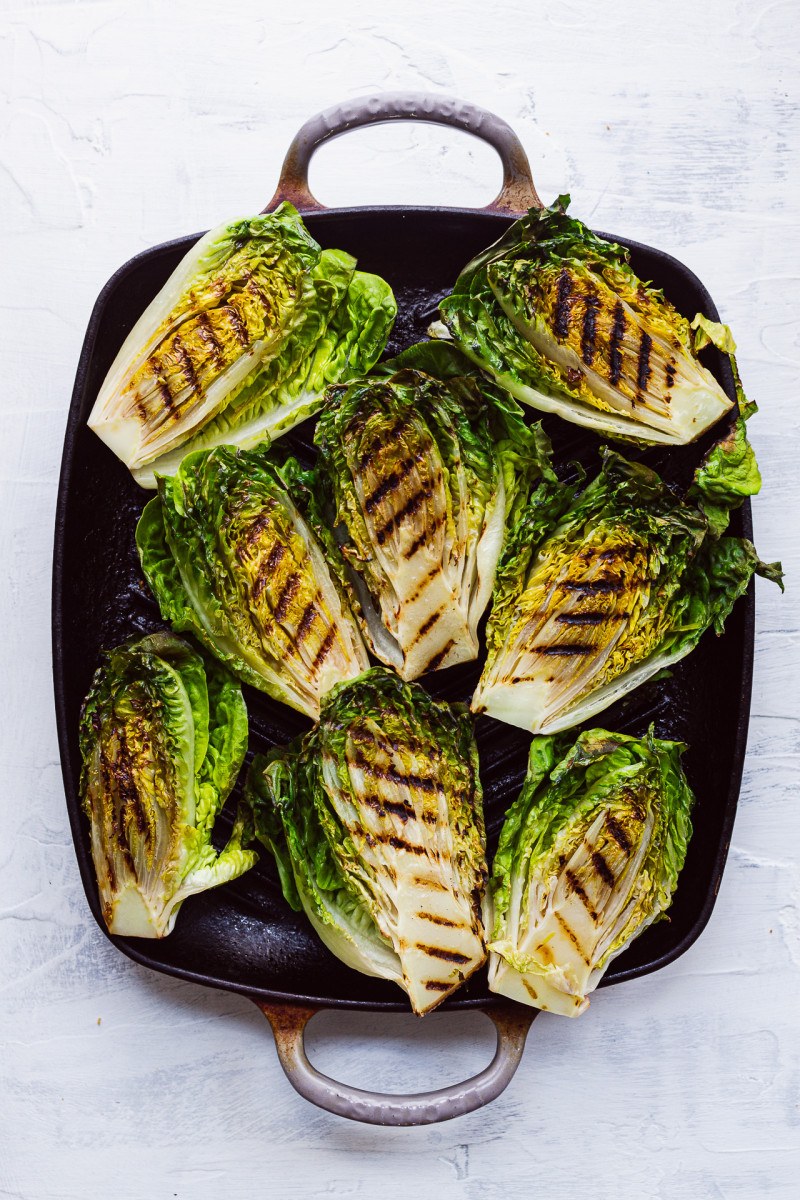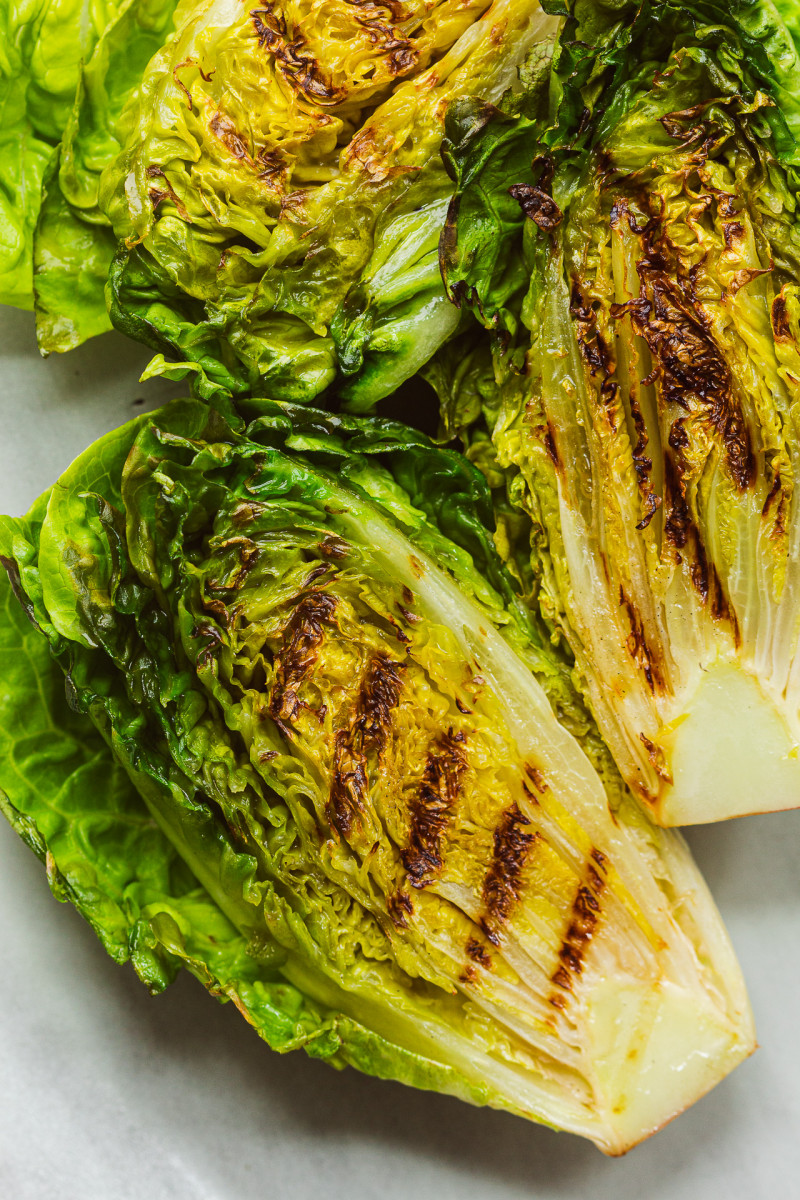 4 heads of Gem or Romaine (Cos) lettuce
olive oil
CAESAR DRESSING
60 g / ½ cup raw sunflower seeds OR cashews
½ roasted head of garlic or 1 raw clove
2 tsp white / shiro miso (optional)
1½ tsp wholegrain mustard
2 tbsp fresh lemon juice
1-2 tbsp capers in salty brine, drained
2 tbsp nutritional yeast
150 ml / ½ cup + 2 tbsp neutral plant milk
1 tsp maple syrup or sugar
sea salt, to taste
black pepper, to taste
FRIED BREADCRUMBS
15 ml / 1 tbsp olive oil
30 g / ½ cup coarse breadcrumbs
pinch of salt
zest of ½ lemon, optional
METHOD
Heat up a griddle pan (or a BBQ).
Halve (or quarter) your lettuces. Brush cut sides of the lettuce with a little bit of oil.
Arrange lettuce halves on a hot griddle pan cut sides down. Leave undisturbed for about 5 minutes – until visible char marks develop.
CAESAR DRESSING
Soak sunflower seeds (or cashews) in boiling water for 30 minutes or in cold water for several hours or overnight. Drain.
Place sunflower seeds (or cashews) and the remaining ingredients in a blender and blend until super smooth. Hold off with adding salt until the end as both miso and capers add saltiness. I recommend using a small batch blender, like this Ninja one I own, to make a dressing like this. If using a regular upright blender you may need to double the amount.
FRIED BREADCRUMBS
Heat up olive oil in a stainless steel pan, on a low-medium heat.
Once the oil starts to shimmer, add breadcrumbs. Stir them into the oil and toasted them on a low heat until golden and fragrant (approx. 5 minutes), stirring frequently.
Season with a pinch of salt and grate in some lemon zest if liked.
ASSEMBLY
Arranged charred lettuce on a serving platter, drizzle with some of the Caesar dressing (serve some on a side) and sprinkle generously with fried breadcrumbs.
NOTES
*ROASTED GARLIC: To roast the garlic, cut the top of the garlic head off (I recommend roasting 2-3 at the same time) and drizzle the exposed cloves with a small amount of olive oil. Wrap the garlic in a piece of kitchen foil (or a few layers of baking paper) and bake for about 30 minutes in a 200° C / 390° F, until the cloves are soft and sticky.