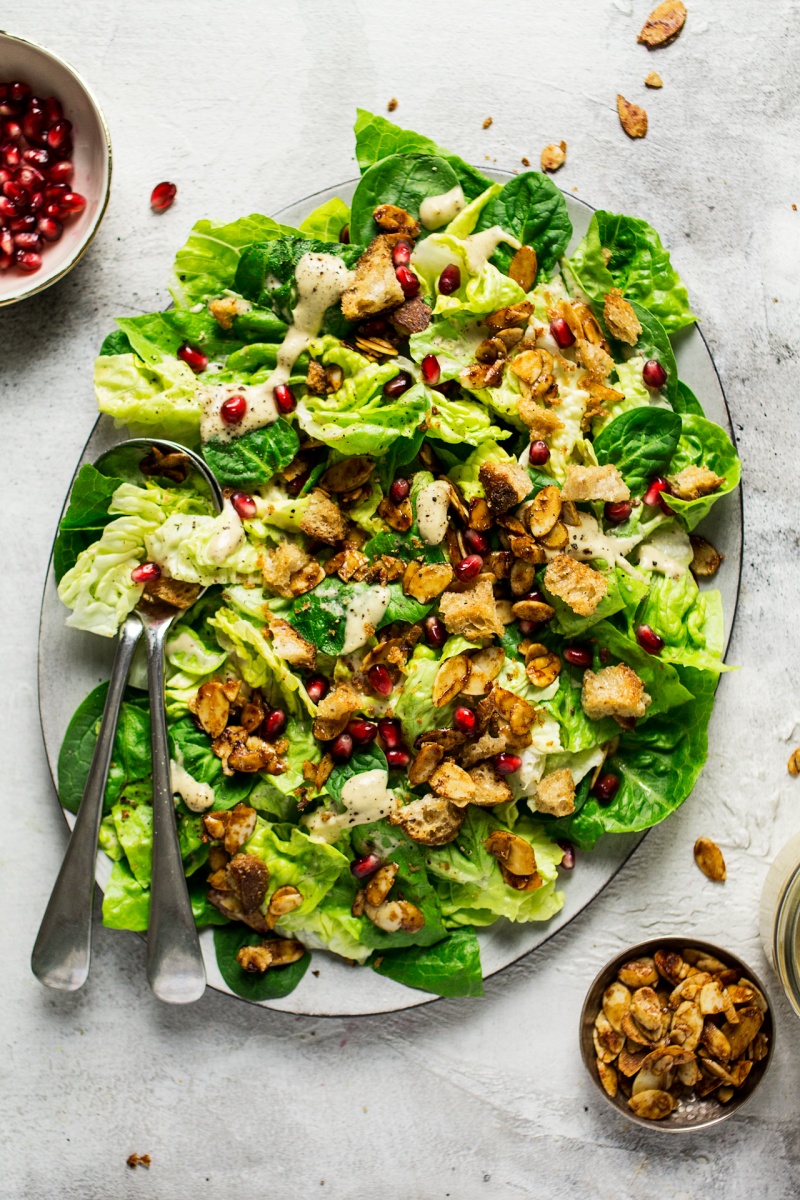 Time for a big green salad to brighten up our January tables and lighten up our meals. Not just any boring salad though, this green beauty is fit for a Caesar… Yes, you've guessed it – today's recipe is my vegan take on a classic: Caesar salad. This puppy has bags of flavour despite being completely free of any animal products.
Crispy cos lettuce gets tossed in an obscenely creamy, tangy and cheesy dressing – this acts as the salad's base, which gets punctuated by crispy sourdough croutons, smoky almond bacon and finally sour pomegranate arils, which add a bit of colour as well as tiny pops of sweet and sour flavour.
The key to this salad is the dressing, which (apart from sticking a head of garlic into a hot oven) only requires throwing all the ingredients in a blender. Next you can choose between homemade croutons or, if you are not keen on bread or follow a gluten-free diet, smoky almond bacon. If you have some more time on your hands make both, but either of these will add another flavour and texture dimension to this crowd pleaser.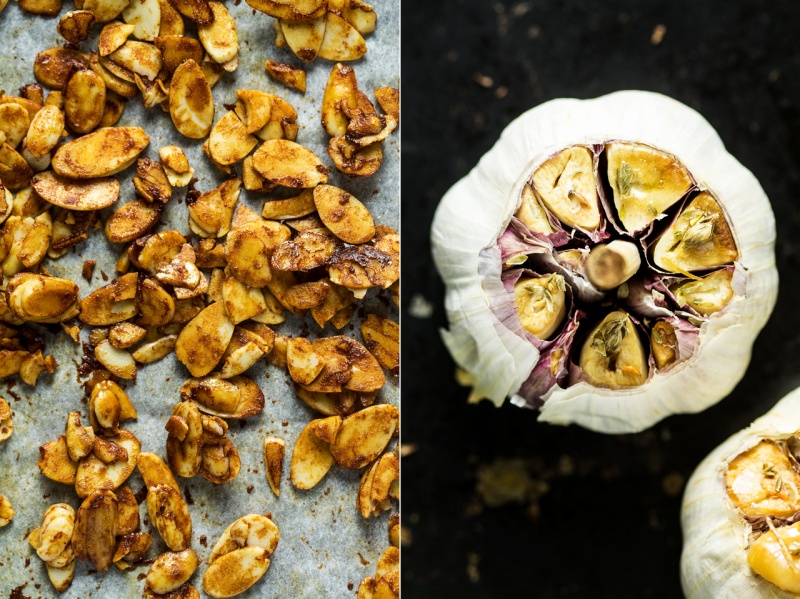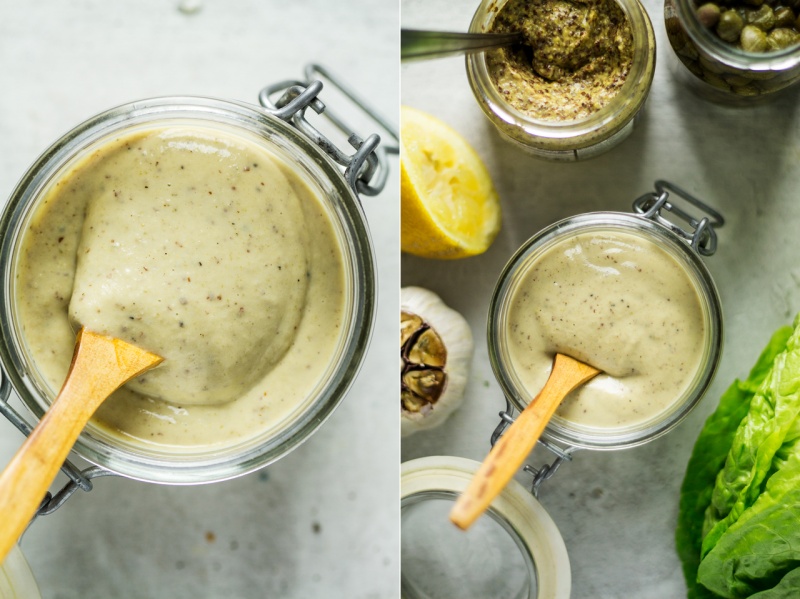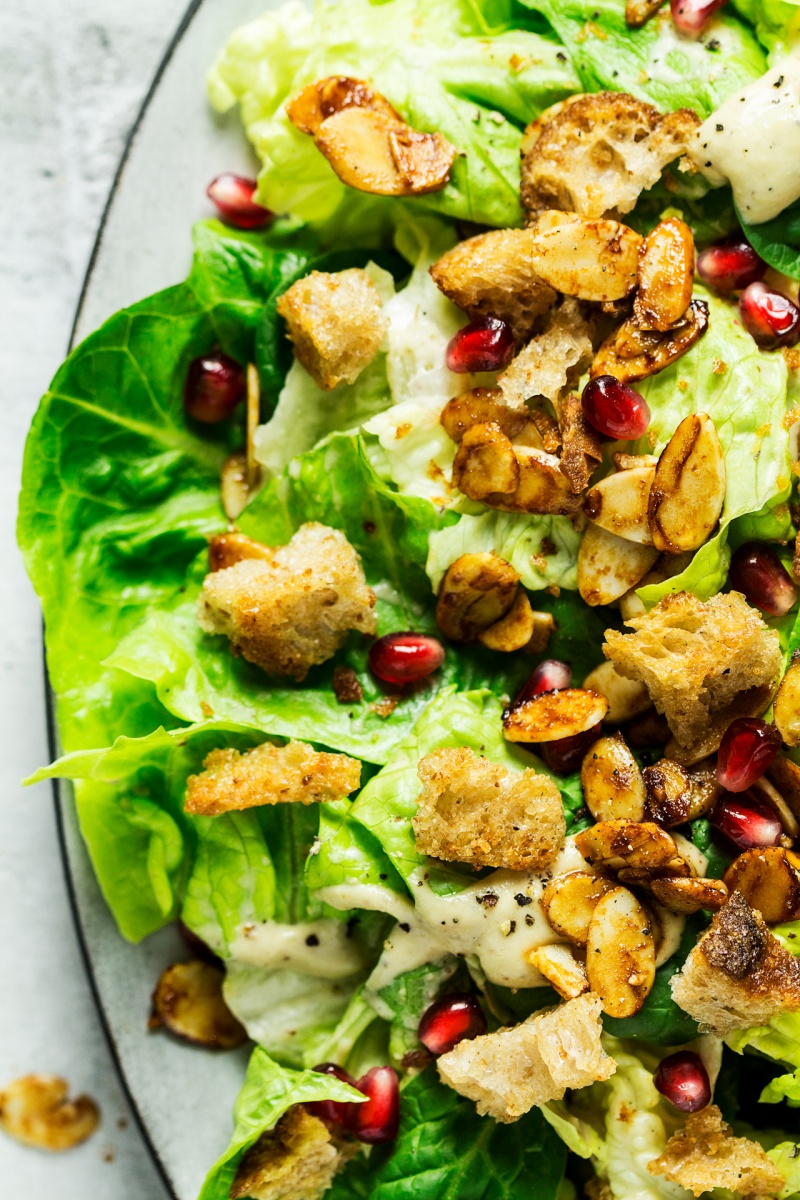 2 baby cos / romaine lettuces OR a bunch of lacinato kale
2 tbsp pomegranate seeds, to decorate (optional)
DRESSING (makes approx. 200 ml / scant 1 cup)
45 g / 1/3 cup raw cashews OR sunflower seeds OR silken tofu
1 head of garlic
1 tsp olive oil (optional)
1½ tsp wholegrain mustard*
1 tbsp fresh lemon juice
1 tbsp capers in salty brine + 1 tbsp brine
2 tbsp nutritional yeast
120 ml / ½ cup unsweetened soy or almond milk
generous pinch of dried thyme
¼ tsp sea salt, to taste
½ tsp maple syrup or sugar
black pepper, to taste
ALMOND BACON
½ tsp tomato concentrate
1 tsp olive oil
1½ tsp maple syrup or sugar
30 ml / 2 tbsp all purpose soy sauce or tamari (if GF)
¼ tsp liquid smoke (or ½ tsp smoked sweet paprika)
45 g / ½ cup almond flakes
CROUTONS (optional)
2 slices stale sourdough
1 tbsp olive oil
fine sea salt, to taste
METHOD
Place cashews or sunflower seeds in a small bowl and cover with boiling water. Set aside for at least 20 minutes to soften.
Heat up the oven to 200° C / 390° F (180° C / 355° F fan).
Cut the top of the garlic head off with a knife (see photo in the post). Drizzle the top of the garlic cloves with a tiny bit of olive oil (it's optional but recommended) and wrap the garlic in a piece of kitchen foil so that the tops of the cloves are protected from getting burnt. Place in a preheated oven for about 40 minutes, until the cloves are soft.
To make croutons, chop the bread roughly into small pieces. If the bread is too stale to cut with a knife, you could try my trick of placing it in a bag (mine usually comes in a paper bag already), keeping the bag closed with one hand, whacking the bread with a mortar (or something else heavy, a hammer is a good one) until the bread crumbles into small pieces inside the bag. It's also an awesome stress reliever 😉 .
Heat up a tablespoon of olive oil in a small pan. Once the oil gets hot, throw the bread pieces into the hot oil. Allow the bread to get crispy and golden, but make sure you move the croutons around the pan a fair bit. Season with a touch of salt. Set aside.
Once the garlic is roasted, decrease the oven temperature to 120° C / 250° F (100° C / 210° F fan) and line a small baking tray with a piece of baking paper.
Mix almond bacon marinade ingredients together in a small bowl. Toss the almond flakes in the marinade and spread them on the prepared baking tray.
Place in the oven for about 20-30 minutes, giving the almonds a good stir halfway through the baking time. They may appear still a little soft when warm but will crisp up once out of the oven and cool.
To make the sauce place peeled roasted garlic cloves, drained cashews (or sunflower seeds or silken tofu) into a blender with the remaining dressing ingredients and blend until super smooth.
Assemble the salad by tossing torn lettuce leaves in the dressing (you'll have some left over). If using kale instead of lettuce, destem it and chop finely before dressing.
Pile dressed salad leaves on a large platter. Sprinkle with almond bacon and / or croutons (if making) and decorate with some pomegranate seeds (if using).
NOTES
*Double check the ingredients as some wholegrain mustard brands are not vegan.