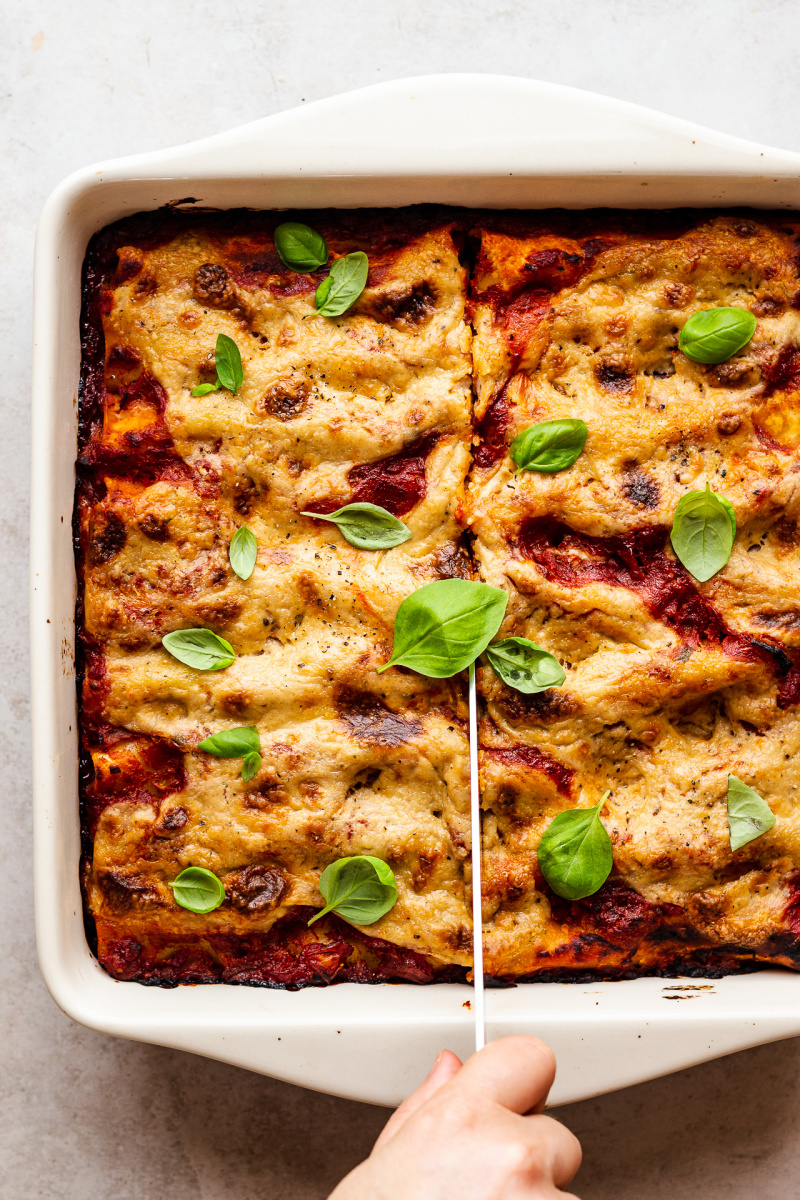 Happy weekend, guys! Hope you have something good planned for the next two days. I'll spend most of my time in front of my computer unfortunately, but I'm working on my bathroom design so that's fun and Duncan and I are also finalising the latest cut of this very website (cannot wait to be able to hit PUBLISH) so it will be worth it. Plus, we will take time off once the weather is a bit more conducive to chilling in the garden without having to be covered in a duvet, haha.
I seem to be on the pasta train this week, perhaps because I've resumed running and so I am more hungry than normal – I'm always hungry but especially so when I run. It's meant to be getting progressively easier with each run but today I had a bit of a setback. My morning run wiped me out so much that I had to divide my photoshoot into two, I was too exhausted to finish. I'm hoping I can fix that by starting to bring some electrolyte-enriched water with me on my runs, especially when it is muggy out there like it was today.
If you too live in the UK, you know that we are having a bit of s***show of a summer again. There were a few gorgeous summer days but now it's back to clouds and a peak temperature of 20° C (68° F) – not what I call summer! I live in hope that some hot summer days will still happen, but in the meantime this dish of spinach ricotta stuffed cannelloni baked in tomato sauce with a smattering of vegan cheese or béchamel sauce is a perfect dish to enjoy right now. It's summery with its flavours of basil and tomato, light – especially if you go for a small portion with a massive side salad – yet also cosy due to the fact that it's oven baked.
While cannelloni may look like a complicated and time consuming thing to make, it really isn't that bad. You can get the tomato sauce started and let it simmer and reduce while you crack on with the filling and stuffing of the pasta tubes. All you need to do for the filling is to plonk a few things in a food processor and taste the end result to make sure the seasoning is on point. Stuffing pasta tubes can get a bit messy and the only efficient way to do it is with a piping bag, which you can totally improvise using a large freezer bag with the corner cut off. Finally, you can top this puppy with a good vegan cheese that melts well or make a quick béchamel instead. It's not that much work overall and the result will keep you fed for several days so it is totally worth it, promise!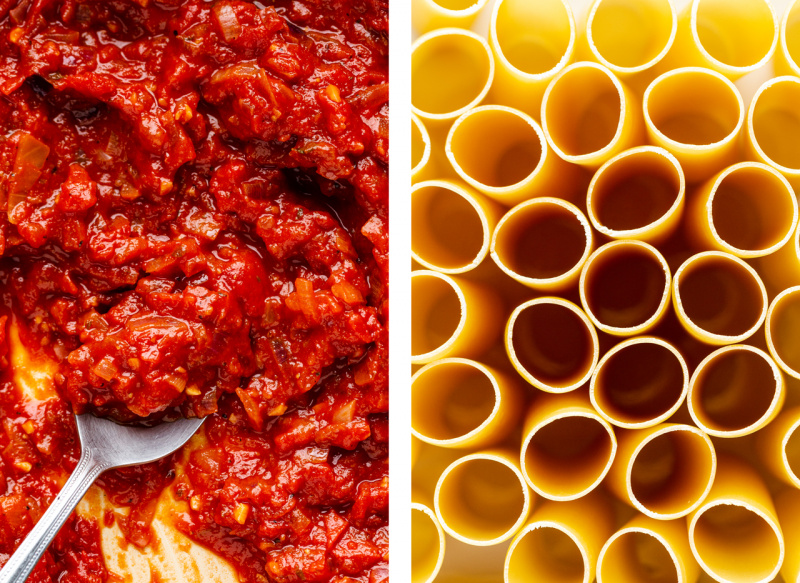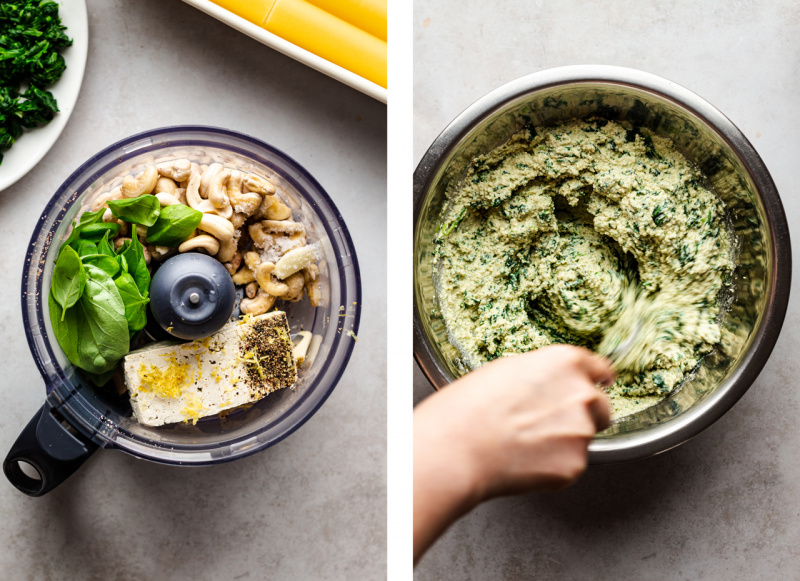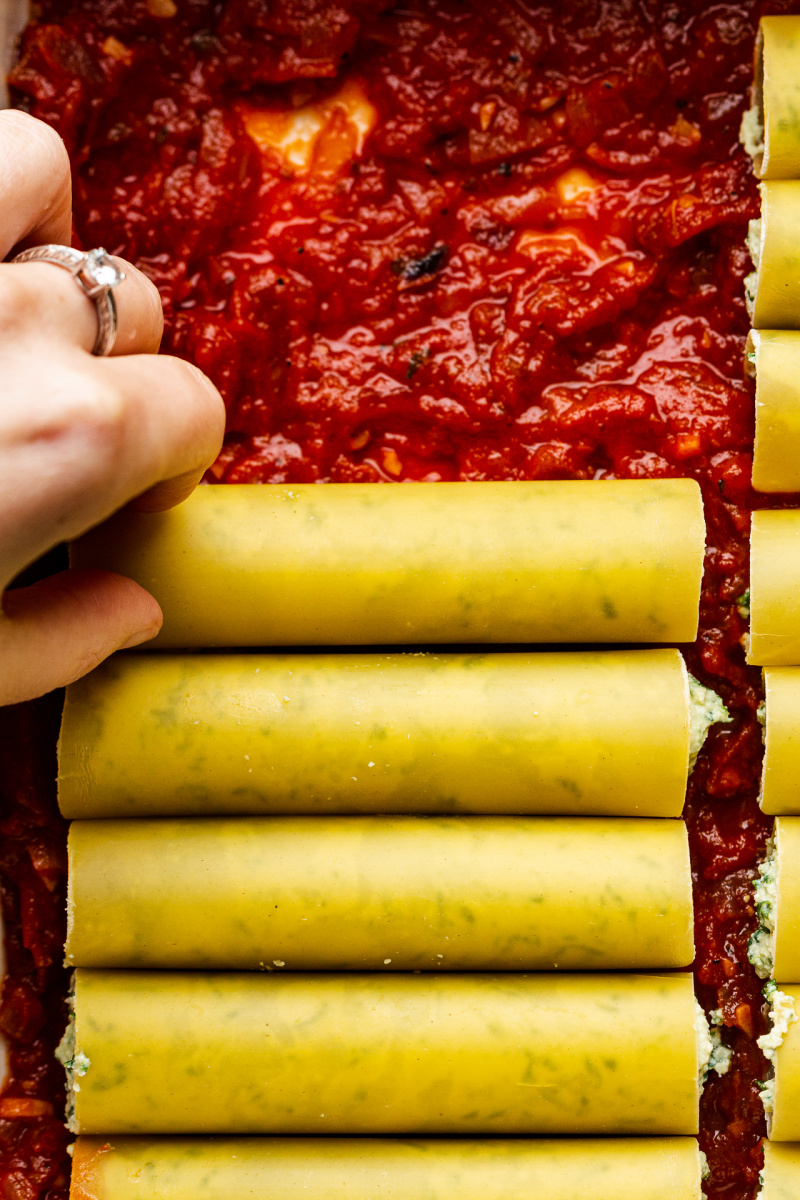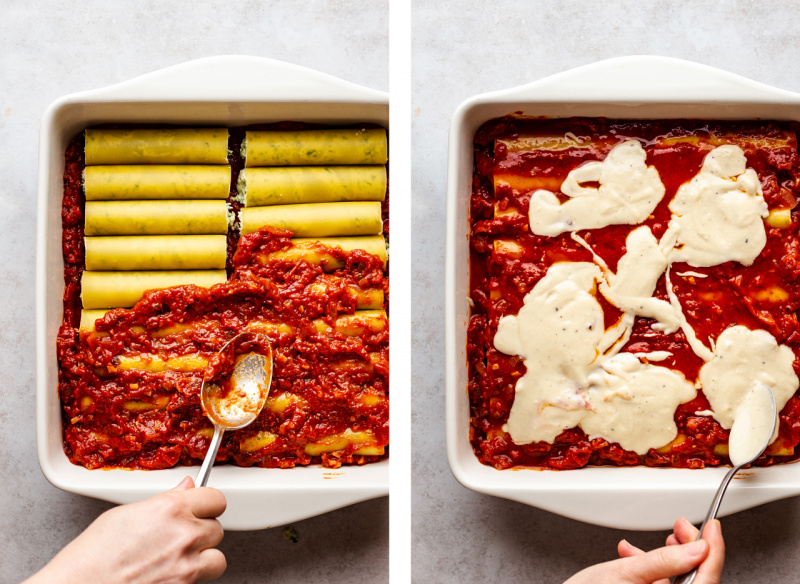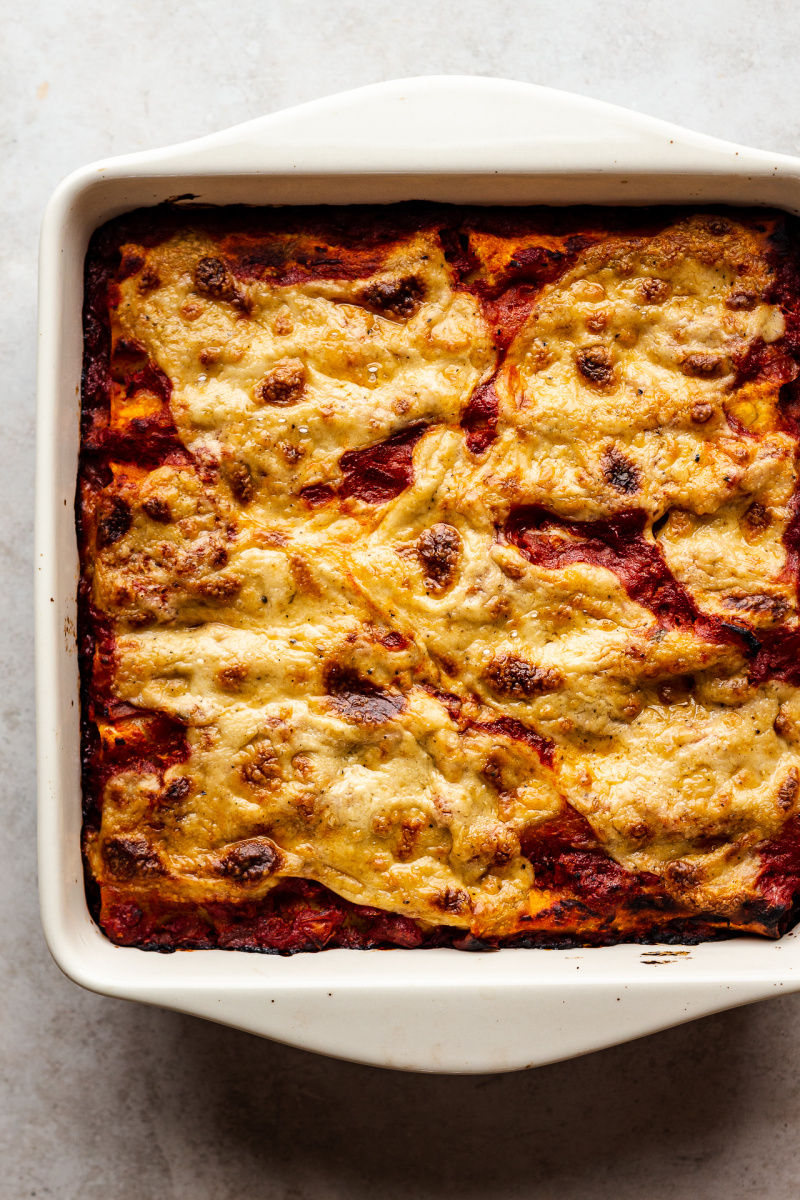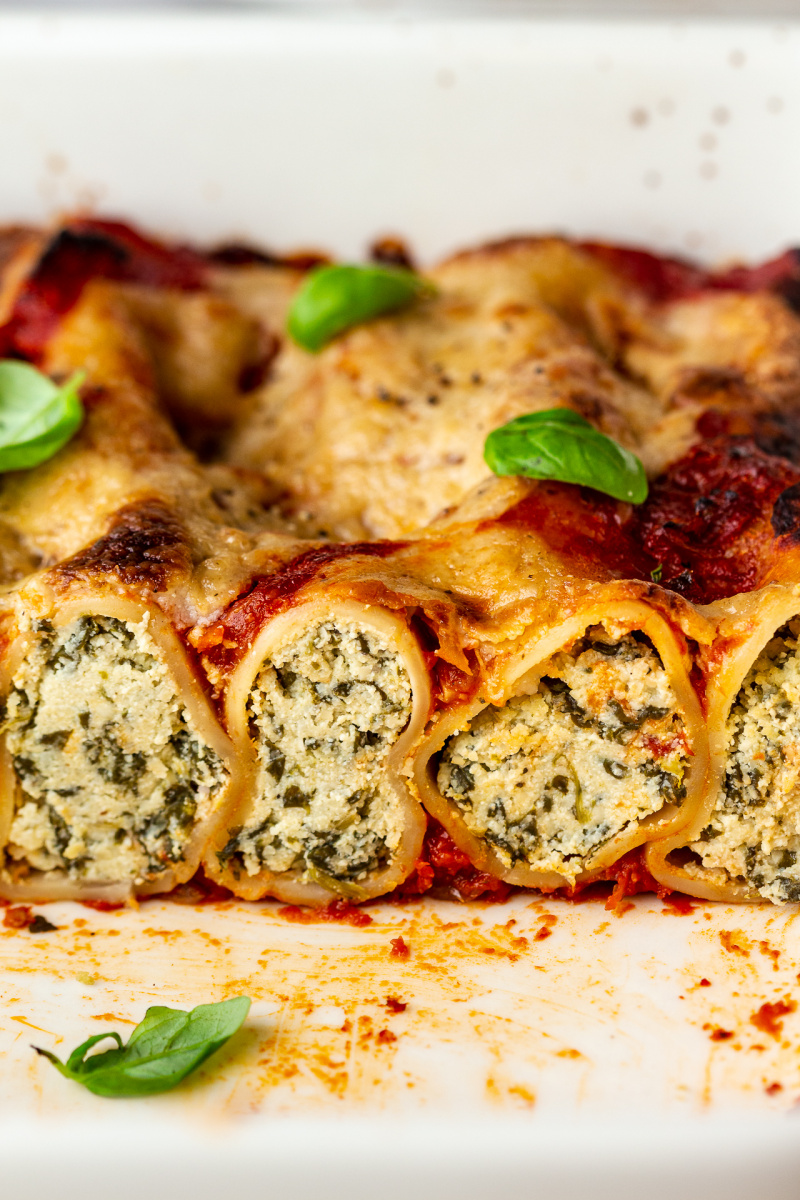 TOMATO SAUCE
2 tbsp / 30 ml olive oil
1 small red onion, finely diced
4 garlic cloves, finely diced
800 g / 28 oz (2 x small cans) quality plum tomatoes
1 tsp Italian herbs
½ tsp fine salt, more to taste
heaped ¼ tsp pepper, to taste
a pinch of chilli flakes (optional)
1 tsp sugar (if needed)
SPINACH RICOTTA FILLING
300 g / 10½ oz baby spinach*
135 g / 1 cup raw cashews (or sunflower seeds for a nut-free version), soaked in boiling water for 30 min
150 g / 5¼ oz firm tofu, drained but no need to press!!!
10 g / 1/3 oz basil leaves or 1-2 tbsp vegan basil pesto
2 tbsp nutritional yeast
2 garlic cloves
¼ tsp black pepper
½ tsp fine sea salt, more to taste
2 tsp white / shiro miso paste (optional)
freshly grated (recommended) nutmeg, adjust to taste
zest of 1 unwaxed lemon
45 ml / 3 tbsp lemon juice
120 ml / ½ cup almond (or other unsweetened plant) milk
REMAINING INGREDIENTS
16-18 tubes eggless cannelloni pasta** (GF if needed)
100 g / 3½ oz vegan mozzarella OR ¼ portion of my béchamel sauce***
fresh basil, to garnish
METHOD
TOMATO SAUCE
Heat up olive oil in a large frying pan.
Add diced onion and sauté until softened and translucent stirring regularly (about 10 minutes on a low heat).
Add diced garlic and sauté for another 2-3 minutes, until fragrant, stirring very frequently.
Next, add in plum tomatoes and squash them gently with a spatula before adding in a can's worth of water.
Season with dried herbs, salt and pepper and a pinch of chilli flakes if you enjoy a little heat.
Allow the sauce to bubble gently for about 45-60 minutes until the tomatoes break down completely and the sauce thickens. Keep an eye on the pan, giving it a stir now and then and top up with more water if the sauce is starting to look dry while the tomatoes are still too chunky. Prepare ricotta filling while the sauce bubbles away.
Once the sauce thickens (see photo), adjust the seasoning to your taste, including a dash of sugar if needed.
SPINACH RICOTTA FILLING
Sauté the spinach in a large pan or blanch it in a pot of boiling water for 30 seconds, then immediately refresh under a cold tap. Let it cool down.
Drain the nuts (or seeds) and place them in a food processor along with all the remaining ingredients.
Blend until you you get a uniform creamy, mixture with a little bit of texture. Taste and adjust the seasoning if needed remembering that you won't be able to salt your pasta tubes.
Squeeze all of the water out of the spinach using your hands, be thorough and either add it to the food processor and process until uniformly minced or chop it by hand (I prefer that as it gives me more control) and stir it through the 'ricotta' mixture before filling the cannelloni.
ASSEMBLY
Preheat the oven to 180° C / 360° F.
Spoon half of the tomato sauce at the bottom of a baking tray and around the edges so that cannelloni doesn't touch the baking tray directly.
Using a piping bag (a large freezer bag with a corner cut off works well), fill the cannelloni with the spinach ricotta mixture and arrange on the tomato sauce (see photos).
Spoon the rest of tomato sauce on top of the filled cannelloni and tuck it into any gaps.
Pour about 60 ml / ¼ cup of water all over the baking tray and top the cannelloni with shredded vegan cheese or pools of homemade béchamel.
Bake for about 35 minutes, then increase the oven temperature to 220° C / 425° F for the last 10 minutes to get that golden top. Enjoy warm or at room temperature. Store leftovers in an airtight container in the fridge for up to 5 days or freeze.
NOTES
*You can use defrosted, frozen spinach (probably closer to 500-600 g / 17-21 oz) but make sure it's squeezed out well.
**200-220 g / 7-7¾ oz (UK brands sell them in 250 g / 8¾ oz packets, which contain 21 tubes).
***You can also use a homemade cashew cream as topping.
The baking dish I used is a square 25 cm / 10″ dish, but another shape dish of similar surface area will work just as well.