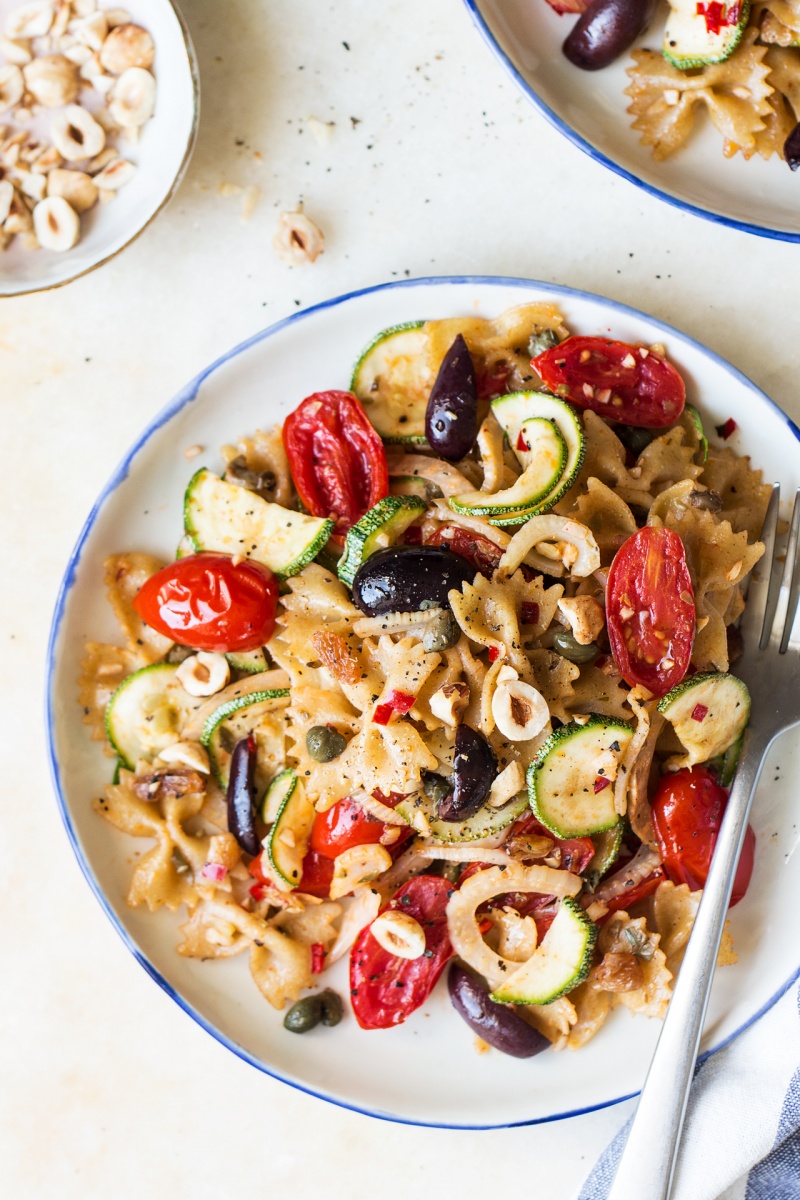 I have made no secret of the fact that I'm obsessed with capers! I mean those little flower buds pickled in salty brine have the potential to brighten any vegan meal like nothing else.
It's a good job they are widely popular here in Greece, often harvested locally on the island, as I buy them by the kilo, literally! My latest caper splurge was 1.2 kg (!) and the sad thing is that I will be out of capers again in a month or so.
Not all capers have been created equal though, so if you can buy them in bulk, aim for plump, sturdy buds in a variety of sizes (as opposed to uniform ones). Also make sure that they are fairly salty as they double up as a beautiful seasoning for whatever you are making with them. Such is the case with this simple vegan caper pasta with a variety of late summer veggies.
Because the capers I get are rather salty, I ended up adding no salt to the pasta itself or the sauce and it was spot on. Salt content really depends on how the pickling brine has been prepared so you may end up having to adjust it to your taste. As a precaution though, I would say to err on the side of caution. There is nothing worse than an overly salty dinner.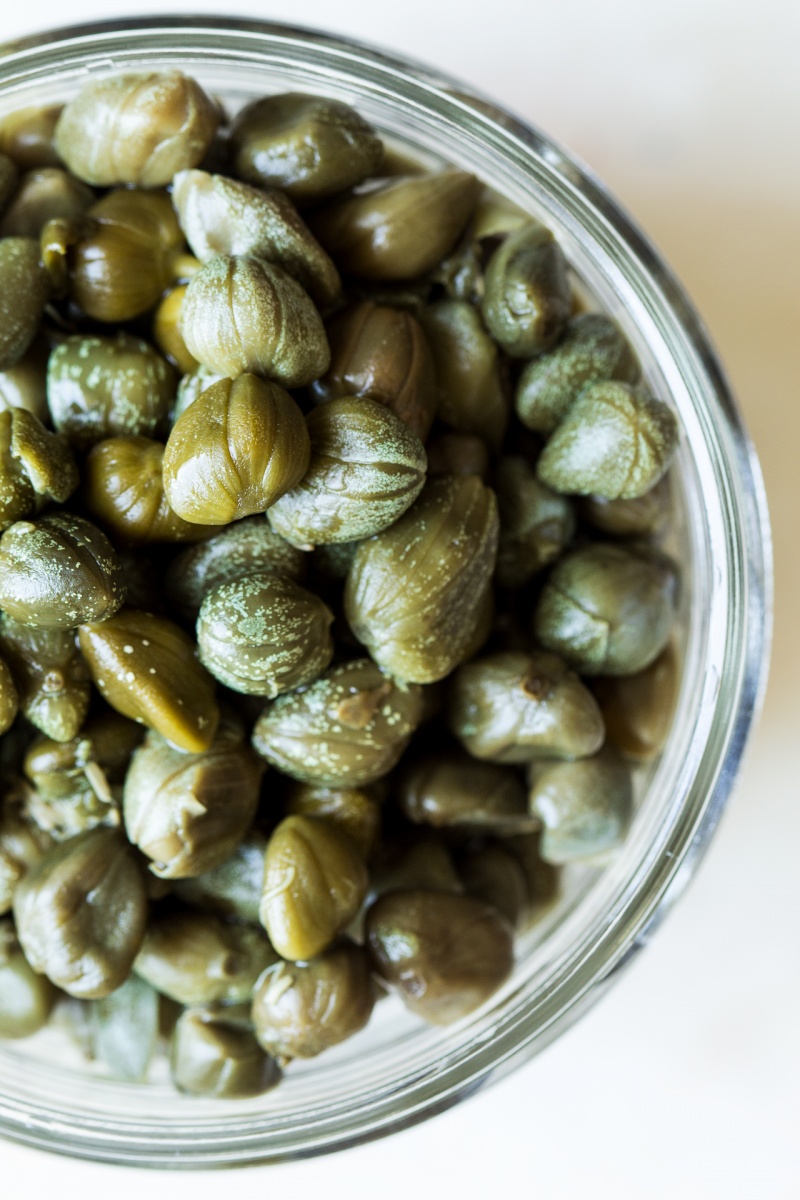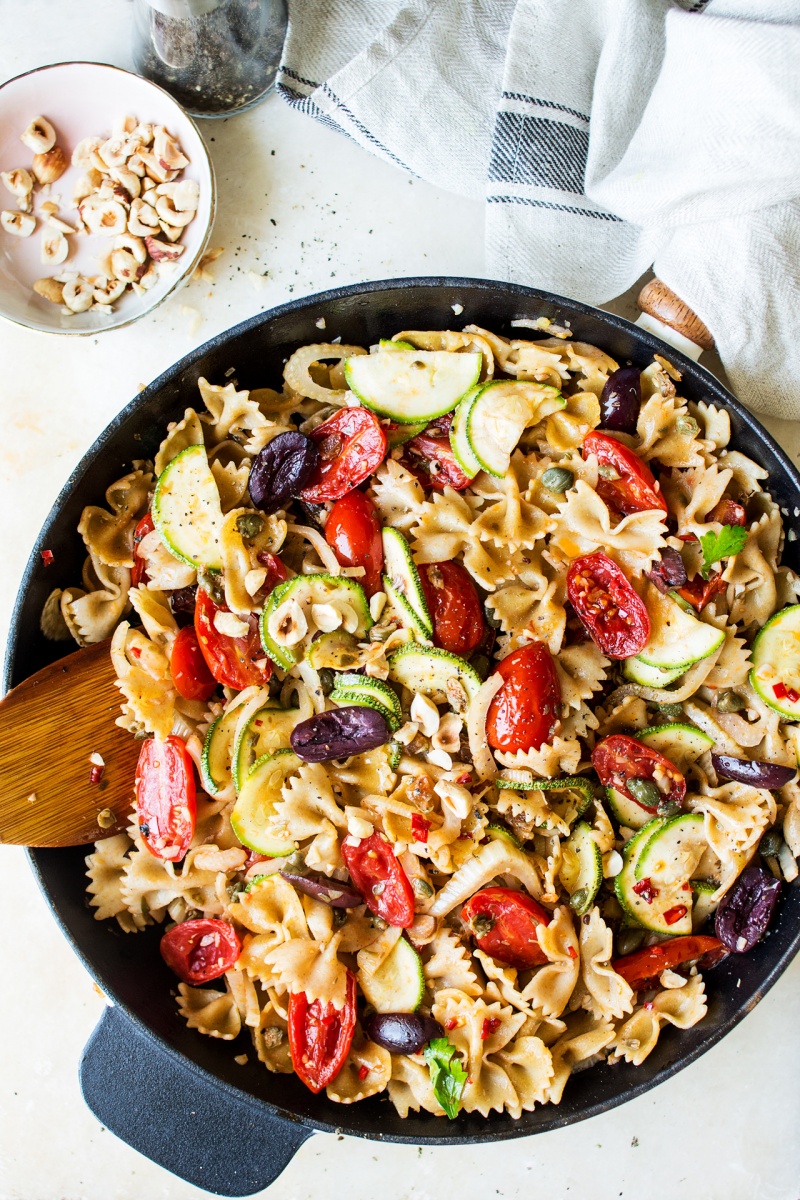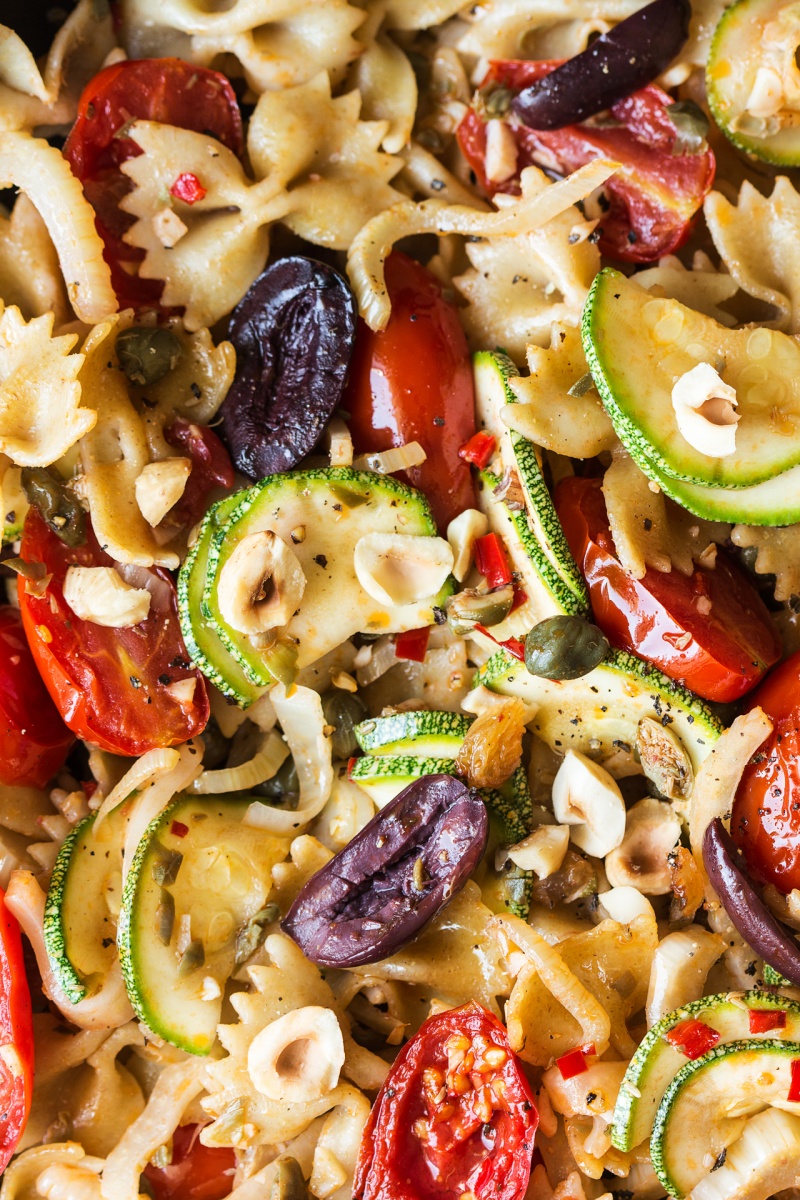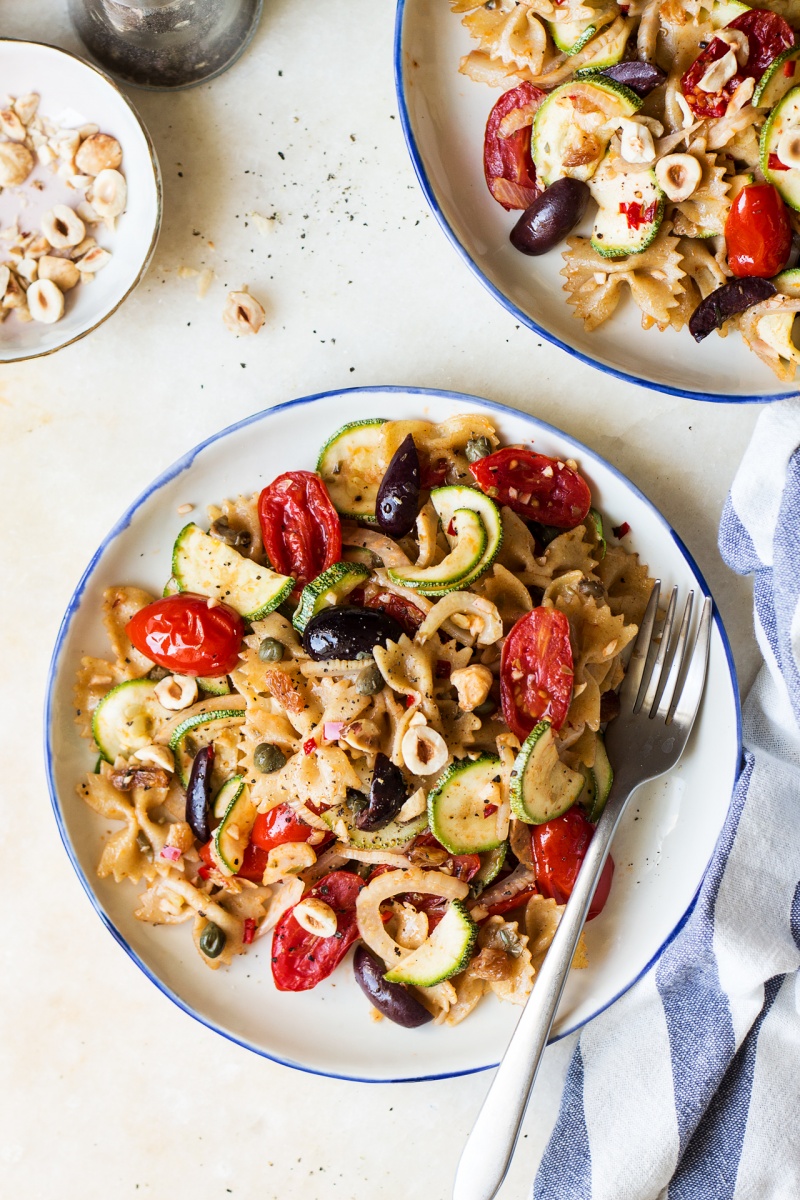 200 g / 7 oz of your farfalle* (I used wholemeal pasta)
2 tbsp / 30 ml olive oil
3 garlic cloves, chopped finely
½ red hot chilli, chopped finely or ½ tsp sambal oelek
about ½ cup chopped tomatoes (optional), tinned or fresh
15 sweet cherry tomatoes, halved
1 small fennel bulb
1 small zucchini, sliced very thinly
2 heaped tbsp capers (in salt, not vinegar), chopped
1 tbsp sultanas, finely chopped**
8 Kalamata olives, pitted and halved
black pepper, to taste
2 tbsp roasted hazelnuts, chopped roughly
METHOD
Boil a large pot of water and cook your pasta just short of al dente (so that it doesn't overcook once it hits a hot pan), following the instructions on the packet.
Heat up a heavy frying pan over a low-medium heat. Add 2 tbsp of olive oil to the warm pan and swivel it around the pan. Once the oil heats up and starts to shimmer lightly, add finely chopped garlic and fresh chilli (if using) and fry them gently for a few minutes. Make sure you stir frequently so that the garlic doesn't burn.
If you have chopped tomatoes on hand, add them in at this point. They are not necessary, but I recommend adding them if you like your pasta more saucy. Sauté them gently for about 5 minutes, until they soften and the excess water cooks out.
Add tomato halves and sauté them gently until they soften and the chopped tomatoes (if using) thicken a little further (for about 5-10 minutes). If using chilli paste instead of fresh chilli, you can add it in now.
Add finely sliced fennel to the pan. Cook gently for 2-3 minutes until just softened. Remember to give the pan a good stir from time to time.
Finally add in thinly sliced zucchini, chopped capers, chopped sultanas and olive halves. Cook for another minute or so – just until the zucchini is no longer raw.
Season with black pepper and salt (only if your capers don't provide enough salt).
Mix in cooked pasta. Serve topped with chopped roasted hazelnuts.
NOTES
*Use gluten-free pasta for a gluten-free meal.
**If you don't like them, you could add 1 tsp of sugar / molasses to the tomatoes instead.