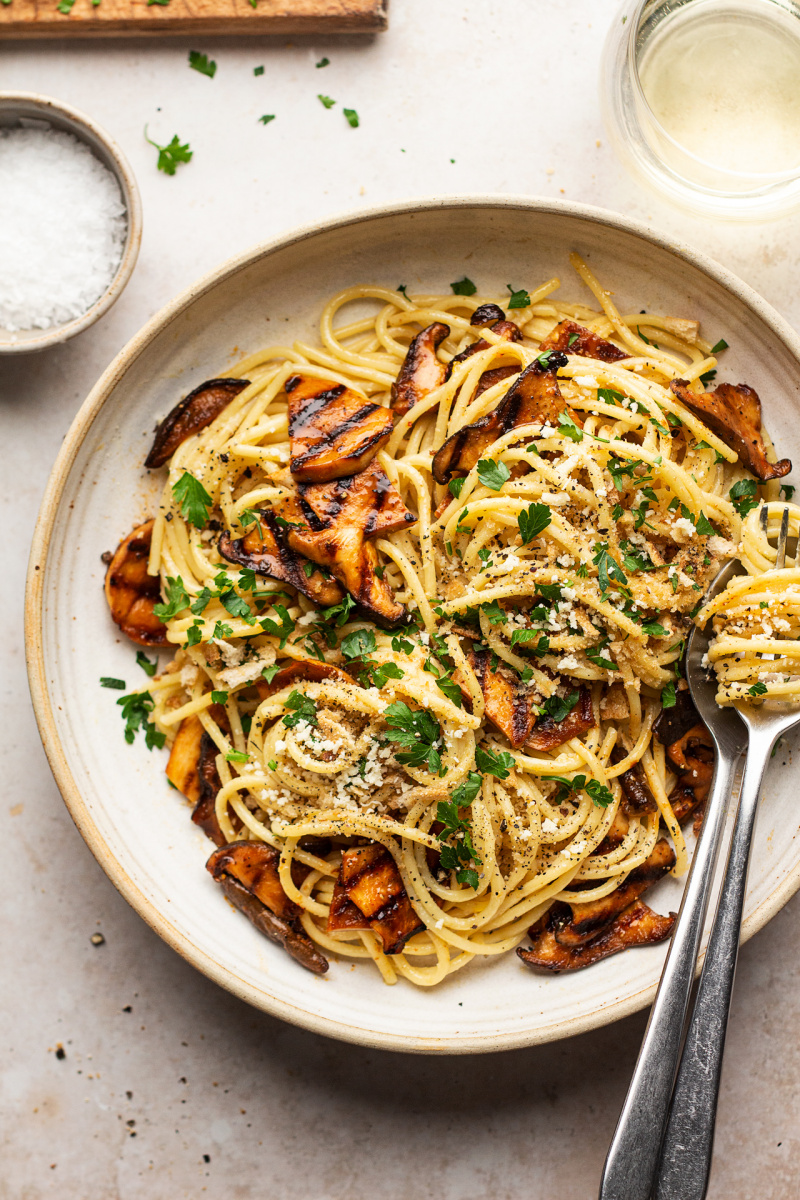 Happy Thursday, guys! I hope you are doing well and staying safe in these challenging times. After several gloriously warm and sunny days, here in Bristol, it's our turn to take some rain and so I have the overwhelming need for comfort, and that includes some comfort food. While I love and am capable of making a wide variety of foods, it is pasta that I always seem to gravitate towards when I want something simple, yet ultimately really comforting, to eat. This is maybe why right now, when things are so uncertain, I seem to have lots of cake and pasta ideas percolating in my head. I shall test them meticulously ( 😉 ) and release them into the world one at a time to sweeten your 'life in captivity'.
First up is a real classic – spaghetti carbonara – made vegan. It's not an easy thing to veganise as the traditional version relies on animal products (bacon, eggs, cheese) heavily, but I have come up with a vegan version and I am really happy with the outcome. It may ruffle a few feathers as I have noticed that certain omnivores are particularly hostile when you attempt to veganise dishes that are inherently (very) non vegan. They just don't get it, do they? Many of us grew up on them and miss the taste of them, we just don't want to inflict pain on a living being for the sake of our pleasure. Simples.
I replaced bacon with meaty king oyster mushrooms, which used to only be available in Asian grocers but nowadays you can easily find them in big supermarkets (I bought them in my local Tesco). I marinated them in a heady concoction of sauces and spices for a few hours and then cooked them on a griddle pan until charred. If you cannot find them, use other mushrooms instead or make facon tofu or tempeh, almond, or coconut flakes – there are many many possibilities, so open your pantry and get creative! As for the pasta sauce, I made a simple, skillet-only and nut-free sauce using olive oil, quality soy milk and starchy pasta cooking water – yup, that's right. Super easy. It's flavoured with garlic and miso paste for a hint of umami and nutritional yeast for cheesiness. It's been a big hit in our house and I hope you and your housemates will enjoy it just as much. x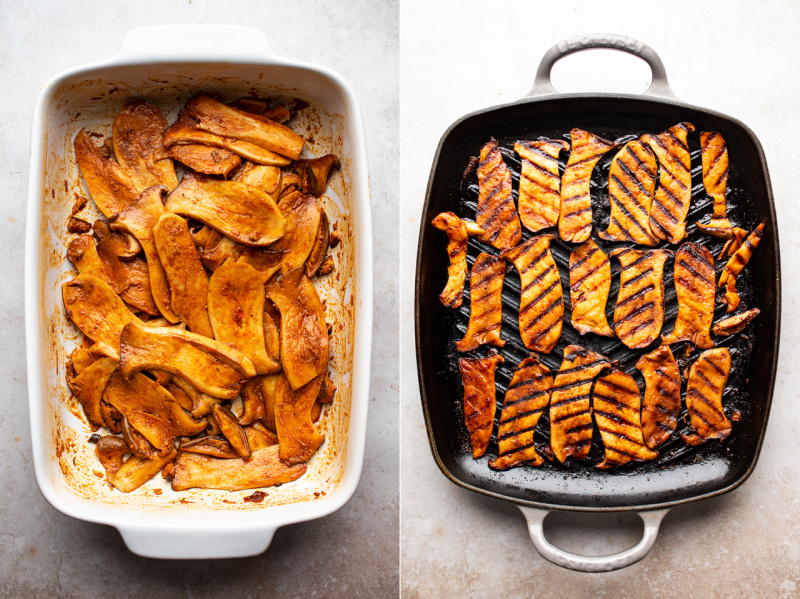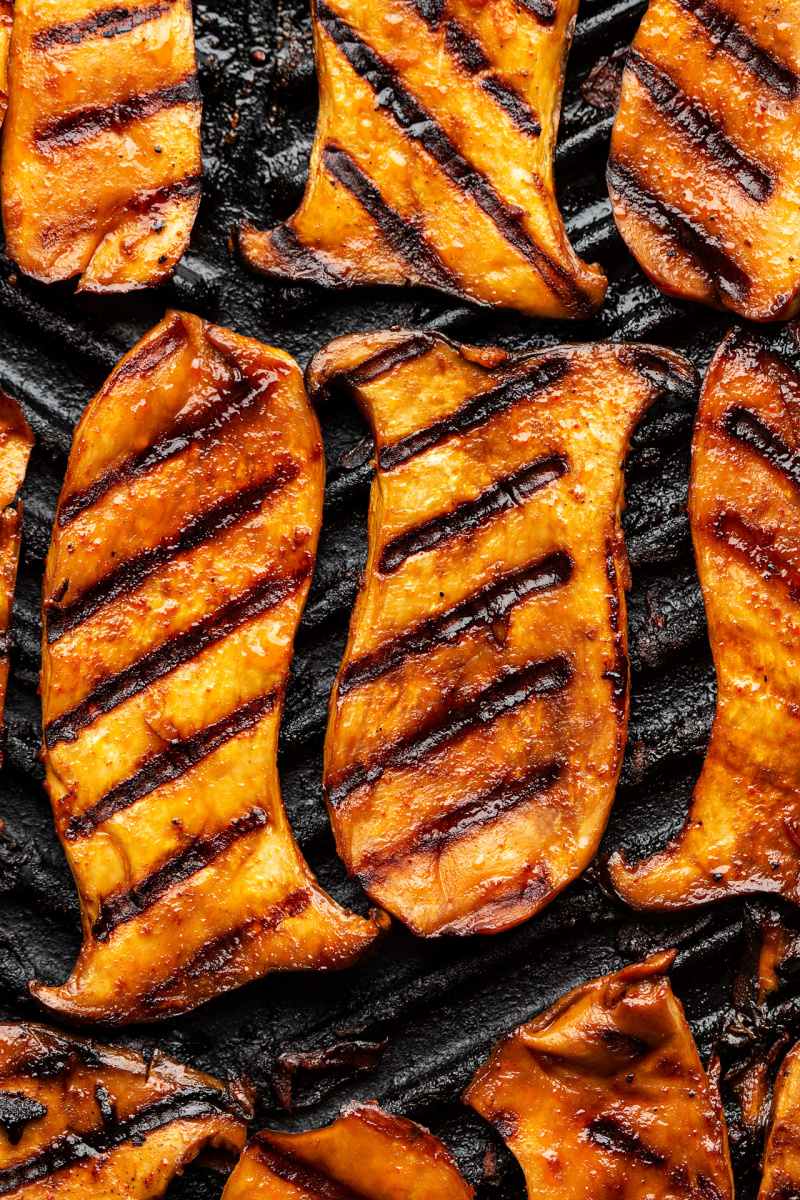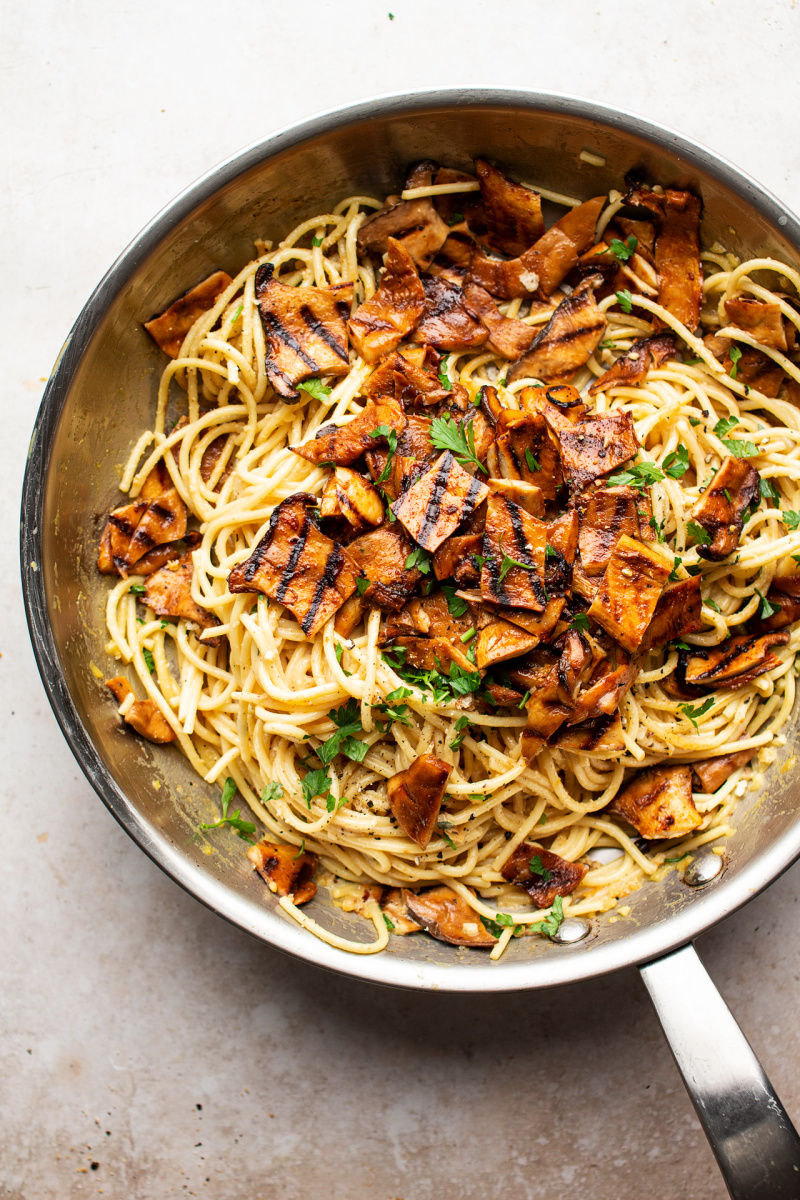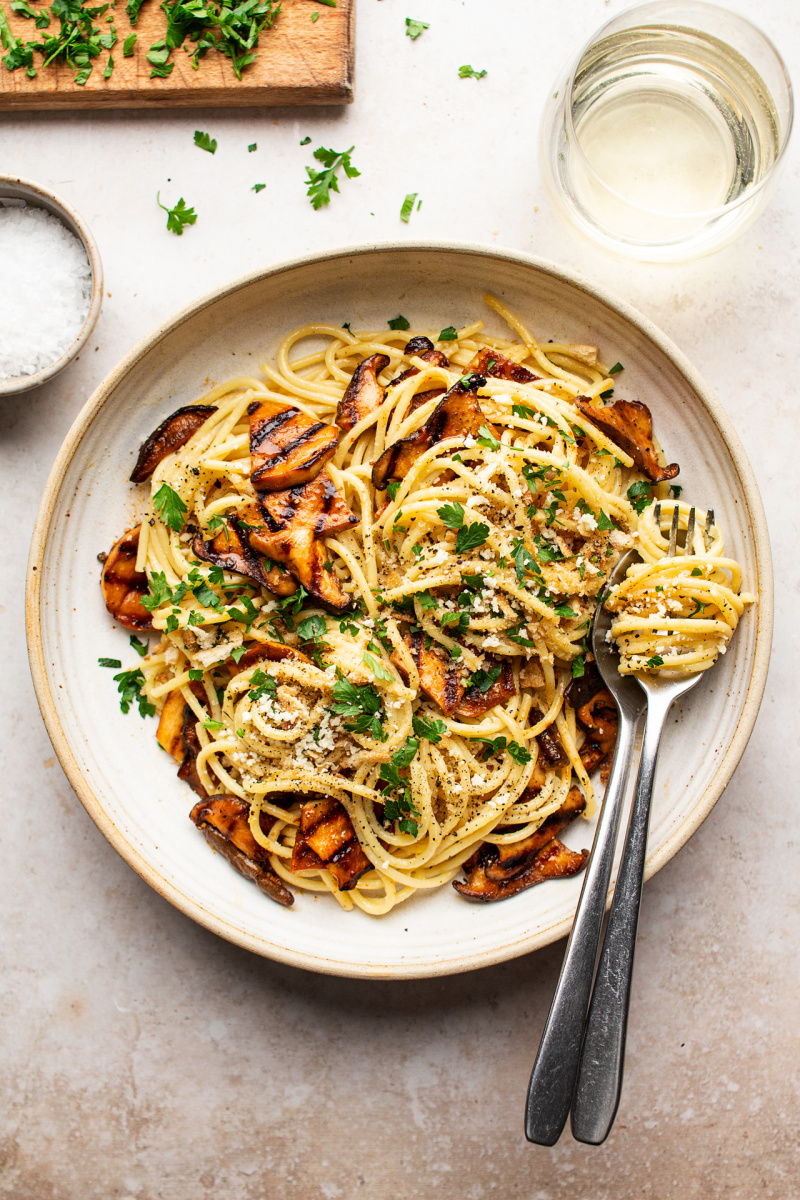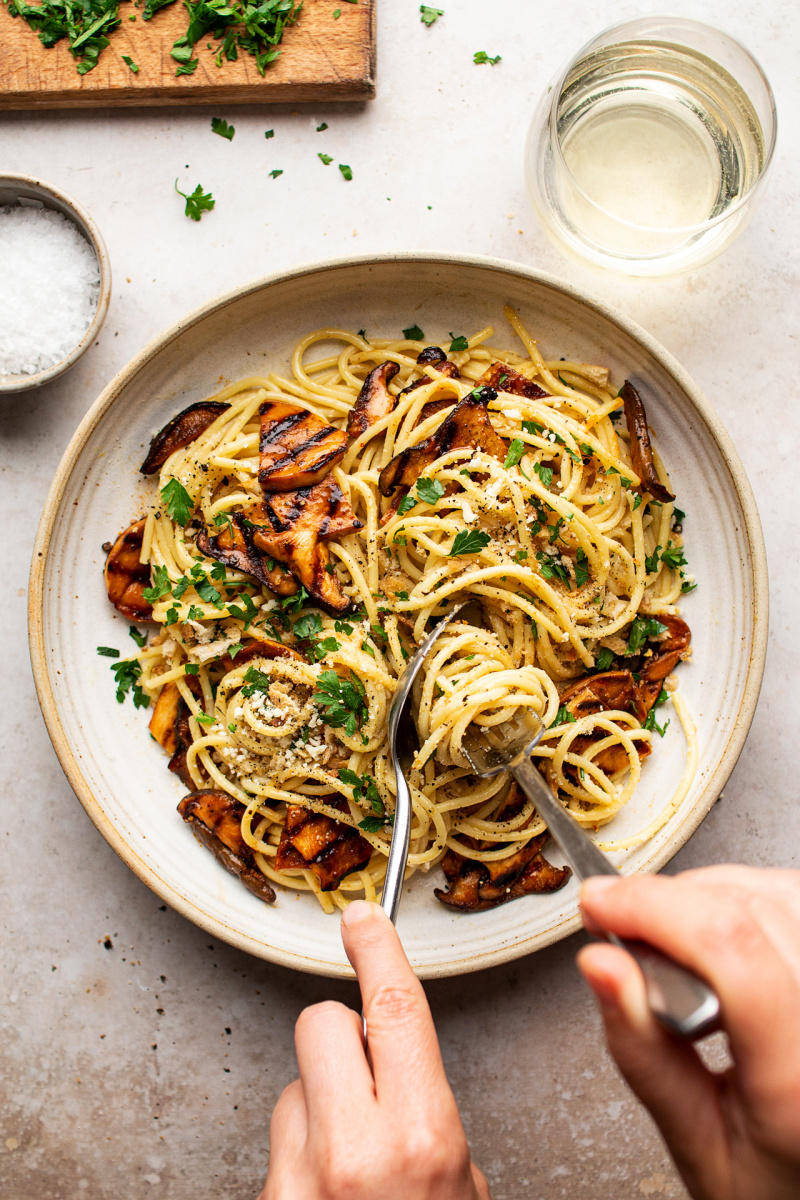 MUSHROOMS
200 g / 7 oz king oyster mushrooms*
15 ml / 1 tbsp olive oil
15 ml / 1 tbsp quality balsamic vinegar
20 ml / 4 tsp tamari or soy sauce
5 ml / 1 tsp maple syrup
1 tbsp nutritional yeast
1 garlic clove, very finely grated
½ tsp smoked sweet paprika
a generous pinch of salt
PASTA
200 g / 7 oz spaghetti (GF if needed)
30 ml / 2 tbsp olive oil
1 large garlic clove, finely diced
60 ml / ¼ cup unsweetened quality soy milk** (I recommend homemade or no additive brand)
10 ml / 2 tsp shiro / white (aka / red is okay too, it tastes stronger) miso paste
1½ tsp cornstarch
2 tsp lemon juice or 1 tsp apple cider vinegar
2 heaped tbsp nutritional yeast
black pepper, to taste
salt, to taste
chopped parsley, to serve
toasted coarse breadcrumbs*** (optional)
store-bought vegan parmesan (optional)
METHOD
MUSHROOMS
Slice mushrooms into 5 mm / 0.2″ slices lengthwise and mix all marinade ingredients together.
Place mushroom slices in a large shallow dish and pour the marinade over the mushrooms. Coat well and leave the mushrooms aside for a few hours (the longer the better) to marinate, flipping them now and then so that everything is well coated.
Heat up a grill pan on a low heat. Once hot, lay the marinated mushroom slices on it. Allow them to cook without touching until charred (the ones in the middle will get done quicker), then flip to the other side. Continue until all the mushrooms have been cooked. Chop into bite-size pieces.
If you don't have a grill pan, you can also bake them in the oven at 190° C / 375° F for about 25 minutes, flipping them once, halfway through.
PASTA
Cook spaghetti in salted water until just below al dente. Don't use too much water so that the cooking water is rich in starch and make sure you reserve 120 ml / ½ cup of pasta cooking water just before you drain your pasta.
Heat up a large frying pan on a low heat. Once hot, add oil and allow it to warm up before adding chopped garlic.
Sauté the garlic on a low-medium heat for a few minutes. Stir often and do not let it brown or else it will impart a bitter taste to your pasta.
While the garlic is sauteing, whisk soy milk, miso paste and cornstarch together until there are no lumps.
Add pasta cooking water, lemon juice and nutritional yeast to the garlicky oil. Stir until emulsified and then add soy milk / miso / cornstarch mixture. Whisk really well, allow the sauce to bubble so that it thickens. Season to taste (remembering that the pasta has been cooking in salted water so don't overdo the salt).
Toss cooked pasta in the sauce quickly, then add mushrooms and parsley.
Divide between two plates. Sprinkle with toasted breadcrumbs (if using) and some fresh pepper.
NOTES
*If you cannot find them, regular oyster mushrooms will work well too – make sure you weigh them down with a heavy baking dish during the first few minutes of grilling. Other types of mushrooms (portobella, chestnut / cremini) should also work but some minor changes to the cooking method (oven temperature and baking duration, for example) may be needed. Also, do not salt regular mushrooms until after grilling. Otherwise, sub with whatever plant-based bacon creation is your favourite:
tofu
,
tempeh,
almond bacon
,
coconut bacon
– the list goes on.
**Use almond milk if allergic. Again, thick (with a high percentage of almonds and no additives) milk is best, but if that's not available – make do.
***I make coarse breadcrumbs from leftover Turkish pide, which we enjoy on a regular basis. I let it go stale and then crush it coarsely using a pestle and mortar. I keep it in a jar in my pantry. You can do the same with any quality bread – foccacia, sourdough etc.