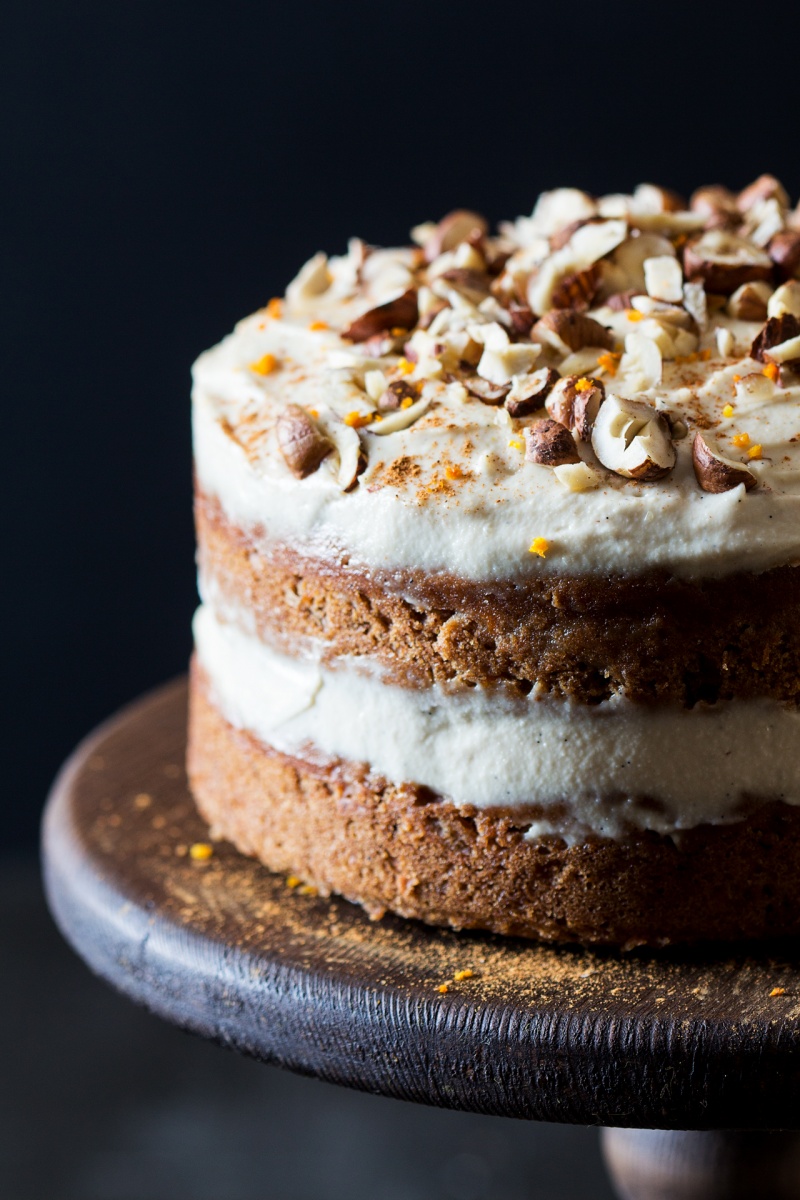 I've conquered one of my 'fears' today and finally tackled a proper, adult-size cake 🙂 . My layer-cake phobia hasn't exactly been diagnosed, but I am somehow way more comfortable making small, minified desserts like cupcakes, tartlets, chocolate cups and building a big ass cake terrifies me slightly (or used to).
There was definitely an element of self-preservation in all this reluctance to 'go big' as individual desserts are more portable and easier to give away and, given my predilection for sweet stuff, I should not be left alone with a massive layer cake within sight 😉 .
With the festive period coming up, however, and seeing that a layered cake looks so much more impressive as a centrepiece, I decided to bite the bullet and made a layered gluten-free vegan carrot cake based on this recipe of mine that so many of you love.
As I'm not too keen on margarine frosting, I frosted it with an oil-free 'buttercream' made from raw cashews, but if you can find a good vegan butter where you live, you could make a standard buttercream frosting instead. Whatever works best for you. Now that I've broken the ice, I have a few other cake ideas floating around in my head and so expect more cake wizardry from me soon 😉 .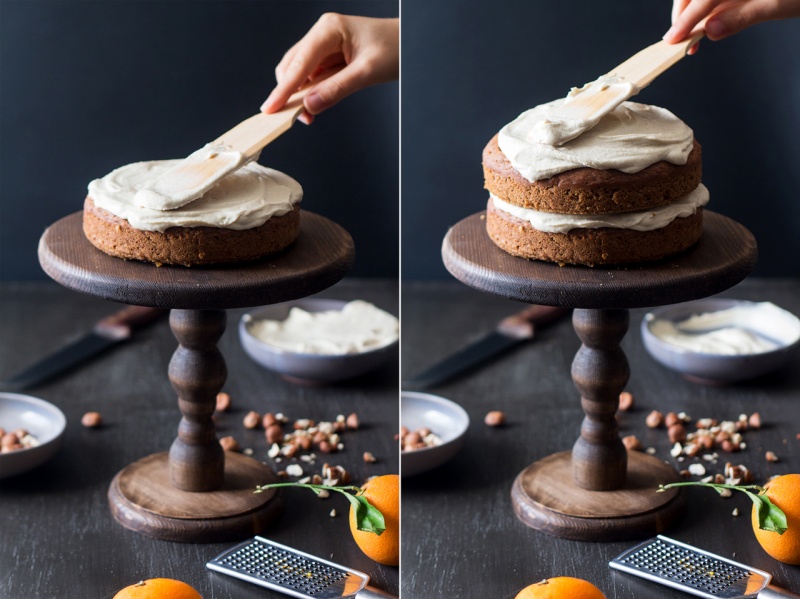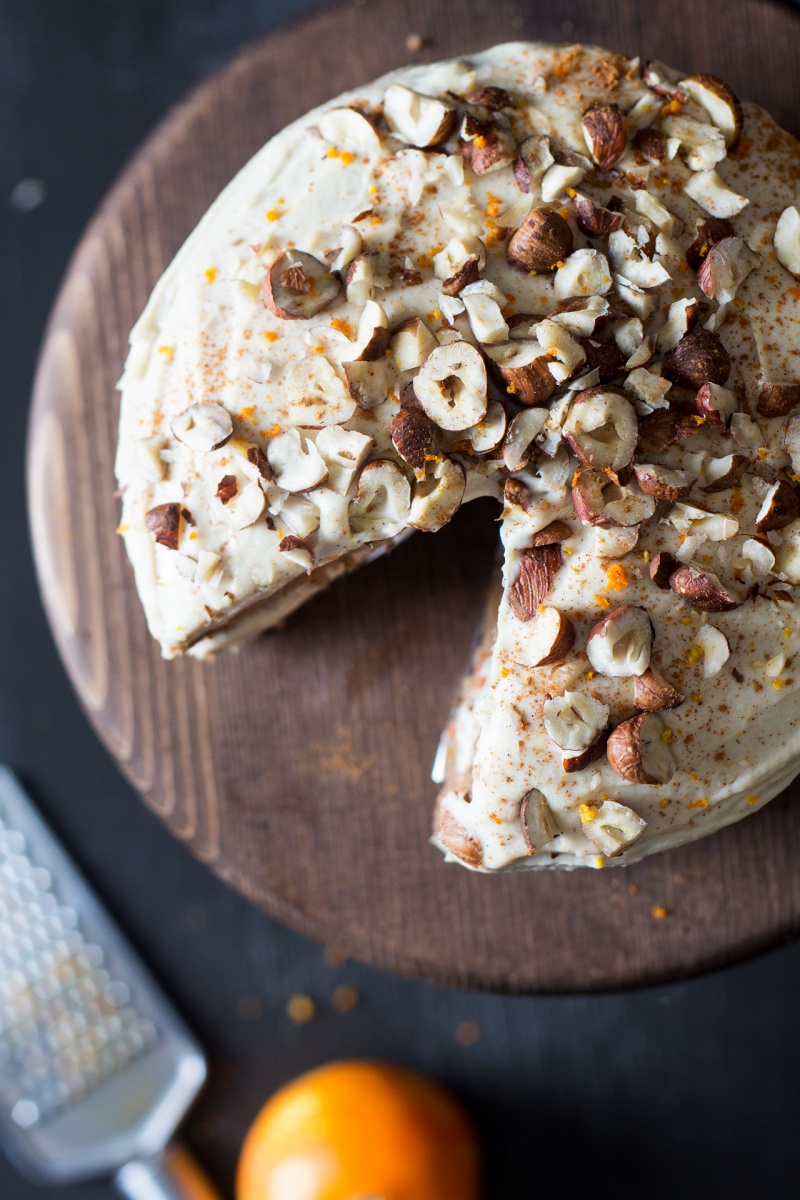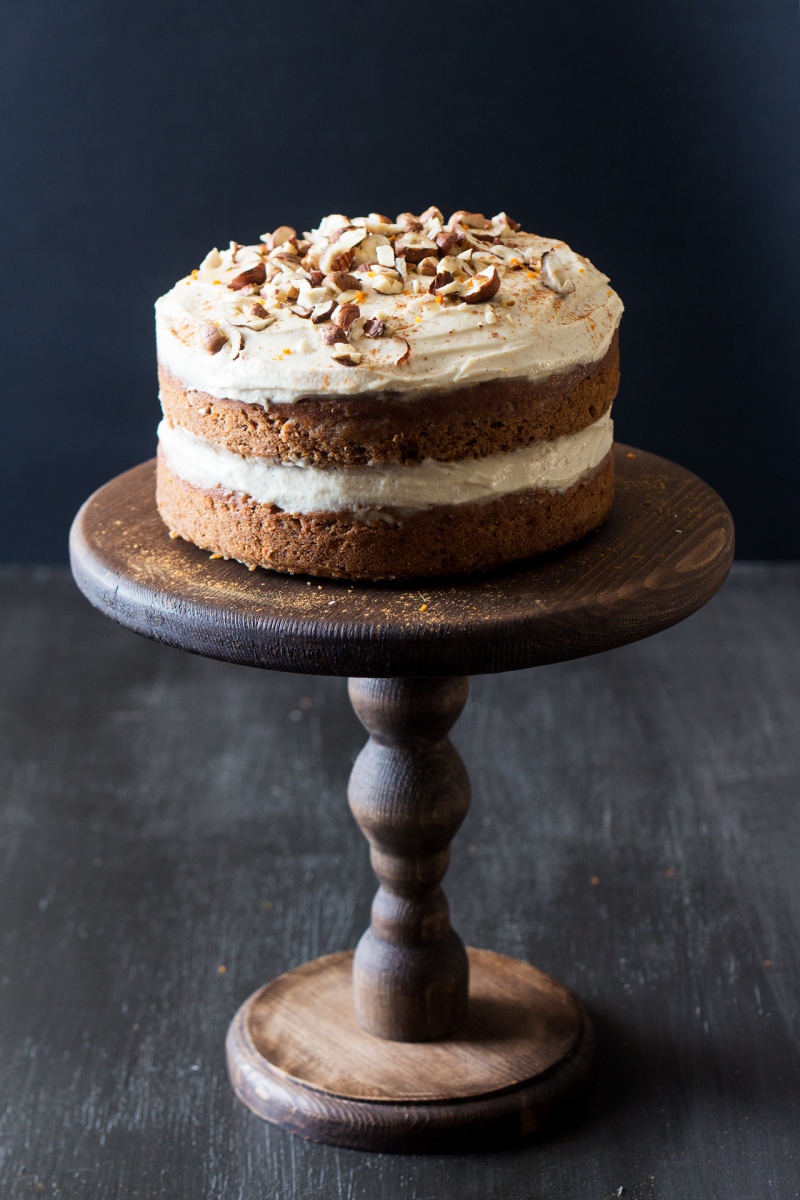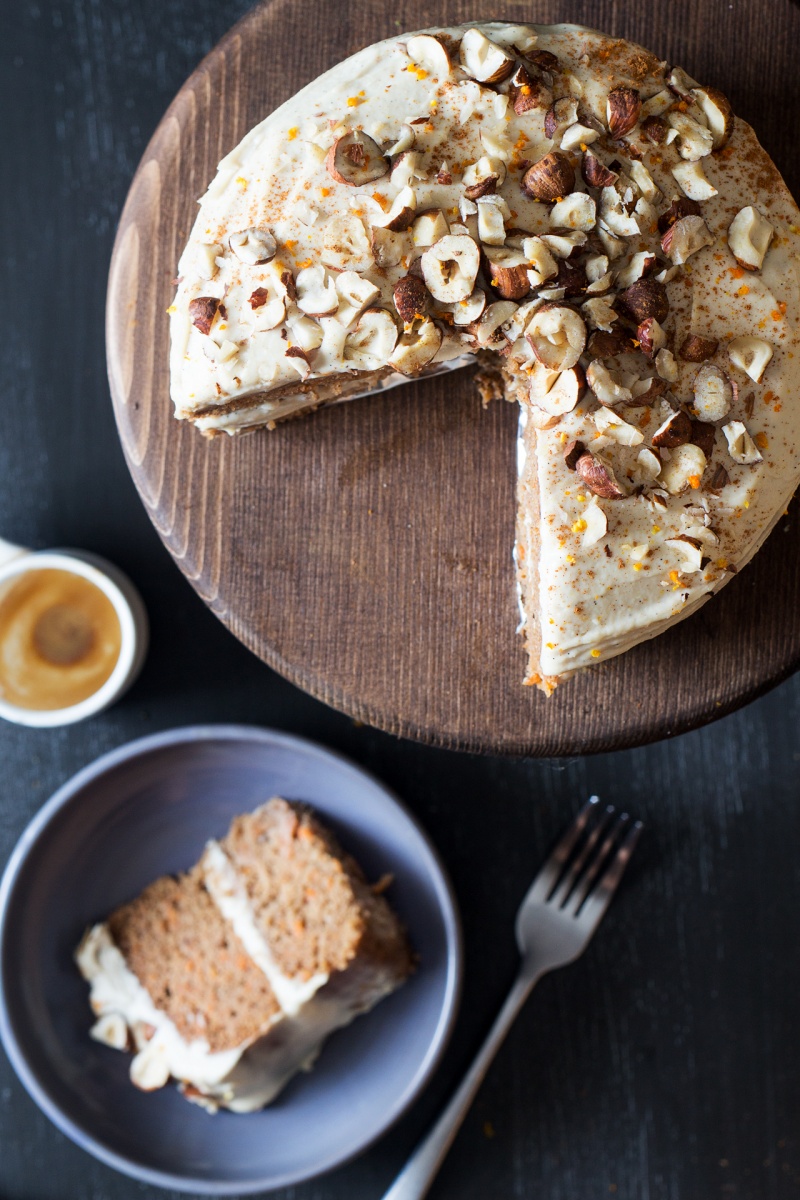 CASHEW 'BUTTERCREAM' (make it a day ahead if you can!)
300 g / 2 cups raw cashews, soaked overnight
180 ml / ¾ cup coconut cream (separated from a tin of coconut milk)
juice of ½ lime or lemon, adjust to taste
120 ml / ½ cup maple syrup or other liquid sweetener
1 vanilla pod, seeds scraped
4 tsp agar flakes activated in 90 ml / 6 tbsp water
chopped hazelnuts, for decoration
CARROT CAKE
Wet ingredients
180 g / 1½ cups (packed!) carrots, coarsely grated
180 g / 1 cup demerara sugar
210 ml / ¾ cup + 1/8 cup apple sauce*
120 ml / ½ cup olive oil
Dry ingredients
180 g / 1½ cups buckwheat flour
60 g / ¼ cup + 1/8 cup rice flour
15 g / 2 tbsp cornflour / cornstarch
1 level tsp baking soda
1 level tsp GF baking powder
pinch of salt
1½ tsp cinnamon
½ tsp ground cloves
½ tsp ground nutmeg
1 tsp ground ginger
METHOD
CASHEW 'BUTTERCREAM' (make it a day ahead if you can!)
Drain and rinse soaked cashews. Chop them roughly and divide them into 4 portions (this isn't necessary if you are using a Vitamix or an equally powerful blender).
Put the first portion of the chopped cashews into a blender with all of the coconut cream and maple syrup. Process until smooth, add the second portion of cashews and again, process until smooth. Continue in the same manner until you've used up all of the cashews.
Add vanilla seeds and season with lime or lemon juice to taste. If using a blender that isn't as powerful as a Vitamix or a Blendtec, make small circles on the surface of the mixture (in the direction of the turning blades) with a spatula. Don't dip the spatula in too deep as you don't want to accidentally touch the turning blades. This simple trick will help your blender process the heavy mixture by preventing air pockets from forming under the mixture's surface.
Activate 4 tsp of agar flakes (equivalent to 1 and 1/3 tsp of agar powder) in 90 ml / 6 tbsp water. Make sure you simmer the mixture (stirring frequently) for about 10-15 minutes until the flakes almost dissolve or otherwise the agar will not work. Pour activated agar into the cashew mixture and blend well. Place the mixture in the fridge for a while (or overnight if you can) to thicken.
CAKES
Set the oven to 175° C. Grease two 16.5 cm / 6.5 in cake pans with a little olive oil. If you only have one springform tin of that size, grease it instead.
Prepare chia (or flax) eggs (you'll need 1½ portions) as per the instructions here.
In a bowl mix together all wet ingredients. In another bowl, mix together all dry ingredients.
Slowly tip the dry ingredients into the wet ingredients and incorporate everything together. Since this is a gluten-free batter, you do not need to worry about overmixing, so mix everything really well.
Divide the batter evenly between two cake pans. If you only have one springform tin, measure out half of the batter and place it in the tin. Bake, on the middle shelf, for about 45 mins. It's done when a toothpick comes out fairly clean. Once the first cake finishes baking, place the second one in the oven and bake for the same amount of time. I don't recommend baking both cakes at once as you may end up with uneven results. If using a single springform tin, let the first cake cool down, remove it gently from the tin, clean the tin, grease it and fill with the second half of the batter. Bake for approx. 45 min or until a toothpick comes out fairly clean.
ASSEMBLY
Allow both cakes to cool down completely. Trim the top of one of the cakes with a serrated knife so that the top cake sits better on top.
Put a generous layer of cashew frosting on top of the first cake. Place the second cake on top and frost the top cake and the sides (optional) with more cream.
Decorate with chopped hazelnuts, orange zest and cinnamon.
NOTES
Volume measurement I use is 1 cup = 240 ml
*To make an apple sauce, peel, core and chop 4 not very sweet apples (I used Granny Smith). Put them in a pot with a cup of water and simmer covered until soft and falling apart. Blend in a blender to get a smooth sauce.