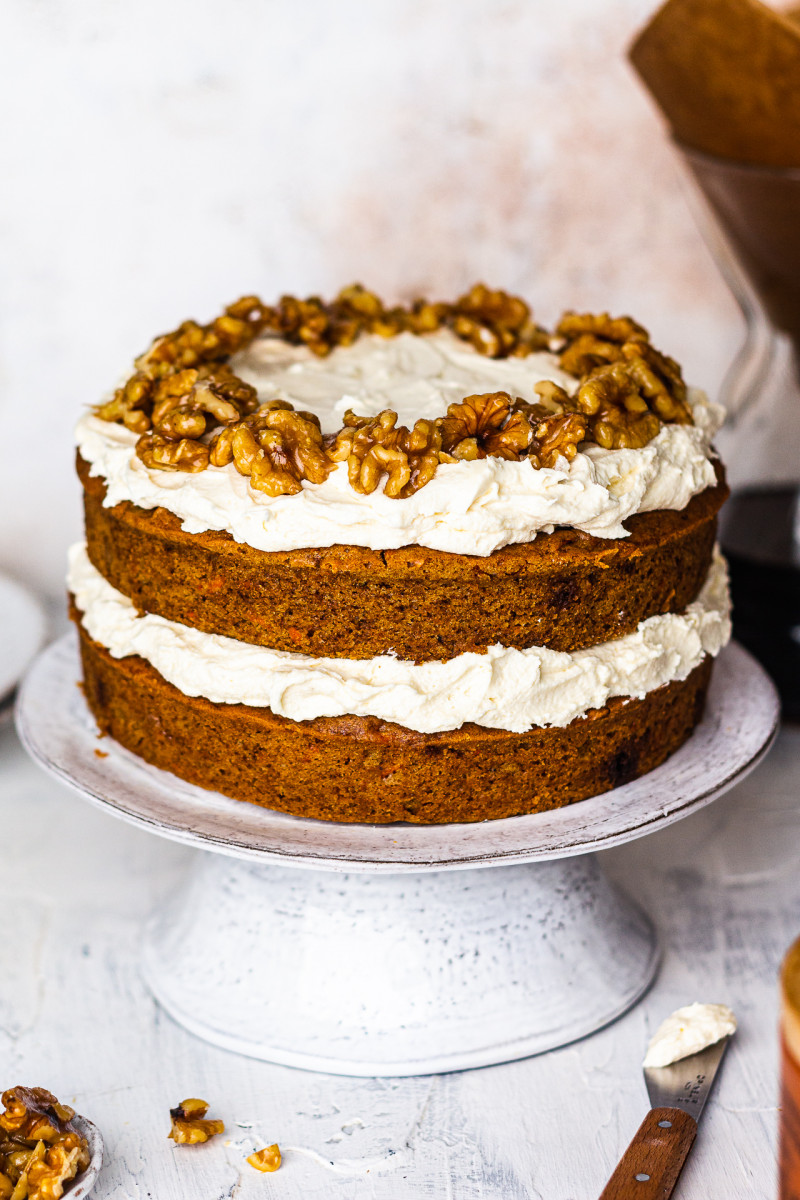 If you've been looking for a simple recipe for a carrot cake topped with luscious vegan cream cheese frosting, look no further. This carrot cake is really easy to put together and it makes quite an entrance! It uses commonly available, inexpensive ingredients and very little process. All you need to make the sponge is a large mixing bowl, a spatula and a fine sieve and a bit of a gentle touch when mixing the batter together. No fancy mixers necessary.
As for the frosting, I published it as a separate recipe as I wanted to be able to include lots of pictures of the making process without making this recipe overly long. The frosting can be made at least a day in advance and stored in the fridge overnight.
I particularly like the second version of this vegan cream cheese frosting, which instead of relying on vegan cream cheese from a store, uses only a handful of simple ingredients: vegan butter, lemon juice, cashews and sugar.
It has a delicious tang that contrasts so beautifully with this sweet carrot cake, has fewer 'nasties' (preservatives that are a part and parcel of making vegan cream cheese shelf stable) and it is more reliable as there is no standard formula for vegan cream cheese so each and every one of them is has a different composition and therefore is likely to produce a slightly different end result.
Once I was finished with photographing this cake, Duncan packed it into a few boxes to share with his kayaking group and it got glowing reviews apparently despite the fact that none of them are vegan. It's always nice to hear, but especially when the frosting is somewhat unconventional so I hope that this will convince you to make it and see for yourself.
MORE ABOUT THE INGREDIENTS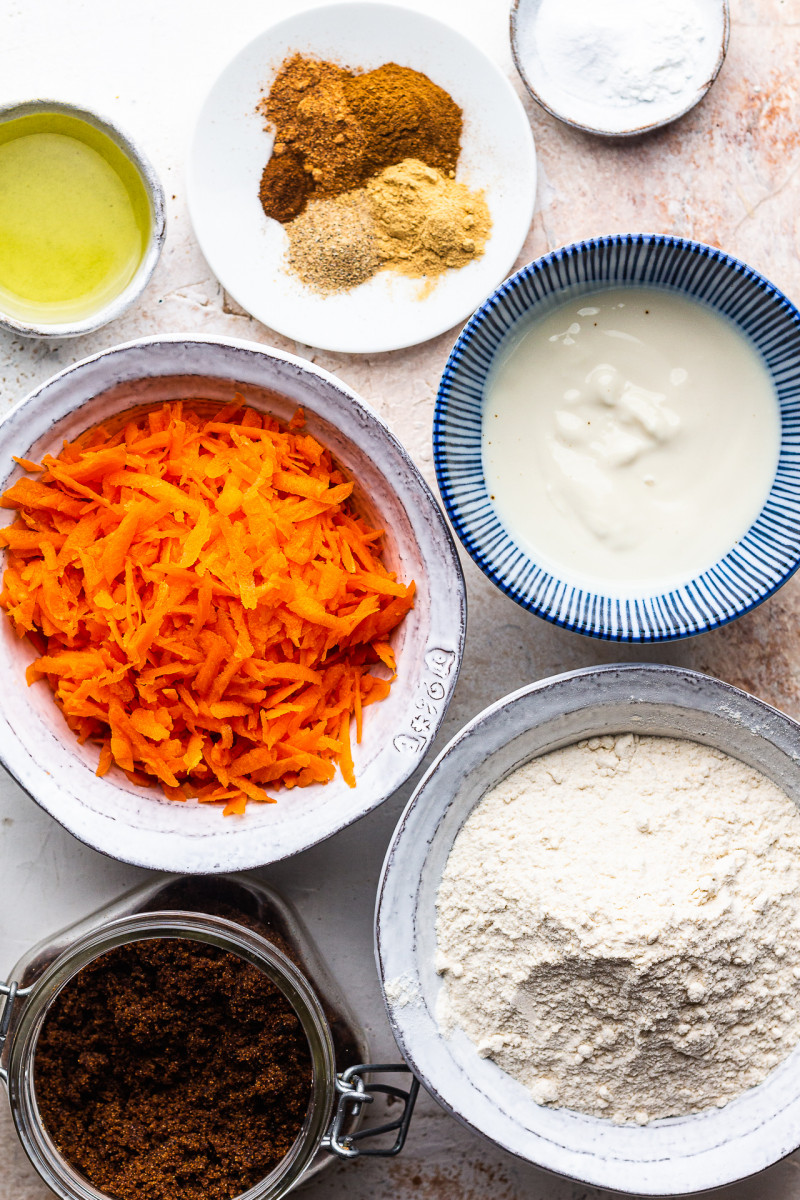 VEGETABLE OIL: This cake is based on liquid vegetable oil, which makes it easy to make and keeps it nicely moist. I recommend using a neutrally flavoured oil – I tend to opt out for grapeseed oil in cakes – unless, like the Greeks, you enjoy the flavour of olive oil in your cakes. If using olive oil, pick a mild variety for a subtler olive oil flavour.
VEGAN YOGHURT: I used a tub of bog standard vegan yoghurt (Alphro plain) to keep this cake moist and to add a bit acidity to the batter, which comes into a chemical reaction with baking soda and helps with leavening. I have previously made several recipes using apple sauce and while I have not had a chance to test it in this particular cake, I am confident it will work just as well. As yoghurt contains fat and apple sauce does not, I would increase the amount of oil to one whole cup (240 ml) and use another cup of apple sauce (240 ml).
SUGAR: I used to types of sugar to give this cake sweetness, texture and flavour. I used caster sugar (which is simply superfine white sugar preferred in baking) mixed in with dark muscovado sugar. The latter contains a lot of molasses, which give it deep, slightly savoury flavour and helps to keep cakes moist – you can find it in most baking aisles in the UK, but if it isn't available use another type of sugar instead.
CARROTS: Coarsely grated carrots are key to a carrot cake and require no further explanation.
ALL PURPOSE FLOUR: I used all purpose flour here, but if you would like to make this cake without gluten, use a good gluten-free flour blend (one that contains a high ratio of starches, which help with binding) and a teaspoon of xanthan gum to help with texture.
BAKING AGENTS: A combination of baking soda and baking powder give this vegan sponge a perfect amount of lift. I didn't want to use too much and I baked the cakes at lower than usual temperature to ensure they come out as flat as possible, which is what you want when you intend to layer them. Please make sure to use both baking agents as each of them works a little different and using only one of them won't produce as good result.
SALT: A small amount of fine salt is a common addition to cake batter, it enhances and balances the flavours.
SPICES: I used a mixture of spices I enjoy in a carrot cake: cinnamon, ginger, cardamom, nutmeg and cloves and none of my taste testes found it to be overly spiced but it's of course very subjective – use as much or as little as you like. In the UK, carrot cake is often flavoured with mixed spice (not to be confused with all spice, which is ground Jamaican pepper) alongside cinnamon and ginger. Mixed spice contains a whole range of spices including nutmeg (and mace – outer husk of nutmeg), cloves and aforementioned all spice. If using mixed spice, use about a teaspoon, alongside two scant teaspoons of cinnamon and a three quarter teaspoon of ginger.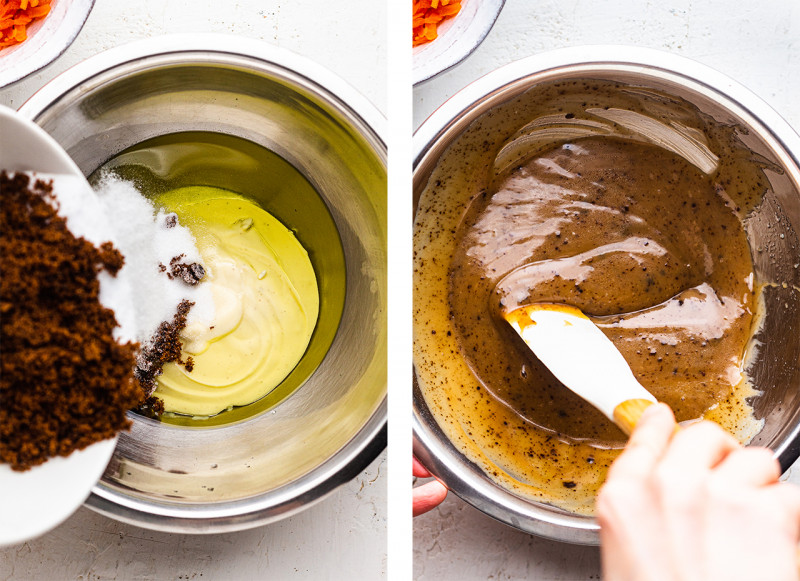 Combine liquid vegetable oil and vegan yoghurt in a large mixing bowl (in my photos I made only one tier so the bowl is quite small). Add sugar. If using wet sugar (like dark muscovado), break any lumps with your fingers before adding and don't worry if some lumps persist – that's the nature of that type of sugar.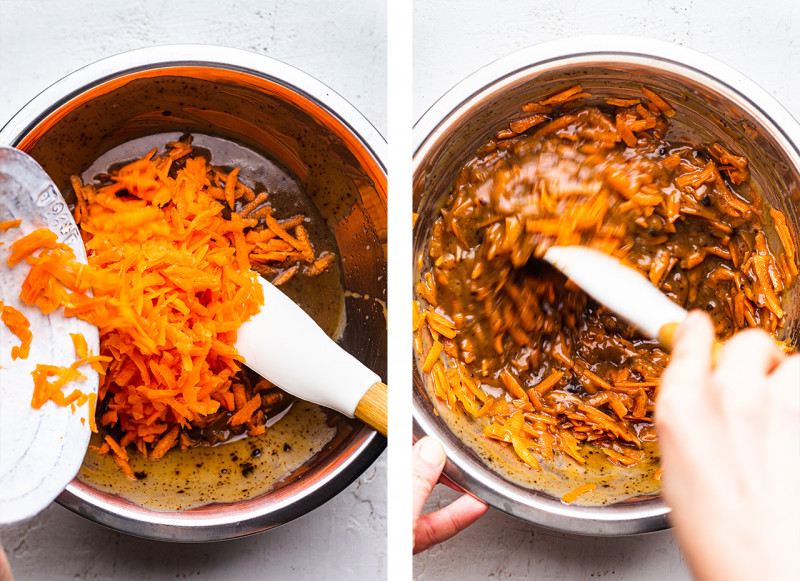 Fold in coarsely grated carrots. If using cups instead of weighing your ingredients, use three scant loose cups.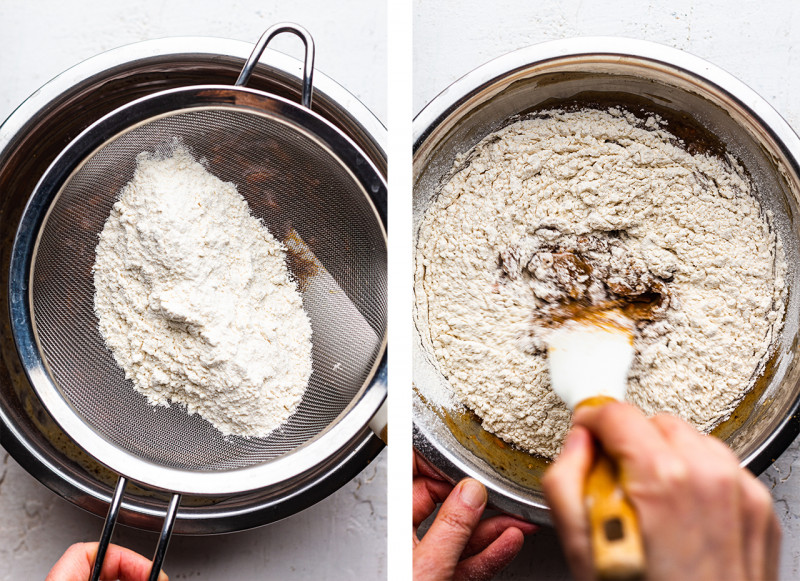 Place a fine sieve over the bowl with dry ingredients and sift them in (in 2-3 batches). Incorporate the dry ingredients into the wet ones gently by making small circles in the middle of the bowl with your spatula and progressively incorporating more and more flour. I find that this way of mixing minimises lumps.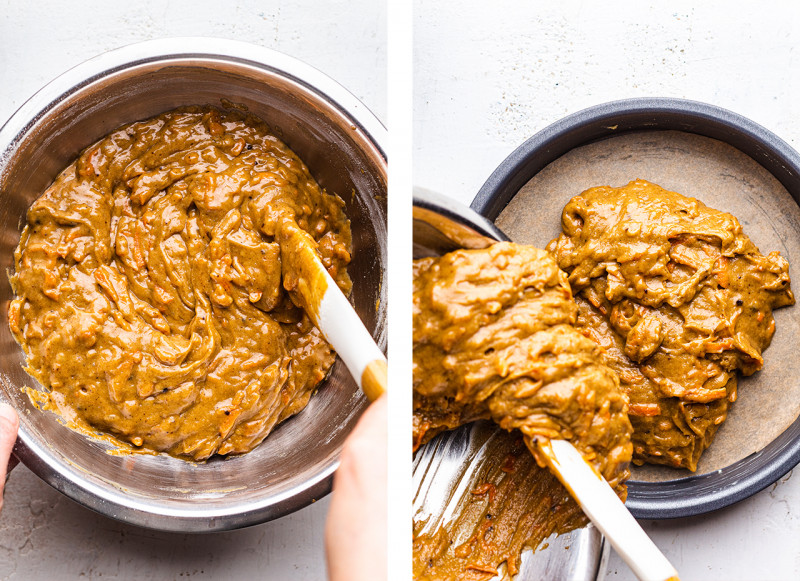 By the time you've mixed everything well, you should end up with thick batter. Divide the batter between two cake pans and bake in the preheated oven until a toothpick inserted into the middle comes out clean. Allow to cool down completely before applying frosting.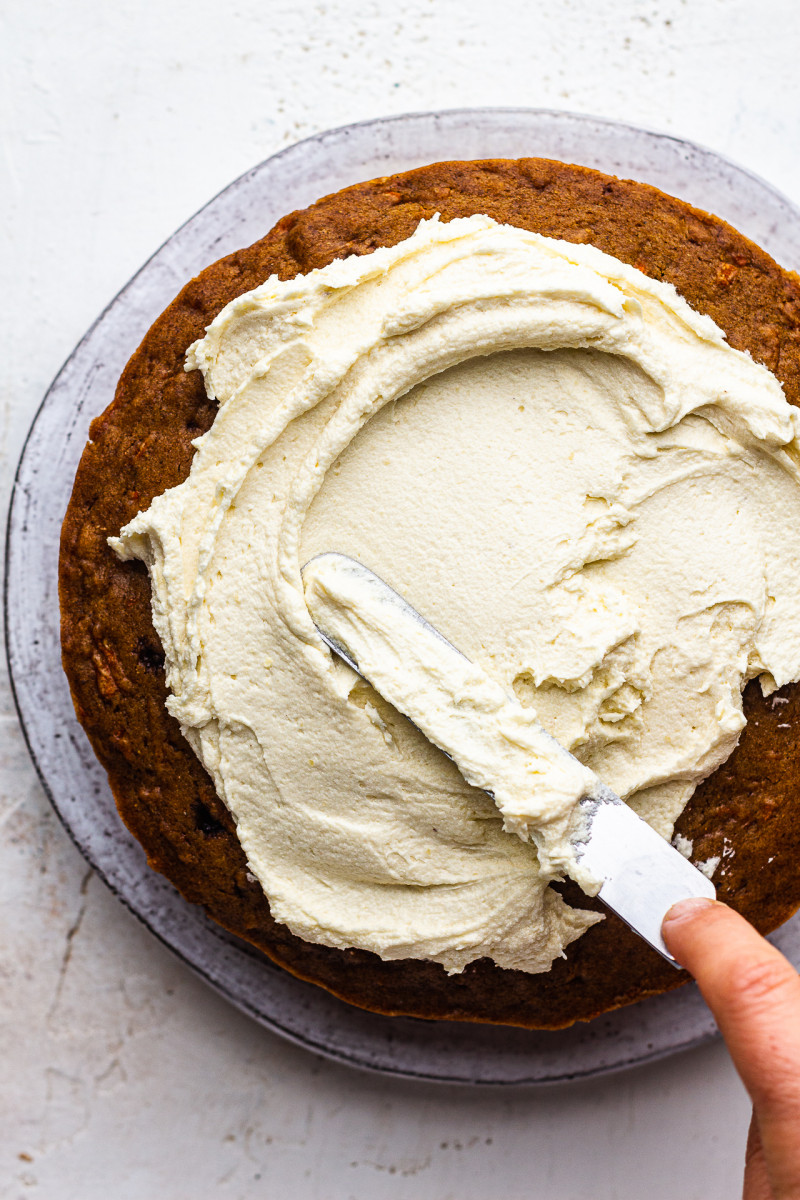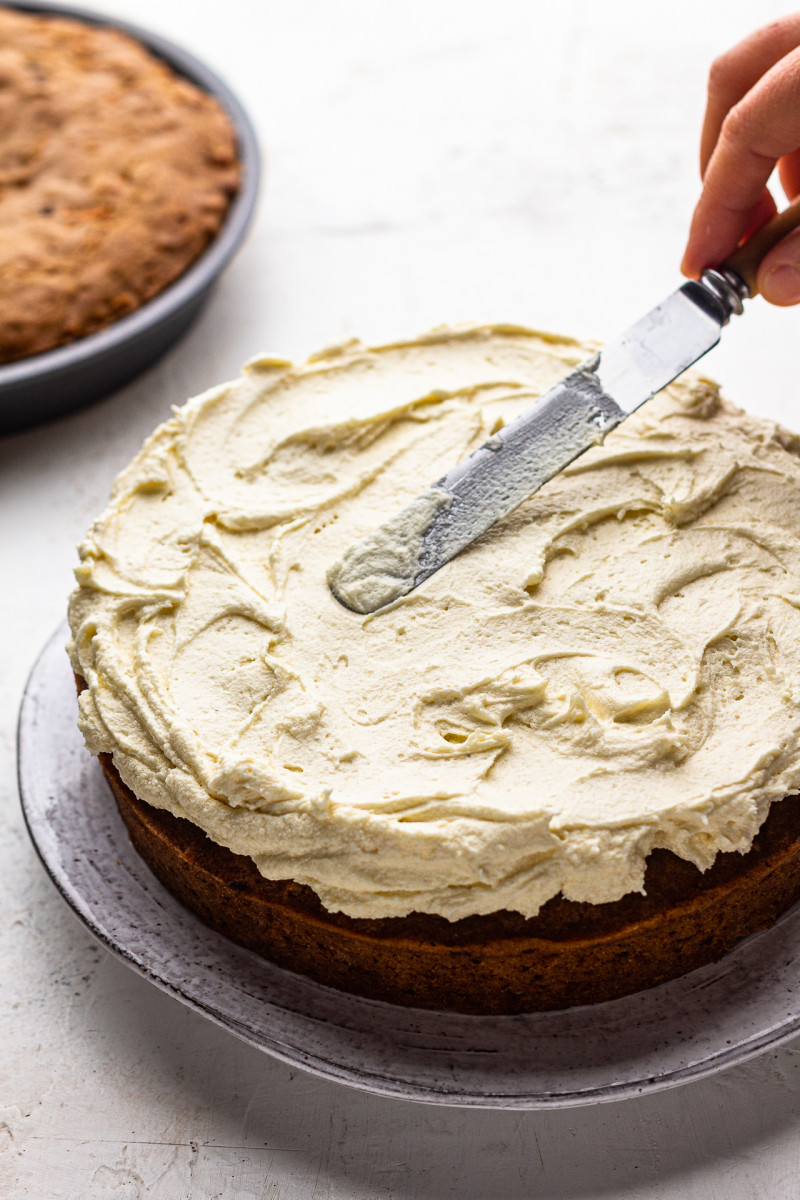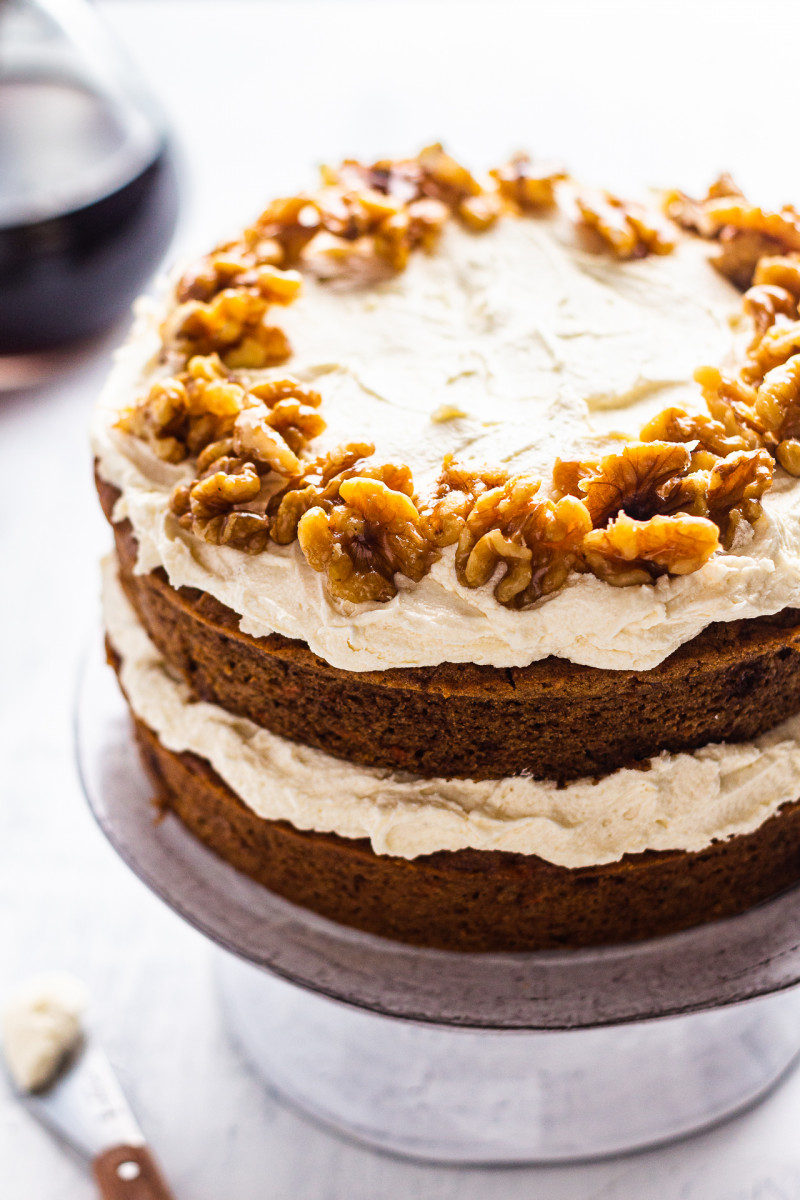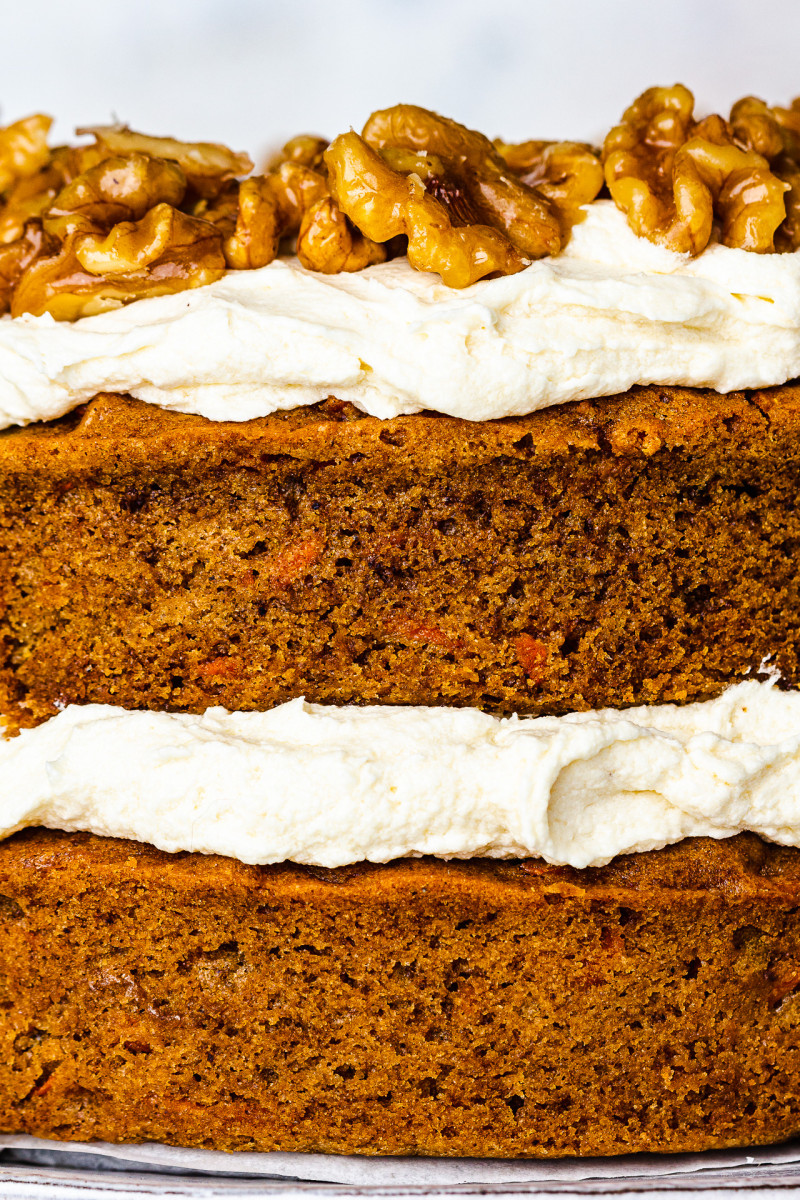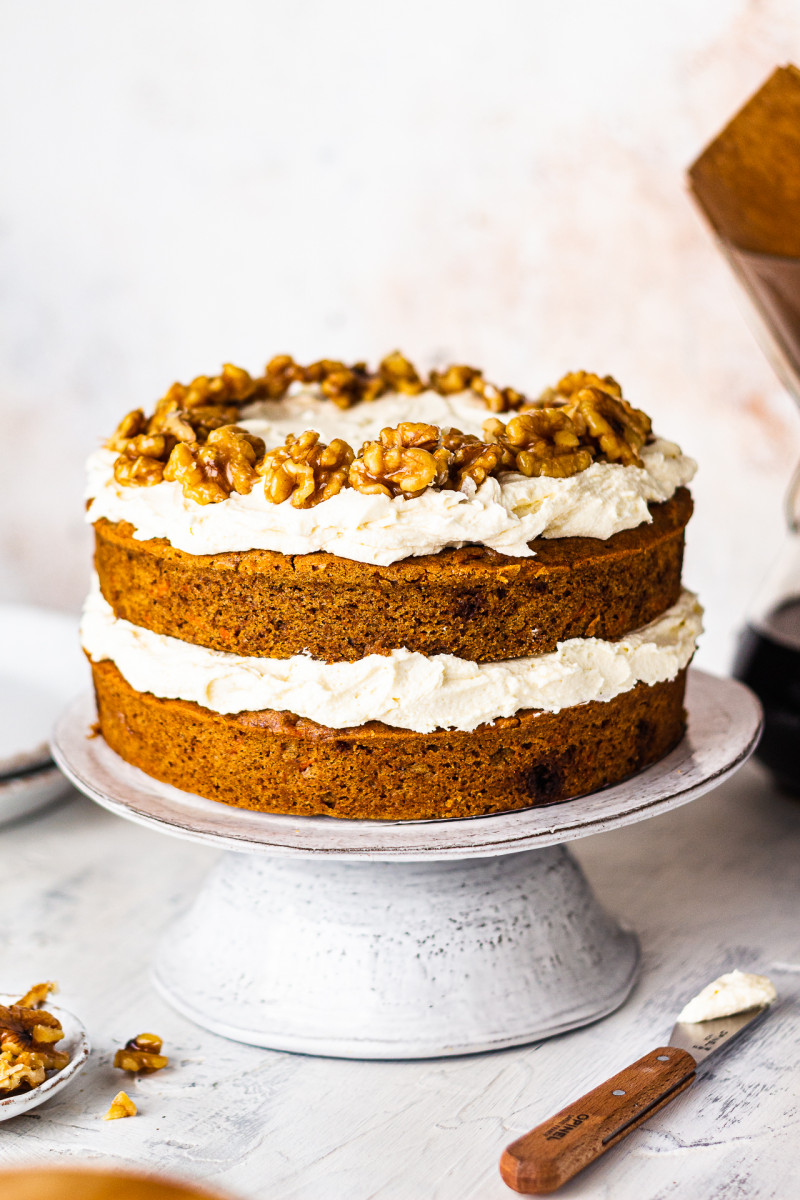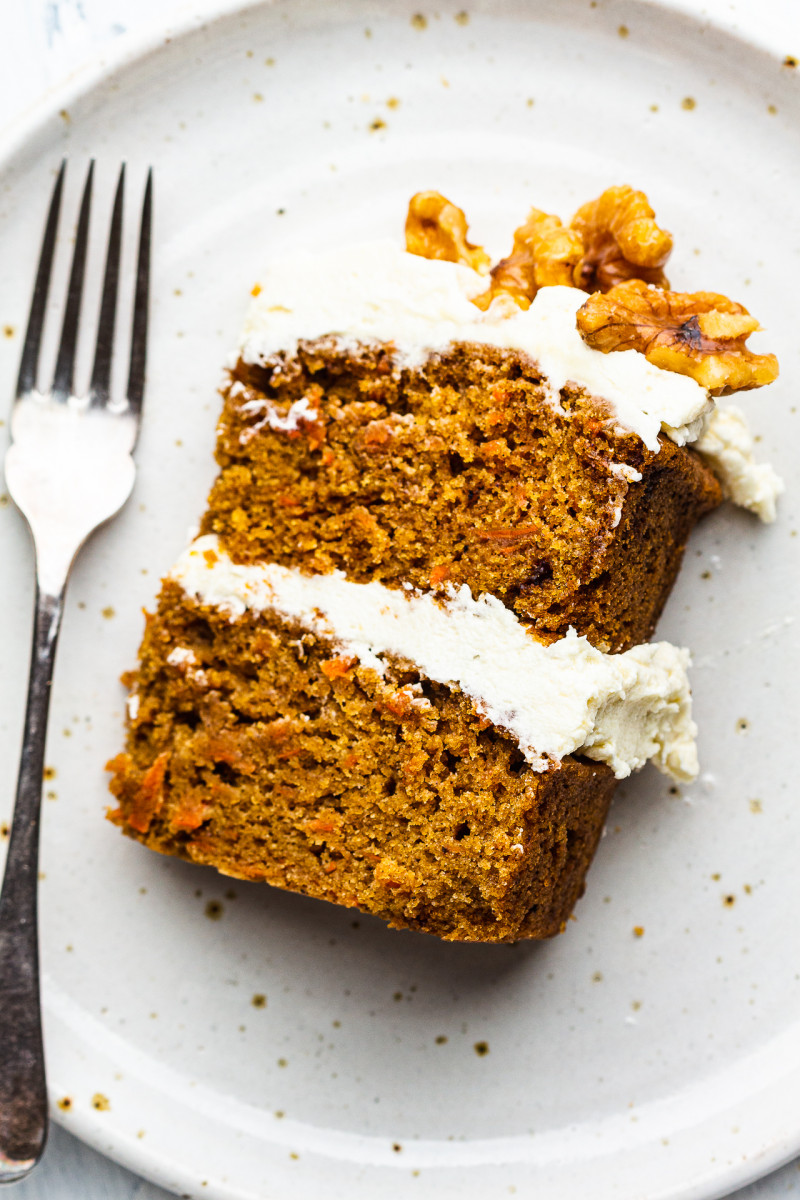 CARROT CAKE
Wet ingredients
180 ml / ¾ cup neutral oil (I used grapeseed oil)
300 ml / 1¼ cup vegan yoghurt (I used Alphro plain)
250 g / 1¼ cup sugar (I used half dark muscovado and half caster sugar)
280 g / 3 scant cups coarsely grated carrots
Dry ingredients
375 g / 3 cups all purpose flour*
1 level tsp baking soda
1½ tsp baking powder
½ tsp fine salt
2½ tsp cinnamon
1½ tsp ginger
½ tsp ground cardamom
½ tsp ground nutmeg
¼ tsp ground cloves
FROSTING & DECORATION
METHOD
CAKES
Set the oven to 160° C / 320° F (or 140° C / 285° C on a fan setting).
Grease two 20 cm / 8 in cake pans and line their bottoms with circles of baking paper.
In a large mixing bowl, combine oil and vegan yoghurt.
Stir in sugar – if using muscovado sugar, break any large clumps with your fingers first.
Next, stir in grated carrots.
Place a fine sieve over the bowl and sift dry ingredients through in 2-3 batches. Incorporate dry ingredients into the wet ones by making small circles with a spatula in the middle of the bowl to gradually incorporate more and more flavour – this method minimises lumps forming.
Divide the batter evenly between two cake pans.
Bake on the middle shelf until a toothpick inserted into the middle comes out clean, about 35 minutes.
ASSEMBLY
Allow both cakes to cool down completely.
Put a generous layer of frosting on top of the first cake. Place the second cake on top gently and frost the top cake.
Decorate with walnuts (I used maple walnuts from this recipe).
NOTES
*FLOUR: if you wish to make this cake gluten-free, use a good gluten-free flour mix and (unless your flour mix already contains it) a teaspoon of xanthan gum for a better texture.
NUTRITIONAL INFO
*per 1 out of 20 portions (with frosting)