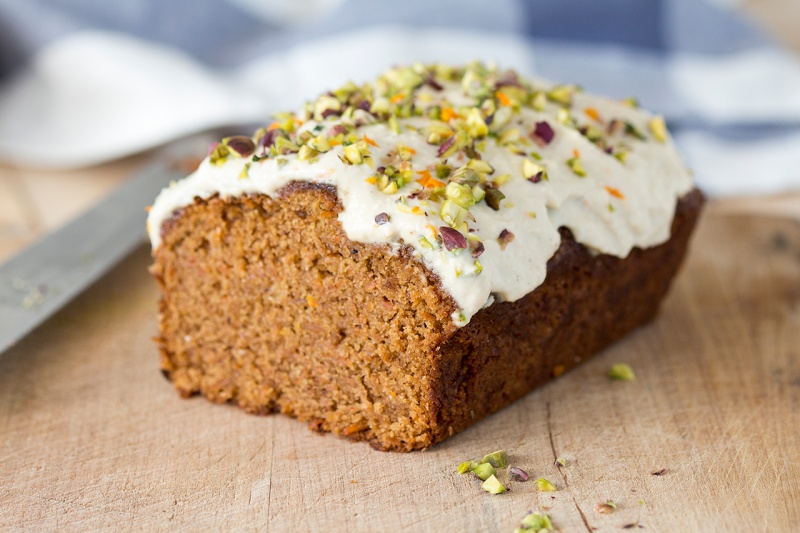 Right, so this is the carrot cake I was on about on Tuesday. After a few days break, I was ready embrace cake making again. As you can see by the short instructions, it is super easy to make and it does taste great even without the frosting. You are welcome to put some chopped nuts inside for an extra bit of texture (I sprinkled mine on the top instead).
To get a moist (yet eggless) carrot cake, I used a homemade applesauce (see Notes below on how to make it or you can buy it here) as a cunning egg replacer. It took a few attempts to get the exact proportions right, but it does work a treat. The cake is moist yet light. Another thing I love about it is the smell of spices. It exudes warming aromas of cinnamon, nutmeg, clove and ginger, which magically transport your mind to an exotic spice market.
Photographing this puppy was a mean feat. I waited for the golden hour to capture the cake's beautifully warm colours at their best, but it so happens that the golden hour is terribly close to our cats' feeding time. So at some point in the afternoon, the cake and I were literally surrounded by a gang of hungry cats impartial to stealing a piece if I wasn't looking. In the end, I just fed them all early (cats always win, don't they?) in the hope that they all just bugger off. Luckily, it worked.
Enjoy this recipe as it will be the last cake recipe for a little while. The summer is upon us and I will need to squeeze into a bikini soon so, as much as it pains me, I'm going to stick to savoury recipes for a few weeks. I'm even considering doing a few day veg juice cleanse. Duncan isn't very happy about it as it means he will need to make his own meals for a while. I wonder what that would entail?:)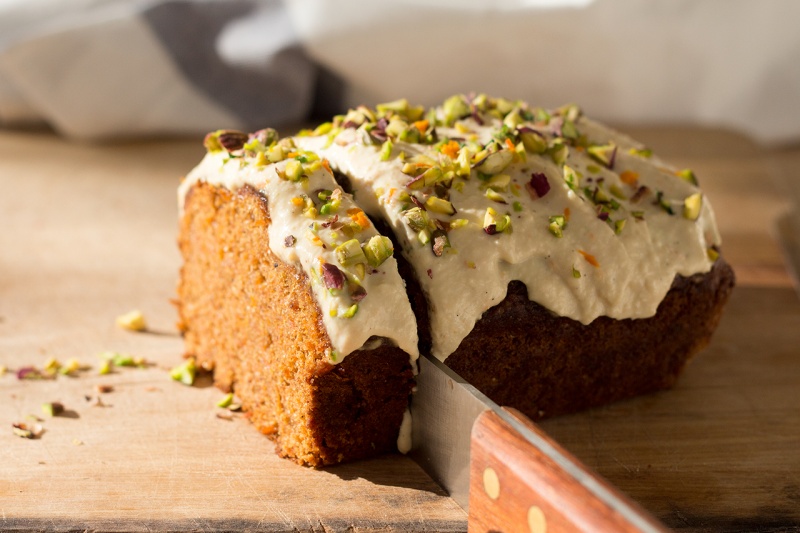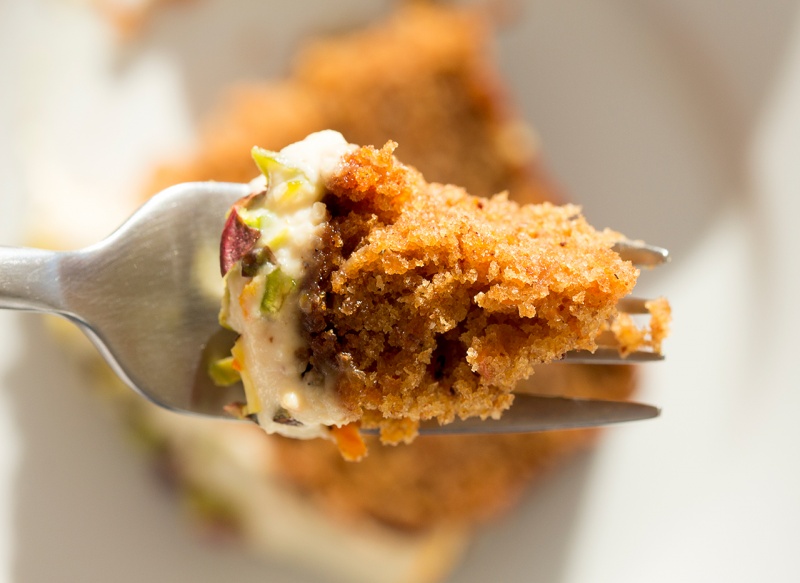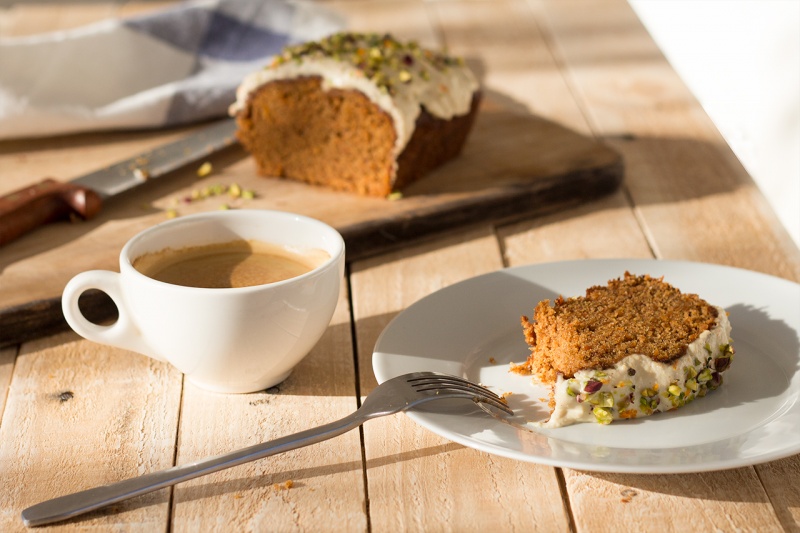 CARROT CAKE
Wet ingredients
0.25 lb / 120 g carrots, coarsely grated (1½ cup grated)
½ + 1/8 cup / 120 g brown sugar
½ cup + 1 tbsp applesauce*
¼ + 1/8 cup / 90 ml olive oil
Dry ingredients
1½ cup / 185 g wholemeal flour, sifted
1 level tsp baking soda
1 level tsp baking powder
pinch of salt
1 tsp cinnamon
1/8 tsp ground cloves
¼ tsp ground nutmeg
½ tsp ground ginger
VANILLA-ORANGE FROSTING
75 g cashews, soaked overnight
6 tbsp silken tofu
1 orange (you'll need 5 tbsp juice + zest of ½ orange)
4 tsp coconut oil, melted
1½ tbsp maple syrup or other liquid sweetener
½ vanilla pod, seeds scraped
chopped pistachios, for decoration
METHOD
CAKE
Set the oven to 180° C. Line a 2lb cake tin (see notes) with a piece of baking parchment or grease it.
In a bowl mix together all wet ingredients. In another bowl, mix together all dry ingredients.
Slowly tip the dry ingredients into the wet ingredients and incorporate everything together but, like with all batters, be careful not to over mix.
Spoon the batter (yes, it's meant to be that thick) into a baking tin. Bake for 50-60 mins depending on your oven. It's done when a toothpick comes out fairly clean.
ICING
Drain and rinse soaked cashews. Put them into a food processor to grind into a smooth paste.
Add in silken tofu and all other ingredients. Process some more.
Put the icing into the fridge for a few hours so that it thickens. It won't be as thick as an icing made with margarine and icing sugar, but it will stay on the cake.
NOTES
Volume measurement I use is 1 cup = 237ml
* To make an applesauce, peel, core and chop 3 apples. Put them in a pot with a cup of water and spices and simmer covered until soft. I added the following spices to it: 1 allspice, 2 cloves, 1 cinnamon stick and ½ star anise. Once the apples are cooked, I pureed them with a hand blender. You can make a bigger batch and freeze it for another use.
PLEASE NOTE that a 2lb cake tin is very different from a 2lb bread tin. A 2lb cake tin (which should be used here) holds about 5 cups / 1250 ml (by contrast the bread one holds 8 cups / 2000 ml). The batter should fill no more than 2/3 – 3/4 of the 2lb cake tin or else the cake may not raise.