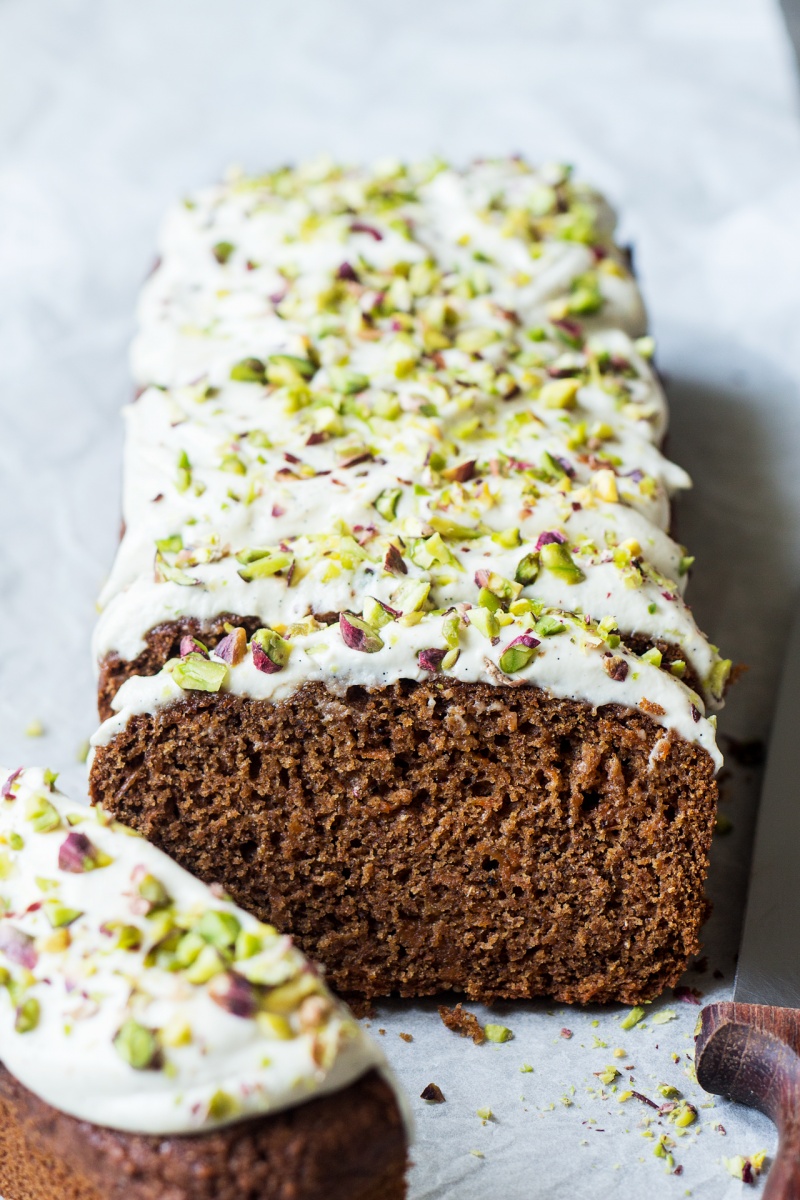 A recipe for a carrot cake was one of my first cake recipes on the blog. It took me so many tries to arrive at the perfect ratios that I remember having a bit of an embarrassing breakdown and seriously doubting my cooking skills. This stupid cake reduced me to a sobbing mess crouched down on my kitchen floor.
By the time I wiped off my tears, the last cake (which I pronounced 'rubbish' upon taking it out from the oven) had a chance to cool off and, once I cut into it, I suddenly realised that I had finally cracked the vegan carrot loaf code. I felt a bit silly. I went from wanting to chuck it all in to elated and cheerful within a few minutes.
Poor Duncan, who witnessed my breakdown, was probably considering doing a runner especially that I was holding a kitchen knife…
As I am a firm believer in not re-inventing the wheel, this recipe is based on my original recipe except that I've made this one gluten-free (plus simplifed the recipe in the process) and also improved and simplified my cashew frosting. This frosting is smooth and creamy. It does not include any added oil or agar agar, neither does it require a powerful blender thanks to two simple tricks that my very average blender has forced me to come up with.
This cake has a fair amount of spice in it, it's a bit of a cross between a carrot cake and a bunch of gingerbread cookies. I personally love that but if you are not that keen on spices, simply dial them down a bit or skip most of them, cinnamon is a must in a carrot cake though, surely!?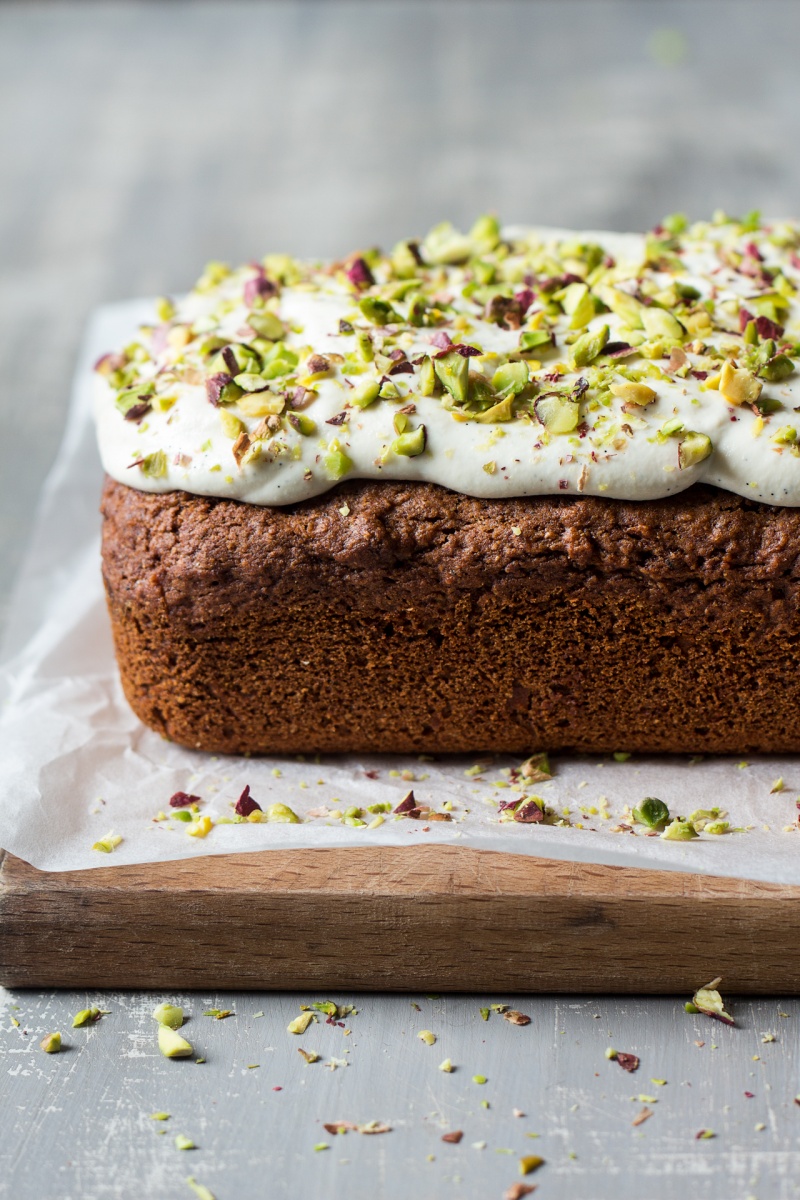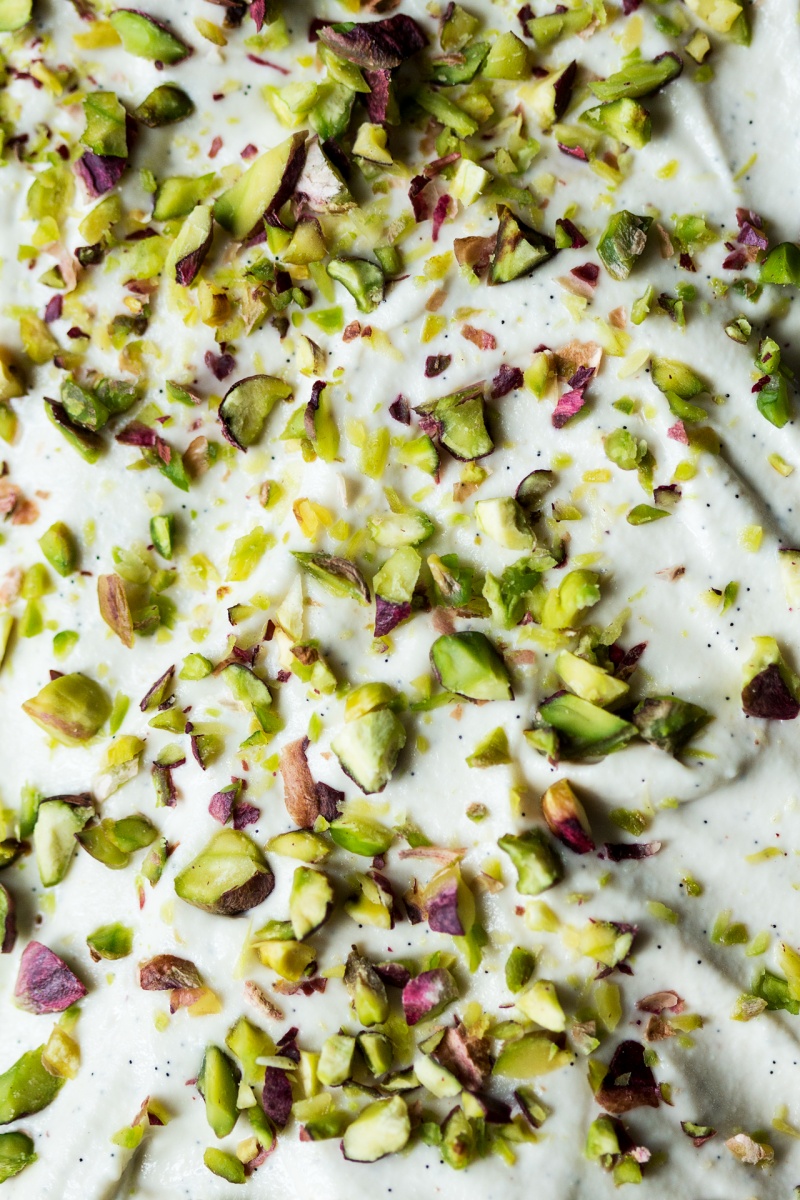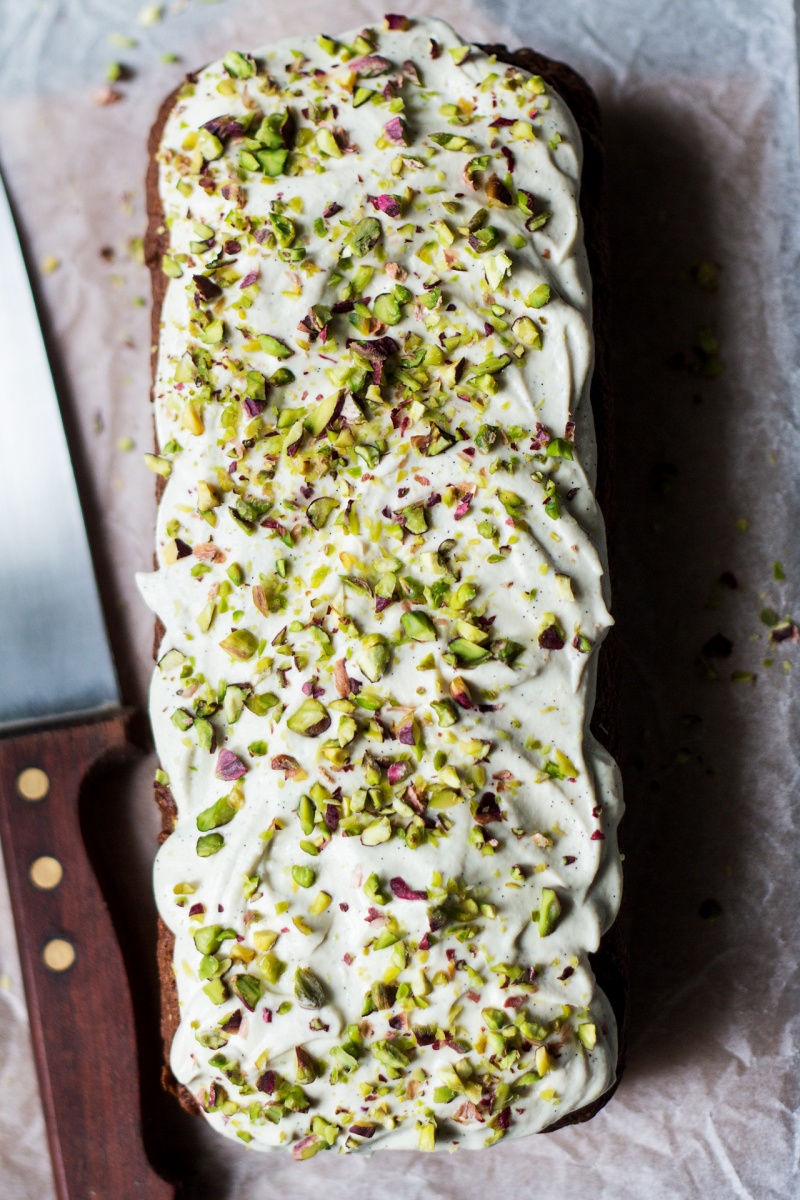 CARROT CAKE
WET INGREDIENTS
120 g / ¼ lb carrots, coarsely grated (1½ cups grated)
120 g / ½ cup + 2 tbsp brown sugar
150 ml / ½ cup + 2 tbsp apple sauce*
80 ml / 1/3 cup oil (I used mild olive oil)
water
DRY INGREDIENTS
180 g / 1½ cup buckwheat flour**
1 tbsp ground chia or flax seeds
1 level tsp baking soda
1 level tsp baking powder
pinch of salt
1 tsp cinnamon
1 tsp ground ginger
½ tsp ground nutmeg
1/8 tsp ground cloves
CASHEW FROSTING (makes 1½ cups)
195 g / 1½ cups cashews, soaked overnight
4 tbsp maple syrup, adjust to taste
3 tbsp lemon juice
2-3 tbsp coconut milk (I use this brand) or thin plant milk
1 vanilla pod, seeds scraped
chopped pistachios, for decoration
METHOD
CAKE
Set the oven to 175° C / 345° C. Grease a 1kg / 2lb cake tin (please see notes) with a bit of oil.
In a bowl mix together all wet ingredients. If you are using shop-bought apple sauce (I tried both Sainsbury's and Waitrose own brands), it tends to be quite dry. In that case add 6 tbsp of water to the wet ingredients. If you are using homemade apple sauce that is way wetter, add only about 3 tbsp of water.
Place a sift over the bowl with wet ingredients and sift all dry ingredients through it. Mix well, as this is a gluten-free batter, you can mix at will. However, if you've decided to use wheat flour (as per my NOTES), fold the flour in very gently and be careful not to overmix.
Allow the cake batter to rest for about 20 minutes for the chia / flax seeds to activate in the added moisture.
Spoon (it should be quite wet but not runny) the batter into a baking tin. Bake for 50-60 mins depending on your oven. It's done when a toothpick comes out fairly clean. Let it cool down completely before removing from the tin and icing.
Once cool, remove from the tin and decorate with chilled frosting and chopped pistachios.
CASHEW FROSTING (I recommend making the day ahead!)
PLEASE NOTE that this recipe yields 1½ cups of frosting, enough to ice two cakes, but I do not recommend halving it as this is the smallest amount the blender can handle.
Rinse the cashews and chop them roughly. If you own a very powerful blender (like a Vitamix or Blendtec) this step may be completely redundant, but with my low-range (and fairy old) blender, this is the only way I can achieve a smooth consistency without adding too much liquid.
Divide the chopped cashews into six portions roughly. Chuck the first portion of chopped cashews into a blender with maple syrup, lemon juice and coconut milk (start off with 2 tbsp, add the 3rd later if needed). Process until super smooth.
Once smooth, add another portion of the chopped cashews. Process until smooth and repeat until you've used up all of the cashews. Towards the end, the mixture will become very thick and heavy and your blender may struggle to turn. To remedy this, start making circles on the surface of your mixture (in the direction of the turning blades) with a spatula to prevent air pockets forming under the mixture's surface. Be careful not to dip the spatula in too deep as you don't want to accidentally touch the turning blades. If you follow the technique I've described above, there should be enough moisture in this recipe not to have to use any extra liquid, which means you'll end up with a smooth, creamy and thick frosting.
Place the mixture in the refrigerator for a few hours (or freezer for 20-30 minutes) to firm up.
NOTES
*To make an apple sauce, peel, core and chop 3 apples. Put them in a pot with a cup of water and simmer (covered) until soft and falling apart. Once the apples are cooked, puree them with a hand blender. You can make a bigger batch and freeze spare portions for another use.
**If you don't care about avoiding gluten, skip ground chia / flax seeds and use 1½ cups / 185 g wholemeal (wholewheat) flour instead of buckwheat flour. Once you sift the flour, you will end up with chunkier bits of flour left on the sieve – don't throw them out – put them back into the cake mix. The point of sifting is not to eliminate these, but to aerate the flour to make the cake lighter.
PLEASE NOTE that a 2lb cake tin is very different from a 2lb bread tin. A 2lb cake tin (which should be used here) holds about 5 cups / 1250 ml (by contrast the bread one holds 8 cups / 2000 ml). The batter should fill no more than 2/3 – 3/4 of the 2lb cake tin or else the cake may not raise.