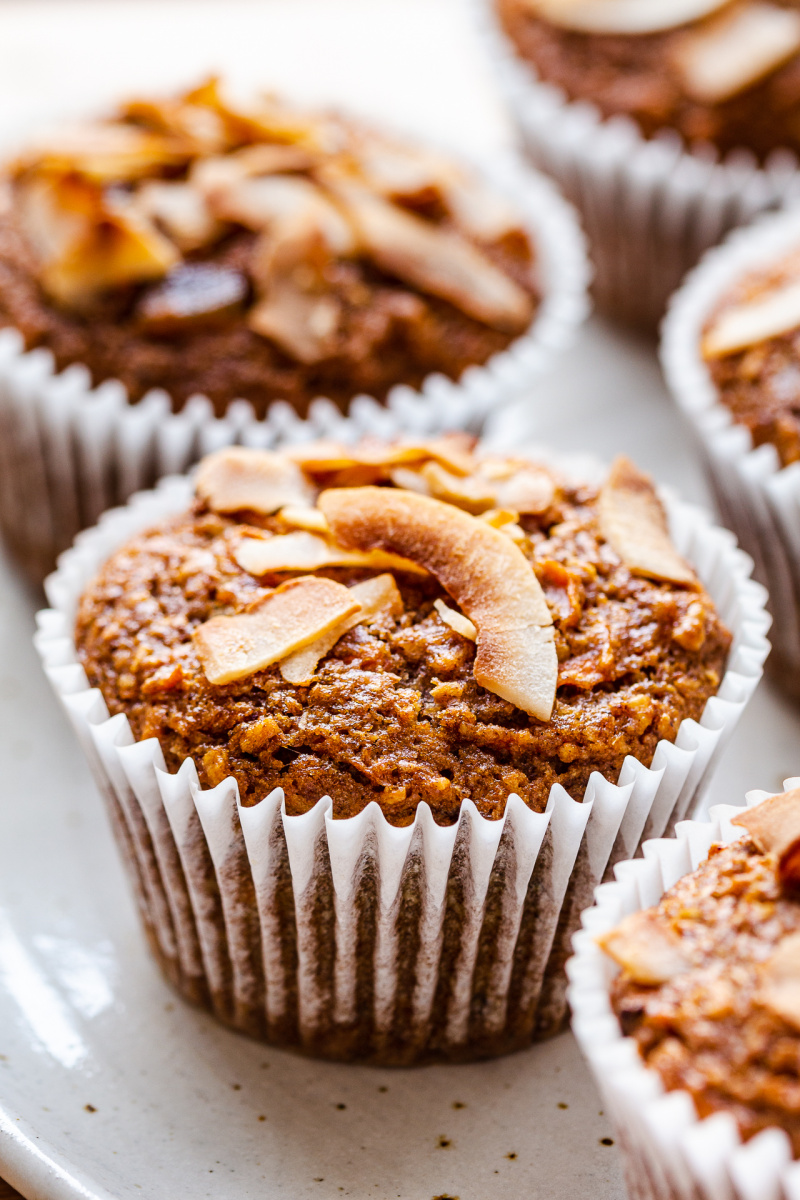 I hope you are having a good weekend! I've done some baking therapy (Duncan is the big winner in this!) and made some very seasonally appropriate vegan carrot muffins fragrant with cinnamon and ginger!
Speaking of spices, I finally got round to reorganising my vast spice supplies as they have been a mess for ages and I could not stand it any longer. It was on my todo list for a while but I was paralysed by my indecision as to which spice jars I actually want. After a lot of 'research' (or procrastination more like), I finally ordered 40 spice jars for my most frequently used spices and condiments. They arrived on Friday and I am so pleased I did, they look great on my shelf! I'm halfway through the job and I'm already looking forward to using my new spice lab 😉 .
I'm trying to push forward with small house improvements as much as I can before we can tackle another room – study is on the list next as I badly need a quiet place with a door I can shut to work in (I've been tucked into the corner of our living room since the pandemic began and it's not ideal for many reasons). I painted our knackered bathroom door last week, which wasn't an easy job . There were so many layers of old paint on the glass panels and due to them having texture (to increase opacity), the task of getting rid of them took a lot of trial and error first and a lot of precision and elbow grease later. Luckily, I am okay at both so they scrubbed up pretty well and I can tick it off the list.
Going back to these muffins, they are one-bowl kind of easy to make, moist and delicious. I made them with wholemeal spelt flour and a little desiccated coconut and studded them with a generous amount of walnuts and small cubes of stem ginger, as I think that's a great seasonally appropriate combo that just works. I used homemade applesauce to keep them nice and moist but if you don't have any on hand, you can always use shop bought applesauce or puree some canned pineapple instead – I tried it in another, similar, recipe and it worked a treat. I hope you'll make them and be able to enjoy one with a mug of coffee (or tea) in beautiful autumnal sunshine before the colder days move in on us.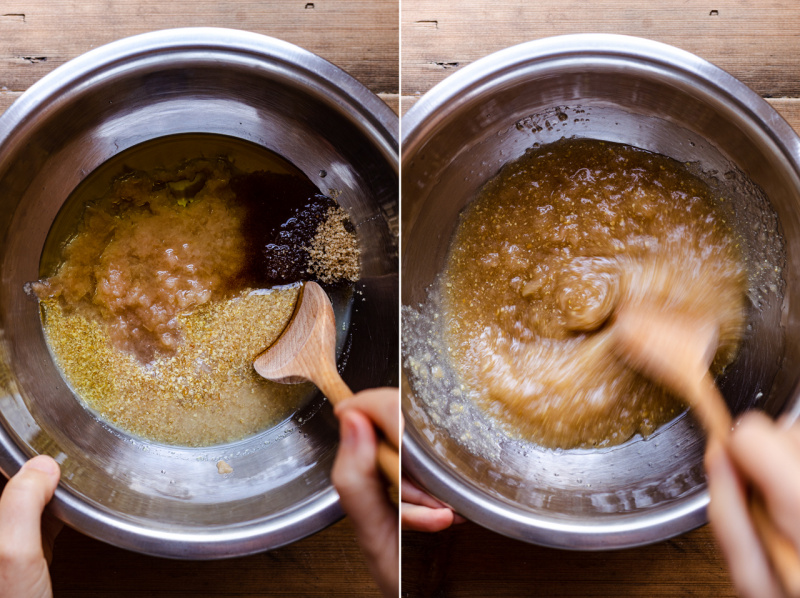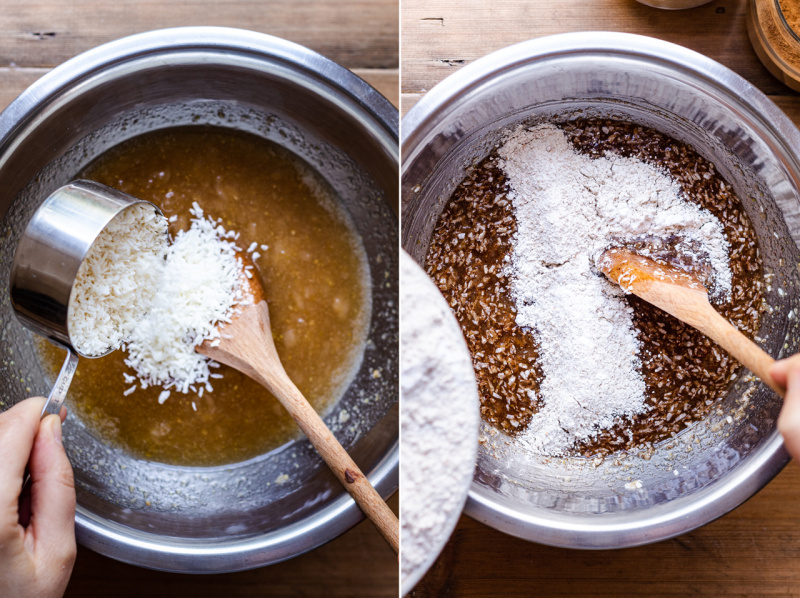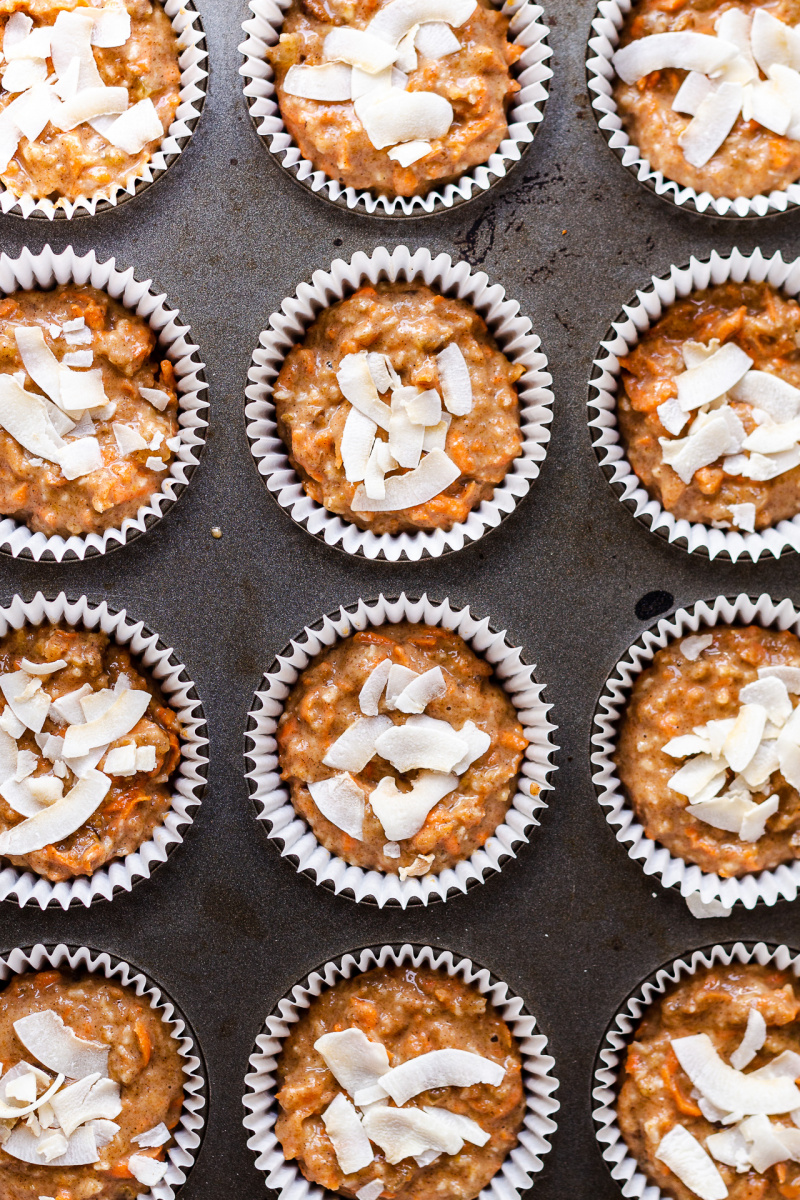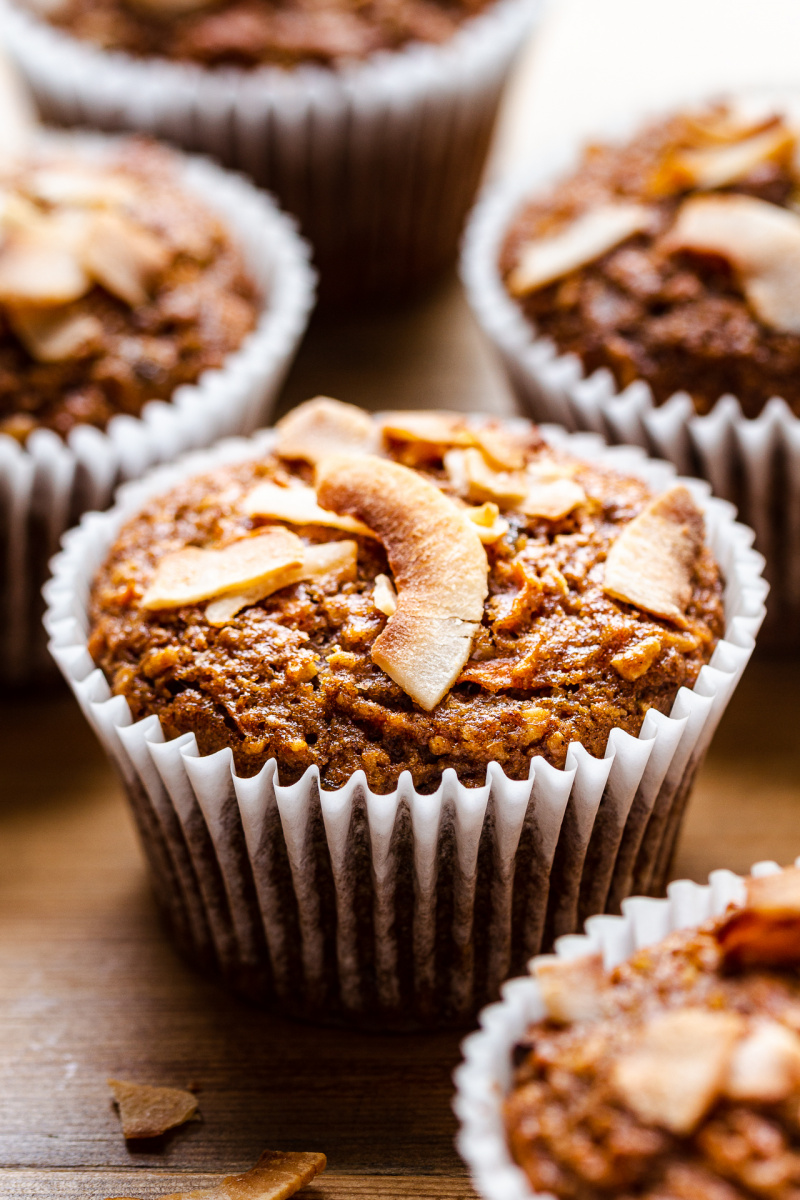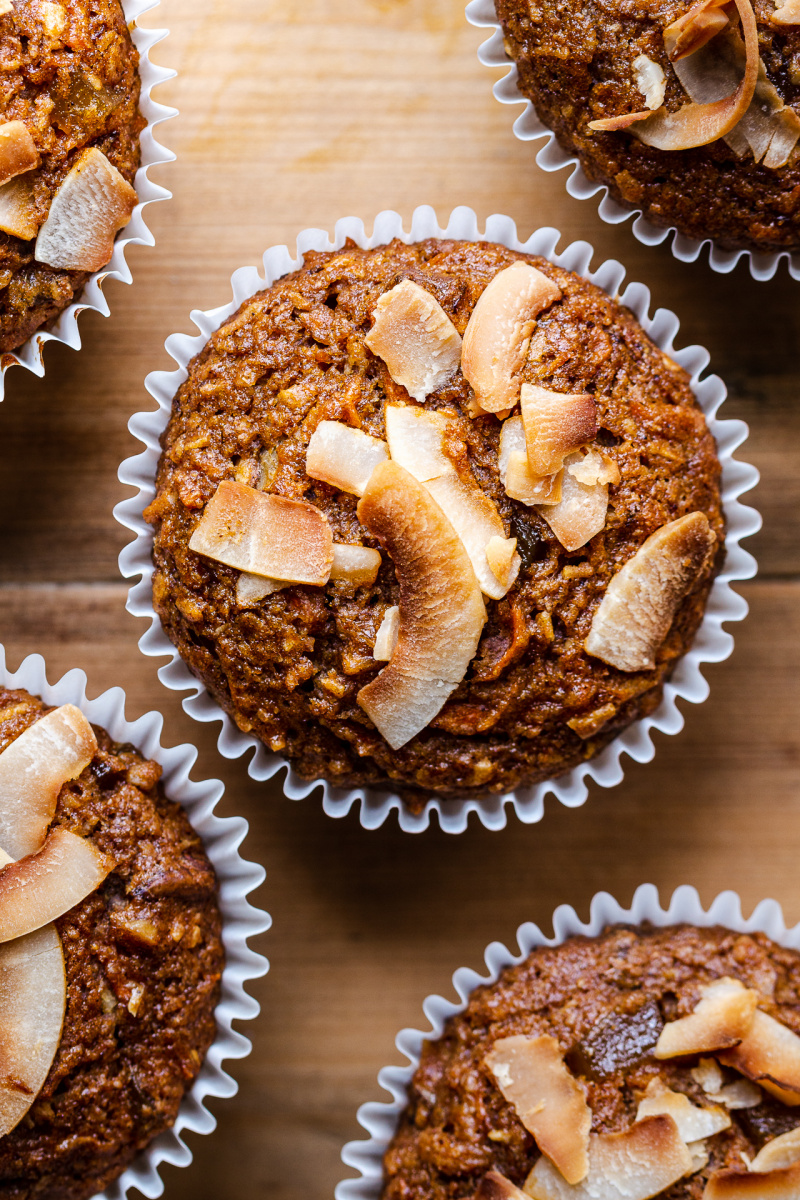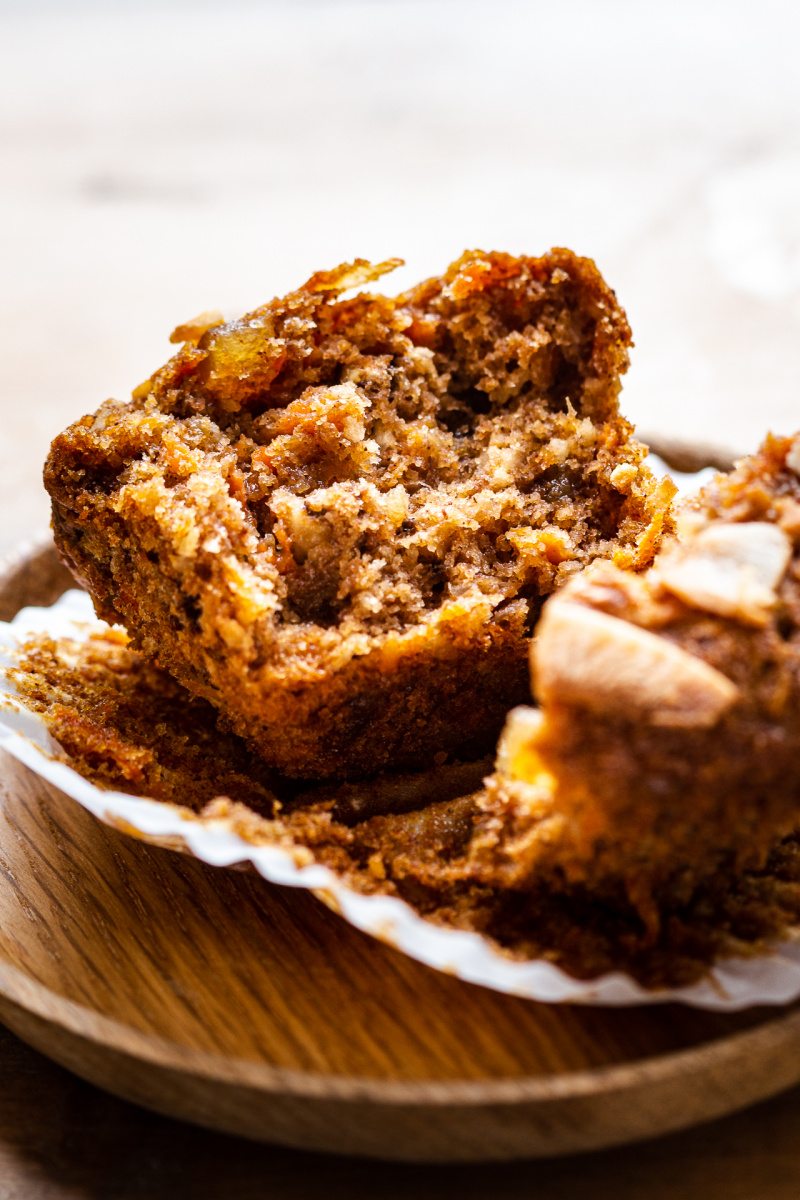 WET INGREDIENTS
150 g / ¾ cup brown sugar or coconut sugar
170 g / 2/3 cup smooth applesauce
80 ml / 1/3 cup light olive oil (or other neutral oil)
10 ml / 2 tsp lemon or lime juice
8 ml / 1½ tsp vanilla extract
30 ml / 2 tbsp plant milk or water
DRY INGREDIENTS
35 g / ½ cup desiccated coconut
¼ tsp salt
1½ tsp cinnamon
1 tsp ground ginger
180 g / 6.3 oz (heaped 1½ cups) wholemeal spelt flour* (or oat flour* for GF version)
1 tsp baking soda (GF certified if needed)
1½ tsp baking powder (GF certified if needed)
220 g / 7¾ oz (2 lightly packed cups) coarsely grated carrots
OPTIONAL EXTRAS
50 g / ½ cup chopped walnuts or pecans
65 g / 2¼ oz (4 balls) stem ginger, diced*
untoasted coconut flakes, for decoration
METHOD
Mix ground up seeds with 45 ml / 3 tbsp of water and set aside in the fridge to thicken.
Set the oven to 180° C / 355° C. Line the tin with paper cupcake liners.
In a bowl mix together sugar, applesauce, olive oil, lemon juice, vanilla extract, thickened flax or chia and an extra 30 ml / 2 tbsp of plant milk / water. Whisk vigorously with a wooden spoon.
Mix in desiccated coconut, salt and spices.
Next, fold in spelt flour (in roughly) 3 batches and both baking agents.
Once combined, stir in grated carrots and (if using) walnuts and stem ginger.
Divide the batter between 12 muffin holes, decorate with coconut flakes (or extra walnuts and ginger) and bake for about 28-30 min depending on your oven. The muffins are done when a toothpick comes out fairly clean. Let them cool down completely (!) before removing them from the tin and eating.
NOTES
*SPELT FLOUR – can be replaced with wholemeal wheat flour but the baking time may differ a little.
*OAT FLOUR – if using oat flour instead of spelt, the muffins are likely to need an extra 10-15 minutes in the oven.
*STEM GINGER – if you cannot find it, you can use candied ginger, raisins or chopped apricots instead.