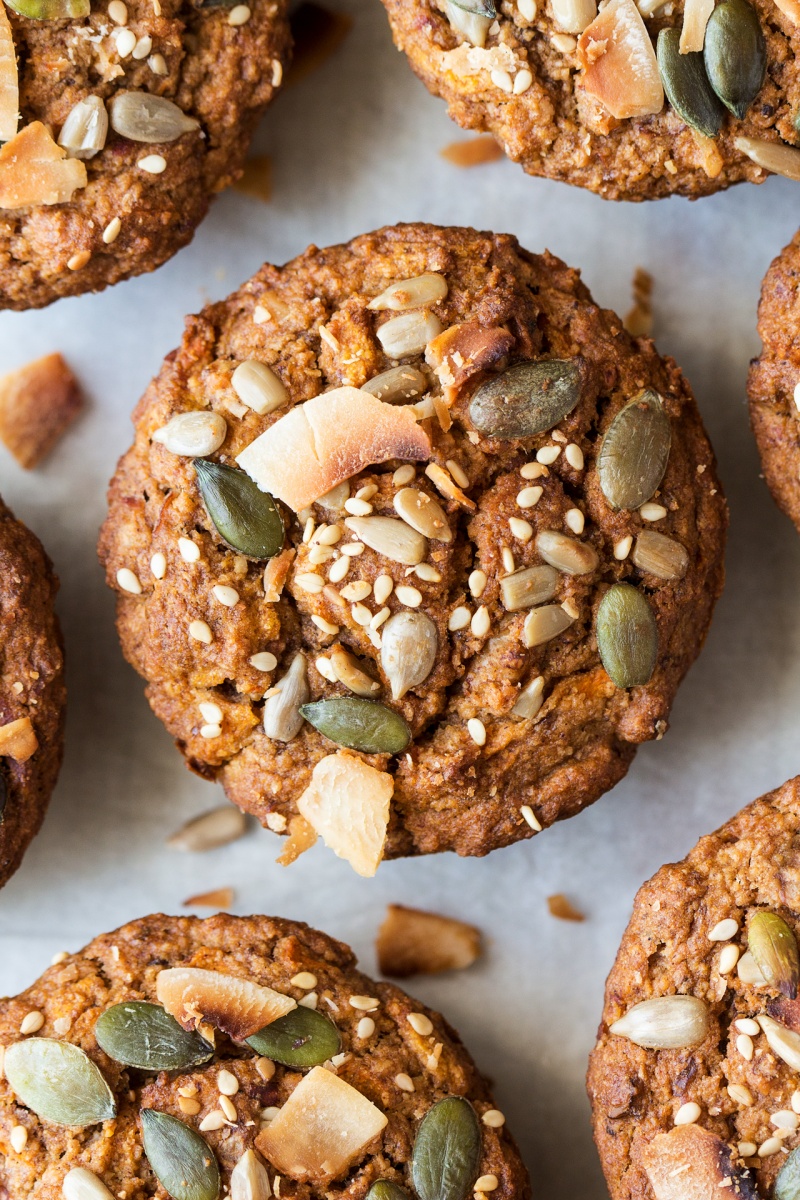 Today's recipe is very season-appropriate for most of Europe, at least. I say that as, in its typical fashion, Greece is still in two minds about whether it's ready to move into autumn full time.
I'm not complaining here. Lovely Duncan is whisking me away to Santorini for my birthday weekend soon so fingers crossed autumn hesitates for a wee bit longer.
So today's treat is a tray of autumn-inspired, moist carrot muffins fragrant with gingerbread spices (cinnamon, ginger, cloves and nutmeg) and studded with walnut pieces.
These puppies are relatively low fat as applesauce does a great job of replacing some of the oil. Even though I don't usually count calories, I did in this instance as I somehow managed to inhale 2.5 muffins yesterday. It was a bad day and no, muffins did not help much, but hey, no shame in doing some emotional eating now and again, or is it? I'm working on it…
So in case you are curious, each muffin is just over 200 kCal without the topping as that's kinda hard to calculate with precision. Anyway, these are not that guilty as far as muffins go. They pack a lot of wholesome goodness into their small stature – oat flour, almond milk pulp, applesauce and heaps of grated carrots – so make them pronto and if, like me, you cannot be trusted with a whole tray, share with your neighbours and friends.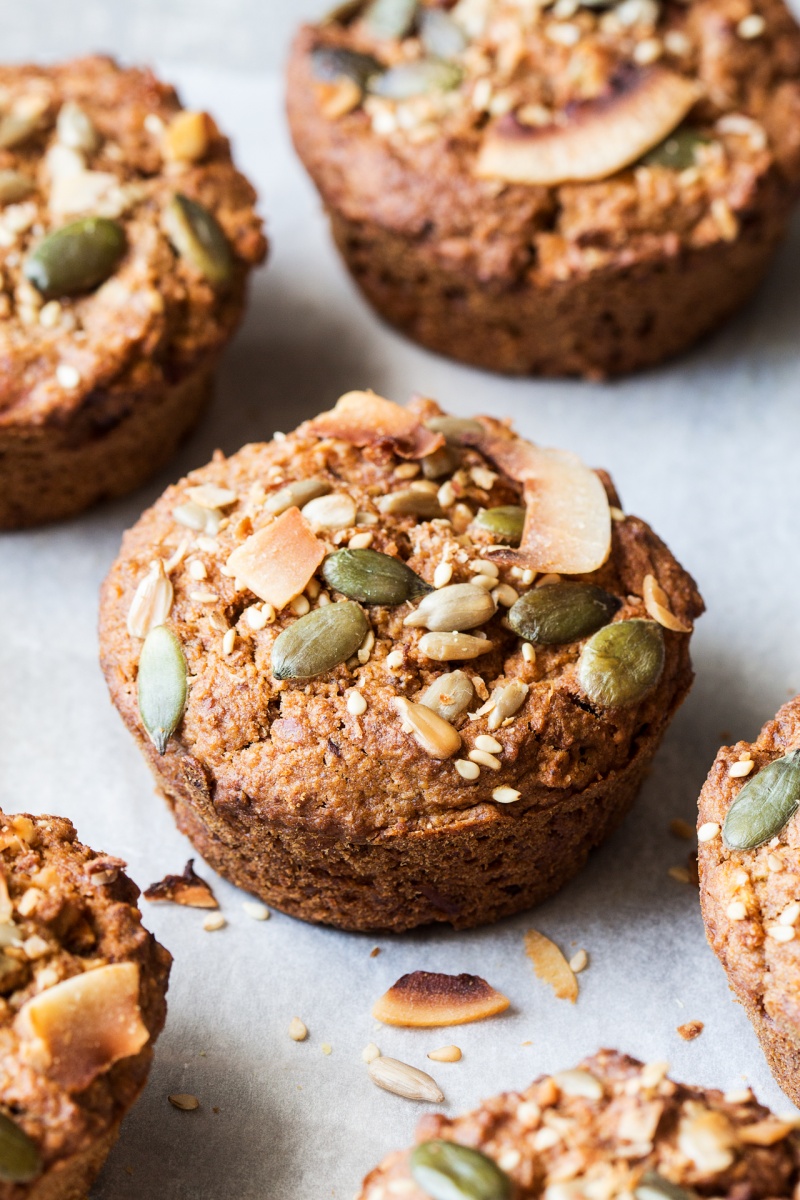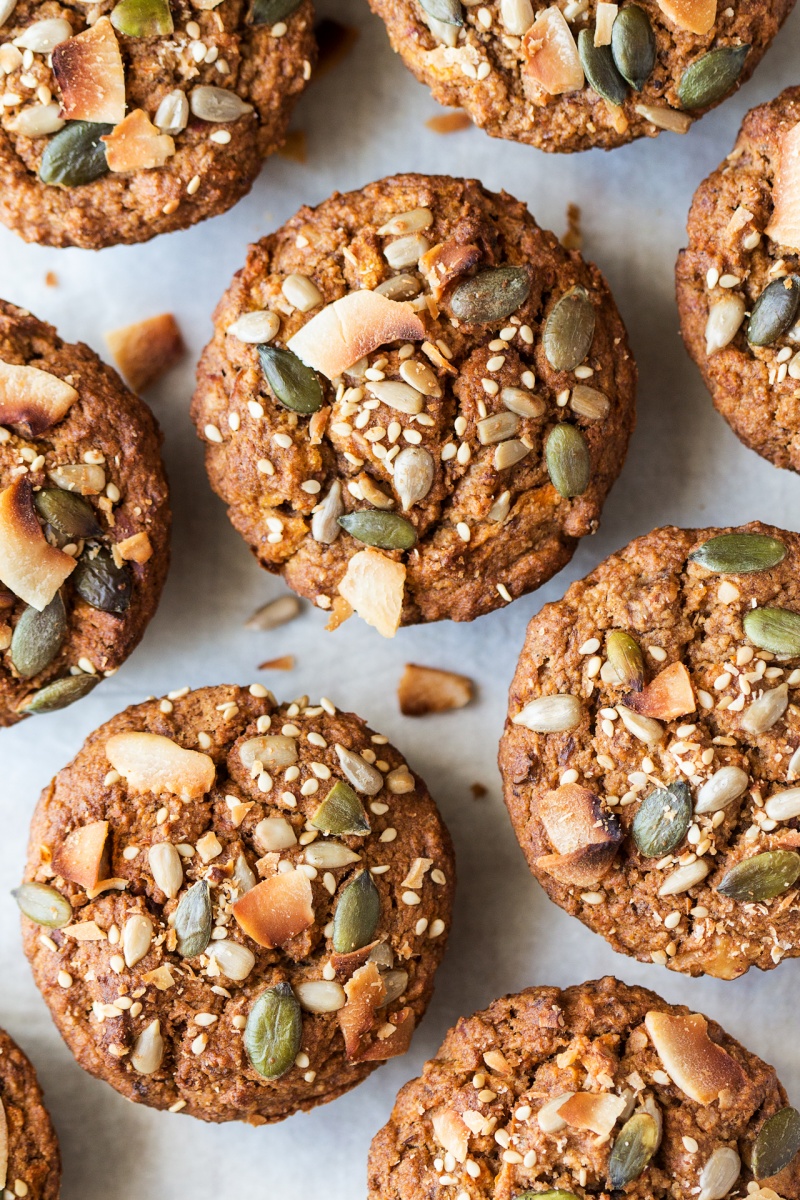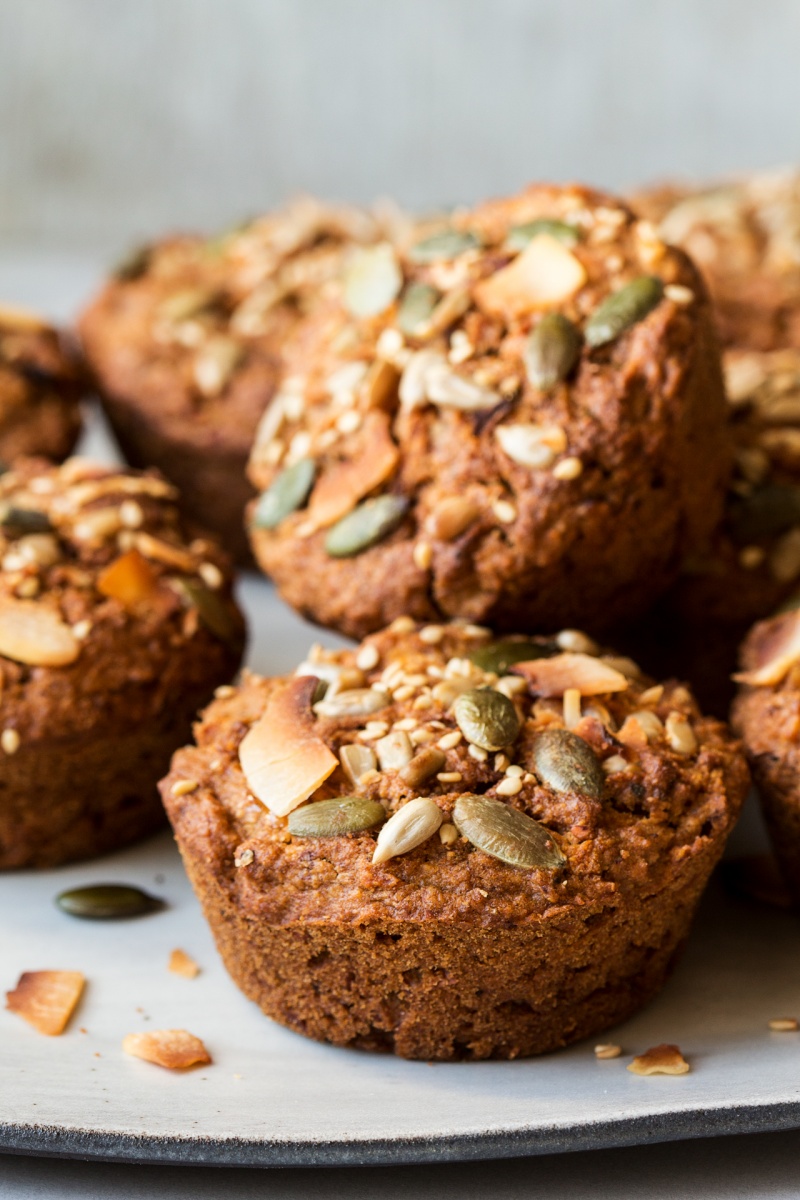 WET INGREDIENTS
150 g / ¾ cup brown sugar
180 ml / ¾ cup applesauce*
80 ml / 1/3 cup olive oil
2 tsp lemon juice
DRY INGREDIENTS
180 g / 2 cups oat flour (GF certified if needed)
1 tsp baking soda (GF certified if needed)
1½ tsp baking powder (GF certified if needed)
a good pinch of salt
1½ tsp cinnamon
¾ tsp ground ginger
¼ tsp ground cloves
¼ tsp ground nutmeg
80 g / ½ cup packed almond milk pulp**
200 g / 7 oz (approx. 1¾ cups) coarsely grated carrots
½ cup chopped walnuts
a mix of seeds, for topping
METHOD
Prepare a chia (or flax egg) – detailed instructions here.
Set the oven to 180° C / 355° C. Grease a standard 12-hole muffin tin with a tiny bit of olive oil.
In a bowl mix together sugar, applesauce, olive oil, lemon juice and chia egg. Whisk vigorously with a hand whisk.
In another bowl mix together oat flour, salt, spices, baking powder and baking soda.
Place a sieve over the bowl with wet ingredients and sift the dry ingredients into the wet ingredients. Mix well.
Fold in almond milk pulp (no need to dry it out first), grated carrots and chopped walnuts.
Spoon the batter between 12 muffin holes, decorate with a mixture of sesame, sunflower, pumpkin seeds and some coconut flakes.
Bake for 40-45 min depending on your oven. The muffins are done when a toothpick comes out fairly clean. Let them cool down completely before removing them from the tin and eating.
NOTES
*To make an applesauce, peel, core and chop 3 apples. Put them in a pot with a cup of water and simmer (covered) until soft and falling apart. Once the apples are cooked, purée them with a hand blender. You can make a bigger batch and freeze spare portions for another use.
**Or 60 g / ½ cup of coarsely ground almonds and an extra 2 teaspoons of water.