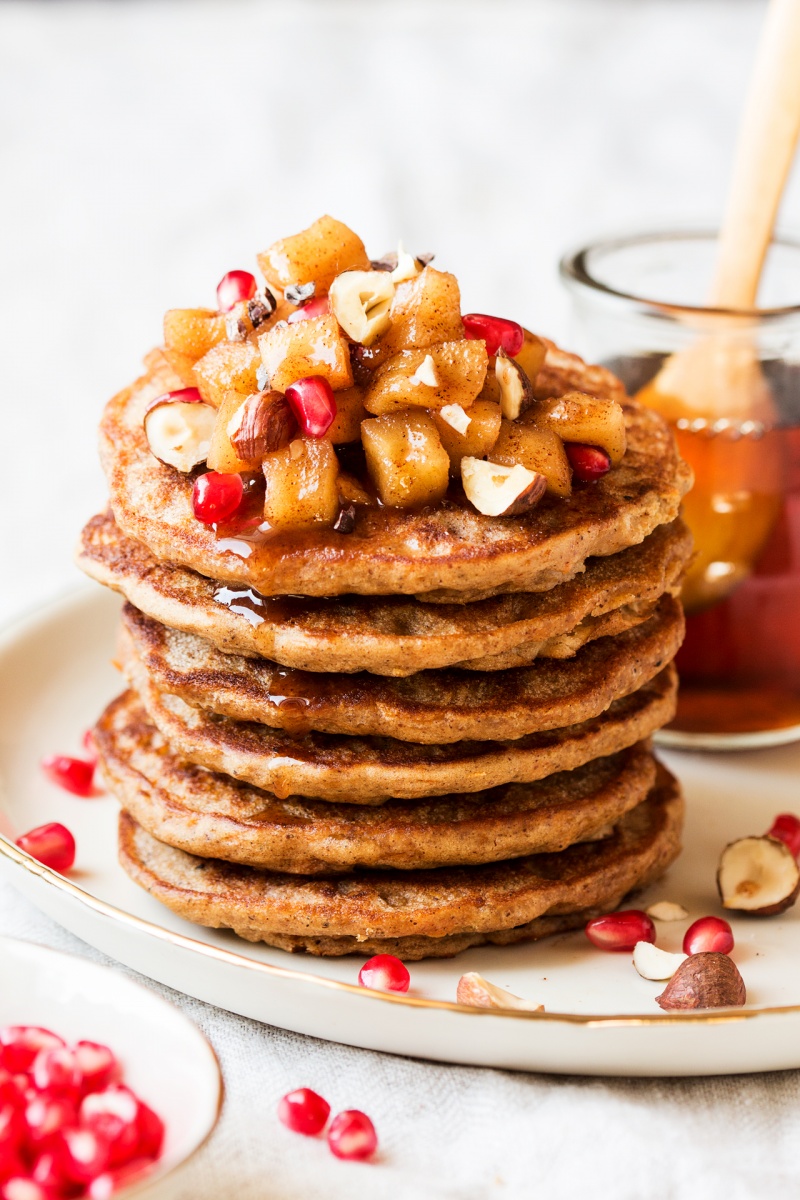 It's official, guys! I'm turning into my mum – sneaking veggies into stuff!! This particular veggie smuggling attempt is really pleasant to eat though so bear with me. It's a stack of carrot-cake inspired and carrot packed breakfast pancakes that smell like gingerbread cookies!! What's not to like, eh?
I served mine with stewed apples and a dead simple maple and almond caramel, but maple or agave syrup on its own will do too! I made them for Duncan the other day and he had a big smile on his face as soon as the smell of all the spices hit his nostrils.
What made me come up with these is the fact that I'm trying to clear out all my cupboards at the moment and most of the ingredients used in these are my staples. I am clearing the cupboards as we are moving… No, not just moving house – that would be far too simple for us… 😉 We are moving country, AGAIN! Gasp!!!
So to cut a long story short, after a beautiful and eventful sojourn in the Greek islands, we are moving back to the UK. I know what you are all thinking! 'Are you crazy? Why are you leaving this gorgeous blue sky and the sound of the sea for constant drizzle with infrequent sunny spells?'
We've been thinking about it for a some time now and the time has finally come to bite the bullet. Yes, we will miss all the gorgeousness we are leaving behind, but the plan is to be back here for a few months every year. We intend to make a habit of it as once you live somewhere this awesome, it's impossible to leave it all behind.
We are perhaps not looking forward to the English weather, but what we are looking forward to is more culture, being able to joke in our own language (well, Duncan's own language, but I get by) and meeting like-minded people too as Paros isn't exactly swarming with vegans. We are excited and sad about this move in equal measure.
Although all this to-ing and fro-ing keeps life challenging and exciting, we promised each other that this is going to be our last big move for at least another 10 years. Let's see if we can finally settle down for good. 😉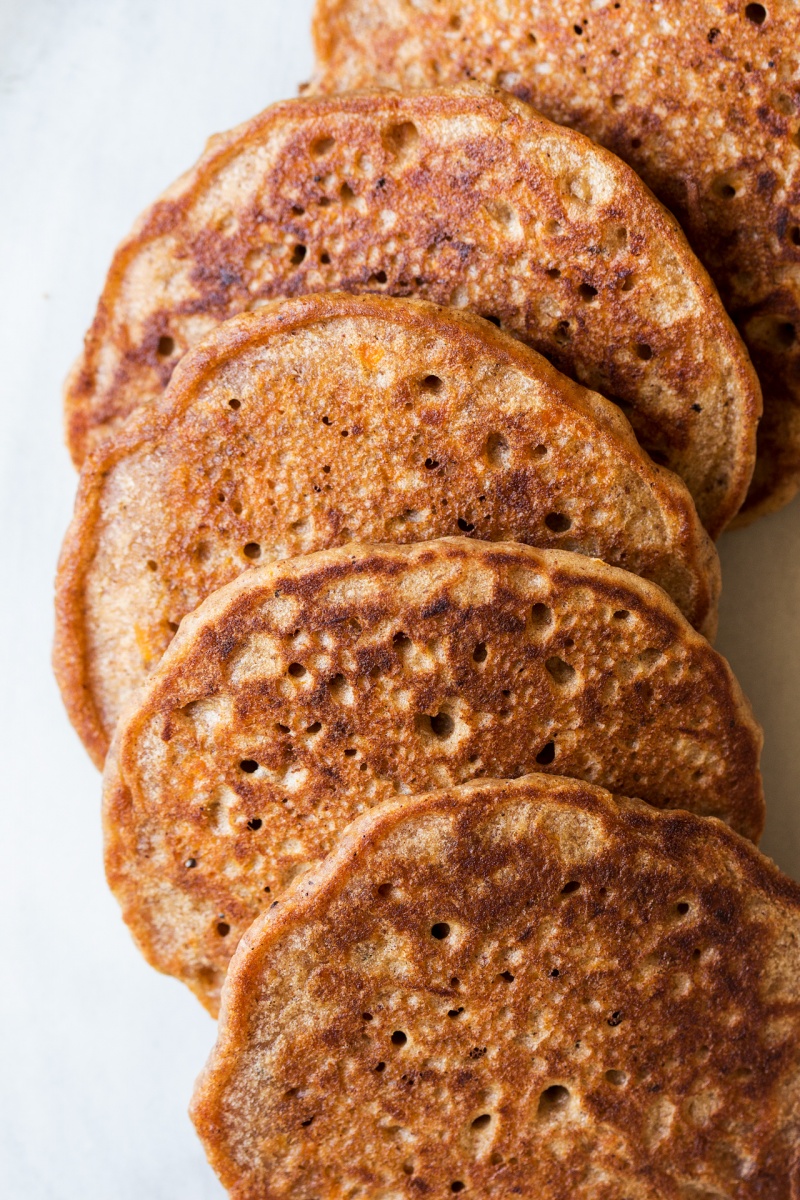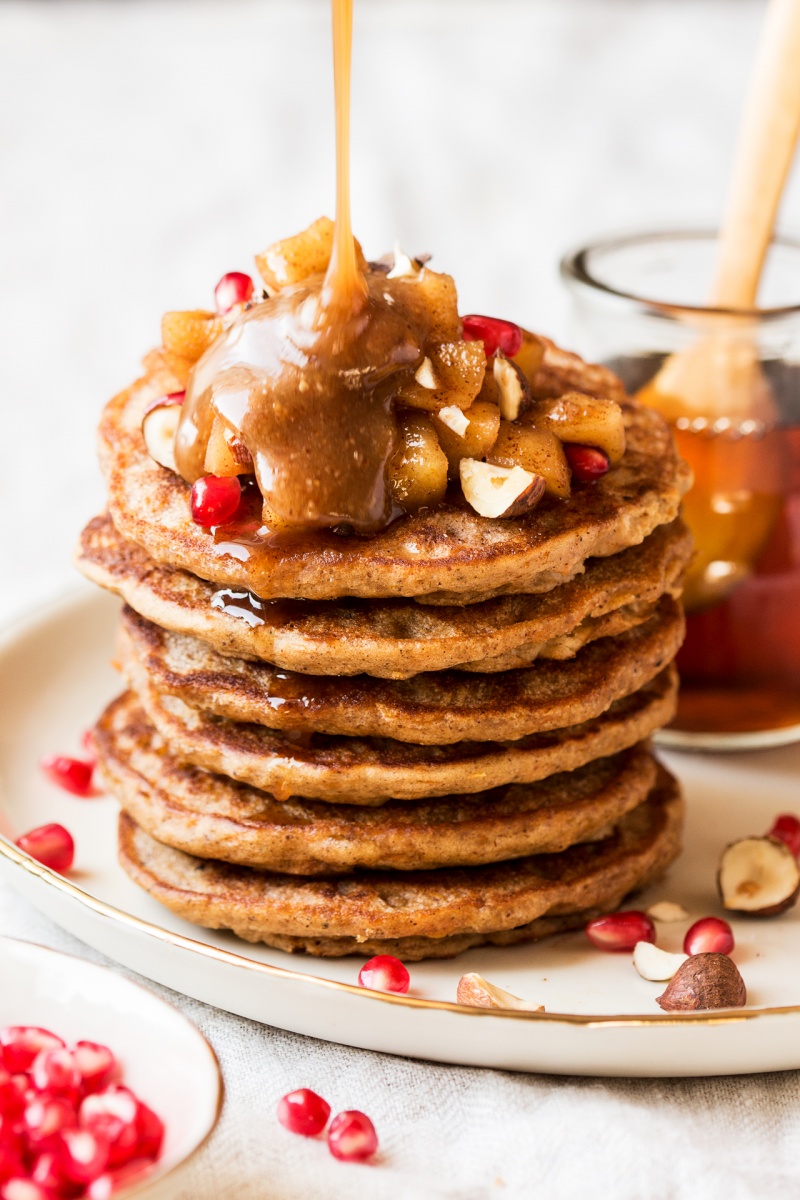 140 g / 1 rounded cup buckwheat flour or wholemeal flour
¾ tsp cinnamon
¼ tsp ground ginger
¼ tsp ground cloves
¼ tsp ground nutmeg
1 and ¼ tsp (gluten-free if required) baking powder
½ tsp (gluten-free if required) baking soda
180 ml / ¾ cup any plant milk
2 tbsp almond butter (or any nut butter)
2 tsp lemon juice
2 tbsp maple syrup
110 g / 1 cup grated carrots
1-2 tbsp oil for frying (I used mild coconut oil)
CINNAMON APPLES
1 large sour apple (I used Granny Smith), diced small
½ tsp cinnamon
maple syrup (optional)
MAPLE ALMOND CARAMEL
60 ml / ¼ cup maple syrup
2 tablespoons almond butter
salt to taste
METHOD
In a mixing bowl combine flour, spices, baking powder and baking soda.
Whisk in plant milk and almond butter.
Whisk in lemon juice (it's essential in making the pancakes rise) and maple syrup.
Fold in the grated carrots.
Heat up a medium non-stick frying pan on the stove. Don't get the pan too hot (I used setting 3 out of 6) as the pancakes will burn before cooking in the middle.
Brush the pan with a bit (I found that ½ tsp is enough if you're using a non-stick pan) of oil using a pastry brush.
Ladle 2 tablespoons (I use a 1/8 cup measuring spoon for this) of the pancake mix per pancake. Cook each pancake for about 2 minutes on one side – until a few little bubbles form and burst – then flip. Cook for another 1-2 minutes on the other side, until nicely browned.
Keep the cooked pancakes in a stack, in a warm oven while making the rest. Serve with stewed apples and maple almond caramel sauce.
CINNAMON APPLES
Place the diced apples in a small pot with a dash of water (60 ml / ¼ cup) and cinnamon. If you would like it sweeter, add maple syrup to taste. Stir well to coat.
Let them cook gently, on a low-medium heat, until they become soft and cooked through. Once ready, they will become less opaque.
MAPLE ALMOND CARAMEL
Slowly heat up the maple syrup in a pan. When it starts to boil gently, take it off the heat.
Stir in the almond butter and salt with a hand whisk.
Return the pan to the stove and simmer very gently, stirring the caramel for another minute to thicken the sauce a little bit – remember that it will thicken a bit more as it cools anyway. If it's too thick once cool, stir in a few drops of plant milk or water to bring it make it a pourable consistency again. Set aside.
NOTES