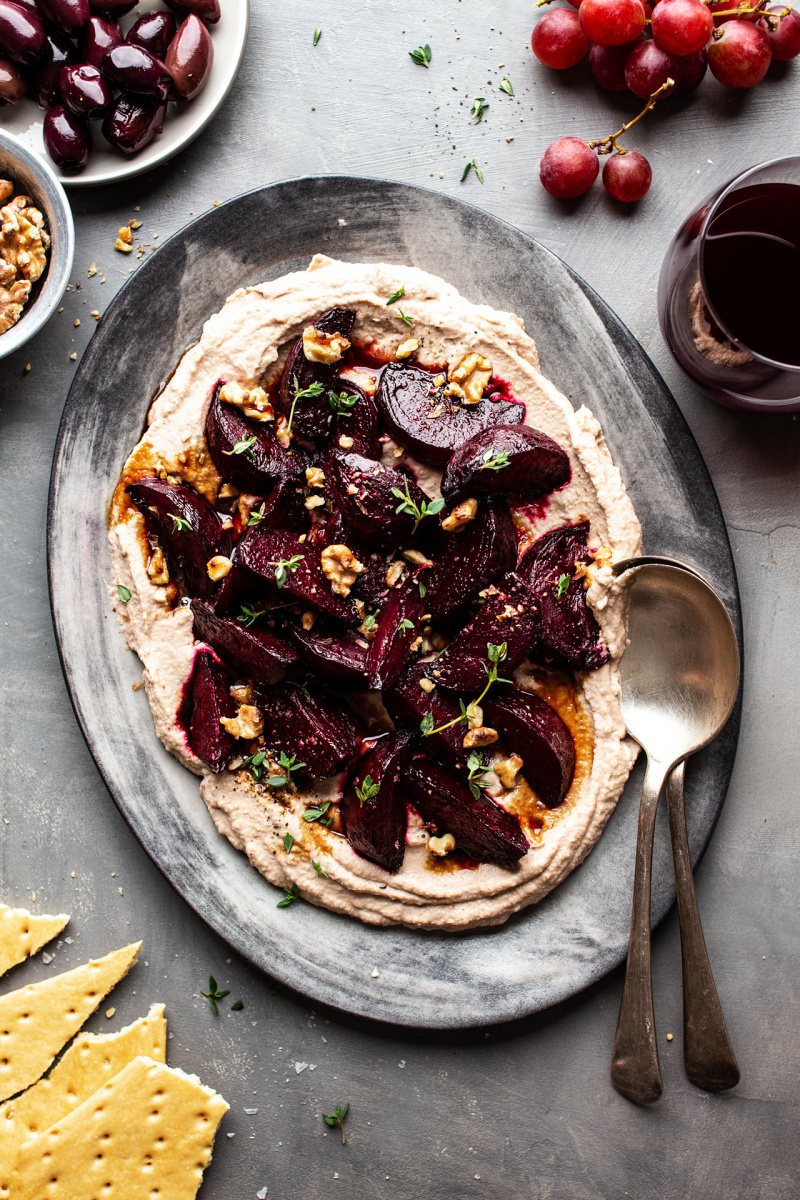 Hope your week is going well? The recipe I planned for today is inspired by cool, moody autumn and as luck would have it our weather has totally backtracked and bestowed a few warm and sunny, almost summery days on us after we have said goodbye to summer. I'm not complaining as I have been loving the warmth this week – I took Monday off to sit in my garden and read – but it rendered my recipe a little less relevant. I still decided to go ahead with it today as I'm sure that it will come in handy soon enough. It's easy to make, cosy and delicious, full of flavour and texture and makes for a fantastic autumn or winter side or a part of a varied mezze spread.
This recipe is in part inspired by a Greek dish called skordalia, which is basically beetroots (cooked usually) served with intensely garlicky sauce or dip based on either ground almonds, starchy potatoes or rehydrated stale bread.
For my dish, I've decided to roast my beetroots in the oven as that's how I enjoy them most and serve them on a bed of creamy cauliflower mash / dip flavoured with roasted walnuts and roasted garlic cloves and topped with a drizzle of tangy-sweet balsamic glaze.
I strongly recommend baking both cauliflower and the beetroots – if you decide to do them both at once, take care not to overcrowd the tray as too much moisture will inhibit the roasting process. You could also steam the cauliflower while roasting your beets, but roasted florets contribute so much more flavour in my opinion.
I've made my mash creamy by incorporating a few tablespoons of roasted walnut butter. You can get it in shops these days, but it is so ridiculously easy and quick to make at home that I would not bother. As opposed to almonds or hazelnuts, walnuts are quite soft and oily so once they get beautifully golden in the oven, they get churned into silky smooth butter in no time. My really old and on its last legs food processor only needed about 3 minutes to do the job. It stores for ages and it will bring flavours of roasted cauliflower or celeriac to another level.
The final component that really brings this dish together is balsamic glaze and once again, you can simply buy it, but it's so easy and quick to make that I prefer to make my own. I detailed how to do that below if you are similarly inclined.
This simple dish is beautiful on its own, but if you want to make it into more of a main meal, serve it with some crusty bread or olive oil crackers, Kalamata olives and a big green crunchy salad. I hope you'll love it as much as we have.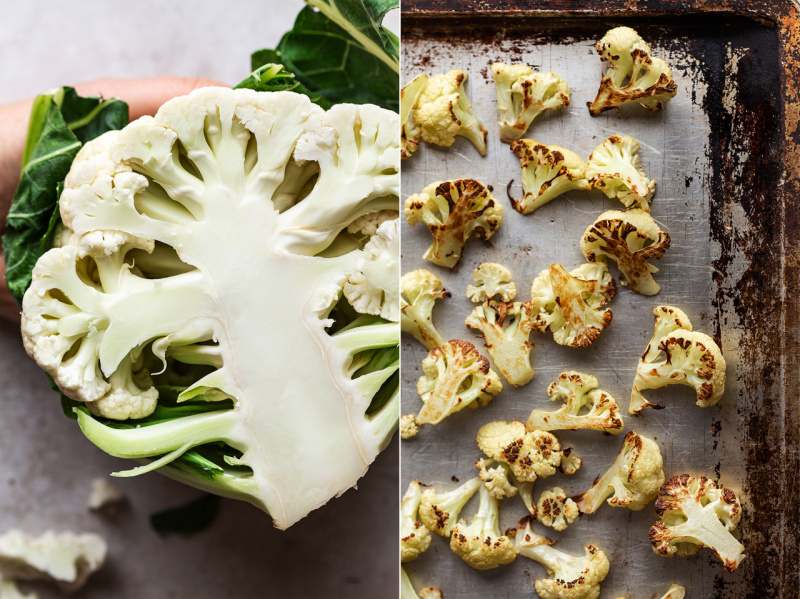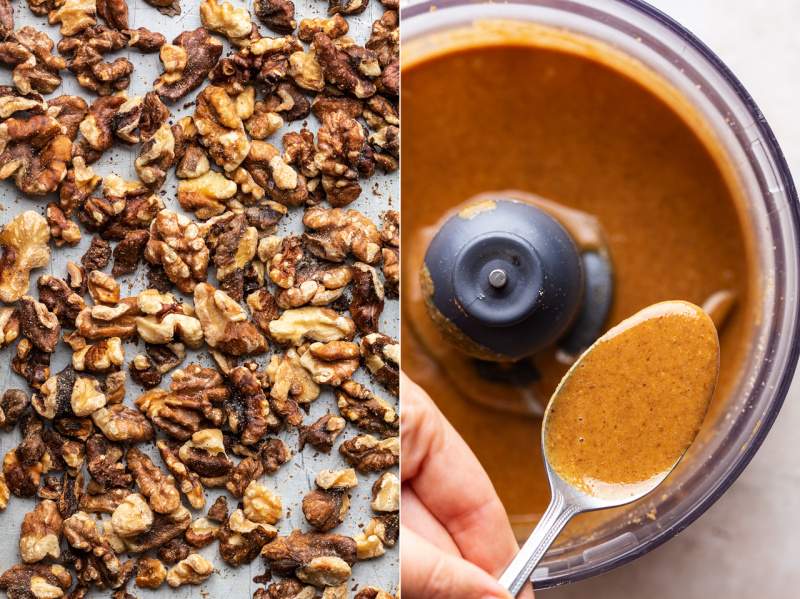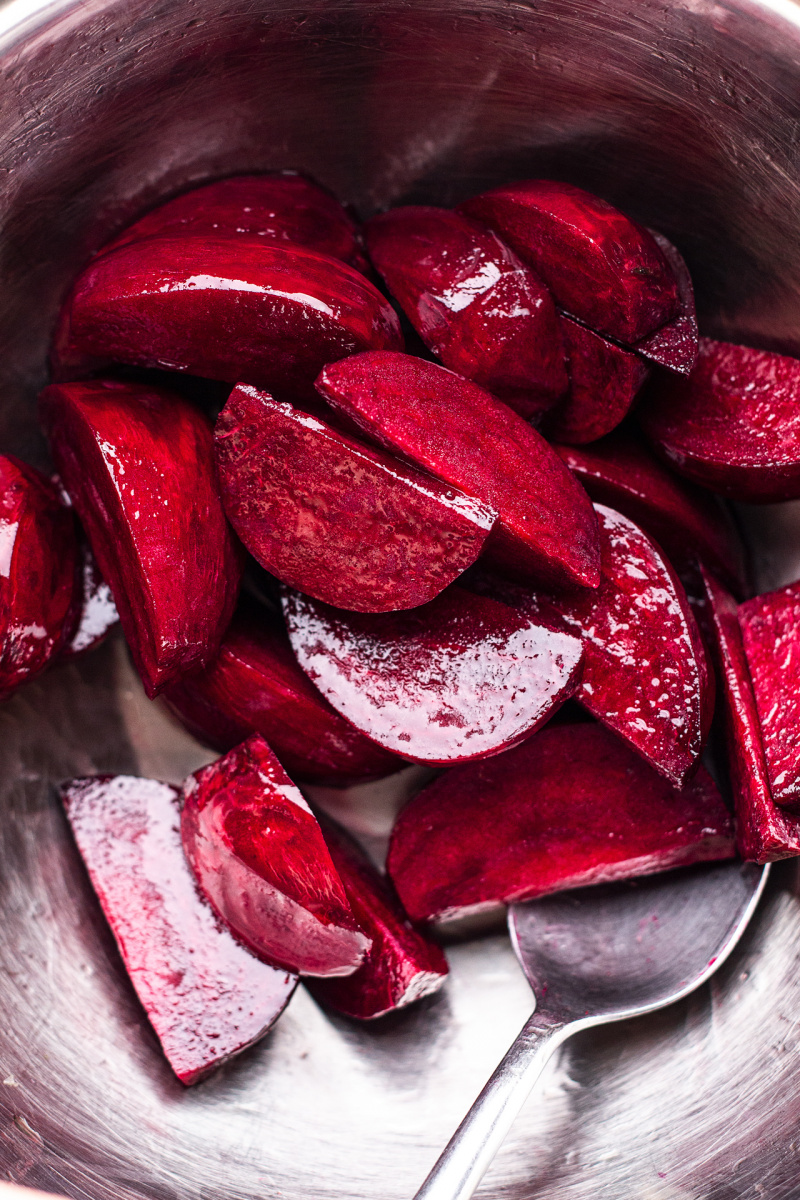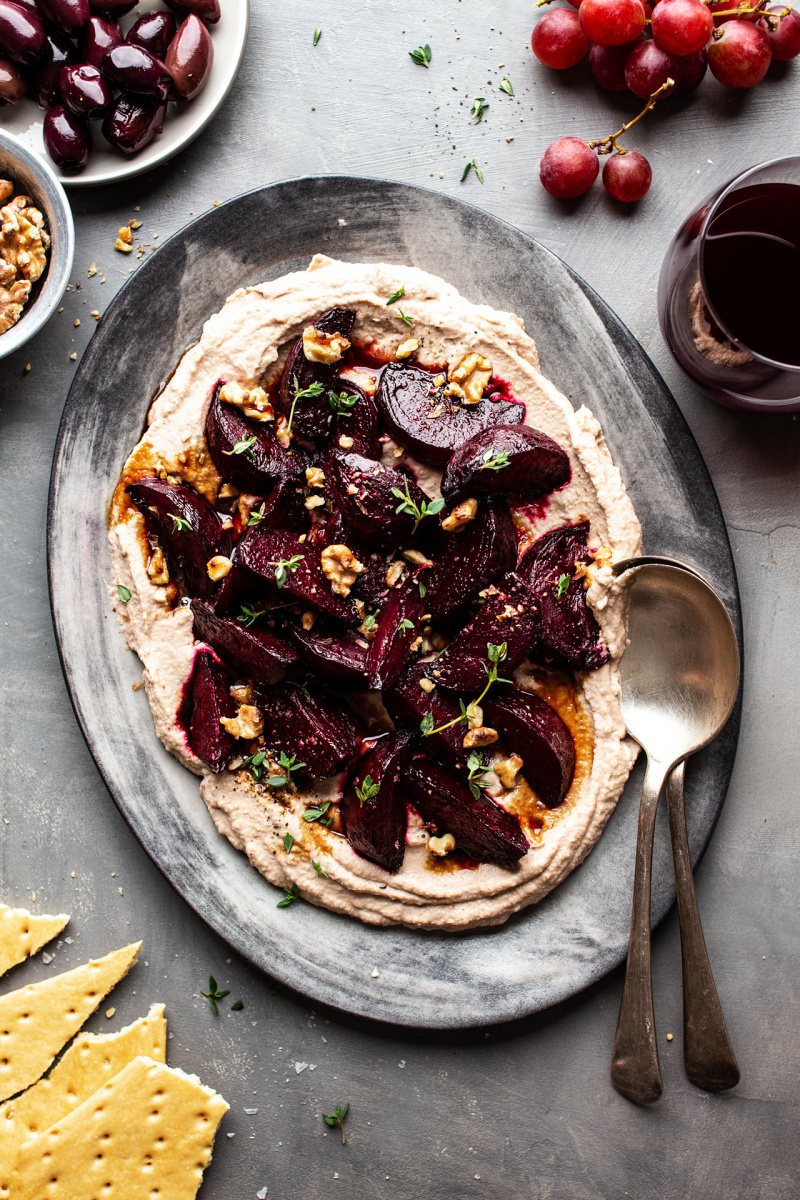 450 g / 1 lb cauliflower florets (1 medium cauliflower)
1-2 tbsp olive oil
1 head of garlic
450 g / 1 lb raw beetroot
½ tsp salt, more to taste
120 ml / ½ cup almond (or other neutral tasting) milk
60 ml / ¼ cup roasted walnut butter*, shop-bought or see below
30 ml / 2 tbsp lemon juice or apple cider vinegar
black pepper, to taste
½ tsp ground cumin (optional)
2 tbsp balsamic glaze / reduction, shop-bought or see below
roasted walnuts, to garnish
fresh thyme leaves,to garnish
WALNUT BUTTER (if making from scratch)
BALSAMIC GLAZE REDUCTION (if making from scratch)
4 tbsp balsamic vinegar
2 tbsp maple syrup or sugar, adjust to taste
METHOD
Heat up the oven to 200° C / 390° F and grab a very large baking tray. It's important not to overcrowd the tray so if your tray isn't large enough, you may need to roast the cauliflower and the beets separately.
Divide cauliflower into medium, same size as much as possible, florets. Stir 2 tsp of olive oil through it and arrange the pieces on one half of the baking tray, cut sides down.
Cut the tops of the garlic head off so that all the individual cloves are exposed, drizzle with olive oil, wrap in the piece of kitchen foil and place on the same tray.
Finally, scrub and peel (you can leave the peel on if you like) all of the beetroots. Cut them into wedges, small ones 4 ways, medium ones 6 ways and really big one 8 ways. Coat in 1 tbsp of olive oil and season with salt. Arrange them on the other side of the tray.
Bake for about 25-30 minutes, flipping the florets and beetroot wedges to the other side 15 minutes in – you want the florets to be charred on one side before flipping them over.
Place roasted / steamed cauliflower florets in a blender (you can use a food processor but the dip won't be as smooth) together with almond milk, walnut butter, vinegar / lemon juice, squeezed out roasted garlic cloves (I used 6, use as many as you prefer). Process until super smooth – you will need to stop the blender and scrape down the sides from time to time. Season with salt, pepper and cumin. To make the dip / mash extra smooth and indulgent, you may want to add a little bit of walnut oil or extra virgin olive oil.
Spread the cauliflower dip on a large plate / platter and arrange the roasted beets artfully on top. Drizzle with balsamic reduction, scatter roasted walnuts and fresh thyme leaves on top.
WALNUT BUTTER (makes 240 ml / 1 cup)
Heat up the oven to 180° C / 350° F.
Spread walnuts on a large baking sheet and roast in the preheated oven for about 8 minutes, until golden and fragrant. Cool.
Place roasted walnuts in a food processor and process until you obtain a walnut butter. It took my very old Kenwood 3 minutes so it shouldn't take that long at all. Transfer the butter to a jar and store in the fridge (it keeps for at least 1 month).
BALSAMIC GLAZE / REDUCTION
Place balsamic vinegar and maple syrup (or sugar) in a small pot, mix well and place on a low heat.
Simmer gently to reduce to the desired consistency (the length of time depends on the quality of the balsamic vinegar, the more runny type of balsamic will take longer to reduce). The tricky part here is that it is only possible to judge the reduction once the mixture has cooled down completely so it's easy to over reduce or not reduce enough. That's not a problem though – if you over reduced, bring it back with a small splash of water. If not reduced enough, return the pot to the stove and simmer some more.
NOTES
*You can use tahini instead, but roasted walnut butter works so much better and it gives the dish a lovely umami flavour.