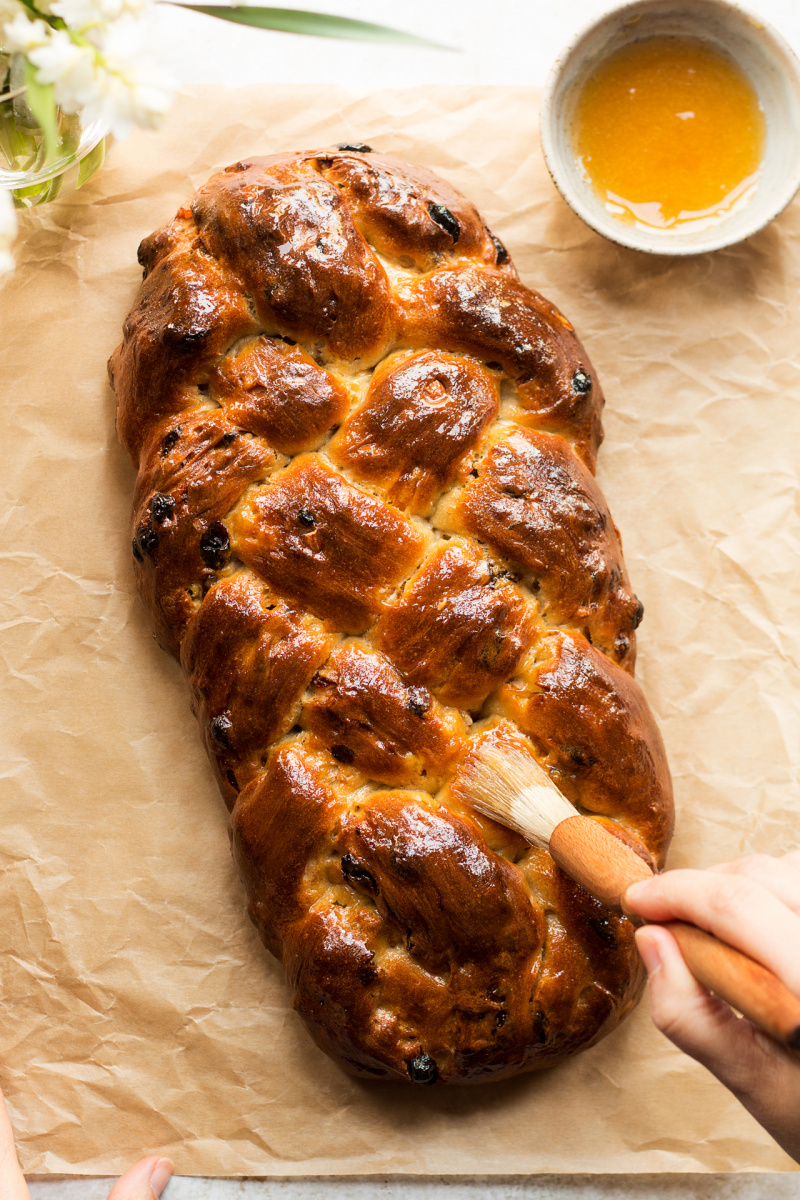 Our lazy cat (she is living up to her name!!) home is finally taking shape! We finally have a dining table and chairs, whoop whoop. And we are hoping to finally paint the guest bedroom next weekend so that my brother and his girlfriend have somewhere nice to sleep when they visit us in two weeks time. You may be wondering why it's been taking so long? Well, we take our prep very seriously and it's very time consuming, especially when the previous house owners clearly did not. Why bother with a masking tape when you paint two very different colours next to each other, eh? Sorry for sounding a touch exasperated. I am a little… As there are a lot of botched jobs to correct and that is why it is taking ages.
Later on today, I am hopping on a ladder to fix a spiderweb of small hairline cracks that mysteriously appeared on the bedroom ceiling all of a sudden. We did investigate the seriousness of them by the means of me walking around in the loft and Duncan watching the ceiling for movement down below. There was no movement whatsoever so it does appear that the cracks are merely a cosmetic issue, phew… But they still need to be patched up properly or they will start showing through in a few weeks after painting. So I armed myself with some jointing tape and a joint compound and after watching tens of videos on YouTube, I am hoping to be able to fix this myself. Who would have thought that those cake icing skills are so transferable, eh 😛 ?
So all this chaos is probably the reason why Easter has crept up on me AGAIN!! We don't really celebrate it, but if we did I would feel tempted to make a sweet vegan challah packed with dried fruit and nuts. It's not quite a bread and not quite a cake either, but it is a pleasure to eat and my twist on the traditional braided breads that are popular all over Eastern Europe during Easter and which probably all derive from the Jewish challah.
Challah and those traditional Easter breads are made from yeast dough enriched with quite a few eggs. I've swapped the eggs out for a mixture of orange juice and rich vegan yoghurt as I'm not a fan of contributing to male baby chicks being ground alive. While killing them in this way is the domain of big industrial farms, small-scale, local farms kill their male chicks too – albeit they use a different method – as male chicks do not bring any profit so there is no point in keeping them alive!! I thought I would throw it out there as painted eggs and fluffy baby chicks are a symbol of Easter and it's so ironic that their fate over Easter especially (when people buy even more eggs) is anything but fluffy.
One cool thing about challah is that, eggs aside, it is easily made vegan, as according to the Jewish tradition, it has to be made with no butter, so oil is used in the traditional recipes too. This sweet bread is really easy to make and full of flavour – dotted with sweet dried fruit and chopped nuts for a bit of crunch. It would make a perfect Easter breakfast table addition or simply a fantastic companion to your afternoon tea or coffee. If somehow you manage to let it go stale, don't throw it away. The leftovers will make a great vegan French toast or bread and butter pudding!!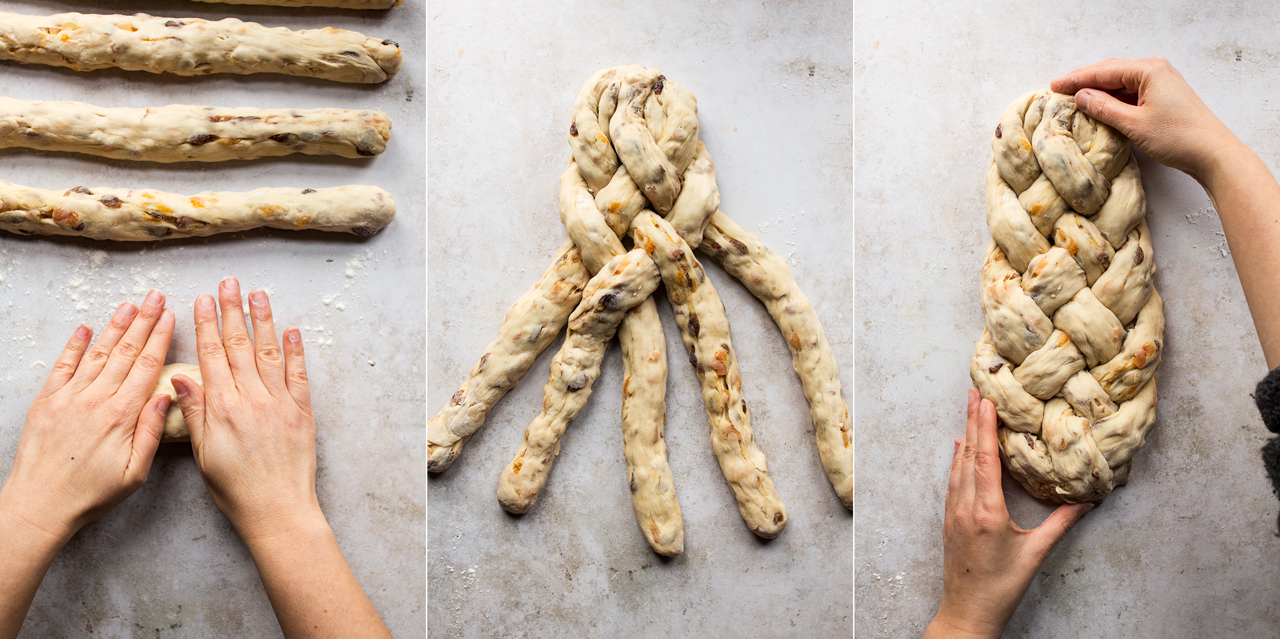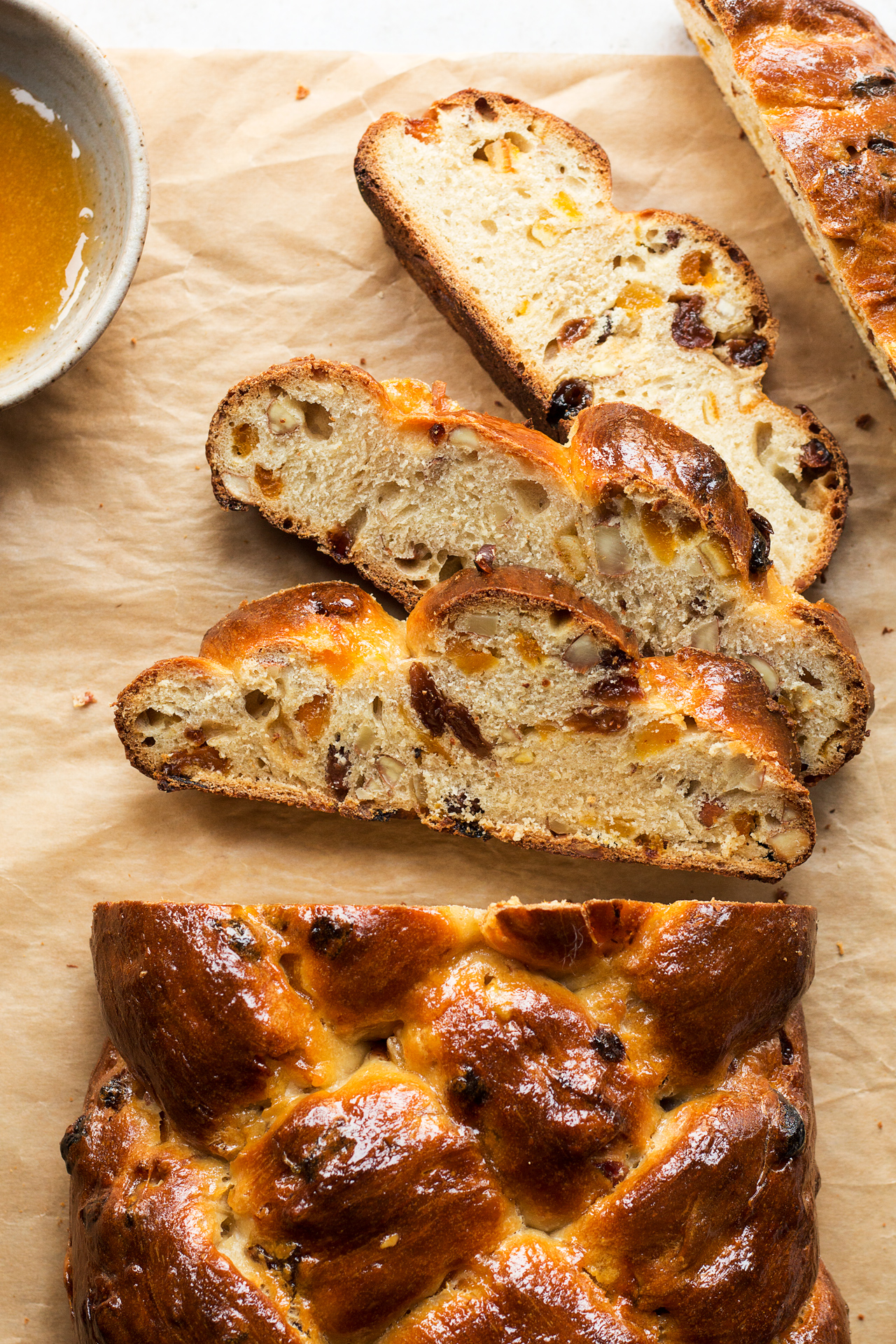 BASIC CHALLAH RECIPE
250 g / 2 cups bread flour
250 g / 2 cups all purpose flour
4 tsp instant dried yeast (prior activation is necessary with non-instant dried yeast*)
4 tbsp sugar (you can use maple syrup, but use less orange juice to compensate)
1 tsp salt
180 ml / ¾ cup orange juice or almond milk, lukewarm
180 ml / ¾ cup thick vegan yogurt (I used The Coconut Collective), at room temperature
2 tbsp olive oil (or any other vegetable oil) + a little extra for pan glazing
2 tbsp apricot jam, pressed through a sieve
EASTER ADD-ONS
75 g / 10 dried apricots
70 g / 1/3 cup sultanas
100 g / ½ cup almonds, chopped
METHOD
Sift the flours into a large mixing bowl and mix in yeast, sugar and salt. If your yeast requires activation, add the activated yeast in the next step.
Pour in the lukewarm orange juice, vegan yogurt, olive oil and stir everything together with a large wooden spoon until roughly combined.
Knead it lightly for about 5 minutes on a lightly floured surface – don't knead too much to keep the bread delicate! The dough will be on the wet side, if it's too hard to handle, dust with a bit more flour, but don't go nuts 😉 .
Form a dough ball and place it in a clean bowl covered with a kitchen towel. Place the bowl in a warm (but not too warm – avoid going too close to an open fire or a hot radiator) place until the dough has doubled in size (approx. 1-2 hrs)**.
Meanwhile, immerse sultanas and apricots in a little hot water for 5 minutes to rehydrate them. Drain and squeeze the excess moisture out of them using a sieve or a muslin cloth. Chop the apricots into fine dice.
Mix apricots, sultanas and almonds together.
Split the dough into three, four, five or six equal parts – it's best to use kitchen scales here. The type of braid you make is up to you – I found this video really helpful. I went with a five braid loaf, but the instructions below are how to make the simplest of them all – a three strand braid.
Roll each part into a long rectangle using a rolling pin. Sprinkle the rectangle with a portion of fruit and nuts and then roll up into a tight strand with both hands, applying even pressure. Once all your stands are ready ensure they are all similar width and length.
Place all three strands on a lightly oiled baking tray alongside each other, leaving a bit of space around each strand.
First pinch the ends of the three strands together at one end, then start braiding by folding the right strand over the centre strand and then the left one over the centre strand. Repeat until you get to the other end. Pinch the ends together again. Fold both pinched ends underneath the bread gently.
Cover the bread and rest for another 60 minutes, until fully proofed – if you poke it with your fingertip, it should not spring back fully, but retain a little indent.
Pre-heat the oven to 190° C / 375° F while the bread is resting. Bake for 35-40 minutes, until nicely brown on top.
Glaze while hot, with apricot jam mixed in with 2 tbsp water.
NOTES
*If your yeast needs activation, make sure not to use extra liquid or sugar – simply use some of what this recipe calls for.
**You can also make the dough and place it in the fridge overnight for the proofing stage. The next day, punch the air out, bring it to room temperate and proceed as per instructions 7-13.