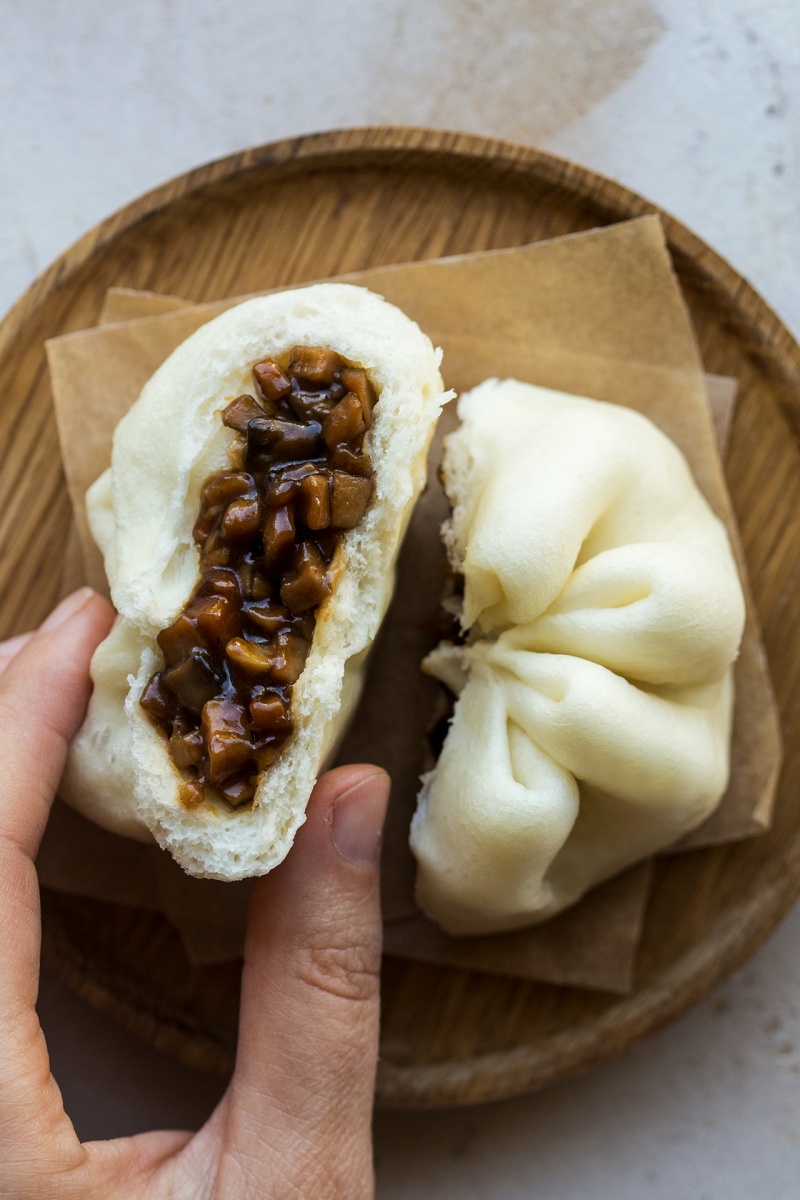 Whenever I make any kind of dumplings, my mind wanders to my late grandma. I feel like we would really bond over our love of cooking if she was still alive today. She was a real dumpling queen and I have never ever had dumplings better than hers and that's not just me being sentimental. I remember her best with flour all over her hands and a headscarf over her hair, kneading yet another 100 dumplings that the whole family was trying to get their hands on as soon as they were done. I spent so many hours at her kitchen table watching her work that even though I did not discover cooking until long after she died, I feel like I must have absorbed some of her passion and knowledge through osmosis 😉 .
My grandma was a complex character. Her youth was stolen by World War II. The love of her life was shot in battle when he was only 18 years old and I don't think she ever recovered from that. Her life was hard and she was tough. She worked at the local post office during the war and she famously slapped a German officer who tried to put his hand under her top. It's a miracle she got to be a grandmother at all. The woman had courage!
She was a tomboy and was not really a touchy-feely person. I always felt that she preferred my brother to me, perhaps because she had two sons herself so she knew how to handle boys. I was a sensitive kid who took after my mum and my mum wasn't her favourite person. This dynamic was tricky for us kids, especially that my mum is the kindest and most selfless person you'll ever meet and I remember her being upset by some of the grandma's less well judged moves. Their relationship very much fell under the classic wife and mother-in-law stereotype and it would have been okay, I guess, if not for the fact that we all lived in the same big house together.
I also have a feeling that she would totally understand our love for Tina, something that most of my family does not really get. She used to feed lots of strays in our neighbourhood and hang a large slice of lard on a tree outside our house for tomtits (little birds) during harsh Polish winters. In hindsight I realise that she loved cats 'cos she was a bit of a cat herself. Despite her tough exterior, she could be moody at times.
She was generous with food and that's how she expressed her love for people. She used to organise elaborate lunches for her female friends that my brother and myself loved attending as kids (we were sometimes invited) 'cos the food was delicious and there was plenty of it – my gran would always pull out all the stops. I miss those days sometimes!
These fluffy little buns filled with a sticky 'pork' filling have been on my to-do list since this recipe. They are not hard to make at all, but quite hard to take photographs of (it's hard not to overprove the dough when shooting process shots), which is why I dragged my feet a bit.
For the dough, I used the single proofing method by the lovely Elaine from this gorgeous blog with Chinese cuisine. It worked a treat and it's a perfect method when you want to be able to tuck into one of these beauties real quick.
One word of warning though. This recipe makes 12 buns so make sure your steamer (a bamboo one is best) is big enough before you make the dough. I only have a small bamboo steamer that holds 6 buns at a time, which meant that the latter 6 had to wait for about 40 minutes before going in, which resulted in them getting a bit yeasty because it was a warm day and they over proofed.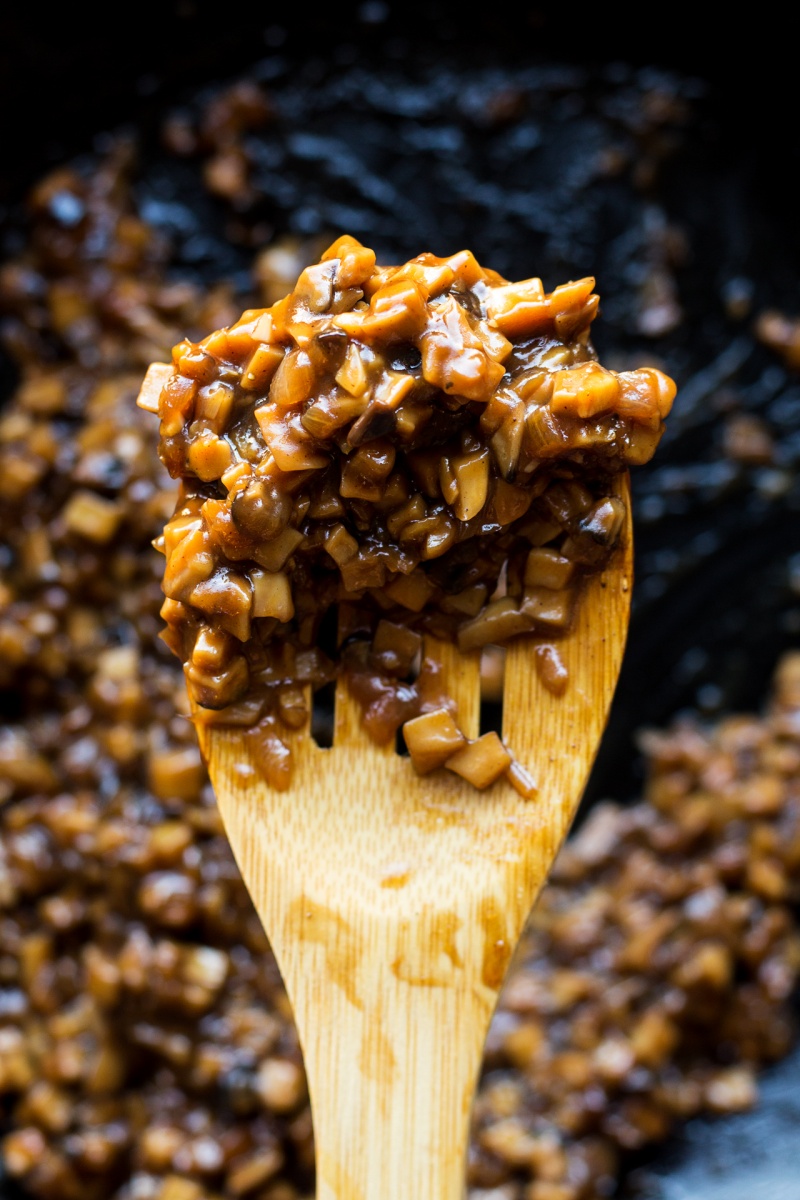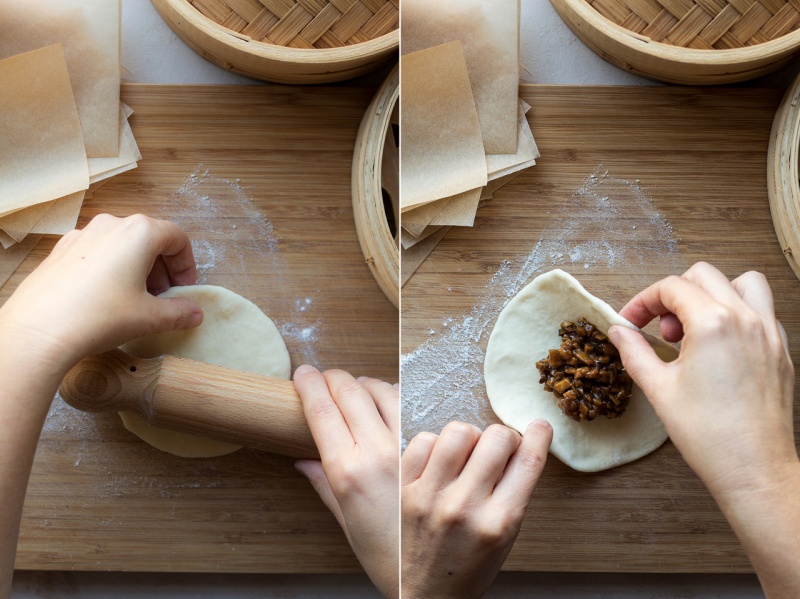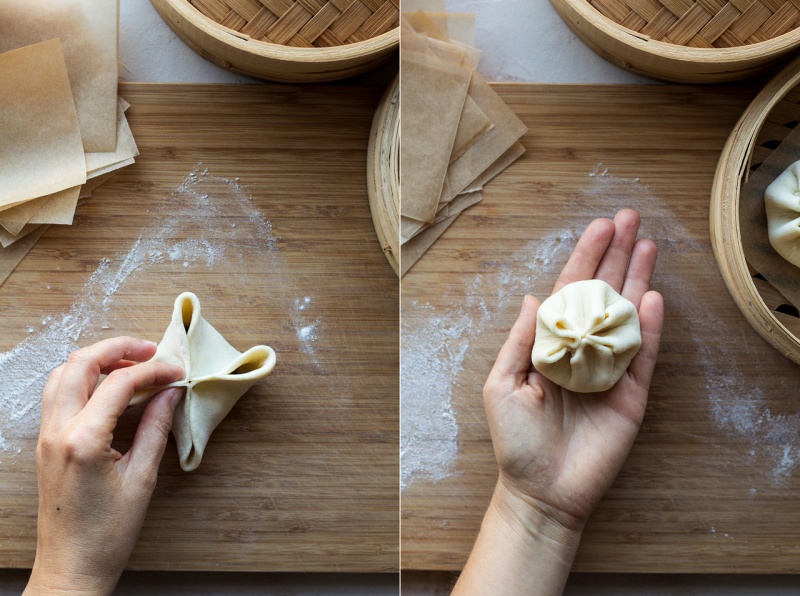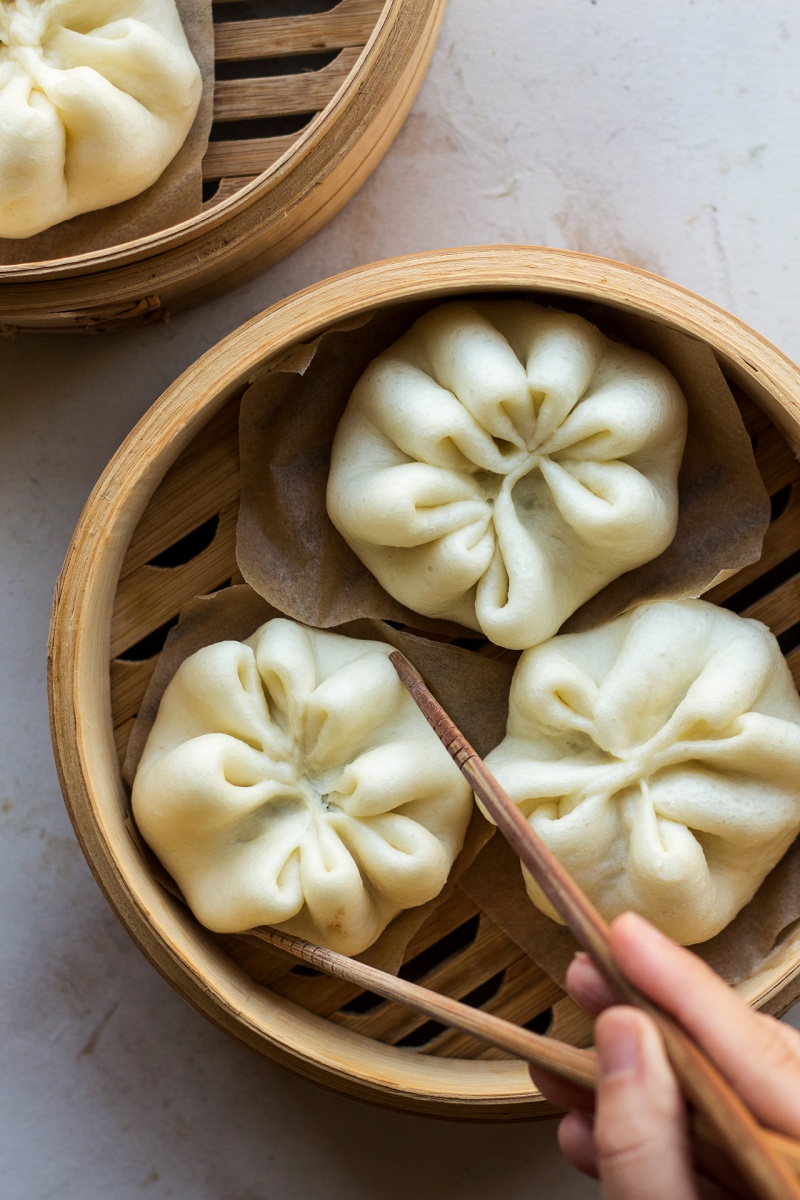 BUNS
300 g / 2½ cups bao flour OR all purpose flour
4 tsp – 3 tbsp sugar (optional)*
½ tsp fine sea salt
2 tsp instant active yeast
1 tbsp vegetable oil
FILLING
400 g king oyster mushrooms / baby chestnut mushrooms OR firm cotton tofu**
2½ tbsp tamari or all purpose soy sauce, adjust to taste
1 tbsp Shaoxing wine
2½ tbsp hoisin sauce
1-2 tsp sugar, adjust to taste
¼ tsp Chinese five spice
a good pinch of white (or black) pepper
1 tbsp rice wine vinegar (optional)
2 tsp cornflour / cornstarch
2 tbsp vegetable oil, for frying (I used peanut oil)
3 small shallots or ½ small onion, finely diced
a small chunk of fresh ginger, finely diced
2 garlic cloves, finely diced
1 tsp toasted sesame oil
a pinch of salt
METHOD
BUNS – single proofing method
by Elaine
(takes less time)***
Cut twelve 8 cm / 3″ by 8 cm / 3″ squares from a piece of baking paper. Set aside.
In a mixing bowl, combine flour, instant yeast, sugar and salt. Add about 120 ml / ½ cup of warm (that's important) water and 1 tbsp of oil. Once combined roughly with a wooden spoon, start combining the dough with your hands. It will need a bit more water but it is very important to add the water in gradually, tablespoon by tablespoon. In my experience it takes another 2-3 tablespoons of water to achieve a dough that is not too dry or not too sticky. Knead it for 10 minutes with your hands until it is elastic and smooth. Form the dough into a ball and place it in a clean bowl covered with a kitchen towel. Allow it to rest for 10-15 minutes.
After the dough has rested, knock the air out with your hands and divide the dough into 12 equal portions. I weighed the dough and then divided it evenly using scales, but you don't need to be as accurate.
Knead each ball briefly before rolling it out into a 10 cm / 4″ diameter circle. If you know how, roll the edges thinner and leave the centre thicker, but that's not necessary.
Place each dough circle in the palm of your hand, put about 1 tbsp of filling in the middle of the circle and then pinch the edges above the filling so that the dumpling resembles a little sack of money. You can crimp the top nicely if you have the skills, but I don't yet so I simply folded the opposite edges of the circle together making sure the top is nicely sealed. You don't want the dumplings to burst open during steaming.
While filling the dumplings, warm up water in a pot that your steamer will fit onto. You don't need the water to boil, you simply want the water to be warm enough to generate some steam so that the dumplings can prove in the steaming basket before getting steamed.
As soon as you finish one dumpling, place it on a square of baking paper and put it in the steamer – but don't put the steamer over the water just yet. Leave ample space between dumplings as they will get much bigger after you are done.
Once all 12 dumplings are ready in the steamer, place the steamer over warm (the heat should be off) water and allow the dumplings to prove for 20-30 minutes until they get about 1/3 bigger.
After the proofing time, bring the water under the steamer to a gentle simmer and steam the dumplings for about 15-20 minutes.
Take the steamer off the water, but do not peak inside yet. Allow the buns to rest for 5-10 minutes before taking them out of the steamer.
FILLING
Clean your mushrooms and chop them into an 0.5 cm / 0.2″ dice. If using tofu instead of mushrooms, drain and pat it dry with paper towels. Dice it into a similar size dice.
Mix all of the sauce ingredients: tamari / soy sauce, wine, hoisin sauce, sugar, five spice, pepper and vinegar (if using, it's not traditionally used, but I felt like it's needed to cut through the sweetness) in a bowl. Prepare the cornflour / cornstarch slurry by mixing cornflour with 2 tbsp of water in another small bowl.
Heat up 1 tbsp of oil in a wok. Add mushroom or tofu dice to the hot oil and stir-fry until the extra moisture cooks out (mushrooms only) and the dice is lightly browned. Transfer to a bowl and set aside.
Clean or wipe the wok clean and heat up another tablespoon of oil, keeping the heat fairly low.
Stir-fry the diced shallots until translucent, followed by the diced ginger and garlic. Stir-fry for about a minute, until the garlic gets fragrant.
Return the mushrooms (or tofu) to the wok and season with 1 tsp of toasted sesame oil.
Lower the heat, pour the prepped sauce over the filling and mix everything well. Taste and adjust the seasoning (add a pinch of salt, for example) if necessary.
Finally, add the cornflour / cornstarch slurry to thicken the sauce (give it a good stir before adding to the work). Allow it to bubble gently for a few seconds, switch the heat off and set aside to cool.
NOTES
*The amount of sugar is up to you. Traditionally these are quite sweet, but I only used about 2 tsp in my dough and I did not feel like any more was needed, especially that the filling was quite sweet too.
**This recipe works well with lower water content mushrooms like king oyster. As king oyster mushrooms can be tricky to get, I have also tested this recipe using baby chestnuts. I personally like them in these but please be aware that they impart more of a "mushroomy" taste than the king oyster mushrooms, which some people may find undesirable in this dish. You can also use cubed firm tofu instead. I also tested tempeh, but I felt like it's distinct flavour was a touch overpowering.
***You can find details of the alternate double proofing method here.
The single proofing method has been adapted from this recipe.