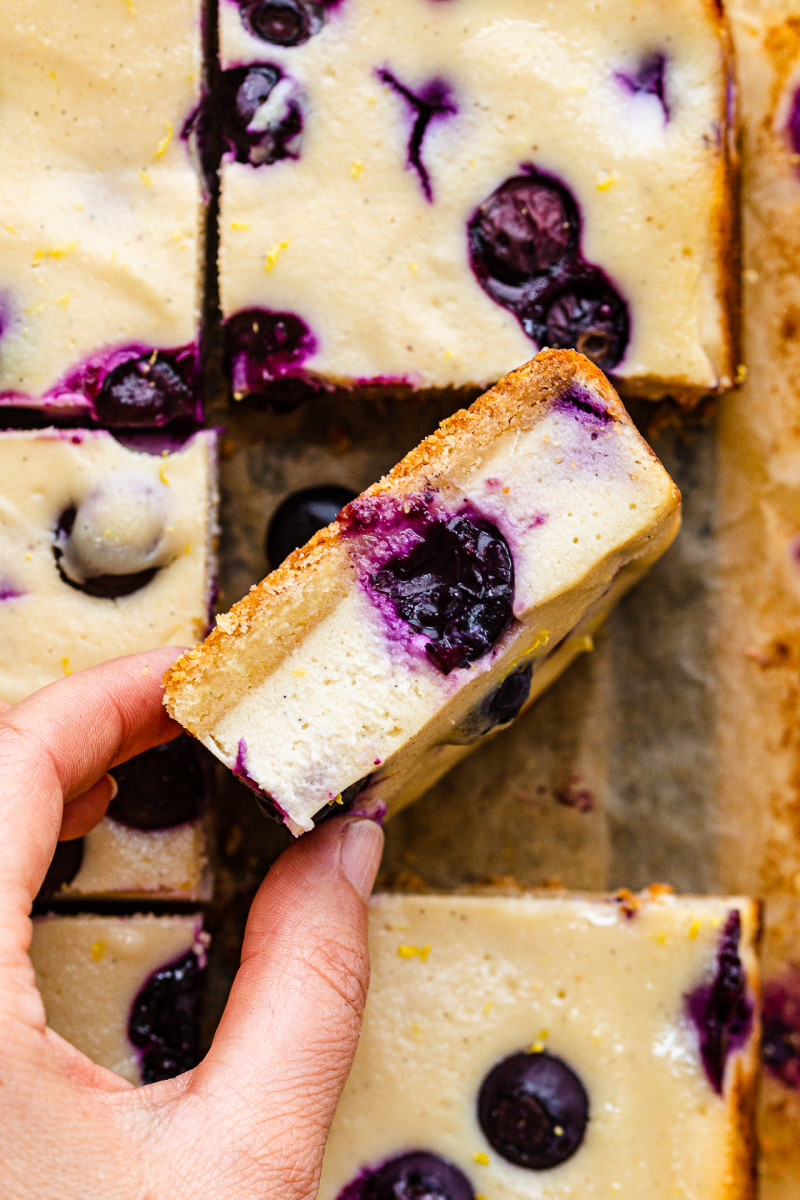 Hope your weekend is peachy! Ours is really quite hot and humid as Bristol is having a mini heatwave right now. If you feel like a simple yet delicious weekend bake, may I interest you in these tangy vegan cheesecake bars studded with jammy blueberries?
These vegan cheesecake bars with blueberries are really easy to make and absolutely to die for. I tested them on Duncan's kayaking mates, none of whom are vegan and (by the sound of things) they are not even sure what vegan means 🙂 – they loved them and did not realise these were made with something other than cheese. That's a winner in my book!
These creamy cheesecakes feature a delicious shortbread base, tangy and zesty cheesecake filling and fresh blueberries that get all jammy in the oven. I picked blueberries but any berries will work just as well. I had half a mind to make these with raspberries actually (like here) but my husband stopped me from forever tinkering with a recipe for no good reason, adding to my workload and stress level – thank you Duncan for having my back! x
MORE ABOUT THE INGREDIENTS
VEGAN BUTTER: I used vegan butter (I used Violife) to make the shortcrust base and to give the cheesecake layer a little more creaminess. Use the type that comes in a block, rather than spreadable kind that comes in a tub. You could also use coconut oil – if you were to do that I recommend using refined type, like this, which has been steamed to remove coconut taste.
SUGAR: I used caster sugar (which is what UK calls superfine white sugar) to sweetened both the base and the filling. You could use any sugar you like remembering that if it's dark in colour, it may make this dessert look a little less appetising and that if it isn't finely ground, it may not fully dissolve in the oven during baking (this is more of a concern for the shortbread, a little less so for the filling).
You could also use MAPLE SYRUP or a similar liquid sweetener. To use maple syrup for the base, place all of the dry ingredients in a bowl first, add 3 tbsp (45 ml) of maple syrup and enough softened vegan butter (about 40 g / 1.4 oz) to make the mixture clump together – be aware that you will end up with a less indulgent shortbread though as due to the fact that maple syrup adds moisture, you have to use less sweetener and less fat. To use maple syrup in the filling, use it instead of plant milk and you may have to take it out of the oven a little sooner as a result.
ALMOND FLOUR: Almond flour helps to keep the shortbread more tender.
PLAIN FLOUR: I used plain flour to make the shortbread, but a good gluten-free flour mix (containing a high proportion of starches) will work just as well if you want to keep this dessert gluten-free.
CASHEWS: I used raw cashews, soaked in water first so that they soften, to make the cheesecake filling. If you don't want to use cashews, I am pretty sure that hulled sunflower seeds will work just as well (they also need soaking) as I've used them in many other dishes that call for creaminess to a great effect.
PLANT MILK: Plant milk is used to blend the cashews silky smooth and keep the consistency of the filling moist enough so that once the dessert is baked, it's creamy and not dry. I used soya milk but any plant milk will do.
LEMON ZEST AND JUICE: I used zest of a whole lemon and a very generous amount of lemon juice as I wanted this slice to have a delicious tang. Feel free to reduce the amount if you prefer things to be less lemony (be sure to use plant milk instead) but I and all my taste testers (most of them not even vegan) loved the balance of flavours in this dessert.
VANILLA: I used a generous amount of vanilla to inject even more flavour into the filling, but you can skip it if you prefer lemon flavour on its own. A small amount of freshly ground cardamom would also pair really nicely with lemon and blueberries.
BLUEBERRIES: I used fresh blueberries, which I simply suspended in the cheesecake layer and dotted some more on top. You could also use frozen (the dessert may need a longer baking time) or a jam. Alternatively, use another fruit: raspberries or blackberries would be my recommendation.
THIS IS HOW YOU MAKE THESE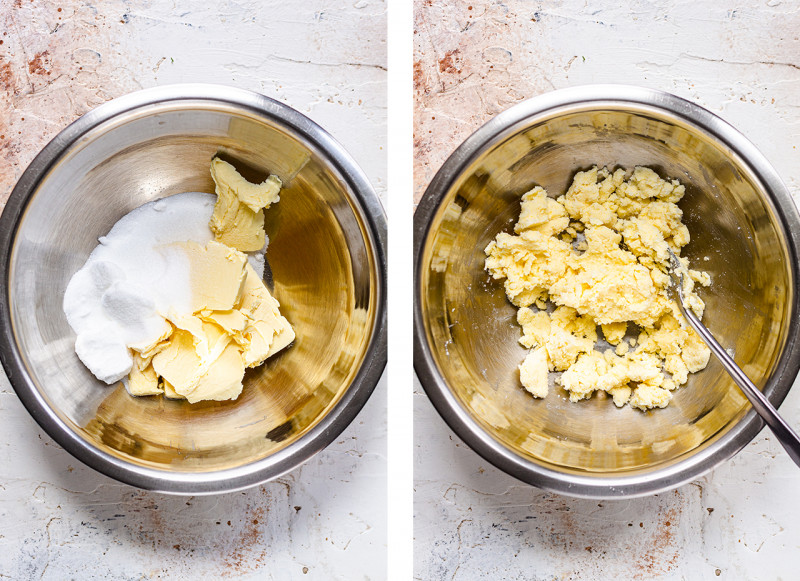 Place softened vegan butter and sugar in a mixing bowl and rub sugar into the butter using a fork first and then your hands.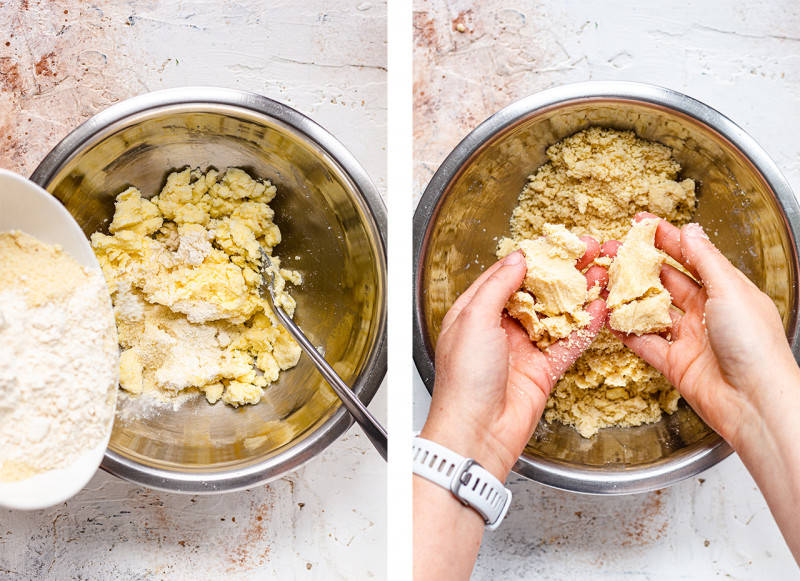 Next, add in salt and both flours in two batches and rub the butter-sugar mixture into the dry ingredients. By the time you are done, the mixture should be moistened enough to clump up when squeezed.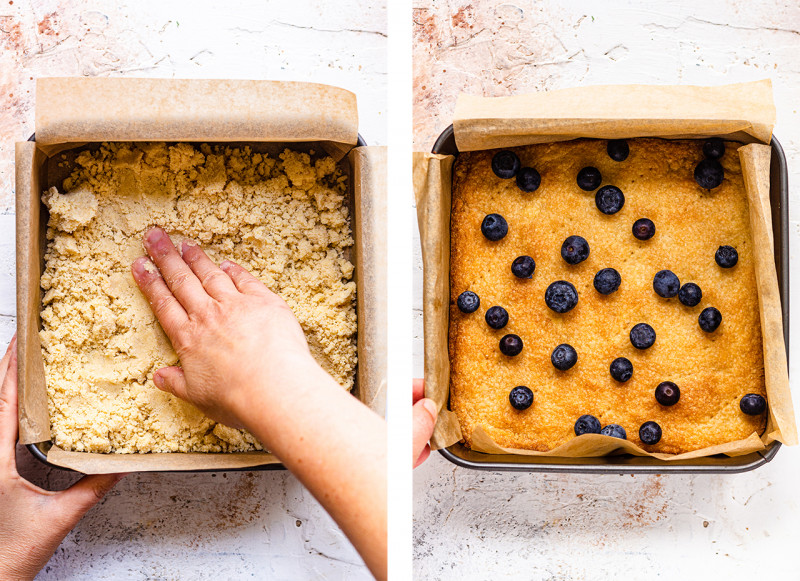 Scatter the shortbread base mixture in the prepared baking tin (I used a 20 cm / 8″ square baking tin) and press it down using your hands, compact it well (use a flat-bottomed glass to help), the prick the base with a fork all over to stop it from cracking. Bake until golden brown, cool, and scatter some of the blueberries all over.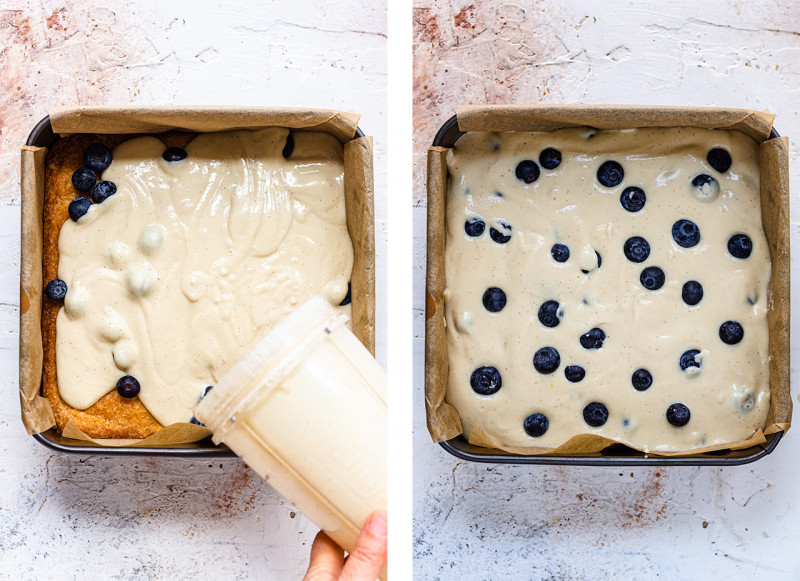 Make cheesecake filling by placing all of the ingredients (apart from blueberries) in a blender and blending until smooth. Pour cheesecake mixture over the base and stud with more blueberries. Bake until the edges are firm but the middle stays wobbly.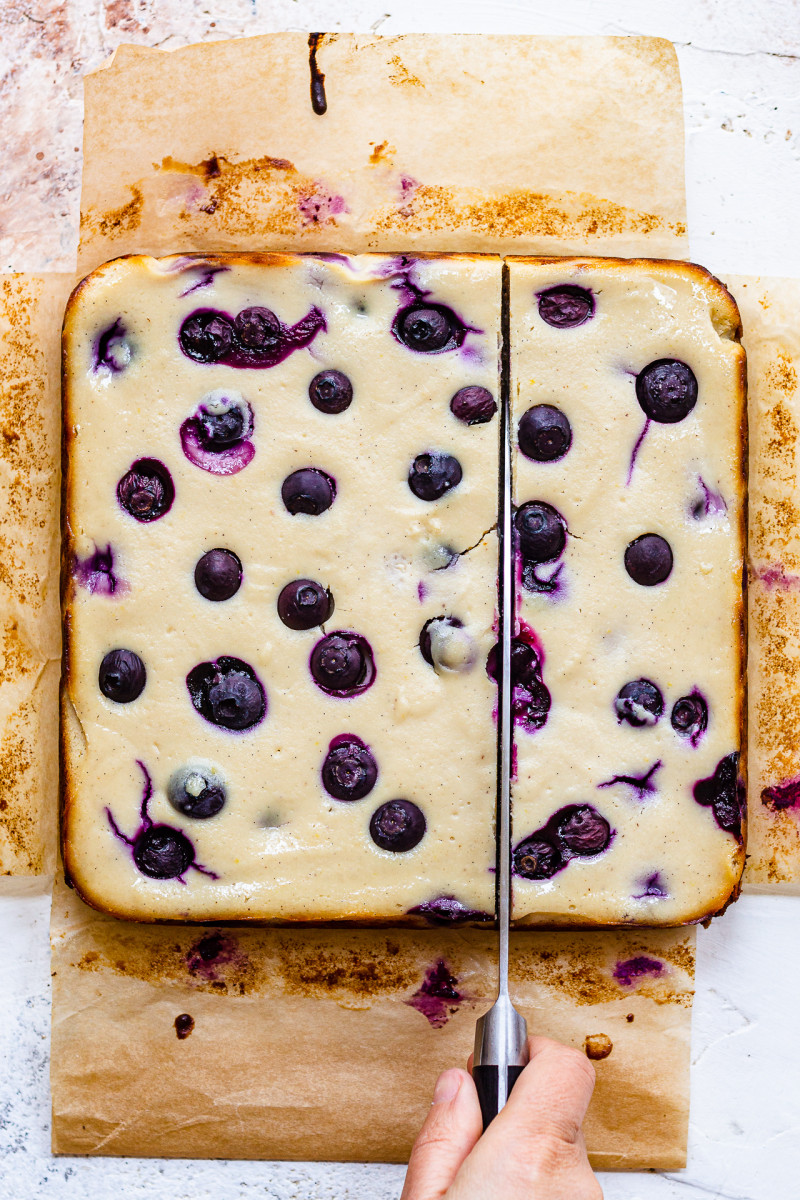 Cool down completely. For the neatest looking slices, refrigerate for at least 2 hours after baking, use a sharp and warm knife (dip it in hot water briefly and wipe dry). Store in an air-tight container in the fridge for up to 5 days or freeze for up to 2 months.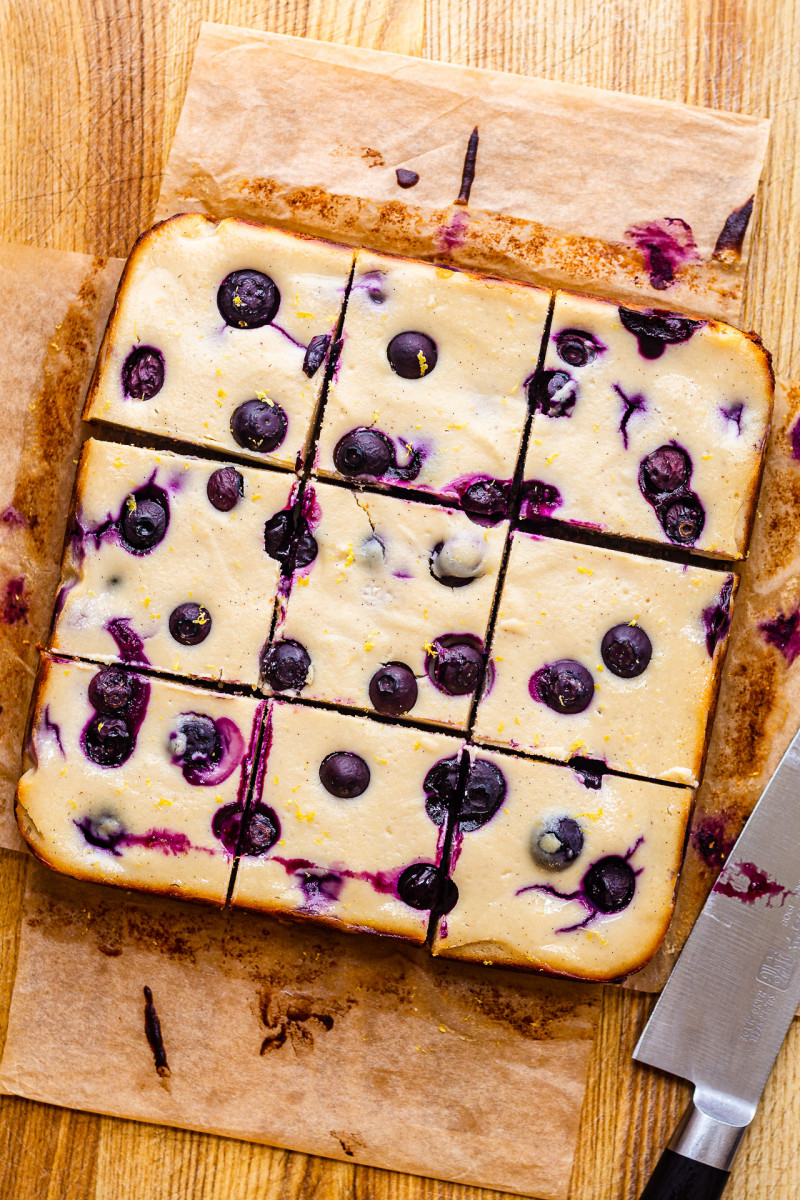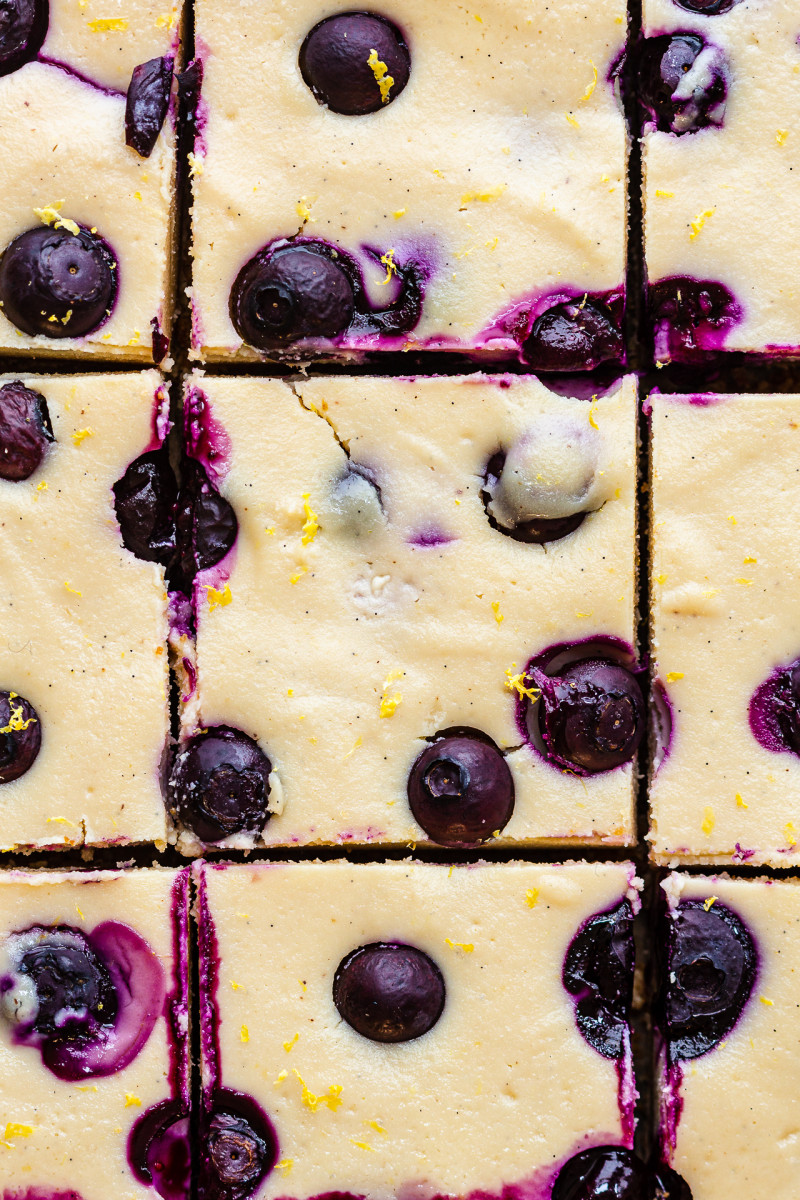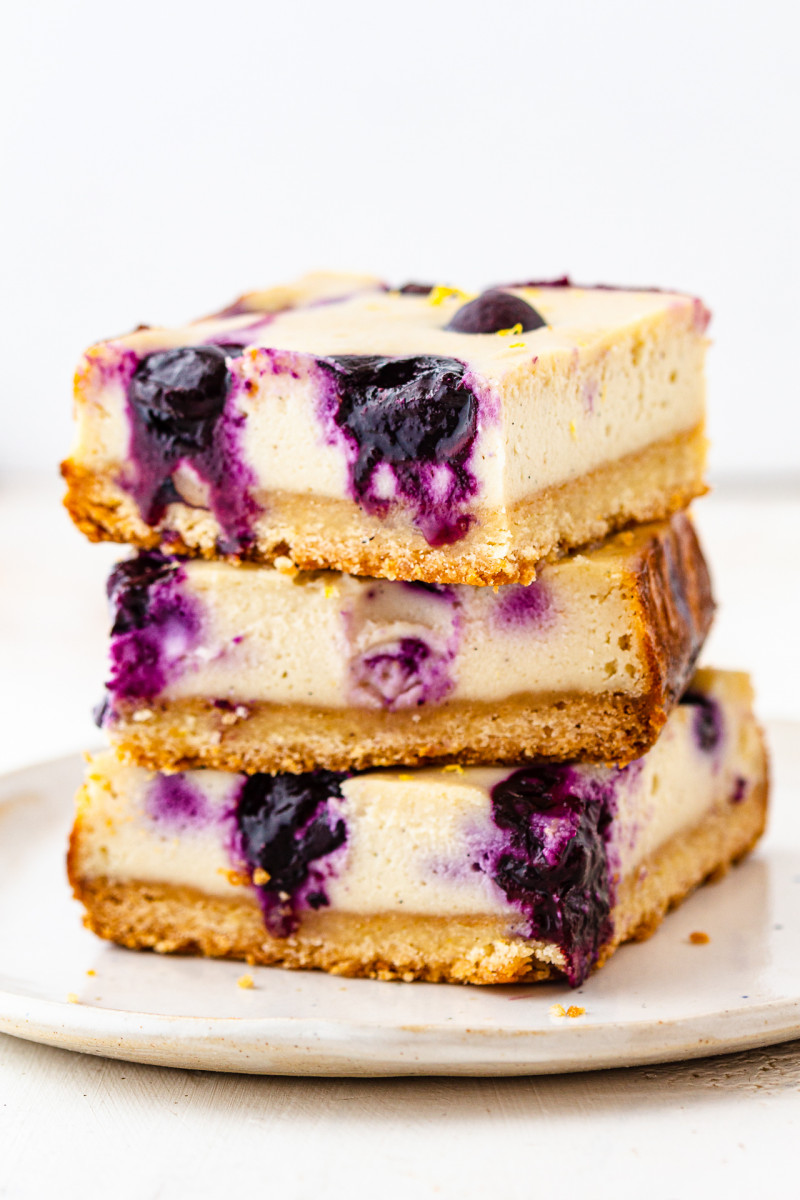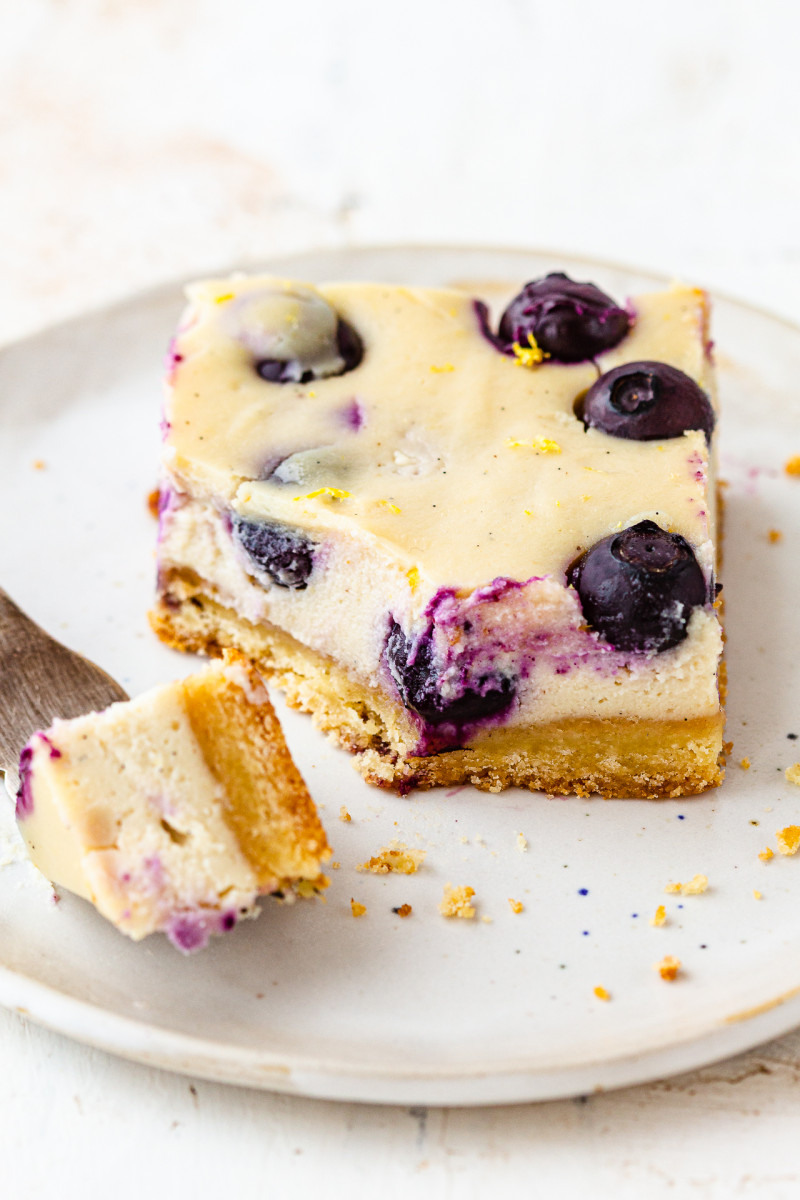 SHORTBREAD BASE
CHEESECAKE LAYER
200 g / 1½ cups raw cashews, soaked
120 ml / ½ cup plant milk (I used soya)
90 ml / 6 tbsp lemon juice + zest of 1 lemon
125 g / ½ cup + 2 tbsp sugar* (I used caster, but coconut sugar will work too)
1 tbsp vanilla paste (optional)
40 g / 3 tbsp vegan butter*, softened
150 g / 1 heaped cup blueberries*
METHOD
SHORTBREAD BASE
Pre-heat the oven to 180° C / 355° F (or 160° C / 320° F on a fan setting) and line a 20 cm / 8″ square tin with baking paper so that it sticks out on all sides.
Place softened vegan butter and sugar in a mixing bowl, using a fork first and then your hands rub sugar into butter.
Add salt and then add both flours in two batches and rubbing them into the butter with your fingers until the mixture forms clumps when squeezed between your fingers.
Scatter shortbread mixture at the bottom of the lined tin and shape it into a base by pressing it down with your fingers. Level the base using a flat-bottomed glass and prick it using a fork.
Bake until lightly browned – about 15-20 minutes. Cool before filling.
CHEESECAKE LAYER
Soak the cashews in boiling water for 30 minutes or in cold water for several hours. Drain before using.
Place drained cashews along with the rest of ingredients (except for blueberries) in a blender (I used Ninja smoothie maker ) and blend until the mixture is super smooth.
ASSEMBLY
Arrange half of the blueberries on top of the pre-baked base, then pour cheesecake filling on top and decorate with the rest of blueberries.
Bake until the edges are set but the middle stays a little soft and wobbly, about 25-30 minutes depending on your oven and how set you like your cheesecake.
Cool completely then place in the fridge for at least 2 hours before cutting. Store in an air-tight container in the fridge for up to 5 days or freeze for up to 2 months.
NOTES
*VEGAN BUTTER: You can use coconut oil instead, I recommend using refined type, like this, which has been steamed to remove coconut taste.
*SUGAR: Any sugar will work, but dark sugar will impact the colour of cheesecake layer. You can also use maple syrup – please see MORE ABOUT THE INGREDIENTS section in the blog post for specific directions.
*FLOUR: To make these gluten-free, use a trusted gluten-free flour mix containing a lot of starches. While it's not 100% necessary, I also recommend adding ½ tsp xanthan gum to stop the shortbread from cracking. In any case, handle gluten-free shortbread especially carefully whilst warm as it's very fragile.
*BLUEBERRIES: Any berries will work, raspberries or blackberries would be my other suggestions.