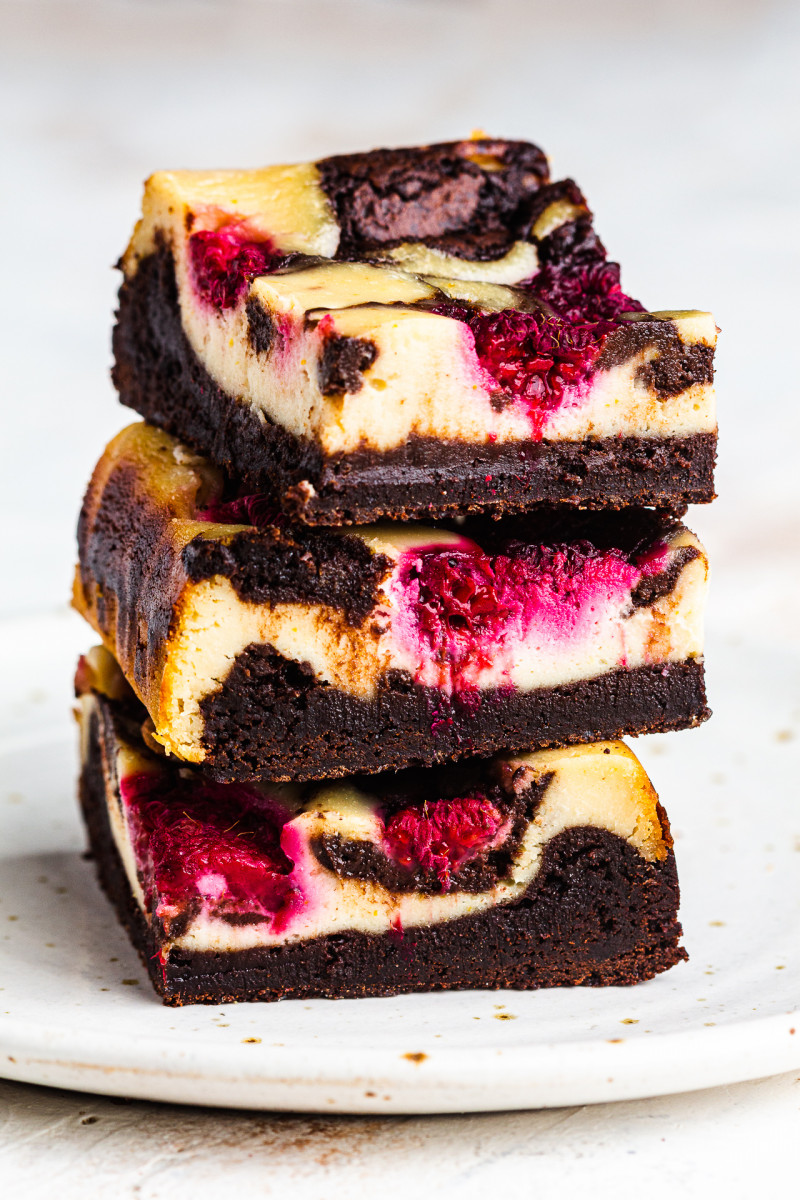 Hello, how Valentines ready are you? I am not being serious – I am not someone who is into this whole commercial lovefest that occurs on 14th of February every year, but I do love a good dessert and so I can totally get behind baking something delicious for you and the person/people you love. Why the heck not?
If you are with me, I have a perfect recipe for you. This tray of vegan cheesecake brownies studded with raspberries has it all. It has the looks, it has an intensely chocolatey fudgy base, fragrant and creamy cheesecake topping and tangy pops of raspberry surprise suspended within.
A while ago, I set up a neighbourhood cake group so that I can share my test bakes with my neighbours and minimise food waste, which I abhor. These brownies have proven to be one of the most popular desserts on the group in a while so they must be good. And the best part is that they are also not that hard to make either.
The base is simple brownies – it's based on my earlier recipes for these eggless brownies – so not hard to make at all and the cheecake bit is even easier. You simply place all of its ingredients in a blender and hey presto, the top layer is ready in seconds. Then all you have to do it to combine the two in a baking tin, adorn the top with raspberries, bake and then wait (that's by far the hardest part!!) until they are completely cold and then chill them in the fridge for a couple of hours. The last bit can be skipped, but if you love extreme fudginess, they are better for it.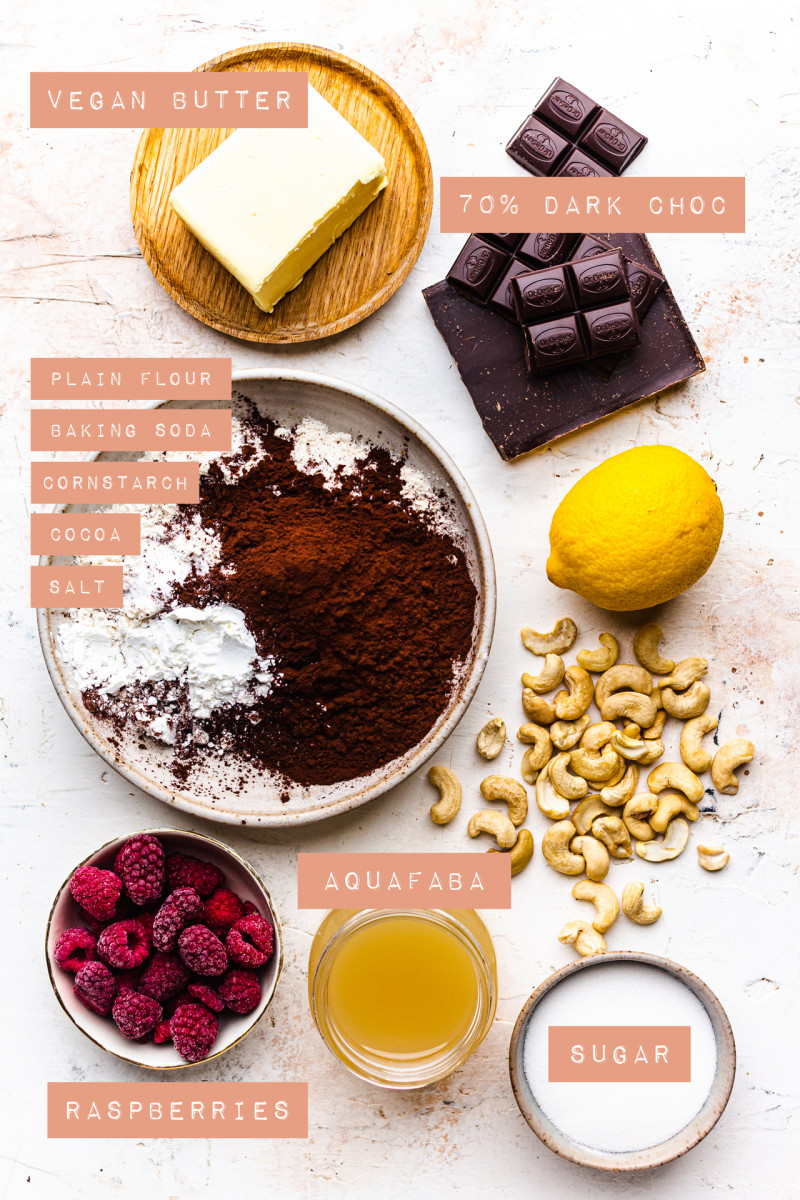 MORE ABOUT THE INGREDIENTS
CASHEWS: Raw cashews, soaked in boiling water for at least 20 minutes, form the base of the cheesecake. You could also make one with vegan cream cheese, but I wanted an ingredient that is accessible no matter which country you live in and vegan cream cheese brands are bound to different in different countries.
CASTER SUGAR: Caster sugar, which is superfine white sugar, is used to sweeten the cheesecake mix and to sweeten and add structure to the brownie batter.
LEMON, JUICE & ZEST: A generous amount of lemon juice and some lemon zest are used to give the cheesecake mixture its pleasant tanginess, which offsets the sweetness of the brownie base beautifully. I also added some orange zest to this mixture (orange and chocolate are such a great combo) but you can skip it if it doesn't appeal or you don't have an orange lying around.
VEGAN BUTTER: I added a small amount of vegan butter to the cheesecake layer to keep it moist and creamy and I also used it in the brownies. You could use coconut oil in both cases, if you prefer, but vegan butter is my preference. I used Violife as it's available in shops near me, but Naturli (a Danish brand) is the best on the British market in my opinion.
FROZEN RASPBERRIES: Not only do raspberries add a beautiful visual contrast to these two tone brownies, but they also offer beautifully tangy pops of flavour here and there – something that all of my taste testers loved. Fresh raspberries won't stand up to the prolonged heat as well so I recommend using frozen for that reason.
DARK CHOCOLATE: A good tray of brownies relies on good chocolate. I used 70% cacao dark chocolate and that's what I recommend for an intensly chocolatey flavour.
MUSCOVADO SUGAR: Muscovado sugar is high in moisture and so it helps to crank up brownies' fudgy interior. If you haven't got any, don't worry. I made some tests with caster sugar and the brownies came out really good too.
ALL PURPOSE FLOUR: Plain flour is used in these brownies and that's important – we don't want to use self-rising flour as it would make these brownies cakey.
CORNSTARCH: A bit of cornstarch helps with fudginess, but if you cannot have it, use another tablespoon of plain flour instead.
COCOA POWDER: Dutch processed cocoa powder gives the brownie layer even more chocolate richness than what you would get if you were to use melted chocolate alone.
SALT: A bit of salt is great in desserts and especially in chocolate desserts as it makes the chocolate taste better. I only used a small amount as my vegan butter contains salt already, but if yours doesn't, feel free to double the amount.
BAKING SODA: A very small amount of baking soda helps these brownies cook, but it's not enough to make them cakey.
AQUAFABA: Legume cooking water or canning liquid is used here to replace eggs and it does so with flying colours. I used aquafaba from homecooked chickpeas, but your can also use the liquid from a can of chickpeas. My favourite brand in the UK is Biona.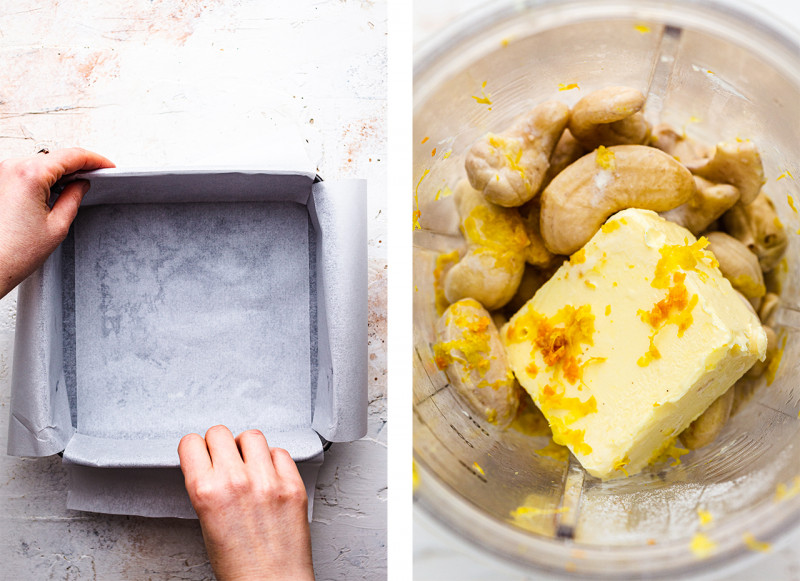 Start off with lining your baking tin (20 cm / 8″ square) with two long strips of baking paper – you want them to be long enough to stick out of the tin. Next, whip up your cheesecake layer by blending all of the ingredients until silky smooth.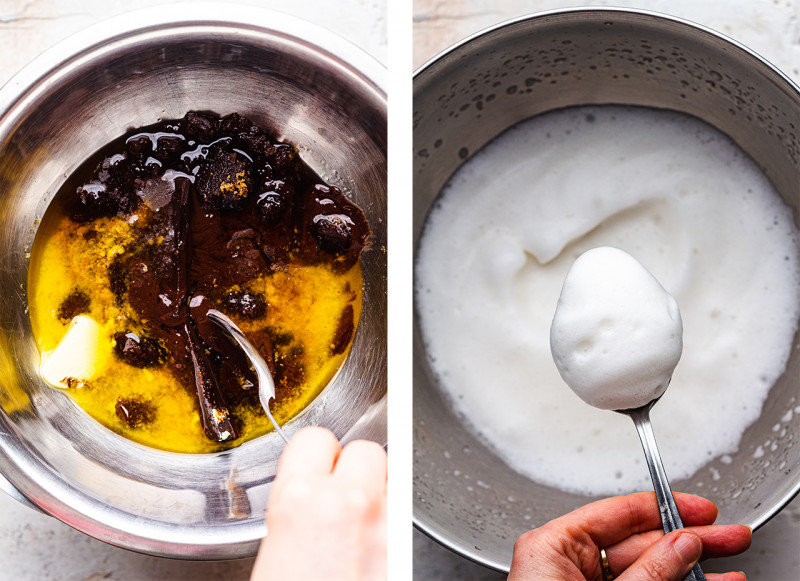 Set up your chocolate, vegan butter and brown sugar in a bowl over a gently simmmering water. Allow them to melt into each other while you whip your aquafaba with an electric whisk. Whip your aquafaba until it turns into soft and fluffy white foam full of little bubbles (about 2 minutes with a hand held whisk).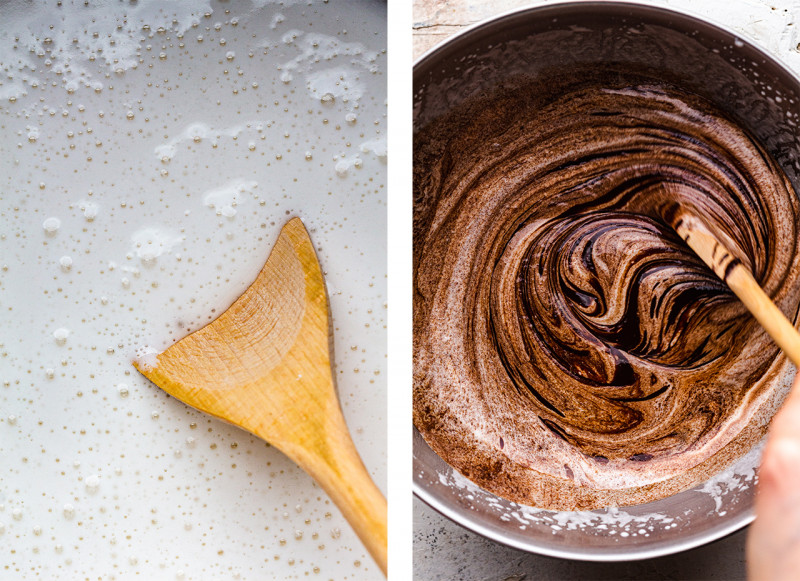 When you aquafaba looks like in the previous photo, start adding sugar. Add it gradually whipping after each addition. It should take about 3 minutes and it should look like the photo on the left once you are done. If you let it sit for a couple of minutes, it will look like egg whites at so called ribbon stage – a trail of it will hang around for a few seconds before dissolving. At this point, start adding melted chocolate mixture while folding it into the aquafaba GENTLY and SLOWLY. Don't add it all at once, keep adding it while you fold.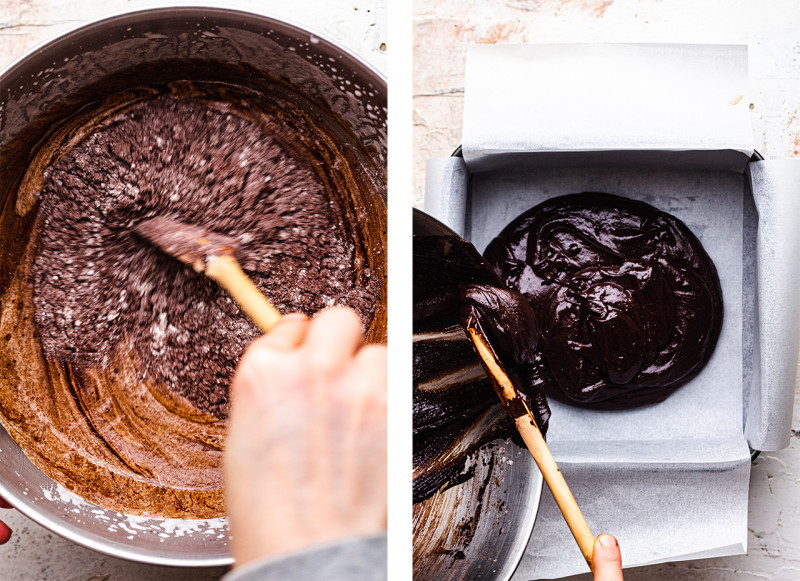 Once you've added all chocolate and your mixture looks more or less uniform (a few white streaks are ok), gradually add in dry ingredients. Fold them in slowly and gently, scraping the sides of the bowl every now and then. Keep on folding until only just incorporated and there is no white streaks of flour left. Hold half a cup of the brownie batter back and spread the rest in the prepared baking tin. Even the mixture with a spatula, making sure it reaches all the way to the corners and edges of the tin.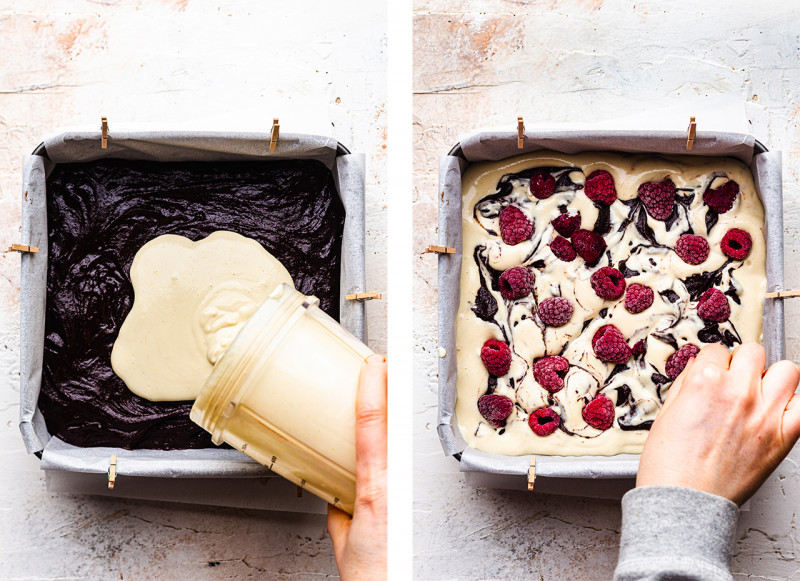 Pour cheesecake mixture on top, dot leftover brownie batter on top of it and make decorative swirls using a toothpick. Pop a few frozen raspberries into the batter and you are ready to bake.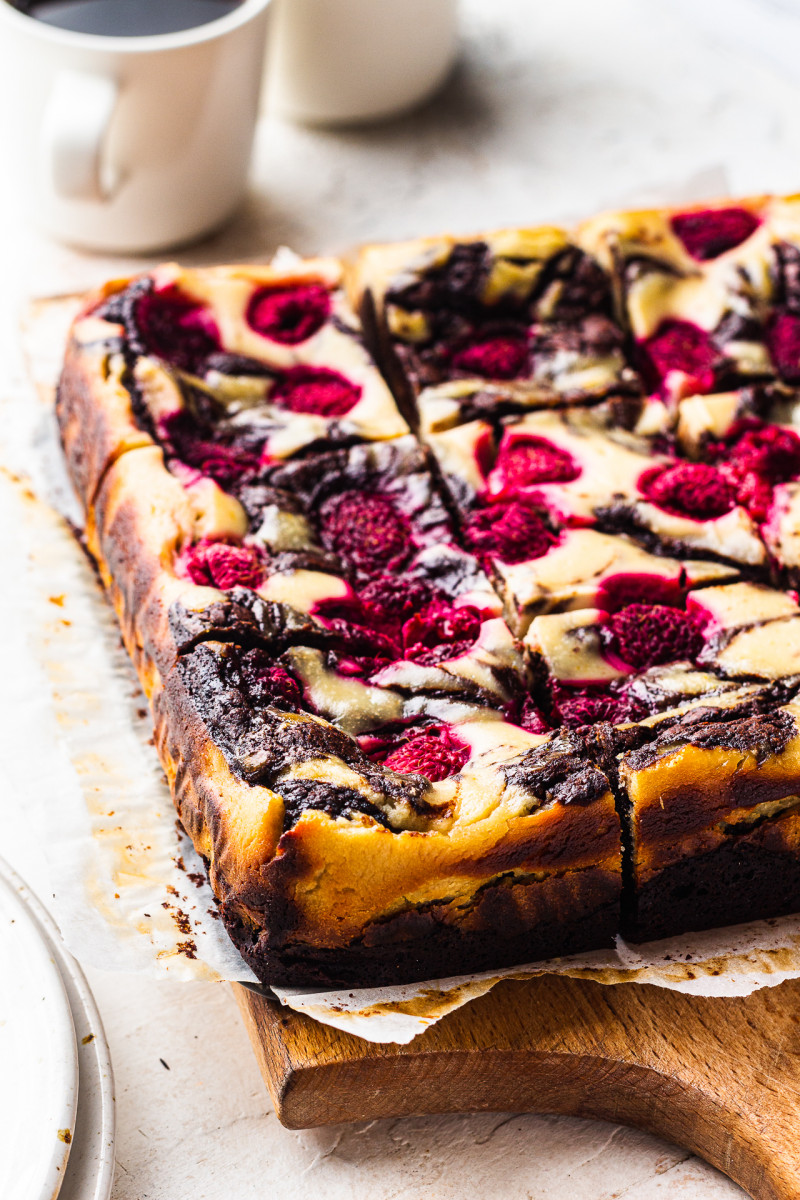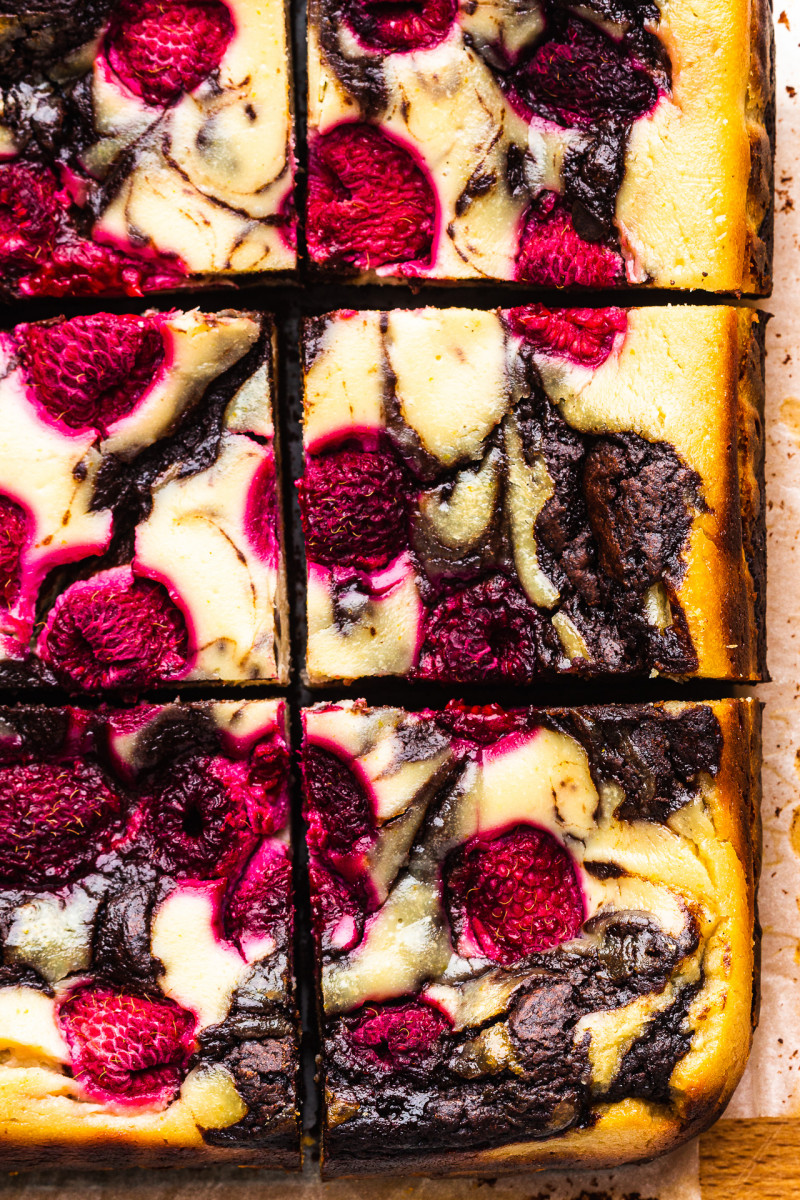 'CHEESECAKE'LAYER
130 g / 1 cup cashews, soaked*
25 g / 2 tbsp vegan butter* (no need to melt)
65 g / 1/3 caster sugar
80 ml / 1/3 cup plant milk
60 ml / ¼ cup lemon juice + zest of ½ lemon
zest of ½ orange (optional)
10 ml / 2 tsp vanilla extract
frozen raspberries, to decorate (optional)
BROWNIE LAYER
150 g / 5¼ oz vegan 70% cocoa dark chocolate
100 g / ½ cup vegan butter
50 g / ¼ cup soft brown (muscovado) sugar (or more superfine sugar)
125 g / 1 cup all purpose flour*
8 g / 1 tbsp cornstarch
50 g / scant ½ cup unsweetened Dutch cocoa powder
¼ tsp salt
¼ tsp baking soda (GF certified if needed)
120 ml / ½ cup aquafaba (chickpea brine), from a can of chickpeas or home cooked
200 g / 1 cup caster sugar
METHOD
'CHEESECAKE'LAYER
Place all of the cheesecake ingredients (apart from raspberries) in a small blender. Blend until silky smooth and set aside.
BROWNIE LAYER
Preheat the oven to 180° C / 355° F. Line a square 20 cm / 8 inch baking tin with two long strips of baking paper so that all of the sides are covered.
Melt broken up chocolate, brown sugar and vegan butter in a bowl suspended over a pot of barely simmering water. Allow them to melt slowly, switch the heat off when most of the chocolate has melted. Stir gently to combine at the end.
Combine flour, cornstarch, cocoa powder, salt and baking soda in another bowl – if your cocoa powder is lumpy, sift it into the flour. Mix well with a spoon.
Using an electric whisk, whip aquafaba in a (spotlessly clean) large bowl until it turns into a fluffy white foam full of little air-bubbles – see photos above (about 2 minutes using handheld electric whisk).
Gradually start adding sugar whisking for a few seconds after each addition (this should take about 3 minutes).
Using a spatula, gently fold melted chocolate mixture into the aquafaba and sugar mixture.
Gradually add dry ingredients into the chocolate mixture whilst gently folding with a spatula. Keep on folding until there is no flour pockets left but no more than that.
ASSEMBLY
Reserve ½ cup (120 ml) of brownie batter and spread the rest in the prepared baking tin. Make sure it reaches all the way to the sides and corners of the tin.
Pour 'cheesecake' mixture on top, spreading it all the way to the corners, then dot leftover brownie mixture in several places.
Make decorative brownie-cheesecake swirls using a chopstick and decorate with frozen raspberries. Bake on the middle shelf for 30 minutes.
Cover the top with a piece of kitchen foil and bake for further 13-15 minutes (43-45 minutes total). The cheesecake will look cooked but the toothpick inserted into the centre will still come out gooey – that's the way we want them. Take the tin out of the oven, allow to cool completely and then refrigerate for 2-3 hours for best results.
Cut with a knife dipped in hot water (and wiped dry). Store an air-tight container in the fridge in or freeze for up to 1 month.
NOTES
*CASHEWS: Soak raw cashews in boiling water for at least 20 minutes (or overnight in cold water), drain before using. I am confident that good quality vegan cream cheese will work just as well and while I haven't tested this recipe with vegan cream cheese, this is how I would modify the recipe: use 1 cup of vegan cream cheese and all other ingredients the same except for lemon juice (I would use 1-2 tbsp, adjust to your taste!) and only about ¼ cup (60 ml) of plant milk.
*VEGAN BUTTER: You can use coconut oil (I recommend odourless coconut oil for a neutral taste), but vegan butter block is better. I used Violife butter.
*PLAIN FLOUR: To make these brownies gluten-free, use a good GF flour mix and ½ tsp xanthan gum or 2 tsp psyllium husk powder to help with binding.
This recipe is based on several of my old recipes, including: this one, this one and that one.