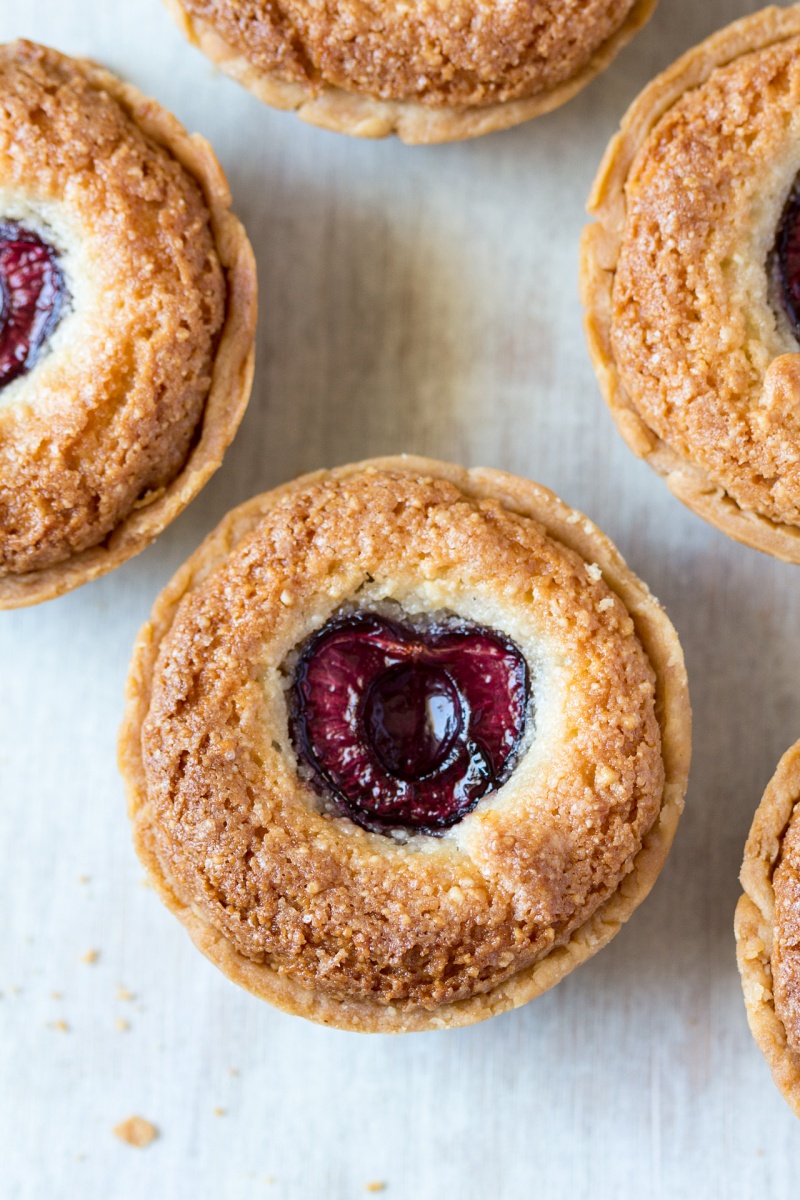 We are still in the middle of a summer heatwave here in Greece, so I was hoping to go without switching the oven on until it gets cooler (erm…October?), but cherries (one of my favourite fruits) are in season and I had to bake something with them!
I love cherries and I love almonds and I've been wanting to make a cherry frangipane (or vegan bakewell tarts as they're known in the UK) for a while now. My first attempt was a bit scary – the frangipane mixture exploded during baking and then solidified into a sticky sugary lace all over the muffin tray – it took me several attempts to clean that stuff off.
I did not expect such a poor result and was a bit stressed as we've had so much on recently that I didn't start experimenting until Wednesday afternoon (I know!) and if I didn't crack it, there would be no recipe today.
It took me three more goes to get the result I was after and I'm really pleased with the final product. Duncan pronounced it possibly his favourite thing I've made since I started the blog so I must be onto something here.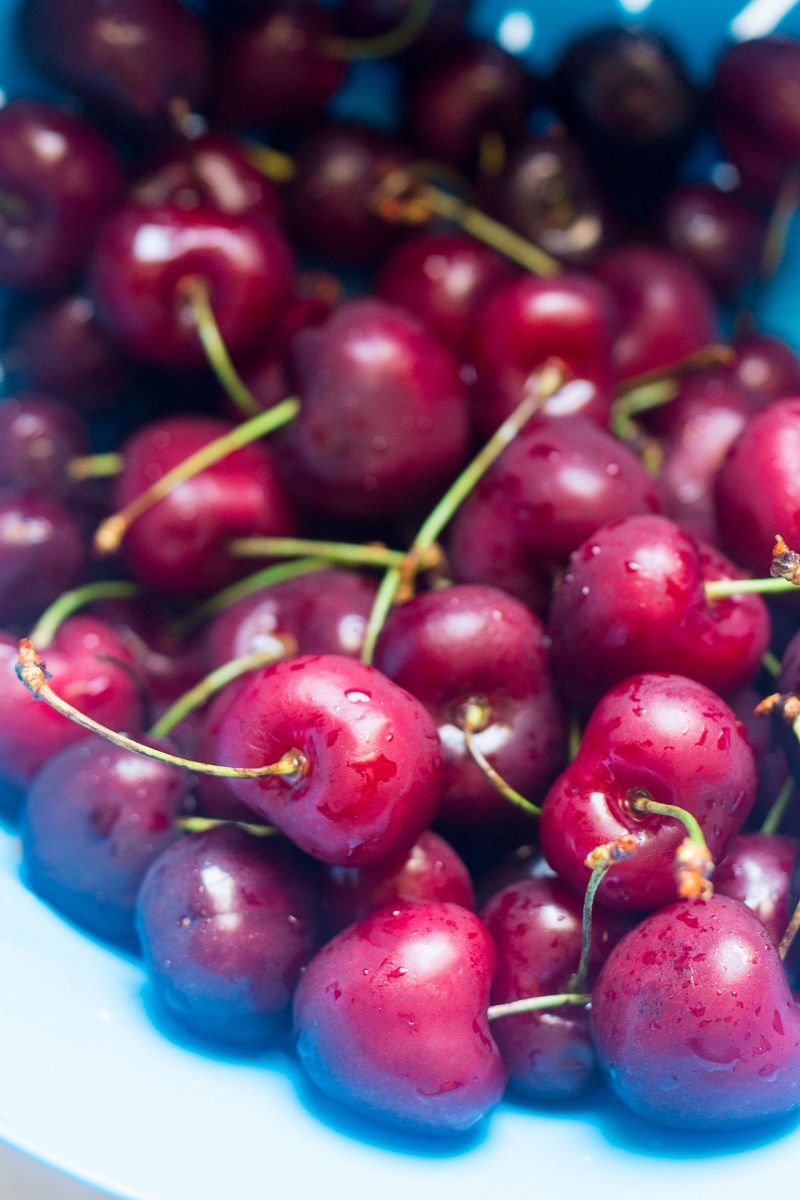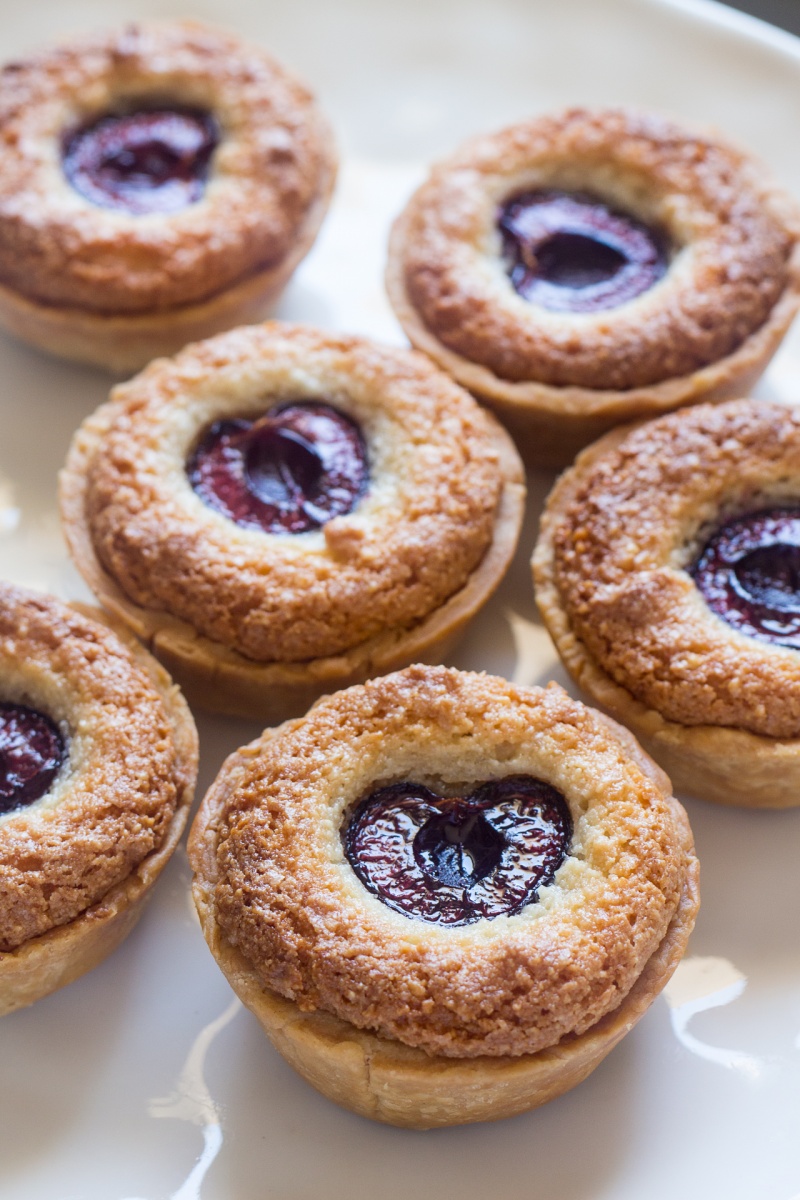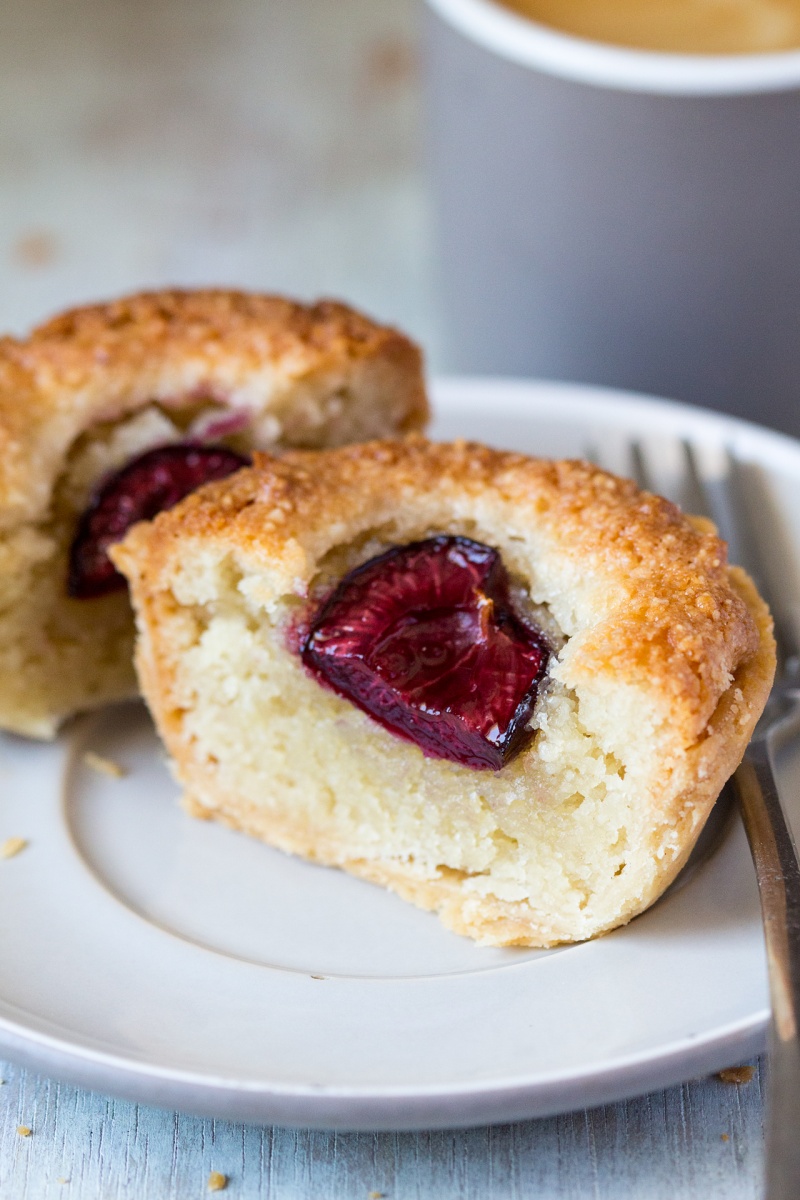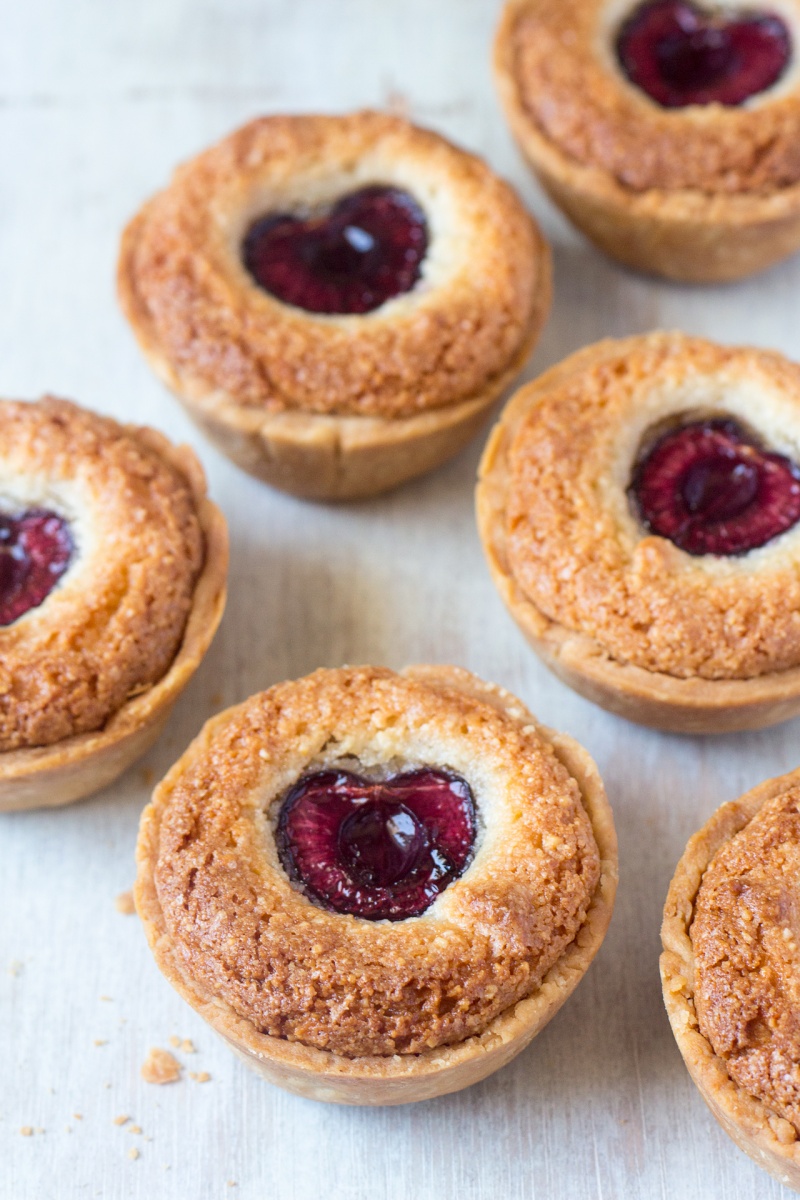 PASTRY CASES
180 g / about 1½ cups white, all-purpose flour, sifted
a pinch of salt
2 tbsp icing sugar
45 ml / 3 tbsp olive oil or unmelted coconut oil
FRANGIPANE FILLING
METHOD
PASTRY CASES
Combine sifted flour and icing sugar in a large bowl. Add olive oil and rub it into the dry ingredients with your hands. Finally, add water – be careful, do it gradually – how much water you'll need depends on how absorbent your flour is. Combine all the ingredients into a dough gently, but do not knead. Wrap it in a piece of cling film and chill in the fridge for 30 mins.
Remove the dough from the fridge and divide into 6 portions. Roll each portion out between two sheets of baking paper until you get a rough circle, about 2 mm in thickness. Place the rolled-out dough over a muffin hole (I used a 12 hole regular muffin tin for my tarts) and gently line the inside of the hole with the pastry. Trim the excess pastry with a sharp knife. Repeat with the remaining holes.
Chill pastry-lined tin in the fridge for about 60 mins.
45 min into pastry chilling time, preheat the oven to 175° C / 350° F. Line the pastry cases with pieces of baking paper or muffin liners and fill with baking beads or rice.
Blind bake the pastry for 10 mins. Remove the paper and beads and bake for another 5 mins.
FRANGIPANE FILLING
While the pastry cases are baking, prepare the filling. Cream oil and sugar with an electric whisk. Next, whisk in flour. Finally add almond extract and aquafaba, one tablespoon at a time. Whisk well after each portion of aquafaba.
Now fold in ground almonds with a spoon. You should end up with a thick almond batter.
Divide almond batter between pastry cases and place half a cherry on top of each filling – do not press it into the filling much as the filling will rise during baking and you want the cherries to remain visible.
Bake the tarts for about 30-35 minutes, until the filling is nicely browned. Remove from the oven and allow the tarts to cool down before removing them from the mould.
NOTES
*For this particular application, aquafaba (chickpea brine) should resemble an egg white in consistency so I recommend making it yourself –
here is how
. If you must use aquafaba from a tin of chickpeas, pour it into a pot and reduce on the stove by about 2/3. Cool before using to achieve thick, gelatinous aquafaba.