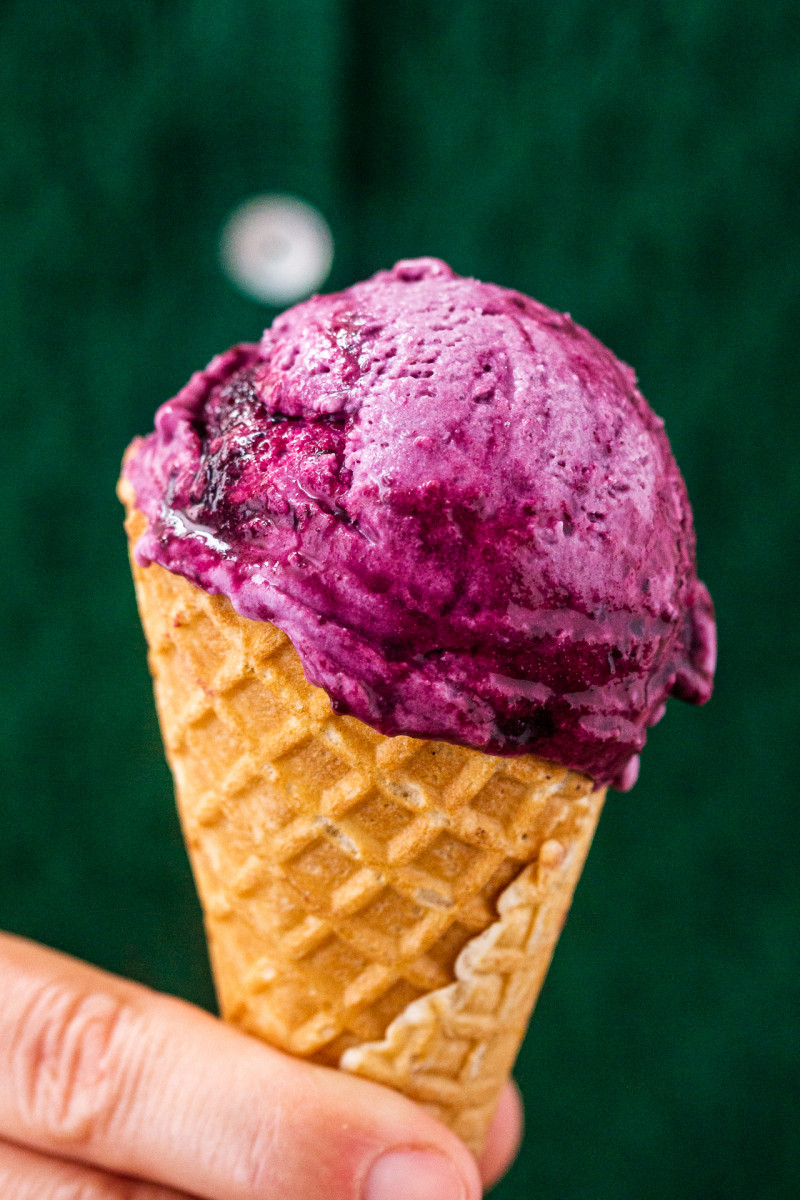 It's so hot out, Bristol is having record high temperatures again this week (34° C / 93° F) that all I want is to sit in the shade with an endless supply of espresso freddo – a cold summer coffee I became obessed with ever since we moved to Greece – and homemade gelato and perhaps a salad for balance.
If you are in a similar predicatment, I am rushing with some gelato inspiration as I've recently committed to making cherry (and sometimes Amaretto) gelato at home with delicious results. My old friend from London who now lives in the glorious landscape of Lake District was visiting Bristol and cherry gelato is one of her favourites so I decided that it's a perfect time to work on that flavour ahead of her arrival. After a few attempts and some tweaks, the result was delicious and was met with a lot of appreciative noises so I can safely consider that a sign-off, right? 🙂
The best thing about this cherry gelato is that you can made them with everyday ingredients (which I completely forgot to photograph, sorry, it must be this heat!!) that are very accessible to most vegan cooks. You do need to an ice-cream machine ideally, although below I describe a common workaround for that.
MORE ABOUT THE INGREDIENTS
CHERRIES – sweet cherries are the key ingredient here. I used a lot as I wanted cherry flavour to come through well. I folded half of my cherries into the ice-cream mixture and blended the other half and used as a ripple to intensify the flavour even more. I have no regrets so I recommend you do the same 🙂 .
CASHEWS – a small amount of cashews is used to deliver creaminess to this recipe and to neutralise the flavour of coconut milk out nicely.
AMARETTO – one of my tests of this recipe included a healthy glug of Amaretto, which I am a big fan of. If you would like to use it, simply reduce the amount of water used in the base to 1 tbsp (15 ml) and instead of adding Amaretto to the base (you don't want to cook it), add it to the cherry mixture destined for flavouring the ice-cream.
GOLDEN SYRUP – inverted sugar is often used in gelato making to improve the texture, I used golden syrup widely available here in the UK, but liquid glucose or corn syrup could be used instead. If none of these is an option, simply use more sugar.
COCONUT MILK – full fat coconut milk adds body and creaminess yet its flavour, offset by the use of cashews and cherries, does not dominate.
SUGAR – sugar is instrumental not just to taste but also gelato's texture so please do not be tempted to reduce its amount unless you are prepared to accept the fact that your gelato may never set.
CORNSTARCH – cornstarch is a thickener that helps with texture of the final product. If unavailable, you could use tapioca starch or arrowroot starch instead.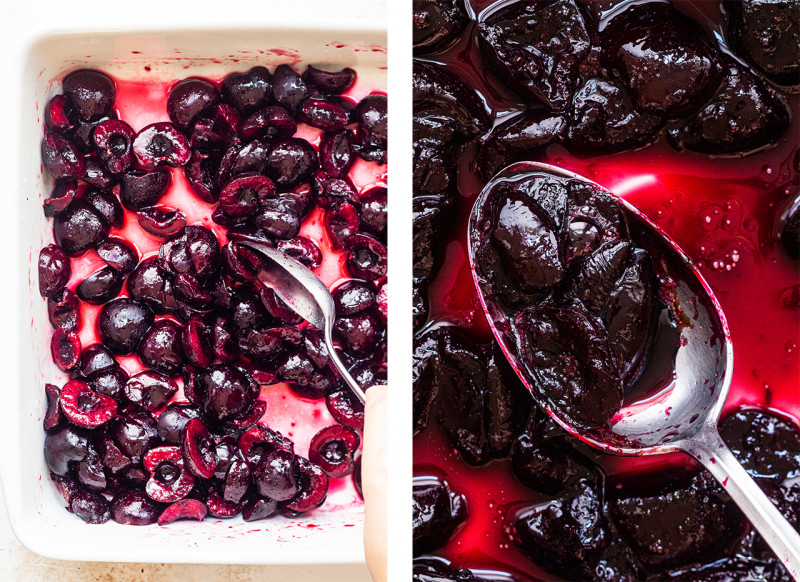 Roast pitted cherries in the oven or simmer them on the stovepot until the fruit becomes soft and jammy and the juices thick and syrupy.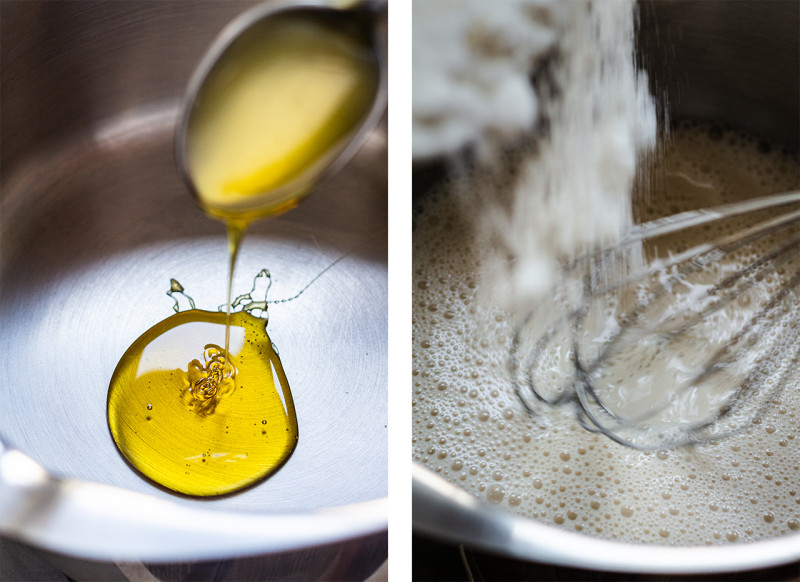 Place golden syryp, water and coconut milk in a medium sized pot. Whisk on low heat until golden syrup dissolves. Then gradually add a combination of sugar and cornstarch while whisking the whole time.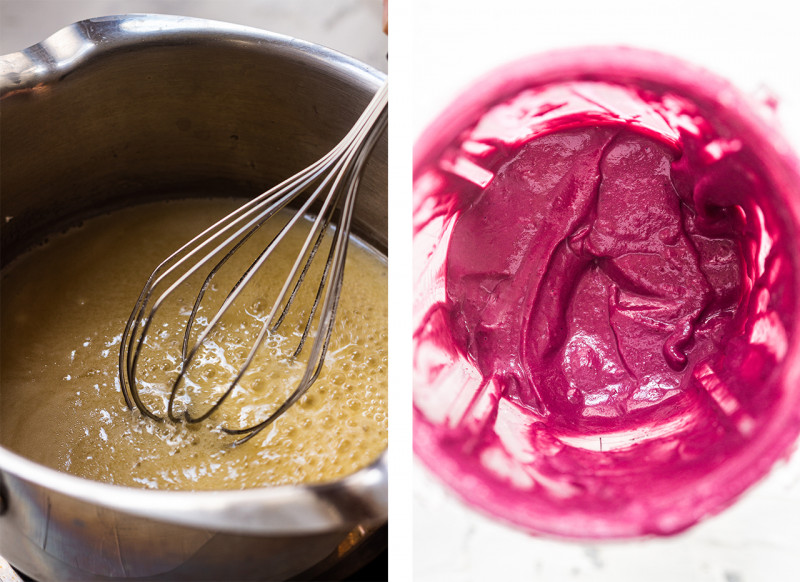 Bring the whole thing to a gentle simmer, simmer it for a few minutes until thickened. Cool. Meanwhile prepare two cherry mixtures, one that will become the ripple in your ice-cream and the other that will flavour the ice-cream mixture.
Whisk the second cherry mixture into the ice-cream base until well combined. Cool and refrigate before churning.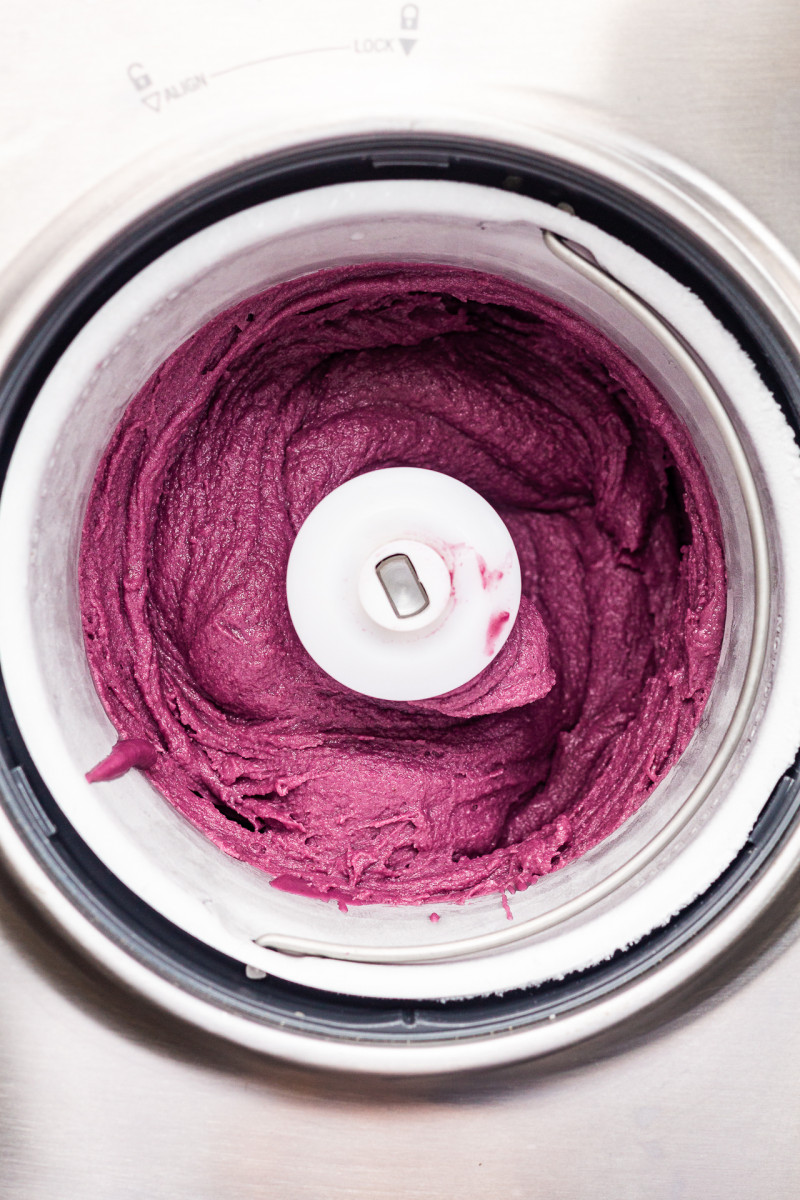 Churn ice-cream mixture in your ice cream machine according to the instructions.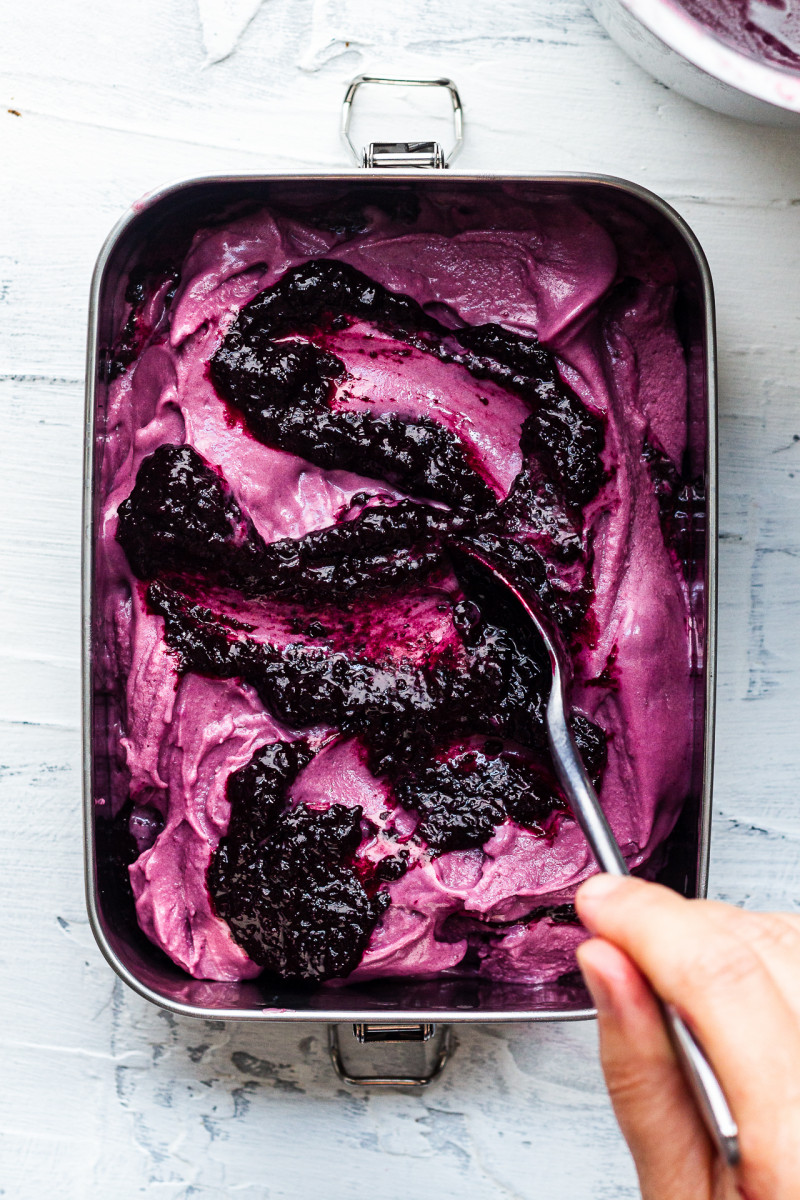 Once churned, transfer the mixture to an air-right freezer proof conatiner. Ripple the first cherry mixture across the ice-cream before freezing until firm.
CAN I MAKE ICE-CREAM WITHOUT A MACHINE
An ice-cream maker is key in getting your ice-cream nice and smooth as it freezes the mixture while breaking up ice crystals at the same time but if you haven't got one and are desperate for a cold treat, there is a work around.
METHOD 1 Pour chilled mixture into a shallow tray and cover the top with a piece of parchment paper. Allow the mixture to freeze for 30-45 minutes and then, just as the edges are getting solid, stir it vigorously with a spatula. Return to the freezer and repeat the stirring every 30 minutes or so until the ice-cream is fully frozen.
METHOD 2 Another option is to freeze it in ice-cube moulds and once frozen, transfer the cubes to a food processor and churn until smooth.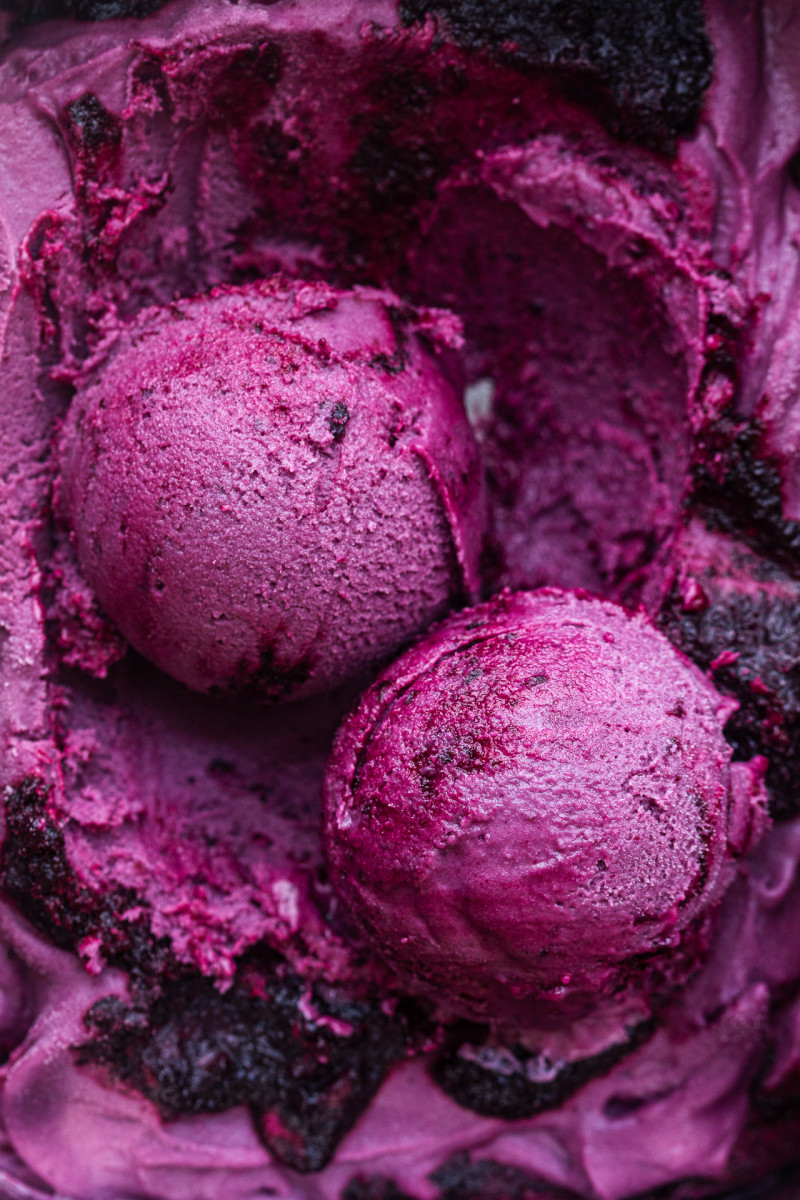 600 g / 21 oz cherries, pitted
100 g / 3.5 oz (heaped ¾ cup) cashews, soaked*
2 tbsp / 30 ml lemon juice
1/8 tsp fine sea salt
60 ml / ¼ cup Amaretto (optional, see NOTES)
BASE
METHOD
If you have a machine without refrigeration, pop the ice cream bowl into the freezer a day before. See the post on a workaround if you don't own an ice-cream machine.
OPTION 1: To roast cherries in the oven, pre-heat it to 200° C / 390° F. Place pitted cherries in a deep baking tray and bake until the fruit has softenend and the juices reduced (about 30 minutes). Give the tray a good stir every 10 or so minutes. Make gelato base while you wait.
OPTION 2: To cook cherries on the stovetop, place them in a medium size pot on a low heat, add a tiny splash of water and cook them stirring often (they will foam up now and then) until the fruit has softened and the juices reduced, about 20-30 minutes. Make gelato base while you wait.
Using kitchen scales, divide roasted/cooked cherries and their juices in half.
Place half of the cherries in a blender and blend until smooth, you could add some sugar but I didn't feel it was needed. Transfer the mixture to a container and place in the fridge (don't wash the blender just yet).
Place the other half of the cherries and their jucies in a small blender with lemon juice and drained cashews. Blend until smooth – if your blender is having trouble with blending the mixture, add a some ice cream base to loosen it up.
Whisk cherry mixture you made in previous step into the base and chill well before churning.
Once the mixture has been sufficiently chilled, churn it in your ice cream making according to the manufacturer's instructions.
Once churned, transfer the mixture to an airtight freezer-friendly box. Swirl blended cherries that you made in step 5 through the mixture using a skewer.
Stick a piece of baking parchment on the top of the mixture (waxy side down) and freeze for 2-3 hours to firm up further.
Transfer the mixture to the fridge 20 minutes ahead of scooping.
BASE
Place golden syrup in a pot with water and coconut milk. Whisk on a low heat until completely dissolved then bring to a gentle simmer.
Mix sugar and cornstarch in a small bowl.
Once the mixture comes to a gentle simmer, gradually pour in the sugar & cornstarch while whisking the entire time.
Bring the mixture to the boil again and allow it to simmer gently for a few seconds until the mixture thickens. Allow it to cool down.
NOTES
*CASHEWS: soak raw cashews in room temperature water overnight or in boiling water for 20-30 minutes to soften. Drain before using.
*AMARETTO: if you would like to use it, reduce the amount of water in the base to 15 ml / 1 tbsp. Add Amaretto to the cherries and cashews in step 6.
NUTRITIONAL INFO
*per 1 scoop (120 ml / 4 oz)