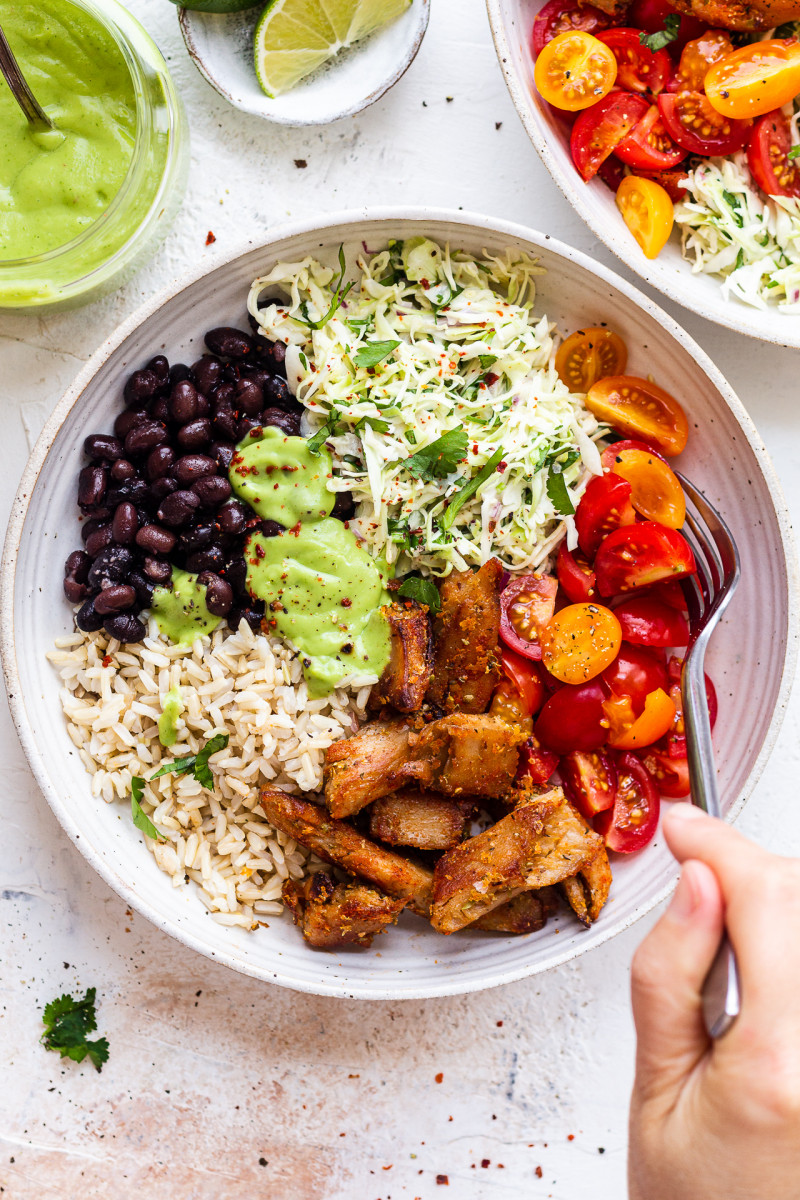 Hope your week has been and continues to be peachy. I have decided to make the most of yesterday's sun and take a day off. I almost managed a full day of reading a book…almost as I found myself testing a couple of recipes in the afternoon. Pesky guilt got to me, I think. Lots of tiny little steps and I will get there eventually. Myself and Duncan like to psychoanalyse ourselves a lot and we often joke that if we managed to fix all our issues before we are die that will still be a success, there are so many!
When it comes to recipes, I am all about colourful, fibre packed meals right now and this simple vegan 'chicken' burrito bowl is what we've been enjoying lately so I thought I would share. As you can probably tell by the recipes on this blog, I don't rely on so called vegan analogues (also known as fake meats), but I do occasionally like to eat something that reminds me of the foods I grew up on.
And before a know-it-all person who has a bee in their bonnet about veganism (you know the kind I mean 😉 ) chimes in with 'isn't it hypocritical of you to seek a plant-based meat alternative?', let's get it out of the way straight away: I did not give up meat because I dislike its taste, I gave it up because I don't want to hurt a sentient being to satisfy my appetite. I hope that makes it clear.
In this recipe I used soy-based chicken alternative pan-fried to perfection and seasoned well. It may be because I have not had chicken in almost 8 years now, but I believe that many meat-eaters could be fooled here especially when eaten in a salad or in a burrito. I don't want to be promoting any brand in particular as there are a lot of vegan chicken alternatives out there and everybody has different preferences but what is key is the correct preparation method.
The first trick is to sear it really well on a hot, well-oiled skillet (I recommend a well-seasoned cast iron pan for this) turning it as little as you can to hit that sweet spot between getting it nicely charred and permanently stuck to the pan. The second trick to so season it nicely whilst still warm and a little coated in oil to get that seasoning to adhere nicely. These are my two top secrets 🙂
Now, if you are like 'ewwww, meat analogues are freaking me out??!', I got you! I often make this very bowl with smoked (adds another layer of flavour) tofu chunks and it's just as delicious. Press your tofu well, tear it into bite-site chunks or dice it if you prefer. Marinate it in a little tamari (or salty 'chicken-like' broth) first, roll in a little cornstarch and proceed like you would with vegan chicken. Easy and tasty!
Aside from vegan 'chicken', the bowl features brown rice for complex carbs, black beans for extra plant-protein, an easy cabbage slaw for even more satiating fibre and some ripe cherry toms (which you can totally turn into tomato salsa but I wanted less work!). The entire dish is brought together by a creamy avocado and coriander dressing that comes together in seconds. Easy, healthy, delicious and perfect for meal prep too.
MORE ABOUT THE INGREDIENTS
AVOCADO: A ripe avocado creates a base for a beautiful oil-free yet creamy dressing here. Seasoned with lime juice, coriander, garlic, cumin and a pinch of chilli is how I like it, but you can totally adjust the seasoning to your taste.
FRESH CORINADER: Fresh coriander is a cornerstone of Mexican cooking and even though this is a completely inauthentic (made up by me) recipe, I tried to use the ingredients that a Mexican cook would use so a bunch of fresh coriander was a no brainer. I used it finely sliced to liven up the slaw and leaves only (stalks, especially their bottom parts, make it a little bitter sometimes) in the dressing.
BROWN RICE: I used brown rice as I enjoy its chewy texture and it keeps me satiated for hours (thanks to all the fibre), but other types of rice (red rice, long white rice) or quinoa could work well too.
BLACK BEANS: Cooked beans are a burrito staple and they are so good for you too. You might have heard of blue zones – 7 distinct parts of the world where people live the longest and they all rely on beans in their diets. I used tinned beans for ease here, but if you have time homecooked beans are even better.
TOMATOES: Cherry tomatoes add a pop of colour and sweetness to this dish with minimal effort. You could chop them up small, season with lime juice and turn into a salsa but I opted for a low-effort component here.
CABBAGE: Very finely sliced cabbage mixed in with a little bit of finely chopped onion and coriander and an easy mayo-based dressing is delicious here. Easy to make, creamy and full of fibre. Any cabbage will do, I used sweatheart cabbage as it's currently in season, but plain white or even purpled cabbage works just as well as long as it's very finely sliced.
SOY-BASED CHICKEN: I used a shop-bought soy-based chicken alternative but smoked tofu works just as well here. Use any brand of fake chicken you personally enjoy and it will taste great as long as you prepare it right. My two tricks are to sear it really well on a hot, well-oiled skillet (I recommend a well-seasoned cast iron pan for this) turning it as little as you can to hit that sweet spot between getting it nicely charred and permanently stuck to the pan. The second trick to season it whilst still warm to get that seasoning to adhere nicely.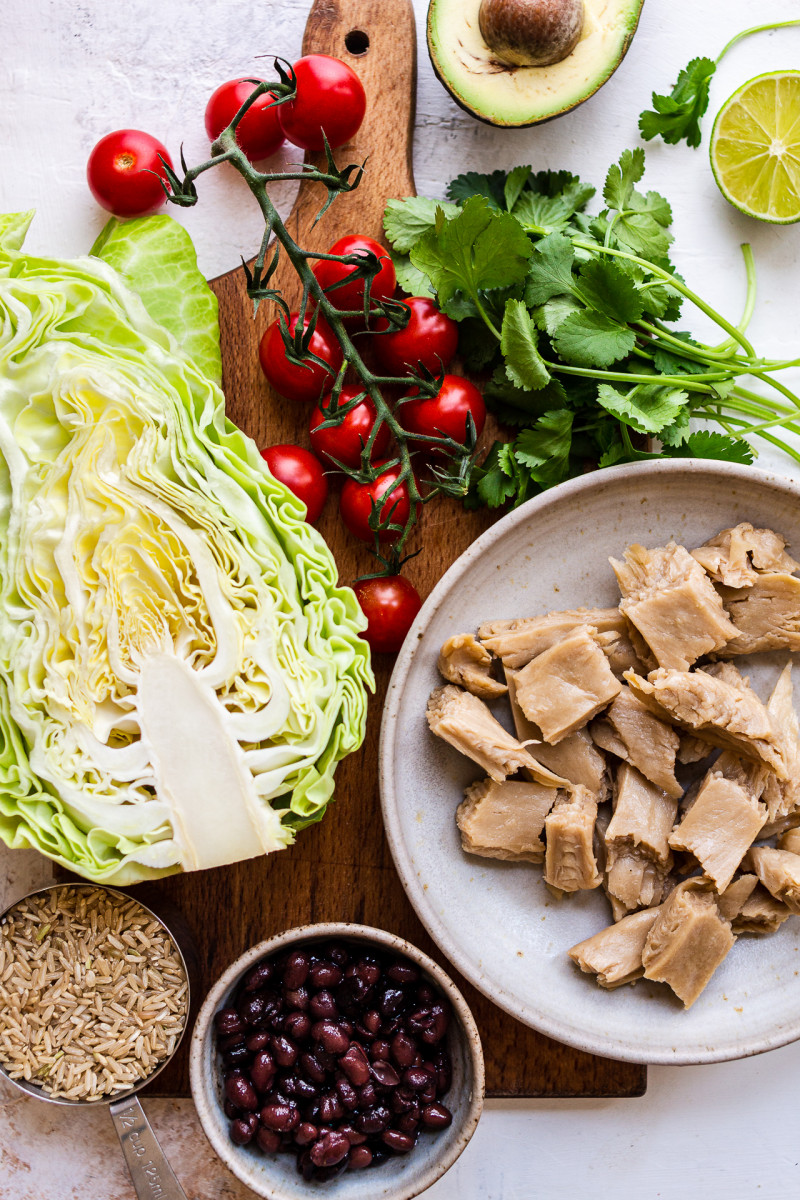 CAN I MAKE THIS DISH OIL-FREE?
Yes, you can. The only two components that use oil are the slaw and the 'chicken'. Replace mayo in the slaw dressing with some cashew butter, silken tofu (or a mixture of both) or a neutral tasting vegan yoghurt. As for the 'chicken' component, opt for smoked tofu instead of fake chicken. Marinate tofu chunks or cubes in tamari or salted 'chicken-like' broth, coat in the seasoning and bake it in the 180° C / 335° F oven for about 20-30 minutes, tossing once at halfway point.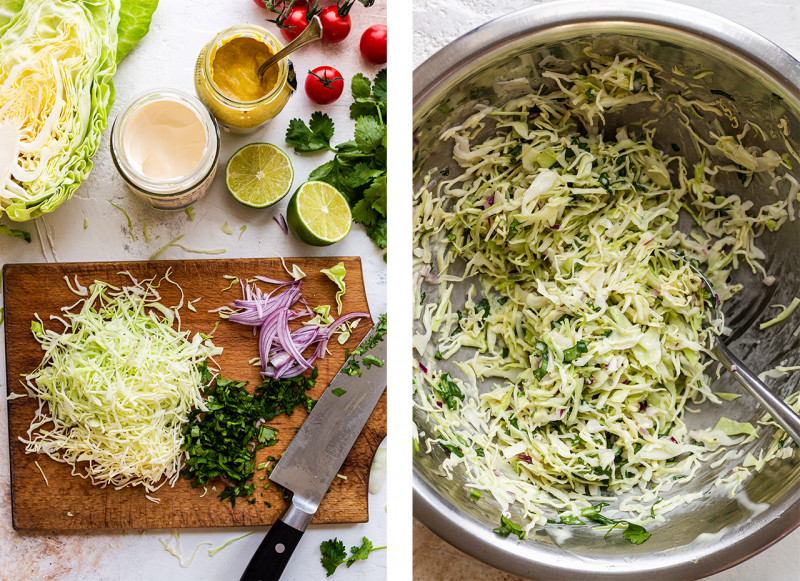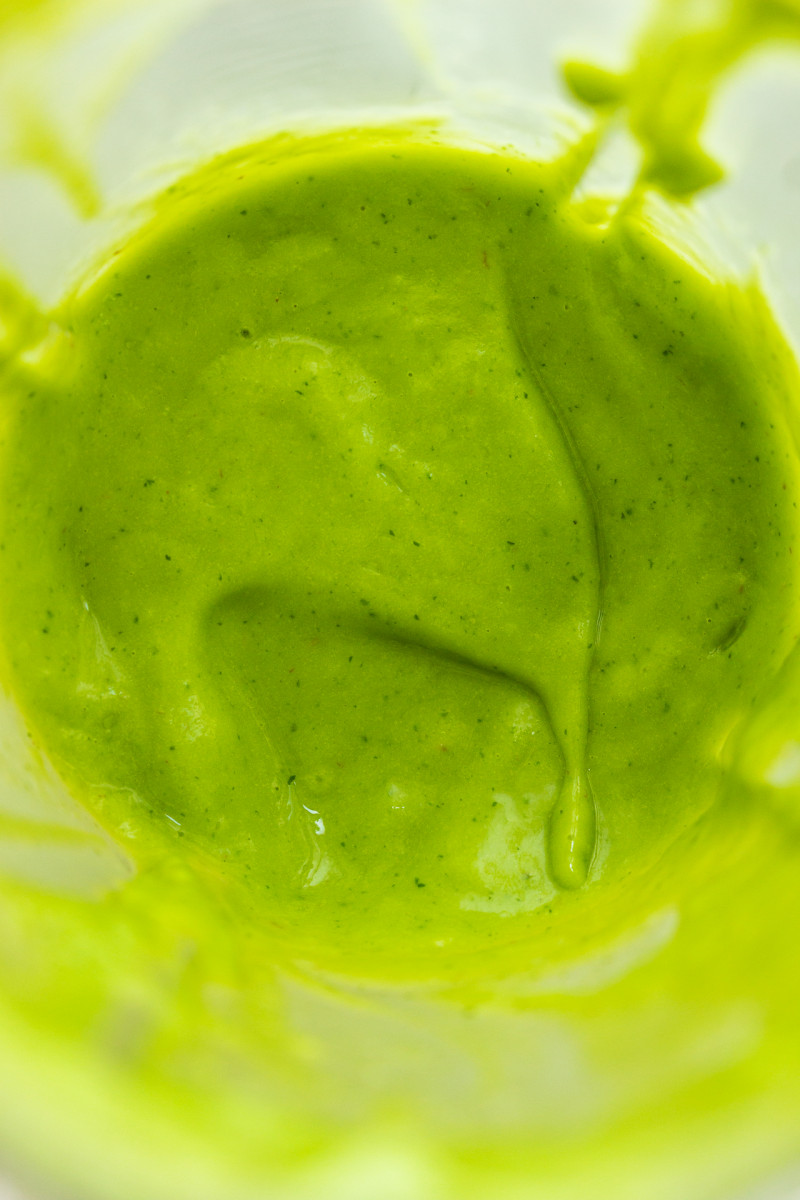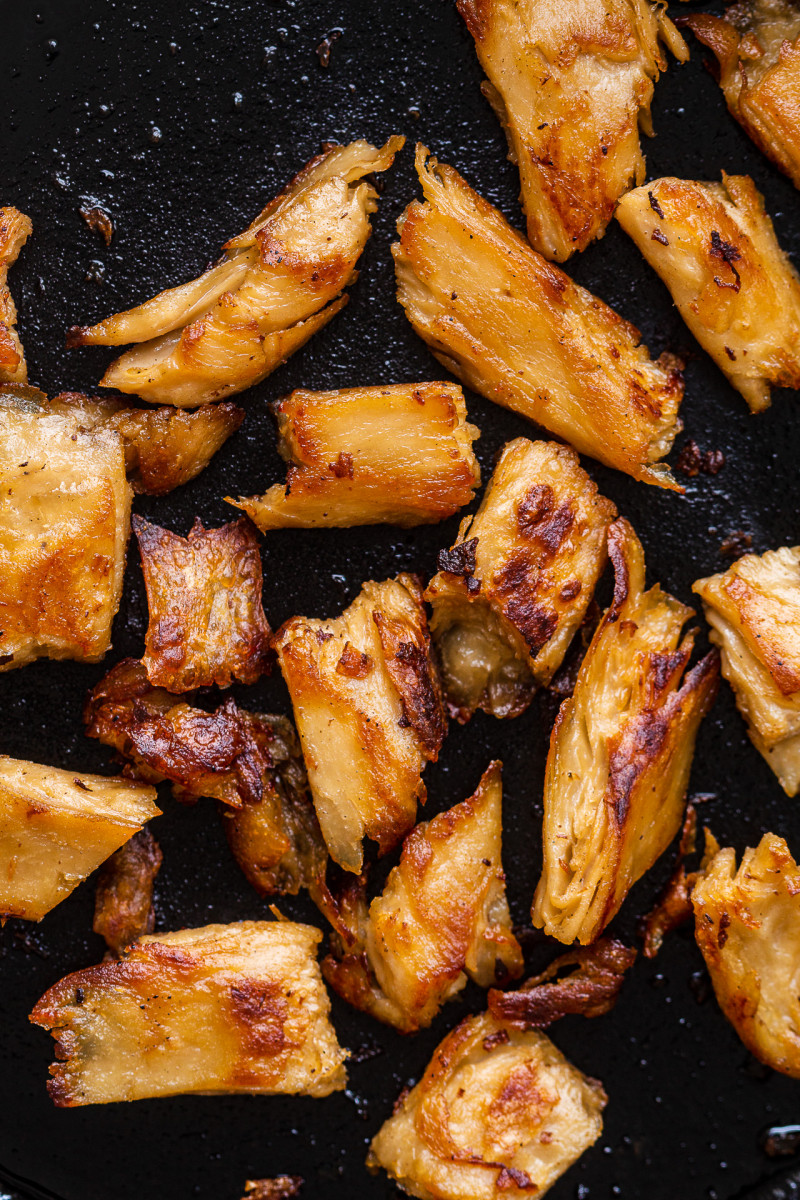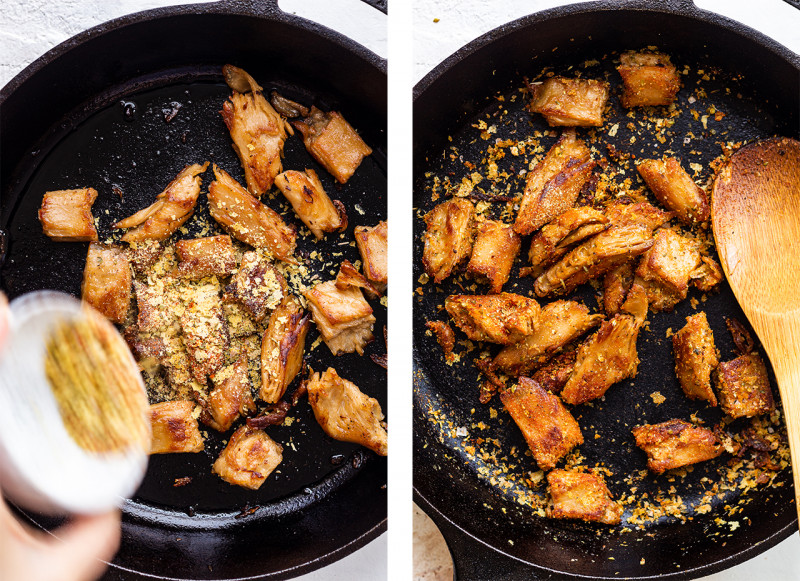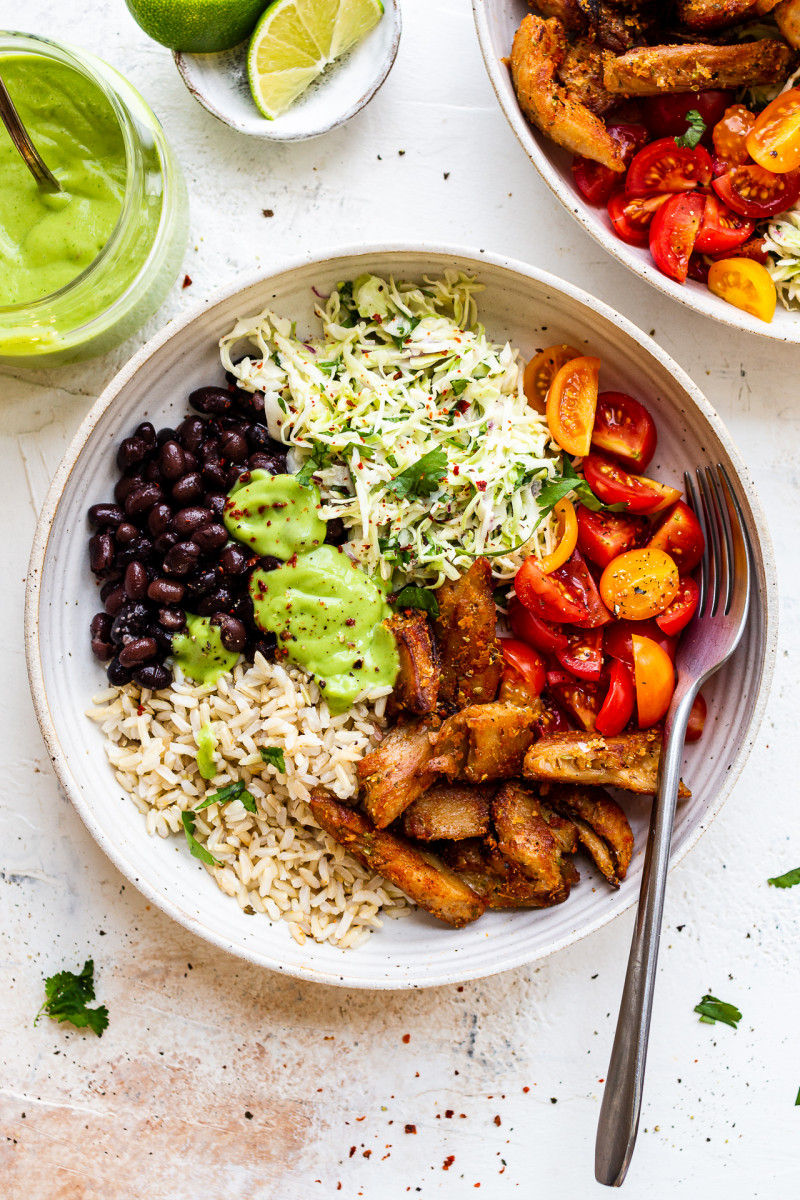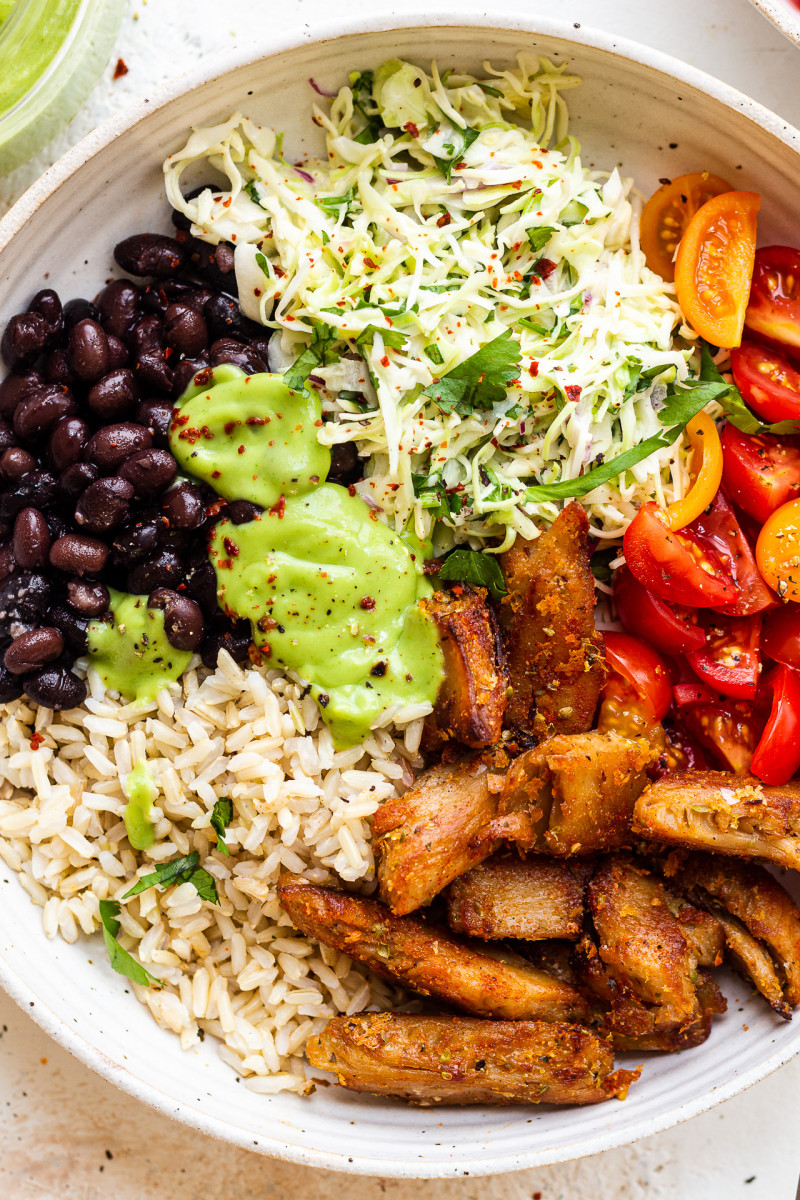 DRESSING
1 ripe avocado
juice of ½ lime & zest
1 small garlic clove, to taste
1/8 tsp cumin, more to taste
pinch of chilli flakes
a handful of coriander leaves*
salt & pepper
OTHER INGREDIENTS
½ cup raw brown rice
½ cup cooked black beans, tinned or homecooked
15 cherry tomatoes, quartered
hot sauce (I like Chipotle Cholula), optional
SLAW
¼ cabbage, sweetheart/hispi or white
a small wedge of red onion, very finely chopped
a handful of coriander, finely chopped
20 ml / heaped 1 tbsp vegan mayo
5 ml / 1 tsp Dijon mustard
7 ml / 1½ tsp apple cider vinegar or lime juice
2.5 ml / ½ tsp maple syrup
pinch of fine chilli flakes
salt & pepper
'CHICKEN'
2 tsp nutritional yeast
1 tsp dried oregano
½ tsp smoked paprika
¼ tsp garlic powder
1/8 tsp salt
approx. 150 g / 5.25 oz plant-based chicken (or 200 g / 7 oz pressed smoked tofu*)
10 ml / 2 tsp olive oil
METHOD
Place all of the dressing ingredients in a small blender, add ½ cup (120 ml) of water and blend until smooth. Taste, adjust the seasoning to your liking and set aside.
Cook the rice according to the package instructions (mine took 22 minutes of simmering, in plenty of water). Drain well.
In a mixing bowl, combine mayo, mustard, vinegar, maple syrup, chilli, salt and pepper. Finely shred cabbage into the bowl, add finely chopped onion and coriander. Mix well, adjust seasoning and set aside.
Create 'chicken' seasoning by combining nutritional yeast, oregano, smoked paprika, garlic powder and salt in a small bowl. Set aside.
Heat up a heavy bottom pan, I used a well seasoned cast iron skillet. Once hot, add oil making sure the entire pan is covered – start off with 10 ml (2 tsp) and add more if need.
Add plant-based chicken (or marinated tofu, see NOTES) and coat it in the warm oil. Once coated in oil, leave it for a few minutes on a low-medium heat so that it has a chance to brown nicely. Stir from time to time until browed on all sides.
Once browned, switch the heat off. Sprinkle with 'chicken' seasoning and stir immediately to coat.
Divide the rice, black beans, cherry toms, slaw and 'chicken' between bowls. Drizzle with avocado dressing and add a dash of a hot sauce, if liked.
NOTES
*CORIANDER – I found that stalks, especially the bottom part, tend to make this dressing a bit bitter so I prefer to use just the leaves.
*'CHICKEN' – I often make this lunch with 200 g / 7 oz smoked tofu instead. If using tofu (smoked works best in my opinion), press it, cube it and marinate in 20 ml / 4 tsp of tamari (or soy sauce if not gluten-free) in advance. Dust with cornflour (cornstarch) before frying, coat in my 'chicken seasoning' at the end.
*OIL-FREE – if you would like to make this dish oil-free, opt for tofu version. Marinate it tamari (or salty 'chicken-like' broth), coat in the seasoning and bake it in the 180° C / 335° F oven for about 20-30 minutes, tossing once at halfway point.