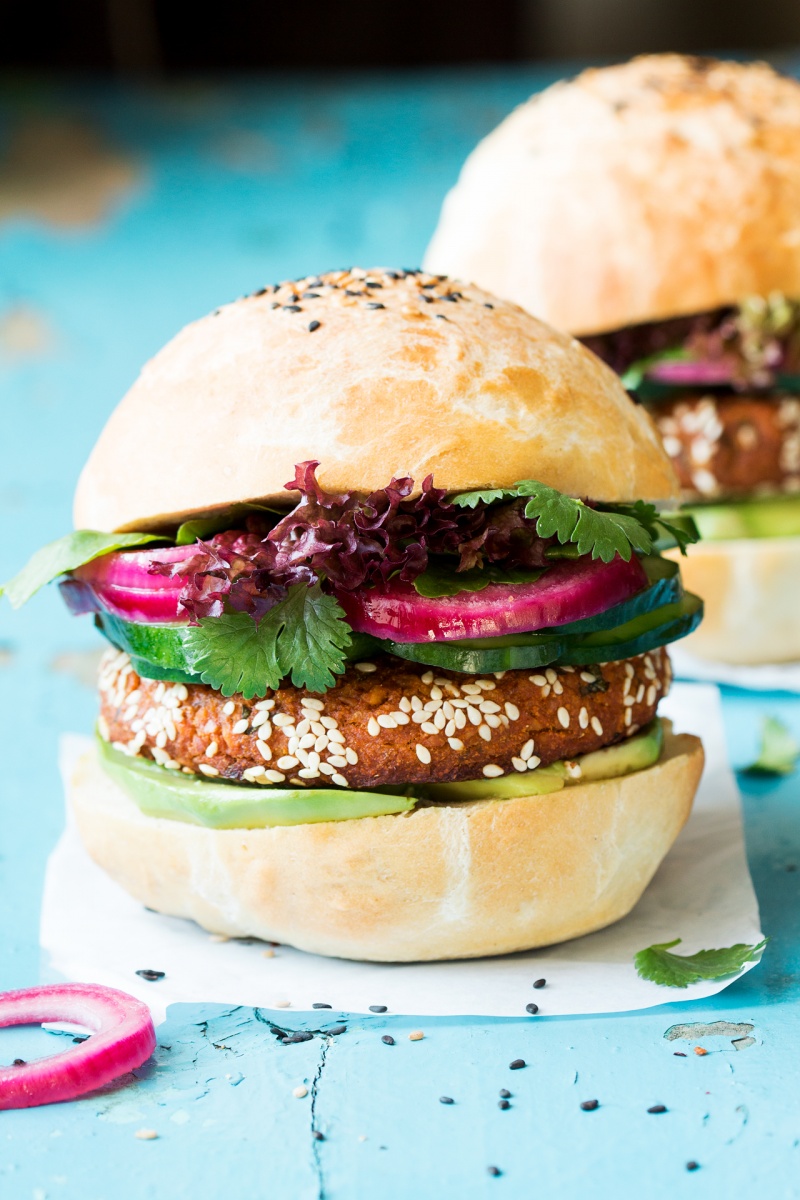 Hands up who doesn't like a good, fat burger? Yeah, I thought so…Burgers are pretty difficult to resist now and again, aren't they?
I personally think that it's as much about the quality of the extras and condiments, textures and flavours bouncing off each other as it is about the patty itself, which is perhaps why veggie burgers aren't just popular with vegans and vegetarians. In my experience, vegan burger places tend to pull out all the stops and I find that their burgers are always really well thought-out with unique flavour combinations and a range of textures that excite the palate.
My own brother is a prime example of a meat eater who will happily demolish a good veggie burger for lunch. When me and Duncan were visiting Krakow, we took him to a popular vegan burger joint. He was pretty amazed at how filling the burgers were and how, as opposed to the meat ones, they don't send him into a post-meal coma! I don't think that his going vegan or vegetarian is on the cards, but I feel that this veggie burger experience has sparked his interest in this alternative lifestyle.
One issue with homemade veggie burgers I found is that once you bite into them, they often get mushy, as vegan egg replacers (including my favourite aquafaba) do not set in the same way that eggs do.
Now, these vegan chickpea burgers are different! They stay crispy and firm on the outside and still moist on the inside. My trick is to prepare the patties from raw chickpeas and bake them in the oven. They may seem a bit on the wet side at first, but once in the oven, raw chickpeas absorb all the extra moisture while cooking and the burgers firm up beautifully.
Duncan is always (often brutally so) honest about my cooking experiments and he is in love with these plant-based beauties. He said that they are the best veggie burgers he has ever tried, which is quite a compliment from a voracious burger eater. I'll take that, I feel like it's a hard earned and well deserved praise 😉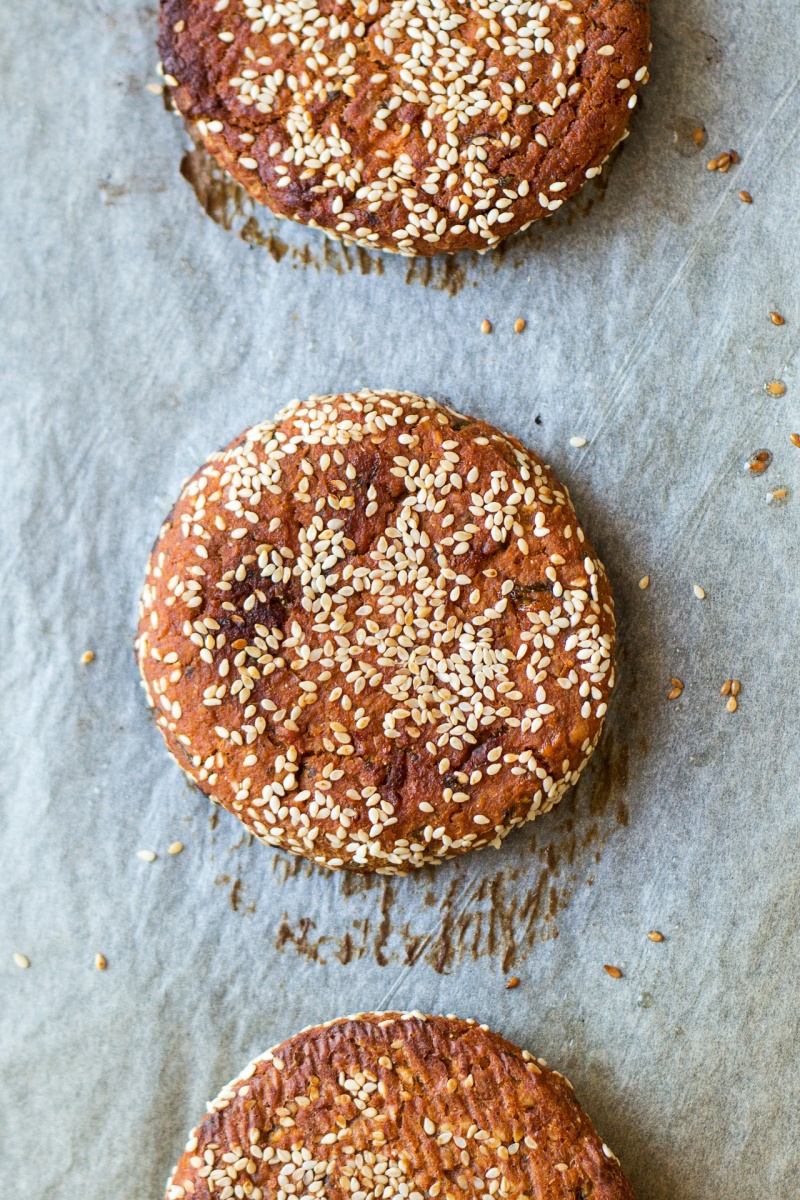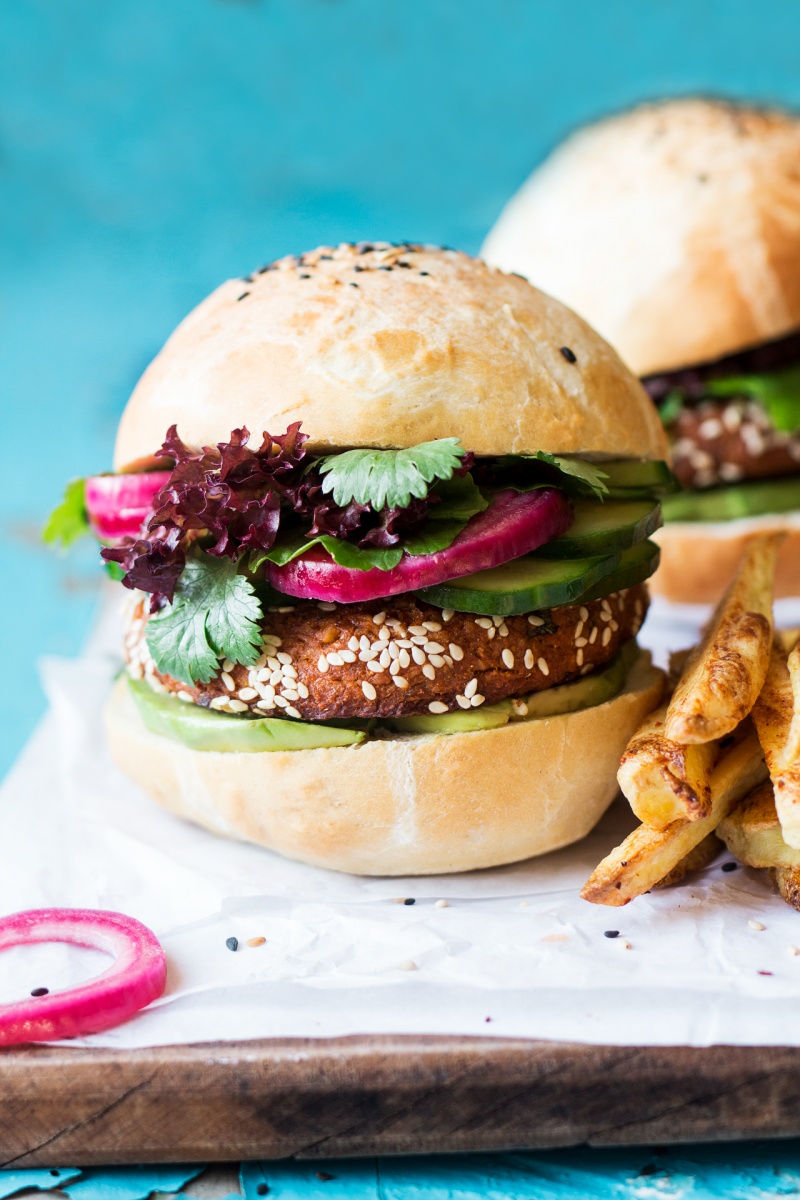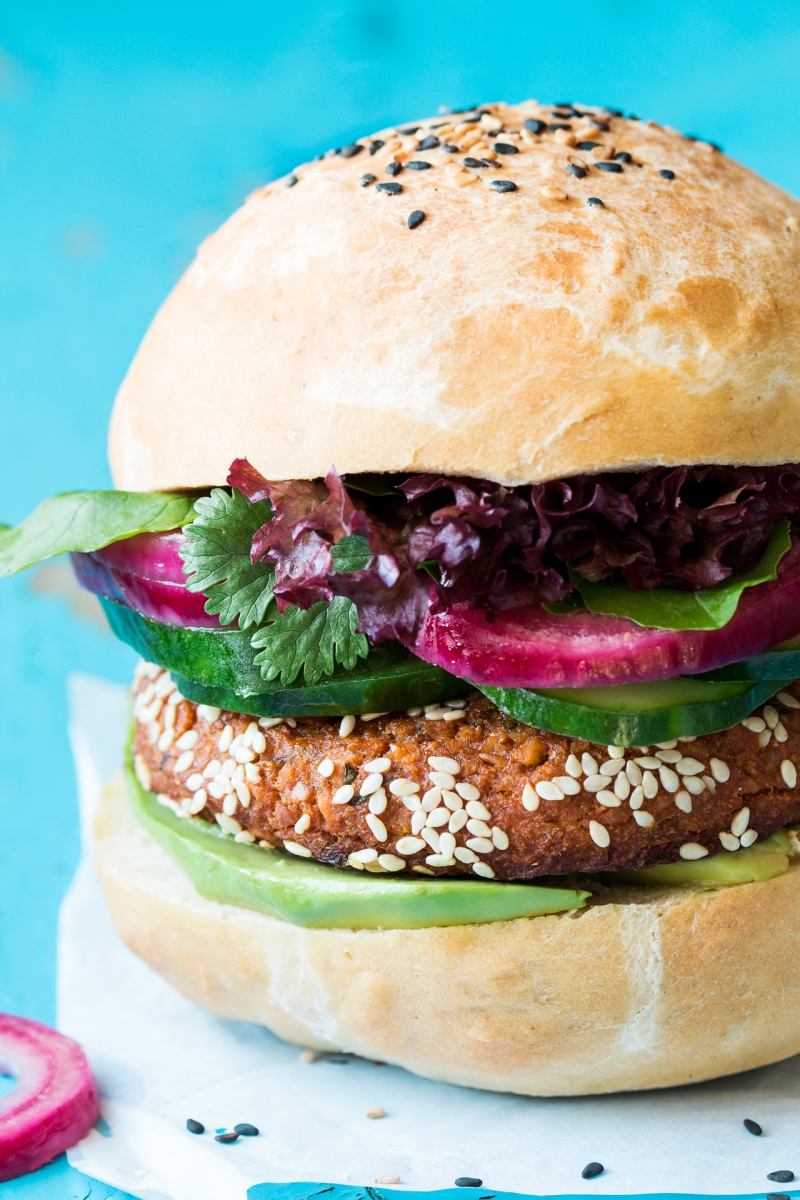 BURGERS* (makes 4 large burgers)
600 g / 21 oz sweet potato
¾ cup of raw chickpeas, soaked overnight
approx. 6 tbsp chickpea flour
2 garlic cloves, finely grated
1½ level tsp salt
1½ tsp cumin
1½ tsp ground coriander
1½ tsp smoked paprika
½ tsp hot chilli powder
¼ cup (packed) fresh coriander, chopped finely
sesame seeds, to coat
olive oil
REMAINING INGREDIENTS
4 burger buns
quick-pickled red onion
a handful of rocket / arugula
a handful of lettuce (I used lollo rosso)
a handful of fresh coriander
1 small avocado, sliced
1 small cucumber, sliced
ketchup, vegan mayo or / and Sriracha
METHOD
BURGERS
Put a whole potato (or two, if using two small ones) into a 200° C / 390° F oven and roast it until soft, it takes about 1 hour (depending on size). Let it cool down, peel it and mash the flesh up with a fork.
Rinse your soaked chickpeas and grind them finely (they should resemble medium bulgur wheat after grinding) in a food processor.
In a large bowl, combine mashed potato, ground chickpeas, chickpea flour, garlic, herbs and spices. Mix it all very thoroughly and place in the fridge for several hours (or freezer for an hour) to firm up. You could also freeze the mixture at this point.
Heat up the oven to 200° C / 390° F and line a baking tray with a piece of baking paper. Prepare a small bowl of sesame seeds (optional), a pastry brush and some olive oil.
Brush the paper-lined baking tray with a bit of oil. Divide chilled mixture into 4 portions – do not worry about the mixture being fairly wet (that's good, it means that the burgers will not end up dry inside after baking) but handle it gently. Form the first patty, stick some sesame seeds to it on one side, place on the tray (sesame side down) and gently pat some more sesame seeds into the sides and the top surface. Do the same with the remaining 3 portions of the mixture.
Bake for 20 minutes on one side, then using a spatula gently turn the burgers onto the other side and bake for another 15-20 minutes. They are done when they have firmed up and the exterior is crispy and golden.
ASSEMBLY
Cut your burger buns. You may want to toast the inside lightly.
Place your favourite condiment on the bottom, followed by avocado slices, chickpea patty, some more sauce, sliced cucumber, pickled onion and finally the lettuce, rocket and herbs. Close the burger, grab it and sink your teeth in and enjoy 🙂 .
NOTES
*These burgers are not suitable for pan-frying, I'm afraid, as they contain raw chickpeas and these need a fair amount of moisture (which is why the patties are quite wet before baking) and time in the oven to cook through. You could try making them with cooked chickpeas instead, but in my experience they are not as nice (they don't crisp up on the outside like these do and they aren't firm enough inside).
It's best to prepare the mixture a day in advance as it makes it easier to shape the burgers and the spices have had a chance to mingle.
The mixture freezes very well.
These burger patties are based on this earlier recipe of mine.