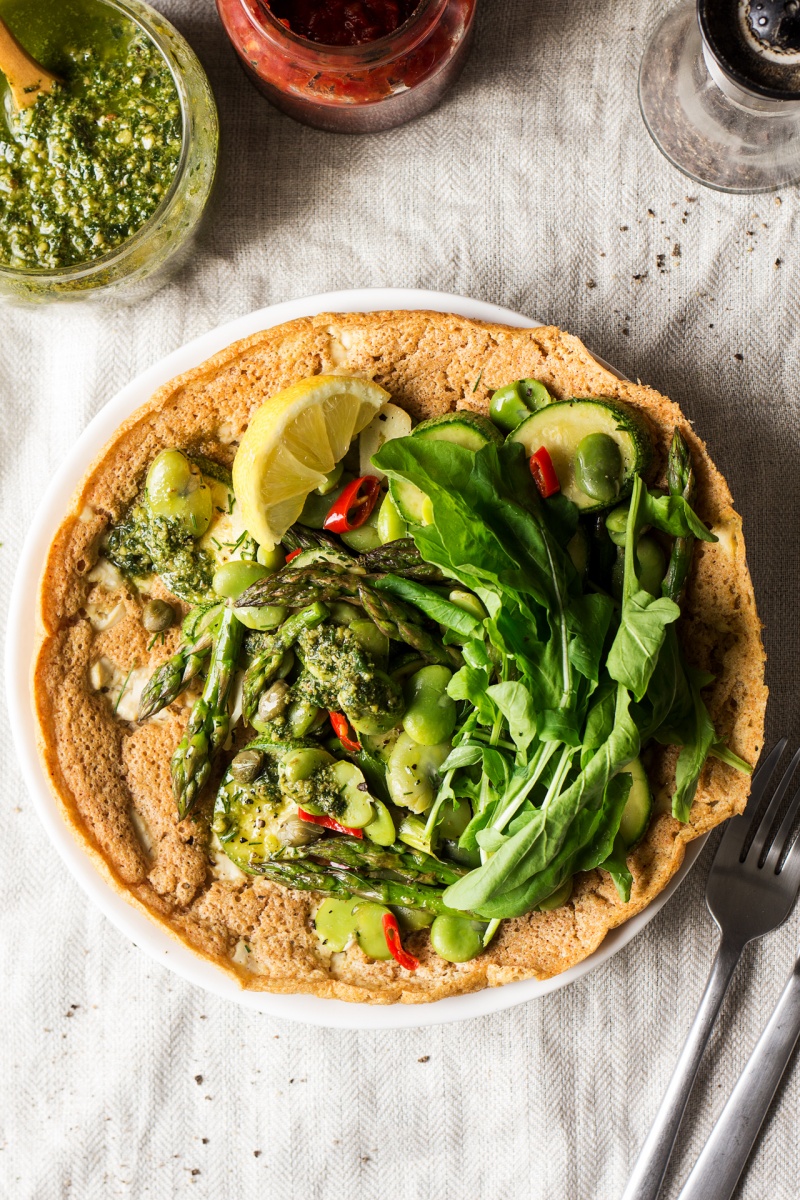 With this recipe, I set out to wow you with a vegan omelette yet I ended up with a fluffy, savoury pancake instead.
Not quite what I had in mind, but it makes a tasty, filling and naturally gluten-free meal. It's kind of similar to an Italian socca yet fluffier and requires less oil.
I topped it with a bunch of seasonal veggies as I don't seem to be able to get enough of them right now. Hope you like it!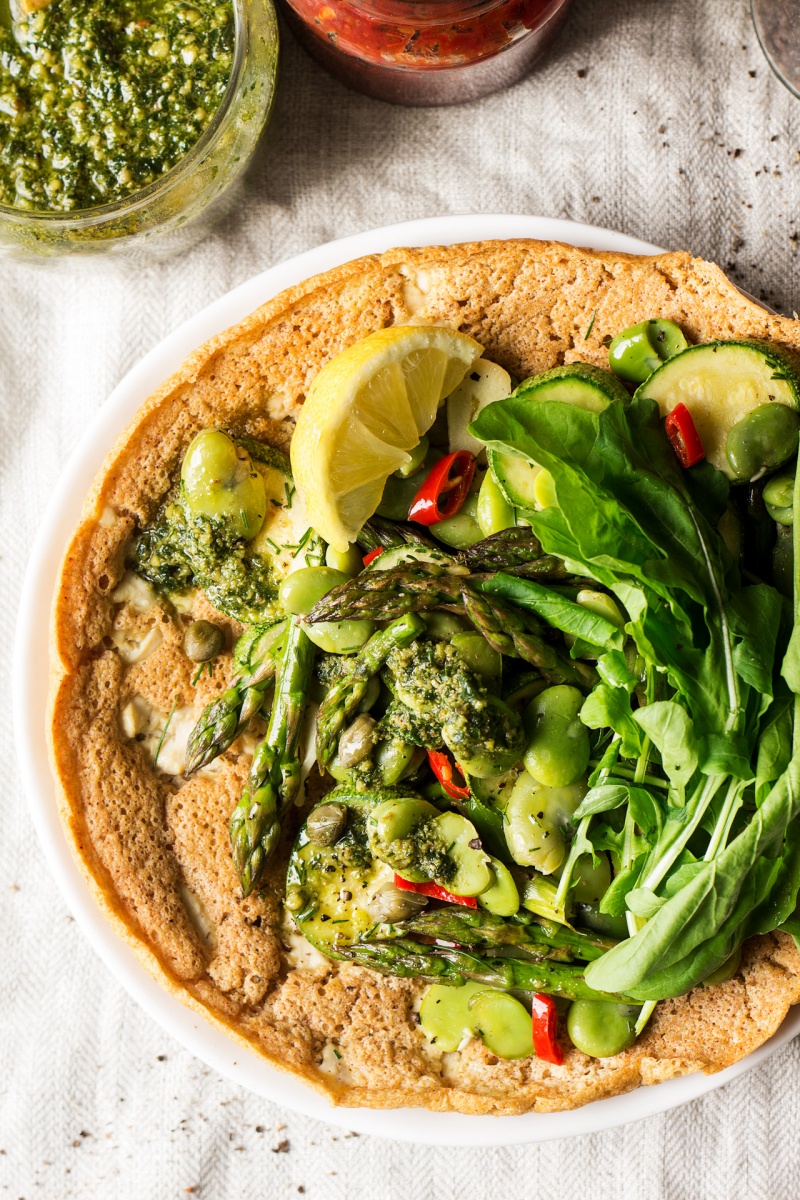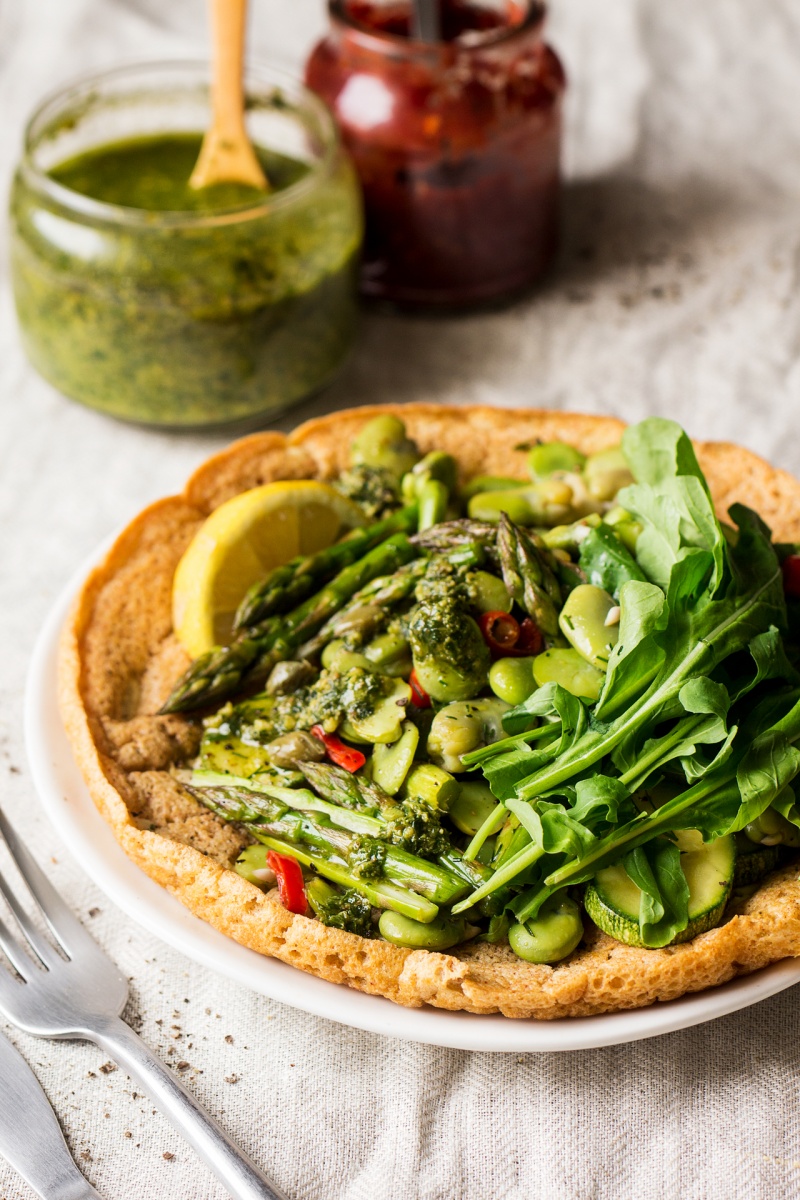 TOPPING
2 tbsp olive oil
2 garlic cloves, finely chopped
½ red chilli, deseeded and finely chopped
1 baby zucchini, sliced
5 asparagus spears, cut into smaller pieces
½ cup cooked broad beans
1-2 tbsp fresh dill, finely chopped
1 tbsp capers
a squeeze of lemon
2 tsp basil pesto (optional)
fresh rocket
METHOD
In a large bowl, mix chickpea flour, baking soda, nutritional yeast, salt and pepper with lemon juice and enough water to achieve a thick pancake batter.
If using tofu, place it on a plate and crumble it with a fork. Season with salt and pepper.
In another (glass or metal, avoid plastic) bowl, whip aquafaba with ½ tsp vinegar until you achieve stiff peaks.
Heat up a medium, non-stick frying pan and brush it with a bit of olive oil.
Gradually fold whipped aquafaba into the pancake batter with a spatula. Do it very gently so that you don't knock all the air out.
Pour the batter into the prepared frying pan. If using tofu, scatter it on top of the pancake. Place the pan on the hob, on low-medium heat, for a few minutes (about 5 mins) until the sides of the pancake start peeling away from the pan.
Next, place the pan under a grill / broiler and cook for a further 10-15 minutes until the pancake is fully cooked through.
While the pancake is cooking, heat up two tablespoons of oil in a large frying pan. Add garlic and chilli, if using. Stir-fry gently until soft and fragrant.
Add zucchini slices and raw asparagus. Sauté for a few minutes, until the asparagus has softened but still remains crunchy. Add cooked broad beans and capers. Season with salt (go easy as capers contribute some saltiness), pepper, a squeeze of lemon and fresh dill.
Top cooked pancake with spring veggies, fresh rocket and optionally a drizzle of pesto.