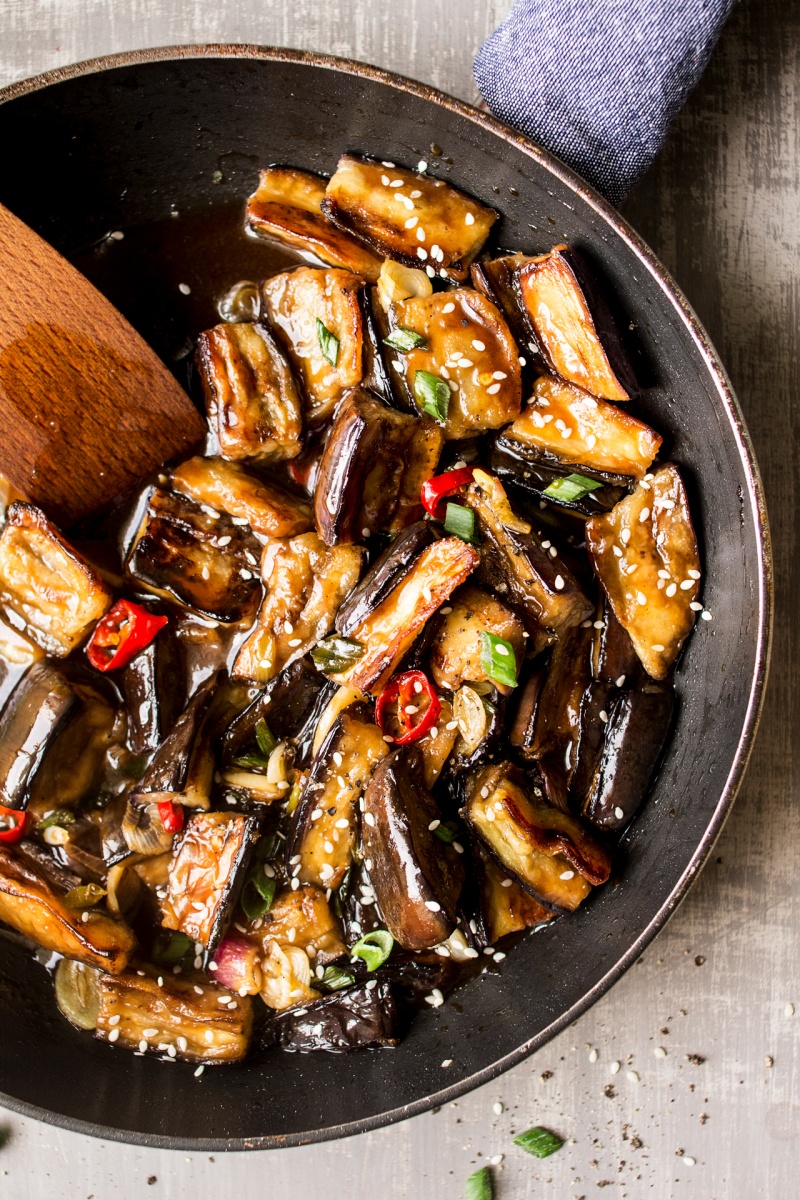 September is slowly coming to an end, although you would not have guessed it stepping outside as it's supremely hot this week!
The end of September means that my beloved aubergines will soon disappear off the green grocer's shelves so I am keen to share one more aubergine recipe with you before the end of the season.
This recipe is a simple midweek dinner that's easy to make, yet it's somehow impressive. It's a simple aubergine stir-fry flavoured with a bunch of aromatics in a salty, sweet and sour glaze served over a bowl of steaming hot rice.
To stop the aubergine from soaking up too much oil, you coat it in a thin layer of cornflour first which also produces nice crisp edges during pan-frying. Thanks to aubergine's firm and meaty texture, this dish is rather satisfying whether you're vegan or not.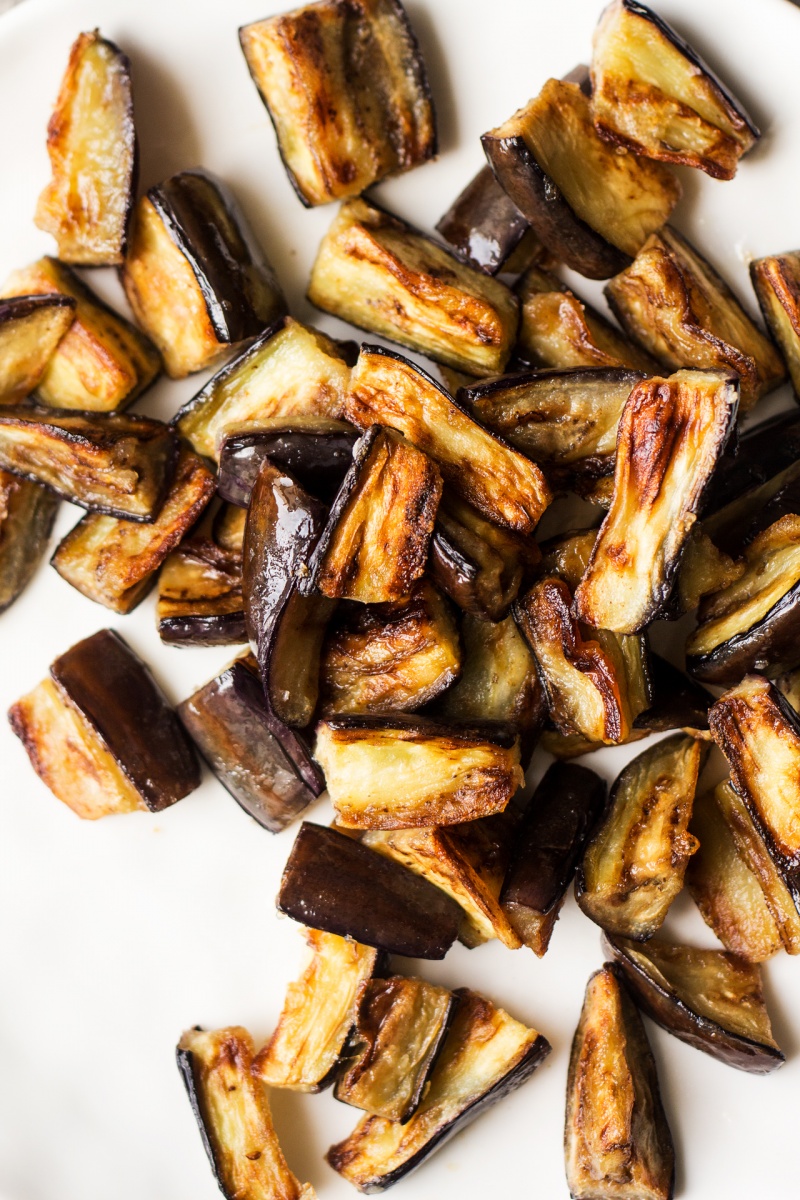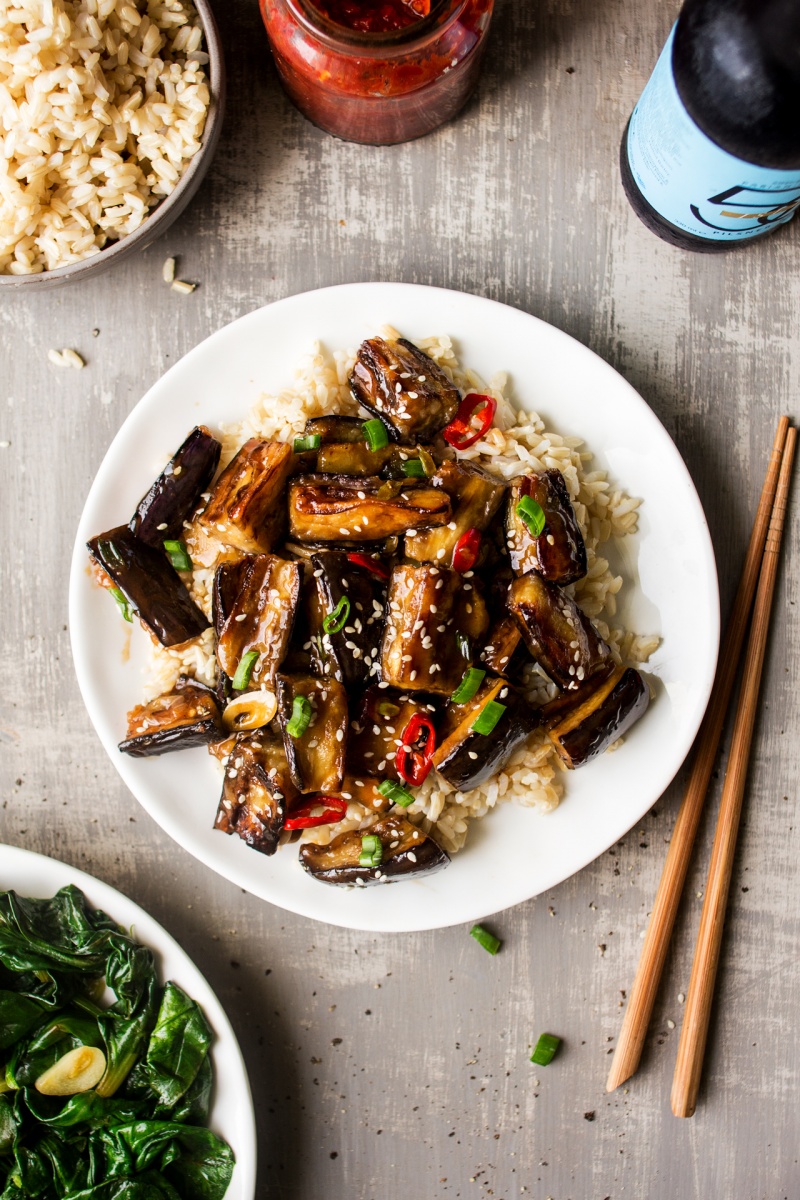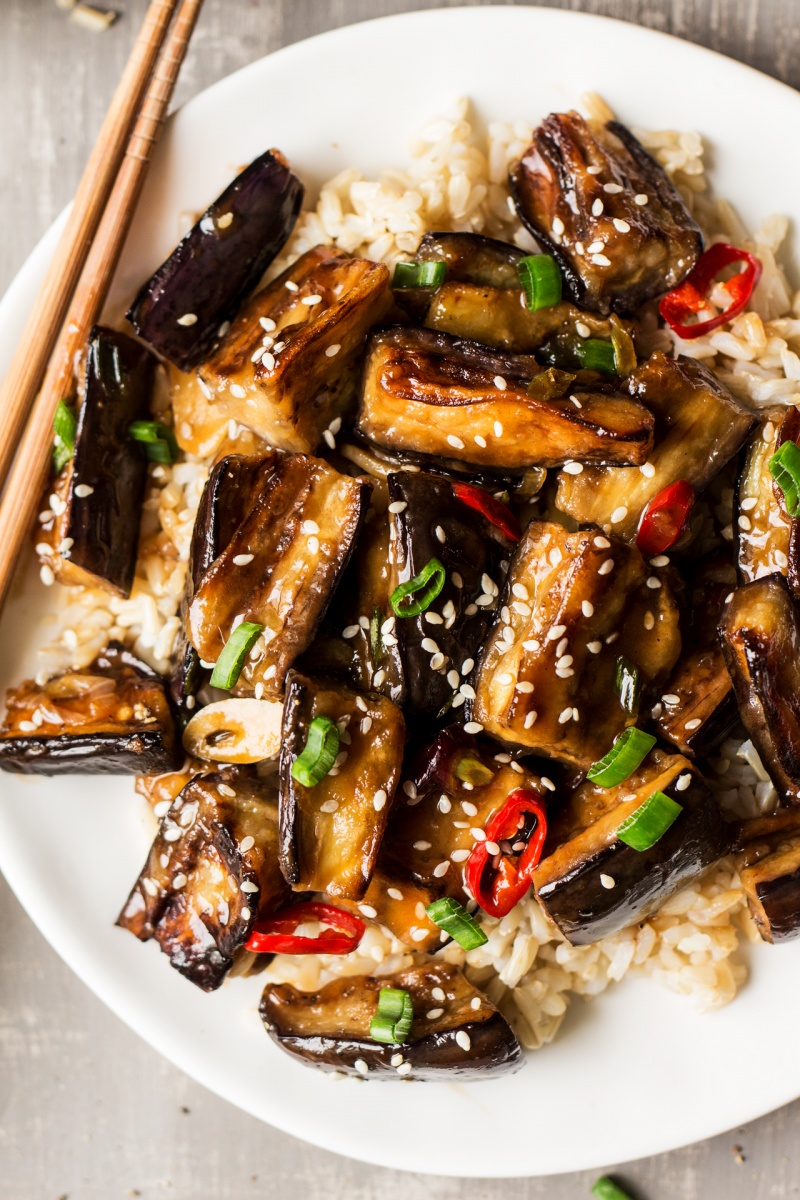 2 medium aubergines / eggplants
2 tsp salt
approx. 1 tbsp cornflour
2 tbsp peanut oil (or other oil suitable for frying)
2 spring onions, sliced thinly
½-1 red hot chilli or a pinch of chilli flakes, depending on your tolerance
3 garlic cloves, sliced thinly
2.5 cm / 1″ piece of ginger, finely diced
sesame seeds, to garnish (optional)
SAUCE
METHOD
Cut aubergines / eggplants into 3-4 thick slices and then each slice into wedges lengthwise.
OPTIONAL: Place aubergine / eggplant pieces in a colander over a deep plate. Sprinkle liberally with salt and set aside for the salt to draw the bitterness out. After 45 mins, wash the salt off and blot the aubergine dry with a kitchen towel.
Sprinkle the aubergine / eggplant pieces with a thin layer of cornflour / cornstarch. You can either use a small sieve for this (or a tea strainer) or a large ziplock bag although I prefer the former as it's kinder on the environment. If using a bag, place aubergine pieces and cornflour in it. Zip up and shake the contents well to coat the aubergine.
Heat up 1 tbsp of oil in a non-stick pan, on medium heat. Once the oil warms up, place the aubergine / eggplant pieces in the pan and fry until gently charred on the outside and cooked through. Rotate the pieces around the pan to make sure they brown evenly on all sides. You may need to fry the aubergine in batches if your pan is small. Once ready, set aside.
In a small bowl, combine tamari (or soy sauce), rice wine vinegar, maple syrup, sesame oil and 3 tbsp of water. In another small bowl, combine ½ tbsp cornflour with 2 tbsp of water to thicken the sauce with later.
Heat up 1 tbsp of oil in a pan. Add spring onions and sliced chilli (if using). Stir fry until soft (about 1-2 minutes), then add diced ginger and garlic – fry until they both soften and become fragrant (about 1 minute).
Push the aromatics to the side of the pan and pour in the sauce, followed by the cornflour slurry. Mix the two well. Simmer the sauce gently for a few seconds so that it can thicken.
Stir in grilled aubergine to warm it up gently. Serve over a bowl of steaming hot rice.
NOTES