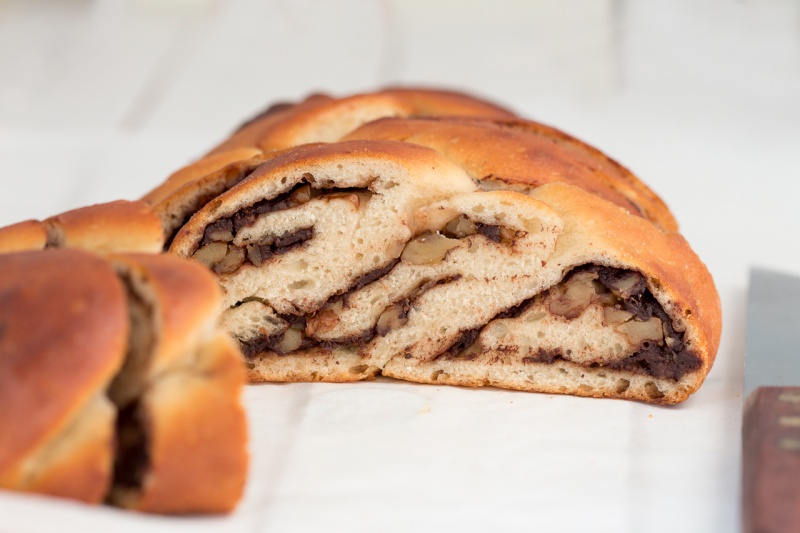 When Duncan and I first started dating, I was very impressed that the boy can cook. He made me a lovely meal on one of our first dates and I don't think I let him know just how food obsessed I was that early on. I was secretly pinching myself as I have never dated anyone with any sort of cooking skills before. When I told him that I've never had a guy cook an elaborate meal for me before, he was very matter of fact about it. 'I'm from Melbourne…' he said, '…and Melbourne guys can cook'. Why didn't I know about this amazing city full of guys who like cooking before?
When we moved in together, I took on more cooking, especially now as it is my 'sort of' job – I'm lucky, aren't I? There is one thing I am not even attempting to learn though and it's bread baking. Bread (and any sort of yeast baking) is Duncan's domain and I think he is keen to keep it this way so I stay away and enjoy being baked for now and again.
He is really good at it. His slight obsession with precision (a mild OCD between you and me) comes into its own as far as baking is concerned. He is completely self-taught and a proof that if you put your mind to it, you'll eventually master any skill you set your sights on.
Today, Duncan made me an amazing vegan challah oozing deliciously rich dark chocolate and crunchy walnut filling. It is to die for and despite my best efforts, I was not able to stop at a single slice. It is so good I've had to be dragged away from it…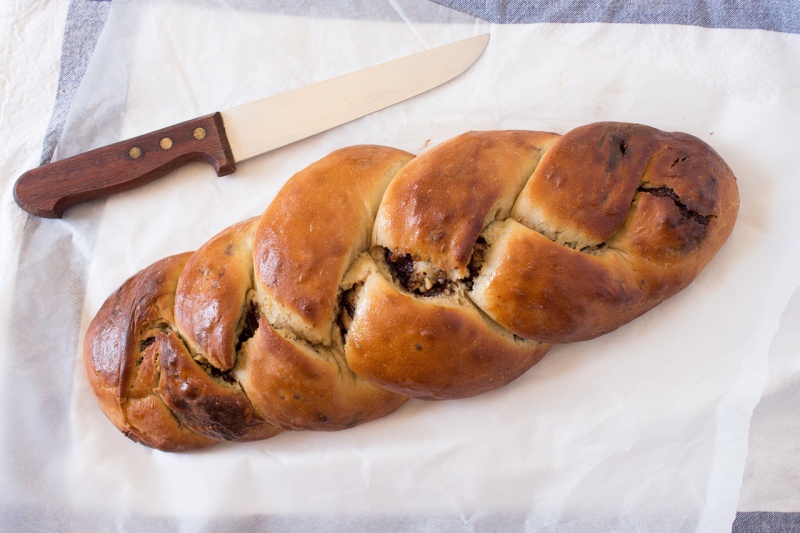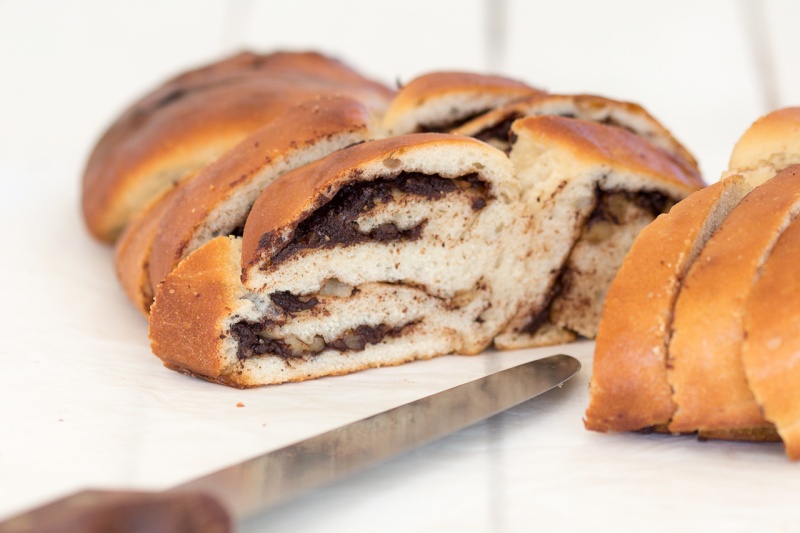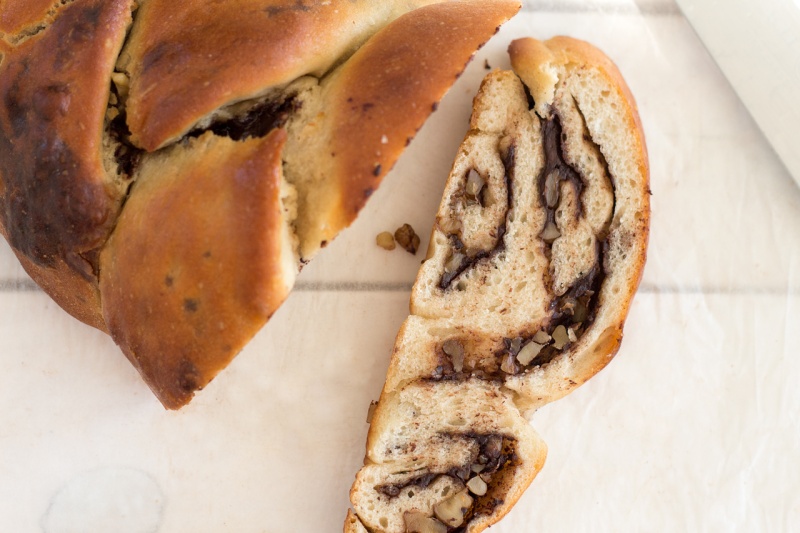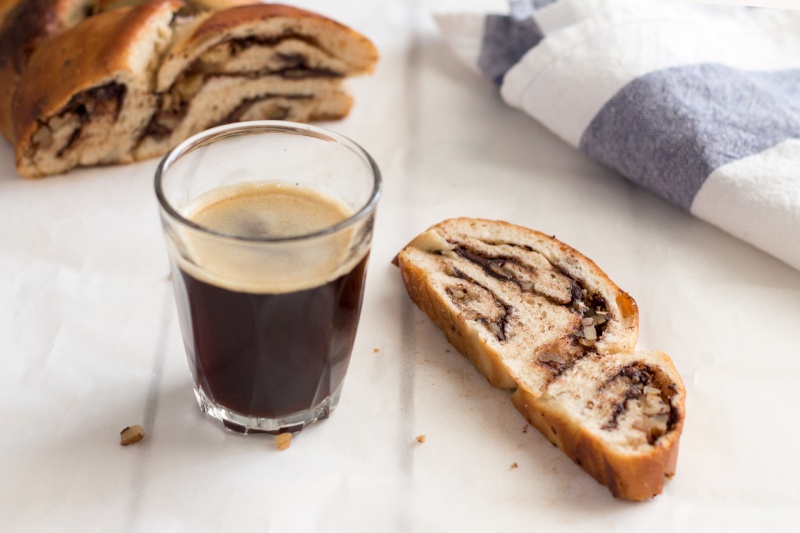 CHALLAH
220 g of strong flour
250 g of all-purpose flour
2 tbsp brown sugar
10 g salt
7 g sachet fast-action dried yeast
300 ml of almond milk + a little extra for bread glazing
1 tbsp olive oil + a little extra for bread and pan glazing
CHALLAH FILLING
2 tbsp olive oil
4 tbsp brown sugar
150 g walnuts, chopped
100 g dark chocolate, finely chopped
METHOD
Mix the flour, salt, yeast, and sugar in a large mixing bowl.
Pour in the lukewarm (not cold!) almond milk and stir everything together with a large wooden spoon. Then add the olive oil and combine.
When the mixture has mostly stuck together turn the mixture out on to a work surface or bread board. Knead the mixture by holding one end of the dough in one hand and stretching it out with the other hand. Reform the dough, turn it 90 degrees and start again. Repeat this for 10 minutes. See this recipe for photos on how to knead if you're unsure.
When the dough is shiny and smooth, put it in a large mixing bowl, coat in a thin layer of olive oil and cover the bowl with a tea towel. Leave it in a warm place (but not too warm – ie not next to an open fire!) for between one and two hours (until it has doubled in size).
Empty the dough out on to a work surface and push the air out with your fingertips.
Split the dough into three equal parts – best to use kitchen scales here. Roll one part of the dough flat until it is 30 cm long and 8-10 cm wide. Next, follow these 5 steps:

STEP 1 Coat the dough with olive oil making sure you cover its entire surface (photo 1).
STEP 2 Sprinkle a thin layer of sugar on the dough (photo 2).
STEP 3 Sprinkle a layer of chopped chocolate on the dough (photo 3).
STEP 4 Sprinkle a layer of chopped walnuts on the dough (photo 4).
STEP 5 Starting from the bottom, roll the dough tightly it so that at the end you have one horizontal "dough snake" (photos 5 and 6). Make sure you seal it well.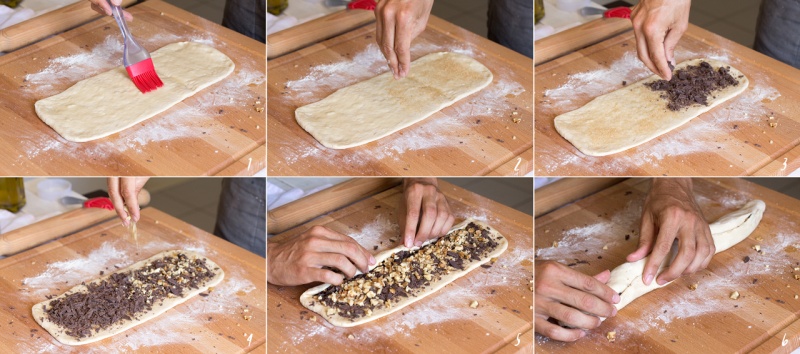 Repeat steps 1-5 for the remaining 2 dough parts.
Plait the bread following these steps:

STEP 1 Arrange the 3 plaits as per photo 1.
STEP 2 Take the very leftmost plait and fold it over the middle plait (photo 2).
STEP 3 Take the very rightmost plait and fold it over the middle plait (photo 3).
STEP 4 Repeat steps 2 and 3 until you run out of space and the 3 plaits are knotted together.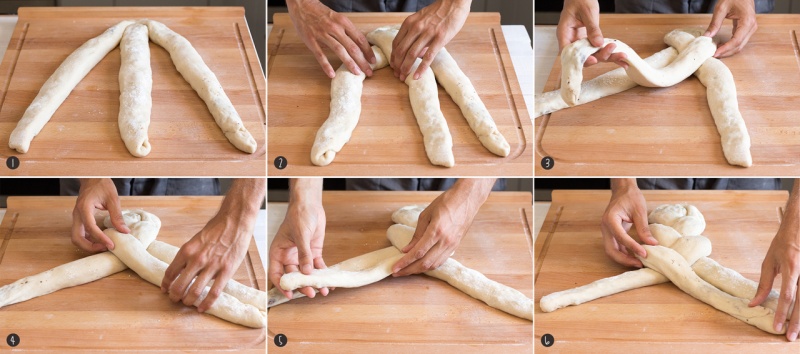 Place the finished challah (covered with a kitchen towel) to prove again for another hour. Before the hour is up, preheat the oven to 180° C / 350° F.
Coat the challah with olive oil (this gives it a golden colour). Place it in the oven to bake for 25-30 minutes or until golden brown.
Glaze the still warm challah with a mixture that is 50% almond milk and 50% olive oil. This gives it an extra shine.